<!table cellSpacing="6" cellPadding="0" width="100%" border="0" style="border-collapse: collapse" bordercolor="#111111" bgcolor="#EFEFEF"> <!tr> <!td style="font-family: Verdana, Arial, Helvetica, sans-serif" bgcolor="#EFEFEF">

Dr. Yip Lai Lam (Oct 21, 2003, photos by Lamma-Gung & Dr. Yip)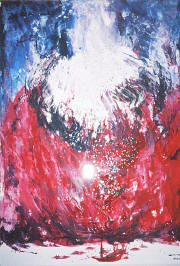 You might have noticed the paintings of Lamma exhibited in the Lamma ferry pier in Central, in the waiting area along the iron grids separating the Yung Shue Wan and Sok Kwu Wan ferry piers?
Via the HK & Kowloon Ferry company, I managed to get in touch with the artist, Dr. Yip. He's a retired professor, Qigong master, a man of many talents, with more letters after his name than most people I know: BSc. PhD. MIEnv Sc. Cert. Ed. Ad. Dip. Qigong, Cert. Psychoneuroimmunology.
His paintings, just a hobby he claims, are a mix of Western watercolours and Chinese brush stroke technique. They've been given to the ferry co. for free for an open-ended, long-time exhibition. He's not eager to sell them, but if you'd really like to own one, or meet this very pleasant & wise artist, email him!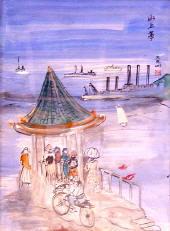 Artist info: "Dr. David Yip Lai Lam was born in 1937 in Hong Kong. In his early years, before going abroad to further his studies in England and in North America, he apprenticed under artist Wong Hai and had attended various famous artists' demonstrations such as Mr. Wong Po-yeh. Dr. Yip took advantage of the unique opportunity of his studies abroad to visit many museums and galleries. For years, Dr. Yip worked as a senior Lecturer in a local higher institution while privately engaged in non-professional artist pursuits.
In 1996, he held his first one-man show entitled "The Anti-Japanese War" in Vancouver. Another more recent show "Illusory War-Ridden Life" was held in the Hong Kong Museum of Coastal Defence in 2001. He is a former part-time lecturer in Zen & Qigong Therapy at the Open University of Hong Kong and a member of the Vancouver Chinese Artists Society in Vancouver, Canada".
---
Paintings at the Yung Shue Wan ferry pier in Central: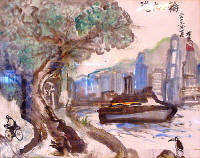 The Link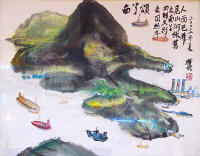 Praise of Lamma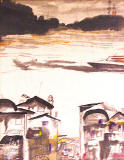 Scenery of Lamma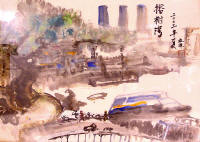 Morning in Yung Shue Wan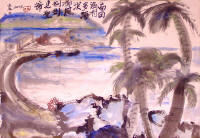 The Bay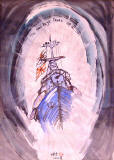 The Kamikaze Caves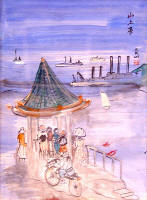 The Pavilion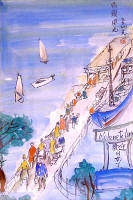 The Pier
The Sky
---
New paintings, first exhibition: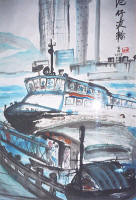 1) Aberdeen Pier: Old fishing village with high-rise background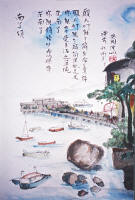 2) Yung Shue Wan Pier: Enjoy the sunset with the sea breeze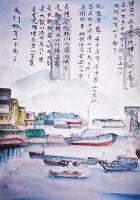 3) Peaceful Lamma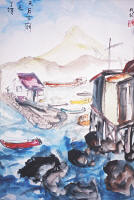 4) Tin Hau Temple & the Neighbouring Village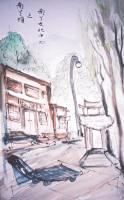 5) The Library: "Lamma Culture Centre", we call it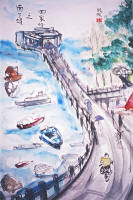 6) Better to Be Home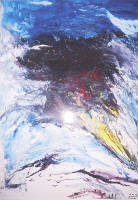 7) To Eternity with Love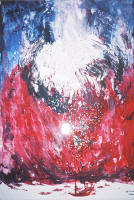 8) To Eternity with Humanity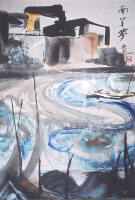 9) Dreams of Lamma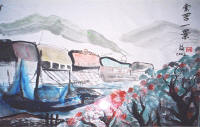 10) Sok Kwu Wan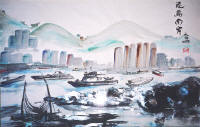 11) Aberdeen - Far View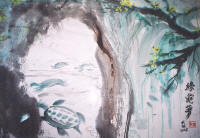 12) The Turtle Bay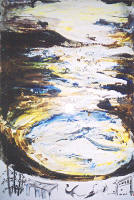 13) Reflection Pool in HK Chinese University: "The Unity of Man with Nature"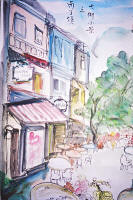 14) The Street Scene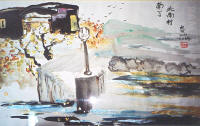 15) Pak Kok Village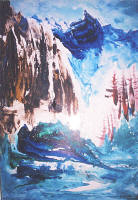 16) The Dream of "From Lamma to Wong Shan - China"
17) Dreams of Aberdeen to Yellow River
---
To send comments (very welcome!), get more info, get high-resolution files of any photo for printing, or to publish your own Lamma-related photos and galleries on

Lamma.com.hk

or in the

Lamma-zine: email Lamma-Gung

.

All pictures and text may be freely reproduced for non-commercial purposes only. Commercial enquiries are most welcome.

Last updated: August 12, 2006 05:43 PM

© 2003 Lamma-Gung, Compunicate! e-Marketing & Website Development. All rights reserved.

<!/td> <!/tr> <!/table>