<![if !vml]>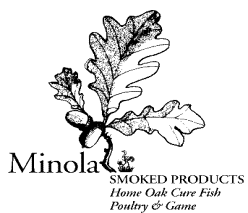 <![endif]>
Minola is one of the UK's leading smokeries. Because of a family connection, products are being supplied direct from the smokery to Lamma, at bargain prices, many up to half those in HK supermarkets for comparable quality.

PRICES IN HK$
SMOKED SCOTTISH SALMON
Smoked the traditional way, over whole oak logs
Sliced sides, 1kg-1.8kg 240/kg
Sides, boned and trimmed, ready for slicing 220/kg
Sliced pack, 500g 140
Sliced pack, 250g 75
Priced around half those in HK supermarkets
FRESH SCOTTISH SALMON
Great for sashimi, for BBQ or baking in foil
Boned, skin on, fillet of Scottish Salmon, 1.8 – 2kg 170/kg
LIGHTLY CURED AND SMOKED SCOTTISH SALMON
Sides boned & trimmed 1.7-1.9kg sides 180/kg
For grilling or the BBQ
OAK ROAST SCOTTISH SALMON
Salmon, roasted over flaming whole Welsh Oak logs. 120/ 500g
(Hot smoked) 125 - 1.35gms portions
Cooked and ready to serve with salads etc
GRAVADLAX – DILLED SCOTTISH SALMON
250g packs or sliced sides 75
OTHER FISH
Kippers, 250-270g each, singles or pairs 115/kg
A favourite for breakfast/brunch
Hot Smoked Trout, whole, 200-250g 160/kg
Hot Smoked Mackerel Fillet, in pairs, 170g-210g/pair 130/kg
Smoked Haddock, cold smoked, boneless fillet 170/kg
COLD SMOKED CURED MEAT – TO COOK
Smoked back bacon, 500g,1 kg bags 150/kg
Smoked Streaky Bacon 120/kg
Abergavenny Air Dried Ham 125g 80
Smoked Welsh natural skin Pork Sausage- 500g 50/pack
SMOKED POULTRY
Fresh Chicken Supremes, hot smoked, ready to serve 110/ 500g
Fresh Chicken Supremes, cold smoked, to cook 15-20mins 80/500g
Barbarie Duck, hot smoked, ready to serve 130/500g
Barbarie Duck, cold smoked, to cook 15-20mins 100/500g
SMOKED CHEESES
Smoked Worcester Gold, Mature English Cheddar 50/ 250g
Smoked Caerphilly (Welsh cheese) 50/ 250g
All products are vacuum packed and have a shelf life of three to four weeks
Minola has unfortunately had to increase its HK prices because of changes in exchange rate. But these are still very competitive – much cheaper than you can buy them in C!ty-Super where they will soon be on sale.
Deliveries direct to Lamma, once a month (normally first or second Monday of the month). To be collected by arrangement on arrival. Payment on receipt.
Orders must be placed by e-mail to minolahk@hotmail.com.
Please include name and contact telephone number.
For enquires, tel. Katherine evenings/weekends. 2982 2692, 9882 1796
<![if !vml]>

<![endif]> <![if !vml]>

<![endif]> <![if !vml]>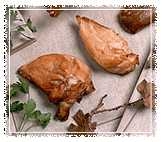 <![endif]>
---
MORE ABOUT MINOLA
Recent Awards
This year's Great Taste Awards were held in September and were a resounding success for Minola, with us taking 3 silvers and a Gold for the following products:

| | | |
| --- | --- | --- |
| <![if !vml]><![endif]> | Our Abergavenny Air Dried Ham is marinated for 14 days with herbs, spices, sugar & salt, then cold smoked for 7 days. Air-drying for a period of 3-4 months, then maturing for a further 3 months finishes this product to perfection. Great with figs, capers and a drizzle of olive oil. Available sliced in 125g packs. | <![if !vml]><![endif]> |
| <![if !vml]><![endif]> | Fresh Haddock fillets wet brined for 10 minutes, pre-dried for 6-8 hours, cold smoked for 24 hours. The fillets are pin boned and vac packed in singles. Haddock fillets may be cooked or sliced thinly, rolled, pinned and eaten raw. | <![if !vml]><![endif]> |
| <![if !vml]><![endif]> | Whole middles of pork marinaded with salts, sugar, spices and herbs for six days. Cold smoked for 5-7 days, no added water. This is REAL dry cured bacon! | <![if !vml]><![endif]> |
| <![if !vml]><![endif]> | Barbarie Duck Breasts, imported fresh from France. Wet brined for 3.5 hours, cold smoked for 18-24 hours and hot smoked for 20 minutes. Hot smoked, ready to eat. Also available Cold smoked for you to cook and serve Hot. | <![if !vml]><![endif]> |

Minola Smoked Products

January 2004
Supplied in Hong Kong to Hong Kong Club, Ritz-Carlton, Marriott, Peninsula, Café Déco, etc.