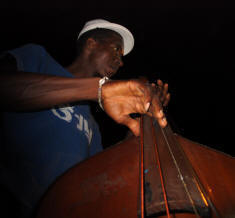 Musician and photographer, Barnaby Bruce is presenting his first exhibition in Hong Kong: 'diseños latinos – latin designs', the fruits of an intense journey into the heart of Cuba and Latin America.

Having played Afro-Cuban percussion for some 16 years, including a couple of stints studying in New York, the time was ripe for Barnaby to take his passion to the source.

In a 9-month trip, including 6 months in Cuba, he became immersed in the world of Santeria, the Afro-Cuban religion of the Lucumí, which combines the beliefs of the West African Yoruba peoples with Catholic symbolism. He also traveled extensively around Guatemala, and the Mexican states of Yucatan and Chiapas.

He used this opportunity to capture with his camera the striking and hidden patterns and images, both man-made and natural, which he encountered. Photos are forbidden in the most important Santeria ceremonies, and Barnaby wanted to avoid the familiar cigars'n'cars furrow which many photographers plough when documenting Cuba. Focusing on details, on a small and large scale, he attempts to create images which are mysterious, and evocative.
Sep 26 - Oct 7, fringe gallery, 2 Lower Albert Rd: "photographs from cuba, mexico and guatemala, by barnaby bruce".