I am Christie Flowers, 9 yrs old. I like playing with my friends and my Game Boy stuff. I like listening to poems and music, especially Shel Silverstein, Mozart, Crazy Frog and The Beatles.
I like making models using just about every arty-farty thing in our house!!! My favourite model is the alien that I made for school. Itís made of boxes, tissue paper and wire.
Iíve taken a few photos here on Lamma and some in Mai Po and Sai Kung. My mumís teacher, John, gave me a camera. Thatís what got me started with photography.
My favourite artist is LeonardoÖ you know who!!! Because he was like me and did drawings, paintings, models and was a scientist, inventor, botanist and even an architect. I like doing experiments in my kitchen to try and create potions.
Currently, I am planning to make a Warhammer scene called Skulls Pass.
Oh yes, Iíve been famous already as a stand-up comedian in my school and for reading poems in a shopping centre and being on Karin Bergenís TV show! [Editor: Karin Bergen hosted the TVB Pearl Report for many years, featuring Christie and his mum separately.]
Ok, gotta go and eat a flapjack.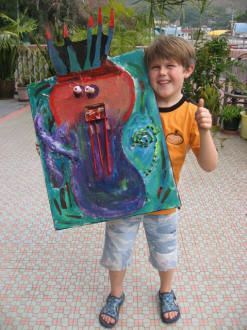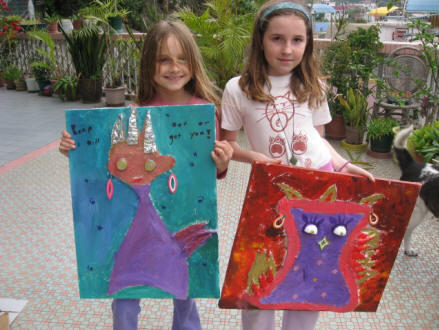 Three of Christie's many artistic friends presenting their own artworks: George, Alix and Kira,
part of the KKK: Krazy Kids Klub!