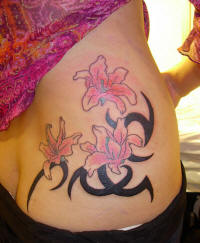 Here's my crappy bio:-
Born in Australia in 1974. Middle child with one brother, one sister. Normal school studies; math, science, English.
After high school, went directly to art school; left and went to nursing - didn't finish.
Several exhibitions in Australia from 1995 onwards, including the Victorian National Gallery, Adelaide Convention Centre, Youth Arts Centres in both Melbourne and Australia.
Ran a photography business, which introduced me to some women in the tattoo and piercing business. Having photographed them for a calendar, I became friends with one of them. They offered me an apprenticeship in tattooing. But I had to move to Alice Springs for it... the "centre" of Australia...
I also write street poetry and songs. Having learnt tattooing, I had an offer from my uncle to visit him and work on some projects in HK. He hooked me up with the HK Youth Arts Festival - I did three major projects with them in 1999.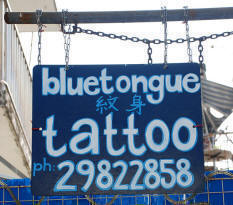 The rest is kind of HK history - growing up, having my first-ever shop front - Bluetongue Tattoo Gallery 2000-2004. It was during SARS that we had to close... :( It was a very nerving experience to have a shop on my own. Somewhere though, it was a blessing in disguise to close that studio... it put me back on the HK streets again, finding new people, new jobs, new opportunities, and it brought me to Lamma!!!
Although it was a struggle for some time, Mickey Mouse came to the rescue, as I filled a painter position with them for one and a half years during the construction of HK Disneyland. I learnt so much and met so many people from all over the world - what a fantastic time (but very hard work!!!) With that money, I opened a new studio in Lan Kwai Fong.
I went back to tattooing full-time in my Central studio for some time, until I was offered a job this year with Asia Rock Art- to lead the paint on the Ngong Ping 360 project (Big Buddha). We painted the tree theatre, the temptation room, and the bodhi tree.
At the same time, we worked on the Wetlands Museum painting the crocodile enclosures. What a great team of talented, hard-working people!
On the side, I have been painting for MARVEL comics - basically painting the sculptures for the adult collectable toys. I paint the master copies before they go to Mainland China for production.
It is my dying passion now to have an exhibition in HK. It has been so long since I have picked up a paintbrush for the sake of it... it's a need in me, I can feel it... I'll keep you all informed!!
Otherwise, you can find me in Lan Kwai Fong or Lamma Island...