Position, Balance & Friction vs. Gravity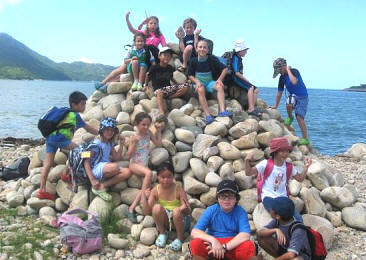 All those specimens were cultivated by me on Power Station Beach over the past year or so. And they're all natural rocks exactly as found on the beach, no glue/mud/sand, no chipping away at corners, no hidden supports. That's part of the fun of it; selecting rocks with natural bumps that fit with each other.
All the pics below were of the same pile - just taken from different angles. I even hung my hat on it for scale and to show that it was my work. If you look carefully at the last picture (S7300874) you can see my only 'cheat' - a single flat chip of rock shoved in between two of the larger stones in order to stop them rocking. This sometimes becomes necessary if I'm aiming for height rather than aesthetic purity. :-)
Everything else is position, balance and friction versus gravity.