CALI featuring Roz Keep - July 7, 2006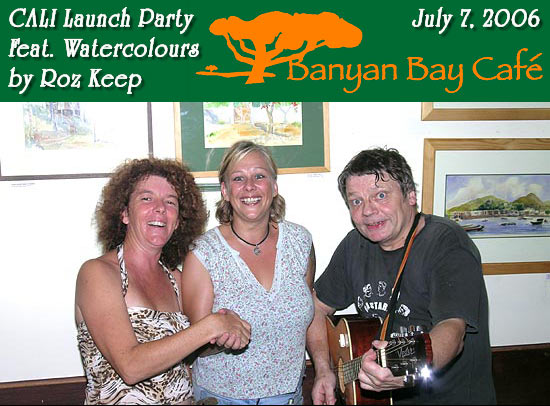 Community of Artists on Lamma Island - Origin & Launch
Roz Keep: The Community of Artists on Lamma Island (CALI) is an idea that has been germinating for several months as I have been trying to think of a way to exhibit not just my own work but also that of a couple of my good friends without renting a shop. There are too few shoppers and only a weekend market, so it would be very difficult to make a shop work. But on the evening of Pinky's wake, we were sitting outside the Spicy Island and Christy McCormick and Annie Knibb were talking about art and the idea to exhibit work in as many bars as possible, then swap them all round...
Then I met with another artist on Monday and the idea gelled suddenly. Sarah Wyatt encouraged me to exhibit the framed work I had sitting around ASAP. Then we would work on the other artists, venues and the project could be launched at Cath's new cafe on Friday. So from idea to action took 6 days! Not bad. We then sent emails to as many artists on Lamma as we could think of and asked them to join us, which many did.
Next we shall talk to the different venues in the village. We still have a way to go but it's a start and we shall work during the summer to get at least four venues full of art and then some good publicity for both the venues and the artists... It shall be our own little LAMMA ART WALK eventually.
So I would like to thank Christy, Annie and Sarah for their inspiration, support and encouragement, as well the other artists who have agreed to join the project, and also Cath for her support and generosity, and The Island Bar who has also agreed to become part of this project.
Cath's new place is the old Aroy Thai, and is open for food daily until 4pm, then it will become a bar at night. Its new name will be The Banyan Bay Cafe, so check it out.
Roz's paintings are on display for the next month and are all for sale. There is a series of Lamma paintings which she has made into prints and available for sale for a mere $150-$200... Original work also for sale from between $400 - $1,300.
---

Community of Artists on Lamma Island - Statement
Roz Keep: Bringing together Lamma artists for the first time in a community project for Yung Shue Wan, we hope to display original artwork in the restaurants, bars and shops of the village on a grander scale than has been done in the past. Our ultimate aim is to have as much original artwork up around the village at any one time as possible, therefore helping YSW become known as a place to see good artwork. The artists will benefit from the exposure, training and financial gain. The restaurant, bar and shop owners will gain good publicity at the time of exhibition openings and have a chance to earn commission on art sales once we start to become known for our quality work.
This exhibition today is the first of what we hope will be many.
At the time of writing, the idea is young and there is much to do but with help and participation from as many artists and businesses as possible. We shall enrich our lives culturally and Yung Shue Wan will grow in reputation as a good place not just to eat and hike but also as a place to see and buy good artwork.
If you would like to join us either as an artist/photographer or as business/restaurant owner,
please contact the CALI spokesperson (for now): Roz Keep - 2982 6965
---
To send comments, get more info, get high-res files for printing, or to publish your own Lamma-related photos & galleries on Lamma.com.hk, email Lamma-Gung.

All pictures and text may be freely reproduced for non-commercial purposes only,
but only with explicit permission from the author, photographer or artist.

Commercial enquiries are most welcome! Last update: May 05, 2008 03:43 PM

© 2008 Lamma-Gung, Compunicate! Web Publishing, e-Marketing & Photography. All rights reserved.

<!/td> <!/tr> <!/table>