Vicky Baker - Artist of the Month - June 2006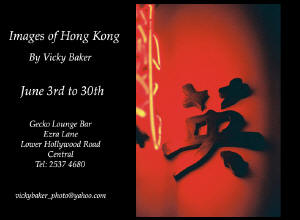 This month's Lamma-zine Artist of the Month is Lammaite Vicky Baker, a forum member almost from the very beginning 4 years ago. She's got her first photo exhibition June 3-30 in the Gecko Lounge Bar in Central, Lower Hollywood Rd. The opening reception will be on Sat, June 3, from 8pm.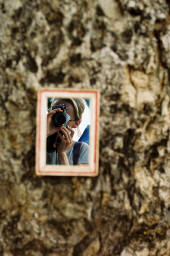 Being low-profile and reluctant about self-promotion, the following info is all I could manage to get out of her. You might agree that her amazing photos below more than speak for themselves. For inquiries, contact Vicky directly by email:
"The theme of the exhibition is Images of Hong Kong, and I've included many aspect of Hong Kong in this, from city neon to nature photographs.
"I've been living in Hong Kong for 9 years, and taking photos for 8 of those. Oh gawd, self promotion is hard, isn't it? I hope this is enough?"
Yes, it is, Vicky! (Click on poster and self-portrait to enlarge)
---
---
To send comments, get more info, get high-res files for printing, or to publish your own Lamma-related photos & galleries on Lamma.com.hk, email Lamma-Gung.

All pictures and text may be freely reproduced for non-commercial purposes only,
but only with explicit permission from the author, photographer or artist.

Commercial enquiries are most welcome! Last update: May 05, 2008 03:43 PM

© 2008 Lamma-Gung, Compunicate! Web Publishing, e-Marketing & Photography. All rights reserved.

<!/td> <!/tr> <!/table>