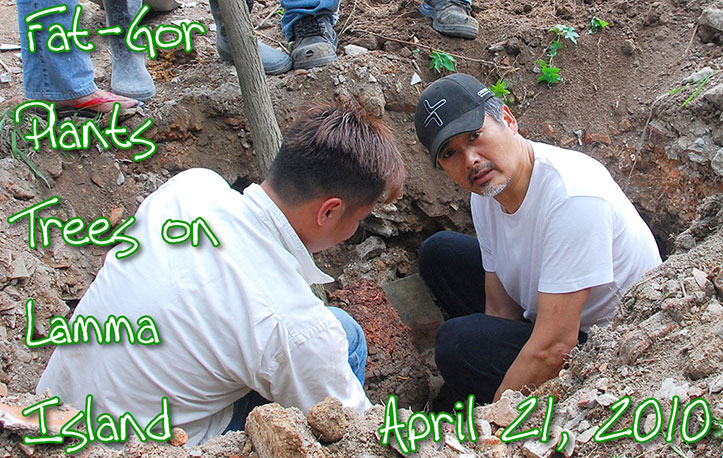 International movie star and Lamma's favourite and most famous son, Chow Yun-Fat, has been visiting Lamma Island, his birthplace where some of his family still lives, once again today. Unlike his regular visits during the Ching Ming and Chung Yeung "grave-sweeping" festivals, he came to plant trees on a plot of land owned by one of his relatives, part of the indigenous Chow clan. As the relative died without a male offspring, their plot of land cannot be used to get permission to build the customary standard 3-storey Village House on the plot. It'll have to remain empty, to be used for agriculture only, being located up in Tai Yuen Village, just alongside the very popular path from Yung Shue Wan to Hung Shing Yeh beach.
Fat-Gor, as Chow Yun-fat is known to his family, friends, fans and on Lamma Island, decided to plant four flowering trees on this vacant land. It's the start of his personal campaign to beautify Lamma Island, a kind of labour of love for him. He got two tall cherry blossom trees, Sakura, and two "Golden Trumpet" trees, Tabebuia, shipped in from Mainland China yesterday and helped to plant them today.
This tree planting was so extremely low-key, unannounced and without an entourage, any media or even photographers! I count myself very fortunate to be able to catch it, a kind of "worldwide exclusive", thankfully being alerted by several local friends who had heard rumours about it.
I simply walked up to Fat-Gor, introduced myself and asked for permission to take pictures for the "daily Lamma magazine", then presenting him with a Lamma.com.hk flyer. He was very friendly, gave me details of his private campaign and describing the trees he was going to plant. He even thanked me for running this website to support the Lamma community! Wow! Well, we love tree plantings on Lamma. They're always welcome and there have been quite a few over the last few years, from the yearly events up in the Lamma Forest above Pak Kok Village to several govt. depts. and the Green Lamma Green campaign by HK Electric.
An (alleged) HK$ billionaire and international star - I've seen most of his movies and often loved them, him playing heroes, kings, emperors and even Confucius recently - planting trees in your own neighbourhood, totally hands-on and literally down-to earth, it's quite an amazing and surprising sight. He was really getting himself dirty and sweaty, but had fun and chatted with the few locals walking by who recognised him, even spraying water on some of us curious bystanders. Afterwards, he took the time to pose patiently and gracefully for individual photos with the dozen or so locals present. No wonder he's so extremely popular on Lamma, almost like a favourite son, and is considered a true life-long Lammaite and Laudable Lamma Luminary, even though he left long ago and lives out in Sai Kung (?) nowadays.
Jo Wilson from Living Lamma stopped Fat-Gor outside the Green Cottage Rest. before the tree planting and gave him a letter introducing Living Lamma. He said he was looking at another site near the beach to plant more trees. She mentioned that Living Lamma has been lobbying to clean up Lamma (Stop the Mess! Campaign) and said that they're exploring areas that they'd like to clean up and landscape, but were having difficulty identifying suitable places. He seemed sympathetic. It would be a big plus for Living Lamma to have him as a patron!
My last "world-exclusive" photos of Fat-Gor opening our helipad were probably my most-widely and illegally copied pictures, showing up all over the commercial Chinese news & portal websites. So I've added a watermark and logo to my copyrighted photos this time, to get at least a bit of promotion for this site when these photos will be copied once again, usually without permission and the customary credit and link.
Oh well, come back to Lamma soon, Fat-Gor, and plant more flowering trees to beautify our home!