Lamma Forest – October 30, 2008 (photos by Lamma-Gung)


Click for a 3,000-pixel-wide 180-degree panorama, Lamma Forest on the left & on the right.
From Oct 27-30, about 300 (mostly Form 6) students in total, from an ESF school on Kowloon side, came to Lamma Island, each one for a fun-filled, but busy day in the Lamma Forest, a tree planting/maintenance project by ABLE Charity Ltd. Instead of the tree planting of former years, they performed some much-needed forest cleanup (typhoon damage). They also built a trail, a footpath through the Forest to make it accessible for the general public. They enjoyed the very professionally and friendly assistance from their teachers and the hired "Facilitators" from Asia Pacific Adventures - including several Lammaites like Gavin the HeliGuy and my appointed guide, Louie Sanders. The students created a dirt trail from the main path throughout the Lamma Forest. Check it out yourself, it starts at the highest point of the main path from the Lammarina to Pak Kok Village (see captions below.)
Lammaites Bobsy & Peter Lloyd were awarded Earth Champions on Nov 15; Bobsy for this Lamma Forest project which is his life's biggest joy and pride so far, he says. But the next cheerful and dedicated young generation of Earth Champions were in full attendance on these days, thanks to all of them for a wonderful job! Bobsy thanked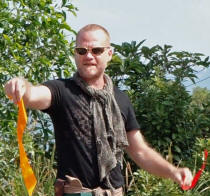 them in his own inimitable opening speech of the day (transcribed from a bit of high-def video I shot:
"The most important thing is that you guys are here to do a fantastic job. You are here to help us with the Lamma Forest. You're helping us to grow this forest. You're helping us to open trails so you guys can maybe one day come on a picnic with your family, go on a walk. It will allow people to explore and see the trees.
So I want to thank you from the bottom of my heart, and thank you on behalf of all the animals, and the birds and the butterflies and the bees... ('and the dogs!', one student interjected)... for helping us so much with this important project."
Plus a great musical slide show made with Dessie's photos of the day.
---
To send comments, get more info, get high-res files for printing, or to publish your own Lamma-related photos & galleries on Lamma.com.hk, email Lamma-Gung.

All pictures and text may be freely reproduced for non-commercial purposes only,
but only with explicit permission from the author, photographer or artist.

Commercial enquiries are most welcome! Last update: November 22, 2008 09:27 PM

© 2008 Lamma-Gung, Compunicate! Web Publishing, e-Marketing & Photography. All rights reserved.

<!/td><!/tr><!/table>