Transnoodle @ The Island Bar - July 8, 2006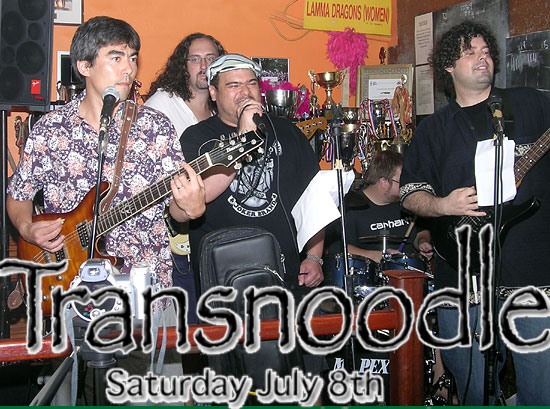 Nick, the Reviewman, eh, Bookman: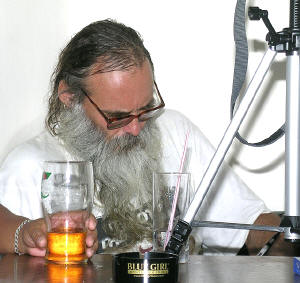 Well, it seems to be 4th time lucky in my attempts to see Transnoodle, having missed 2 earlier gigs and a late cancellation at Underground. It's Saturday, July 8th, and the Island Bar isn't quite heaving and creaking at the joints yet. There seem to be more people outside than inside. Transnoodle were meant to start at 21:00 hrs, but their opening act, Joves is on a later than expected ferry and won't arrive until 21:30. Kevin, the Nude and 'noodle bassist has been raving about her singing abilities and frenzied acoustic guitar playing.
Joves does a 4-song, 20 minute set, and Kevin is quite right to be impressed. If you'll forgive an old hippy trip down the grassy knolls of memory lane, she reminds me of several other accomplished 60's/70's singers. There's a lot of Joni Mitchell in the words and song construction, while the slightly scatty jazz vocals recall early Rickie Lee Jones ("Chuck E's In Love"-era) and possibly the late Lena Horne. The higher reaches remind me of Minnie Riperton's single "Loving You" as well. I ask Annette, drummer with the Shotgun She-Ras, her opinion and she thinks of Lauren Hill or Macy Grey.
The third song has a drifting, lilting melody while her final song is a tour de force. Heavy, acoustic, power chords over vocals that are part Robert Plant, part higher range, Janis Joplin. It's the money shot song that perfectly climaxes this short set. If you want to know more, feel free to contact Joves at www.jovesmusic.tk or catch her upcoming benefit performance for the Jogjakarta earthquake victims. Details are on The Democracy Wall by the Post Office.
---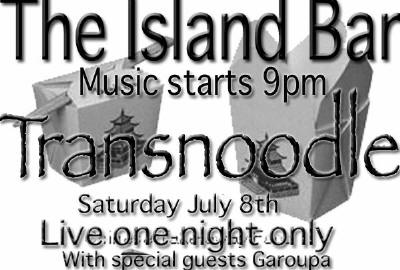 Tonight, the 'noodle are a sextet. There's Josh on vocals, Johnny on guitar and vocals, Andrew on lead guitar, Kevin on bass, Magnus on drums and Sam, guesting on trumpet. Most of their lyrics are Lamma(ec)centric while the music is punk/folk meets ragga/salsa.
Opening number "The Old Quarry" is a punk-reggae groover that's this close to turning into "Dreadlock Holiday" by 10cc. John is the serious young guitarist, spitting out his lyrics like the late Joe Strummer, while Josh is the loose, limber, swaying singer in an Andy Capp flat cap. 10cc meets the Blockheads. The second song tells how the band got their name, following a meal at the Lambcombe Restaurant.
Despite, sitting right in front of them, I can't make out too many vocal details, although the sound is differentiated splendidly. I'm the only one who thinks so. Kevin say's it's too noisy where they are, they can't get the full effect of the monitors. Anyone going for a pee becomes an inadvertent band member. Kevin's bass pulsates, while Magnus does his clattery Jaki Can drum thing with total aplomb. Andrew is the wild card, his lead guitar invokes space western riffs on an epic Journey round his guitar neck. He's part Dick Dale, part Neil Schon and somehow, it works weirdly well.
The band change genres when Sam joins in. His wheezy trumpet (that's not a dis) revives imaginary memories of a decadent 30's Havana. Men in white linen suits, really big cigars, treble mojitos all round, a sleazy, sexy Cabaret. He's part Miles Davis (when he plays the spaces) and part The Specials, or the English Beat when the band are tearing up a rip. The set ends with "The Journey" which Transnoodle enjoy so much, they play the ending twice.
Inside, more people are squeezing in. Kumi and Linda arrive and join Kelly in a brief bop, much to the band's approval. People outside still can't hear much, though. Josh is in charge of the music between sets and plays an excellent David Byrne compilation comprising some awesome 60's psychedelic West African blues with mucho tribal drums (I really, really want a copy, Josh!).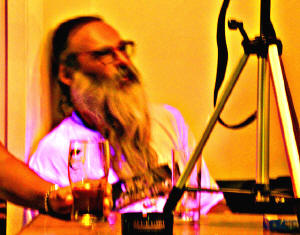 The second set is more the same. The Pogues get a good working over and I'm also reminded of an English world beats band called The Mustaphas Three. Billy Bragg springs to mind and (oddly enough) so do the early Bunnymen. One track "Down in the Deli" is an epic, akin to "Shopping Malls" by Red Star Rising. It's fun to note that while the Deli gets the (song) credit, the Island Bar gets the cash.
"Peace, Love, Harmony" is a venomous look at Chinese politics and the Falun Gong. "Port Royal" is a jaunty shanty about Jamaican pirates and lotsa booty "...the land of milk and honey...all they wanted was sex and money". The final song is "Spicy Island" which has a choogling Creedence riff, married the chorus of "Stand down Margaret" (I think) by the Beat, overlaid with some gorgeous Bhundhu Boys guitar melodies. This would be a toyboy band, hook-laden Top Ten single in a parallel non-Lamma world. I had a great night and the best seat in the house. Thanks to all involved.
---
To send comments, get more info, get high-res files for printing, or to publish your own Lamma-related photos & galleries on Lamma.com.hk, email Lamma-Gung.

All pictures and text may be freely reproduced for non-commercial purposes only,
but only with explicit permission from the author, photographer or artist.

Commercial enquiries are most welcome! Last update: May 05, 2008 03:43 PM

© 2008 Lamma-Gung, Compunicate! Web Publishing, e-Marketing & Photography. All rights reserved.

<!/td> <!/tr> <!/table>