Matt Steele & the Voigtians @ Island Bar – Jan 20, 2007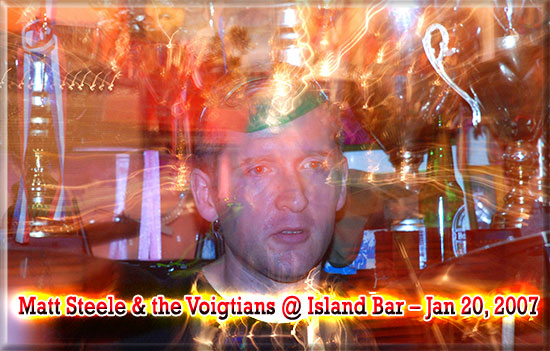 Nick - Voigtian Music Reviewer (a.k.a. Nick the Bookman on Planet Earth). (All photos by Lamma-Gung)
It's a cool night outside the Island Bar as tribal representatives of Planet Lamma gather for the debut gig by space-funksters Matt Steele and the Voigtians. They're touching down in this tiny corner of the cosmos to treat us to a bubbling stew of synth squeals, galactic guitars, bubbling base, holistic horns and deep space drums. Well, at least that's what I'm hoping for, but I usually set my expectations low, so I'm not disappointed...
The Voigtians are Nude minus Donna and Paul on vocals. They're augmented by John Transnoodle on guitar, The (formerly) Mysterious Mr. B. on sax and Hamada on world beat rhythm guitar. Matt is back left on stage on keyboards, while Barnaby Bruce (BB) is to the right, holding down the drum stool. In front are Kevin on bass, Sam Bruce (SB) on trumpet, Tony on sax and Hamada and John on guitars.
The first two tunes are are an easy paced shuffle funk blues, helping the band to gel and jam. The drums and bass are meshing, with the keys. It's more like Galliano or Stereo MC's in tempo than say, Jamiroquai, and the horn section blends in well. The third tune is a sort of Thelonius Monk tribute, according to SB. The cooler hues hint at silent swathes of space, star-flecked and dusted with cosmic debris. (I said I keep my expectations low)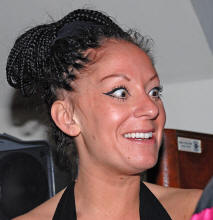 The bar's getting crowded. Kelly is dancing with Peter Berry. She mentions in passing that she "loves a good horn" and the boys don't disappoint her. Kumi's arrived (without her drum). Hugh, stickman with Red Star Rising, is settling in up front and grooving along. Hamada is a little lost in the mix, - a liquid ripple of notes emerging now and then at an ambient level - more felt than heard. John adds a touch of punk bravado, his guitar slung slow like Paul Simenon (Clash) while running through the Gang Of Four book of guitar licks and plucks.
Things get speedier and more unhinged when Matt swaps his Hammond organ sounds for a Moog. SB replaces Kevin on bass and plays a spartan, repetitive line. Barnaby locks into the groove and Matt layers squollops and squirtles of prime Sixties Synth throughout the mix. Think Don Preston on mini-Moog with The Mothers of Invention. Or Sun Ra's Arkestra freakouts, but on a smaller scale.
Time for a break and the crowd doesn't get any smaller. Andrew Transnoodle has arrived to replace Hamada. Josh (the Transnoodle voxman) is here with wife Colette. Steve Cray has popped in along with Squinty John the YSWanker. Lamma-Gung seems to have dosed his camera with liquid LSD, judging from the Hubble-inspired photos he's producing (see below). Tamara and Rana are bopping about up front, but it's too crowded to dance for long.
The second set is an alternative take of the preceding one. Among the highlights (ahem) is Kevin playing trumpet while Sam doodles on his bass. Later Sam goes all Nigel Tuffnell and strums the bass one-handed while holding his trumpet as it feeds back from the microphone. BB has done the hard yards around his drumkit. The guitars have swung throughout and the horns have ranged from Herb Alpert to Wynton Marsalis (like I said...) Overall a great night. The cosmic collision has become collaboration and a few new proto-star bands could coalesce. Keep Searching The Skies.
Barney Bruce - Voigtian Public Relations Guru and Master of Interplanetary Communications:
Hello there - hear you wanted to know the setlist from last night:
1. Set: Traditional Voigtian dance tune; 681; Blue Monk; Descarga Extraterrestre; Blue Bossa; Activate the D-Beam.
2. Set: Song For My Father; Lost in the Pampas; Theme to "Matt Steele"; Samba de Tonterias; Voigtian Wedding Dance; Funk de Comparsa.
Encore: Voigtian Planetary Anthem (Club Version)
Also, a bit more info on the band:
Matt Steele is a freelance traveler in outer space. On his most recent trip, he overheard some traditional Voigtian music emanating from a nearby star-cluster. He tracked down the beings responsible and invited them back to Earth for an indefinite period.
More to follow...
A few days after the gig:
I'd like to provide more information about the Voigtians, but they seem to have left the planet, as mysteriously as they arrived. I've checked with Matt Steele, but he knows nothing either. However, he promises to pass on our regards next time he's in that region of the Universe.
All photos below by Lamma-Gung. All the special effects have been produced in-camera, no Photoshop trickery has been used at all. Many of the effects wer achieved by hand-zooming and/or rotating the camera during exposure.
---
---
To send comments, get more info, get high-res files for printing, or to publish your own Lamma-related photos & galleries on Lamma.com.hk, email Lamma-Gung.

All pictures and text may be freely reproduced for non-commercial purposes only,
but only with explicit permission from the author, photographer or artist.

Commercial enquiries are most welcome! Last update: May 05, 2008 03:43 PM

© 2008 Lamma-Gung, Compunicate! Web Publishing, e-Marketing & Photography. All rights reserved.

<!/td><!/tr><!/table>