<!table cellSpacing="6" cellPadding="0" width="100%" border="0" style="border-collapse: collapse" bordercolor="#111111" bgcolor="#EFEFEF"> <!tr> <!td style="font-family: Verdana, Arial, Helvetica, sans-serif" bgcolor="#EFEFEF">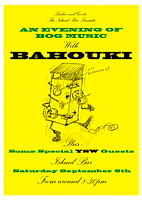 Another big night at the Island Bar!
Local favourites Bahouki, plus a wide range of guest stars from other Lamma bands, like YSWankers & The Bastards, rocked the place.
The photos below have been taken by Keith, Dan Peterson & Lamma-Gung, choosing the very best from a large number of photos taken. Captions have been added by the Island Bar Quiz Night participants, Sep 25. Thanks!
Poster on the left by Harry Harrison, as usual for Island bar events. Another collector's item for his many fans. Have a look at more Island bar posters by Harry over the last 10 years.
To submit your own photos of a Lamma concert or party, email Lamma-Gung.
(click to enlarge)
---

Bahouki! One night only!

"Who are you???"

Fiddler Dave & his biggest, eh, smallest fan

Two adoring young fans

Best seats in the house!

Fainted from over-excitement?
This is a nice ballad, honest!

Lamma's own Natural Born Killer

Are they STILL playing?

Thank god that's over!

Front row audience

Good music makes thirsty!

Group of people I

Group of people II

Group of people III

Group of people IV
---

A Bastard taking over the stage...

...and now he's even singing!

Harry in the spotlight!

Meanest fiddler on Lamma!

Soggy snog

Really pretty birds!

Island Bar pre- & post-Handover

Sharon's boys

Corked Bastard

Dan & the Bastard
Closed for the night

"The Beer Garden" or "The Corner Bar"?
---
To send comments (very welcome!), get more info, get high-resolution files of any photo for printing,
or to publish your own Lamma-related photos and galleries on
Lamma.com.hk
or in the
Lamma-zine
:
email Lamma-Gung@Compunicate.com.
---
Last updated: August 12, 2006 05:43 PM

All pictures and text may be freely reproduced for non-commercial purposes only. Commercial enquiries are most welcome.
© 2003 Lamma-Gung, Compunicate! e-Marketing & Website Development. All rights reserved.

<!/td> <!/tr> <!/table>