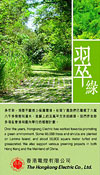 About Lamma-zine:
The Lamma-zine is an internet-based local magazine, founded 2.5 years ago as an offspring of Lamma.com.hk, the online community & discussion forums for Lammaites and people every-where interested in our fair isle.
33 issues have been published so far and sent out by email to almost 2,500 (free) subscribers. 2 million hits/month! Supported by local sponsors & advertisers, it's being edited & published by Lamma-Gung, helped by many contributors, writers & photographers.
All Lamma-related contributions are most welcome, hopefully shaping the Lamma-zine into a community platform of diverse ideas, views & opinions, show-casing the amazing variety of great local talents.
Advertising Rates:
● Monthly: $500 for full banner ad, $350 for half banner.
● Home page: $1,200, private sponsorships $115/month.
● 50% discount for long-term ads. 25% barter accepted.
● Classifieds: $50/line, free ads for charities/good causes.
© 2006 Compunicate! Web publishing & e-Marketing, YSW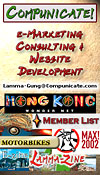 Cover Story - by Grandma Hilda:
Broke on Lamma? Eat Well For $20 a Day!
No, not a Michelin Guide to restaurant backdoor handouts, but a way to eat well and stay healthy on Lamma without begging, stealing, getting married, or rushing out to find a new job… This diet was well researched by us as a young couple in Africa in the 50s. We survived!!!
The Lamma Diet
A healthy lifestyle is important for everybody, but on Lamma your health can be affected by your wallet. There is a solution. You can have a healthy diet on about $20 a day, without resorting to Pot Noodles, boiled rice with tomato ketchup, "picking up" vegetables in the dead of night, hunting stray cats and dogs, or turning to religion.
If you are really hard-up, it's a sustainable diet, leaving those much needed resources for the important things in life (Gin & tonic, party frocks, and shoes), and allowing you to maintain your normal lifestyle even in the hardest of times. Your friends will never guess, and even compliment you on how well you look!!! ...
Read more in the monthly Lamma-zine or in the daily Lamma-zine Blog at www.Lamma.com.hk