Alastair Robins - Sculptor Extraordinaire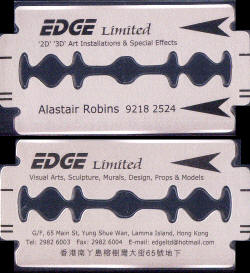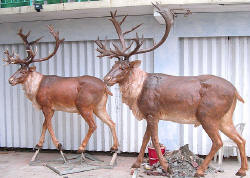 Most Lammaites must have noticed the two caribou sculptures in front of the Bali Resort? They are the first pair for a life-sized Noah's Ark project, which will include dinosaurs, even a T. Rex, for Alastair's anti-evolutionist client. Still little-known locally, Al's done some amazing work over the years.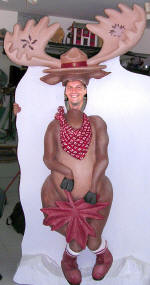 I've pulled some of his best works from his scrapbooks and proudly present them to you in a virtual art gallery below.
Alastair's main work as a commercial artist - working on commission only - means he'll basically sculpt anything the client wants. But this multi-talented, cheerful artist is also doing murals, designs, props & models, even graffiti & oil paintings. Stop by his chaotic studio just besides Hans the Vet!
Recently he's been sculpting a weird moose-mountie genetic hybrid (see left), designed for Canada Day by Lamma's very own Harry Harrison. People could stick their head through and take pictures in Lan Kwai Fong last June 30/July 1st.
Instead of the usual "Artist's Statement" Alastair sent me the following email.

It gives deep (almost too deep) insight into his arduous and tough life of self-sacrifice as a Lamma-based "Bohemian Artist". If you're one of the steadily increasing number of "suits" on Lamma, no serious offense is intended, only light mockery:
Alastair:
WORKING ON LAMMA - The PASSING OF SUITS

The PASSING OF SUITS on my 4-min-54-sec journey to breakfast before I commence rolling up to work would bring a faint pang of corporate jealousy to any self-employed person with a job that they love. Who could blame me for not wanting to join those Kennedy School kids every morning on my way to my computer screen?

Being self-employed is SHIT, and don't let anyone tell you differently! I often take my dog for mid-afternoon trips to the beach and torture myself for my not being a team-member, not knowing just how exciting it is playing Mindsweeper without getting caught by your boss. Sorry, did I say "Mindsweeper"...

Once, while being a freelance art director for a production company, I had to interview sixteen female models and photograph their naked torsos, so that the ad agency could choose one for their commercial.

And GET THIS: the job was cancelled after I had completed this arduous task. How soul-destroying. So, next time you pass me on your way to your metropolis bliss, save a thought for some a little less fortunate than yourself.

Cheers, Al.

P.S. I live above the library i.e. the closest house to the ferry that I don't catch. The first sentence above means all those people dressed in suits that I pass without a smile on their faces.
(click to enlarge)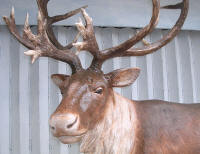 SCULPTURES: Caribou outside the future bakery in Bali resort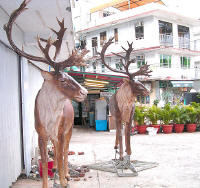 2 caribous for a Noah's Ark in a Mainland property development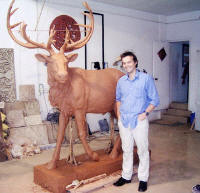 Moose sculpture w/proud artist a few years ago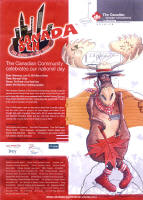 Harry's caricature of Canada clichés for a Canada Day ad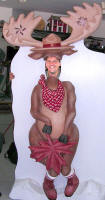 Harry's caricature given form by Alastair (head), set up in Lan Kwai Fong for Canada Day, July 1st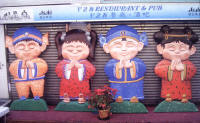 Lucky Chinese gods lined up outside Y2K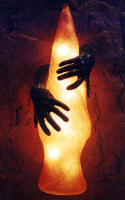 Lamp modeled from the artist's own hands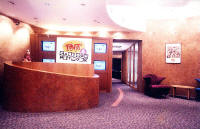 Offices of TNT Broadcasting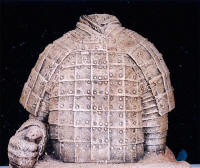 Ancient Chinese armour model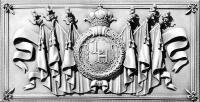 One of many crests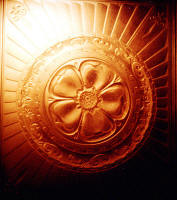 Fancy lighting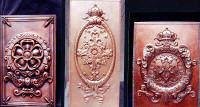 Crest collection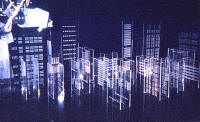 Hong Kong - City of Glass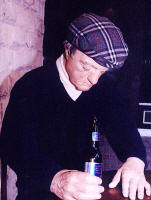 Life-size sculpture of a drunk - bar decoration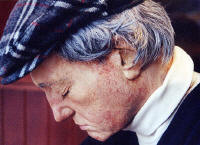 Close-up on the amazing detail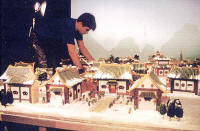 Japanese village houses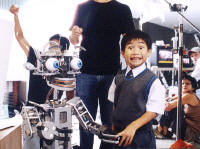 Friendly robot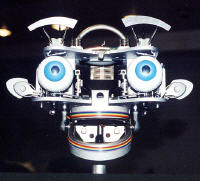 Don't I look Artificially Intelligent?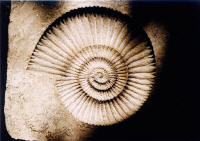 Trilobite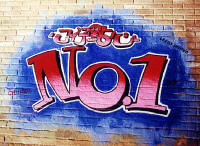 PAINTINGS: Graffiti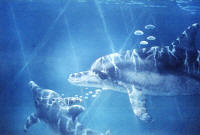 Dolphins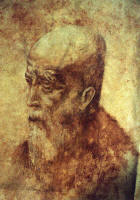 Monk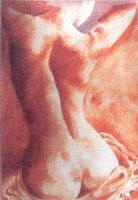 Delightful backside
Wedding present, getting Alastair into trouble: "Doesn't she look like the bride!"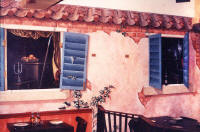 "Trompe l'oeuil" inside a restaurant. Windows and roof are just flat paintings.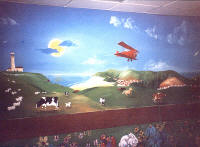 Cows, clouds and bi-wing planes; idyllic, isn't it?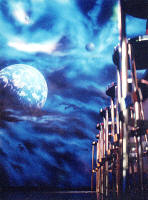 Space age painting for bar
---
To send comments, get more info, get high-res files for printing, or to publish your own Lamma-related photos & galleries on Lamma.com.hk or in the Lamma-zine: email Lamma-Gung.

All pictures and text may be freely reproduced for non-commercial purposes only,
but only with explicit permission from the author, photographer or artist.

Commercial enquiries are most welcome! Last update: September 29, 2019 11:12 AM

© 2018 Lamma-Gung, Compunicate! Web Publishing, e-Marketing & Photography.
All rights reserved.

<!/td><!/tr><!/table>