Lamma Lamps 2006 Calendar by Lamma-Gung (Jan 1 2006)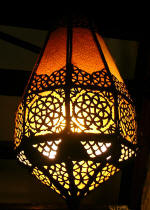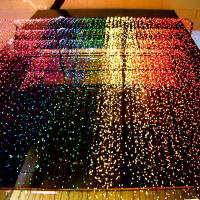 Happy New Year to all daily, weekly, monthly, yearly and once-in-a-lifetime readers of this daily community Blog about Lamma Island and its fascinating inhabitants! Thanking your for making this blog such a fine success last year, I'm giving away free 2006 wall calendars with the 12 graphics below to anybody asking me for one. Don't be shy, but you'll have to send me an email with at least one sentence about why you'd like one and what you'll do with it. Deadline: Jan 31, 2006.
All the graphics below originate from digital photos of various lamps shot in private flats around Lamma. Photoshopped for several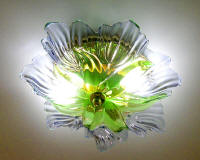 hours each - based on the 4 seasons - and presented here for your viewing pleasure (at least I hope so).
It's something a bit different from the usual landscape photo calendars and hopefully an inspiration for you to try to create some computer graphics yourself? If you try, I might publish them here in the future. Guess which lamp photo was used for which computer graphic below!
For more L-G calendars of earlier years, going back to ancient, pre-digital 1980 - some of them offset-printed as desktop calendars - check out the Calendars section of my personal Digital Graphics Library-in-progress.
(click to enlarge)
---
...and a few more graphics that didn't quite fit into the calendar:
---
To send comments, get more info, get high-res files for printing, or to publish your own Lamma-related photos & galleries on Lamma.com.hk or in the Lamma-zine: email Lamma-Gung.
All pictures and text may be freely reproduced for non-commercial purposes only,
but only with explicit permission from the author, photographer or artist.
Commercial enquiries are most welcome! Last update: May 13, 2020 09:56 AM
© 2020 Lamma-Gung, Compunicate! Web Publishing, e-Marketing & Photography.
All rights reserved.
<!/td> <!/tr> <!/table>