<!table cellSpacing="6" cellPadding="0" width="100%" border="0" style="border-collapse: collapse" bordercolor="#111111" bgcolor="#EFEFEF"> <!tr> <!td style="font-family: Verdana, Arial, Helvetica, sans-serif" bgcolor="#EFEFEF">

Nadia Ying Lu - Art Gallery (Apr 16, 2004)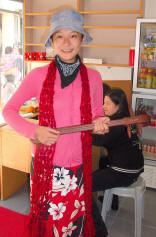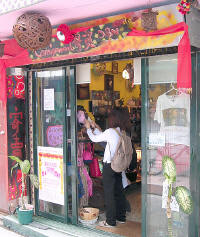 You might have noticed the pointy-haired, rainbow-coloured painting below left hanging in Aroy Thai? That's just one of Nadia's many cheerful creations. You can find a lot more in the permanent exhibition in her private art gallery cum 2nd-hand shop (or the other way round?) a few doors down from Aroy Thai.
Working in an amazingly wide variety of media (paper cutting, pen drawing, acrylic paint, etc.) Nadia is a self-taught and self-made woman, not restricted by traditional artistic conventions. Painting & drawing "just for fun", as she likes to exclaim with a big smile, she has sold quite a few artworks, offering them at amazingly low prices.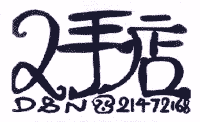 When meeting her for the first time, she handed me her unconventional triangular name card with just a single job title on it: "Spiritual Advice". No mention of her other impressive jobs like shop-owner, painter, musician... Multi-talented AND modest, a rare combination on Lamma and elsewhere!
Also a well-known local fashion icon, you can often see Nadia modeling her latest fashion statement on our local catwalk, High Street. Never looking the same twice, well-accessorised, she combines & color-coordinates her stylish, low-cost clothes from her 2nd-hand shop (see right) into always new, unique, often surprising looks. With her model looks and figure, she'll definitely be a major star in an upcoming "Fashion on Lamma" article/photo gallery...
---
---
To send comments, get more info, get high-res files for printing, or to publish your own Lamma-related photos & galleries on Lamma.com.hk or in the Lamma-zine: email Lamma-Gung.

All pictures and text may be freely reproduced for non-commercial purposes only,
but only with explicit permission from the author, photographer or artist.

Commercial enquiries are most welcome! Last update: September 29, 2019 11:12 AM

© 2018 Lamma-Gung, Compunicate! Web Publishing, e-Marketing & Photography.
All rights reserved.

<!/td> <!/tr> <!/table>