I drew growing up in Scotland & Belize (Central America): Mayan, fantasy and wildlife illustrations. After art college & a Bachelor of Science, in zoo education, face-painting was one of my 'chores'. Designs were basic and only of zoo animals, but I was hooked. I kept it up as a hobby and at big events as part of my next job.
Winning competitions - and interest from businesses - led to my own face art company, part-time until last year when I quit teaching. Fortunately, my designs attract adults and children, so I've had some great bookings: air shows, a divorce ball, national music festivals and a Hindu wedding in Mombasa, as well as birthdays, weddings etc. I moved to Hong Kong (Lamma) in September '06. So far I've painted at Rockit, Lamma Fun Day, and private parties, as well as body-painting for corporate clients.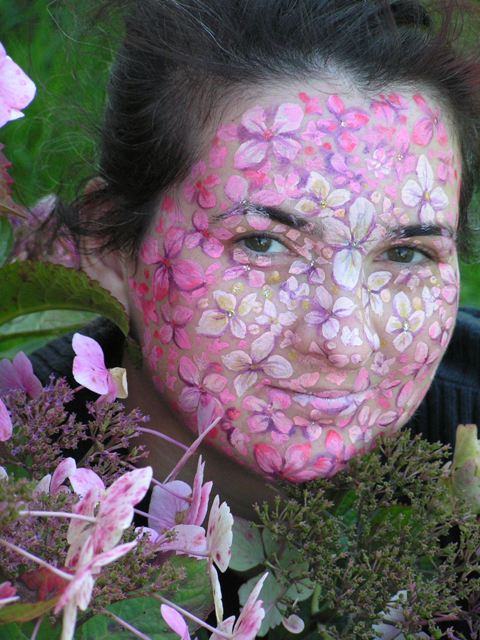 So far I'm told I'm the only professional face-painter around here. I'm a member of the Face Painters Association. We try to set minimum standards of skill, speed, hygiene, insurance etc, in the industry, as well as advising the public.
Face-painting is not as simple as you might think. One problem is that it's viewed as "mummy's hobby'" rather than a skilled job, especially when compared to entertainers like clowns or magicians. A lot of 'face-paint' products used by the uninformed - usually acrylics, poster paint or even pens - are not suitable for skin, and stain, cause rashes, or worse. Beware cheap kits on sale for Halloween, you can spot the marks they left on faces for days! I use top quality products designed for skin. Skin itself is quite hard to work on as it comes in so many shades and textures; the paints can do unexpected things when you are working - and it MOVES. Then there is WBS (Wiggly Body Syndrome) which can strike clients at any moment, most commonly chatty girls under 6 and males over 22. In HK, there is the heat & humidity problem - it melts solid paints or warmer clients sweat off patterns as fast as I paint them!
The most popular 'full' kids faces - in all 3 continents I have worked on - are butterflies (pink!), tigers and Spiderman. I do get a bit tired of painting them, but it's marvelous to see happy children zoom off to 'be' their new character. I have hundreds of designs I can do in under 5 minutes, but I prefer people who let me create something special for them, and am known for my "Beautiful Nothings' to match their mood, clothes or settings.
I get most of my themes from nature, although a fair bit of random abstract fantasy creeps in and I love dots... basically all the stuff I got told off for doodling in my school books! International competitions and conferences produce some amazing work and are really inspiring for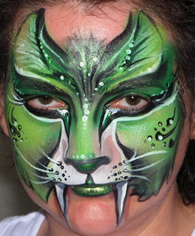 me. At the moment I'm fascinated with wiggly squiggles and an amazing green-gold liquid paint. Last autumn it was Native Pacific art...
My biggest problem is finding people to practice new ideas on - fake heads don't have realistic skin, painting yourself is hard (you know how you can always make-up ONE eye perfectly but not the other???) and my husband doesn't like it unless he can be a super-hero!
Body-painting (NOT the dodgy ones that circulate on emails) is also an interest of mine. I wish I had more time and permission to take photos, as this art form is so ephemeral, but smiles on finished customers are a huge boost. I like making them feel better or more beautiful!
I love getting dressed up and ALWAYS paint my own face first, must be an early second childhood! And it's great for meeting interesting people, or having random conversations, for example, "You want to be painted as a yellow button??? Why?"