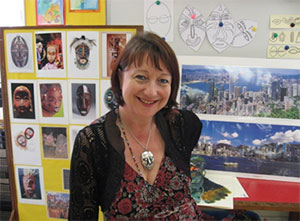 My artwork is inspired by the rhythms of the wonderful natural environment around us and the sacred and secret forces at work in the universe! I don't always plan what will emerge; artworks tend to evolve out of experiments with materials and paint. Sometimes work sprouts forth whilst experimenting at school... I will use absolutely any materials that are handy, and probably over-decorate most of it! I am about to start working on artworks which focus on the wonders of the invisible life forms of the ocean...
Kids on Lamma know me from the Earthkeeper days, weekly journeys out into a little nature detection and wonder. This led me to take up studying an MA Ed in Arts and Ecology in the USA. Still doing it! I write Earth Poetry with Eric and Christie and fiddle with a camera from time to time. Luckily, Hong Kong International School appreciates this direction and I get to develop projects that use art to express natural science as well as ecological and social issues.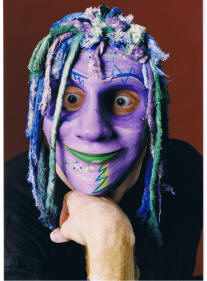 Over the years in HK, I've ended up teaching local students, community and women's groups, refugees, artists and teachers on all sorts of visual arts and theatre projects. I've worked with many schools, orphanages and remand homes through the Youth Arts Festival, Kadoorie farm, RTHK, and the World Wildlife fund. My favorite location in which to teach art is outside!!!
Over the last few years I have managed to work on Earth Art projects with all these groups, getting people fired up about the lovely place that we live in, and a little bit closer to knowing the Earth here in Hong Kong! I get to make art as I teach as well sometimes.
If you would like to know more about my 'Wild at Art' educational projects, please email me on flowerskatie@hotmail.com.
See below for an art gallery of my artworks Lamma-Gung put together: