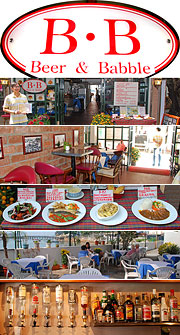 Coming from the ferry in Yung Shue Wan, the very first non-Chinese restaurant you're going to encounter on Main Street is B&B, short for Beer & Babble. You'll be warmly welcomed by Andy the Manager, usually greeting potential guests just outside the restaurant. B&B is one of our firm favourites, Lamma-Por and I patronize it at least once a week on average, often choosing their tasty daily specials.
This seems to be one of the most underrated places in Yung Shue Wan, almost an insider tip. With its consistently high quality of food, friendly, professional service and overall pleasant, relaxed atmosphere it deserves to be much more famous. B&B features several distinct areas (see photos below) with different design, seating and decorations separate this restaurant into various attractive parts, be it the bar area, family dining or the green patio with the stunning sea and sunset view.
The Western-style dining menu features a wide selection of starters, most including salad, soup and desserts. A fine and wide selection of soft drinks, beers and house wines are on offer, some by the glass. They do some really nice seafood, juicy steaks, pasta dishes. Mixed grilled vegetables come with many dishes and the very well-seasoned daily soups and crème brûlée dessert (a custard with a crust of caramelized sugar) are very popular.
People-watching from the front tables is one of our favourite aspects of dining in B&B. You can clearly oversee the major corner of Main Street between the Lamma Kiosk, Spicy Island and B&B. Within minutes, so many interesting people will be walking by, coming off the ferry in the evening. They can't see you as you're sitting inside, so it makes for great, undisturbed people-watching while you're enjoying a fabulous multi-course set dinner and a glass of wine! Village living in truly fine style. The bill, without the usual 10% markup, is actually considerably lower than in many other competing restaurants on Main Street: usually just between $50-100 for a set meal, including a drink. A really good deal!

But check B&B out yourself one of these days and make up your own mind. You might be in for a very pleasant surprise and might soon become a regular like us! See you there?