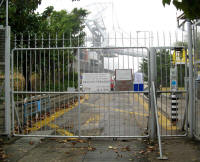 Non-employees usually get no closer than this locked gate.
Big signs discourage intruders.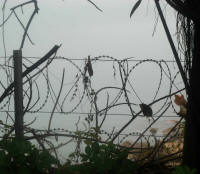 Barbed wire reinforces a fence near the main gate.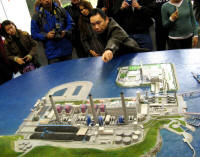 Hongkong Electric's Edmund Pang points out details at a tabletop model of the station.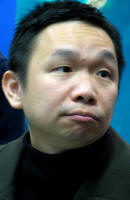 Public-affairs-man Pang reacts to an impertinent question.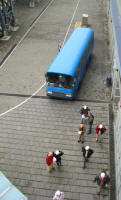 Yikes! Outsiders prowl inside the Lamma Power Station.
Electricity: it's a 'weighty' topic.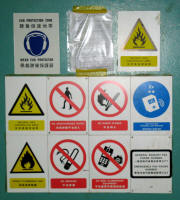 Rules and regulations apply.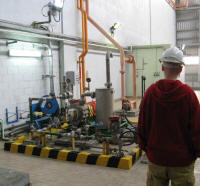 What does this gadgetry do?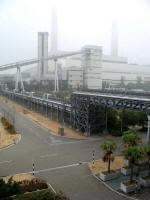 Roadways inside the station dwarf the footpaths elsewhere on Lamma.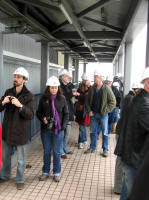 Not the usual Hongkong Electric team.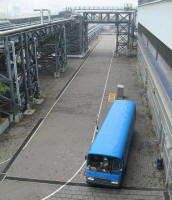 A tour bus takes visitors through unfamiliar Lamma landscape.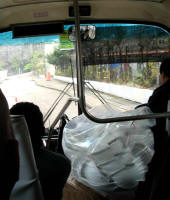 Large plastic sacks hold hardhats for everyone.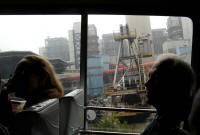 Visitors ponder the industrial setting.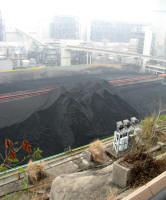 Plenty of coal waits, ready to burn.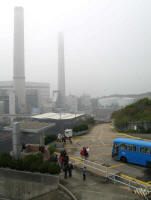 Massive chimneys loom in the mist.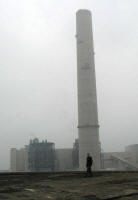 Power-station chimneys dwarf any man.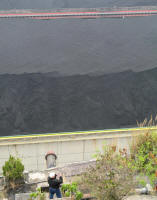 A visitor (bottom) photographs the dark "ocean" of coal.