What better way to start a new week than fast cardio-hiking up to the pavilion above the windturbine at 7am, breaking through the tall brush, which was still dripping wet from the night fog, clambering up a slippery hillside beyond the pavilion and taking these pictures of the sunrise?
Well, I could have been sleeping in, but then I wouldn't have gotten these shots well worth my early, wet hike. I also couldn't have gotten takeaway congee and fried glass noodles for Lamma-Por's breakfast. She had the good sense of actually sleeping in, just rising when I returned home. Then we watched the entire Oscar shows live together on this Monday morning, while enjoying our Chinese breakfast.
Yes, Lamma is a really great place for a relaxed, peaceful and healthy lifestyle.


Jay Scott Kanes - Official Court Senior Pet Correspondent - Cairns Media:

(Pictures and story by Jay Scott Kanes)

Dog Rescue Saves As Many As Possible

AP LEI CHAU, Hong Kong - Saving a life usually means gaining a faithful friend. By routinely saving lives, Lamma Island resident Sally Andersen has won thousands of friends, most of them with sensitive snouts and wagging tails.

"I do have a lot of friends," Sally said. "I'm never lonely at home, despite living with no other people."

As the founder and leader of the Hong Kong Dog Rescue (HKDR) charity, Sally visits government kennels (most often in Pok Fu Lam) about twice a week to see the abandoned dogs incarcerated there and facing euthanasia. She takes away those she believes most deserve another chance and for whom HKDR can find new homes.

"If I don't take them, no one will," Sally said. "They'll be killed. No other organization does this work."

Sally's noble mission occupies her seven days a week, as does a huge problem. How can she peer into canine eyes and decide who lives and, essentially, who dies?

"It's very stressful, the worst," Sally said. "I hate it. For me, it's very difficult to look at a dog and know it could find a home, but to leave it behind to die just because of how many dogs we already have. I can't – I'll try to take it anyway – because it deserves a chance."

Mind you, "some of it (the decision-making) is obvious. The pugs and the little ones – I'll always take them. They're the easiest to home. More people want them. Next it's golden retrievers and any friendly dogs. I nearly always take puppies too, unless they're really wild. The most difficult cases are mongrels, especially the adults."

Signs of aggression rule dogs out. "If a dog rushes at me, showing its teeth and growling, I won't risk taking it. But if a dog is scared, yet I can approach and touch it, then I'd like to give it a chance."

When in doubt, Sally returns. "At first, they could be stressed and frightened. So I may leave the final decision for a second visit."

Although Sally wants to save nearly every dog, that's impossible. Each year, the Agriculture, Fisheries and Conservation Department (AFCD) "puts down" 20,000-plus healthy dogs, each after four days in custody. Angered by this peculiar "conservation", activists often (futilely) urge the government to limit homeless animals by spaying or neutering instead.

HKDR can handle only a few hundred dogs at a time. So how does Sally ease the stress of making life-and-death decisions? "I just have to deal with it," she said. "If I don't, no dogs get saved.

"Sometimes the stress builds. Then maybe I'll lose my patience with people and yell at them, especially if they say they want to surrender dogs. People unlucky enough to call me at the wrong time may get an earful."

To balance her emotions, Sally focuses on the thousands of already-rescued dogs, each a success story. "That's the whole reason for doing this," she said. "There's a big satisfaction in rehabilitating dogs, often bringing them back to health, and finding them new homes."

As Sally spoke, a small, fluffy dog named Sparky, a Pomeranian-cross, sat quietly in her lap. Someone once surrendered him to the government kennels for "being aggressive". In Sally's company, he looks serene and gentle.

Another dog, Gertie, partly Sharpei, watched from a doorway. "At the government kennels, Gertie was very scared, but not aggressive at all," Sally said. "I knew she wouldn't find a home instantly, but thought that since she was sweet-natured, we could work with her and she'd become friendly. At first, she felt so terrified that she filled a vet clinic with (stress-related) diarrhea. That's why she's called Gertie – for being Squirty Gertie. But now she's lovely and sweet."

Both Sparky and Gertie look to Sally and respond to her. Are most HKDR dogs so grateful? "I think so," Sally said. "We can tell by how they respond. When their behaviors and characters change for the better, we know they're responding to a better environment and how we treat them.

"As for the homed dogs, sometimes years later they see me or volunteers who cared for them at HKDR fundraising events, and they remember. Each November we have a big event called Peak to Fong. We walk from the Peak to Lan Kwai Fong and have a big street-party there. Hundreds of people who have adopted HKDR dogs bring their pets. Many dogs recognize me or our volunteers and react enthusiastically by jumping up and with lots of tail-wagging. But the best thing is that after greeting us, the dogs turn back to their owners. They're happy with their new homes."

Established in 2002, HKDR focuses on 3Rs (rescue, rehabilitate and re-home). It matured from a one-woman mission into a busy animal-welfare team with a half-dozen employees and dozens of volunteers. Each month, people adopt about 50 of the dogs.

"I founded HKDR out of necessity," Sally said. "By chance, I learned about the government kennels and the policy then of no re-homing. Any dog going in was killed. So I started to help by taking some dogs. Officially, only organizations could do that so I had to form one.

"It began with one dog, then two. When Christmas arrived, short staffing at the kennels on the holidays meant that I had to take a lot of dogs or they'd be destroyed. On that Christmas Eve, I took 25 dogs with me to Lamma Island."

Now Sally ranks as Hong Kong's leading dog guardian. "Probably no one has more dogs than I do, at least legally. The government won't allow dogs to be registered to an organization. So technically, every dog in our care belongs to me."

HKDR keeps about 200 dogs at its kennels in Tai Po. Twenty small dogs live at a homing centre on Ap Lei Chau.

Meanwhile, Sally has three remote houses together on Lamma where she lives with 80 dogs, mostly puppies and the adults who have lingered the longest with HKDR. With so many "security guards", she considers her home super-safe.

Do 80 dogs and one human living together create chaos? "It's amazing how well the dogs organize themselves," Sally said. "At night, they all sleep inside. Between themselves, they decide where everyone sleeps. Even when I take them for walks, they all have their own places in the group as we go. It's always the same dogs on my right, the same dogs on my left, in the same sequence. They work everything out. I just oversee it."

Living with so many dogs heightens Sally's understanding of them. "It makes me appreciate them more," she said. "I know they're intelligent, can sense and feel, get lonely or afraid and experience emotions. Knowing them so well makes it harder for me to see how they're treated by people who don't understand."

Dogs "can be everything – best friends, companions and more. Having dogs or cats is known to reduce peoples' blood pressure. But for me, cats don't have the personality or bring the enjoyment that dogs do."

Only once was Sally seriously attacked by dogs. "I'd taken two bull-terriers from AFCD," she said. "They'd been together a long time and were very loyal. I tried to put the female back into her kennel. The male thought I wanted to do something horrible to his mate. He launched himself at me and savaged me badly."

That grim incident put Sally temporarily in a hospital bed, but didn't stop her work. "These days I know how to approach dogs, read them and keep myself safe when handling them," she said.

Sally grew up in Germany, but she's British and later lived in London. "I always loved animals," she said. "I had dogs, but horses were my passion. I worked at anything that left me with enough free time for horses. I knew people who needed their horses exercised."

In 1984, Sally arrived in Hong Kong on a journey around the world and stayed. Soon she noticed the local dogs. "On Lamma, many dogs used to be abandoned off the fishing boats," she said. "They turned up all the time. I tried to find homes for those dogs long before starting HKDR."

Then as a business executive, Sally set up the New Age Shop, all about meta- physics, personal growth and alternative health. After selling it, she started HKDR.

Dog Rescue always needs donations and volunteers. It takes a massive effort to pay the bills, especially for veterinarians, and to care for so many animals. All dogs more than six months old get spayed or neutered. Dedicated volunteers ensure the animals are well exercised, socialized and happy.

Sally and her team insist that dogs deserve kindness and respect. Even badly behaved ones can reform. All HKDR training or rehabilitation involves positive reinforcement, not punishment.

Invariably, people who hit dogs worsen matters. "Owners who think their dogs misbehave, maybe by running around and playing, will yell at them and smack them. Then the dogs have no way to defend themselves except by biting."

Lack of exercise causes problems too. "Some people never take their dogs for walks. Then they wonder why the dogs bounce off the walls. When those dogs finally reach us, they're fine. They just need some space and exercise."

Anyone wanting to adopt an HKDR dog must complete a questionnaire. Then Sally and her team recommend suitable candidates. "We know our dogs and their personalities and try to match each dog to the right home."

Mongrels often make the best pets. "A dog's health and personality are far more important than its breed," Sally said.

HKDR welcomes donations of money, blankets, dog beds, crates or healthy dog treats. It holds fundraising events and even operates a small shop with dog-related products like calendars, desk diaries and books showing the candidates for adoption.

"We need HK$400,000 per month to operate," Sally said. Most of it comes from small donations.

Will HKDR remain Sally's life-work? "I don't see how I can get out of it unless there's a radical change in government policy, so that we're no longer required," she said.

For more information: www.HongKongDogRescue.com.

Today, I'm celebrating the 3rd anniversary of my weight loss surgery (Surgiversary of my Vertical Sleeve Gastrectomy). I've lost almost half of my former body weight in 1.5 years and, more importantly, have managed to keep my new weight steady for 1.5 years now, thanks to careful, thoughtful eating - no more dieting! - and frequent exercise, mainly hill hiking and Boostcamping.
Automated email from www.ObesityHelp.com today:
"Congratulations!
HAPPY ANNIVERSARY !! HAPPY ANNIVERSARY !! HAPPY ANNIVERSARY !!
How have you been?
According to information you entered into your profile with us, it was on this day, 3 years ago, that you began your new life as a post op.
Congratulations on that rebirth!
Some post ops are forever eager with boundless energy to share their story with peers. Others have totally moved on in life and cringe at the very thought of being reminded of the topic of obesity. Presumably you are somewhere in between. Regardless of where you would place yourself, I'd like to extend to you a sincere thank you.
I don't know if you and I might have personally emailed or chatted online since I created ObesityHelp.com in 1998, but I must tell you, our work (my programming and the participation of people like you) have gone a LONG way toward helping people. We had over 175,000 members at the end of 2003. We get about one million page hits every day. We've educated hundreds and thousands of health care professionals in the country, helping take a big bite out of obesity discrimination. It's really been much more than I had ever expected when I started the site.
The reason I wanted to thank you is for having set an example for others to follow. To this day, there is fear and ignorance surrounding the topic. People like you who took the brave step of moving forward and doing something positive in your life stand out as an important role model to others.
I'm not sure how easily those days before your surgery stand out by now, but every hour of the day, hundreds of your peers years behind you go through profiles such as yours for inspiration, hope an encouragement. While you might have have grown light years away from your previous life, the mark that you left behind on my web site has touched and continues to touch tens of thousands of people...."

P.S. For more details about my weight loss journey, as chronicled in a few Lamma-zine stories, see this updated summary story:
The Detoxed Yoga Bunny.

Fishermen's Village Typhoon Shelter - Saturday, Feb 19, 2pm:
Official start of the 2011 Dragonboating season on Lamma! The Lamma Dragons have been launching the Dragonboat they're renting from the Lamma fishermen - nicknamed The Pig, stored in the Fishermen's Village during the off-season, beyond the YSW Library - into the sea for the very first time this year. They're calling it "putting The Pig in water". All old and new dragonboaters were called in to help out because this traditional, wooden boat is really heavy.
The Lamma Dragons' very own fancy fiberglass boat, nicknamed The Piglet, is still stored off Power Station Beach. The threatened removal & cleanup operation by the Lands Dept. last year has been settled amicably, for the time being.
(Photos by Holly Trueman, thank you!)
If you're interested how the end of the Dragonboating season will look like -taking The Pig out of the water and storing it for the off-season - see my own photo gallery from last year: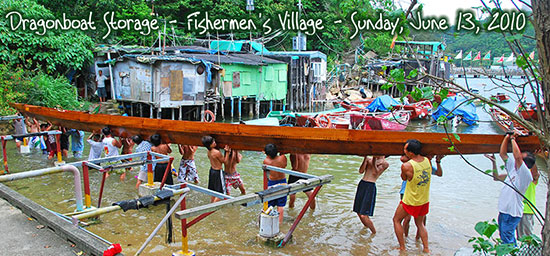 Jo Wilson - Secretary - Living Lamma - Tel. 9042 3241

(Text and pictures by Jo the (Honourary) Lap Sap Lady)

Living Lamma, in association with Green Glass, has started an on-line campaign to ask government for facilities to recycle glass.

Hong Kong has few places where glass can be recycled. There are no facilities to do so on Lamma and it is common to see glass bottles stacked next to the bins, or wrongly, put into the recycling bins. Often these bottles get broken causing a potential hazard for Lamma's human and animal residents.

Elsewhere in the world, glass recycling is common. Sweden recycles 100% of its glass, Switzerland 95%, while in Asia, Japan recycles 90% and South Korea 70%.

Hong Kong recycles just ONE percent. It is hoped that this will improve in future. There are now two glass recycling factories in Hong Kong, but the problem is that there are very few collection points for glass bottles and jars.

This is the reason for the petition. To support this campaign, please go to Glass HK. Your email details will remain confidential, but you can view the signatures and comments of others. Please help by circulating the petition to as many people as you can. Don't worry about the appeal for donations, this is from ipetitions and can be declined.

Many thanks in advance for your support.

As a wannabe professional photographer, I'm always carrying a camera with me wherever I go, at least a handy, shirt-pocket-size, touch-screen snapshooter. There are just too many opportunities while out on Lamma that I come across a scene, a sight or somebody when I just have to whip out my camera and sneak a quick peek, grabbing a snapshot of a rare or even unique moment in time, often never ever to be repeated again.
This is one such moment, a Newbie Lammaite (already a Lamma Spirit Philosophy Café regular) who I talked to from the opposite side of Back Street while the Sunday afternoon pedestrian traffic was flowing relentlessly between us. The combination of colours, textures, fabrics, lighting and that smile of an obviously happy and self-secure guy, Lamma Winter Fashion at its most typical!
Take a bow, Tricky Dycky, Lammaite of the Day, an (un)official "Welcome to Lamma!" to you from the Lamma-zine!
Let me continue my dormant series of "Lammaite of the Day", building up a kind of Rogues' Gallery, like a visual history of fascinating Lamma characters, or "unexpected encounters I regularly have with the most interesting and peculiar personas", as our newest Official Court Correspondent likes to call them. Let's hope she tells us more about them soon....
But why do so many of these characters have full beards?! Let's feature some hairless guys (and girls?) or at least some unusual hair colours soon.

The world-famous Rainbow Warrior II ship by Greenpeace is currently anchored at the Park Island pier, two ferry piers to the left of Central's Lamma ferry pier. It's stopping over in HK for a farewell visit before being de-commissioned and replaced by version III later this year,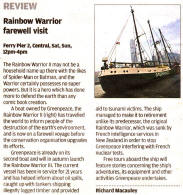 after 21 years in service. They were open to visitors last weekend, noon-4pm.
Senior Lammaite Dave Parker, a former Lamma- zine Artist of the Month, floated the idea to the captain in person of stopping over in Yung Shue Wan for a short visit while leaving HK in a few days. Captain Michael welcomed the idea, if somebody would organise it. Dave can't be in HK to do it himself, he told me. He's looking for somebody to organise a potential stopover, lunch, boat visit and photo opp of the Rainbow Warrior in YSW Harbour.
Anybody interested in organising this can get in touch with the crew; just visit the boat, ask for the captain and refer to Dave Parker.
---
P.S. - Feb 22: I've just received a link to a photo gallery of a few Lammaites visiting the Rainbow Warrior recently, even being allowed inside! Grahame Collins writes:
"Dave Parker and I got to meet the captain, Michael. Books were signed and exchanged and the trip to Lamma was discussed. I hope that someone is able to organise a visit by the ship to our fair isle as it would be a great opportunity to see her before she is decommissioned."
"Rainbow Warrior Online" photo gallery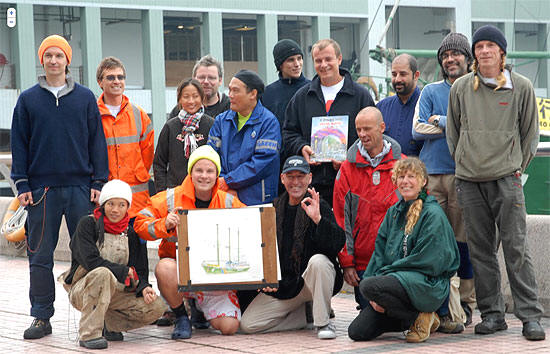 Dave Parker kneeling in the centre (he loves to be in the centre...) with his drawing of the ship. He presented it and his book - A Brush with Hong Kong -
to Captain Michael, in the red jacket.
P.S. II - Feb 24: Greenpeace has just responded to our suggestions:
"Thanks a lot for your email. Yet we are sorry to say that the schedule for the following days of the RW has been set and it is quite difficult for us to arrange a stop at the Lamma.
Yet we will be doing an additional open day on FEB 26th, from 10am-15:30. The ship will leave the city on the 27th. Hope you can come visit us this weekend!"


The first STOP poster appeared on the Democracy Fence (opposite the Democracy Wall) about a week ago. An Alert Reader (and mother) sent me a photo of the poster, signed by the "Villagers and snakes from Yung Shue Long Old Village". This most curious notice raises a lot of questions:
It's in English, most unusual for a notice like this, no Chinese at all, so obviously addressed at non-Chinese-speaking children and their parents?

It's signed by the "Villagers and snakes from Yung Shue Long Old Village".
How did they get permission to speak on behalf of the snakes?

Any feedback from the children being accused of stealing tools and, most dastardly, disturbing the peaceful, wintering snakes which are now stirring and becoming more active soon again, ready to defend this private land by attacking playful children?

How are these snakes being rewarded for their guard duties of this private land, being fed with mice?

How will the police react if the land owners complain to them about children disturbing the snakes? They'd be most likely to thank the children for informing them and then get on with catching and/or killing the snakes?
I started a forum topic - STOP - and we learnt quite a few more details about what caused the outrage expressed in the poster. During the Lunar New Year holidays, local children played war games in the Yung Shue Long Valley, even building kind of a "little people village" in the bushes. Several forum members witnessed the games, but were pretty sympathetic to the fun shenanigans.
Bringing up children on Lamma is very different from much of the rest of HK, playing outdoors is usually strongly encouraged, climbing on rocks and other mildly dangerous activities are usually not discouraged at all.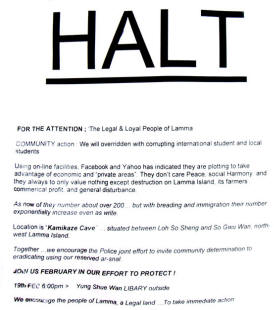 After the Lunar NY holidays ended and the children had returned to school, a similar poster appeared on the Democracy Fence: HALT. Addressed to "The Legal & Loyal People", it calls for "community action" against 200+ students taking over the Kamikaze caves, organised via Facebook. It calls for a meeting at the YSW Library on 6pm today, Saturday. Somebody had already scribbled a huge "BS" over it.
This is most likely a creative spoof, a clever parody of the original STOP poster. But judge for yourself by clicking on the posters. By sheer coincidence, we returned from the Lavender Garden Tour (see tomorrow's story) on the 5:50pm arrival ferry. As expected, while walking down the ferry pier we couldn't see anybody assembling at the Library....
But hey, if you or somebody you know is behind these posters, you're most welcome to post anonymously in our STOP forum and tell us more!

Some of us North Lammaites have been living here for decades, but few of us have ever been inside the Power Station, even though we live so close to it and see the 3 landmark chimneys every day. After years of occasional, gentle persuasion by myself, HK Electric's Public Affairs Dept. finally arranged one of their extremely rare English-language visits into the Power Station, this time exclusively for Lammaites. I invited the subscribers and readers of my biweekly/monthly Lamma-zine email newsletter (subscribe above) and handled the registrations.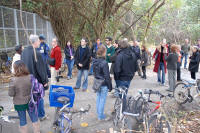 This first-ever English-language tour for Lammaites filled up within a day and one lady compared it to winning a Golden Ticket into Willy Wonka's Chocolate Factory! Quite a few people were left on the waiting list, even after inviting a few more to replace last-minute cancellations. I'll be trying to organise another tour later this year, but they informed me that "the corporate visit schedule in 2011 is extremely packed and we will bear in mind your request and see what's the best we can do."
I've been permitted into the Power Station only a few times myself, usually for Lamma-zine-related reasons:
* "Familiarisation Visit" in 2004, soon after HK Electric became a main advertiser on Lamma.com.hk;
* Passing through in an ambulance to get Lamma-Por with a racing heart problem to the Power Station helipad to fly to the hospital, in 2004;
* Releasing trapped & neutered feral cats with Dr. John of LAWC in 2009;
* Media-only briefing and site visit on the Power Station rooftop:
July 29, 2010: HK's Largest Solar Power System Launched.
HK Electric got loads of often very critical questions from us, their "neighbours", but also quite a bit of positive feedback:
"I am impressed with the advent of their solar panels and wind turbine plans, but how realistically viable are these environmentally friendly ways to replace coal power for good?"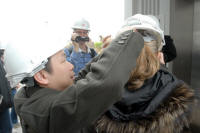 Dembo: "Handled well by HKE's Edmund Pang (see right), some questions from the tour group were skimmed over, but very graciously. I would have been interesting to have seen some of the working areas in action, staff canteen/ dormitory areas (of there are any) to give us more of a sense of the working life there. All in all, an interesting glimpse behind the gates."
Grahame: "A very impressive and informative tour. Our host/guide was superb and his knowledge of the station and it's operation was first class. The visitor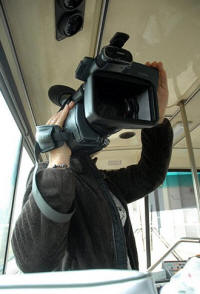 centre was very interesting and should be used more often, especially for school visits. Thanks very much for organising the trip and please pass thanks on to Mr. Pang for a very professional and well-presented tour."
Alan: "Well, some interesting views, but as for the machinery, all we saw was some big steel boxes in an empty room. Nothing visible moving. No staff even.
Would have liked to have seen the control room (which was upstairs from the hall we saw the video in); the dock with some ships unloading coal say, or going into the furnaces. Somewhere where something was happening.
All the people hassling the PR guy about pollution and such was a silly waste of time. He's the wrong person to ask and he'd never admit any problems."
Iliketurtles: "It was very good of L-G to organise this trip, and, as I understand it, pretty ground breaking for such a large party to be permitted, cameras et al, and the tour be conducted in English. Mr. Pang treated us very well from start to finish.
I am a fairly new resident here but I know of the sensitivities the local community has (justifiably, in my opinion) with regard to the Power Station so I thought this would be an excellent exercise in getting to understand the inner workings of the power station a little better.
At the time, I was a bit worried that the tone and style of some of the questions from our group were perhaps a little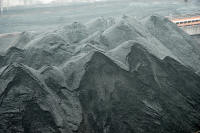 provocative (and again, I can understand why this was the case).
Whether or not we found out very much accurate detail over output waste, temperatures of effluent water or other contentious information, the actual tour was pretty awe-inspiring and if our community is permitted to visit again, I would thoroughly recommend it. Just to see the thousands of tonnes of coal just over the side of the hill from our village was a sight to behold."
Jay Scott Kanes - Official Court Senior Correspondent - Cairns Media:

(Pictures and story by Jay Scott Kanes)

LAMMA POWER STATION - Tall gates swung open, and security guards stood aside, even smiled. Suddenly the large section of Lamma Island strictly off-limits to locals and tourists, protected by security cameras and barbed-wire-laced fences, temporarily turned into a more welcoming place.

For the first time in recent memory, the Hongkong Electric Company (HEC) allowed some neighbors (about 40 of them) into the massive Lamma Power Station. It conducted a tour specifically for Lamma Islanders and complete with a bus (blue), hard-hats (white), a guide (congenial) and information (plentiful).

Established in 1982, the Lamma Power Station supplies electricity to Hong Kong Island, Ap Lai Chau and Lamma. HEC public-affairs specialist Edmund Pang explained that the 72-hectare station has eight coal-fired units, five gas-turbine units and two combined-cycle units – for total capacity of 3,735 megawatts.

The station's three massive chimneys loom above northern Lamma. "They're very tall – 250 metres," Pang said. "We put in such tall chimneys because we wanted to ensure that (emissions) would be dispersed to negligible concentrations."

Seventy per cent of the station's output comes from burning coal. "We combust more than three million tons of coal per year," Pang said.

Most of the coal, delivered by barges, arrives from Indonesia with some from Australia and the Philippines. Away back in the 1980s, Chinese mines provided the coal, but now the booming mainland economy needs its entire domestic supply.

For its remaining output, HEC relies mainly on natural gas arriving from Guangdong Province by a 92-km underwater pipeline. A windmill on a nearby hillside and 5,500 on-site rooftop solar panels contribute too.

Most of the visitors, despite living beneath the massive chimneys, never before had set foot inside the station. As residents of a blissfully motor-traffic-free island, neither had they before ridden on a Lamma bus.

Peering out the vehicle's windows at so much industrial structure created a powerful impression of no longer being on Lamma. Everything looked totally different from the familiar "green" isle. Some tour-takers marveled at the station's impressive roads, complete with street names, which dwarf the footpaths elsewhere on Lamma.

The visitors stood on an elevation and peered down at a dusky ocean of coal, enough to supply electricity for months. Seen from its base, the stockpile resembled a black mountain range, much less appealing to climb than Lamma's natural hills of rock and dirt. A prominent sign warned of dangerous "coal slips" that could bury people.

Although most of the tour participants appeared to enjoy themselves, some grumbled that they received incomplete or unsatisfactory answers to "urgent" questions about air pollution from the big chimneys. When asked about the station's "negative impact", Pang replied that he couldn't think of any, except maybe for the "visual" aspect.

The tour also stopped at a visitors' centre (to view a tabletop model of the station) and at a gas-fired generating unit's turbine hall.

Andrew Guthrie (pictures & story):

A Visit to the Lamma Island
Power Station

We see this big thing all the time, from all possible points of view, its fundamental necessity crudely interrupting the idyllic panorama of the Lamma Island countryside. Yet it is not entirely unattractive. We want to get closer. We want to go inside. And though it is providing the most everyday, essential aspect of our lifestyle (electricity is everywhere), the Lamma Island Power Plant is "off-limits".

Understandably, access is restricted due to the volatility of some of its components, as we are most definitely made aware of once given "visitor" access. We are as carefully processed as the power plant's coal ash and methane exhaust. A PR campaign is underway, but we also must be warned before coming close to the contained explosion that energizes the city.

But I want to go further into the industrial maze, to go off the tour. Don't we all? The place disallows the curious unguided individual, so I am restricted to a group orientation (a virtual tour on the scale of models) and am only given a couple of glimpses of the actual thing: a huge turbine in a spotless, gigantic cavern; the staggering mountains of coal that are reduced by our electric consumption in a matter of weeks.

In some ways these power plants are our cathedrals; a structure whose sheer size and organization generates a more effective PR than any spoken argument, presentation or 13-minute video (as we saw in the Visitor's Center). Why would I call an industrial factory beautiful as it blights the countryside? It is a dazzling house of power with its attendant and efficient infrastructure, something we soon find we are all in need of regardless of the consequence.



Stylus Theatre HK: Press release, written for Lamma-zine: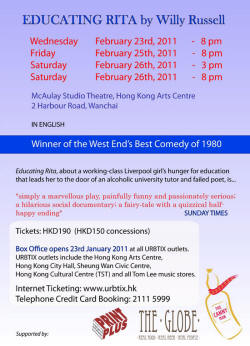 New Lamma resident in lead role in smash hit stage comedy
Educating Rita by Willy Russell
Adam Harris has moved to Lamma this week. He continues a long tradition of Lamma residents leading Hong Kong's theatre scene. He directed Lammaites Andy Fullard and Meg Teckman in the sell-out The Rocky Horror Show last year. Adam says that Educating Rita should appeal to Lamma residents as it explores many of the lifestyle decisions that lead people to live on this island. It is also wonderfully funny.

The play runs Wednesday 23rd to Saturday 26th February (with no show on the Thursday).
Friday and Saturday night are sold out so, tickets are only available for Wed 8pm and Sat 3pm. They are available at www.urbtix.hk and cost HKD 190.

The play, which led of course to the beloved motion picture with Michael Caine (whose part Adam is playing) and Julie Walters, portrays a working-class Liverpool girl's hunger for education that leads her to the door of an alcoholic university tutor and failed poet.

In the words of the Sunday Times it is...
"...simply a marvellous play, painfully funny and passionately serious;
a hilarious social documentary; a fairy-tale with a quizzical half-happy ending."
Educating Rita won the West End's Olivier Award for Best Comedy in 1980.

A charming, poignant and hilarious evening of theatre not to be missed and with much food for thought on the ferry home.

Let me tell you a different type of Valentine's Day story today. It's a true story of how I almost got fired from my high-flying job in my former life as a high-flying "Mr Internet", all because of a Valentine's Day story in the SCMP, my most memorable Valentine's Day ever!
I reconnected recently with the guy who threatened to fire me instantly back then, the Deputy Director of the company. He was looking for info on his old friend, late Senior Lammaite Jenks, via this website a few weeks ago. He found our R.I.P. Jenks story via Google and contacted info@lamma.com.hk. I recognised his name and we reconnected, after no contact in over a decade. He's happily retired now back in the UK and admitted to me with hindsight that the incident back then was an "appallingly embarrassing Valentine debacle" (his words) for him and the company.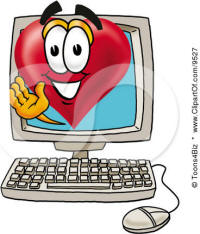 It all started when the SCMP wanted to publish a story about how I had met my HK-Chinese wife, Lamma-Por, on the Internet 26 years ago - a very unusual way of hooking up way back, you know, in the last millennium. Planned for the cover of the CITY section on Valentine's Day 199x, it was based on a private interview and photos in our home. The story didn't even mention the company I was working for back then as their Head of interactive multimedia projects (all their Internet and multimedia activities - CD-ROMs, touch-screen kiosks, CGI, etc - for their 20 offices worldwide).
When hearing about this almost completed story, the Deputy Director came down from his aloof Executive Floor in person and took me aside. He bluntly threatened to fire me instantly for insub- ordination if I wouldn't stop the SCMP from publishing the already written, purely personal story. He asserted that I was well-known in the industry and that many readers would know where I was working when reading the SCMP story, even if the company wasn't mentioned at all.
The company had suffered some major bad publicity weeks before - somebody being killed by a tragic accident during a yearly high-profile event they had organised - big news back then. So this usually very publicity-hungry company decided to try hiding from the public for a while, trying to lay low in all the media, let it blow over and not even permitting private, positive media appearances by any employee - without informing us first, of course.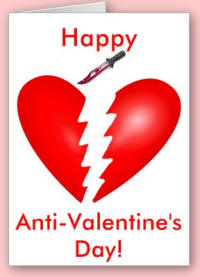 I almost left the company that day, so angry about this intrusion and violation of my privacy. But it was the best job I've ever had in HK, making a real difference with a big, ever-increasing budget and resources, winning numerous awards for the company and surfing at the leading edge of the local Internet revolution. So I relented, very grudgingly, getting the story pulled almost at the last minute. It was a pretty angry and upset Valentine's Day for us that year. But I continued my great fun job, till I was headhunted away by Hutchison some time later to head up one of their Internet startup companies.
Just a few weeks later, it all blew over and our PR Manager got a full one-page personal profile in the Post Magazine. One year later, our love story was finally published, without any opposition, just one day before Valentine's Day. It was a very warm and entertaining story making lots of fun of me, written by another journalist friend - a much better story than the original one - about "real romance in a virtual world". Email me if you're interested to read it.

Jennifer the Food Anthropologist - Official Court Correspondent:

(Story & pictures by Jennifer)

It happened on Main Street during the rainy afternoon today, Feb 13. I attach 8 photos.

I was on my way to the Bookworm to enjoy the Soup & Salad meal, when I got caught in the midst of drums banging, horns blowing and a procession of curious people and local performers following a man dressed up as a colorful fairy-tale creature of some kind (Lion/Dragon? I couldn't see) and another man acting as tail.

They were apparently visiting some of the Main Street restaurants- and food stalls to perform a "Chinese New Year Business Blessing ritual" (for lack of a better concept, I am sure locals can fill you in on what was actually going on) and to collect salad heads placed outside and inside the restaurants and food stalls, and collect red pockets with money as a sacrificial gift to keep the businesses in good health over the coming year of the Rabbit.

I asked at the Green Cottage what was going on and got this explanation above. However, they did not participate, as owner-chef Ron is a Christian.

Later, as I finally got to the Bookworm, another surprise awaited: a young US anthropologist, science fiction- and home brewing expert living in Shenzhen had found his way to our lovely Lamma. He had decided to defeat the rain and do the hike from Yung Shue Wan over to Sok Kwu Wan. We ended up sharing a table and our discussion on home brewing lasted for hours, before we eventually said goodbye and I pointed out the way towards Hung Shing Yeh Beach.

It was a typical "Lamma day":
unexpected encounters, local culture experienced up close, which at least to me are some of the reasons I decided to move here in 2009!
P.S. Do YOU have an interesting Lamma- or Lammaite-related story, blog or photo gallery that you'd like more Lammaites to see and/or read?
Become a guest blogger or correspondent for the Lamma-zine! Contact me!

Waterfront Restaurant -- B&B Restaurant (click to enlarge)
Palm Tree Restaurant - Concerto Inn (click to enlarge)
(These 3 restaurants are Lamma-zine advertisers)

The Democracy Wall at the ferry pier, renovated and painted in steely-grey, has been out of poster display duty for the last several months. Any and all posters are being removed by at least one anonymous, secretive cleanup vigilante, NOT the cleaning ladies of the FEHDept. The fence opposite The Wall has taken over the poster-display duties. I'd suggest to call it Democracy Fence from now on, till a better name is made up.
The Democracy Fence is filling up with often interesting & intriguing posters nowadays, building up layer upon layer as nobody is cleaning off outdated posters on a regular basis, forming a cultural history of Lamma, our events, activities and concerns.
I often wonder what the swarms of visitors make of us if they ever (rarely) take the time to look at this current crop of posters (see below) more closely. No wonder we've still got this annoying "Hippie Island" moniker, when Lamma visitors see posters like the first one below, promising to "heal your broken soul, activate your DNA, change your unsupportive beliefs, and remove your blockages to manifesting the abundance you desire". Wow, doesn't it all sound great and wonderful? I desire abundance and would love to remove all my blockages, activate my DNA and heal my broken soul! Sign me up!
Hey, can I also get my PC fixed while you're fixing my broken soul, please?
Another metaphysical example of a very artsy poster for a Buddhist meditation and discussion group. These two versions of the very same poster seem to demonstrate some basic concepts of Buddhism: the water below the mythical lotus flower dissolving our massive egos, melting away our many worldly desires, washing away our impurities and sins, reaching blissful Nirvana?
Maybe the posters just demonstrate the karmic, transcendent, eternally repeating mantra of the ever-lasting truth: "Never use inkjet printers for outdoor posters!"

Today, just a little favour for an old friend and former Lamma Artist of the Month. He's returned from Sri Lanka recently and is looking for more freelance work. You can contact him for all types of illustrations and cartoons: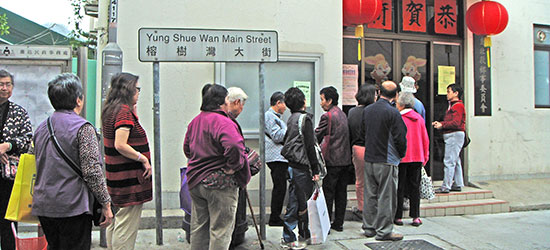 Something you don't see often on Lamma on a weekday is a long queue. We (almost) never have to queue up anywhere, not even in restaurants or shops. Except when there's something desirable is being handed out for free, then a long line will form almost instantaneously!
This morning, well before 9am, outside our "City Hall", the Rural Committee office opposite HSBC on Yung Shue Wan Main Street, at least 20 Lammaites - mostly female, many elderly - lining up before the office opened at 9am. Always curious, Lamma-Por and I joined in the lineup to see what this most unusual phenomenon was all about. Such a long queue of Lammaites at such an early hour can only mean one thing: something highly desirable, but very limited is being given away for free, but only while stock lasts!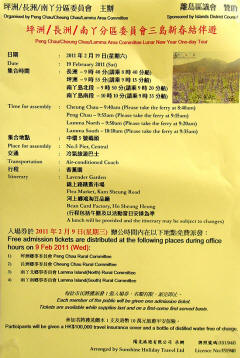 Being the only non-Chinese in the lineup, one of just a handful of males and the tallest in the queue, I wasn't embarrassed one bit (honest!) But quite a few acquaintances walked by on their rush to the office, looking at me incredulously, probably wondering what I was lining up for.
Well, the office opened on time and we rushed in, without trampling anybody (this time). Yes, they gave away tickets, first come first served, for an all-free Lunar New Year Tour, including transportation, all fees and even lunch provided!
Only two tickets per person were handed out and they were gone within minutes! So if you're also interested in joining this tour with our fellow islanders from Sok Kwu Wan, Peng Chau and Cheung Chau, then you're way too late by now, heh heh.
But it was posted in my Lamma Events Calendar well before Lunar New Year and listed at the top of the home page & forum.
So don't complain I didn't tell you, please!
---
P.S. You might wonder how come that both Lamma-Por and I were passing by City Hall at such an ungodly, early hour, not working in town? Well, like all the others queuing, we knew about it beforehand, of course! Most of us spotted this poster above posted on the door of the Rural Committee well before the Lunar New Year holidays. This is the inside welcome desk these days, but I think the expensive- looking red wine bottles are not freebies for takeaway, unfortunately...

Well, there'll be another one of my photo galleries about this tour on Sat, Feb 19, of course. For future tours, keep an eye or two peeled for posters on the doors of our City Hall, announcing these frequent, free or heavily subsidised tours for islanders. They're usually announced and conducted in Cantonese only, so bring along your personal interpreter. Thank you, Lamma-Por! This is her ticket: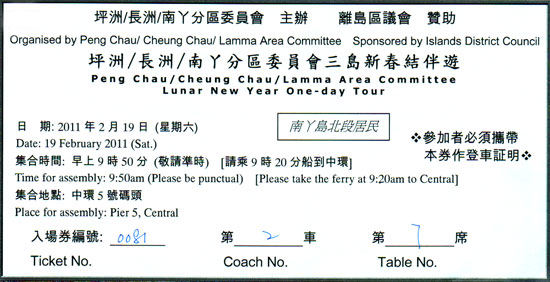 Today, I've got a new link to a very good, personal blog by a Lammaite. Stella Bella is living on "Happy Island", not "Hippie Island" with her Hubby. So we could call him HHHH, Her Happy Hippie Hubby?
Probably not, but their adventures and frequent hikes of exploring our home island, with loads of great and artsy photos, might even show us other Lammaites some new places to explore ourselves: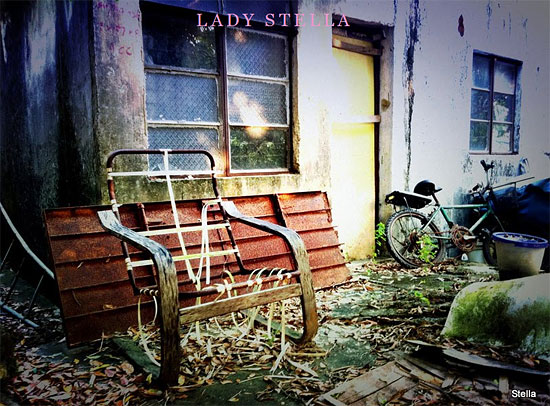 P.S. If you'd like a few (or a lot) more readers for YOUR personal, non-commercial Lamma-related blog, let me know and I'll be happy to promote it for you here in the Lamma-zine; for free, of course! Always eager to promote the best of Lamma!

TwoCrew, the off-Lamma graffiti painters, returned yesterday to finish their painting at the back of the house opposite Tropicana takeaway restaurant on Back Street, just after Nick's Corner. It was started on Jan 27.
A Chinese neighbour living close-by smiled at me when I took this photo above and exclaimed in an admiring tone "Hoh laengah!" Yes, I agree, it's really beautiful and I'll be happy to pass this colorful, cheerful artwork at least once per day.
The TwoCrew Team is always looking for legit places to paint, with explicit permission only, often just for the cost of the spray cans, plus copious amounts of beers, preferably Heineken. You've got a sad, blank wall, outdoors or indoors, that could display their talents?

Let's talk about prodding a hornet's nest with a long stick! Longtime forum member FunkyJazzy courageously dared to post his personal opinion about Lamma's many musicians and the quality of music performed here. He mentioned amateurs who can only strum 2 or 3 chords, low quality, Lamma parties dominated by Irish music and drunken shouting instead of beautiful singing, Lamma's musicians not having the proper knowledge ("How many inversions can the G5 chord make?") and not working hard enough to become really good, in his opinion. He demands that all performed music should "sound good", "be beautiful" and "has to be art".
As expected, this caused serious offense to our local musicians and their legions of fans and friends! They rebuked FunkyJazzy in various ways with some pretty good arguments and loads of passion. Even a professional from the HK Philharmonic, Mark, chimed in with an expert opinion. One of his neighbours, fellow Tai-Penguin Zep, wrote:
"One of the pleasures of living in Tai Peng is to hear the mellow tones of a French horn drifting through the evening calm. The question of whether or not it is really art does not keep me awake at night."
Amen to that, well said, Zep! Join in the on-going discussion and post your own honest and outspoken opinions in our (still) free speech forum:
Standard of Lamma international music scene - G5 chord
Personally, I think there are many very talented musicians living here, but they don't have enough opportunities to perform locally. I've followed the local music scene for almost 9 years, promoting every single gig by Lamma musicians and bands all over HK I'm made aware of, via my free Lamma Events calendar. After a big peak a few years ago, so many bands & so many gigs, playing all over HK, even winning awards, it's slowed down dramatically in the last 1-2 years, unfortunately. Lamma Bands, where art thou and when can we enjoy your performances again locally more frequently?
But seeing the many musicians of so many different musical styles and the crowd of all ages and nationalities dance, cheer and have great fun together during the best local music event last year (IMHO), the Cultural Melting Pot Festival in the Football Pitch on Nov 21, gives me great hope for the future of Lamma's International music scene! Let's hope there'll also be another DickStock happening this year, plus the yearly Lamma Fun Day and HaydonFest, of course!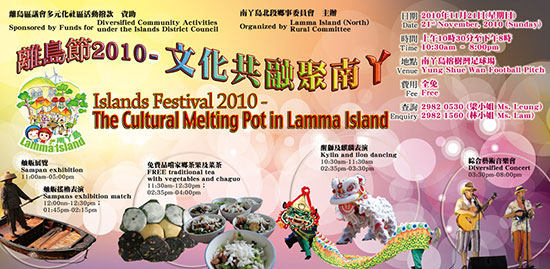 Jay Scott Kanes - Official Court Pet Correspondent - Cairns Media:

(Pictures and story by Jay Scott Kanes, additional photos by Lamma-Gung)

Bird-Man Flies Across an Ocean
to Find Feathered Friends
in a Lamma Garden

AMID THE TREES, Lamma Island, Hong Kong - By his own admission, Mike Danzenbaker has become obsessed with birds. Recently his fascination took him to Hong Kong and directly to a small house with a secret garden hidden by trees on a Lamma hillside.

One of North America's leading bird photographers, 51-year-old Mike, who lives near San Francisco and works as a computer-software writer, wants to take pictures of all the 950 bird species sighted on his home continent. "I don't care where I go to find them," he said. "So far, my total stands at about 915."

When Mike noticed photos of Rufous-tailed robins published online by Hong Kong bird- photographer Guy Miller (nicknamed Anonymous Guy), who had taken them in his Lamma garden, he decided on drastic action. He contacted Guy, asked permission to come for a one-week visit (hoping to shoot similar photos) and then booked an airplane ticket.

"One time before, I saw a Rufous-tailed robin, but it hid in bushes and didn't let me get a good look," Mike said. "Normally I take photos of any new bird that I see. In that case, it was too elusive. So in my mind it developed a certain mystique. I didn't know how I'd ever photograph one. So I jumped into action when I saw Guy's pictures. I knew he had something happening with that bird."

On the fourth day concealed inside a rectangular "bird hide" (a carefully built place of concealment with small openings through which to point powerful cameras) in Guy's garden, Mike finally got the photos he wanted. He felt "the usual elation that follows success after putting in a big effort".

At such triumphant moments, a bird photographer must settle for "quiet" elation. When inside a bird "hide", it's unhelpful to shout, dance or pop champagne corks. "You're elated, but you continue trying for even better photos," Mike said.

As a bonus, Mike also photographed other notable birds: the Pallas's leaf warbler, the yellow-browed warbler and the red-breasted flycatcher. "It's been a wildly successful week," he said, after spending 80 hours in the bird hide and shooting thousands of images.

Earlier bird-searches took Mike to Japan, Europe, Canada, much of Central and South America and nearly every U.S. state. How many other people globetrot to photograph particular birds? "Hardly any," he said.

Although visiting Hong Kong for the first time, Mike barely glanced at the famous skyscrapers and Victoria Harbor. Even the Mai Po Marshes, a reserve popular with wetland birds where bird-watchers and photographers often flock, failed to lure him.

"There's a bird called the spoon-billed sandpiper whose population has fallen to a few hundred," Mike said. "It migrates through Mai Po. Birding groups from North America come to Hong Kong every year specifically hoping to see that bird."

Yet Mike prefers the exclusive, up-close setting in Guy's garden. "I can return to Hong Kong and go to Mai Po later," he said. "It's best there during the spring and fall migrations."

Guy, who has lived on Lamma for 20 years, "absolutely never" goes to Mai Po. "The birds are too far away," he said. In his garden, he lures dozens of varieties to within a few metres of his camera.

"Not only is Guy's garden rich in birds, but he arranges things so the birds come down right in front of you where it's easy to see and photograph them," Mike said. "You can find the same birds in other areas, but usually they're hard to photograph. They're high in trees or skulking in bushes."

Guy attracts the birds with flowing water, a tiny waterfall, pools suitable as bird baths and appealing arrangements of rocks, sticks and greenery. He spent several years renovating his garden to please them.

"The sound of flowing water not only attracts birds, but also obscures the noise of my camera shutter," Guy said. "Every few days I shift around the rocks, branches and sticks. Otherwise all the shots of different birds would be on the same few perches. I also place the rocks so that when I'm inside the hide, the birds are at eye-level, allowing me to get the best shots."

When photographers enter the bird hide, Guy's dogs, Rocky and Barnie, must stay inside the house. At other times, they assist by chasing away any prowling cats attracted by the bird-sounds. If Guy leans low and whispers the word "cats" to Rocky, the black canine leaps to his feet and sets off to "patrol the garden's perimeter" to ensure that no felines have entered.

A garden on one of Hong Kong's outlying islands may seem like an unusual place for Mike to wander. In fact, his most-unusual photography sites have been in "remote parts of South America" (northern Peru, eastern Ecuador and Colombia).

One "big highlight" for Mike happened 12 years ago when he photographed a spoon-billed sandpiper. "I found one, and it hung around the same pond for a few days so I got lots of photos."

Sometimes his activities place him in personal peril. "On the Falkland Islands, I walked along a boulder-strewn beach trying to get close to a bird," he said. "When I rounded one boulder, a southern sea lion sat on the other side. It's a huge animal, mostly head and mouth. This one charged me right away. I ran as fast as I could while carrying my big lens and tripod over a shoulder and trying not to fall and break an ankle. For short distances, southern sea lions can sprint faster than a man can run, but I got away and didn't look back."

Mike attributes his interest in birds to his late father, John, an avid bird-watcher in the 1980s and early '90s who compiled one of the world's longest bird-lists (of those he'd seen, about 7,500 varieties). Although Mike isn't sure exactly how many birds he has photographed, he estimates the total at about 3,000 types. He likens it to fishing, gambling, flying or "other activities with which people become obsessed".

What makes birds so appealing? "Partly it's that there are so many types (about 10,000 worldwide) and that they're relatively easy to see compared to the likes of mammals, insects or reptiles. They're beautiful and capture the imagination. They make good photographic subjects."

With many bird varieties facing extinction, Mike's photos gain extra importance. "One reason I photograph birds is to increase awareness and help with conservation. Photos of birds can help to generate interest in them. Often I contribute photos to organizations or publications whose mission is to preserve birds and habitat.

Extinctions are "tragic", Mike said. "By allowing species or eco-systems to go extinct, we do a disservice to future generations. We don't have to either because most of the problems occur due to human activities. I can't say that I have a lot of optimism. It's difficult for individuals to have a positive effect, but they can by really devoting themselves."

Mike also sells photos to appear in books or magazines. Although not allowing him to quit his day job, the revenue helps to finance his hobby. "It pays for equipment and some travel."

How does Mike's wife, Lee Hung, a Taiwanese-American, react to his passion for birds? "She's interested in birds too, which helps to keep our marriage intact," he said. "That's how we met – when I gave a bird-slideshow presentation at a local club, and she attended."

Now married for 17 years, Mike and Lee have no children or pet birds – just a cat named Mau, who lives indoors. "Outdoor cats can be very damaging to the bird population," Mike said.

Living in a suburban house with a typical yard, Mike has little prospect to photograph birds there. "Our yard isn't suitable. We don't have much in the way of trees."

So presumably Mike soon will board yet another airplane in pursuit of more bird photos elsewhere. In a way, the blue sky appeals to him just as much as to the birds he loves.

For remarkable bird photos, visit Mike's Website: www.avesphoto.com.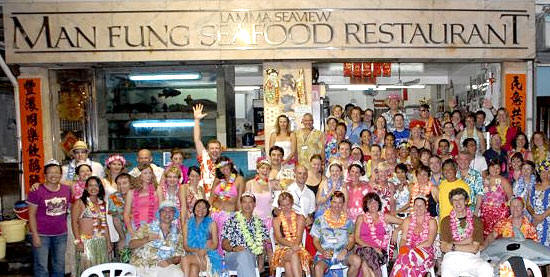 One of the very oldest, maybe the oldest restaurant of Yung Shue Wan will be celebrating their 40th anniversary this year. It's been featured numerous times in the Lamma-zine over the years and I thought it a nice idea to link a few of the best parties, events and photos of recent years. We're also celebrating the great news that Lamma Seaview Man Fung Seafood Restaurant has finally agreed to become a Lamma-zine top advertiser, starting today!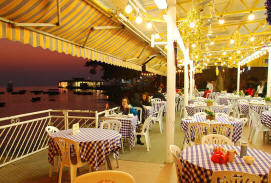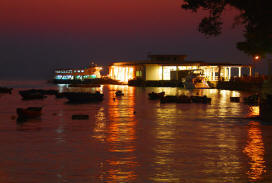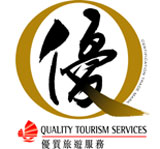 Man Fung Seafood Rest. is a great sunset watching spot. It's also the very first restaurant off the YSW ferry and a fine hangout to watch the ferry pier's activities and the ferry crowds returning home. They'll be expanding their current 200 seats to 260 with a new harbourfront extension under construction, to be opened next month.
The Man Fung is also the only restaurant in all of North Lamma which is QTS-certified, the Quality Tourism Services Scheme awarded by the HK Tourism Board.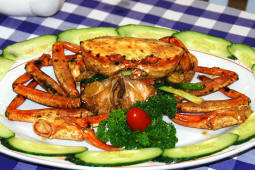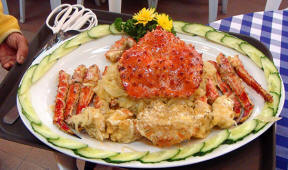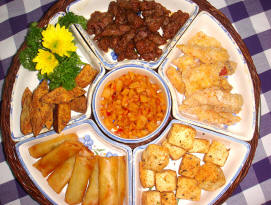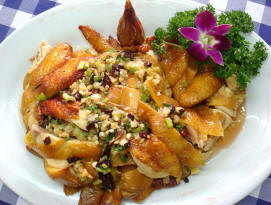 Seasonal dishes include very rare and precious seafood delights, not available in other North Lamma restaurants: their famous Spider Crab, Crystal Crabs and even Wild Abalones. They also feature a very wide selection of Chinese spirits and Western wines on an extensive and comprehensive wine list.
The serve many Lamma visitors and international customers, after having been featured in many major, big overseas magazines and now even in a minor, little Lamma website as well. ;-)
They've had many famous guests; for example former Philippine President Arroyo! I was lucky enough to be the world-exclusive photographer, selling my photos to the SCMP: Nov 3, 2006: Philippine President's Lamma Lunch.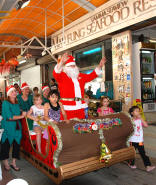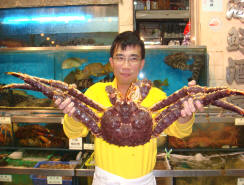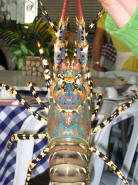 Some more great events in Man Fung, covered in Lamma-zine photo galleries:
Thai Lantern Festival - Loy Krathong 2004
Loy Kra Tong - Thai Lantern Festival 2005
Lamma Dragons - Season End Party – Man Fung Seafood Restaurant
Santa in the Village 2009
Food review of Man Fung's unique Lobster Sashimi: Lucky Louie's Last Lunch.

On Feb 15, they'll cater Poon Choi lunch (Big Bowl Feast, free for Lamma's elderlies) in the Football Pitch at the Lunar New Year Carnival (see above). This is quite an honour for Man Fung; last year's 35-table Big Bowl Feast was shipped in from Yuen Long, HK's Poon Choi Capital. My photo shoot is scheduled already.
These are their 4 most famous signature dishes and 4 other very popular seafood dishes (click to enlarge):
They're reopening today, Feb 4, after just a 2-day break for Lunar New Year. See you there soon, on a harbour-side, sunset-facing table?!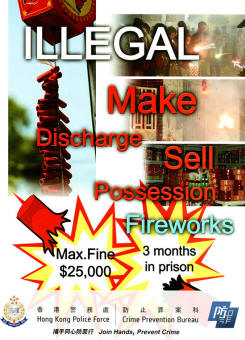 The war is over and you can come out of hiding now; it's safe again (I hope). There were all these frightening noises and sights around midnight all over Yung Shue Wan, sounding like rapid-fire machine guns, massive explosions, bright light flashes, huge clouds of smokes rising, even a few rockets exploding over Main Street! It looked and sounded like being in the epicenter of a war zone, not on peaceful and tranquil Lamma! Even far away from the main action all along Main Street, all the way to the Tin Hau Temple, the sound was still deafening. Our North Lamma Clinic will have to deal with quite a few cases of short-term hearing loss, tinnitus, burst eardrums and , I suspect?
In the early morning after the Big Battle, I dared to leave my safe and secure home and ventured down into the village for a peek. Here are a few snapshots of the aftermath of the yearly Big Battle: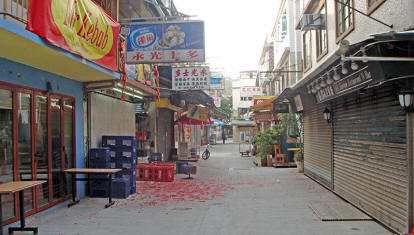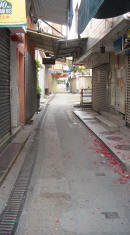 Yung Shue Wan Main Street, everything closed and no people, a very rare sight.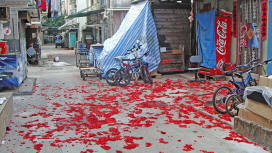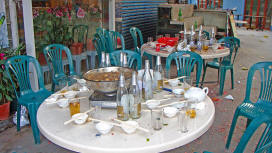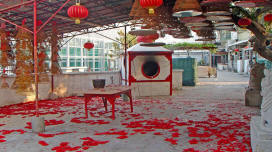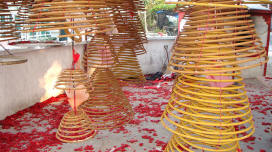 Tin Hau Temple, the epicenter of all the midnight fireworks fun. Despite the dire warning police poster above, nobody has been arrested (as far as I know).

Within a few hours, all these signs of a great night out were cleaned up by our efficient and hard-working Lap Sap Ladies from the FEHD. Kung Hei Fat Choy to them and all the Lammaites recovering from the aftermath and the after effects of last night. You've got several holidays and a long weekend ahead to recover fully.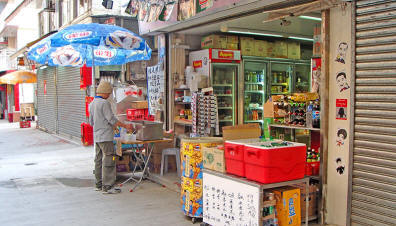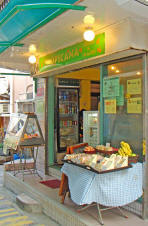 Surprisingly and most unusually, a single convenience store and one take-away shop are actually open this morning, the very first day of the Lunar New Year!

Great new posters outside Diesel's Sports Bar, showing the true Lamma Spirit.
Life goes on after the yearly Big Battle; most bars, restaurants and shops will reopen tomorrow, the second day.
Jay Scott Kanes - Official Court Correspondent - Cairns Media:

(Story, pictures and captions by Jay Scott Kanes.)

Jay emails: "Subject: One Story, Two Reporters

"Ha! Good one! Just as I'm about to send you the attached, you've published a version of the same story.

"No doubt, you've heard the saying that 'great minds think alike'.
It's a wonder that we didn't meet when taking early-morning photos.
Anyhow here's another version (just for your reference now, I suppose)."

Fuzzy Heads Follow
Hoppy-Year Happiness?

Aftermath of the Year of the Rabbit's Arrival

Kung Hei Fat Choy! Does indulging in Chinese New Year's Eve festivities still look like such a great idea when enduring hangovers the next day? I doubt it, but others may disagree.

When the Chinese Year of the Rabbit officially hopped into Yung Shue Wan, I'd already been sleeping, snug in my bed, for more than an hour. Then the blasts of firecrackers and shouts of revelry from outside jolted me awake.

Knowing the impossibility of returning to dreamland (for a few minutes at least), I wandered downstairs to watch televised coverage of New Year's Eve activities in more populous parts of Hong Kong. Once on the sofa, I also needed to reassure and comfort my dog. She dislikes firecrackers and trembles at the sounds.

Eventually, the last Main Street partiers staggered home. After morning had dawned, the dog and I strolled through the blissfully-quiet (at last) village.

Bits of red paper, remnants of firecrackers, fluttered underfoot, in places completely covering the pavement. Stone lions guarding the Tin Hau Temple were encircled by the stuff.

Red envelopes, earlier holding precious lai see (money), had been torn open and left to litter the streets. "That won't help the environment," I muttered.

In front of a popular restaurant, bottles and bowls remained on tables surrounded by empty chairs. Uneaten food, no longer looking delicious, filled some dishes. The scene suggested that maybe a high-tech explosion had vaporized the party-minded diners.

Nearby the usually bustling Sampan Seafood Restaurant stood shuttered and silent, its tables oddly empty. Without clusters of people, it looked like an entirely different place.

Red posters showing amorous-looking rabbits appeared on the closed shutters of shops and eateries. Most indicated when the proprietors planned to reopen after the New Year holidays.

Along the nearly empty ferry pier, Chinese lanterns waved in the breeze. Colorful flags fluttered overhead.

Not even fellow dog-walkers appeared as I trudged along the Main Street, pointing my camera at everything of interest. Among the only early-risers were children, dressed in holiday finery, but still ready to play.

Inside the village houses, people surely snored, their heads heavy, nearly impossible to lift off pillows. Before long, they might start to revive (reluctantly) with pounding headaches, fuzzy brains and other hangover symptoms to spoil the first day of the Year of the Rabbit.

"Ha! It serves them right for disturbing my sleep," I told the dog. She replied by wagging her tail and marching through another mound of firecracker debris.

This large banner below greets anybody stepping off the ferry in Yung Shue Wan, the very first thing that all Lamma visitors see. How could I get a Lamma-zine banner into that prime location? I could never afford it....
This is an "official", professionally designed and printed Kung Hei Fat Choi from our local politicians, our powerful powers-that-be, as opposed to my little home-made greeting above. Which is tastier? ;-)


Yung Shue Long valley farm. Click to zoom in on Teddy bear.