Almost anything seems allowed in Lamma's mostly wild forests - exploring, digging, montainbiking, camping - not restricted by the many official Country Park regulations and restrictions. So it was quite unusual to see this official, bilingual police poster on my early morning constitutional to Tai Peng Village and beyond.
So what are these explicit and severe "Acts Prohibited In Forest" warranting special attention from our severe police force, severely warning us against committing them, subject to a very severe fine of $25,000 and even severe incarceration for a full year?
The mind boggles and the fertile imagination of many a Tai-Penguin passing by must have been intrigued, causing them to step closer to become good citizens well-informed about any illicit acts perpetrated in our peaceful local forests.
Click below to find out:
To learn even more about some of these nefarious activities in our forests.
P.S. A few days later I got this feedback from Oliver:
"Just read your article on the tree with the police notices on them.
I was the one who put them there.
I would have preferred a slightly less jokey article about the "nefarious goings on in the forest". Phrnnarr.
The fact it is that the hacked tree in question is a magnificent specimen and it is outside my front gate.
This is so up close and personal that even an ardent, die-hard, non-tree hugger like myself has become interested in its fate."
See also Mar 12: Incense Tree Poachers
Kinesiology Asia presents:
Kinergetics Courses levels 1-5
Kinesiology & Energy Healing

KINERGETICS Level 1
April 2010:
Saturday April 17th, 2pm-7.30pm
Sunday April 18th, 11am-6pm
Saturday April 24th, 2pm-7.30pm
Instructor: Brett Scott

Venue:
Hong Kong Kinesiology Centre
201 Ivy House, 18 Wyndham St, Central HK

Course content:
This is an experiential course where you will learn muscle response testing. How to use muscle response testing locate and balance.
Stress - Pain - TMJ & Pain - Food Sensitivities
Dehydration - Brain Integration balance.

No previous experience is required.

All corrections are done with healing energy.

KINERGETICS Level 2
May 2010:
Saturday May 1st, 2pm-7.30pm
Sunday May 2nd, 11am-6pm
Saturday May 8th, 2pm-7.30pm
Dates to be confirmed
Prerequisite Level 1
What's in it?
Emotions - TMJ Suppression - Spheniod balance - Coccyx balance
Hypertonic Muscle balance - Chakra Emotion balance
Belief System balance - Vision balance - very powerful with anatomical and metaphysical balances


KINERGETICS Level 3
Saturday May 29th, 2pm-7.30pm
Sunday May 30th, 11am-6pm
Saturday June 5th, 2pm-7.30pm
Dates to be confirmed
Prerequisite Level 2
---
$3,500 for each level, workshop manual included in all levels.
$500 non-refundable deposit is required by Easter for Level 1.
Repeat students POA

Numbers are limited, please book early to avoid disappointment.

Call 6114 8871 or email kinesiologyasia@gmail.com

For more info www.kinesiologyasia.com or www.kinergetics.com.au
(Free advertorial for a long-time Lamma-zine advertiser)
Mrs. Santa Claus - Co-owner of The Island Bar and The Waterfront:

(Pictures by Bob Davis)

Wednesday night at The Island Bar found us (and loads of you) partying today, March 24, from 6-ish until far too late-ish for those of us who had to go to work at 9-ish the following morning!

Supported by Bahouki - front-man John, Fiddler Dave & Bass-man Neil were there to help the celebrations - the crowd was really appreciative of the music, most appreciative of the snacks provided by The Waterfront and the great cakes provided by friends, and especially appreciative of the open bar provided by Kumar, between 7-8pm.

Kumar, attractive young guy that he is (well he has ONLY JUST joined the over 50's club) attracted a really great group of friends who all contributed to a wonderful evening of fun and frivolity which culminated in dancing (so what's new???) and finished with the Dragon Boaters arriving to help him party (OK, they arrived late; so what, they had only been to see Uncle Tom Jones perform in person in Hong Kong) in their own inimitable way at The Island Bar.

Thank you to all Kumar's Friends.
Jay Scott Kanes - Official Court Reviewer - Cairns Media

(Pictures by Christine Coleman, from her blog)

The pleasant lifestyles on Hong Kong's outlying islands usually beat bottled medicine as a tonic for big-city stress, long-term problems or even family feuds. That's what Ann, the leading character in British author Christine Coleman's new novel, Paper Lanterns (Novel Press, 2010, Birmingham, England, 287 pages), learns in a life-changing one-week visit to her elderly mother on "beautiful" Lamma Island.

Driven by adultery and yearning hearts, the story swirls around love-starved characters of all ages, many of them Lamma Islanders. The multi-generational plot bounces from 2008 to the 1970s to the 1930s and back.

For most of her life, Ann, "a dumpy, plain, middle-aged woman with an over-large chin", has simmered in resentment at Vivienne, the "irresponsible" mother who took a young lover, abandoned her family and resettled on far-away Lamma. Decades later, the lover forsakes Vivienne, and Ann reluctantly travels to offer comfort.

Ann's first impressions of Lamma can't be mistaken for anywhere else. She "blinks and looks around her as the track veers to the right along the waterfront and leads them under a yellow canopy between a shop front on the left with its displays of tanks full of large, colourful fish and, on the right, white-clothed tables overlooking the small boats in the bay. It's like walking through the middle of somebody's house."

What happens next is "typically Lamma" too. "There's a squeak of bicycle brakes, a shrill ting-a-ling and two young Chinese girls on cycles speed by, calling out, 'Sorree! So sorree!' as Ann sidesteps out of the way, banging her thigh against the edge of one of the tables."

Like most first-time visitors, Ann's surprised that Lamma has no cars or buses, only glorified delivery carts. There's no mistaking them.

"'Watch out, Ann!' Just in time, she presses herself against the railing as the rattle and clank of a noisy motor bears down on her. The narrow vehicle looks like a tall version of a go-cart, and is driven by a grim-faced man in a dark blue jacket, gripping the steering wheel and staring straight ahead as if to say to any pedestrian, 'Live or die – it's up to you!'"

To Ann's surprise, Vivienne, a garment-shop proprietor on the Main Street, shows little despair. Even more remarkably, she shares an old diary and letters that reveal family secrets and lead Ann into a dilemma.

More than a nice setting, Lamma plays a greater role – almost like a leading character. "Far below, boats are slowly drifting on their moorings…. A ferry is chugging towards the pier. A couple of dark brown birds are circling above…. In between the distant screech of bicycle brakes, the twittering of birds, the sudden deep-throated bark of a dog, she registers the underlying hum of the power station. The heartbeat of the island, she thinks, and for a moment Lamma itself seems like a living entity."

Coleman has spent enough time on Lamma to understand its ebb-and-flow and to accurately depict it. She knows that most Lamma Islanders show mild eccentricities. So do her characters.

"Poppy is no fool. She's a highly intelligent woman. We all have our little quirks….
'Has her cat died or something?'
'One of her cats has died. One of her 27 cats.'"

Like Poppy, some real Lamma residents loom "larger than life" as "the life and soul of any party… well able to hold their own…, out-drinking, out-talking, out-dancing, out-playing". The author has attended some Lamma house-parties. When Ann does too, a vaguely familiar crowd joins her:

"There's the German women who runs the deli and has lived on Lamma with her American husband for nearly 20 years. She's talking to the young English couple who stopped off at Hong Kong on their way back from Australia and decided to extend their stay for a few weeks. And there's that pleasant Dutch man who sells second-hand books from a roadside stall, taking to Julian's Chinese friend, Charlie. Among the disparate group of 30 or more guests, the one common factor is the lack of conformity: the ages range from late teens to 80 and there seem to be almost as many nationalities as there are people present…."

Suddenly, Ann recognizes what most Lamma Islanders instinctively know. "The realization strikes her like a revelation: everyone here is at ease with themselves. Tall or short, dumpy or scrawny, old or young – smart, scruffy, long hair, no hair – white, brown, black, pink, tanned and freckled…. Ann's mouth stretches itself into a wide smile. She feels almost dizzy as the words shout in her head: I'm the same as everyone else… because I'm different. Because I'm me."

Ann also rides the Peak Tram and explores the Mid-Levels on Hong Kong Island, but she makes her most important spiritual discoveries on Lamma. The concrete jungle and its skyscrapers lack the same appeal. "Look at those huge blocks of flats over there – like vertical ant-hills. Some would say total eyesores. Only a very few years ago that was hillside – now, those few square yards, maybe as much as an acre, are home to tens of thousands, I guess."

The book's title comes from a passage likening human souls to flames that flicker in gusts of wind. They need colorful paper lanterns as protection.

Coleman shows a nice touch with details, often inserting meaningful objects at suitable moments. For example, Ann recalls being an angry teenager who retreats to her bedroom and flips through Anne of Green Gables, a classic novel about childhood angst.

The cover of Paper Lanterns, showing three green lanterns on a lofty Lamma balcony, may cause confusion. Usually, Chinese lanterns are red. Do these green ones symbolize Lamma's trees and hillsides?

A former high-school teacher turned novelist and poet, Coleman toils part-time in a British adult-education program. Her idea for Paper Lanterns came from two directions. She found a collection of 1920s-era love letters written in China by two women to the same man. On visits to Hong Kong, she grew "fascinated by the contrasts between the busy urban districts and the beautiful scenery of the outlying islands".

Coleman wrote one earlier novel, The Dangerous Sports Euthanasia Society, published in 2005. That's about lust for life as an escapee from a seniors home makes new friends on a quest to find her grandchildren.

More than most tales, Paper Lanterns satisfies its readers by drawing strength from the setting. When Coleman mentions Hong Kong "working its magic" on people, she really means Lamma-style serenity. Urban Hong Kong lacks that remedy, but the outlying islands deliver it in generous doses.

Approval rating: 82 per cent.

For more information: www.christinecoleman.net or www.novelpress.co.uk.
P.S. from the author, Christine Coleman:
(Also, see her blog about her time on Lamma over CNY this year, plus her blog stories about her online contest/voting for the book's cover design)
"I was thrilled to read John Cairns' detailed and generous review of Paper Lanterns. Please can you convey my thanks to him.
"Where the book can be purchased:
Copies of Paper Lanterns have now been distributed to all 8 of the branches of Swindon Books: Swindon Books in Lock Road,
Hong Kong Book Centre, Central and Taikoo Shing branches,
Kelly & Walsh, Pacific Place and Exchange Square branches,
also at the 3 University Bookstores run by Swindon (HKU, CU and Poly U).
"If any customers cannot locate the books, they can always approach the staff, they have access to check stock of other branches and they can also make orders for customers.
"I have also given copies of this book to the managers of Dymocks and Bookazine, so if people were to contact them, making similar enquiries, they might decide to order some copies too.
"I can also take orders direct from my website."
P.S. II: Lamma as the setting of a novel.
The air is cold but crisp and neat,
people walking, walking down the street,
coming together in the morn,
going, flowing beyond the dawn.
Focused forward and finding rhyme,
to reach that goal within the time,
all breeds and creeds, the meek, elite,
casual, formal, what is normal?
Some tired and worn, alone, forlorn,
others warm, reborn, smiling sweet,
their eyes alive, they will survive,
hearts in tune to a common beat.
The goal is reached, a partial peace,
the waters' ways are opening,
then off to work, no time to shirk,
struggling, conquering or just coping.
Then to return to all we yearn,
cultures confines are releasing,
the soft silence from whence we came,
cycles cleansing never ceasing.

Photos submitted by Nancy the Frog Lady, taken up in Tai Peng Village this weekend. This is one of the few really poisonous and quite dangerous snakes on Lamma. Nancy writes:
"The viper was at the same pond again, hunting my frogs. I scared it off with my camera and it went into the vegetation. It was a beauty despite the fact that it was trying to get frogs. It was about halfway grown, maybe 80cm, slender and a bit shorter than a full-grown snake.
This is the bright green, venomous snake that can make you quite sick. It is a quite common species in Hong Kong, but it is rarely seen because it is nocturnal and blends in well with the vegetation. The snake is very docile and will make no attempt to bite you unless you step on it or try to grab it. The front of my camera lens was about 0.6 metre from the snake when I took the photo and it wasn't in the least bit bothered."
Roz Keep - Lamma Artist - art gallery:

Through a Facebook link, I came across this wonderful web site, www.sketchcrawl.com.

It was started 5 years ago by an animation and story board artist living in San Francisco. He likes to sketch and sent an email to a few friends to meet him to draw together; the idea being that they would meet in a pub and try to get round 7 of them in one afternoon/ evening! Hence the name sketch crawl after the pub crawl idea. They only made it to 4 pubs (luckily), as I doubt if they would have been able to tell us about it!

Anyway he spread the word to friends and soon he had arranged another crawl and then another. Each time, the groups got further away and the idea for it going global started.

Now after 5 years and 26 sketch crawls there are more than 120 countries and hundreds of participants. It's all documented on a forum- style website, www.sketchcrawl.com.

In November last year, I started coaching drawing on Lamma for both adults and young people and have around 11 students now. It seemed natural to get a group of us together for the sketch crawl and we met at the Green Cottage at 10am on Sat, Feb 27.

Dina, Vicky and two ladies from the New Territories arrived and we spent 3 hours sketching Lamma. It was great fun and we have posted our results on the Sketch Crawl web site.

---

For the last 3 months I have been enjoying teaching fine art classes on Lamma. I am very pleased to have had a chance to stay on home turf and not to have had the ferry commute!

I don't teach arts and crafts so much as basic drawing skills which can be used for many different creative activities. Both children and adults enjoy improving on their drawing and are willing to put in the practice needed.

I have a class once a week in which I have been introducing some drawing concepts to a lively group of year 4 primary students.
The course consists of developing drawing skills by observation of real objects, using different drawing materials, e.g. pens, different pencils, watercolour pencils and charcoal.

Perspective, shading, figures, illustration have all been touched on and we have used tempera and watercolour paint to learn a variety of painting techniques including washes, textures, brush work and colour mixing.

For this class, I have had the use of Banyan House school which is a beautiful space half way up Tai Peng.

On Tuesday mornings there is a small group of dedicated adults who like to meet up at the Fishermen's Village near the library for drawing and painting coaching. We work for two hours and have lots of fun discussing and sharing ideas at the end of each session. Sketching and drawing are worked on at these sessions and will form the basis for later painting work.

Colour mixing, perspective, proportion, and shading are all covered in this session. We use watercolours as they are easy to carry around and dry quickly outside. We have had a lot of fun with several keen students enjoying their new found skills.

New classes for children over 7 yrs at Banyan House start April 15th. Thursday classes for adults are ongoing. Meet at the Fishermen's Village at 10am or HSBC at 9.45 on Tuesday mornings.

All the classes cost 100$ per hour. The adult class lasts for 2 hours and the kids classes one hour. Email me or call me at 9348 8726. See the Flickr photo stream of my work and the Sketch Crawlers'.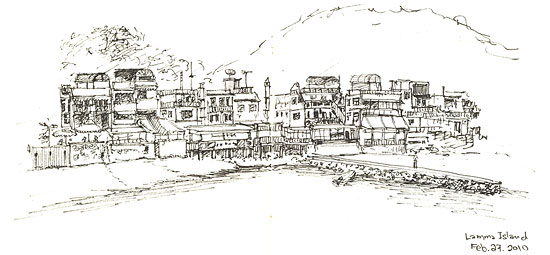 P.S. More about these classes and the Sketch Crawl in the blog of a participant:
Queenie Bee - a creative buzzness.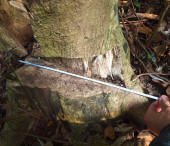 An update about the tree poachers currently active at night, from our friends at the Living Lamma group:
posted Mar 5, 2010 12:48 AM by Jos Vernon
[updated Mar 8, 2010 8:16 PM]
Nick the Bookman - Official Court Music Reviewer - Nick's website.
(video stills by Alba; text edited by L-G)
Steve's acoustic night at Diesel's
March 7, 2010
Once upon a time in deepest, darkest wherever, there lived a mighty tribe of pygmies called the Faqawi. Their homelands were verdant and lush with tall semi-impenetrable foliage. Quite often, individuals would get lost and the jungle/veldt/ high plains would echo to their plaintive cries of "We're the Faqawi"...
I'm reminded of their sorry plight, because I've been walking up and down Main Street for about 20 minutes, trying to find Steve Cray's (semi-)unplugged gig. I thought it would be at The Island Bar, but no! Eventually, someone says it's taking place at Diesel's.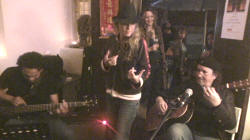 It's Steve Cray's second acoustic/electric set at Diesel's, and there's quite a large audience waiting in anticipation. The show's supposed to start at 1930, but is running about 30 minutes late, due to some last minute rehearsals between Steve and Franklin, his amiable new bassist in Red Star Rising. Apparently Franklin had about one day to learn 13 new MP3 downloads of tonight's material. Will he rise to the challenge? We shall see.
The gig starts about 2000 hours. Alba is filming the show for her never-ending Lamma documentary. Marc has also bought his camera along to get extra footage of the show, the bar, the audience etc. Handy for the cut-aways. Gary (in his kilt) and Nicola are still celebrating her birthday with Peta joining in the frolics. Dick(stock) Jones, Jilted John, Moonie, Maria (of jewellery fame) and American John the Lawyer are opposite me. Jason and Clare (YSW's newest residents) pop over.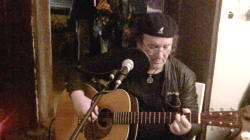 Steve introduces "Franklin Torres, my bass player from Colombia and good guy all round". Bit of strumming. "This [first song] is Turning Tide." It's an original that has a full-bodied sound and hints of Jethro Tull and the Hendrix version of "All Along the Watchtower" scattered through its construction. Franklin is doing a great job on the bass, providing extra melody lines. It's an affecting piece of Americana in its way and not too much blues seeping in yet. On the big screen, a Premier league replay shows Arsenal going 1-0 up against Burnley, who soon draw level 1-1. A couple of other original songs quickly follow as Steve informs us that this is "a sort of serious rehearsal" for an upcoming tour of European folk festivals this summer.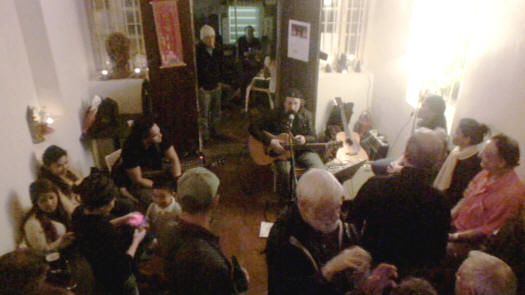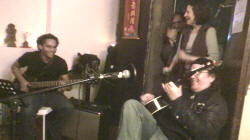 It's amazing what one can learn in a pub, aided by huge intakes of grog. Phil comes over and almost drools in envy as he tells me that Steve's acoustic axe is a "Martin Om Orchestral model guitar. Very expensive (and with rare red strings). The OM model was made between WW1 and WW2 from Adirondack spruce trees - none of which are left, especially for making guitars."
Meanwhile, Steve and Franklin have played a few more tunes. It's probably just my fevered imagination, but there are reminders of Leo Kottke, Fairport Convention and early Who in some of Steve's playing and finger techniques. And then Franklin starts to strut his stuff...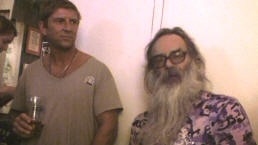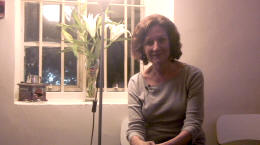 One other thing about the Faqawi. They love their drums, which cause unease and panic among seasoned travellers and explorers to their mystery lands. One expedition resulted in all the native porters fleeing in terror as the drums stopped. When asked why, they replied that it's "very bad when the drums stop." "Why is that? Are we all going to be killed?" "Oh, no. Very bad when the drums stop, because then the bass solo starts..."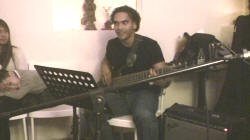 This whimsical observation can most definitely NOT be applied to Franklin. His left hand has made a bridge at the bottom of his base while his right hand is plucking relentless, throb-free notes which augment and enhance Steve's input. His stylish effects draw whoops of praise from Dick(stock) and calls for some Robert Johnson. Steve obliges with "Walking Blues" and unleashes some fiery harmonica action to boot. One of the best solo bass vs. solo harmonica solo duets I've heard. While listening, the audience forgets that there are no other instruments in the mix. Franklin is that masterful in weaving a spellbinding sonic tapestry. At one point he somehow manages to replicate clucking, scratching chickens, adding a down home Southern gothic reality to the song.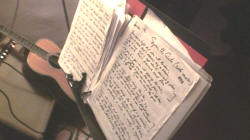 I'm starting to flag a little, so time to wind this up. There's a great song called "Shampoo the Dog". Inspired by an anonymous Lamma resident who declined a snifter in the pub with Steve because the missus was coming back after a few days and he had to go home and... you know. Almost a bit of the late Jake Thackray in there. Steve also plays a 16th Century madrigal as a nod to his classical early roots and to show us that anything Sting can do, he can do better.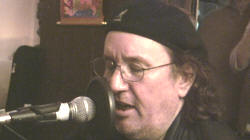 The evening ends with a second more storming version of "Walking Blues". Finally, "Ladies and gentlemen of the jury, we'll go out on a sensible note with 'Wild Wind' in modal G." Reminiscent of early Cat Stevens in places. The match has finished 3-1 to Arsenal. Franklin has made many female friends, especially Peta who is sort of tingling at the thought of an upcoming possible date. If she gets any happier, she'll look like she's sat in a huge puddle. Thanks for the beer, Gary. Happy belated, Nicola.
Well done Steve and Franklin. You did the biz. Now, I'm off to crash.
Jay Scott Kanes - Official Court Pet Correspondent - Cairns Media

(Photos by Jay and Deanie, showing Gail, the Lamma dog holding the record of
most pictures featured in the Lamma-zine over the years!)

FIRST-IN-A-LIFETIME EXPERIENCE ON LAMMA

LAMMA ISLAND, Hong Kong – At times, the city-dwelling day-visitors to this outlying island astonish the locals. A few indulge in a first-time-ever experience, one they'll always remember. Yet Lamma residents take it entirely for granted.

What's this mysterious, near-magical activity?

Riding the ferries? Nope!

Eating seafood? Nope!

Hugging a tree? Nope!

Breathing fresh air? Nope (despite the city smog)!

You'll never guess! It's "walking side-by-side with a dog".

When a long-time city friend named Deanie recently visited at our home in Yung Shue Wan, my wife Eva introduced her to Gail, our dog, and to our six house-cats. Deanie, from Chai Wan on Hong Kong Island, mentioned that she last visited Lamma about a decade ago. So Eva and Gail took her on a walking tour through Yung Shue Wan, to Hung Shing Yeh and Power Station Beach and across much of northern Lamma.

Later as we dined at the Lung Wah Restaurant, Deanie, a grown woman with a no-longer-tiny daughter, surprised us by proclaiming what an historic day she'd had. "It was my first time to walk side-by-side with a dog," she said.

Naturally, she had a few observations about the remarkable experience. "Your dog's very quiet and good. Even when she walked by herself in front of us, she stopped and waited for us if we were slow and fell behind."

Deanie came to Lamma seeking a change of scenery for a few hours. She took away a memory likely to last into old age.

No doubt, Gail enjoyed the stroll too, but probably failed to recognize its big impact for her temporary companion. Too many day-visitors from the city react with frantic fear, even screaming or running, when they see the local dogs out walking. Such people need a taste of Deanie's memorable experience.

Then Deanie surprised us again. "It also was the first time I ever saw so many cats inside a house," she said.

Hong Kong city folks! They're so deprived. Too many of them live in skyscrapers and focus on chasing dollars. On Lamma, we enrich our lives even more by sharing our homes with pets.

One dog, six cats and two humans! That's just a medium-sized Lamma family.
What's happening in Yung Shue Wan's always active and ever-changing culinary scene? Just another little update:
The former Green Cottage will be reopening very soon as a bakery shop/cafe, run by one of the former staff. Keep posted!
The former popular, all-local Nam Wah Yuen will be reopening very soon, but not as a restaurant... as just another Tsap For Po, a regular grocery shop! As if we wouldn't have more than enough of those already along Main and Back Street!
Another former restaurant has been turned into a clothes shop: Jade Chief's Bar, very popular with locals, especially the "noisy bunch" of fishermen, on Nick's Corner closed down end of Nov. It has reopened as Banyan House (no affiliation to the Banyan House kindergarten), targeting mainly weekend visitors.
Han Lok Yuen/Pigeon Rest. is still closed (since last Oct) and no reopening date is available from them. They "might be moving" to another location in Hung Shing Yeh, they say.
Lambcombe Rest. looks like it'll be reopening pretty soon, too. After chucking out the very successful former tenants and some major renovations, the landlords will reopen it using the same name.
And two very popular restaurants are advertising in print for chefs. Know somebody qualified and eager to move to Lamma? A major challenge, it seems...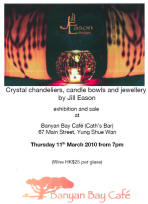 On a directly related note, there'll be another exhibition & sale of Jill Eason's crystal chandeliers, candle bowls and jewellery in Banyan Bay Cafe this Thursday, Mar 11, starting at 7pm. Probably too early to taste the new, future full-time cook's menu, but they'll offer $25 wine by the glass. See the Lamma-zine story about Jill's last major exhibition, in the very same venue:
Dec 19 '09: Jill's Show of Unique Creations
By the way, special events in local restaurants are always invited and most welcome to be promoted for free in this website's forum and Events Calendar, if they're advertisers or not. If it's something of general interest, artsy or for charity, it might even make it onto this home page!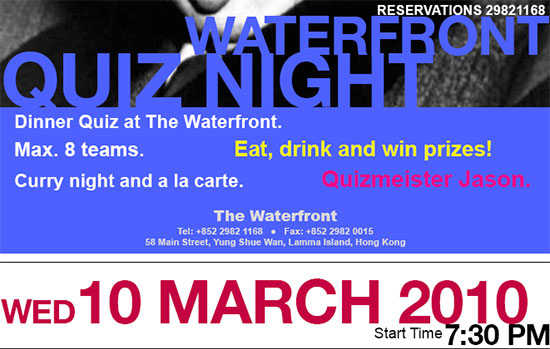 Following up on this Lamma-zine story, Aug 23, '09: Dreaming of a Rooftop Canopy, this village house finally got its dream fulfilled. I did a little time lag photography and animation about the construction of this new, increasingly popular style of rooftop canopy. It's not using the former type of flexible cloth anymore, but fixed, painted aluminium slates that do not need to be rolled up before a typhoon hits. I expected the construction to be done within a day or two, as quick as our own fixed alu rooftop was built recently, but it took about a week in this case.
Jennifer the Food Anthropologist
(abridged and edited from her blog by L-G who'd like to thank Jennifer for making him laugh out loud several times while doing so!)
Did you know that Saturday March 6 was "Ching Che" [Jing Zhe] or Feast of Excited Insects Day? I didn't until I read it in the Sunday Morning Post.
[Editor: It's a kind of start of Spring, insects arising from hibernation, also known as Chinese Groundhog Day].
It explains why all of a sudden there were hundreds of energetic mini ants crawling all over and inside my Mac! What the h***!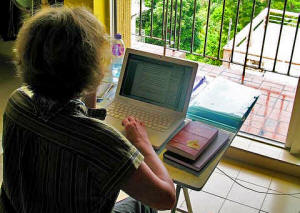 Ching Che is believed to be the best day to "beat the devil" in Hong Kong (perhaps all over China?) But I did not go under the flyover of Canal Road West to pay a "devil-beater lady" 50 HK$ to have her beat a paper devil with shoes while swearing and cursing the image to fight off bad luck.
After a panicky moment of being paralysed by the amazing speed in which these mini ants climbed up and down, in and out, I located the source. They stepped onto my Mac right where the power plugs in, after crawling along the power cable. I put the Mac on the balcony floor and waited about 10 minutes for them to leave.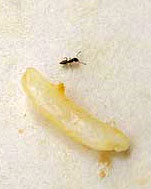 Actually, that very morning started with a rather big and devilish ant turning against me in my own living room! It was scary, because it wasn't behaving like insects should: brainless, guided by instinct, busy with their little tasks. As soon as I stepped into the room, the ant turned around and faced me, looking mad as hell, as if it was a dog or something fierce. It acknowledged my presence. I felt her. I think it was a she. And I killed her. There was a lot of blood (ugh, who's?)
My study also had a stupid bug lying on its back (not a cockroach, thanks heaven), which I escorted outside because of its sheer size. I am sure that one day I will have to face one of those centipedes, AGAIN! I encountered a long and fat one, almost like a snake, coming out of the roadside greenery and crossing the road about a centimeter in front of my open-toe shoes. It happened one night last spring when I was coming off the last ferry and walking home all the way to Hung Shing Yeh Beach.
I don't live way over there anymore, but since moving back to Lamma in April 2009, I have started walking and entering rooms with a little apprehension. I heard that centipedes love hiding in wet towels. They can bite for no reason. I expect the next one behind the shower curtain.
Recently, I went to a City University HK talk by Prof. Peter Howard from Bournemouth University, UK.
He opened with:
"Is nature cultural?"
"Is culture natural?"
He continued, "Is bird watching natural? It's reason enough to come to Hong Kong.
You can't keep away from nature, it keeps coming in."
I guess it doesn't make much sense thinking about whether you like or dislike nature. It's just there. We're in it. It's in us (or maybe I should say all over us). What to make of a Feast of Excited Insects Day? It's scary to think that there's one second, no ants at all, next second, a hundred! 50 at least.
I clean my Mac with disinfectant wipes regularly, but maybe these Excited Insects, these newly awakened ants like the smell….
Today, Saturday afternoon, Yung Shue Wan harbour, the Lamma Ladies practicing hard for the first dragon boat races of the season starting soon. But have a closer look at the back of the boat! Somebody's reclining and lounging there, in full view of the weekend tourists and all beach restaurants! This might potentially severely impact the hard-earned high-power/hard-core image of the Lamma Ladies, won over many years of tough practice and many glorious victories!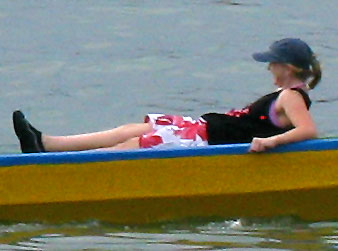 The "freeloader" (maybe a paying passenger?) is reclining and sunbathing in full view of the weekend tourists arriving at the ferry pier and all beach restaurants! That's how this photo was taken by Jennifer the Food Anthropologist who was enjoying her regular coffee at the new Green Cottage's beachside tables! She emailed me the photo to forward it to the Lamma Ladies. Jennifer writes:
"Lamma Ladies attacking South China Sea Saturday afternoon. Stress-free member of The Freewheelers Car Club :-) in the back – linking paddlers and passengers to share the cost experience of travel… Saves you money energy, helps other people to paddle harder and reduces pollution (I guess?)"
I made this a Lamma Photo of the Day and asked the Lamma Ladies for explanations to prevent a major public relations disaster for these very image-conscious paddlers who love to "OUT-PINK, OUT-PADDLE and OUT-PARTY" all the other HK teams! Captain Dawn replied:
"It may look like Vicky, Vice Captain, is lounging around at the back of the boat topping up her tan and generally having a good time, but look again!
What you will actually see is that she is very studiously practicing her Pilates and is in fact doing stomach crunches and managed 4,325 by the end of the session!
You see how appearances can be deceptive! Glad we had the opportunity to put the record straight."
Wescml - Lamma Newbie:
(republished from Libertines.hk with friendly permission)
02 March 2010
I moved from Sheung Wan to Lamma Island over the weekend. I have a love/hate relationship with Sheung Wan, Central, and the north side of HK Island in general. Sheung Wan has a great energy to it, particularly around 8pm when I get off work. And it's nice to be so close to Central and the Mid-levels. But now that I've escaped to Lamma, I can finally be honest with myself about the negatives in the Sheung Wan equation....
I still work in Sheung Wan, but now I get to go on vacation everyday. On Lamma, I hear birds rather than car horns. I smell flowers instead of diesel smoke. People smile, and dance. And this is joyful, spontaneous dancing, not the dancing-as-status-display that you see in Lan Kwai Fong. People actually go out in public without trying desperately to look "trendy." Maybe this has something to do with the fact that Lamma is completely free of the oppressive advertising that poisons hongkongers minds. There are packs of mixed-breed dogs and mixed-race children happily roaming the streets. It's my kind of place.
But for all it's bohemian charms, Lamma is still the SAR. On the surface, it appears to be the only place in HK where people have some respect for the environment. But there are random piles of garbage along the trails: old toilets and worn out couches dropped in the middle of green spaces. People still look at me like I'm an alien just because I don't want them to give me two pieces of garbage with every purchase. The seafood restaurants, packed with hypocritical hippies, are obviously unsustainable. Those diesel powered Lamma-vehicles are annoying, and make an unreasonable amount of noise. There's still a ridiculous amount of loud construction everywhere. (Why do roads in HK seem to require 10 times as much maintenance, at 10 times the volume, as roads in the US or Europe?) Then there are the three smokestacks, reminding everyone that this isn't really a remote fishing village, more like a fake tourist version of one.
The biggest drawback, of course, is the fact that the last ferry for Lamma leaves at 12:30. But if it were more connected to the city, it would be more like the city. So that drawback is part of the charm. I'm just happy to be able to take my headphones off. And breathe.
A Lammaite was recently featured in the online magazine Hip Hong Kong:
"...a likeably grizzly man in his early 70s. All dirty fingernails and lanky, matted hair and a beard like a Manson Family reject who was just too darn nice for any of that murderin' back in '69. Although his eyes darted to and fro he appeared of sound mind and genial spirits."
Easy to guess, despite getting his age wrong by 20 years, Nick the Bookman, of course. The article, A Lament for Lost Lamma, was written by a daytrip visitor, Oliver Clasper, and was pretty different and much more controversial than the usually complimentary drivel appearing in blogs by other Lamma visitors over the years. One more quote:
"Past the hubbub of Main, round a corner and up a steep incline three-storey faded white houses came into view. With un-ironed clothes hanging on racks to dry, crooked television aerials poking this way and that, and a smell of raw sewage trickling by, it didn't seem all that different to the centre of a major city – with its rundown and dilapidated tenement blocks and eerie non-action. Only here there was more tired shrubbery and slightly less people. In truth, it seemed to me like a very odd place to reside."
These descriptions caused quite a few heated comments on the Hip Hong Kong website and in our forum, Lament for Lost Lamma. Make up your own mind by reading the full story and add your own comments!
This is the hand of 2nd-hand Gary and his new "pet", found very close to his S-Mart 2nd-hand consignment shop, right behind Emily's Ice Cream Express. A true "Lamma Moment", a friendly commotion ensued, with loads of friends and passersby stopping their leisurely evening strolls down Main Street to admire the biggest moth we'd ever seen on Lamma. Nobody was shooing away from it and nobody would want to hurt it in any way.
Several of us were taking pictures for posterity as well, always carrying cameras with us. The moth was most accommodating, even letting itself being flashed while crawling all over her new "master" Gary. He has identified it as an Asian Luna Moth (Actias selene), which lives only for one week and is unable to eat during this mating period.
Gary released our pretty model back into the wild after our successful picture-taking session for the "highly coveted and prestigious" Lamma Wildlife of the Day spot on this home page. No moths were hurt in the making of this story, of course. Many thanks to Gary and his short-time pet!

Jennifer the Food Anthropologist even beat me by several hours in putting photos on our websites! See her blog entry Spring, Springier, Springiest with some great shots of even more Lamma wildlife in spring! She subtitled the photos with "A Man. A Moth. A Moment! Apparently, it lives only for a week and is normally spotted in Mexico… the moth, I mean."
Chin. New Year unicorn dance all day all over YSW, going from house to house to offer blessings (as long as a substantial Lai See has been promised in advance.) Photos by Alain Jaquier:
"I heard a din in the street and rushed towards to see what was happening and I took these photos.
I'm sure you already have got plenty, but in case you don't, you can be free to use them or select and pick up one to publish as "Photo of the Day".
I can do much better than that, dear Alain, and publish them as a photo story, see below. All I took myself was this bad shot from a great distance from my rooftop (see right).
Jay Scott Kanes - Official Court Correspondent, Proud Canadian - Cairns Media

(Photos by International Olympic Committee Photos)

Canadians Enjoy Gold-Medal Riches

The 2010 Winter Olympic Games that closed Sunday in Vancouver looked like a success, even when watched in bits-and-pieces from far-away Lamma Island. Sports fans saw many highlights and one tragic low point.

A flurry of Canadian victories in the final few days did wonders for the host nation's self-esteem. Never before has Canada harvested so much Olympics gold.

When an overtime goal by star-player Sidney Crosby ended a tense ice-hockey final, with Canada defeating the United States 3-2, Canadians began to celebrate from coast-to-coast and overseas. Temporarily, they cast aside a degree of mild manners and politeness.

On Lamma, fellow Canadian-born residents rushed up to me on Yung Shue Wan's Main Street. "Congratulations," we told each other while shaking hands or embracing. "We won the Olympics, eh?"

Well, not "us" personally. But it looked mighty good to see Canadian athletes adorned in gold and the Maple Leaf flag wave with such prominence atop the sports world.

Remarkably, Canada ended the Games with 14 gold medals, more than any other country, which echoes host China's gold-medal victories at the 2008 Beijing Summer Olympics. But for Canada, such success nearly defies belief. Although Canadians have world-class experience with ice and snow, it's rare for such a thinly populated nation (34 million people) to outpace all the sporting giants like China (1.3 billion people), the United States (309 million) and Russia (142 million).

Admittedly, athletes from the United States (with 37 medals) and Germany (30 medals) made more trips to the winners' podium than the Canadians (26 medals including seven silver and five bronze). But the 14 gold medals glittered so impressively, especially beside the runner-up totals -- 10 gold for Germany, and nine each for the U.S. and Norway. (The Norwegians over-achieved too. No one handles winter sports better than those five million people.)

Of course, any discussion of the Vancouver Olympics requires a solemn moment to remember Georgian competitor Nodar Kumaritashvili, who died in a tragic crash when practicing for the luge event. In tribute, 60,000 people at the closing ceremony gave the Georgian team a standing ovation.

Within a few days, Canadians everywhere, including on Lamma, should calm down enough to view the Games and the gold medals with a more-customary modesty. Then they'll yell less, simply smirk a little and think, "Not bad, eh?"

Not bad at all.