Fiona Mathews - CEO and Founder, Society of HK Earth Champions:

(Photos by Lamma-Gung)

Dear Earth Champions,...

We are delighted to invite you to join us on a:

An Earth Champions Tree Planting expedition on Lamma Island this weekend.

An expedition lead by Bobsy of ABLE Charity, in conjunction with The Earth Champions Foundation and Youth Outreach [Editor: street kids from the streets of HK whom have been rescued by the Outreach charity].

For the last 15 years ABLE Charity have planted trees on Lamma Island. Tree planting happens once a year in late May. Up to now ABLE Charity have planted 15,500 trees in the Lamma Forest.

All trees planted are native to Hong Kong and rich in seeds, flowers and fruits. They are indigenous species that will attract birds and other wild life in the coming years. The trees will be brought from the Kadoorie farm to Lamma the day before [Editor: 208 endangered incense trees this time].

So if you're free on Saturday and looking to be outdoors come and join us. It will be a wonderful hands-on day of being in nature, learning about the local ecology, the history of the forest and its importance to HK's environment, planting and meeting new people....

Event details:

Date: Saturday 30th May 2009, 10am.
Venue: Lamma Forest base camp (BBQ site above Pak Kok Village, coming from Po Wah Yuen, past GAIA Valley.)
Dress code: sturdy shoes, trousers, hat, sunglasses, sun cream and lots of water.
"I just killed a fucking hippie!"
"Send in the nukes, Lamma's gone!"
Nick the Bookman - Official Court Correspondent - website, email:

(Screenshots from the movie, captured by L-G)

Fun In Filmland: 15-5-09

It's coming up to 2200 hours and there's a buzz of feverish anticipation building outside Diesel's. Normally, a crowd like this is here for the footy, but this is a very different occasion, yes indeedy. It's the local premiere of the Lamma Zombie Movie "Isle Be Damned" filmed earlier this year. It's been entered in the upcoming I Shot Hong Kong Festival and everyone is deadly curious as to what mayhem will ensue. Diesel's has entered into the spirit of things with a Zombie Cocktail Special and a blood-red paper carpet on the street and up the stairs. I'm sure that the missing offal and bone shards to adorn said carpet were an oversight. Parksy and Dave are fiddling with the projector and adjusting the screen on the outside wall.

There are about 80 or so people here. A good mix of locals and townies, most of whom have collaborated on various aspects of this production. Some are cast, some backstage crew. Jay and Mike from Clockenflap are present. Hannah and Awon are the Mistresses of Ceremony. Josh, the Director and Editor, is unfortunately in Tokyo. The music soundtrack composer Quan Yeomans is sitting on the wall a few feet away. Veterans of the first two Rock-It Festivals (in 2003/2004) should remember Quan's band The Regurgitators whipping the crowd into a frenzy with their warped space-blues-grunge. He enjoyed being in Hong Kong so much that he relocated here from Australia about two years ago. Now, he's exploring new musical terrain and slowly building a reputation on the local scene.

A three-minute music video called "Into the Night" precedes the film. It features Quan and others under the moniker "Lamborghini Montage" and cuts performance shots into teaser footage of the film. Sounds a bit like Icehouse or David Bowie in his "China Girl" phase. Has a cool New Romantic synth sound and beefed up beats. You can see it for yourself on YouTube. Now Hannah and Awon are front-and-centre.

"We'd like to thank the people of Lamma for making this possible. It started as a drunken dream, but we did it! We're amazed you all came!" Hannah also says she and Awon are emigrating to the big city quite soon and this film is sort of a tribute. As she says this, I'm flashing back to her performance at Clockenflap 2008 where she recited her poem, entitled "Lamma Til I Die". Anyway, it's showtime.

I've been wondering what the film is called. My private title was "Yung Shu Wan of the Dead". A sort of tribute to the Frost/Pegg/Wright homage to the George A. Romero canon. Be that as it may, the film is called "Isle be Damned" which is an equally-nifty title. It's nearly 15 minutes long. There's a brief prologue during which the title comes up in vintage Hammer horror dripping blood style.

There are ten live actors and 16 undead ones. There's plenty of blood and gutsy action. It riffs on plot points from "Night/Dawn of the Dead", "Return of the Living Dead" and "Zombie Flesh Eaters" among others. There's also a sly nod to the D-Day carnage in "Saving Private Ryan" when blod smears and stains the camera lens. Half the fun of this film is spotting the references.

The music and sound effects are mixed very well. Most of the splatter is live on set, so to speak, with a few post-production touch-ups. The opening music is cannibal-kin to Ennio Morricone's "Harmonica Man" cross-bred with mutant lashings of Zep's "Kashmir". There are some fine orchestral bits and pieces strewn here and there. To say more would spoil the fun for all you splat-packers and gorehounds. Enjoy it for yourselves on YouTube, standard or HD:

Part 1 (7:23min) & Part 2 (7.28 min).

---

I have fond memories of my day on location. I was asked to do a cameo. Didn't know what they wanted, so I brought a bag of DVDs with me. (They were "Brain Dead", "Evil Dead", "Dawn of the Dead", "Shaun of the Dead" and "Zombie Flesh Eaters".) I thought maybe they could film me walking home with the bag, completely oblivious to everything around me, to enjoy a good night in. Quick cutaway of the DVD's for that post "Scream" post-irony style. But, they wanted to go in a different direction. Which they did. It's memorable and way cool. I did about 5 takes and hung around to watch some of the other scenes. Everyone was laid-back, but focused. Josh shot about 8-9 set ups with one camera. He was very clear in his vision. It was a pleasure and a privilege to be invited to participate.

It's been fun getting back into filmland. My first taste was working as an extra on the BBC Series "Tom Brown's Schooldays" during Easter, 1971. My school, Milton Abbey, near Dorchester, was chosen because of it's resemblance to Rugby in the mid-19th Century. Lots of running around, playing rugby in period costume. Chatting with the crew about their experiences working on "Monty Python's Flying Circus". I think I got paid about ten quid for three days work. After returning to HK, I did about six years in ATV's News Department. Preferred to cover sports and entertainment. Got to interview Pele and Muhammad Ali among others.

More recently, there was another cameo in Alba Rayton's film "Masks" - more details available elsewhere on the Lamma-zine, [Editor: premiere May 30/31 in Elements cinema] - and a part in a five minute ad for a new camera system called Red. That was shot by Noel and his mates in October 2008 on Power Station Beach. The ad was called "Fluid" and shows the system off to stunning effect. It's a dreamy ad, reminiscent of some of Sir Ridley Scott's early work crossed with bits of "Blade Runner". I think Lamma-Gung has a copy, so it might be posted somewhere. Again, both of those gigs were a pleasure to do. A little bit of Hurry Up And Wait is inevitable, but it was good fun. Not like working for James Cameron or Michael Bay, say.

And then there was the visit of "Miami Ink" to Lamma on Monday, 11-5-2009. They are part of Worldwide Tribe Productions, shooting a reality travel show for The Discovery Channel. This could have been a chance for some more fun, but things went awry.

Maybe they succumbed to Lamma's Legendary Lotusland Lifestyle. Maybe someone put Baldrick in overall charge of The Inky Twinkies and their troupe. The guys I chatted to were affable enough and I enjoyed our meeting of minds. But, down where the kernel dwells, they didn't allot enough time for filming and a couple of interviews (like mine) never got done...
Anyway, 'nuff said.
Let me present 8*8 reasons why I still love living in our island community, via 8*8 recent, daily Lamma-zine stories. Click on any icon below to read the full story; or access our Lamma-zine archive of almost 2,000 Lamma-related stories.
What are YOUR reasons? Let us know in our Lamma-zine forum.
P.S. More Lammaites noticed this clearest day in a long time and took pictures:
See homeslice's photos of today.

Continuing our series of little-known Yung Shue Wan restaurants which most of us residents might never have visited so far, let's feature the Jade Chief's Bar at "Nick's Corner" in the very centre of the village, opposite always popular hangout "Banyan Bay Cafe":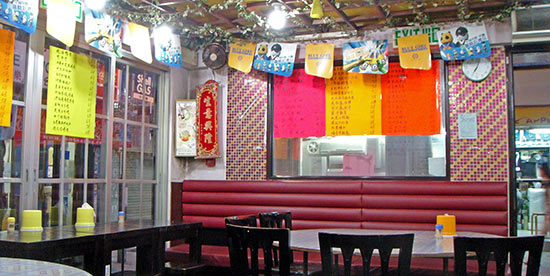 "Traditional Cantonese home-style cooking" was how it was described to me by other guests. Seeing it full on the weekend with young island visitors also demonstrates their low prices, almost every dish advertised on the walls is below $50, with a lot even below $30. On weekdays, it's visited by a lot of local regulars. We spotted fishermen, middle-aged Chinese ladies and a table full of HK Electric blue-collar staff in there when we finally revisited. Lamma-Por had resisted going back there ever after a not-so-positive experience over two years ago.
This time she loved it! A really delicious fried pigeon; tastier, juicier and cheaper at $48 than in ANY other Lamma restaurant we've tried this dish (and yes, this includes the Pigeon Rest. above Hung Shing Yeh). Half a succulent pigeon for me, together with my customary single spoonful of boiled rice and I was satiated and happy.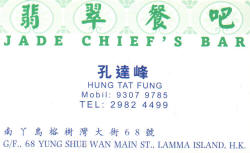 The second dish, Lamma-Por's choice, were amazingly fat (50+%), thick bacon squares with quickly stir-fried cabbage, still dripping with oil. Absolutely unsuitable for my low-fat diet, I only nibbled on that dish, but Lamma-Por loved it and even took the left-overs home! Other tables were tucking into various Cantonese staples and a big plate piled high with large, yabbie-like seafood.
It's a really small place, only about 5 tables, with basically one cook and one waitress. But it has a family-style feel with soft benches all round, mostly real chairs, not just stools; plus some really gaudy decorations, like so many of these local places. The huge, embroidered stickers of English football clubs above the former bar counter (now the kitchen access) might be a heritage from when this place really was a bar for many years under changing owners/managers, but now it's a bar in name only.

They also have a lot of unusual Cantonese dishes at really reasonable prices, many of them not available in other local restaurants at all or only on weekends. Lamma-Por & I will certainly be back soon, without me having to try convincing her for years first.
Now on to some of the few other places we haven't visited in a little while. We'll try every local restaurant at least once.
Let us read your own little review in our Jade Chief's Bar forum, part of our Index of Lamma Bars & Restaurants (incl reviews & ratings).
---
P.S. A second visit was even more impressive food-wise, despite swarms of spawning, flying termites ("white ants" in Cantonese) attracted to the bright lights along Main Street, some of them even into the restaurant. But the bugs encountered the powerful swings and quick backhands of the experienced staff wielding an electric bug tennis racket!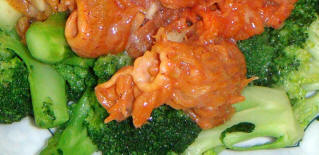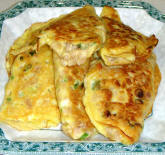 A new photography workshop is now being offered by professional photographer and Official Court Artist Andy Maluche. Enticing me to promote it for him for free he invited me along to sample his professional teaching expertise. To get a second opinion, I invited photographer Grahame Collins along as well.
Now you see it, now you don't.
Learn how to see like an artist/photographer without having to take drugs.
A workshop based on beautiful Lamma Island that teaches beginners and advanced photographers how to use their equipment right, find interesting things to shoot and make those shots look like they were done by a professional.
We will focus on the little stuff that is all around us but that we rarely notice, beautiful small flowers, colourful beetles and elusive moths.
What equipment do you need - camera (ideally dSLR), long lens, macro lens, tripod, memory chips, reader, flash, insect repellent (Yes, I do see the irony) and sun lotion. If somebody doesn't have a camera or long lens or tripod, that's ok, we can share mine.
Intro:
(We meet at the park and I do a little lecture)
What settings - Where to look - What to look out for
Under what conditions - How to look
Hands on:
(We walk around the foot paths of Lamma - not far)
Hands on explanations - Tricks of the trade - Pattern and contrast
Layout - How to crop - Experimenting with different settings
Post:
(We sit down in a restaurant and look at our harvest in my computer)
Analysis of pictures - Simple Photoshop instructions
How to enhance - How to crop - How to cheat
The workshop last 3-4 hours for a minimum of 4 people - $250/person.
Please see a few of my own results, below. Sorry, not much "little stuff" (the focus of the workshop) because I don't own any macro lens for my Nikon D80 yet and I didn't even bring a (highly recommended) monopod/tripod. Most of our workshop explored the area around the DickStock Residence and Dog Beach (besides the Lammarina). These are the best results of what I got in 3 hours.
(Click to enlarge - like most photos in the Lamma-zine):

(Sorry for the lack of sharpness in some of these close-up bug photos below.
I'll make sure to use a macro lens & tripod next time!)
Have a look at the impressive workshop photos from Andy Maluche (gallery gallery 1 & 2) and Grahame Collins. Grahame writes:
"As an experienced photographer I was surprised to find out how little I knew about the world of close-up nature photography. Andy lent me a macro converter for my camera and within a few minutes I was taking professional-looking photographs of insects and plants that I was keen to show off to friends.
Andy has an in-depth knowledge of both the flora and fauna of Hong Kong and the workings of a camera. This knowledge was put to good use during the few hours we spent exploring and photographing the natural environment of Lamma Island.
I would highly recommend this workshop to anyone who wants to develop new and exciting photographic skills and discover a new world of photo opportunities."
P.S. If somebody needs a photographer for any shoot...
we're all eager and available!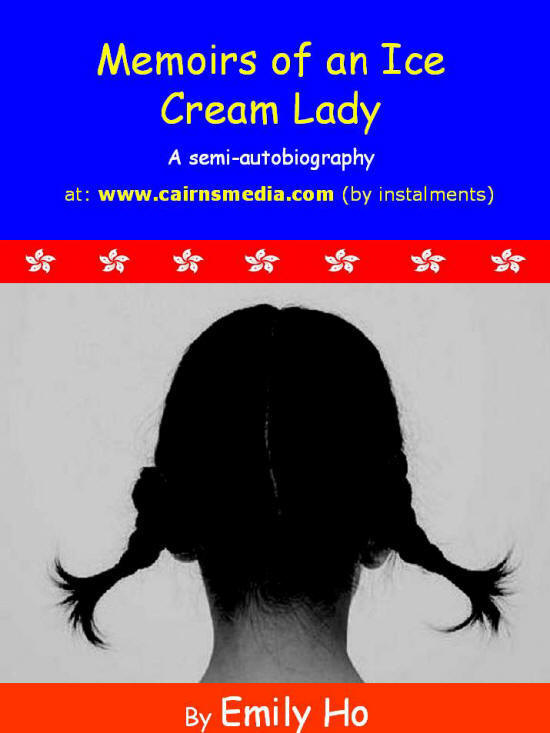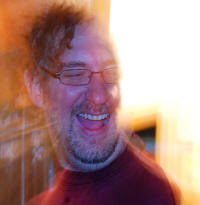 Have a look at this great story written by Lammaite musician (ex-NUDE, Matt Steele & the Voigtians and other Lamma bands), ex-Wall Street Journal Asia and nowadays a "CNN Digital News Producer", Kevin Voigt (see right as a Voigtian.) The CNN blog story is all about how HK's SARS and bird flu experiences have prepared us to be a bit more relaxed, prepared and sensible about the current H1N1 "pandemic". Kevin writes:
"In a 'butterfly-flaps-its-wings way,' SARS forever changed my life. Working from home during that outbreak, I began socializing with musicians on Lamma Island and we formed a band. After a gig in 2004, a woman asked me out. A few years later, she became my wife. Nine months ago our son, Jonah, was born.
"He is the reason I stocked up on hand sanitizers this week.
"There's a thin line between paranoia and preparedness. But thanks to the experience of SARS, Hong Kong residents know where that line is drawn."
Full story: Hong Kong: Immunized from fear
(CNN.com - "In the Field" blog - May 1, 2009 Hong Kong)
Congratulations to Underground HK for their 5th anniversary!
Their website states, "THE UNDERGROUND was created in April 2004 as a result of the dearth of live music venues in Hong Kong, and to provide a showcase for the unsigned talent in Hong Kong to strut their original music. Whether you're funky, punky, jazzy, heavy or downright ugly, apply to play or watch the bands at The Underground…the most groovy club in Hong Kong!"

Underground HK has featured most Lamma bands over the years and Nick the Bookman has written many reviews for them. Underground HK has been co-founded by ex-Senior Lammaite bbchris, the former moderator of our Music forum and very active member #3 of our forum (6,766 registered members nowadays, some of them spam from years ago.) She was even crowned Miss Lamma.com.hk in the very early days of this website, 7 years ago. But let's hear about it in her own words from the Underground website where she describes herself as "Organiser, Stage Manager, MC, aka Rock Mum, Goddess of Rock and even "Godmother of Rock", the driving force behind The Underground." Amongst her many fine talents, modesty and self-deprecation do not feature prominently:
Underground Team - Who ARE WE?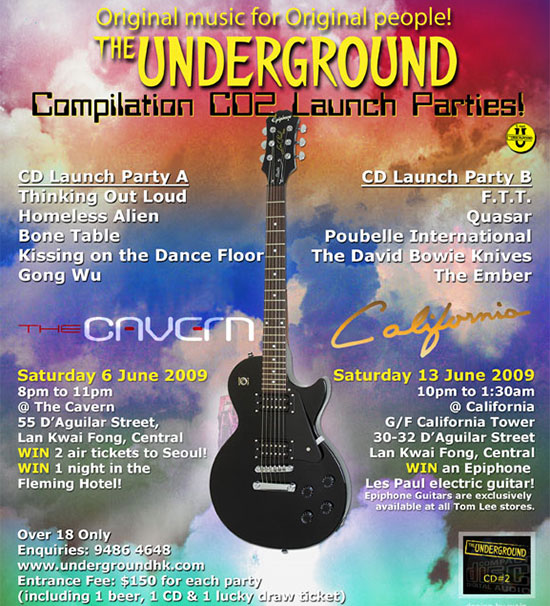 Kelly Morgan - Senior Lammaite:

(Photos by Andy Maluche)

Monday night in the Island Bar was a fine welcome back for my return from Australia. At first, I thought I must be suffering from some weird form of jetlag (given there's no time difference between Perth and Hong Kong) when Andy Maluche started playing Oom-Pa-Pa music on the computer, then John Fox wryly informed me that we were about to be visited by a bunch of Bavarian guys in lederhosen.


Kumar hastened to inform me that they were "good-looking guys."

I immediately scoffed, because, let's face it, lederhosen and hot-looking rarely (never?) go together in a sentence.


So I was possibly not an entirely appropriate choice to MC the lederhosen competition.

That said, I did it anyway.

Hot or not? Check out Andy's pictures and you decide.

Oh, by the way, the cause of this influx? Ice hockey. Not exactly an international sporting event you'd expect Hong Kong to be hosting, which just added to the weirdness of the evening.
P.S. Andy Maluche:
"I forgot to mention that in 1986 I arrived in Hong Kong from Shanghai wearing my Lederhosen like I had for a many months during my trip around the world. Waiting for the elevator at the Sheraton (going for a swim, I was staying at Chungking Mansion) the elevator door opened and out came a Scott in full attire. We politely greeted each other and I went on to the roof where I had to very hurriedly get out of my Lederhosen to save a Chinese girl from drowning...
And that was just my first day in Hong Kong."
Jay Scott Kanes - Official Court Correspondent - Website: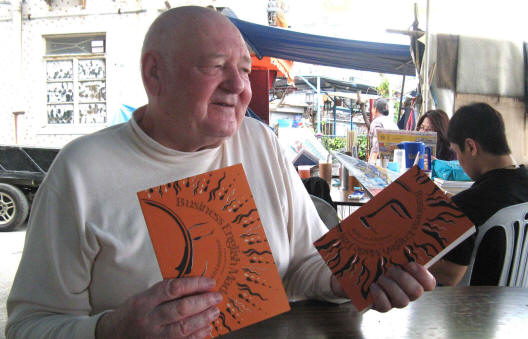 At the first hint of awkward, unclear English used on Lamma Island or beyond, many people may consult little orange books to set things right.
Business English Made Easy (2009, Hong Kong Economic Times), a two-volume set by long-time Lamma resident Frank Murdoch, has slightly larger dimensions than Chairman Mao Tse-tung's infamous "little red book", but probably holds more sensible advice.
One volume, subtitled Write To a System, runs 208 pages. Its companion, Speak With Confidence, has 64 pages. Both stress the need for clarity.
"Conciseness comes into it," Frank said. "Making yourself understood takes precedence over getting the grammar perfectly correct." He says few business letters should exceed one page.
A Chinese newspaper, Hong Kong Economic Times, commissioned the books and has distributed thousands of copies in a special promotion. Readers collect two coupons from the newspaper and then buy the books for HK$28 at any of Hong Kong's Seven-Eleven stores. "It's probably one of the best deals in Hong Kong at the moment," Frank said.
"It is a sad fact that many people today lack the courage to create English correspondence for fear of getting the grammar wrong. As a result, they resort to the tried and tested method of using letters on file and modifying them to suit the current situation. Give them a blank piece of paper or computer screen and they are lost."
Soon, Business English Made Easy should appear in bookshops. By then, the two volumes may be combined into one.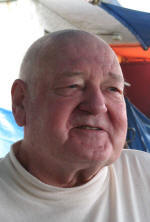 "My purpose was to write something useful to business people, university graduates and others, making writing and speaking in English simpler for them," Frank said. "Too often, business English is taught like grammar. The more complicated and the more words in the vocabulary, the better it is. But these books emphasize the purpose for writing or speaking, the information to be given and how to lay it out. The advice is based on normal speech patterns that people have."
The author explains what works, what doesn't and why. Nearly every page offers practical advice, examples or exercises to improve language skills rather quickly.
"The language used in memos and letters should always be simple and direct. The key to good writing is to use as few words as possible to make your meaning immediately clear to your reader."
There's a strong Asian flavor. "I fetch up a system, and it's all based on a dragon," Frank said. "There's the head, which is the first paragraph of a single-page letter, the tail at the end, and the explanation piece, which is the fat body in the middle."
The best communications, those easily understood, are short, to the point and use familiar words. "Anyone going to a dictionary to write a letter runs into trouble by using unfamiliar words and getting the construction wrong," Frank said. "Very likely, the person at the other end has to go to a dictionary to read the letter. It's always best to use simple English with familiar words."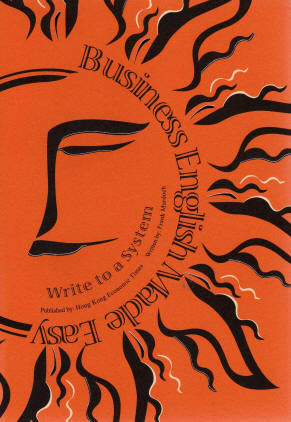 His readers will improve their use of English, but probably not perfect it. That would require "big, thick" orange volumes.
The books' covers, with images of a blazing sun, show curved wording impossible to read without part of it being upside down. How bizarre considering the goal to improve clarity of communication!
Seventy-two-year-old Frank, a former reporter for the Hong Kong Standard, has extensive experience as an engineer, writer and teacher. Originally from London, he has lived much of his life in Africa and Asia. He moved to Hong Kong in 1972 and settled on Lamma in 1982. These are the first books to list him as the solo author, but he has ghost-written and edited others.
Does Frank have any doubt about the merits of the little orange books? "None whatsoever," he said. Anything that improves communication can make life easier and business better.
Here's a little update on what the Child Welfare Scheme charity has been doing with all the raised funds: Highlights.
Click for the full story of "A Film Set on Lamma Directed by a Lamma Resident":
Masks - Lamma Stars in a Movie.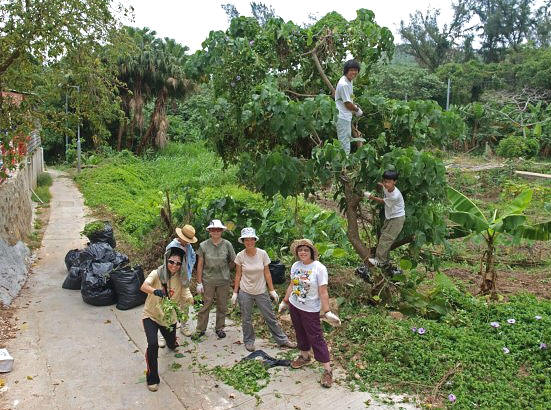 The infamous rapid-growing "mile-a-minute" weed is taking over big areas of Lamma, including our gardens, even my own. Mikania is stifling, strangling and suffocating many other plants and even trees by simply growing much faster than almost anything else. An awareness and clearing operation has been organised by the more and more active GreenLammaGroup and the volunteers showed up today, on a Sunday morning. Thanks, valiant volunteers!
For more info and before/after photos, click here.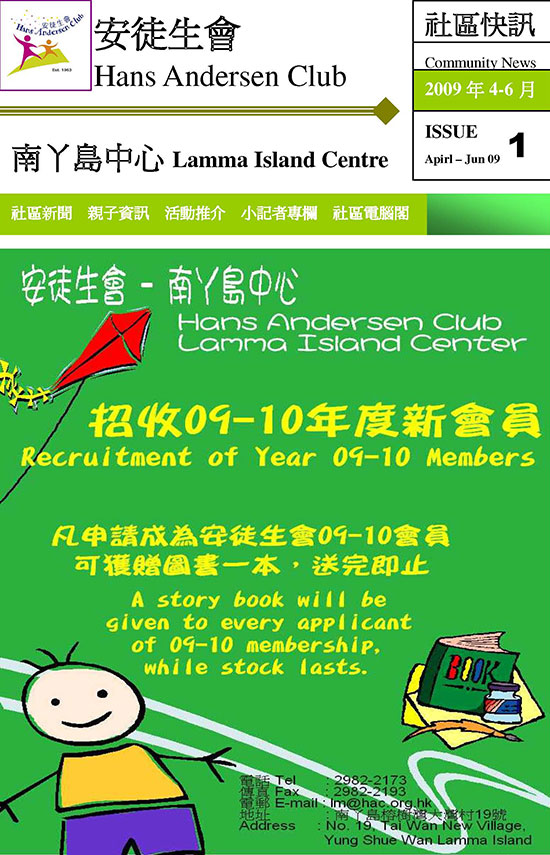 What's the low-profile Hans Andersen Club's Lamma Island Center up to these days, over there in No. 19, Tai Wan New Village, just behind the tennis courts?
Their latest bilingual newsletter is available now, in PDF format (6.7MB) and these are some of the very worthy and worthwhile highlights:
A recruitment drive for the next school year and lots of free or almost-free community activities in Chin. and/or English, for example (click for details):
For kids: Cub Scouts, Kid's Farm, All-round Kids, Chinese storytellling and After School Development classes;
For adults: Classes for Women or Elderly in Community Computer Corner;
For parents: Effective Parenting, Movie Nights;
For parent & child: House Cleaning for Elderly, Home Visit for Elderly: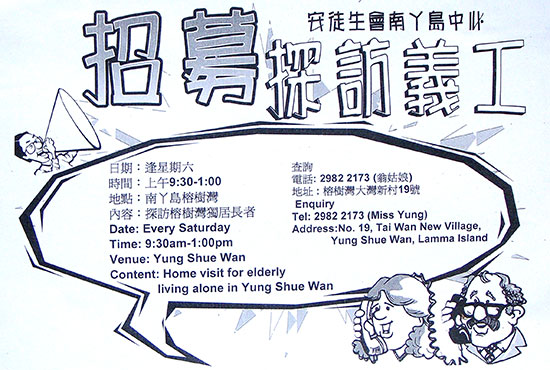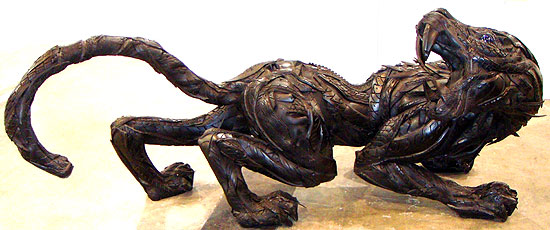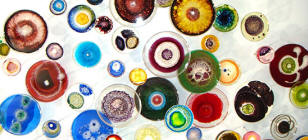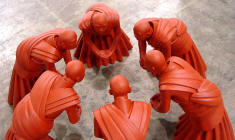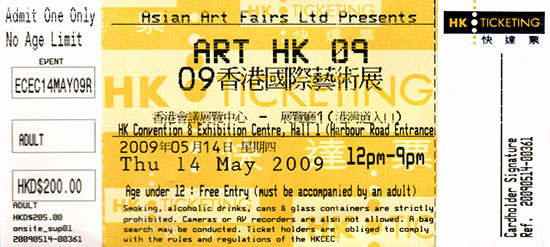 Attending this huge art fair of over 100 art galleries in the Convention & Exhibition Centre, I was caught by surprise by the amazing ticket price of $200 (plus $5 "service fee"). They're really trying to keep out riff raff, hoi polloi and people-too-poor-to-afford-original-art, like myself! Well, it didn't deter this art lover, coming all the way from distant Lamma Island full of artists & creative types.
The ticket states explicitly, "Cameras...are also not allowed" and fair staff told me the same thing before entering. But this being HK, almost everybody was snapping away anyway and neither fair staff, security nor the gallery staff ever interfered or complained. So I took out my little pocket snapshooter and joined the eager crowd snapping away. Most of us couldn't really afford the professional gallery artworks on offer, but at least we can take and keep a little pictorial memento.
Fascinating stuff from all over the world was on display, so let me list the range of my own emotions evoked while browsing through this veritable smorgasbord of art from so many different styles, schools, time periods and countries:
Hmm, interesting - ??? - Um, err... - Eek! - So what? - Wow! - Amazing!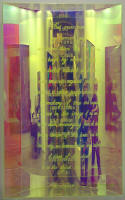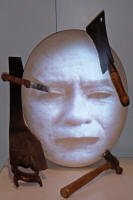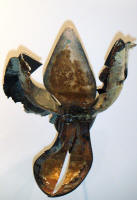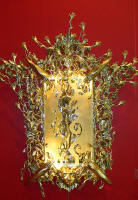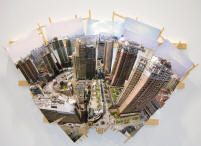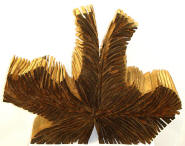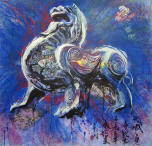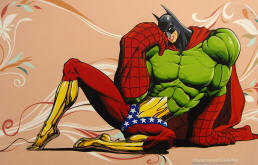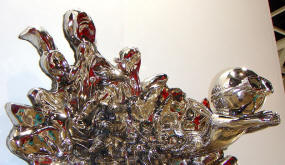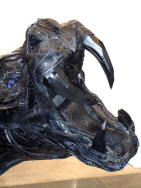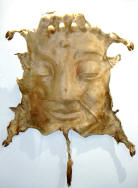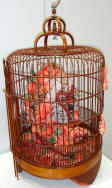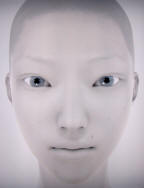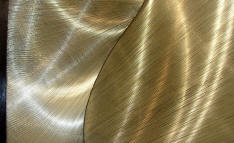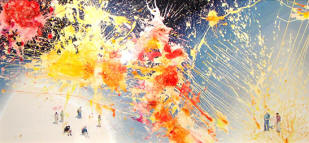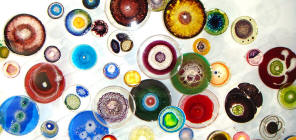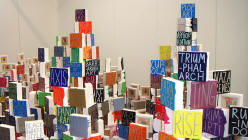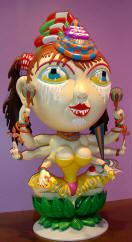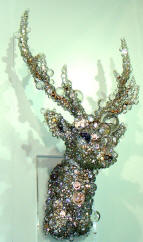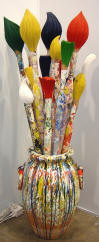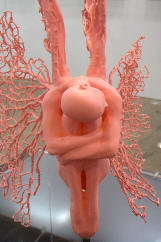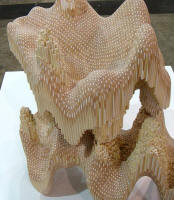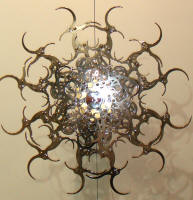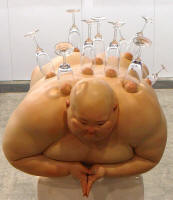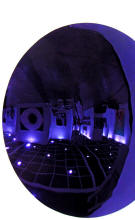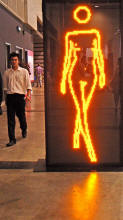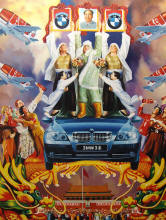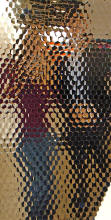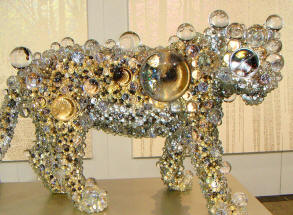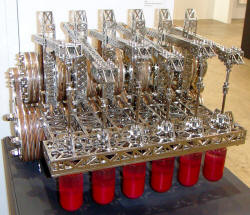 P.S. Lamma Artists, contact me! I'm always looking for more Lamma Artists of the Month for Lamma-zine feature stories. It's completely free publicity and a chance to be showcased on this website with currently 4.5 million hits/month. Even single artworks are accepted for the Lamma Artwork of the Day spot.
All forms of art are welcome, of course, especially unusual & quirky "art".
Coming soon: Emily the Ice-Cream Lady, Laurence the Shaman, Jill Eason!
While walking home from my frequent Lamma Winds walk before 7am (best hiking time these days), I was again amazed about the number of dog turds on our paved paths, sometimes right in the middle of the path.

Some of them were still steaming and often covered with those flies in shiny metallic colours. These fresh turds were obviously just left behind by domestic dogs running free or accompanied by other early-morning hikers. Being a dog lover, but not an owner, I can really sympathise with this new poster on our walls, the latest appeal from LAWC that does deserve some wider publicity via this community website:
Let us know YOUR opinion in our Walking the dogs forum.
P.S. In the poster above, it says, "(A big leaf works, if you are caught short)"?
Or should it be "A fig leaf works, if you are caught short"?
Instead of a fig leaf, a dragonboat paddle might also work if you are caught short (of clothes), like the nude guy hiding his modesty with a paddle outside the Deli on Sunday night after the Dragonboat Festival (as observed by passersby)....
Are you looking for a comprehensive update of what's been happening to the Lily Pond and the construction waste dumping in the Yung Shue Long valley?
Submitted into our long-running Yung Shue Long Valley Development forum with 215 messages so far, here's a great summary, including before/after photos, maps and illustrations. It includes the feedback from 5 different govt. depts., resulting in futility and not even a fine for the waste dumpers.
This document has been submitted to LegCo by the newly established Living Lamma (website-in-progress, email) activism group, which acts as a watchdog on sustainable development and community projects on Lamma Island:
Submission to the LegCo Sub-Committee on Combating Fly-tipping -
29th April 2009
The document closes with "What next? Please protect the rest of the valley."
Click above for Lamma-Gung's photo gallery
Many thanks to all the sponsors & supporters of this festival (listed above)!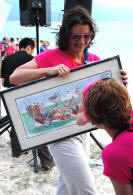 Who else but Harry Harrison would combine the worldwide H1N1 Swine Flu fears with dragonboating? This was the donated big prize for the Lucky Draw, won by this pretty lady in pink, Jo, who was extremely overjoyed, of course.
But we've got a lot more about the Lamma 500 from two of our most frequent correspondents! A review by Nick the Bookman and an unusual sidebar by Jay Scott Kanes!
While waiting for some more really good photos to arrive at the Lamma-zine - in addition to Grahame Collins', whose total lack of "natural head covering" means that he's now suffering bad sunburn - here are a few hopefully OK pics from your "snapper", L-G. Email us your best shots for posterity!
A few shots from L-G's photo gallery (click on any to see entire gallery):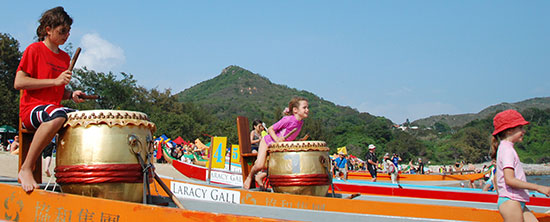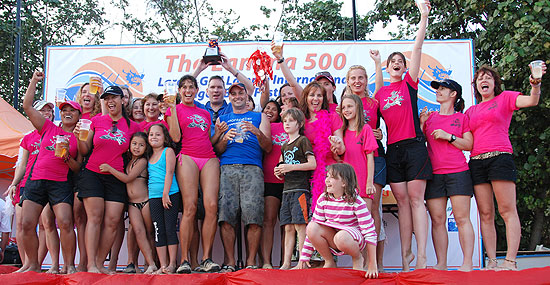 Nick the Bookman - Official Court Music Reviewer:

Jay Scott Kanes - Official Court (Pet) Correspondent:

Lamma Dragon Boat Races 2009

The Power Station Dragon Boat Races are here again. Seems like no time at all since last year's wonderbash. Wasn't planning to write a big story this year. Mostly because I wasn't sure how to top last year's epic and partly because I didn't get to the beach until it was nearly all over.

Welcome to "Tent City". An exciting place to be at high tide with about 5 feet of vacant beach space. More room to move about at low tide. It's a throbbing hive of activity. All that was missing was the Italian Prime Minister Berlusconi and his string of bimbos telling everyone to relax and be Happy Campers.

Basically, same layout as 2008. The Porta-cabins and the food and drink outlets along the Power Station Road. Music pre-programmed onto a lap-top courtesy of HKGFM.net radio. Big stage, Mark hogging the microphone. The usual sponsors and advertisers in evidence. About half a dozen floating gin palaces docked off shore. Contestants racing parallel to the Power Station. Churning up a briny spray in jungle drum time. A few minor injuries, misplaced children and darting dogs. And a happy ending for the lucky few.

There's been an amusing joke doing the rounds recently. The Self-fulfilling Prophecy. A group of people (let's call them Republicans) felt that pigs will fly before a Black Man becomes President. (Yes, he's Afro-American, but let's not quibble). Barack Obama became President and it came to pass....swine flu! I mention this only because Harry has been thinking along the same lines. He did a wonderful cartoon of Dragon Boat H1N1 accompanied by Pigs In Space, see above. Well, the porcine beauties were at least hovering over the boats. Congratulations to Jo who won the picture. Good work, Harry!

What else? Well, the Lamma Ladies 2nd team beat the 1st team in one of the finals(?) Cue much raucous celebrations and piss-taking. Lamma-Gung got a photo of Clive, Me and Dave Parker in left-to-right degrees of hairiness. Rather like a time-shift photo of Larry Talbot mutating into the Wolf Man!

Heard some splendid tunes. The kids were dancing on the stage. The beers were cold and frothy (and free if you knew who to suck up to.)

Strategic Seats
Near the Sea

The Laracy Gall Lamma International Dragon Boat Festival, nicknamed the Lamma 500, brought impressive paddling and exciting races to the local Power Station Beach on May 10.

Most attendees appreciated the splashy spectacle. Many also enjoyed a rare luxury within spitting distance of the sand. On the tree-lined roadway near the food and beverage tables stood a long row of portable toilets. That made the Lamma 500 a very special occasion!

No doubt, the toilets were needed and used. But once the races ended and the competitors vanished, so did the toilets.

Yet the Power Station Beach often attracts a crowd, especially on sunny weekends. Its regular users must have frowned and pondered a pertinent question: Why couldn't at least one toilet stay permanently to give human beachgoers a viable alternative to joining the pet dogs on "business" missions behind the trees?
P.S. Click for the official Festival Highlights video from SOUTV,
plus several dragonboat team videos from fatdragonhk,
plus great photo galleries from Leggova, Rambo Lai, Elo Leung and Bob Davis.
Mark Burns - Thirsty Horse Media - media release:

(The Lamma-zine is an Official Media Partner of this festival)

2009 Laracy Gall Lamma 500 is a Stormer!

Sea, sand, sunshine, sounds, sweat, silverware, and the sweeping success of HKIPC marked the third annual Laracy Gall Lamma 500 held at Tai Wan To Beach, Lamma Island on Sunday May 10th!

Sea - deep, fast and clean with both 500m and 1,000m race options.

Sand - soft, fine and tropical style beach and with plenty of it to move around on as the tides treated us well.

Sunshine - hot and baking with the occasional hint of cloud cover, great for spectators and sales of cold Carlsberg!

Sounds - supplied by HKGFM.net, pumping out over the PA system to entertain the beach, and punctuated by the dulcet tones of the race announcers.

Sweat - by the bucketful as every paddler and team strived to give it their all in some of the toughest racing of the season.

Silverware - dished out at the awards ceremony by the bucketload.

Success - HK Island Paddle Club (HKIPC) triumphed in 6 of the 8 race categories.

---

Alliteration aside, what an awesome day's racing was had by the 37 competing teams.

On arrival at the beach, following a warm up morning stroll from Yung Shu Wan ferry pier, paddlers were greeted by the welcoming sights of Kumar and the Waterfront team preparing breakfasts, plus the row of 20 brand new Toi Toi toilets which ensure that this is one event on the race calendar when a mad half mile dash to the nearest 'squat and drop' is not required between races. What a great start to a great day!

And it just got better as you emerged through the foliage onto Tai Wan To Beach, surrounded by ant like preparation activities, and saw the coloured marker flags of the course stretching into the distance on the right next to the power station industrial complex, and the imposing green skyline of Lamma Island and Mount Stenhouse on the left. As Damian Laracy of title sponsors Laracy Gall mentioned in his awards speech, it truly is a special Hong Kong style view.

The racing was fast and furious all morning, the beating drums stirring primeval instincts in the paddlers on the water and drawing the attention of the hundreds on the beach to the action afloat, as the first round reached its colourful climax.

Then, a pause for lunch, well earned, with many crews choosing to cool down by going for a dip in the welcoming sea while children on the beach took to the boats, with a few somehow instinctively synchronising the drum beat of Queen's classic from 30 years ago 'We Will Rock You.'

But it was a lull before the storm, and nervous tension returned to those who'd taken the plunge and put their hands up to compete in the newly introduced 1km race. And there were plenty of them too, the Lamma 500 attracting many of Hong Kong's most competitive racers. One after the other the crews got the airhorn send off to go from the starter and vocal sendoffs from the beach as they set doggedly about their task and 4 minutes of effort through both gritted teeth and supportive exhortations. It may have been Mother's Day, but chocolates and flowers were certainly off the agenda for these crews, for a few minutes at least.

Into the afternoon, and the sun is still sizzling, the drums still beating, the music still pumping and the teams still pushing and roaring themselves on to greater exertions as we reached the business end of the day.

HKIPC have already made an impressive clean sweep of the 1km Races, taking first in all three categories, their men's crew being the only team to break the 4 minute barrier.

Lamma Ladies 1 are out paddled by Lamma Ladies 2 in the Women's Final, a result sure to get the emails flying!

Split seconds separate many crews from silverware, but HKIPC really had a good day at the office taking no less than 6 of the 8 titles being contested at the Lamma 500, including all three of the upper divisions - Men's, Women's & Mixed - a fantastic achievement.

BGC Stormy Dragons teams also proved powerful, achieving top 3 positions in the three upper divisions.

The Liechtenstein Princely Navy pulled off an excellent result by posting 2nd in the Men's Cup final, and there was much rejoicing. They just got their nose ahead of the strong BGC Stormies who finished third.

In the Men's Plate, the Hongkong Electric team, in what may be considered a 'home' contest for them given the proximity of the power station, were delighted to lift the trophy. Lamma Dragons, definitely on home 'soil' were popular winners of the Mixed Plate trophy.

Local dignitaries, sponsors, and race organisers formed the Awards Presentation party including District Councillor Ms Yu Lai Fan, Chairman of the Lamma (North) Rural Committee Mr Chan, Mr Damian Laracy of Laracy Gall, Mr Law of the Lamma (North) Fishermen's Association, Tournament Director Brad Tarr and Race Convener Gina Miller.

It was simply an amazing day, the feel good buzz was switched to 'high' and, certainly for this writer, there are few better days in the year.

The sky turned pink over Lamma as the sun went down. On the beach the Carlsberg flowed, the teams danced, chatted and laughed, the music played on as the stars came out.

The 2009 Laracy Gall Lamma 500 went down a storm. Definitely one to look back on and smile about. The only downside is the next one is 12 months away.

See you there!

The 2009 Race Winners are listed below. For further information regarding the Laracy Gall Lamma International Dragon Boat Festival contact: Brad Tarr, Tournament Director, Tel. (852) 9422 5907, email or see the event website.

---

2009 Lamma 500 Race Results

Men's Plate Champions

Mixed Plate Champions

Mixed Cup Champions

Mixed Cup 1st Runner-up

Mixed Cup 2nd Runner-up

Women's Cup Champions

Women's Cup 1st Runner-up

Women's Cup 2nd Runner-up

Open Cup Champions

Open Cup 1st Runner-up

Open Cup 2nd Runner-up

1,000m Mixed Division Champions

1,000m Women's Division Champions

1,000m Men's Division Champions

Total Number of Races

Total Number of Team Entries

Hongkong Electric

Lamma Dragons

HKIPC Great Whites

BGC Stormy Dragons

HKIPC Killer Whales

HKIPC

BGC Stormy Dragons

Lamma Ladies 2

HKIPC

The Liechtenstein Princely Navy

BGC Stormy Dragons

HKIPC Great Whites (4.04)

HKIPC (4.37)

HKIPC (3.55)

31

37
The first photos are coming in from the third annual Laracy Gall Lamma International Dragon Boat Festival being staged today at Power Station beach on Lamma Island today.
Send us your photos or links to your web galleries and they'll be displayed here and in the official www.LammaDragonBoat.com website. Here's the very first web gallery with a wealth of really great and beautiful shots from Grahame Collins, click below: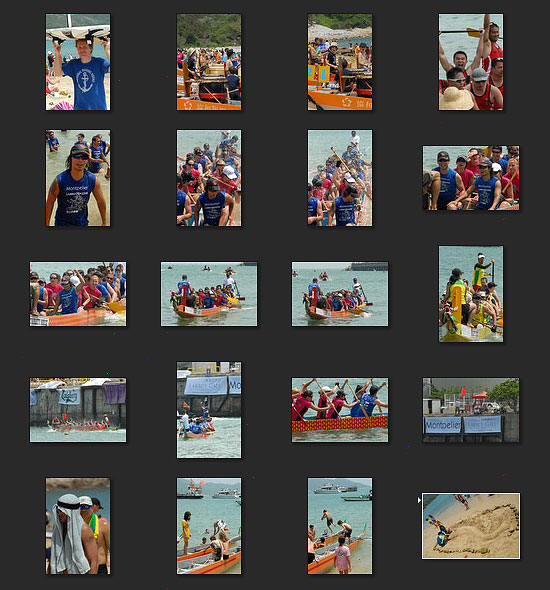 A little discovery I made recently, even though it might have been installed quite a while ago: a public and free Fitness Corner with LifeTrail exercise equipment just besides the YSW Playground behind the Football Pitch. Easy, low-impact, always-available, suitable for all ages, not just the elderly, try it out one of these days!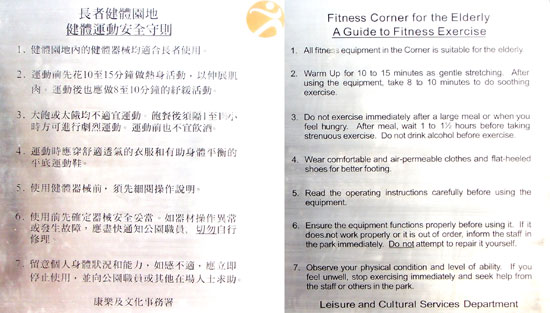 Thirsty Horse Media - media releases - email, mobile (852) 9422 5907:

(The Lamma-zine is an Official Media Partner
of this festival, you might notice our logo in a few places.)

37 Teams to Compete at the 3rd Laracy Gall Lamma International Dragon Boat Festival This Weekend

Thirty-seven of the best dragon boat teams in Hong Kong will compete this Sunday May 10th in the territory's toughest race series at the third annual Laracy Gall Lamma International Dragon Boat Festival being staged at Tai Wan To Beach, Yung Shue Wan, Lamma Island, Hong Kong.


At 500 metres the Festival, also known as the 'Lamma 500', is one of just a few competitive race series in HK to use the international standard race length, and therefore attracts the most athletic racers.


"It's an excellent line up of strong teams in all three divisions," commented Tournament Director Brad Tarr.


"All of last year's champion teams are returning to defend their 'Lamma 500' titles, but they'll be facing tough and determined opposition as these teams have been training for months," said Mr Tarr.


"The race has a fun element to it of course, it's in the nature of the sport, but at the end of the day it's the results on the water that really matter to the teams at the Lamma 500," continued Mr Tarr.


"The racing is going to be excellent to watch for spectators on the beach, especially if the weather continues to be warm and sunny" said Mr Tarr.


Teams will compete in Men's Open, Women's Open and Mixed Open Divisions from 9am-4:30pm.


Spectators are welcome to attend, entry is free and food and drinks are available at the beach.

Further information about the Laracy Gall Lamma International Dragon Boat Festival 2009, including directions to the beach and the ferry timetable from Central's Outlying Islands ferry pier No. 4, is available on the event website at www.lammadragonboat.com.

A Thirsty Horse Event - www.thirstyhorse.com

---

Organisers Announce First
1 km Dragon Boat Race in Hong Kong

Organisers of the Laracy Gall Lamma International Dragon Boat Festival 2009, also known as the "Lamma 500", being staged this weekend (10th May) at Tai Wan To Beach, Yung Shu Wan, Lamma Island, revealed today that a special 1km dragon boat race would be held.


"We've never heard of a one kilometre dragon boat race being staged in Hong Kong," said Tournament Director Brad Tarr.

"We had some interest in the idea of a one kilometre race from teams, and the gruelling distance is in keeping with the athletic nature of the event, so we'll give it a try and see which team is the first top dog at the distance," Mr Tarr continued. The one kilometre exhibition race will be held at lunchtime.

---

Event Listing Information

Event Title: Laracy Gall Lamma International Dragon Boat Festival 2009
Event Nickname: "The Lamma 500"

Date: 10th May 2009
Venue: Tai Wan To Beach, Yung Shue Wan, Lamma Island, Hong Kong
Time: 9am - 5pm

Website: www.lammadragonboat.com
Organised by: Thirsty Horse, the Lamma Dragons & the Lamma Fishermen's Associations
Official Charity: Make A Wish Foundation

Lamma 500 Race Rules & Line-up 2009: Download (Word doc)

Overview:

The toughest race on the calendar, up to 37 Men's, Women's and Mixed teams compete over the full international 500-metre length course in the "Lamma 500" held at the scenic Tai Wan To Beach. The highly competitive racing takes place all day from 9am to 5pm. Spectator entry is free and food and drinks are available. It's an incredible, spectacular, colourful, vibrant day out at the beach for families and junk parties.

Lamma 500 2009 Competing teams:

MEN

1. The Henley Group Tai Tam Tigers
2. Fat Dragon
3. Buzz
4. HK Freedom Dragon
5. The Liechtenstein Princely Navy
6. HKUST Alumni Dragon Boat Club
7. Tai O Hing Yi Dragon Boat
8. HKUST Rowing team Alumni
9. BGC Stormy Dragons
10. Fair Dinkum Shakers
11. HK Island Paddle Club
12. CLP Dragon Boat Team
13. Royal X Men
14. Lamma Dragons
15. HK Electric

WOMEN

1. Buzz Ladies
2. BGC Stormy Dragons

3. HK Island Paddle Club
4. Lamma Ladies 1
5. Lamma Ladies 2
6. Royal X Women
7. Fair Dinkum Movers

MIXED

1. HK Freedom Dragon
2. HKUST Alumni Dragon Boat Club
3. Chai Wan Fisherman Recreation Club
4. Way Young
5. Poly U Staff Club
6. BGC Stormy Dragons 1
7. BGC Stormy Dragons 2
8. Dutch Connexion
9. HK Island Paddle Club Great Whites
10. HK Island Paddle Club Killer Whales
11. Sun Life Smugs
12. Sun Life Southside Massive
13. Lamma Dragons Mixed
14. Royal X Mixed
15. RBC
After all this loads of info, relax by having a look at the 2008 animated slide show, 2008 photo galleries, including, ahem, Lamma-Gung's.
What is this huge, glowing contraption these HK Electric and govt. officials are launching and what does it have to do with electric kitchens? Is it:-
a new type of night volleyball with electrically powered, glowing balls?

a new green energy initiative collecting solar energy with giant, high-altitude balloons?

a giant light bulb to illuminate all the famous HK celebrities on stage?
(Chief Secretary for Administration, Mr. Henry Tang (middle), Chairman of Hong Kong Tourism Board, Mr. James Tien (fourth from left), HK Electric's Director of Operations, Mr. Yuen Sui-see (forth from right))?

a hot-air balloon powered by all the hot air generated by this very high-profile publicity event?

a new advertising campaign using a HK Electric blimp flying over HK?
NO! All these answers above are totally incorrect! HK Electric writes:
"In the biennial HOFEX 2009 Exhibition which opened today, HK Electric is putting on show a "Five-star Green Electric Kitchen" demonstrating how electric cooking equipment helps the catering industry save energy and operating costs, while improving efficiency and productivity.
"The four-day event at the Hong Kong Convention and Exhibition Centre showcases the catering industry's latest products and technologies from more than 1,900 exhibitors, including HK Electric which is staging a premier show kitchen featuring new and popular electric cooking equipment. They include the much sought-after heat pump, induction wok range, induction cooking range, electric steamer and steam cabinet – all designed to help restaurants raise energy and operational efficiency, while making commercial kitchens safer and healthier workplaces.
"Officiating guests included the Chief Secretary for Administration, Mr. Henry Tang, and the Chairman of Hong Kong Tourism Board, Mr. James Tien, who were among the first to visit the Green Electric Kitchen. Accompanied by HK Electric's Director of Operations, Mr. Yuen Sui-see, they prepared three dishes using electric cooking equipment and dedicated them to athletes of the upcoming 2009 Hong Kong East Asian Games."
Read more about a Five-Star Green Electric Kitchen...
Did Lamma Island get close to being quarantined a few days ago? A Mainland couple staying in the currently still quarantined Metropark hotel in Wanchai visited Lamma on May 1 and then escaped from the hotel quarantine returning home to Sichuan the next day, according to the Wen Wei Po newspaper!
With the currently extremely exaggerated media and govt. hysteria about HK's single Influenza A H1N1 case of a Mexican man staying in that hotel, it almost sounds like Lamma just had a narrow escape from being quarantined completely? Well, much better being quarantined on Lamma than in a Wanchai budget hotel, I think. Here's an excerpt from the Wen Wei Po story:
"A Sichuan couple abandoned their luggage and returned home

"...two mainland visitors who had stayed in the [Metropark] hotel [in Wanchai] abandoned their luggage and 'fled' back home on 2nd May after learning about the quarantine measures imposed on the infected hotel the day before. They were not intercepted by the Immigration Department in the process and managed to return to Sichuan without being disrupted.
"The couple visited Lamma Island together with their daughter on 1st May and had dinner in Causeway Bay. At 7 o'clock in the evening, they returned to the hotel and found that it was cordoned off. A police officer there told them to think it over as guests were allowed to enter but not to get out thereafter. After careful consideration, the couple decided to change plans and stay at the home of their daughter who resided in Hong Kong.
"On the morning of 2nd May, they took a taxi to the China Travel Service office in Wan Chai where they boarded a cross-border coach and travelled via Huang Gang to Shenzhen. They took flight 3U8704 of the Sichuan Airlines later in the afternoon and landed in Sichuan in the evening. A source said that the couple showed no signs of flu symptoms and they were not worried about being infected..."
An intern working in Time Out HK magazine was doing research on our website for the story below about Yung Shue Wan Main Street (April 15-28 2009). It was written as part of her job application and this nice lady contacted me a few times for info and contacts.
Well, this is definitely a better, more in-depth Lamma story than the extremely superficial, fluffy, touristy stuff you normally see in various media, despite a few clichés like "...Yung Shue Wan's main drag is full of self-employed expats & Chinese retirees, sitting around with their dogs...." She tried her very best as a potential paid job is a great motivator these days..
Then the editor, an ex-Lammaite, contacted me independently for some free photos to go along with the story, selected from our extensive Photo of the Day Archive ("freelance budget is basically zero, no payment for any photos"). Before I could get permission from the chosen photographer, they had already found another Lammaite's free Main Street snapshot.
This is a pretty good, glossy, but not free, $18 print magazine, stuffed with highly profitable advertising, publishing a very lowly-paid intern's job-application story together with a free picture. If you're a freelancer trying to make a living from selling any "content" to the traditional media, good luck!
Well, at least the intern got her well-deserved job....
YSW Tin Hau Temple ceremony on May 27 for the
Laracy Gall Lamma International Dragon Boat Festival.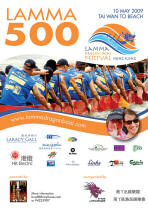 Mark Burns writes:
"In the pictures above from Josh Sellers we have Peter of the Lamma Fishermen, Gina, the Race Convenor from the Lamma Dragons, and Brad Tarr, the Tournament Director.
"The ceremony was first done prior to last year's dragon boat festival and the weather was superb, of course. We didn't perform the ceremony in 2007 prior to the first Lamma Dragon Boat Festival, and of course it turned out to be one of the worst weather days of the year!
"So we hope that the weather gods will be happy and satisfied with the ceremony today and bless us with excellent weather on May 10th."
Nancy Karraker - Research Assistant Professor -
Division of Ecology and Biodiversity - University of Hong Kong:
(All photos taken by Nancy Karraker;
sound recording kindly provided by Geoff Smith.)
Not many places as small as Lamma Island can claim the discovery of a new animal. Romer's tree frog, also known by the scientific name Liuixalus romeri, was first discovered by J.D. Romer in a small cave on South Lamma Island in 1952. When the roof of the cave collapsed and other frogs were not found nearby, it was believed until as recently as 1984 that the species was extinct. It was then rediscovered in the so-called Kamikaze Caves and has since been found all over Lamma Island.
While it was first known from Lamma, the species also naturally occurs on Lantau, Po Toi, and Chep Lap Kok islands. Most of the population from Chep Lap Kok was translocated to eight sites in the New Territories and Hong Kong Island when the new airport was being built and seven of those sites still harbor significant populations of frogs. Internationally, this is known as one of the first successful translocation efforts for an amphibian and is a model followed by people trying to preserve amphibians in other parts of the world. While the species was long considered to be endemic to, or occur only in, Hong Kong, it has recently been found in Guangdong Province, though its distribution there is not well-known.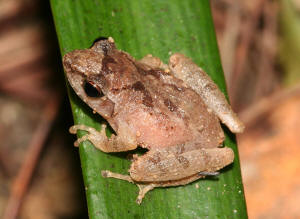 Romer's tree frog is one of the world's tiniest frogs, about two centimeters in size, and brown or gray often with an 'x' pattern on its back. Most people never see Romer's tree frogs because they are small and well-camouflaged, usually occur in dense vegetation, and the males stop calling when they perceive danger approaching. While they are classified as tree frogs, and have suction discs on the tip of each toe, they are not known to climb vegetation and prefer to spend their time on the ground. They are fairly unique in their breeding habits, as Hong Kong amphibians go, in that they choose ephemeral pools or those that dry up every year. Researchers at the University of Hong Kong found that fish can be significant predators on their eggs and tadpoles, so it is likely that they breed in sites that dry up every year and thus cannot harbor fish. Males position themselves near a pool and emit a staccato call that sounds like a loud cricket. This call can be heard on warm, rainy nights from February to September all over Lamma Island. Presumably, a female ready to mate moves toward the pool and chooses the male with the 'best' call. In many frogs, deeper calls are usually given by larger, older males. An older male has managed to survive longer than others and must be 'fitter' than others with higher-pitched calls. Often in a chorus of calling frogs, you can hear a few high-pitched, squeaky calls. These are usually males who are attempting to breed for the first time. They will only be chosen only if there are not more attractive options available. After a mate has been chosen, the female attaches up to 120 eggs in small groups to submerged sticks or leaves, with the male riding along on her back and fertilizing as they go. The tadpoles are tiny and brown in color and undergo metamorphosis (transition from tadpole to frog) in about four to six weeks. Adults probably live two to three years and breed once or twice in their lifetimes.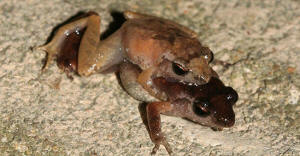 Romer's tree frogs are one of only three amphibian species listed under the Wild Animals Protection Ordinance in Hong Kong (in contrast, all wild birds are protected under this ordinance). Globally, this species is listed as Endangered by the International Union for the Conservation of Nature and this organization has determined that populations are declining, primarily due to habitat fragmentation and development. In Hong Kong, actual protection of this species varies depending upon particular circumstances. For example, the current dumping of construction rubble in the lower end of Yung Shue Long valley continues unabated despite the fact that Romer's tree frogs have been documented to breed in the area over the past three years.
Several loopholes in Hong Kong's regulations limit government staff from taking action on small projects. Under the Wild Animals Protection Ordinance: No person shall, except in accordance with a special permit, hunt or willfully disturb any protected wild animal. Unless the landowner responsible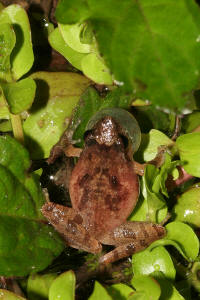 for destruction of Romer's tree frog habitat can be shown to have done so with "will", there is no violation of the law. In the Yung Shue Long valley case, the staff of the Department of Agriculture, Fisheries, and Conservation (AFCD) has notified the Lands Department and the Department of Environmental Protection about the presence of Romer's tree frogs in the area and have asked these departments to notify the landowner. Obviously, the concern is that one could continue to destroy habitat "without will" all the way up the Yung Shue Long valley and in time no habitat would remain.
In other cases, however, the government has made important efforts in collaboration with others to protect existing populations of Romer's tree frog. The translocation effort at Chep Lap Kok is a good example. An attempt is currently being made to protect and restore a large population in Sok Kwu Wan. The Civil Engineering and Development Department determined that a slope near the village of Sok Kwu Wan was unstable, and they initiated a plan for slope stabilization work. A large population of Romer's tree frogs existed nearby and there was concern that the work would disturb the population and potentially destroy the habitat. In conjunction with Dr. Michael Lau of Kadoorie Farm and Botanical Garden, who led the Chep Lap Kok translocation project, and Mr. Sung Yik Hei, a M.Phil. student at the University of Hong Kong, a proposal was made to collect as many adults, eggs, and tadpoles as possible from the site, maintain them in captivity until the work was finished, and then return them after the habitat was restored. The proposal was approved by the Department of Agriculture, Fisheries, and Conservation and the project was initiated in the summer of 2008.
Over a four-month period last summer, volunteers from AFCD, Kadoorie Farm and Botanical Garden, and the University of Hong Kong visited the site at night every other week to collect Romer's tree frogs, which were then transported to a captive breeding facility at the University of Hong Kong. Approximately 100 adults were collected along with many eggs and tadpoles. Under Sung Yik Hei's care, the captive population flourished and overcrowding became a potential problem, so several months later about 30 adults and 30 juveniles were released at a new, suitable habitat in Sok Kwu Wan, not far from the original site.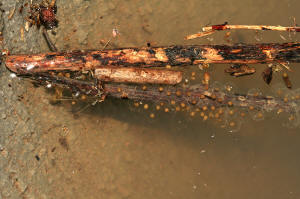 The population continues to grow and another 30 adults and 30 juveniles will be released at the new site next week. Slope stabilization work will be completed in mid-May and the Romer's tree frog habitat will be restored with the guidance of Dr. Billy Hau of the University of Hong Kong, an expert on habitat restoration. At some point in the late summer, the entire captive population will be returned to the original site. If habitat restoration was successful, the population should be secure.
While known only by name to most people on Lamma Island, this tiny frog is a symbol of what most of us appreciate about this island, its natural environment. First discovered here, we should do what we can to make sure that Romer's tree frogs remain for future residents and visitors to learn about and enjoy. If a tiny, brown frog darts quickly across your path, you may have seen a Romer's tree frog.
If you are not so lucky to see one, any of us can enjoy the calls at night. Listen to their call (in MP3 format) and remember for those warm, rainy nights when you are out for a walk.
"The island is a sound that arose from the waves" - Miki Yui
When was the last time you went trough a terrible ordeal, suffering stifling heat, humidity & severe exhaustion, getting massively inconvenienced and annoyed about your fellow human beings... and the final result of the experience having been all worth it and your life the richer for it, having made some unforgettable memories?
How about this afternoon? Well, that's how I felt after riding my trusty bike on the Family Trail from Yung Shue Wan to South Lamma and back, narrowly missing causing severe bodily harm or even aggravated manslaughter on the impervious swarms of sometimes obnoxious hikers.
But listening to Akio Suzuki's serenely peaceful live performance (part of the AROUND Sound Art Festival) in front of the long-abandoned Mo Tat Wan Old Village school made it definitely all worthwhile, including all the photos below (click to enlarge) I took of the live sound performances, the ruins, the subtropical flora & fauna. This is most definitely one of the most photogenic, idyllic and romantic areas of all of Lamma Island. Only very few visitors ever venture down under to the far South of Lamma, even on weekends. Hey, it's just a 10-minute walk (30 minutes to Tung O Beach, 10 minutes by bike) from the Mo Tat Wan Village ferry pier, which is in-between Sok Kwu Wan and Aberdeen on the Chuen Kee ferry.

Congrats to AROUND organiser & curator Yeung Yang of Soundpocket did an amazing job getting this unique and surprising event together in such highly unusual, rarely used but very suitable locations. Here's a YouTube video, plus my personal highlights:
Walking around the ruins with eerie, mysterious sounds emanating from invisible locations, installed by Miki Yui;

"Landscape Portraits Rooms" with interactive sound "toys", by Donna Ong & YC Teo;

Surprising & baffling performance art by Jason Lim;

Yan Jun's Soundwalk with a MP3 player and headphones on loan;

Natural sounds performance by Akio Suzuki, my personal favourite.


Photos by Katie Flowers:
Photos by Lamma-Gung:

Lamma-zine Blog started on Sep 1, 2004, and will be updated frequently with anything vaguely related to Lamma
Island or its residents, be it news, stories, events, photos, videos, etc.
Contact Lamma-Gung with anything relevant to Lamma or Lammaites that you'd like to see published on this home page!

All text, photos & graphics by Lamma-Gung, if not otherwise credited. Click on button on left for Creative Commons license.

Twice a month, the Lamma-zine Blog will be promoted via an email newsletter to all registered subscribers and forum members, currently over 3,600. Free subscriptions!
All former posts are stored in the Blog Archives, see below.
All materials and photos © 2009 Lamma-Gung. Some rights reserved.
---
Top | Home | Forums | Lamma-zine | Events | Galleries | Links
About | Contact Us | Poster | Ratecard
Blog Archives: 2004: Aug, Sep, Oct, Nov, Dec
2005: Jan, Feb, Mar,
Apr, May, Jun, Jul, Aug, Sep, Oct, Nov, Dec
2006: Jan, Feb, Mar, Apr, May, Jun, Jul, Aug, Sep, Oct, Nov, Dec
2007: Jan, Feb, Mar, Apr, May, Jun, Jul, Aug, Sep, Oct, Nov, Dec
2008: Jan, Feb, Mar, Apr, May, Jun, Jul, Aug, Sep, Oct, Nov,
Dec
2009: Jan, Feb, Mar, Apr, May, Jun, Jul, Aug