May 31 - Dragonboat Festival: LammaMammas on the Lammarch
Taipengshan submitted a list of neologisms and I posted it as an inspiration for the forum members to come up with Lamma-related ones:
"Once again, The Washington Post has published the winning submissions to its yearly neologism contest, in which readers are asked to supply alternate meanings for common words.
"The winners are:
1. Coffee (n.), the person upon whom one coughs.
2. Flabbergasted (adj.), appalled over how much weight you have gained.
5. Willy-nilly (adj.), impotent.
9. Flatulence (n.) emergency vehicle that picks you up after you are run over by a steamroller.
15. Frisbeetarianism (n.), (back by popular demand): The belief that, when you die, your Soul flies up onto the roof and gets stuck there."
You get the idea, I hope... Here are some Lamma neologisms:
Spinoza1112 - Lammaite for only 1 year, he's already gathered some deep insights into our community, maybe too deep...
He calls Lamma the "Island of the Ghost Teachers". Such an evocative and intriguing expression! We hope that he'll care to elaborate on it some day:
Laminated: covered in bug bites, jellyfish stings and rain instead of clothes.
Lamentation: "the bar's closed!"
On the lam: hiding out from the Internal Revenue Service, the KGB, MI-5, the Girl Guides and the St. John's Ambulance Brigade in an abandoned house on Lamma Island.
Lemma: an intermediate stage in the proof of the final theorem, such as "I must be an alcoholic!"
Lambast: an intellectual hard case gets stuck into a topic and won't let go until closing time, if then.
Yung Shue Wan: "so, you 'n Ng she wan', to see about a flat?"
LammaMama: kids are brown and run around, and they love their hippie Grandma.
Lammarch: the Sunday parade of Chinese extended families, LammaMamas and solitary Gweilos looking furtive to and from the beach.
Lamousine: an open "kamikaze" cart rocketing around the corner.
Lamercenary: takes the ferry every day to work for the Yankee dollah, dreams of opening a chip shop or a bah, pounds the HSBC ATM in frustration on Friday night cuz his money be gone.

May 30: The Hushy-Lushy Drainage Channel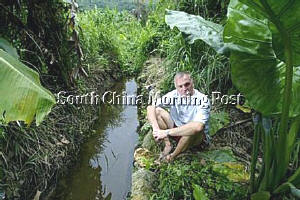 Another Lamma Celebrity got his face and interview into the SCM Post recently, famous long-time Lammaite Chris the Carpenter, as he's widely known. In case you missed it and don't have access to the paid-members-only SCMP website, here's a clipping of the story inside the forum discussing this controversial project. The govt. is constructing a 2.5 metre-wide drainage channel, supposedly to prevent flooding in the Yung Shue Long valley.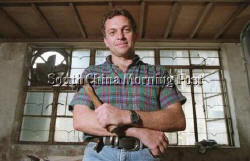 Chris has organised the local opposition, got the relevant govt. departments to do a site visit for residents on Apr 30 (summary by Alan), collected the objection letters to govt. and got this SCMP interview on May 8 as well (Locals fight plan to concrete stream, full text). Way to go, Chris!
There are currently no organised environmental groups active on Lamma, to my knowledge - except ABLE's Lamma Forest Tree Planting next weekend (see Events Calendar). It's great and encouraging to see active and courageous individuals taking up the initiative for environmental and political causes!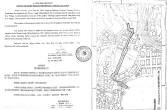 Learn more about this project, have a look at the govt. announcement & map and our long-running YSL drainage channel discussion in our English and Chinese forums. To find out who invented and dared to use the term "hushy-lushy" in a formal govt. letter about this drainage channel, click here.
P.S. 2 photos from SCMP photo archive, 1996 & 2006. Thank you!

May 29: Freelance or Unemployed?

Ted Thomas - Yes, THE Ted Thomas, most famous local practitioner of the ancient arcane art of Public Relations, journalist, broadcaster, etc. He wrote, "Lemme submit a piece on freelance writers. Lamma is full of 'em."
Is this column below blatant self-promotion for his company or sage advice from somebody with decades of writing experience in HK who is eager to pass on some of his wealth of hard-earned wisdom? Or both? YOU decide!
Time was when describing yourself as a freelance was tantamount to admitting that you were out of work.
No more.
With English being the undisputed Master Language of the Universe (and of business, aviation, IT and the travel industry), a facility with the English Language can give you a steady income stream without having to leave home everyday.
The explosive growth of the internet and increasingly affordable PCs and laptops and notebooks makes everybody with a reasonable command of English capable of earning a living.
On-line proof-reading, editing, writing and rewriting are all skills that are being increasingly sought by publishers and it is worth investing a little time and effort in finding a publisher that you can work with.
My old partner Gareth Powell, arguably the best and smartest publisher I ever met, used to say "Barrabas was a publisher" a play on the biblical description of Barrabas as "A Robber".
Not much to choose there, because most publishers will put off paying as long as possible or at least until the money starts coming in from the bookshops or the sponsors.
Because of tight margins and long production times – anything up to six months can elapse between the delivery of a finished MSS to when the money starts to roll in - most publishers will prefer to make a royalty deal with their writers, but that can mean months before the writer sees a penny.
Publishers are usually sensible enough to see that you'll need to pay the rent until your masterpiece hits the bookshops and Hollywood agents start negotiating the movie deal, but as most freelancers are not involved in writing The Da Vinci Code or Harry Potter books, you may have to come to terms.
Obviously the more established writers are in a stronger position to negotiate terms.
But the sort of freelance writing and editing that you are likely to be looking at is of a more ephemeral nature.
Find a publisher that other writers say is a decent guy (or gal) to work for and sit down for a coffee with him (her) and work it out in advance.
Not all publishers are of the Barrabas ilk but most are on pretty tight cash flow restraints and if it's a good and lasting relationship that you're looking for then both parties are going to have to compromise.
If I can be of any help email me at the guild of Professional Writers and Broadcasters where we aim to put the two parties together.
My email is: ted@corpcom.com.hk.

May 28: A Display of Rampant Sexism?
Sometimes I get really funny reactions to stuff published in this Lamma-zine!
For a major Rugby Sevens story, Mr DickStock submitted a fun musical photo slideshow titled Best of HK 7s Babes 2006. It had been created by a non-Lammaite photographer friend of his. Mr DickStock urged me to give his friend detailed credits and links for the sexy slideshow, which I did, of course.
Several weeks later the email feud below ensued, right after Mr DickStock asked me on his friend's behalf to make the slideshow anonymous and remove all personal credits. I wanted to know why, of course!
(Any private emails to L-G or this website in general will only be published with explicit permission from the sender, of course.)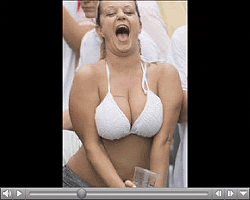 The Author: Hi L-G, I really appreciate you changing the babes slideshow to anon. I send out the slideshow as a bit of harmless fun and really don't mind where it goes. But all I ask is that it remains anon as unfortunately things like the appreciation of the beautiful female form don't go down well w/everyone, and when it affects your business.... I'd rather remain anon.
To answer your question, the lady is a Lamma resident. I went in to show her my work and the first thing she said was...Yes, I've seen examples of your work on the Lamma website........!
I got the job, though, so it didn't do too much harm on that occasion......
Mr DickStock: The guy found it or someone told him that they saw it on Lamma.com.hk. He was only afraid that some prospective client might be "put off" by such a display of rampant sexism.
You should write something funny about a well-known HK professional photog who is too ashamed and embarassed about his craft to use his name...
The Author: This retort to DickStock's [aka Richard F Jones] misguided take on it to spice it up, I'm sure the Lamma residents would love a spat/cat scratch between pro photogs.
Hey - he started it, right??!!
mmmm, Response from me:
Little-known outside of Lamma HK professional cameraman, Richard F Jones, take on my request to remove my name from the 7s Babes slideshow was totally misguided and misinformed and somewhat vindictive.
As opposed to my slideshow being a display of rampant sexism by a well-known HK professional photog who is too ashamed and embarrassed about his craft to use his name... it is actually intended to be a celebration of the beautiful female form openly on display at the 7s each year, a celebratory record demanded by most of my red blooded male friends.
It's not rampant sexism at all, as a photographer I'm merely recording events and communicating them anon to the world via the web, it's my job... unfortunately not all people see it in this way, hence I prefer to remain the anonymous author in case of offence.......
Now thanks to DickStock's total lack of discretion, I'm forever known to all Lamma residents as.....The Author! Can I ever step foot on Lamma again without fear of being run off the island whilst being called a rampant sexist!?
Mr DickStock: Bastards, yer all bastards! :-)
Anything for "art".
The Author: Good man, DickStock......anything for the good residents of Lamma!
P.S. This musical slide show has been downloaded an amazing 1,412 times up to June 2, 2006. An all-time-record for this site! But as everybody knows, sexy pictures sell, even tough there's no nudity at all in this slideshow. Author! Author!

May 27: Photojournalist, Rock Idol & Biblical Scholar!
Some Lammaites are amazingly multi-talented. My own very modest talents all fade into ridiculous insignificance compared to the great blessings of some of our Lamma celebrities.
Example #1: Steve Cray, jolly man-about-the-village, founder and frontman of Lamma band Red Star Rising (see left), world traveler, professional photographer and star reporter for the SCMP, has added another feather to his overstuffed cap: Biblical Scholar!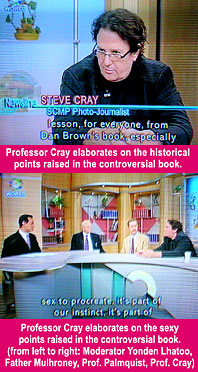 After writing a very well-researched and in-depth Behind The News article in the SCMP last Thursday, May 18, about the Da Vinci Code book and movie (A show of faith), ATV approached him to join a Newsline panel to discuss the many historical and religious issues raised by this currently burning-hot controversy. He has just recorded this ATV Newsline show the other day, to be broadcast this Sunday evening, 7pm!
Steve argues that there was significant anecdotal and some documentary evidence for Jesus and Mary Magdelene having been romantically linked, and for Magdelene fleeing to the South of France in 42 AD. Only having seen the movie (pretty disappointing) and being maybe the only person on Lamma NOT having read the book, I'm quite fascinated by the most interesting public debate the book and movie have initiated. But, as an ex-Catholic myself, I'm very surprised that the author has NOT been hit by lightning yet for his utterly despicable, heretical and blasphemous writings! If Dan Brown would be a Catholic they might have excommunicated him long ago!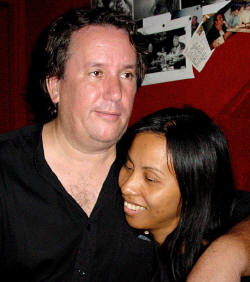 On ATV's Newsline tonight, the other two panelists are Father Jim Mulhroney, Editor-in-Chief of the Catholic's Sunday Examiner newspaper in HK and Dr Stephen Palmquist, professor in the dept. of religion and philosophy at HK Baptist University and co-organiser of the HK branch of the Philosophy Cafe.
These fascinating, open, regular meetings discuss a wide range of philosophical topics; for example "The role of Bullshit in the modern society" last week, obviously a most relevant topic.
P.S. Here's a historic photo of Steve & Santi that I took on Halloween 2003, from his sweet and mild-mannered days. Can it really be the same guy as the one above, taken just a few months ago? A little mid-life crisis seems to do wonders to unfold new creative and scholarly talents?

May 26: 'The Lamma Ladies Are Very Shy'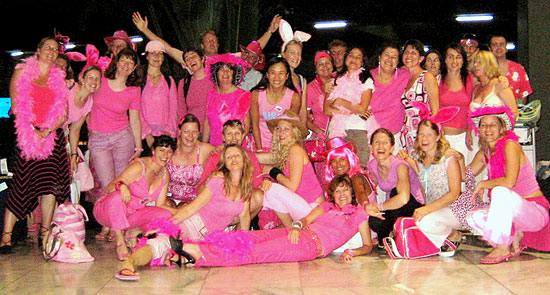 Lamma Ladies: Reporting from their major triumph win in Boracay, The Philippines, in their blog (all photos by Lamma Ladies):
The Lamma Ladies - as many have guessed - are very shy. We don't like to boast, or announce our winnings, or engage in any unladylike behaviour of that nature.
Which is why we would like to say "THANK YOU" to Top Deck at the Jumbo for announcing our GOLD MEDALS and FIRST-PLACE CUP that we won at the International Races in Boracay over the May 12-14 weekend!
It's so nice to have someone brag about us on our behalf.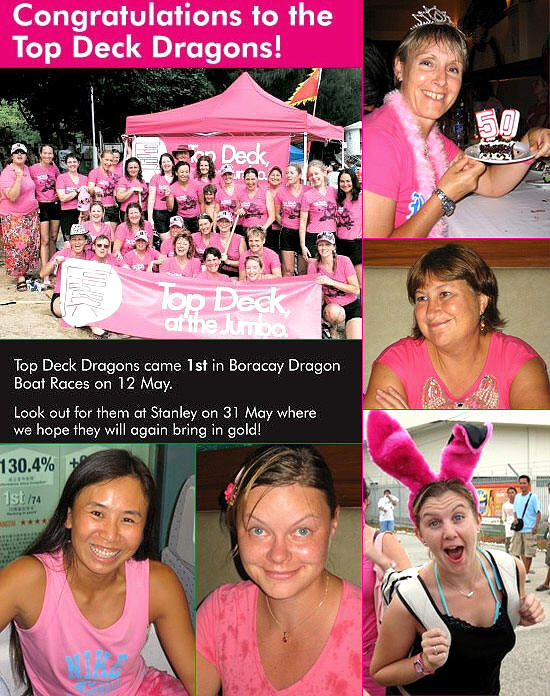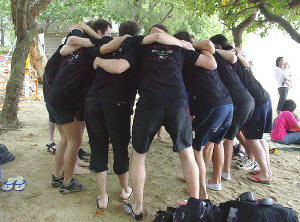 The Lamma-zine feels honoured to "brag about" the Lamma Ladies on their behalf, joining into the island-wide choir of highest praise and heart-felt congratulations!
But what about the boys, eh, Lamma Dragons (men) team? Despite repeated inquiries, all I've got from them so far is this single photo, showing them huddling to contemplate their winning strategy. It doesn't seem to have worked yet this season. I'd be happy to publish any photos or info on their past & future races this season!

May 25: Lammaverse: Lonely Letter Boxes
Another photo poem from our new, frequent contributor Eric. As this is the 4th photo poem he's submitted so far, he's been honoured with the title of "Official Court Poet". The former title holder hasn't contributed any poems in quite some time, so this honourary (but not hereditary) title has been passed on to a new and very worthy recipient. Official congratulations, Eric!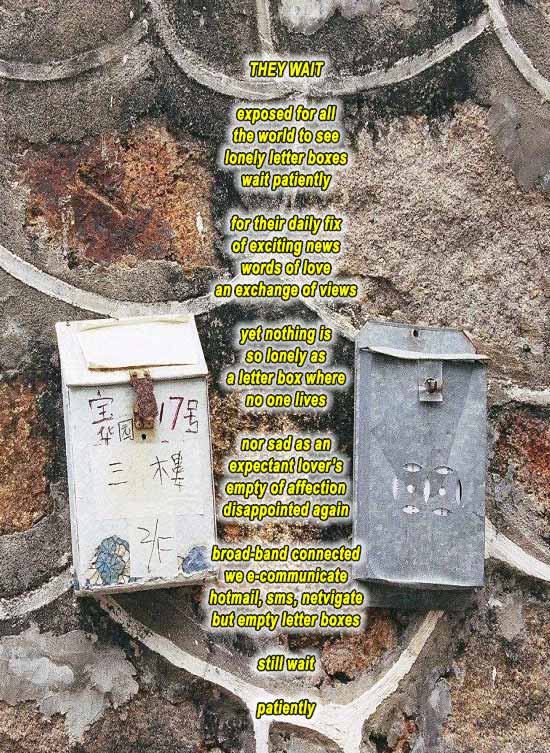 May 24: Lamma in B/W
New contributor Vicky is looking at our colourful Lamma scenery with a sharp eye for light and shadows, observing our surroundings in levels of grey and documenting them in monochromatic but beautiful photography:
If you live on our island, do you recognise the 3 houses above?
More about Vicky's upcoming photo exhibition on HK Island soon, including examples of her vibrant and vivacious colour photos...

May 23: Photo Poems & Pet Portraits
Lamma-Gung: Below you can read the latest weekly email to 2,500+ registered members and subscribers, reminding them of the latest stories in this Lamma-zine Blog. They're getting a listing of the daily blog headlines every 2 weeks, plus the highlights; easier than checking out this Blog every day!
But if you're getting this email already, you can skip this entire email below.
Subscribe here to be added to the subscriber list (it's a strictly confidential and spam-free list):
Welcome to the Creative Island!
This month, the Lamma-zine Blog is going all artsy, showcasing a wide range of paintings, pictures and even poems either from local artists or visitors inspired by Lamma to many creative pursuits.
Plus Lamma Grand Prix Ring Road news, $80K monthly rents, flat sales, photos from several parties and an experience of...Satori?
Plus loads more of our Seriously Silly Stuff: http://Lamma.com.hk
Keep the news coming and also ask your friends to send me any Lamma/Lammaite-related stuff for publication! Anything is welcome, but we're especially looking for regular columnists, anything funny, photographers, videographers, animators and multimedia artists to contribute their stuff and promote themselves to a wide audience!
---
Visit our active English & Chin. forums: http://Lamma.com.hk/forum
Our recent headline stories, all online at http://Lamma.com.hk:
$80K Rent! On Lamma?
Lamma Grand Prix Ring Road Cancelled
Lights Out Hong Kong
In the Deli Lamma Kitchen
Satori by the Seaside?
Flat Sales Posters
Breeze-tastic BASH
Lammaverse: 'Stick figures'
'The Wicked, Ugly Disciple of the Devil'
Shake Your Thang at the Fantastic Day Funkraiser!
'The People Moving People'
Lammaverse: 'Sickle Moon' and 'Dusk'
Chinese Forum Summary - April 2006
Dragonboats at Sunday's Sunset
'Painted Snouts Emerge from Hillside Studio'
Lammaverse: 'Crossing the Island by Night'
'Nice Curry Fish Balls: $5'
Win a Trip to See the Pink Dolphins!
Annie Knibb - Artist of the Month - May 2006
Lamma Cricket Club @ Phuket Sixes
'Our Need for Ceremony, Community & Spontaneity'
---
Low-cost advertising & sponsorship on Lamma.com.hk is welcome.
It's an advertising-supported, 4-year-old web publication with over 2.2 million hits/month and over 2,500 subscriber emails...

May 22: Radio Garoupa: Rubber Lovers & Crazy Lazybones!
Garoupa's Garoupie - a member of their smart, salubrious, semi-professional, worldwide marketing machinery [Which maybe might include this website, as some people have suspected for a long time. But there's ABSOLUTELY NO TRUTH in these Garidiculous rumours! ABSOLUTELY NONE!]: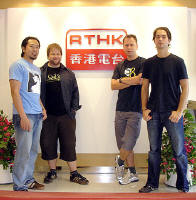 Radio Garoupa
What could be better than a pot of freshly-brewed coffee, the Sunday papers and a perfect blend of music and chat with Garoupa?
Garoupa recently appeared live on Neil Chase's Sunday Morning Show (RTHK - Radio 3). The boys played stripped-down, steam-powered, acoustic versions of four songs from the forthcoming CD: 'Rubber Lover', 'Crazy', 'Mother' and 'Lazybones'.
Click here for the link, choose your media player, and fast forward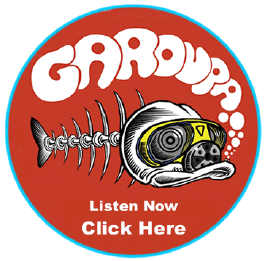 (Click Next 3 times) to the fourth hour of the show. The chat starts at about 9 mins and the music at around 11:30 mins in. Is that clear as mud?
[Or you can just click here and jump directly to the beginning of the 46-min long interview, including 4 live songs. Many thanks to Alan the Moderator who set up this short-cut link into the RTHK website - Editor]
Garoupa would like to send out a big thanks to Neil Chase for inviting them onto the show.
[Garoupa's website & email, RTHK photos submitted by Alex - Editor]

May 21: $80K Rent! On Lamma?

Artist's impression of future "Lamma-1" luxury development on Nga Kau Wan beach
(Tannery Beach), behind Po Wah Yuen, just below the "DickStock Residence"
Samson - Official Court Translator, summarising and translating a "Lammarina" story in Sing Tao Daily (Tue, 16 May 2006):
Luxurious Lamma apartments available around Mid-Autumn

Developers of the "Lamma 1" recently said the luxurious housing project is expected to go on sale around the Mid-Autumn Festival this October.

Mr. Bobby Li, Managing Director of King Wong Group, pointed out that "Lamma 1" will have 11 houses in three different sizes – 2,300, 3,500 and 4,200 sq. ft.
With an asking price of $8,000 per sq. ft, the minimum price for a house at "Lamma 1" is expected to be around $18 million. He went on to say that four or five houses might be made available for rent at $80,000 per month.

According to Mr. Li, the simple interior design and décor follows a Mediterranean design blueprint.
Here's a former, more detailed 6-page story from CAPITAL magazine (with pictures and maps, but in Chinese only):
Page 1, 2, 3, 4, 5, 6. and a forum topic with a summary translation.
Former stories in this Blog:
Lammarina - Development #1 of 7, Lammarina Close-Up.

May 20: Lamma Grand Prix Ring Road Cancelled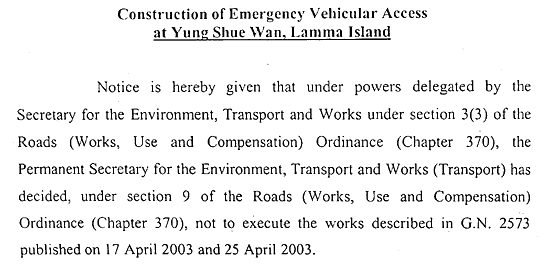 This small notice appeared recently on the public notice boards, without any further explanation or map. A bit of research (asking Alan, our most knowledgeable moderator of the Environmental/Political forum) resulted in confirmation that this is indeed the "Lamma Autobahn/Ring Road/F1 Race Track". Check out the original General Notice and some background on the SaveLamma website, Ring Road section. By the way, SaveLamma has disbanded a year ago after their campaign to stop the 2nd phase of the harbour reclamation had been successful.
Quoting from my Lamma-zine story, June 12, 2003:
"We've learnt details of a new gov't proposal to build a 20-million, 3.5m wide, 1 km long "super-highway" ring road through Yung Shue Long valley, up to, but avoiding the fire station, past the schools down to Sha Po and back to Main St. It would be wide enough for a "Lamma Grand Prix" for Village Vehicles or bikes, making necessary the cutting down of numerous old trees and the resumption of huge areas of farmland, gardens and many redirections of existing roads."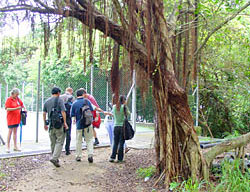 There have been several discussion topics (New Motorway, Objections to Lamma Grand Prix Ring Road, EVA ROAD NOT Being built?) and a major Lamma-zine story (Lamma Grand Prix Ring Road) about this highly controversial project.
Major celebrations or a local day of mourning would be appropriate, depending on whom you're talking to. This massive project has been in planning for over 12 years and had been postponed two years ago after a local campaign of over 130 complaint letters. Ring Road, R.I.P.!

Alastair Robins - Co-organiser of "Lights Out Hong Kong" campaign:
email, mobile 9218 2524.

FED UP WITH THE AIR POLLUTION IN HONG KONG?

HERE'S HOW YOU CAN HELP.

Lights Out Hong Kong wishes to create a public protest that will put the democracy marches into the shade!
We intend to ask the general public to turn off their residential and office lighting on the 8th of the 8th at 8pm for 5 minutes only. A city-wide black-out will unify the public's voice against the increasing pollution in HK.

IN THE DARKNESS,
THE GOVERNMENT WILL HAVE TO LISTEN.,

Although this idea is very simple, there's a lot of work to do. Before the press launch in June, volunteers are needed to inform and persuade heads of local industry to support our cause. If you're interested, please turn up!

VOLUNTEERS MEETING
When: Wednesday 24th May, 8pm
Where: Deli Lamma

May 18: In the Deli Lamma Kitchen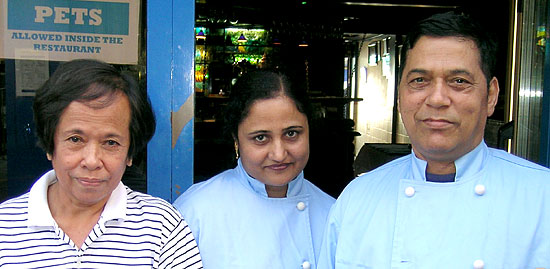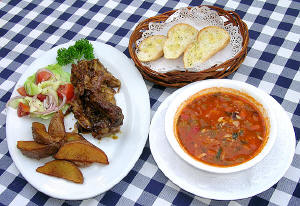 Spending half an afternoon chatting with Prafull at the Deli Lamma, I heard that he's got a new chef, Jai Ram Chauhan (right), who joined on May 1st. He's been in HK for over 13 years and has worked in several 5-star hotels in HK and India before.
Ask him for your favourite dish and he'll whip it up for you right away! On the right, his absolutely delicious version of spare ribs and minestrone. Look out for his upcoming daily special set menu!
Above on the left, Asst. Chef Satram Kaur, who's been with the Deli for 7 years and Leticia, Kitchen Helper, who's been loyal for 6 years already.
The Deli Lamma's new website (Lamma.com.hk/deli) that I built recently seems to be working out pretty well. There are already email inquiries of dinner parties for up to 30 people coming in from town. They found the Deli Lamma website via their ad on this website.

May 17: Satori by the Seaside?
Sitting at the seawall outside "New Holiday Mood Grill & Restaurant" after a late steak lunch during my mid-day break:
Admiring YSW Harbour, our small piece of the planet-spanning ocean which is hitting the seawall hard at high tide, occasionally spraying me;

Little Egrets glide just above the water's surface, skimming for food;

The sun light dances and glistens on the waves' crests on a bright, clear day with visibility all the way to Lantau Island;

Typhoon Chungshan has just spared HK, veering off-course and avoiding HK altogether after heading straight for us the day before;

A warm, dry wind caressing my face on one of those precious "not-hot-and-humid" days;

Fake flowers decorating the seawall, their colours contrasting the brilliant cyan of the sea and sky;

Crosshatched shadows dancing across this paper while I write these words in hardly legible longhand on the back of a Lamma.com.hk flyer;

Restaurant noises, subdued activity, clattering of pans, a speedboat zooming into the harbour, a bird calling;

The heavenly aroma of freshly brewed coffee and the anticipation of tasting a mini blueberry cheesecake...
Now try this:
Lean back comfortable, relax your whole body, close your eyes, don't think, don't focus on anything, just listen, be in the moment and enjoy it, let your thoughts flow in a free and unguided manner, open up your mind to your surroundings, become aware of the smells, sounds and all other senses, except vision.
Become aware of how fortunate you are of living on Lamma and being present here, right now, in this moment, on the beach, enjoying yourself...
After a short time, it might hit you:
A warm, cosy feeling of sheer bliss and utter happiness spreading quickly throughout your entire being, engulfing all your senses, an all-encompassing emotion of warmth & well-being filling your heart and mind, an overriding feeling of joy glowing through you; a rare, quick, precious glimpse of FOHAL (Full Of Happiness And Love, as a lady friend called it), a kind of non-physical "joy-gasm".
Is this what Buddhists call Satori? Satori by the Seaside...
Any explanations from readers would be most welcome...
Whatever it's called and wherever it comes from, it's tremendously enjoyable! But it fades out after less than half a minute. The warm afterglow and happy remembrance will stay with you for quite some time afterwards. I'm trying to write it down before it vanishes completely, being replaced by the usual, everyday feeling of contented well-being.
Time to go back to work in my home office, refreshed physically and mentally.
And no, I was NOT on any drugs during the experience! I'm not a religious or spiritual person at all; more of an old cynic, actually, but mellowed with age and still open to new experiences like this one.
Try it yourself one of these days, you might love it, too!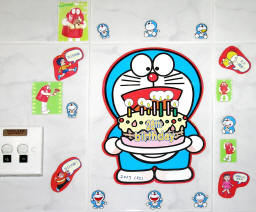 May 16: Flat Sales Posters
Why does not a single property agent on Lamma have a website offering flats and houses for rent and sale? This website gets frequent inquiries from people looking for flats for which I have a standard reply of "Come here in person!" The "Rent & Let" forum is one of the most popular forums on this website. The local property agents usually don't even have any photos of the available flats, even though this would surely help tremendously in finding tenants and buyers much quicker.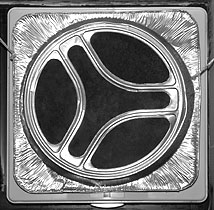 One local property agent, Fok Ming Estate Agency at Nick's Corner, has recently seen the light, testing if flats sell faster with good-quality "professional" photos. So they went out and found an OK, low-cost photographer to make some A3-size ad posters for their shop window, even placing an ad on this website some time ago. Guess who was the photo-grapher? Yes, me, Lamma-Gung. Another little sideline of making a few additional dollars to support my very modest lifestyle. The middle flat below sold at full asking price within a few days of putting the poster into their shop window. The right poster went up yesterday.
If you need some nice, low-cost photos of a property to let or sell, email me. Here are the web page and ad posters so far, click to enlarge.
P.S. This story created more feedback than any other story so far this year!
And we've got a fine new advertiser on the lower left side of this page, selling a very pretty G/F flat in Tai Peng. Check it out!

May 15: Breeze-tastic BASH
Monty Burns - Lamma Cricket Club, mobile 9636 5545, website: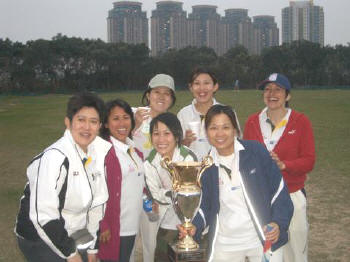 All Lamma CC people, supporters & friends,
the end of the 2005-6 League & Cup season;

the fact that the LCC men's league team have finally won something;

the fact that the LCC women's team have won everything;
Lamma CC is having our annual 'End of Season Bash' at Devil's next Friday, 19th May from 7pm.
Free bar from 7 to 9pm (soft drinks, bottled and draught beers, house
wines and spirits);

Special shooters and cocktails thrown in;

A sumptuous, Rizla-esque, finger food buffet;

The usual 15% discount will apply to all other drinks/items and after the free bar ends.
On display & liable to caressing will be:
the Elton Education HKCA Women's League Trophy;

the Breezer Challenge bat;

LCC's Breezer Challenge display team, "The Daigers," to perform on Lockhart Road.
Devil's have supported us all season in their first year of sponsorship for the Club and are looking to sponsor us again next year.
We need to give a deposit to DA to confirm numbers. Pls therefore call or email me now, so I can confirm numbers to Devil's.
Don't miss the Lamma CC 'End of Season Bash' at Devil's next Friday 19th May! It's going to be Breeze-tastic!

May 14: Lammaverse: 'Stick figures'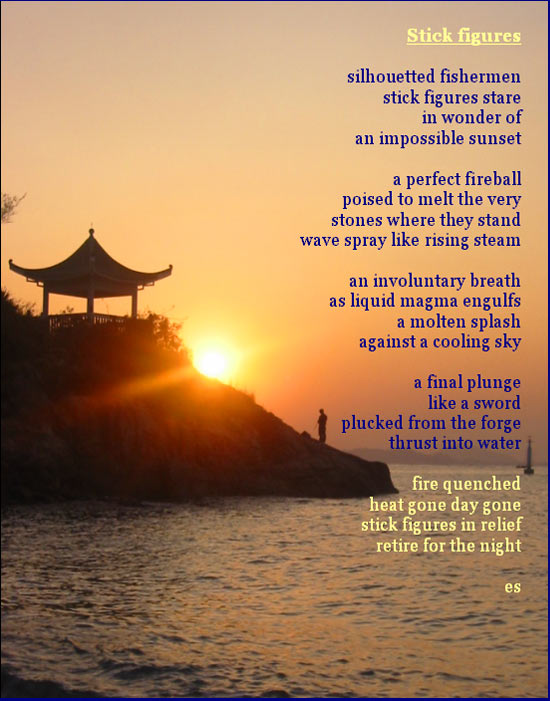 Poetry & photo by Eric Sampson. Give him some feedback!

May 13: 'The Wicked, Ugly Disciple of the Devil'
Tjungarayi - Reporting on a recent close encounter with a centipede at 5am:
As a newcomer to Lamma Island and its summer I have been distressed to learn (the painful way) all about the Lamma centipede. A ménage-à-trois is perhaps a fantasy of most men, but at five o'clock in the morning in my bed, the centipede did not inspire my partner or I.
The bite was incredibly painful and we were 'stumped' at what to do. 999 was useless, as they put me on to the after hours of the Dept. of animals, etc. They sounded more concerned for the insect. After disturbing a local doctor, it was down to painkillers.
After all this we thought the whole incident was an aberration and that this happening again was incredibly remote. Nevertheless, we put our three-year-old son between us at night, figuring a centipede would bite us adults. A bit like making sure you swim between flags, so that the chances of you being bitten by a shark are lessened by the simple fact of being with a hundred other people.
Less than a week later, I woke to my partner's shriek of "Centipede! Centipede!" - would you believe it, at 5 am again! I rose in shock and flicked the wicked, ugly disciple of the devil off our bed. Simultaneously, my partner seized our son and flung herself away from the cursed creep. I quickly grabbed the nearest shoe and whacked the brute only to see it dart around the side of the bed. Anyone having experience with these things will know how dastardly quick they are.
My partner and son, now safely out of the room, allowed me to virtually disassemble the room and I finally found the cunning thing. It seemed to know it had been seen, as it darted speedily before my trusty leather shoe which resounded with an almighty "Thwack!" on its armoured carapace. The beast had crawled up my partner's leg while in bed.
The very first centipede had bitten my partner on the neck. I guess we were lucky the second time. Nevertheless, these two incidents have understandably left us with a siege mentality and thoughts of moving out of Lamma and even out of the tropics. There are no venomous creatures in Iceland.
We have since learned that only one recorded death has occurred from a centipede bite. This was in the Philippines and the seven year old was bitten on the face. I am in no doubt that this is the same type of centipede as the Philippines are not too far away. Centipedes have been known to eat mice, snakes, toads and even their peers. The local answer or remedy to my inquiries has been sulphur, but I have watched centipedes crawl happily through the yellow chalk, seemingly unaffected. I gassed one with normal insecticide and the critter died post-haste.
Does anyone have a sure-fire remedy to keep these ugly, aggressive, nocturnal, armoured centipedes away from homes. Please let me know.
An intense and heated debate ensued in our forums (creepy crawly), with lots of good info and advice. There have been several other forums about centipedes, the 2nd-most bothersome animal on Lamma (after mosquitoes, of course):
Centipedes, Centipede Reloaded, Lamma for families?
P.S. 1: No personal experiences to add by Lamma-Gung, as I've never been bitten yet and have so far managed to keep most creepy crawlies out of my flat.
P.S. 2: The last word goes to webdog, the founder of the Lamma.com.hk forums, quoted from Lamma-zine #20:
"If these warnings [about centipedes and other creepy crawlies - Editor] don't work to keep families from moving here, nothing will! In the meantime, we residents can go on to enjoy the great family life here and keep it a well-kept secret what a beautiful, natural, non-crowded, safe & healthy place our island home really is.
"Or, as webdog said it best: '...green environment, relatively low crime rate, a 'real' beach and reasonably priced shops allow you a European lifestyle. For me this far outweighs the inconveniences.'"

May 12: Shake Your Thang at the Fantastic Day Funkraiser!
Don't miss these fine events tonight and tomorrow night! Click posters to enlarge. For more info, check out our Events Calendar.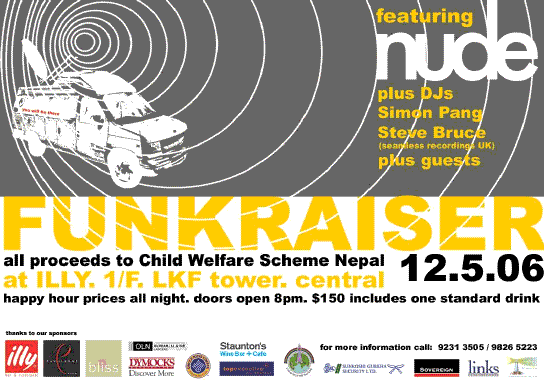 May 11: 'The People Moving People'

Links Relocations Marketing - This loyal, long-term advertiser of this website has sent me the following Advertorial which I'm happy to publish for them.
For testimonials about their great & reliable moving services, check out what some of the many Lammaites wrote who actually have used Links Relocations, Doggy and Frazer: Leaving Lamma- A Moving Experience.
Links Relocations- The People Moving People

Links Relocations have put together some great benefits to help you with your relocation to or from Lamma or to just build your collection of Asia Miles.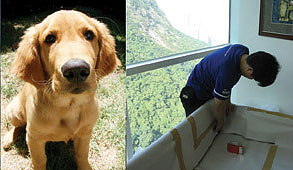 Imagine flying home for your summer holiday in business class instead of the back of the plane! With the Links Relocations Refer-A-Friend scheme you could be doing just that. If you have know someone, or several people, who are thinking about moving, tell Links about them and they'll give you 500 Asia Miles. If they move you get an additional 500! Your friends are, of course eligible for 2 Asia Miles for every HKD8 they spend on their move, local or international.
For those of you who are in the office all day and don't know when they'll be in for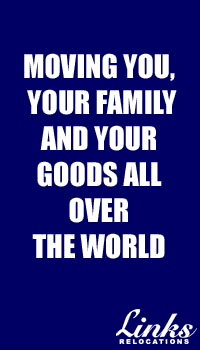 a visit from a Links Relocations Advisor, you can now get a quotation for your move online. Simply go to www.linksrelo.com or click on the banner at the top of this Lamma.com.hk homepage and visit the Online Quotation System. In only 3 pages you can tell them where and when you are going, what you are taking with you and how much space it all takes up! A no obligation, competitive quotation will be sent to you via email quicker than you could expect!
The third benefit of choosing Links Relocations is a bonus Asia Miles scheme wherein you get an additional 5,000 Asia Miles if you spend in excess of HKD 60,000 on your move, excluding insurance. This is, of course, on top of the Asia Miles credited for the value of your actual move.
If you would like more information on any of the benefit schemes or any other aspect of your upcoming relocation, you can call them on 2366-6700, email links@linksrelo.com or visit their website www.linksrelo.com.

May 10: Lammaverse: 'Sickle Moon' and 'Dusk'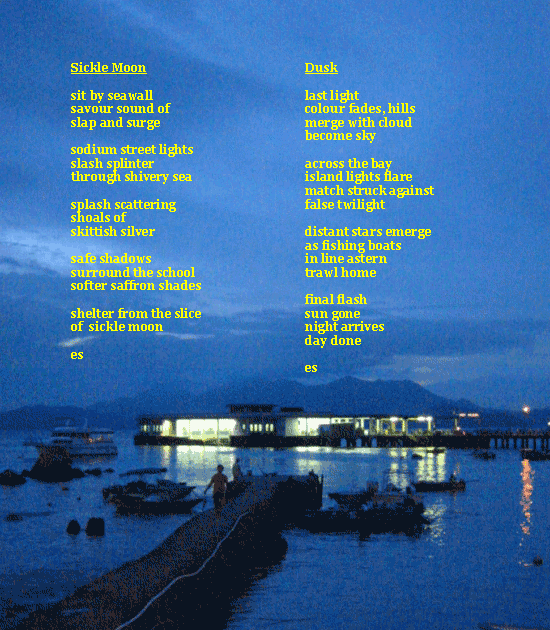 Poetry & photo by Eric Sampson. Give him some feedback!

May 9: Chinese Forum Summary - April 2006
Samson - Official Court Moderator of All (one, so far) Chinese Forums:

May 8: Dragonboats at Sunday's Sunset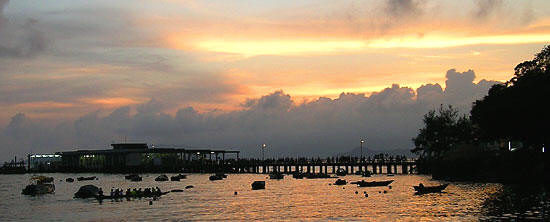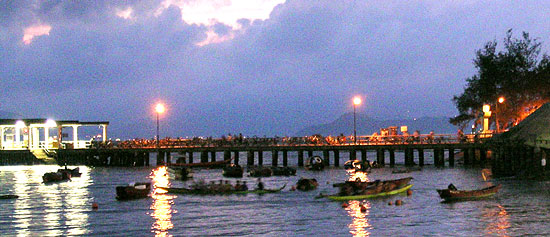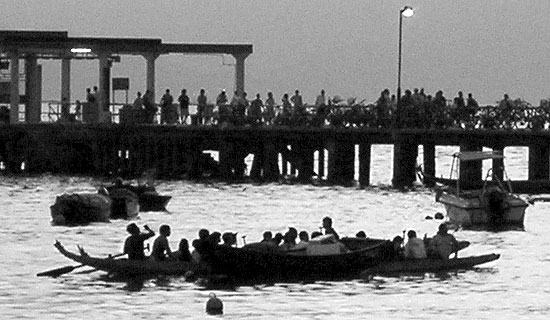 Photos taken by Lamma-Gung yesterday, Sunday, May 7th.
(ALL blog photos that are NOT credited to anybody else, are L-G's.)

May 7: 'Painted Snouts Emerge from Hillside Studio'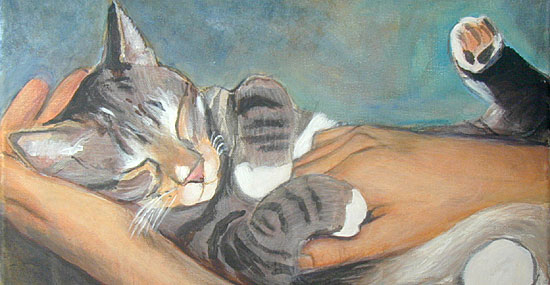 Jay Scott Kanes submitted this story and photos, combining paintings and pets, two big aspects of life on Lamma, featuring this month's Lamma Artist of the Month, Annie Knibb.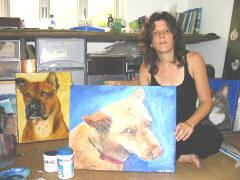 The most attractive Lamma Islanders aren't human. Knowing this, longtime artist Annie Knibb has added a new dimension to her creative career, that of pet-portraits.
"I really enjoy painting portraits of animals," she said. Thus, pet-loving people can contact her to commission paintings of their pawed, or clawed, companions.
At Annie's peaceful studio high on a hill overlooking Hung Shing Yeh Beach, she works from photographs to create pleasing images of even shy creatures.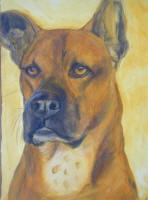 "I'm definitely a pet person. I love animals," Annie affirmed. "Sometimes I know the names of dogs, but not their humans. Often I recognize people by their animals.
"I'd been painting dogs because they're a subject available to me on a regular basis," Annie said. "Then I started to think about making it a more focused enterprise. Capturing animals' expressions pleases me."
Previously, landscapes and Buddha images filled many of her paintings. She has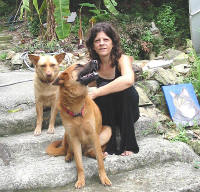 experimented with "collage and paint mixed together".
Heading the queue among Annie's animal clients stood Not the Cat, a real-life feline who starred in the 2005 Lamma Island novel, Dog-Gone Cat Case.
Originally from Britain, Annie has lived on Lamma since 1995. "Earlier, I spent a few months in the Mid-Levels, but didn't like it," she said. "I decided that Lamma made a great mid-point between China and the United Kingdom. The blend of cultures really appealed to me.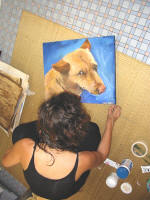 "Lamma's an absolutely perfect place to be an artist. I'm really inspired by its nature, especially the wild, almost unkempt hillsides. I spend a lot of time looking at trees, flowers, birds and rocks. It's very peaceful, which is great, because there's no distraction.
"On Lamma, I feel completely free to be who I am. There's no need to conform to styles or social pressures."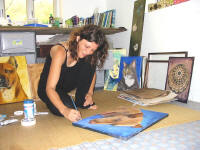 When not painting, Annie works part-time as a writer, editor, proofreader and translator. "I started to paint as a hobby," she said. "When I really liked it, I just kept going."
The price tag to immortalize pets on canvas depends mainly on the painting's size.
Annie invites email enquiries.

May 6: Lammaverse: 'Crossing the Island by Night'
MADELEINE MARIE SLAVICK - POET and PHOTOGRAPHER;

EDITOR, OXFAM HONG KONG; CO-FOUNDER, SIXTH FINGER PRESS:

Crossing the Island by Night

The path rounds the bay

of soundless ripples,

seeping.

The townless hills start.

Faint light tinges everything

with hair, or other things to touch.

Caves appear.

Two black anythings

with a hood.

In a meshed yard,

nine silver chickens sleep

in a lumpy mound.

The tipped over potted plant

must be the rebel

of the one-room schoolhouse.

A naked doll

swings from a string and pole.

Is a scarecrow dead?

Two lovers

kiss tomorrow

by the pagoda.

Lights vie for attention at the island divide:

cement factory conelights,

government lampposts on duty,

perched restaurants at low tide,

three electricity chimneys, red-ended

and one moon in the west.

Then the wide-curved slope

with huge rocks caught tumbling

to the ocean in a prehistory

or maybe flirting with the moon.

Do I still believe in streams?

The leaf canopy has no little openings

so I only hear it lapping itself.

An abandoned house lives below

and looks at the sea

anyway.

The barbecue stick beach arrives

with its pinkish toilet-and-shower facility,

but nothing can change the birth from swimming.

The power station

becomes a block of city apartments

with everyone home.

A storyhouse props

beside a river carrying families

of toads into the living room.

A few more cicada calls

and snails on the path

before I unlock the front door to find color again.

It's too easy to see.

May 5 - Buddha's Birthday: 'Nice Curry Fish Balls: $5'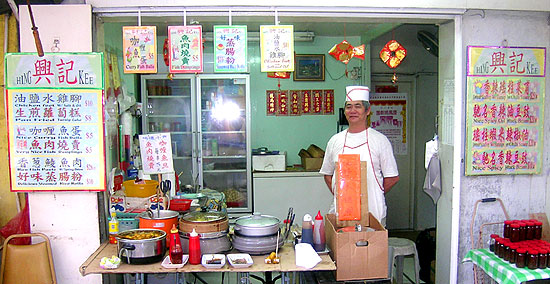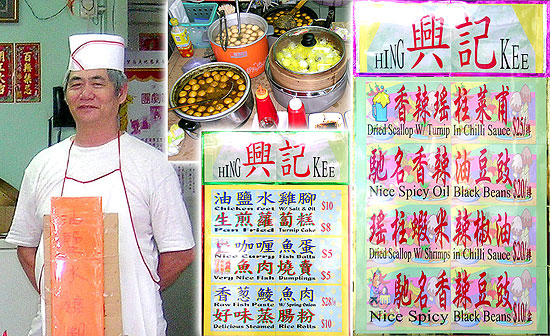 May 4: Win a Pink Dolphin Tour!

After the After Party in the Deli (Fri/Sat, starting at 7pm), there'll be an After After Party, at the beach on Saturday night...

May 3: Annie Knibb - Artist of the Month - May 2006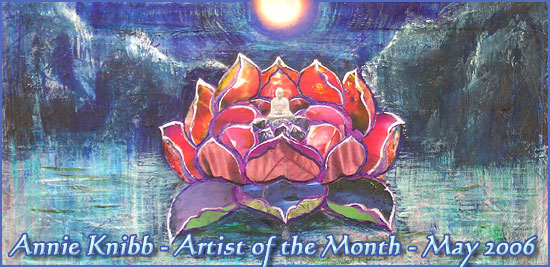 About me

I'm British and have lived on Lamma since 1995. I started painting in the late 1980s.


Current projects

pet portraits

charcoal still life drawings

charcoal sketches of taichi movements

white-paper collage of landscapes and flowers

digital collage based on original drawings, paintings and digital photos

Themes and inspiration

real and imagined landscapes

animals, plants and miscellaneous objects from daily life

traditional Asian culture, icons and symbols

exploration of line, colour and texture


Media

acrylics, pencil, charcoal, conte crayon, found objects, ripped scraps of magazines and newsprint, scrap paper of all kinds, digital camera, computer
P.S. May 10:
Annie writes:

"I've had a great response to my art gallery on Lamma.com.hk so far -- lots of good feedback, several enquiries, and one sale in the first week! Thanks, Lamma-Gung, for all your great work in putting the gallery together!"
If you're a Lamma-based or Lamma-inspired artist and would like to be featured in this blog for free, just email me!

May 2: Lamma Cricket Club @ Phuket Sixes
Lamma Cricket Club: They recently returned from the Phuket Sixes which are co-organised by Lammaites Mark Burns & Brad Tarr's Asian Cricket Sixes Tour organisation. For photos and more humorous info, click below on the names of Lamma Cricket Club members who were fighting for Lamma's (and their own) honour at the Phuket Sixes: LOADS of Phuket pictures are here!

The Lamma team have recently escaped from the Hong Kong prison and last seen heading to Phuket. They are a hardened bunch of criminals who don't get out much. Admittedly, articulation and intelligence are not strong points, they do like their cricket. "I found cricket in prison and it changed my life", says Jonno clutching a dog-eared copy of Wisden.
Prison breaks normally occur at times of Sixes tournaments in Phuket, Hong Kong, Chiang Mai and Shanghai. While incarcerated, the team plays in the Hong Kong Prison Saturday League. "It's not about how you play, it's whether you win or lose. If we don't win the cup, we will win the fight", hissed Beck when interviewed recently wearing a hockey mask.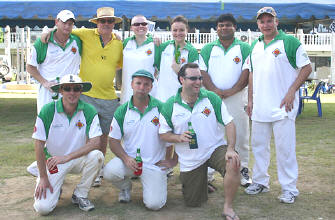 Ian "The Virgin Captain" Beck
Habitual offender who is a useful right-hander. Alleged to have started a prison riot following Australia's Ashes defeat. Nil by mouth.
Brad "The Reverend" Tarr
Bats, bowls and shakes hands left-handed. His cricket sermons are so inspirational that he has converted the prison warden. The rumors of recent fitness improve-ments are completely unfounded.
Back (l to r): Terry Ward, Peter Berry, Bethan Greaves, Kylie Knott,
Rizwan Sattar and Brad Tarr; front: Mark Burns, Ian Beck and Jonno Seifman
Mark "The Altar Boy" Burns
Will turns tricks just to watch the cricket channel. Often seen cross-dressing just to play in the women's team. Can be heard repeating the words "too much cricket is barely enough" while sleeping.
Rizwan "Homer" Sattar
Can hit a ball with any blunt object. Loves prison food. Has done time with Inzamam-ul-Haq. Odds-on to be the first arrested.
Jonno "Afroboy" Seifman
No shortage of courage here. Specialist short leg. A pickled campaigner who wants to rise to the occasion. Loves to umpire at the bowlers end as it reminds him of his prison cell.
Kev "Foxy Lady" Bishop
Experienced campaigner who prefers solitary confinement. Will score anything for anyone.
---
And fresh from winning the HK Women's League for the 2nd year running:
Last Sunday the Women completed the League and Cup "Double" by winning the Women's Cup Final against a strong Hong Kong CC side!
Kim "The Rose" Leung
Loves conjugal visits. Respected among the in-mates for her raucous support. Cries of E-N-G A L-A-N-D could be heard over the prison wall during the recent Ashes Series.
Bethan "Long Hair" Greaves
Refuses all offers of conjugal visits. Prefers cats to people. Plans to open a piercing tent at Phuket 6s.
Kylie "The Sloth" Knott
Strike bowler and teetotaler. Once spent three days in the lockup in Tasmania after refusing to play the 'six and out' rule in backyard cricket.
Peter "Warden" Berry (Team Manager)
Peter has been a long time supporter and sponsor of the LCC. Loves to tour, loves to party! He's our link to the outside world.
P.S. Breaking news for Brad Tarr: "AND.. Lamma Cricket Club just returned from Shanghai. We played the Shanghai Cricket Club for the annual Breezer Championship Trophy which LCC won for the 3rd straight year!!!!"

May 1 - Labour Day: 'Our Need for Ceremony, Community & Spontaneity'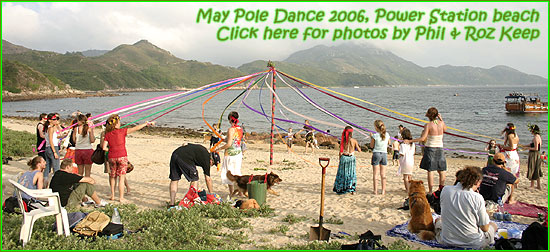 Roz Keep - Keeper of the May pole & organiser of the celebration & an ex-Lammaite who recently returned from Chiang Mai, Thailand, with her family.

The May pole is ancient European festival for calling in the summer at a really fertile time, the midway point between spring Equinox and summer solstice. A time for high jinks, fertility, love making and new life, the pole being a symbol for that, of course.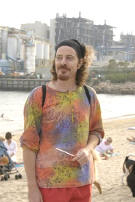 It is still celebrated in many European communities and in a couple of places in Britain including Cornwall, Scotland and Ireland and by the growing number of British Pagans in UK and America today... so it's ancient and modern at the same time and that's why I like it. It's contemporary and historic and feeds us with a need for ceremony, community and spontaneity and our desire for togetherness with meaning... innocent fun without the commercialism, fashion victimhood and self-consciousness that pervades everything nowadays...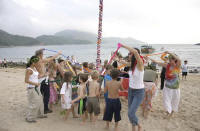 This was the seventh year we have danced it on Lamma. It's really become a Lamma tradition. Everyone had a great time yesterday. The drumming was provided by Kumi's Drum Jam Club and the flute and Irish Irish music by Rie and Louie. Sorry if it didn't quite work for you girls; next year I will organise a proper Irish band for us for the first time.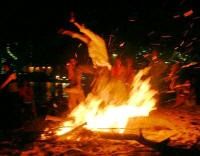 We had a wonderful fire (Thanks, Netai) and people were able to leap the flames and make their wishes for the coming busy summer months.
Thanks to everyone who participated and see you next year! Same time, same place!
(The May pole is now back in my garden with its mother bamboo grove, awaiting next year)