<!table cellSpacing="6" cellPadding="0" width="100%" border="0" style="border-collapse: collapse" bordercolor="#111111" bgcolor="#EFEFEF"> <!tr> <!td style="font-family: Verdana, Arial, Helvetica, sans-serif" bgcolor="#EFEFEF">

Red Star Rising - Debut Gig @ Island Bar (Sep 3, 2005)

Well, the debut concert of Red Star Rising yesterday night in the Island Bar was obviously a smashing success, according to all the tired and hung-over revelers this morning. Over 200 people attended the birth of this new Lamma "superband", made up of members from several other well-established Lamma bands.
The first written feedback I've received so far was from Big Sausage, sent in at almost 4am! He was so excited after the gig, he couldn't sleep: "...All I can say is it was unbelievable! I haven't heard anything like that in the 12 years I have been on Lamma - what were we listening to? It was so powerful. That's all I can say. Amazing stuff. Just amazing!"
I think that sums it up very nicely! Plus a few last words from the totally exhausted Steve-the-man himself: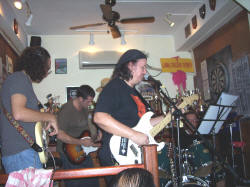 "It was humbling to see so many people turn up for our debut gig . . . I'm told in excess of 200 people. We never expected anything like that. And to hear so may people singing along to the chorus of "Last Ferry To Lamma" during the encore was just amazing.
"It's very difficult to get a set of original songs to fly, but we seemed to have pulled it off. The second set – with guests doing covers - was a crowd pleaser too. We had The Bastards' Dan doing the Hendrix classic "Hey Joe", ace musician Hamada (Over A Dogma) doing the hit-in-waiting Bambara and Wankers' Harry and John doing a couple of real crowd-pleasing numbers.
"The reaction to the gig was overwhelming and I just look forward to the next one.
"I have to say a big thank you to Kev and Mark from Nude and the Donkey's Hugh, It's a privilege to play with musicians like that. Plus, our sound engineer on the night – John Palmer - did a wonderful job."
Here are the first submitted pictures from the gig. Many thanks to the photographers!
---
(click to enlarge)
Pictures by Bob Davis
---
Pictures by Laura Zhang & Katherine Forestier
---
To send comments (very welcome!), get more info, get high-resolution files of any photo for printing, or to publish your own Lamma-related photos and galleries on Lamma.com.hk or in the Lamma-zine: email Lamma-Gung.

All pictures and text may be freely reproduced for non-commercial purposes only. Commercial enquiries are welcome.

Last updated: January 07, 2008 06:50 PM

© 2005 Lamma-Gung, Compunicate! e-Marketing & Website Development. All rights reserved.

<!/td> <!/tr> <!/table>