---
Sun, Oct 31: Halloween w/Shockin' Rockin' Donkeys @ Island Bar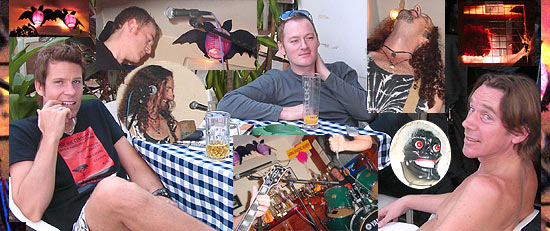 The morning after a Shockin' Halloween gig and a Rockin' performance on Sat, Oct 30, the Donkeys are relaxing and recovering outside the Deli Lamma.
Shockin' photo gallery of the Rockin' Donkeys is online now! Click here!
---
Sat, Oct 30: Diesel's Halloween Party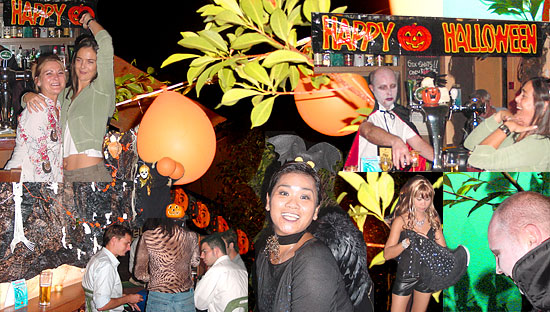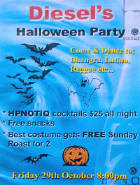 Fri, Oct 29: Lamma Events Today
The first of many local, wild Halloween parties, Garoupa playing with the big boys from Australia now, a 4-day cricket festival (duration of a single game?) and time for your monthly ferry ticket renewal! A real party weekend is ahead!
---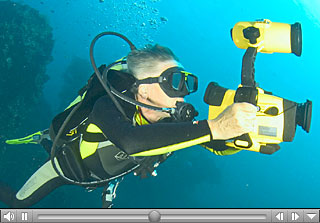 Thu, Oct 28: Bob Davis - Lammaite of the Day
Many famous artists, painters, designers and other creative people call Lamma home. Long-time Lammaite, photographer extraordinaire & frequent Lamma-zine contributor Bob Davis recently celebrated his 60. birthday,

after shooting these 3 action commercials (click left), starring himself, incl. voice-overs, advertising Sony's lines of digital cameras.
Yes, after almost half a century in the business, Bob's finally switched over to the "Dark Side", digital, film-less photography! The commercials are being broadcast now on the National Geographic channel all over Asia! Above right, marvel at Bob diving in Bali, click to play the video!

Great goin', mate! Aren't you famous enough yet?
Also, have a look at his exhibition last year in the Fringe Club: 30 Years of Photography in Hong Kong,
and his great website, of course!
---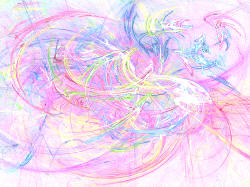 Wed, Oct 27: Show and Tell?
Do you want to promote your next event, show off a photo, tell a good story, announce some interesting news, share a new painting, poem or website, introduce a new book or exhibition, submit anything interesting, funny or thoughtful to display on this page, then consider this Blog as your free opportunity to "Show and Tell"!
Anything Lamma-related or about a current, former or future Lammaite will be considered for publication inside this Blog and/or the Lamma-zine! Email me!
To start things off, here's a modest example: a simple, little computer graphics I created yesterday, inspired by the amazingly colourful sunrise yesterday morning.
Comments welcome! Click to enlarge, then right-click to save as wallpaper, if you like.
---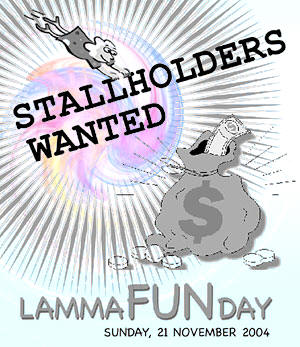 Tue, Oct 26: Wanted: Stall-holders at Lamma Fun Day!
Make a nice profit by selling your stuff at the Lamma Fun Day!
Only $250 fixed fee for regular stalls, $500 for food & drinks stalls!
For more info, please contact Li Liao or pick up an application form from the Green Cottage, Yung Shue Wan Main Street.
Or view & print the form right now!
Li Liao: Tel. 9539 5602, email.
---
Tue, Oct 26: Chung Yeung Festival Rituals
Want to learn more about the grave sweeping rituals observed by most locals during the last few days?
Click for Lamma-Gung's & Lamma-Por's Big Chung Yeung Adventure.
---
Mon, Oct 25: Welcome to Lamma-zine Subscribers!

If you've come here via the link in the email blast I've sent out this morning to all 1,623 Lamma-zine subscribers:

Welcome! I'm so glad that you could join us!

This is the Lamma-zine Blog (web-log) that has been running in test mode since Sep 1st. All stories can still be accessed via the links in the upper right corner.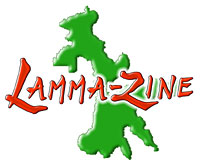 You'll find news, photos, stories, best of the forums, press clippings about food & dining, events & gigs, people & pets, nature & environment,... plus loads of other serious & silly stuff, all about Lamma Island and people living here (Lammaites)!
This daily Lamma-zine Blog will NOT replace the Lamma-zine, (to which you are subscribed already), but the best from the Blog will go into the Lamma-zine every month, expanded, reformatted, with loads of additional stuff & photos, of course. You'll receive the next Lamma-zine before end of October, if you're a subscriber! If not, subscribe here, please!

If this is the first time you see this Blog, please let me know how you like it and how I could make it better! Also, if you have some news, photos, tips and stuff you'd like to see here, send them to me. Also, if you'd like to become a sponsor and see your ad banner at the top of this page or in the monthly Lamma-zine, contact me!
---
Sun, Oct 24: A Busy Sunday for Lammaites

Lamma's such a small, friendly, quiet place, it's surprising how many events are going on here in a single day sometimes. A few highlights from the daily updated Lamma Events Calendar, all happening today (click below for details):

(new Lamma bands Over a Dogma & Bass Cadets - Kumi & friends - performing today)
---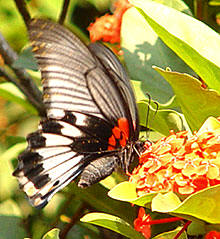 Sat, Oct 23: Great Mormon, Male
Butterfly season! Many locals are getting into the fever of catching the prettiest specimens - not armed with a net but with a digicam they carry everywhere they go. A photo is all we want, not dead, dried-out butterflies stuck with big needles into a framed board! Disgusting!
Catching these short-lived beauties in their natural habitat, holding still not to spook them and waiting very patiently for the split second when they might hold still as well - which might never happen for some of these hyperactive species - it's all part of the fun & challenge of taking really good butterfly shots.
The novices are shooting dead butterflies found on the ground instead. Yes, Zep?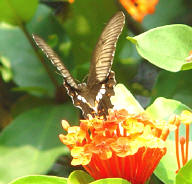 If you don't have the patience, shoot some of the beautiful Lamma flowers instead, as they hold still most of the time!
Click here for some new samples from local photographers. Both photos taken by Sheila. Our official "Court Lepidoperist-in-residence" Guy has been butter(fly)ing her up, presumably to get some tips on

how to take such great shots? She called him "a rather handsome beast", a major compliment coming from Sheila who likes all kinds of beasts as a true animal lover...
---
Sat, Oct 23: 'Lamma? What's there to see?'
"inquires a curious newspaper seller in Central, spying my camera bag..."
This is the introduction of a story in the local "B International" magazine, July 2004, the "Alternative Issue". This in-depth, 4-page, highly-promotional travel story is titled "lazy days in lamma", written by Amanda Cheung: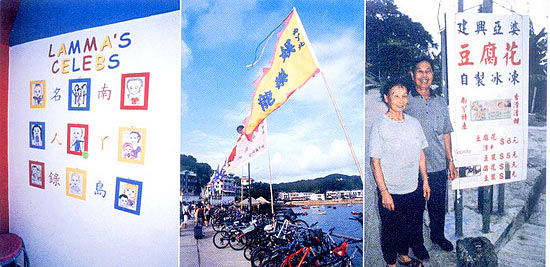 "We might whine that HK is claustrophobic, but which other city in the world offers sun, sea, sand and an altogether alternative lifestyle just 30 minutes from its centre?...

...not only boasts a plethora of good seafood restaurants, but the island's eclectic inhabitants also add a colourful dimension to the far-from-insular community..."
Read entire story: cover, page 1, 2, 3, 4.
---

Fri, Oct 22: 5 Lamma Bands @ Rockit 2
Schedule of the 5 bands w/Lamma-based members performing at Rockit 2 in Victoria Park this weekend, Fri-Sun, Oct 22-24:

Flowers of Babylon:
Fri, 3:15pm
Nude: Fri, 5pm, Marquee stage
Garoupa: Sat, 2pm, Main stage
Over a Dogma (Hamada): Sun, 3pm, Marquee stage
Bass Cadets (Kumi): Sun, 5pm, Marquee stage
Checking out the Rockit forum of sponsor Spy Magazine, I came across the following posting talking about somebody living on Lamma:
"...He's however known to pick fights with Gwailo's on the island and plays really loud music on Sunday afternoons from the rooftop while catching up with his philosophical readings. Hmm...... this somehow confirms my belief that Lamma Island is a breeding ground for beatniks and weirdoes......."

Plus, about last year's Rockit which featured the Lamma Teepee:
Remember the psychedelic formula of having a bunch of Lamma hippies beating some drums and asking people to join? It really made for a festival atmosphere,...
---
Fri, Oct 22: Ho Hum, Another Perfect Day in Hell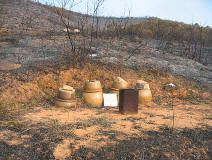 Today is the official Chung Yeung festival holiday in HK, the grave-sweeping festival.
Our most famous native son, Chow Yun Fat, has been spotted last Sunday on our fair isle. As a good filial son he's visiting his ancestors' graves every year on this festival, having been born and bred on Lamma. His extended family still lives here, while he's residing in his Sai Kung villa these days.
On a more serious note, a message from Zep (photo) posted in the

recently very active & popular Environmental & Political forum:
"Another successful grave-sweeping day. That is, if you want your ancestors to roast in Hell. Virtually the whole of the vegetation cover on Pak Kok Shan has been destroyed by fire. Can nobody stop these maniacs?"
---
Thu, Oct 21: 5th Lamma Fun Day Needs Your Goodies!
Submitted by Julia from the Organising Committee: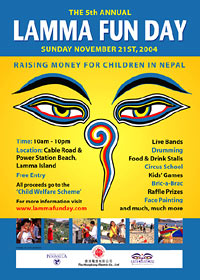 "Lamma Fun Day is back again - for the fifth year running! Sun, Nov 21st, 2004
We need your second-hand goodies!!!
Lamma Fun Day caters to both adults & children with an abundance of games, activities, stalls and plenty of food & drink. Come & enjoy the fun & sunshine while benefiting disadvantaged children in Nepal!
As tradition dictates we shall be having a BRIC-A-BRAC stall and need your 'no longer required' goodies to sell! All proceeds go to the Child Welfare Scheme - helping kids in Nepal.
Please start collecting - anything from clothes to books to stereos.
Forward this email to friends etc... who may also have items to give away!
Anyone who has goods, but needs help getting it to the Fun Day please let us know and we will arrange to collect it from you and take it over the Lamma ourselves.

For more information about Lamma Fun Day or Child Welfare Scheme please contact Zein Williams on 2526 8810 or email zein@childwelfarescheme.org. Alternatively you may log onto www.LammaFunDay.com or www.ChildWelfareScheme.org."
---
Wed, Oct 20: Rare group sighting of Lamma flying frogs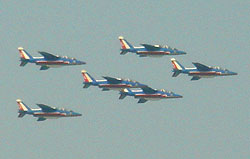 The French aerobatic team is in town and some Lammaites were out on the hills to watch their amazing displays of precision formation flying. Photo & headline above from SoundByDesign. BunnyRabbit wrote:
"Just back from Ling Kok Shan, shooting the French fighters. Around twenty-plus people at the peak, mostly tourists and also some unexpected visitors. It took me an hour's walk from there back to Yung Shue Wan."
Click for the full story & great pictures!
SoundByDesign's photo

message was #15,000 in the forums of Lamma.com.hk! This is quite a nice little milestone, reached in little more than two years since webdog founded & opened the forums on July 23, 2002. Congratulations!
---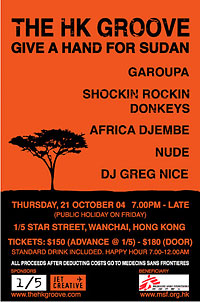 Wed, Oct 20: Four Lamma bands playing @ The HK Groove
Thu, Oct 21: Sudan aid concert w/Garoupa, Nude, Shockin' Rockin' Donkeys & Africa Djembe:
7pm-late, 1/5, Star Street Wanchai, $150 in advance, $180 at door, all proceeds to Médecins Sans Frontières (click for details).
Plus Lamma's Greg Nice doing the DJing in-between the bands. One great concerted effort of FOUR Lamma bands! Click for poster and website.
What else is going on this week?
Remarks: "Lamma bands" in this Blog refer to bands with at least ONE member living on Lamma. More "Lamma bands" (with links where available):
Yung Shue Wankers (all members living on Lamma?), The Bastards (Dan & friends), Bahouki (John Hutton, Dave Green), Squinty Backbone (John Hutton), Thinking Out Loud (bbChris), Flowers of Babylon (bbChris), Over a Dogma (Hamada), Bass Cadets (Kumi), Odyssey (Zara). Do YOU know any more?
---
Tue, Oct 19: Thank you! We love Lamma!
Email of the Day, from Hawaii: Subject line: "Thank you! We love Lamma!"
Message: "Aloha, Thank you for the subscription!
I have been several times on Lamma. Two weeks ago my friend and I stayed for three days. Had a wonderful time. We rented bikes but had a hard time staying on the narrow pads... indeed we laughed!
My friend is from Hong Kong, and we were even talking about moving to Lamma...
Forwarded Lamma-zine to several friends. Most people outside Hong Kong have no idea that places like Lamma exist so close to Central Hong Kong.

Much Success! Bud Linschoten"
Check out the latest Lamma-zine and get a free-of-charge, spam-free email subscription!
---
Mon, Oct 18: Six Degrees of Separation?
Follow-up on the story from Oct 15 (Lonely Planet Filming Nick)
According to the SCMP yesterday, this filming was for Lonely Planet's latest travel series "Six Degrees" - due to air on the Discovery Channel next year. They're shooting all over the city during the month of October, aiming "to portray the city as it's never been seen before."
Well, with a number of Lamma residents being interviewed for the program, that might well become true. Lammaites are often very "different" from the majority of HK people.
Nick said that Lammaites Su the Pet Psychic and Alastair the Sculptor have also been interviewed for the same program.

But you won't need six degrees of separation for almost anybody on Lamma, one or two is usually sufficient. So many people know each other F2F (face-to-face) or at least know your friend or acquaintance.
---
Sun, Oct 17: Lamma Cricket Club & 'King Viv' in Shanghai
from today's South China Morning Post Magazine, including photo:
A photo of the famous Lamma Cricket Club at the Shanghai International Cricket Sixes, posing with West Indian cricket legend Sir Vivian Richards - also called "Master Blaster" - after losing to the cup winners CBB (Colonials Behaving Badly) of Chiang Mai, Thailand (click to enlarge).
Lamma Captain CC Ian Harling is the one on the far right, and legendary "King Viv" is the chunky hunk, 3rd from left (guarding his groinal region for reasons we can only guess at).
Lamma CC player Monty Burns (far left) wrote: "Participating in the Shanghai tournament were players and teams from Thailand, Australia, West Indies, UK, Malaysia, Sri Lanka, India, China, Pakistan, New Zealand, South Africa etc., a pretty accurate reflection on the nationalities of the players who represent Lamma CC week in, week out."
Yes, cricket is a really international sport these days! Maybe that's one of the many reasons why it's so popular on Lamma. Plus, of course, they're frequently winning!
---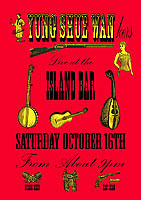 Sat, Oct 16: YSWankers Live @ Island Bar!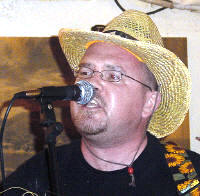 The (in)famous YSWankers are rocking their favourite haunt, the Island Bar, again TONITE, 9pm! See famous cartoonist Harry... no, not drawing... but playing the guitar in this hot band and even sing!!!
See their last performance in the same venue: Frazer's Leaving Ho Down.
For more posters like this one, see the master cartoonist's Posters Gallery - Harry Harrison.
---
Sat, Oct 16: Vote for Lamma Restaurants!
Lamma-Por alerted me to these culinary awards featured in Apple Daily today. You can vote for your favourite dish in each of four categories and win nice prizes. Of course, Lamma restaurants are over-represented in these Best of the Best dishes!
2. Category:
Casserole (Clay Pot)
3. Category:
Dessert
Fisher Folk's Spicy Crab
Souffle Stewed Egg
Rainbow Seafood Restaurant
1A-1B First Street
Sok Kwu Wan
Lamma Island
Lamma Sweet House

G/F, 21 First Street
Sok Kwu Wan
Lamma Island
Go to the HK Tourism Bureau website and vote! Deadline: Oct 26. Results to be announced: The Standard, Nov 8.

Be sure to include these two Lamma dishes in your votes, helping to make them winners!

Learn more in our Lamma's Bars & Restaurants (Reviews & Ratings) forum and vote for your favourites and post a review!

Remarks: The HKTB website is still the biggest site I've ever launched and webmastered: more than 1 million hits/day when I left in 1999, being headhunted by a TOM.COM subsidiary, a travel agency dotcom start-up. Those were the days...
---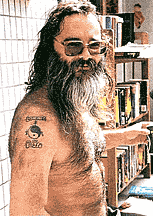 Fri, Oct 15: Lonely Planet Filming Nick
Walking by "Nick's Corner" today at 11am, a film crew was setting up for an interview with Nick the Bookman - a true Lamma icon & celebrity, who hadn't even arrived yet!

His unique appearance has graced more newspapers and magazines over the years than almost any other Lammaite's, but his TV appearances are still astonishingly rare.
Here's an interview to Arthur Frommer's Budget Travel Magazine where Nick declares that "If HK were the United States, then Lamma Island would be San Francisco."

Check out the personal website of this Laudable Lamma Luminary, created by his friend, yours truly:
Psychedelic as Hell!
---
Thu, Oct 14: Best of 2004 - Lamma-zine Stories

Having turned two years old on Sep 4, the Lamma-zine has published over 300 stories & photo galleries to date. Here are links to some of my favourite stories I've written during the last year, including their opening sentences. Which are YOUR favourites? Click Talkback!
Editorials:

Greetings from the Shire!
One of the true pleasures of a home office - besides not being "burdened" with a regular or substantial income - is being able to watch the Academy Awards ceremony all morning.

Welcome to the Official Court Cartoonist!
Frankly, sometimes it can be very tiring & frustrating to find new contributors for the Lamma-zine!

Interviews:

Up Close and Personal with Lammadonna
After months of trying, I've finally managed to get an exclusive interview with the most powerful woman on Lamma, Ms Yu Lai Fan.

Nadia - Second-hand Artist?
You might have noticed the pointy-haired, rainbow-coloured painting hanging in Aroy Thai?

Parties:

Favourite Hangout of Gangsters & Molls?
What is it about the Island Bar that makes it so attractive to gangsters & their girlfriends ("molls")?

Farewell to the Sweary, Shouty Quizmaster

Some Laudable Lamma Luminaries are so famous & popular, it makes us mere mortal Lammaites green with envy!

Restaurant Reviews:

The Loveliest Place on Lamma!
There are so many lovely places on Lamma and everybody has their own favourite, often secret spot.

Corner Bar Closing - 10th Anniversary


Some of our readers have very fond memories of the Corner Bar, which was closed down ten years ago, Dec 11, 1993.

Environmental:

All the sacrifices I make!
Let me tell you a little story about a day in the life of your editor and all the sacrifices necessary to bring a new issue of the Lamma-zine to your desktop. It's a cautionary tale of foolish over-confidence and physical hardship endured.

We're Getting a Wind Turbine
Putting together a 50+-page magazine just about Lamma every month, I rely very much on ideas, contributions, submissions and tips from readers & friends.

Silly Spins on the Magical Spinney Thing
HK Electric (HEC) has issued one of their rare press releases on Sep 9, 2004, announcing the construction of a wind turbine in Tai Ling.

Photo Stories:

From Hunter's Beach to Helipad ― Reclamation Photo History
Something new in this issue: a photo history, putting photos from various sources about the same subject into a sequence, showing the development of a local landmark.

Tapping Into Your Creative Pulse - Healing Art Workshop
Instead of featuring the usual "Lamma Artist of the Month", let's find out this time how YOU can live the life of a Lamma artist, at least for one day!

"Life" - Organic Vegetarian Restaurant
If you live in Hong Kong, you'll have heard of "Life" by now. It was hard to ignore all the buzz & publicity it has generated for 2 months now: TV, radio & dozens of newspapers & magazines.

Spoof:

The Official Village Idiot Election
After the recent District Council elections, one more feature about elections: a less serious, more fun affair, much more fun than the US Democratic Party primary elections running right now! Elect Lamma's Official Village Idiot!

Pinkyism ― a New "Evil Cult"?
It all started when local icon Pinky Chan submitted a long letter to the last Lamma-zine. Our pinky-haired Divine Ms D was so impressed & smitten with the letter that she started a new discussion topic on Lamma.com.hk, "Pinky Chan rules".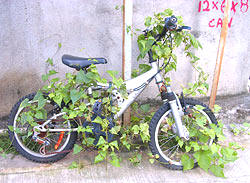 Thu, Oct 14: A Biker's Paradise
Living on a traffic-free island has its pros and cons: No exhaust fumes, no dangers to toddlers, no traffic noise, getting healthy exercise in fresh, unpolluted air, etc.
There are emergency vehicles, miniature versions for the narrow village streets, and so-called VVs, Village Vehicles, 1-person, freight-carrying open trucks. But the only means of getting around, besides walking, are non-motorised transport options like roller blades, skate bikes and regular bicycles.
Bicycles can be rented cheaply and are such an easy, quick & healthy way of getting around. Try it during your next visit here!
---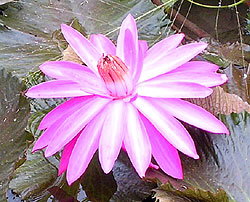 Wed, Oct 13: Lily Pond in Danger
My own Photo of the Day, plus some text from an anonymous, concerned citizen",
"A photo of the tranquil lily pond on the way to Tai Peng - which would certainly be destroyed if the Ring Road and the drainage channel all the way through the Yung Shue Long valley were to be built. It's a small but important part of the amazing subtropical

flora & fauna of the Yung Shue Long valley. For more info on the drainage channel, click on Talkback!"
---
Tue, Oct 12: Wanted: Lamma-zine Ad Sales Manager
Urgently looking for a freelance Ad Sales Manager to sell advertising and sponsorship for the Lamma-zine and this blog. Very high commission and totally flexible working hours. Basic Internet knowledge and some sales experience necessary, preferably a bilingual Lammaite. Make a very nice extra income in just a few hours per week.
Have a look at the current rate card and email us for an informal interview.
---
Mon, Oct 11: Village Bakery Opening Soon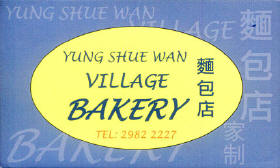 Public announcement:
"The Village Bakery will be opening in late October to supply Yung Shue Wan with freshly baked bread, cakes, pies and pastries, in both European and Chinese styles. The Village Bakery will use only the finest quality ingredients, filtered water and NO preservatives.
A full range of loaves and baguettes will be available, including wholemeal, white and organic. Sliced bread will be baked, sliced and wrapped on the premises.
Monday to Saturday, early sandwich and beverage service will be available from 6 am onwards, in time for all the morning ferries to Central and Aberdeen.
Pre-ordering is recommended; just complete the order form and collect your pre-packed order as you pass the bakery on the way to the ferry pier.
Special orders for birthday cakes, Christmas cakes and other items can be made with 3 days notice.

So that we can provide what you want, we welcome your suggestions for your favourite bakery items."
(Disclaimer: The Village Bakery is a Sponsor of the Lamma-zine)