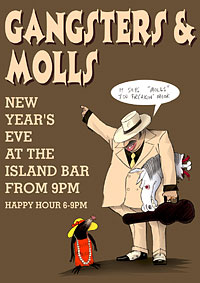 What is it about the Island Bar that makes it so attractive to gangsters & their girlfriends ("molls")? The place was jumping with hoodlums & sexy babes of all types on New Year's Eve! Photographic evidence can be found by clicking here or on the photos below. Just look at all these obviously criminal-looking mugs and all the sinister shenanigans they're getting up to in their favourite hangout!
On the left, another great poster from the famous Harrisoni who seems to be retained by the mysterious & reclusive Island Bar "family"? The party attracted most of the infamous figures of the North Lamma underworld, who were congregating for an evening of wild debauchery and raucous fun, continuing on all through the night.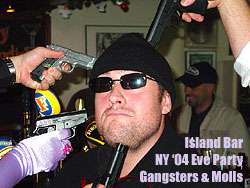 Dangerous gunplay, "TUFF LOVE" and generally deranged, uninhibited behaviour have been observed and photographically documented below. Intoxicated and bawdy public displays seem to have been all too commonplace. Most of the gang members (and some of the "molls") seem to have taken the opportunity NOT to shave for a week before the illicit gathering.
The rest of Yung Shue Wan was a very safe place that night, the assembled hoodlums and their floozies taking an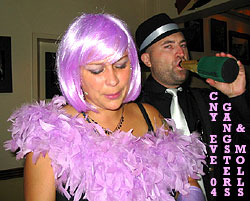 ill-deserved break from their usual multitude of illegal activities. Sadly, the local law enforcement was conspicuous by its total absence and missed this unique opportunity to arrest ALL these criminal elements in one fell swoop by simply locking the gates of the bar shut!
By now, all these powerful underworld figures have slipped back into their disguises as law-abiding citizens. In the name of all outraged, morally upstanding community members, we hope that a thorough crime scene investigation has been performed! All photos here have been shot undercover by "Keef" the Barman-ager & his accomplices. They all "volunteered" as moles, after just a tiny bit of "friendly persuasion".
Unfortunately, the promised witness protection programme has fallen victim to the SAR's recent budget cuts. Sorry, guys! Good luck trying to escape the rage of your fellow scoundrels for exposing them!
---
(click to enlarge)
---
---
To send comments (very welcome!), get more info, get high-resolution files of any photo for printing, or to publish your own Lamma-related photos and galleries on Lamma.com.hk or in the Lamma-zine: email Lamma-Gung.

All pictures and text may be freely reproduced for non-commercial purposes only. Commercial enquiries are most welcome.

Last updated: August 12, 2006 05:43 PM

© 2004 Lamma-Gung, Compunicate! e-Marketing & Website Development. All rights reserved.

<!/td> <!/tr> <!/table>