Fri, Sep 17: Sampan Thoughts - by Andy Maluche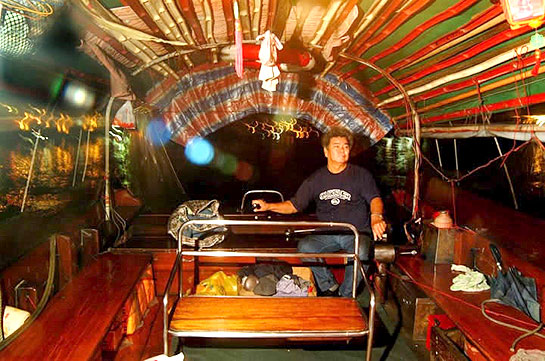 Andy: "I have finally been initialized, 12 years of going back and forth
to Lamma Island, never on a sampan..."
---
Thu, Sep 16: Original Harry Cartoon Artwork For Auction!
Famous cartoonist Harry (SCMP and many other magazines) has donated the original artwork above for auction to benefit the production/hosting costs of the Lamma-zine and this Blog. It was originally created for the Lamma-zine Sep 2004 issue.
It shows the old cliché of Lamma Island as a Hippy Haven & drug-addled place. The "rival" island of DB (Discovery Bay) might think we'd love to have a drugs supermarket on our fair isle. We've recently been doing a little online survey what kinds of shop local residents would like on Lamma. Nobody but

Harry's fertile imagination came up with an idea for a real "drugstore".
To bid for this unique original artwork (A4, art paper, ink & water colour), contact me for enquiries or bid online by clicking on the Talkback! button on the right.
---
Wed, Sep 15: The Banana Tree:
Poem & Photo by Susan E. Sheers, Lammaite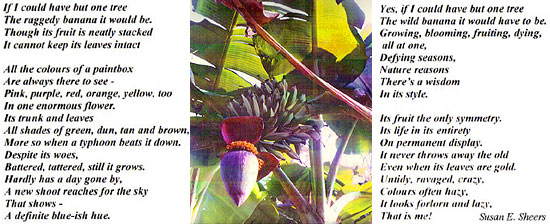 (Click above to enlarge)
Susan sent me this beautiful, heart-felt poem today, for

publication here and in the Lamma-zine, even though she's not on email or internet yet and we've never met before. She had only seen my ad flyer and called me up. Wonderful to gain new contributors like her, hoping for many more!
Let her know what you think of her poem! Click on Talkback and I'll forward your feedback to her!
---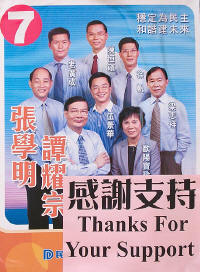 Tue, Sep 14: Thanks For Your Support
The Legislative Council Elections are over, with a few hiccups like not enough ballot boxes for the record voter turnout. European countries would love to have problems like this, with their voter apathy and voter turnouts of not even half of HK's almost 60%!
To everybody's surprise, especially the concerned parties, the formerly largest party, the Democratic Party, lost votes and seats (9), while the pro-Beijing, "anti-democratic" "Democratic Alliance for the Betterment of HK" party won seats, up to 12 legislators now to become the biggest party in HK's Legislative Council. Their posters all over Lamma have been "adorned" with photocopied stickers to gloat, eh, celebrate their surprise achievement. Well, the voters have spoken...
---
Mon, Sep 13: Lamma-zine Sep 2004


Contents: Editorial, Follow-up, Story Poll, Events Calendar, Best of the Month, Media Watch, Emails to the Editor, About Lamma-zine, Next Issue.
1. Leaving Lamma 2. Bishop Zen Visiting Lamma Monastery 3. High Degree of Atrocity 4. Where on Lamma? 5. What Kind of Shop You Like? 6. This "Alternative" Cabaret That Is Lamma 7. Tai Peng Castle For Rent 8. Restaurants & Bars - Aug 2004 9. Alastair - Sculptor Extraordinaire 10. Strictly Fashionable 11. Silly Spins on the Magical Spinney Thing 12. Do Pink Dragonflies Like Drainage Channels?

---