Enjoying a great rooftop BBQ with a couple of good friends today (many thanks, John & Eva!), we met a Junior Lammaite couple for the first time who regaled us with their entertaining stories. My favourite one was the one when they were trying to find out who the mysterious, anonymous "Lamma-Gung" behind this website actually is. Not being eager to become a local celebrity I'm fortunately still not widely known in person in Yung Shue Wan (I think, but I might be completely mistaken?)
Our gracious host, John, said: "In the typical Lamma way, the guest list for the BBQ included not only people, but also two dogs. The visiting male dog brought an edible gift (a specially processed pig's ear imported from Europe) for the dining pleasure of his female-canine host."
This German pair of Lamma newbies used this website extensively to prepare and get settled in on Lamma. They were curious about my identity and somebody described me as a "big guy". So they approached a "big guy" in the grocery shop beside Spicy Island, asking him if he's Lamma-Gung. He replied with an ironic and wonderfully self-deprecating "No! That's the other fat bastard!".
Good one! I'll have to have a little talk with this friend of mine... But him being British, "bastard" is a common greeting for a good friend in a pub: "How do you do, you old bastard?" As he said "the OTHER bastard", including himself, he'll get away with his remark this time. I'll even buy the fat bastard a pint next time I'll meet him in any place that offers pints at Happy Hour prices...
The German couple at our rooftop BBQ seemed quite happy of finally meeting The Other Fat Bastard in person. TOFB continued to tell them more about Lamma Island than they ever dared to ask about and more than they ever wanted to know; especially the Dark Side and the Gossip/Rumour/Hearsay Side I avoid writing about, living here and valuing my health and life far too much...
Please don't approach me in the village with the blunt question: "Are you the other fat bastard?" when I'm in a bad mood (which is extremely rare, admittedly). I might kick your ass...
Also, please don't approach me in the village in an overly friendly and courteous way: "Are you the famous Lamma-Gung? I'm sooo very pleased to finally meet you, as a long-time admirer of all your fantastic work!"
Then, after my initial shock and surprise of receiving compliments, and some stunned silence, TOFB might kick your ass for being such a sycophant...

I've been looking for years for a moderator for a Lamma parenting forum, but new parents just seem too busy 24-hours-a-day or simply too overwhelmed to worry about much else than their baby. Only once did I succeed to have a new father tell his side of the amazing experience of becoming a parent, but never a new mother, despite trying quite a few friends with babies. Finally, a volunteer has taken up the challenge and will be moderating the brand-new Parenting on Lamma forum! This will be the only forum where your baby pictures will be most welcome and even ooh-ed and aah-ed over!
Welcome, Superblue, to our great group of moderators. In her public profile, she lists her occupation as "Supermodel and best selling novelist" and her interests as "Living the dream, learning to live with disappointment." Yes, she might fit in very well with our motley moderator mob of myopic miserable misfits and maladjusted malodorous misanthropes...
If you'd like to become one of us as well, setting up your own forum, take over a dormant one or co-moderate a well-running one, email me!
Superblue - Brand-new moderator of Parenting on Lamma forum.
She's kindly supplied two recent photos of her main qualification as a moderator of this special forum:
Parenting on Lamma…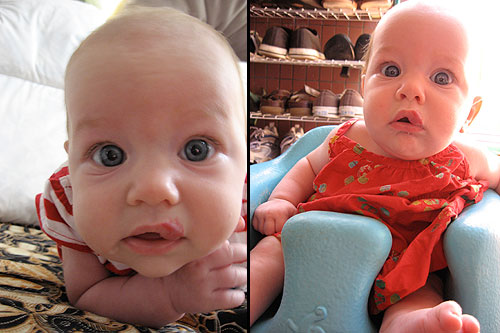 Hopefully this forum will act as a source of information for the many questions new and experienced parents have on Lamma, ranging from practical advice to sharing ideas about anything remotely to do with kids.
There are a number of parenting forums in HK, but none of them cater for Lamma, and since Lamma has an ever growing population of kids and parents then its about time we had our own parenting forum.
Do you think Lamma is a good place to bring up children? What are the advantages of raising a family here? What are the options for schooling your brood on Lamma? What is the healthcare like here? Where can you find a good baby sitter? To have a helper or not?
Feel free to post anything from tips on how to get your teething 6 month old to sleep at 3 in the morning to discussions about educating your kids in Hong Kong, from best doctors to use when LO is ill to tips on homeopathy for babes. Share your pregnancy questions, birth experiences, the shock of having a new baby, and all the other joys and perils of parenthood!

Our new Music forum co-moderator Yogesh alerted us to a firework tonight at the Cyberport, just across the East Lamma Channel in the South of HK Island. It was organised to celebrate the 10th anniversary of the HK SAR and rich people at Residence Bel-air besides Cyberport paid for it. I took the ferry over to the Pak Kok Village ferry pier and shot a few pictures across the East Lamma Channel (maximum zoom, 1-3 seconds exposure, continuous shooting):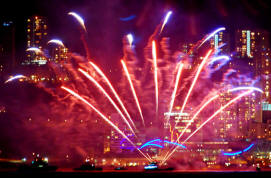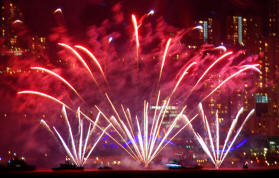 Jay Scott Kanes - STBWFLA (Soon To Become World-Famous Lamma Author and occasional Lamma book reviewer.

(L-G attended the book launch below and collected autographs from as many people mentioned in the book as possible. Then, being too lazy to write it myself, he asked Jay for a review of this new book by Blacksmith Books)

(All photos by L-G: Sorry for the horrible picture quality. My own camera was out for repair, so I borrowed a 5-old camera which seemed to have a burnt-out photo sensor as I found out too late.)

The latest novel inspired by Hong Kong's change of sovereignty, Hong Kong on Air by Muhammad Cohen (2007, Blacksmith Books, 454 pages, HK$95), fails to mention Lamma Island much. Yet it relies heavily on Lamma talent.

Cartoonist Harry Harrison, from Lamma, created the cover art. With images of Prince Charles, Jiang Zemin, Tung Chee-hwa, Chris Patten and others watched by shadowy figures in a TV studio, Harry's cover may be the book's best feature. And Pete Spurrier, formerly of Lamma, leads Blacksmith Books, the publisher. Alan, senior moderator of our forums, edited the book and another Lammaite is writing this book review, myself.

Cohen, a New Yorker, moved to Hong Kong in 1995 to work on the startup of CNBC Asia. He stayed and became a permanent resident. He also toiled at The Standard newspaper and at Bloomberg News. Previously, he produced news at CNN in Washington.

The author's TV background dominates this first novel. He aspires to capture the mood as Hong Kong falls under the Chinese mainland's sovereignty.

"I don't think scared is the correct word, Mike," May says. "Somewhat apprehensive, perhaps. But mostly just uncertain. For example, no one expects Hong Kong to adopt the one-child policy, but many of my friends are pregnant now, just in case."

Above all, Cohen gives media watchers an inside view of the antics behind TV newscasts. "Like everything in television, or at least at FGN Asia, the control room is backwards, overly complicated, too heavy on technology and light on common sense."

A flimsy plot surrounds two Americans, Laura Wellesley, a Franklin Global Networks (FGN) Asia TV producer, and her husband, Jeff Golden, an adulterous lingerie merchant.

Millions of Hong Kong people should recognize the workaholism that engulfs Laura, allowing FGN Asia to dominate her life and endanger her marriage. Equal numbers will spot a familiar pattern in Jeff's nefarious activities on business trips to Guangdong Province.

On every page, much rings true: "Before we were never clear about what was expected, so people were unsure about what to do. Edie says that's a very Chinese thing: give vague instructions so you can criticize whatever goes wrong and blame someone else."

Considering the realities of post-1997 Hong Kong, the book's most tragic character may be Deng Jiang Mao, an egotistical Chinese-American news-anchor who frustrates Laura at work. On-air, he insists on kowtowing to the new colonial masters in Beijing.

"Laura, I was looking through the scripts and on B-4 we've got 'Tiananmen Square massacre'. Let's just say sanctions were imposed in 1989…."

"Oh, come on…."
"Sometimes you just don't understand…. And 'massacre' is overkill."

The author tries hard, but Hong Kong on Air isn't a humorous book. At best, it has amusing moments. For an example of attempted humour gone wrong, consider Jeff's first visit to a mainland massage parlour when he notices one of the masseuse's "small, pointy breasts peeking – or maybe it's Beijing, Jeff thinks – out of the robe".

Despite Hong Kong's fast pace, the novel unfolds lethargically, its dialogue and descriptions bogged down in tedious details. Hong Kong on Air might have been twice as good at half the length. It earns a passing grade, just barely.

Approval rating: 51 per cent.

For more information: www.blacksmithbooks.com

It's what the HK Govt. officially calls "The day following Chinese Mid-Autumn Festival", a day for family visits. We managed to lure ALL our closest relatives to come out to Lamma and enjoy an afternoon and dinner in our humble abode. 3 stepchildren with 3 grandsons and 2 sons-in-law certainly filled our home with unusual noises and lots of activity for a few hours. Being a Lamma-Gung (literally Lamma Ah-Gung, meaning Lamma granddad) has its simple pleasures on these days of traditional Chinese family gatherings. Lamma-Por (Lamma grandma), as the beloved matriarch of the clan, is insisting on these gatherings and runs a tight ship, being so happy and overjoyed seeing them all united, the first time ever on Lamma.
Going to Lamma seems an awfully big and arduous adventure for most HK Island residents, almost more distant than places like Thailand which they visit more often than Lamma. One computer gamer in the family only came along with a laptop PC, not to miss any opportunity to feed his online gaming addiction. But then he fell asleep as he had played most of the previous night already.
It's especially great fun seeing the grandsons growing up so quickly. I remember my stepson at the same age as my oldest grandson is now, 2nd primary, riding on my shoulders in Ocean Park, 20 years ago. I've been in HK for an entire generation already, omigosh! The best part of the visit was a water hose spray vs. soap bubbles fight with my two grandsons. I can still see their oh-so-surprised faces when their weird old grandpa chased them around the rooftop with the water hose... The neighbours must have been wondering about all the soap bubbles descending from our rooftop, some of them blown by me so clumsily with a whistle-bubble blower. I haven't done that in...decades!
In revenge for my water hose, they opened most of the drawers in my office and I spinned the naughtiest one around on my office chair. Then we made up, got Thai Thai satays and Best Kebab garlic bread for everybody and later enjoyed a great $1,000+ dinner at Lamcombe.
Here's a picture of the family gathering. Following the anonymity rules of this site (you're getting full anonymity for all your contributions if you request it), my face is under a black hood, like in police arrests shown on TV: "Lamma-Gung arrested for disturbing the public peace by using a noisy whistling soap bubble blower on his rooftop on a public holiday!"
By the way, that's the camera remote I'm holding up. I don't ever aspire to be a Lamma Celebrity, appreciating my quiet, private life as not many people recognise me on the ferry or in the village. Those who do know me personally often don't know or care that I run this website. Rarely ever do I get tomatoes and other rotten produce thrown at me on High Street. But sometimes, rarely, people I don't know yet walk up to me and say "Are you Lamma-Gung? Great website!" That's the way I like it, having a tiny little celebrity status, but not too much...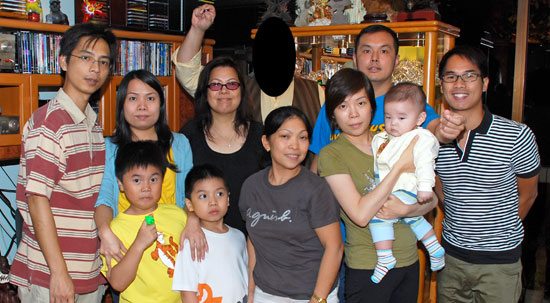 "Results of a survey conducted by environmental group Green Power on Mid-Autumn Festival celebrations revealed that people are showing more concern for the environment. Fewer families discard empty moon cake boxes and more prefer simpler packaging for moon cakes. The habits of disposing moon cakes and plastic lanterns, however, still need to be improved.
"The results were announced this morning at "The 15th Clean Up the World in Hong Kong" held at Aberdeen Country Park. About 100 HK Electric volunteers took part in cleaning up the barbecue site where people celebrated Mid-Autumn Festival last night..."
Click here for the full story...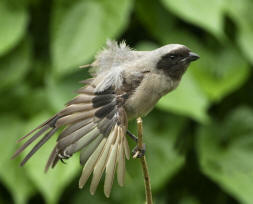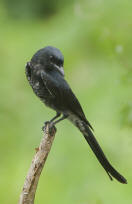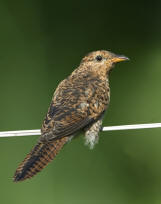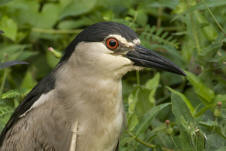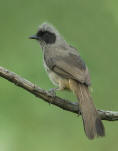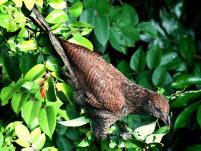 The Lamma's top 10 birds forum has been our No. 1 forum for quite some time now, in terms of number of posts and number of views. They're closing in on 25,000 views and 1,000 posts, an almost unbeatable record on our forum, I think! It's about time for another little promotion of this topic on this home page, to get them to the 25,000 views mark as quickly as possible! Click here and you could be the 25,000th viewer!
The photos in there are looking so fantastic and many of them have reached a professional level by now. They're the pride and joy of Lamma.com.hk, probably its best success story and a main attraction to so many people! Congratulations to Anonymous_Guy, HarryLi, Zep, Yi Gou, Cokes and all the other great bird photographers, please continue for a long time! New talent is most welcome!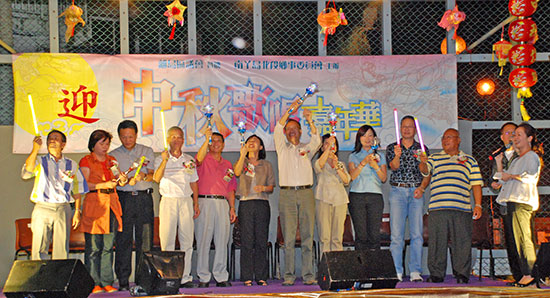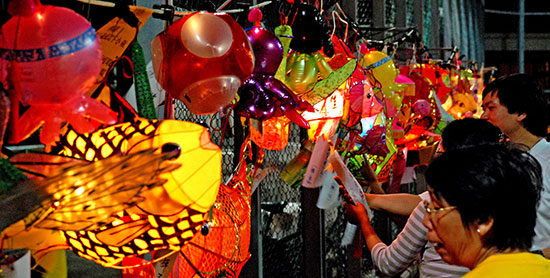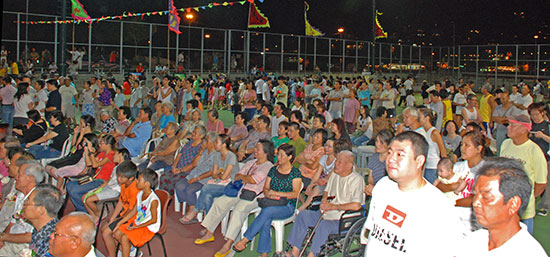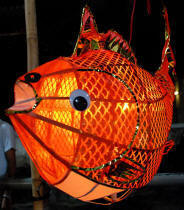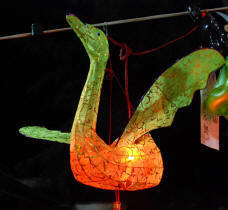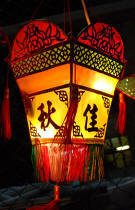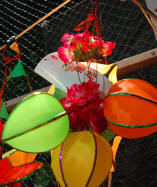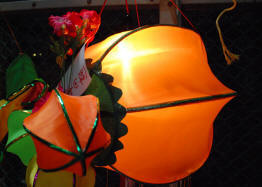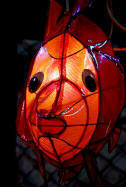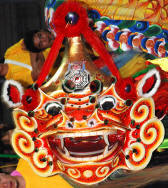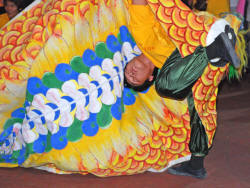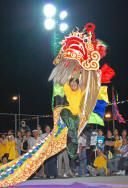 Stop by the Yung Shue Wan Football Pitch tonight after 7pm, if you can. One of the biggest local community events of the Chinese calendar is taking place. Much of the village, especially the Chinese community and their families, are joining in this Carnival, conveniently held a few days before the official Mid-Autumn Festival coming Tuesday night, Sep 25, all over HK.
To get an idea of what it'll all be about tonight, check out my photo gallery: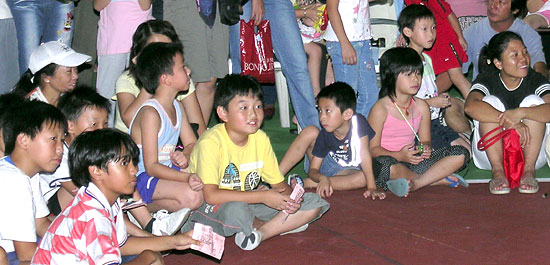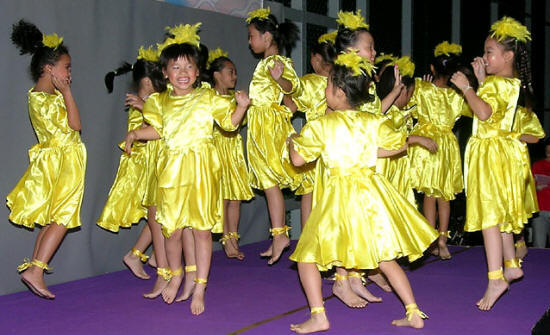 If you see Lamma-Gung there taking photos - for example shooting the Kung Fu demonstrations at three frames per second - say hello and let me know what you love and hate about this website!

Musical tastes of Lammaites vary very widely, from Yat Kha, a Siberian punk band in Tuva that mixes traditional throat singing with punk rock, to traditional Western classical music like the St Matthew Passion by Johann Sebastian Bach, conducted by Wolfgang Gonnenwein. What's playing on YOUR iPod on the ferry ride to/from town? Foreign body recommends:
"Melt-Banana, an insane Japanese avant-punk band I met in a squat many years ago. Extremely hyper and noisy, their tracks last a few seconds and then end abruptly. It's music for the ADHD generation.
Melt-Banana have even managed to marry some poetical lyrics to their spastic madness, but nobody understands them. I can't even figure out if they sing in English or Japanese!"
Classical music lovers might find the Classical Music discussion in the brand-new Spinoza's Web to their liking. This new forum has definitely the most eclectic, sophisticated and hopefully thought- and discussion-provoking topic titles of any forum on Lamma.com.hk. Check these out and don't be shy posting in there:

Many of you might know that Parksy got busted and fined for the above offence recently, stemming from an all-night party in the (in)famous "Haunted House" between Tai Peng and Pak Kok on March 17/18. He's in good company as Mr DickStock has been fined for "noise annoyance" at several of the yearly DickStock concerts. Parksy pleaded not guilty and felt treated very unfairly by the local police and the judicial system, considering a judicial review or appeal against the fine. He invited his many friends by email to support him and show up at his Review Hearing yesterday at a Kwun Tong Magistracy court. Besides his lovely wife Tiffany, I was the only one showing up.
The complex legal issues of this case are beyond the scope of the Lamma-zine and I don't want to bore anybody with the legalese and confusing details of the court case. I can't judge the (un)fairness of the fine and why he was the only one fined, not being the party organiser. He looks like being made the only scapegoat because he loaned the "sound magnifier" for free to the party, like he does for the Lamma Fun Day every year and other private parties of his friends. But using the abandoned but privately owned Haunted House will have to stop from now on and better, legal venues have to be found for future parties, if any. So let's have a last look at this beautiful (but illegal) graffiti inside the Haunted House: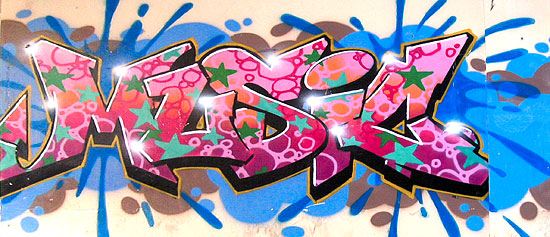 Not a single friend showing up at his Review Hearing to give him any kind of moral support is what struck and disappointed Parksy, Tiffany and me most, despite his sending out all the details to so many "friends" and inviting them to come. He stuck his neck out borrowing his own personal, expensive, professional light and sound equipment for the party. I wonder if there'll be any more parties using Parksy's equipment in the near or distant future as he seems very disillusioned and frustrated now about the whole matter.
The Lamma community has changed, becoming more fragmented, with less solidarity and less gratitude than Parksy & Tiffany experienced even just a few years ago. Party-goers like to consume the entertainment and have fun, but don't like to help organising or even supporting the people providing the setup work and the equipment for free to the parties. When somebody's being fined they're left taking all the blame and the punishment themselves. Old-fashioned gratitude, support and a simple thank-you seem to have become an increasingly rare, endangered but precious commodity on Lamma.
Frankly, Parksy's story struck a deep chord with me and I also feel the same quite often about the Lamma-zine and the often sorely missing feedback (good or bad) and the just minimal support of any kind I receive. It's just enough to survive (barely), but not enough to really prosper and grow the website. But fortunately I'm self-motivated and soldier on, for now at least. But an occasional click on "Email to the Editor" at the top of every single Lamma-zine story would go a long way to motivate me... and so would an occasional kind word to Parksy...
I think that the least the actual party-goers of that Haunted House party could do is help Parksy pay that $1,200 fine, showing their solidarity and gratitude for all the work he's put in to make these parties happen. Make a significant donation to him personally to pay the significant fine, make him smile again and hope that he'll continue to provide the equipment for future parties in legal venues far away from private houses so that noise and other complaints can be avoided in the future!

One of the many pleasures of living on Lamma are the close encounters with the local wildlife, butterflies, birds, dogs. You know, living on the countryside, close to nature and all that. But there are also other members of the animal kingdom to be encountered, sometimes inside our flats. The reactions of Lammaites meeting these uninvited guests unexpectedly vary from "Oh, so cute!" to "Urgent!! Help! Big Gecko in the kitchen!".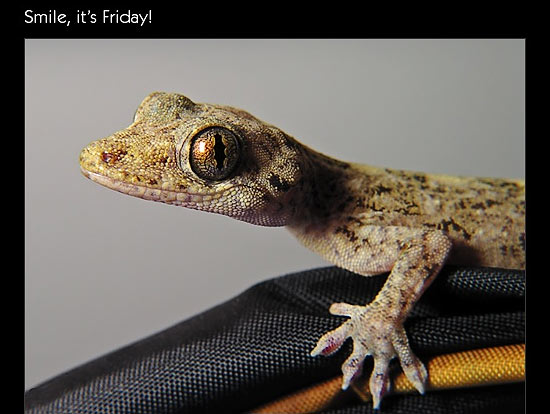 This kitchen counter encounter happened to our forum member schnuck just today. She totally freaked out, afraid of entering her own kitchen now, and she might be starving soon! Other forum members calmed her down and gave advice of varying usefulness, from "Leave it alone and it will go away" to "Pack your bags, hand the keys back, and head for the the nearest sterile zone, pick up a can of bug spray on the way".
The reactions from Lammaites to the basically harmless geckos vary from "cute face" to "I loathe geckos!", one even "found the geckos on the walls one of the pleasures of living here as they scurry around eating stray insects and clucking as they chased one another round the ceilings."
Slezza, who also loathes geckos, defended her phobia in a beautifully poetic way:
"Allow me my innocent, spontaneous, irrational phobias. I love nature and can sit for hours looking at a bug on a leaf and the shape of clouds etc ad nausea, dreamily meditating on the cosmic awesomeness of it all, watching aeons of time rise and fall before my mind's eyes as the great remorseless miracle of evolution plays out against the speeding sweep of glaciers and the rise and fall of mountain ranges.
"But geckos are still revolting. No doubt there's an evolutionary reason for such phobias too. Not that I'm deterministic about the relationship between evolution and psychology.
"And yes, I know they are harmless, but that is NOT THE POINT!"
Check the forum out by yourself and weigh in with your own opinions!
---
P.S. A 1.5-metre long Monitor Lizard has just been found on the way to Pak Kok and is currently fostered by Chicken House, who's looking for the owner. Have you lost one recently? ;-) Monitor Lizard in the Garden:
"I have a lovely guy in my garden, very friendly, gets onto my lap, likes the dogs (and eats their food).
He is living in my garden and under my bed. I don't have a problem with this, but if he belongs to anyone I would love to know. I called Him or Her Eddie"
Zep commented that "Maybe Eddie would like to form a playgroup with Schnuck's giant gecko? Any other owners of large reptiles care to join?"

It's been a while since we've added a brand-new forum to our line-up. Our controversial "Ghost Teacher", Spinoza1112, has been so active and talkative recently that I decided to give him his own forum and he eagerly accepted. Here's his description of Spinoza's Web, the latest Special Interest forum on our still growing Lamma.com.hk forum.
This is forum #50 we've set up in the last 5 years, some have failed, some have been renamed, regrouped or consolidated, but most are still doing pretty well, spanning an amazingly wide range from the low-brow Fight Club to the high-brow Spinoza's Web.
Multi-talented Renaissance man Spinoza1112 will also show an exhibition in Lamma's only art gallery, The Cyan Studio, on Oct 14, titled "Wild Teenage Beatnik Ghost Dancers of Lamma Island." More about this soon.
If you'd like to start a new Special Interest forum or a forum in another language, just email me!
If you'd like to become a co-moderator of an active forum, just email me!
If you'd like to take over an existing dormant forum to reawaken and rejuvenate it (for example: Music, Bars & Restaurants, Hang-ups & Hangovers, Ferries, "Buy & Sell, Rent & Let", "Services, Work, Personals", "Travelling Tips"), just email me!
Spinoza1112 - describing the new Spinoza's Web forum:

A forum for safe discussion of art, music, philosophy, and what's for dinner, moderated by spinoza1112.

No bullying: no global assertions of the form "you are a butthead", for these are flames of level 1. Level 2 and level 3 flaming welcome, where level 2 is "what you do sucks" and level 3 is "what you like blows".
Verbosity considered as a small ratio x/y of ideas x to words y will be tolerated but, strangely in view of a view of the originator, isn't encouraged.
Nature having been conquered at least until recently we are hard wired for struggle therefore we Fight one another and must study to overcome, not Nature, but Man. We are hand to hand. Curiosity disappears, all problems thought to be solved. That "end of history" view, which produces necessarily the nihilism we see, is dying as Nature takes her revenge. Absolute curiosity returns as in what the FUCK was that.
There are two types of trolls. The older type posts ironically, without meaning what he says, in order to get a response. The newer usage is xenophobic and nasty because it refers to someone being honest as he can, but whose concerns or style differ from the majority. Trolling in the old sense will be moderated. Trolling in the new sense is encouraged.

This month's artist is Chris Hall, a digital artist living on Lamma, who works on the PC, often using digital photos as a starting point. Chris's computer-generated art had a showing at Hong Kong's Culture Club Gallery back in August.
Like many Lammaites, Chris has lived and worked in a number of countries, and although born a Brit completed graduate work in Canada and the US, completing a PhD in English at Binghamton University, New York, where he specialized in postmodernism. (Whatever that may be, Chris says he doesn't know.) He now works as a technology journalist.
Below is a composite of recent work by Chris Hall, taken from his website, www.fotografiqx.com, where you can take a detailed look at his output.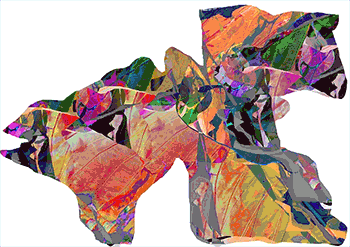 Below the composite is image LL0014, from the Leave & Leaf series.
These colorful, improvisatory works are available as A4 or A3 prints, either singly or in sets and series, including limited editions. Anyone in the Hong Kong area, including Shenzhen and Shekou, would be able to see samples in person before making a purchase.
Contact Chris by email at chris@fotografiqx.com.
Chris Hall - Artist's Statement
Usually, I start out with a digital photo or two and then morph things in software in a jazzy, improvisatory way, sometimes mimicking traditional darkroom techniques, such as the sandwiching of negatives.
I'm only concerned with the play of color (or absence of color), form and painterliness (even though the work is digital in origin). There is no literary content in the work, no symbolism, nothing philosophical, nothing that could be expressed as or reduced to a text. Anyone familiar with developments in contemporary art will know where I'm coming from.
I think digital art is of huge importance because it is democratic and liberating. Most of the stuff I do is done in software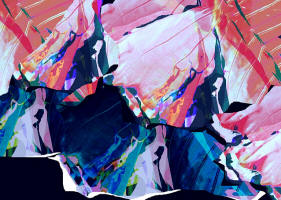 that is free. There's almost no investment in expensive materials and a studio or darkroom, unless you include the PC and a printer. Anybody could do it, if they have a PC and maybe a simple point-and-shoot digital camera. Educationists, take note! It's more or less free; it's playful; it's without limits; it's non-elitist. Whatever it taxes, it's not the taxpayer.
Chris Hall
September '07

Do you use enough electricity? Our friendly-neighbourhood Lamma Power Station has been lamenting in a recent press release that HK Island and Lamma Island's power consumption has only increased by 1.5% in the first six months of this year, not quite keeping up with their hopes and expectations of rising profits.
Should we all switch from using LPG gas for cooking our daily meals to using electricity instead! The latest press release from HK Electric is promoting electric cooking in their fancy new Home Cooking Training Centre:
A Bazaar of International Cuisines [11 September 2007]
So if we use no more gas, HK Electric can use this spare gas for their new gas turbines to generate more electricity from gas, much cleaner than the mountains of coal burnt every year. Then we can use this electricity to cook and gain strength to earn money to pay for all this expensive additional electricity we'll need for cooking! The cycle of life and commerce goes on forever and ever...
But, on the other hand, HK Electric is promoting "Energy Saving" and Energy Efficiency and Conservation. I have to admit to being a little bit perplexed about this seeming contradiction.
"He is perplexed", wrote a QMH chief doctor into my official medical file recently (referring to me not being happy about being volleyed back and forth between different departments for the same case.) Yes, I am perplexed and all these energy issues are just sooooo complicated, aren't they? Let's just sit down and enjoy some uncomplicated great food, cooked with electricity, of course!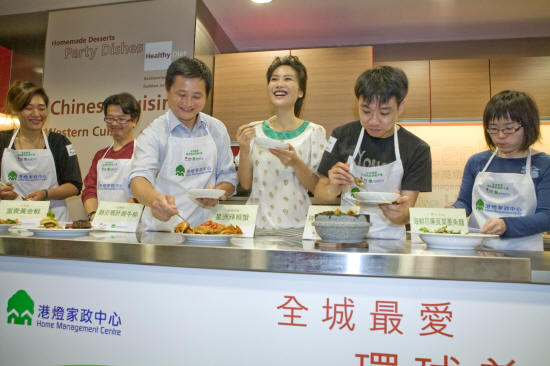 Chris Hall - This is the first chapter of what will hopefully grow into a collaborative novel, titled Battle for Lamma. As the definitive Lamma novel, it should be continued by different Lammaites, a chapter at the time, preferably below 1,000 words but not exceeding 1,500 words per chapter, please. Full creative freedom, of course!
Would YOU like to continue this story started by Chris? Contact us!
Chapter 1: The revenge of the dog turd
Percy Raptor, real-estate entrepreneur and consultant to the US property agency of Mogul, Mogul and Mogul, looked in disgust at the sole of his left loafer. He had just disembarked from Sea Spray, the Central to Lamma Island ferry, venturing for the first time into what he had been told was the world's last bastion of hippydom, only to discover that dog turds had to be negotiated every 10 meters or so.
It wasn't clear to Raptor how he was going to clean his shoe, but in the meantime, there were a few details to take in. Hippies, as such, didn't seem to be in evidence, but a twilight world of rickety boats, narrow paths, restaurants called Sampan and ladies in men's shirts, clearly awaited him. Basically, the place looked like an Asian version of a derelict English seaside town, falling into genteel poverty. "What a crumb-bum place this is," thought Raptor, as at last appeared an aging hippy, as prophesied, with flowing silvery locks, helping to carry furniture off the ferry while simultaneously reading a book. "The island that time forgot," Raptor finally verbalized, to no one in particular.
Raptor's eyes bulged in loathing as he took in the waste of resources at every turn. Land ripe for development was simply left covered in greenery. Residential areas needed to be bulldozed of their faded shacks and leased lodging houses. Lamma needed re-development. For Percy Raptor, re-development was a word close to sex. It turned him on. He needed a drink as his throat dried in anticipation of approaching pleasure. Yes, Lamma needed to be bulldozed. Besides, there were oil reserves in the Taiwan Strait and Raptor's friends in the CIA had hinted right from the get-go that the US needed a new base in Southeast Asia. They needed somewhere unobtrusive, where agencies and facade businesses could be set up. Spas, resorts, luxury apartments, some local enforcers thrown in for good measure, some back-handers left in a few Beijing bank accounts, communications centers a go-go, a casino or two, a new golf course, were already aching with lust for untold billions in potential profit margins.
Raptor felt an erection rising in his pants as he foresaw the new tomorrow for Lamma and realized that for no good reason, he was now outside a cutesy little cafe-restaurant called the Lamma Love-in. "An historic reference indeed," noted Raptor. "That's about as cute as these kids get I would guess." Anyway, anything for a beer, he thought, now that the day's humidity was finally taking a toll on his bulging boxer briefs and swollen member. But there were revelations still awaiting him. As he bent his quarter-back frame through the twee glass-paneled entrance to the Love-in, he was surprised by the sight of an odd box-like glass sign that dedicated the Love-in to the owner's long-lost Filipina girlfriend, Rosario dela Contemplacion dela Visayas. "Christ," thought Raptor, "what kind of loony erects a sign like that? This is an island of fruitcakes, that's for sure."
Finally seated in an ancient church pew close to the waterfront, Raptor finally relaxed, despite the smell of dog excrement that arose from his loafer and a whiff of sewage blown in from the water. Another ferry had arrived at the pier, and he watched with some curiosity the motley crowd that now flowed in like a tide of the down-at-heel. After exactly 32 minutes, a waitress with a hauntingly large bosom finally appeared. "Your good sir," she declared, "we are honored to be of service. Do you want anything to eat or drink." "I do; indeed I do," said Raptor, trying not to add expletives to his sense of bemused astonishment. "Why do you think I'm here, to admire the period architecture of the ferry pier?" "Yes sir," she replied. Raptor, close to snapping, finally grunted, "Haven't got all day, like you folks. How about a menu?" "Yes, sir." "And a beer. You have Carlsberg?" "Yes sir." "Don't call me sir; call me Percy," he said, trying to smile. "Where are you from honey?" "Manila, sir." "Don't call me sir." "Yes sir. I mean, no sir."
"Is this an island of the sane or an island mental institution," wondered Raptor, "abandoned by the British when they left?" Finally, a Carlsberg in hand, he became magnanimous. These people were in need of help. He would provide help, he and his friends.
His magnanimity was short-lived. He soon realized that one of the island's mongrel canines, one of a group of three now at his table, was inspecting his shit-glazed shoe with interest. Raptor leapt from the table, spilling the Carlsberg onto the shirt of the Filipina waitress, further emphasizing her generous natural assets. "Sir, let me help." She sat him down, took the shoe, pulled a toilet brush as if from nowhere and cleaned the loafer under a running water faucet on the waterfront wall. In seconds his shoe was clean. "I'm very grateful," murmured Raptor, as a new Carlsberg was set down. "Let me give you a tip." "Oh no sir, I cannot." "Why not?"
"The menu, sir. What would you like to eat?" Disregarding seven varieties of vegetarian food, Raptor finally settled for three fried eggs, a steak and French fries in garlic butter. He awoke from a semi doze when some 50 minutes later, the food finally arrived. "Well," thought Raptor, "the place is certainly a foodie's delight. You could spend your whole day here simply eating, everything moves so slowly." Still, after having his ego massaged by so many obsequious "sirs," and after having managed to get a good gander at the waitress's bra, he felt hungry and ready for a steady demolition job on the meal now at hand.
"So not afraid of a heart attack, old bean?" inquired a newcomer. "Doctor ordered you a cholesterol-rich diet?" Raptor, hardly believing the effrontery that had blown in with the sewage air, looked up to see a grinning westerner, totally bald and heavily tattooed, a cigarette dangling from one hand, the other fondling yet another dog, one that looked like it had skin disease. A gold ring adorned the left earlobe of the grinning face. "I'm a Texan," said Raptor. "Where I'm from, real men don't eat quiche or vegetable curries." "If you don't get into an organic meal or two, pretty soon you won't be eating at all," countered the grinning monkey-face. "You'll be six feet under. Here, let me be of help." Raptor was handed a flyer for an organic food store that also sold batik T-shirts and dresses, and "hand-thrown pots."
"Oh no," thought Raptor, "it's the sales pitch." He felt like he was back in the US, confronting smiley bike-riding Mormons. "My name is Van," grinned monkey-face. "When my mum gave birth to me, she listened to Astral Weeks all the time. So she named me Van." Raptor failed to make the logical connection, but he quickly realized that this would have been a trendy early 1970s birthing technique. The result was now standing before him. "I still cry when I hear that album, Astral Weeks. Not that I'm sad. I'm kind of happy and sad all at the same time. You know what I mean? I think Van Morrison was a genius. But he kind of self-destructed, know what I mean? Poor old Janet Planet, she just couldn't take it any more, know what I mean?"
Raptor winced, but he remembered his corporate training classes. Culture was a relative thing. Go with the client; go with the flow. Raptor tried it. He nodded nonchalantly, "I know what you mean." Van lit up; they had bonded. Raptor was suddenly afraid Van would try to hug him. "My friend and I run the store. It's on Main Street. If you spend more than 500 dollars in one day, we also throw in a free Tarot reading, plus your computer-generated star chart." "The 500 bucks, US or Hong Kong?" "US." Raptor for one second wondered under what circumstances he would be buying US$500 worth of batik T-shirts. Still, times had moved on from the 60s. These kids were different. These kids were now trying their hand at entrepreneurship and a primitive form of commodity trading, even though it could hardly be called capitalism as such.
"Main Street?" countered Raptor, "I didn't notice a street." "This IS Main Street," said monkey-face, grinning ear-to-ear.
"You could have fooled me," grunted Raptor as he finally staggered to his feet, stared in disbelief at the bill, which alleged he had consumed 498 Hong Kong dollars worth of food and drink, and finally reasoned that it was worth it just to get out of the place. The waitress took the money demurely, staring at her shoes, as Raptor stole one final glance down her shirt.

Flowers family (Katie, Eric, Christie & Billy):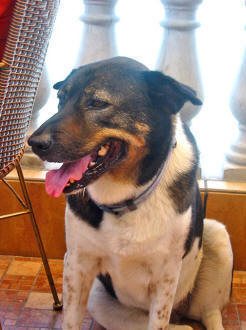 Dear Friends,
The angels came for our SkiffyDog last night, she's now in a much more comfortable place. In case you didn't know she was diagnosed with cancer of the spleen amongst other organ troubles just 2 weeks ago. She breathed her last at 11.45pm with Eric beside her. She had been on Lamma for 10 years.
She now lies within the hills over looking Gaia Valley and the sea, very good Feng Shui for her.
She will be very sadly missed by all of us in our family, especially Billy who spent each day with her. Christie was the same age and had known her all of his life. I know many people on Lamma know Skiffy and will wonder where she is, she had so many special friends in the dog and human worlds.
Thanks to Hans, Tiger, Kylie, Carey, Annie, Wardy and Carol for extra loving and such care in her last days.
May she rest in the peace of the hills

If you read this Placeblog or our forums occasionally and you're not already living here, have you ever considered of joining our little island community?
No way? Then you can simply skip this advice column and skip to the next story!
Maybe? Read on, gentle reader, and get some advice straight from the horse's mouth, so to speak, not implying that my mouth smells like a horse's. But if you don't like our advice, don't look a gift horse in the mouth even if it's a bit long in the tooth...
In our Should I Move to Lamma? forum topic, an American is considering a job-related move to HK, checking out Lamma for his young family, asking many general questions after browsing this website which should have many answers already, from the FAQuestions From Lamma Newbies. Senior Moderator Alan, tjungarayi and I posted our straight and serious (for once!) personal replies and they might be quite interesting and helpful for you if you're also considering a move, showing the honest pros and cons of life on Lamma. If you do, a warm "Welcome to our community!" from all of us at this website!
Check out replies to Should I Move to Lamma? in our forum and add your very own recommendations!


Maureen Frank has been visiting Lamma recently for Tanya's wedding. This bubbly and vivacious lady got herself pictured in this Lamma-zine more than once. Now she's done it again, not just on Lamma but also in a Canadian printed newspaper, the Kootenay Advertiser in her Canadian home town of Cranbrook. She entered a photo showing Lamma's Peter Ip and herself in front of the YSW Ferry Pier in the newspaper's "Goes Everywhere Contest". It shows their readers all around the world in unusual and exotic places, for example Lamma Island!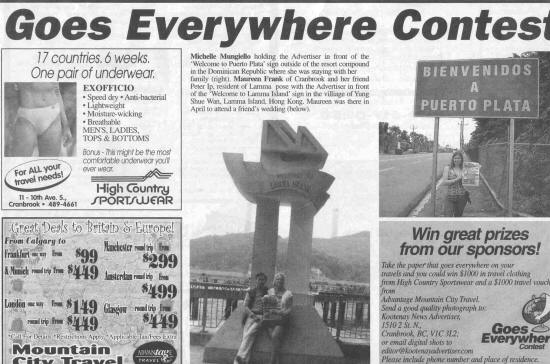 OK, that's a pretty bad-quality B/W photo. Let me see if I have a better version in my extensive Lamma photo database. Ah, yes, here it is. Yep, that's Peter's grin!

This "Goes Everywhere Contest" sounds like a fun idea and Lammaites are a widely travelled lot. Should we have a similar contest in the Lamma-zine? Let me know!

The monthly art exhibition in The Cyan Studio today went great and quite a number of people from on and off Lamma stopped by for a drink and chat and gave usually reclusive artist Marilena their very constructive complimentary comments. Roy, the exhibition's organiser and husband of The Cyan Studio's resident artist, Elizabeth Briel, took a few photos: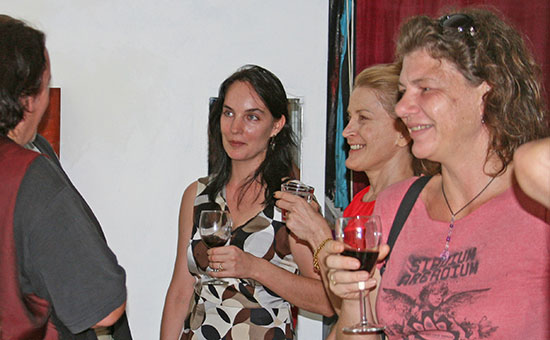 Click above for another superfluous, insignificant little art gallery by Lamma-Gung.
Or, on second thought, save your precious time and don't click!

Elizabeth Briel - Lamma Cyanotype Artist, from her monthly email newsletter:
Dear Artist / Art Aficionado,
Can it already be September? Summer's long languorous days are over - for this year at least. It's back to school for many, back to work for a few, and galleries & cultural organizations are gearing up for a busy season ahead. On our little Lamma Island, many teachers and parents are back, just in time for cooler weather and longer nights.
Featured Artist at September's Open Studio: MARILENA
This Sunday September 9th, from 2-6pm, The Cyan Studio is pleased to exhibit the striking paintings of the beautiful artist Marilena. Originally from Finland, she has called Hong Kong home for many years now. You can view a selection of her paintings here:
NB: They're nudes, so "Not Work-Safe". Just scroll down and you'll see them. Thanks to Lamma-Gung for letting me use his photos, as my computer's still in pieces after a recent move. Studio map available at http://www.thecyanstudio.com
Daylight has already begun to change to gentler autumn light. For photographers, this often means a warmer tint to their images, especially during the morning/late afternoon. If you've the luck to live in a region where trees turn into riotous reds and oranges, send me some photos!
For artists, it's a wonderful time of year to do "plein air" painting: cooler weather and breezes mean a better time for you and your art outside. While watercolors can have a luminous look, their transparency and water content can be difficult to manage. Acrylic paints are the easiest to use both inside and out of your home, and if you apply them in thin layers, should be dry within minutes of painting.
Studio Notes
Recent works I've posted online have been preparatory drawing for cyanotypes; the final image will look quite different. Currently I'm calling it the "Chinoiserie" series. You can see some of them on Flickr: http://www.flickr.com/photos/70596939@N00/sets/72157600139558102/
After a recent stint painting faux marble at the Macau Venetian hotel, I've since taken on more "English through Art / Art in English" students, and currently have some room in my schedule. Feel free to pass on this email or contact me if you know a child or adult who might be interested in art or photo classes/workshops.
The Hong Kong Mural Society is currently seeking sites and proposals for murals during the coming school year. Past murals have been painted in 100 locations around Hong Kong, including schools, parks, and housing projects. It's a unique educational and community program. You can read more about us here: http://www.hkmuralsociety.com, and see photos of the most recent mural at http://hkmuralsociety.blogspot.com.
Wishing you warm autumn walks with your camera or paintbrush - or just some good company,
The Cyan Studio, Tel. 6252 6839
2/F, 21C Back Street, Yung Shue Wan, Lamma Island
http://www.thecyanstudio.com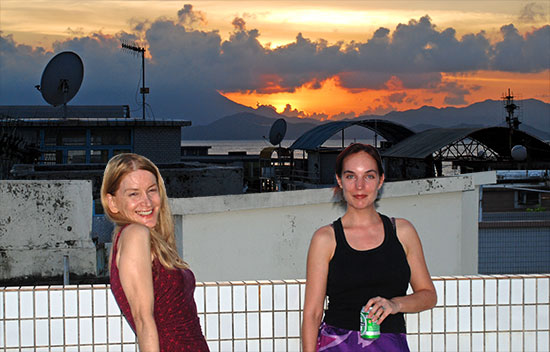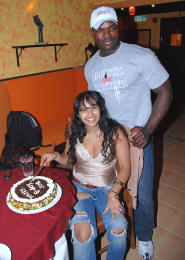 When was the last time you received a hand-written letter in this age of overflowing emailboxes? I was so surprised and happy to receive this note from The Panther and his wife Joey this morning, together with two custom-made T-shirts with the design above left on the back and "Viva Lamma" on the front!

It was a great thank-you for the photo story I did about Joey's great birthday party in the Deli Lamma Lan Kwai Fong on Nov 17, where Alain was wearing a "Viva Lamma" T-shirt himself (see below). Thank you so much, Joey & Alan Ngalani! Better late than never. I'll proudly wear this T-shirt on High Street, attracting comments from all the many friends you've still got here as ex-Lammaites. It's great to hear that you "both always think of Lamma fondly & still miss living there. And please give Lamma our warmest wishes + best regards."

All the best to you and baby Joshua, almost exactly one year old now, I believe?
Happy birthday to the offspring of two real champions!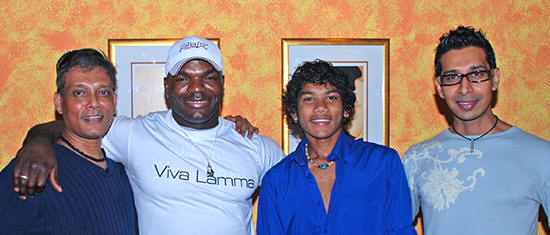 ---
P.S. Follow-up Email to the Editor from Joey (after seeing the story above):
We are so glad to hear that you like the t-shirts. Glad to hear that we still have so many friends on Lamma and that your t-shirt has received so much positive attention.
We would also like to thank you for doing a story about this as well. We are glad that you passed on the message to all Lamma to let them know just how much we miss the Island and all the lovely people.
Yes, Joshua was one year old on the 15th of August. Wow! You really have a good memory. I cant believe you remember that. We just celebrated at home with a family dinner and of course a big cake for Joshua. He is really keeping us totally busy, just like the son of two World Champions should do!!! Very busy climbing all over place, bumping his head on everything. We had to baby-proof everything! He is already 13kg and very strong. Not surprising knowing who his Daddy is. But he is a total pleasure and is so totally friendly and always smiling and in a good mood just like his Dad.
Upcoming fights for Alain is in November in Tokyo, Japan at the World Kyokushin Karate Championship. This is a very prestigious and by invitation only competition. You have to be a seasoned and very experienced fighter and qualified in Kyokushin (Full Contact Karate with no protection whatsoever) to be allowed to compete.
Upcoming competition for me is in December in Cape Town, South Africa and it is a fitness competition.
That's all the news that we have. Hope you are well. Stay well and we're always looking forward to reading the new Lamma-zine news.
All the best, Joey, Joshua and Alain Ngalani
---
Why are there so few Lamma-specific T-shirt designs out there? Besides the great DickStock T-shirts and the small-edition "FREE the lamma 3" T-shirts (see below), there are only occasional one-offs like Dan the Bastard's favourite "Lamma Island Becomes Crezy" (Central ferry pier graffiti) T-shirt or the single-issue Lamma-zine T-shirt below I ordered at the Cyberport Open Air Market.
Should we run a little T-shirt design contest? Let me know!
I'm going to get a few Lamma.com.hk T-shirts printed pretty soon, but I'm still looking for a good slogan to add to our logo. Send me slogans, the sillier and crazier the better! Free T-shirts for the winners!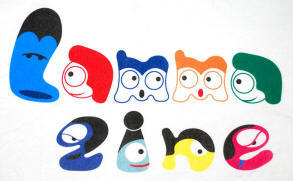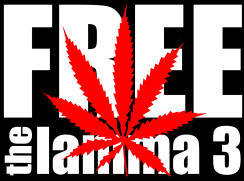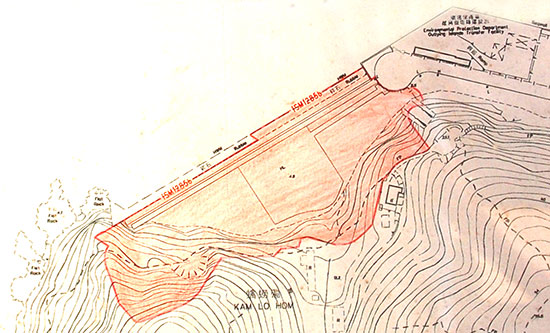 There's a notice up right now on the notice board outside City Hall (opposite HSBC), announcing the preparation work for the sewage treatment plant for Yung Shue Wan. It'll be replacing the current temporary helipad, at the end of the first phase of the harbour reclamation (see map above). Click above to read the entire notice.
The "Crops Clearance" seems to include a big junk of densely forested hillside and go all the way up to some of the abandoned houses just before Hunter's former workshop/party area in Kam Lo Hom. This area has changed so much in the last ten years, from a sandy beach to an unused reclamation, to a temporary helipad nowadays. See my "From Hunter's Beach to Helipad" historical photo gallery, if you're interested. It'll all turn into a large sewage treatment plant soon for all of Yung Shue Wan, which will collect the sewage from most houses through many kilometres of newly-laid pipes, a $200+ million govt. project.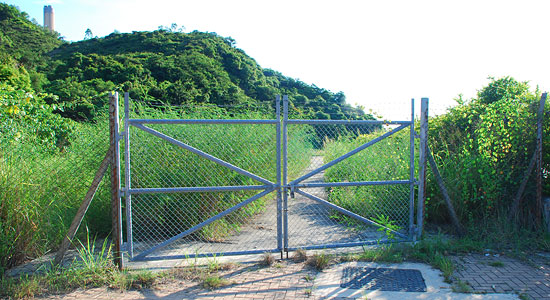 This entire area has been virtually untouched for several years behind locked gates, besides the 1-2 helicopter emergency medical evacuations per week. It has grown into a pristine little nature reserve, a real biotope where nature could develop freely without any human intervention. Bushes and plants taller than a person, exotic plants rarely seen elsewhere on Lamma, a wealth of butterflies and other insects, the most impressive, dense hedge on Lamma along the seawall and a really wild forest covering the entire hill, full of fascinating trees, bushes and creepy crawlies...
I couldn't resist to have another look (see Taking Sole Responsibility for My Safety) a few days ago and shot many photos for my Lamma archive before it'll all be totally cleared and turned into more concrete and steel soon: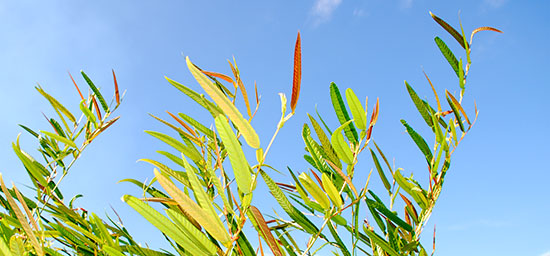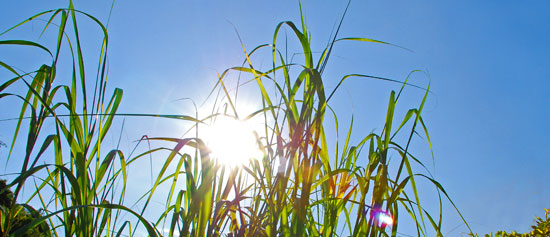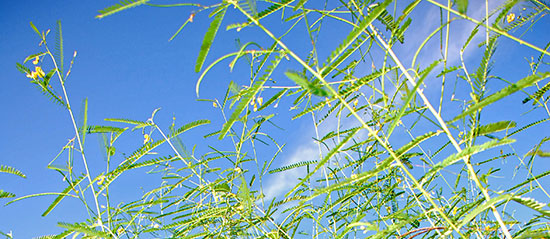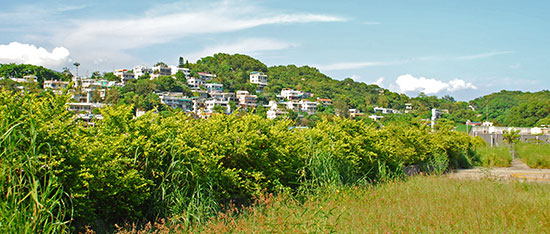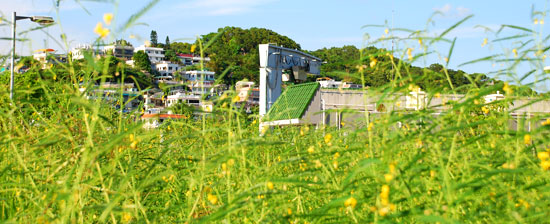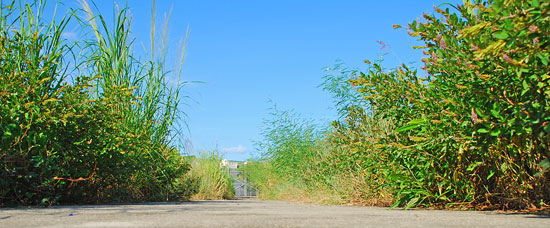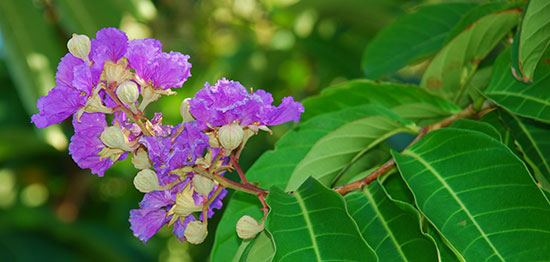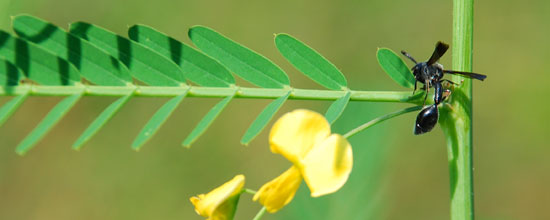 Hilary Sheers - Sister of the late long-time Lammaite Susan E Sheers. She recently visited Lamma together with her sister Gill, meeting many friends of her estranged sister Susan. I asked her for a few impressions of her visit.

(all photos by Gill Sheers)

Lamma-Gung reminds me that I still have not written about our "long stay" on Lamma Island. Was it a long stay? It was a scant week - a week that flew past - a week that was not long enough - a week neither Gill nor I will ever forget.

Hanging from our living room ceiling is a red satin tasselled pig I bought in the gift shop just along the street from the Bookworm Café; from the kitchen noticeboard dangles a string of pearly fabric flowers that Maria gave us, pinned beside a photograph taken in a booth at the station on our way to the airport for the flight home, of Linda, Daisy, Gill, me and Milo squeezed into the booth – Linda's idea. Wonderful!

I drink green tea several times a day from an ingenious lidded cup with a strainer that Daisy gave me for my birthday. My earrings now live in the little satin purses that Annie sent me. My favourites came from Maria's shop. I often wear a bracelet that Tanya gave me. Whenever we have curry I remember the kindness of Amar Singh and his gentle wife.

When we eat Chinese food I use chopsticks that Linda gave me. I remember Tamara and I on our shared birthday, born in the same Chinese year two cycles apart, idling away the entire day at the Deli Lamma, in such wonderful company that it was truly one of the most memorable birthdays of my life (and I have had too many of them) for all the right reasons. Not least of which was Tamara's and my birthday cake of the yummiest chocolate (a gift from Tanya), the impromptu song with ukulele accompaniment late in the evening and the people, Susi, Alan, Jim, Clive, other names escape me (life is increasingly a succession of senior moments these days – at least Sue has escaped that).

Gill's birthday – 3 days before mine – was memorable for all the wrong reasons. It was the day we collected Sue's death certificate and because my handbag was too small, Gill carried it for the rest of the day, unable to put the fact out of her mind, even as we explored the night market with Linda.

I live in an English village near the windswept East coast and the confluence of two rivers that run slowly through wooded countryside, so the noise, the bustle, the heavy, hazy city air was a shock. We had come to a city, like any other, yet a city in a different world, more colourful, noisier, faster. The ferry ride was comfortingly familiar, though the boat was more luxurious and bigger by far than the overgrown open dinghy that runs between Harwich and Felixstowe.

When I think of Lamma I picture the tiled buildings, the hazy light, the dragon boats on trestles by shacks on the beach, I remember the shrines and the big temple, the climb up never-ending steps past Tanya's house to the farm where Maria lives and Sue once did. I remember the graves we passed along the footpath, the white suburban houses with their almost European gardens, the small beach that Sue had loved.

The narrow street seemed long and impossibly crowded that first day, then quite short and very, very familiar on the last. The tanks of live fish fascinated me as did the stream of people coming off the ferry. I loved the absurdity of towering stacks of furniture or crates of beer balanced precariously on tiny trailers pulled by something little bigger than a lawn mower. I loved the line of toilet seats at the main junction and the confusion of shops from pound shop to boutique. I loved the night when, almost sober, I lay stretched out on the street almost touching the walls on either side for Gill to take a photograph.

I remember following Daisy late one night along dark footpaths winding in and out between small blocks of flats – and losing her suddenly, then managing to find our way home through the blackness with astonishing ease.

I loved the taste of mangosteens, the Chinese meal we ate looking out across the bay, that I could have my usual coffee with soya milk in the mornings at the Bookworm Café, and lunch at Daisy's house – genuine Chinese food – and Daisy insisting on massaging my swollen feet.

I loved Lamma.

It was not a trip for tourism, so there are many parts of the island we did not visit. But I will be back with my husband as soon as funds permit.

Gill and I came to Lamma for the saddest of reasons yet, as Linda so beautifully put it, although Sue in her lifetime was not a giver, in leaving us she gave us the most wonderful gift of all, friendship.

What she gave us too was the opportunity to meet the most amazingly tolerant, forgiving, supportive community of people who knew our sister as she was and were true friends to her. We believe she found perhaps the only place in the world where she could be as happy as she was capable of being.

Thank you all.

Less than two hours ago, after 8am, a "Superjumbo" Airbus A380 made two promotional fly-bys through Victoria Harbour, circling Hong Kong Island and passing north of Lamma Island twice. It was flying at the incredibly low altitude of around 300m, lower than the 420-metre-tall Two ifc, Hong Kong's tallest building, close to the Lamma ferry pier in Central where big crowds gathered along the harbourside. It reminded many of the former Kai Tak airport in the middle of the cities, but for others it was a sad reminder of 9-11, a low-flying plane so close to skyscrapers. Airbus has been pulling off the same promotional stunt already in many cities around the world, eager to improve poor sales so far for the A380.
The first photos came in within minutes of the fly-by and were posted in our forum: Airbus A380 Fly-by, also many thoughtful comments. Some of Lamma's famous bird-watchers got out their BIG ultra-zoom lenses. Two photos by zep: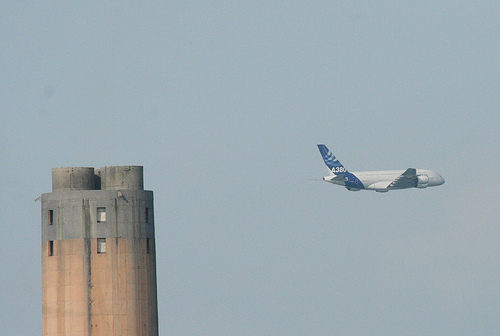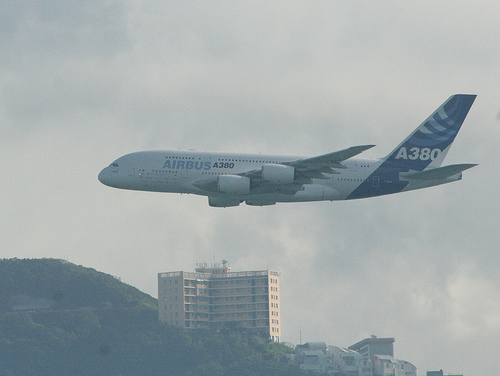 Two more photos by Donna: (click below for her photo gallery)

This most alarming map appeared on the SCM Post cover page on Thu, Aug 30. Lamma COMPLETELY submerged by 2030 because of Global Warming, together with our sister island Po Toi and quite a few other coastal areas in Southern China!
Should we all head for Mt. Stenhouse, man the lifeboats, eh, sampans, or start building an ark, just in case? Will the current generation of Lammaites be the last one to live here, before Lamma will vanish underwater like another fabled isle, Atlantis, so long ago? Far into the future, this website might survive as one of the few remaining relics, rediscovered by cyber-archaeologists who will be searching for clues if Lamma ever truly existed or if it was just another ancient, beautiful myth of a subtropical island full of peaceful "hippies", flowers and colourful birds, before it was submerged forever...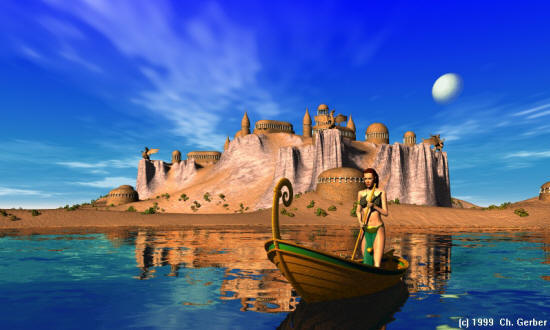 Reading the SCMP's short story, it mentioned a maximum rise in seawater levels of 30cm by 2030. The story actually talked mainly about the Pearl River Delta and only mentioned that some parts of Lamma might get submerged, but who reads these stories in their entirety instead of just looking at the map and checking if their home will remain safe? All of Lamma's "submerged" on the map!
More realistically, it would be more like just a small part of a few sandy Lamma beaches would be flooded occasionally at maximum tide at full moon for 1-2 hours a few times/year by 2030. But nobody living here would be inconvenienced in any significant way, I think.
Notwithstanding this, Global Warming is becoming a huge problem and will impact coastal regions worldwide pretty seriously soon. But the actual, occasional, rare flooding of Yung Shue Wan Main Street probably won't happen this century, if ever.
Is this just another case of shoddy reporting, incorrect infographics and fear-mongering from the SCMP? Or is it an evil conspiracy to discredit Lamma and make people afraid of moving here? "Move to Lamma and you'll drown in a few years!"
Ed Banger opined that "It's a pity that there isn't a little brown dot on Quarry Bay where the SCMP offices have dropped into the sea."
This fear-mongering map caused quite a few comments in our Lamma Underwater forum...

Suzie Wonton - Lamma Newbie and Lamma-zine "Staph Reporter"
(all photos by L-G, including Suzie's 4am notes)
FEE FI FO FUM, THESE BOYS SURE KNOW HOW TO STRUM
LAST SHOW, ONE NIGHT ONLY, MONDAY, SEPT. 3, THE WATERFRONT
In the past few weeks, the lives of random Lammatopians have been culturally enriched, no, not by the literati of the Lamma.com.hk forums, but by the musical talents of two British Council Britons. If you happened to walk by the Banyan Bay Café while they were playing, you would have been lured in by the sheer delight of stumbling across the talented pair giving an impromptu concert in the cozy club.
As a newly appointed Lamma-zine staph reporter, covering all the socio-cultural bacteria that are fit to print, I decided this was newsworthy. Living life at the speed of Lamma though, it took me two weeks and a kick in the pants to get to it.
4am, some nights ago, the Waterfront:
A Johnny & Andy fan handed me a few sheets of paper and a pen, and maneuvered me into position at the bar beside Andy. "You've got to do the interview now. They're leaving tomorrow... I mean to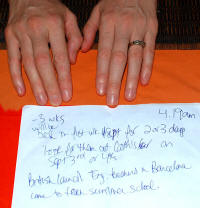 day, it already is tomorrow."
"But Johnny's not even here. Can't we …"
"Tough, Tatonka. You gotta do it now!"
Major inward groan. Everybody in the bar was cross-eyed by that point. I couldn't find it in me to protest, but neither could I think of any intelligent questions. We'd all had a few too many for that. But Andy was a good sport. He broke the ice by explaining that as a matter of national pride, he puts an "e" on the end of the word shit, to make it "shite". I replied that it sounded to me more like he was saying "shoite". He thought "shoite" was more Irish-sounding than "shite", which is an important distinction if you're a hard-headed Scot, like Andy. I'm not sure how, but we eventually did get around to talking about music.
Turns out Andy Gemmell and Johnny English have been making annual summer treks to Lamma for a few years now, always with guitars in tow and, for Johnny, harmonicas in hand. The two live in Barcelona and come to Hong Kong each year to teach summer school. Lucky for us, they keep coming back to Lamma.
It's a real thrill to watch these guys play. When I first saw Johnny & Andy at the Banyan, and heard they were here with the British Council, I thought the BC had brought them to Hong Kong as performing musicians. No; they teach English in Spain, and come here to do the same every August. It's an easy mistake to make. Johnny & Andy come across as a seasoned, polished duo, which is all the more amazing when you learn that they only play together casually, once a week on the beach in Barcelona, just for fun, their audience whatever drunken beach-dwelling rubby-dubs happen to be within earshot.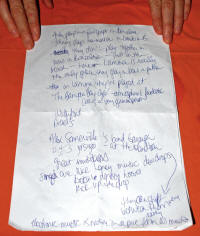 The pair's acoustic guitar repertoire is hefty, from classical, blues and jazz to, yes, disco ("I Will Survive"), from "Dueling Banjos" to the Doors. Occasionally, Johnny will reach into his bag of a million harmonicas, pull one out, and let 'er rip. (Turns out B flat minor is not a Chinese bra size.)
What really comes across is how in-sync Johnny and Andy are while playing. Andy explained to me that music is a conversation, a give and take. That becomes apparent when these two play together. More than just a conversation, it becomes a full language. Andy & Johnny will play for hours without taking a break, communicating uniquely by means of rhythms, melodies, a glance and a nod. And ya, there are lots of those really beautiful, complicated songs where they both end miraculously at the same time and you can't for the life of you figure out how they knew to take that last strum in perfect unison. No cheap 20-minute sets here.
These guys love making music, and that makes their music invigorating to listen to. "People connect when you play with conviction," Andy tells me. Their conviction is particularly evident when they finally take a break to have a beer -- they look like they've been lactating when they put down their guitars. Those boys work up a sweat.
I couldn't ask Johnny what he makes of Andy, because he was sleeping at 4am like a normal human. But for his part, Andy holds the musical abilities of his partner in high esteem: "Johnny's one of the most meticulous finger pickers I know. He has a degree of attention to detail that I lack. I'm a rough strummer, more of an impulsive player. Plus, Johnny's an absolutely fantastic harmonica player."
Lamma is, in fact, the only place where Johnny & Andy play together in public. The duo appears and plays spontaneously at various local venues including the Banyan, Diesel's and the Waterfront. In past years they've played with Garoupa at the Island Bar. Andy's a big fan of Alex Sommerville and his band: "Their music is like honey music dew drops, the way they shift so easily between songs … and then like kickin' donkey hooves … they really kick up the drop." At least that's what I think he said. My notes are a little blurry.
Johnny & Andy have taken off to Thailand for a little R&R. However, word on the street is they'll be back and playing for one night only, Monday, September 3 -- ya, the day after tomorrow. The Banyan's closed on Mondays, so those in the know say they'll be at the Waterfront. I can't say exactly when -- you know how these artsy boys are. They'll start a'strummin' when the spirit moves 'em, sometime in the evening. But they're well worth the wait. Hope to see y'all there.