June 30: Garoupa Goes Underground!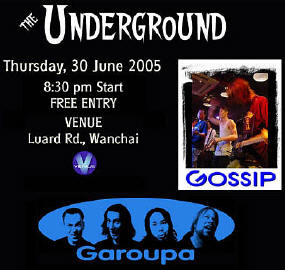 I've been calling very popular Lamma band Garoupa Pheromones of Musical Fertility in jest in 2 recent blog stories about them. Then I got this friendly email from Alex, facial contortionist & lead singer:
"All Garoupa news can now be accessed at blog.garoupa.net or via www.garoupa.net.
But would be very grateful if you could stop calling us the Pheromones of Musical Fertility as people keep asking us if we've changed our name and why!
Many thanks again."
It seems I've been naughty, taking this evocative name from a BC Magazine story about them! I'm very sorry, Pheromones, eh, Garoupas! But I still like the new name better, grumble, grumble...
OK, quoting from the Underground site, describing our fast rising musical stars:
"GAROUPA: A jolly bunch of lads from all over the bloody place (UK, NZ, Sweden, Philippines, Hong Kong), Garoupa brings together diverse musical influences and experiences to form a unique blend of rock, funk, blues and reggae.
Alex Sommerville spazzes about on guitar, and lead vocals, complete with epileptic knees and spastic facial contortions, Gary Hill flails mercilessly at the bass, sometimes lending a delightfully discordant air to the backing vocals, drummer Magnus Norberg stuns the ladies with his enormous prowess. Nell Inciong brings wistful vocals, thunderous rhythm guitars and picturesque bongo paddling to the mix while Tim Hills shreds it up with his ludicrously over-the-top lead guitar and xylophone stylings. Mmmm, creamy."

Great logo, guys! Designed by Harry, it looks like this Garoupa had a swim in Victoria Harbour or lost a fight with a swarm of piranhas! Like a swarm of their many groupies descending on Garoupa after a concert, hungry to get a piece of their idols, or at least an autograph?
If you can make it to the Garrulous Garoupa Gig tonight you might catch me or my new assistant photographer & gig review writer Nick the Bookman, taking candid photos all over, above & below the bar. It's the very first time ever that Nick is using a digicam (borrowed from me) - the results should be most "interesting"...
If you can't catch any of the Garoupas spazzing, flailing, stunning or shredding tonight, you'll have another chance on Saturday:
World Battle of the Bands - Semi-finals: Sat, July 2, from 10:30pm, The Fringe Club, Wyndham St, Central: Cost: $80.
LINKS: poster, blog, website, more info, map, Underground website.

June 29: Lamma Sunrise/Sunset Photo Contest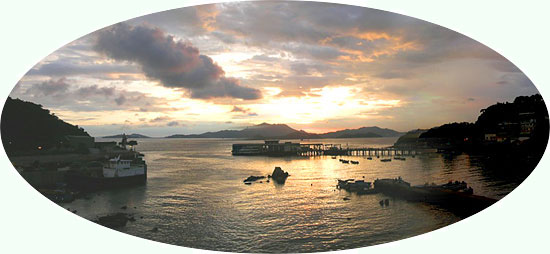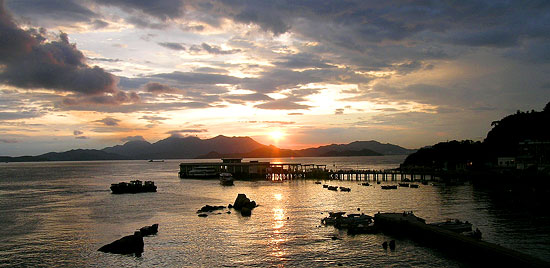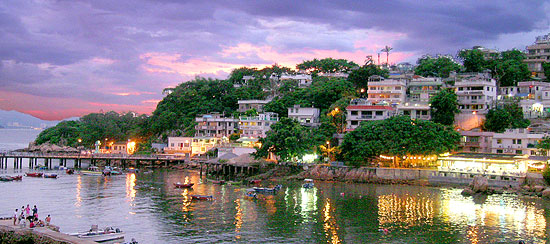 Sunset over Lantau today, shot from a Village House rooftop right on the beach of Yung Shue Wan harbour - w/tripod & auto-timer. The oval one was stitched together from 3 photos into a panorama.
Send your photos of sunrises & sunsets to me - either

shot on Lamma or showing Lamma! The best ones will be featured in this blog and the winners will receive nice prizes. All entries will go into an official contest photo gallery, like the last My Lamma Photo Contest I ran two years ago.

June 28: Power Station Beach Clean-up

Above: Lamma Fun Day 2004. Below: same beach today, photo by Katherine.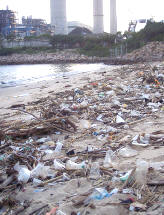 The Power Station Beach has been trashed by the storms - trashed BIG TIME. It's hard to see any sand for all the rubbish, which ranges from tables to cows' stomachs. I've organised with the Food and Environmental Hygiene Department for a beach clean up, this Sat (July 2), from 9am. The dept. will provide the materials and take the rubbish away. We need as many volunteers as possible to help restore our beach to a usable state.
If you can help, please email me as the department wants to know numbers.
See you Saturday!

Lamma Fun Day, Nov 21 2004, on Power Station Beach.

June 27: Sunset Watchers
After weeks of subtropical rains every day, the sun is finally breaking through again and we're getting some amazing sunsets. With Yung Shue Wan harbour facing the sunset, it's a great spot for watching it. Some of us love to congregate at the beach to admire this free live spectacle, alone or with friends (see right). Nothing strange, religious or "nature-worshipping" about it, we just love sunsets! As they're so uniquely beautiful and constantly metamorphosing, pictures can preserve my fleeting memory.
But after the end of nature's show, I got attracted by an artificial sun shining all through the night...

P.S. A few people liked my sunset photos below. Here are a few more:
Lamma-rama 2002; Sha Po Village Nights; Panorama Lammarama Sunset
Chuckm from Vancouver just suggested a Lamma Sunset Photo Contest!

OK! Email me your sunrise/sunset photos taken on Lamma or showing Lamma! We'll run a poll in our forums to determine the best ones. Prizes galore! All the entered photos will be displayed in a photo gallery on this site & winners showcased in this blog!

June 26: Sunset at Lowest Tide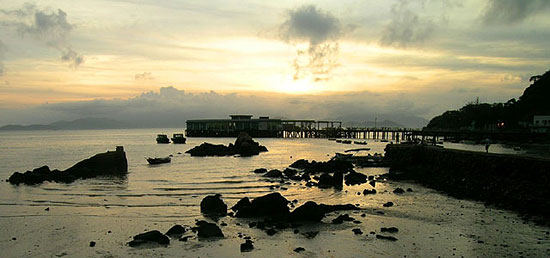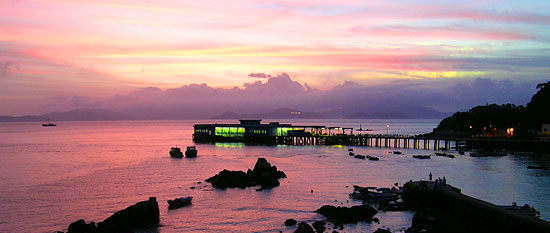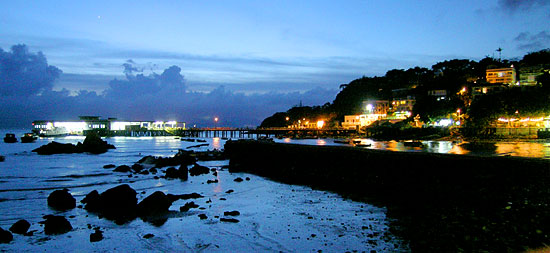 Just a few pictures taken last night, at almost maximum low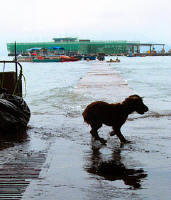 tide of the year so far (0.1 metre). I took all of these from the rooftop of the Water Front Bar & Restaurant building, in various automatic scene modes on my fancy Bontempi Gigapix Fandango i-Bamboozler (wishful thinking only) digital camera, described below.
Would you also like to see how Yung Shue Wan harbour looks like during maximum tide, when the ancient stone jetty gets actually flooded for just a few hours twice a year (2.5+ metre)? See photo on right.

June 25: Who's Paying for This Website?
Some new forum members have been asking how this site is run and financed. Some have even been wondering if this is a semi-official site of the District Council, local politicians, a special interest group or some local business, for example a property agent or moving company.
No, no, this website started out as just a little hobby, something fun to keep me (a semi-retired dotcom dropout) occupied. Almost three years later, it's grown from a self-financed labour of love into a fully advertising-supported website. There were ONLY forums at first, founded solely by webdog, a HK-Chinese guy, on July 23, 2002. I joined him a few days later as co-site administrator, soon adding the Lamma-zine parts of this website (see top of this page).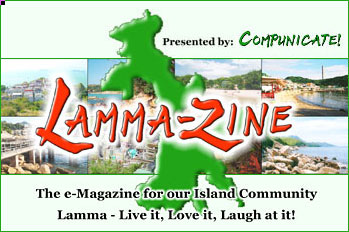 Webdog paid for the hosting of the forums ($50-90/month) and I paid for the hosting of the Lamma-zine parts($100-250), hosted on my own server. He left Hong Kong for good lastyear; since April 1, I'm paying all the bills myself. Many many thanks to webdog for financing the forums for so long!
For a few months now, the advertising on this home page can cover all the numerous little site-related bills & expenses (website hosting w/lots of server disk space; Broadband charges; printer ink, paper & color-photocopies for promotional flyers, posters & rate cards; CD-ROMs; camera memory, etc.) There are currently three great, long-term, paying advertisers on this home page: Links Relocations, Life Cafe & Village Bakery (soon). If your co. would like to appear on this home page, contact me! Huge commission for you for introducing a new advertiser!
Building & maintaining other websites for paying clients (Compunicate! Web Publishing & Interactive Marketing) is what pays my own modest household bills.
As the only remaining site owner & administrator, I perform all the work on the site (html, graphics, programming, webmastering, troubleshooting, backups,...), plus most of the editorial, design & photography for the Lamma-zine pages (Blog, magazine, Events, Links, Galleries). I also moderate our non-commercial, free-speech forums, with the invaluable help of 10 volunteer moderators.
All together, it's almost a full-time job, especially with this news-hungry, 7-days-per-week Lamma-zine Blog, fed with interesting material from many great sources & most helpful contributors, like yourself, I hope!
All clear now, like Yung Shue Wan harbour water?

June 24: Loverly Flat with Porn Star Bathroom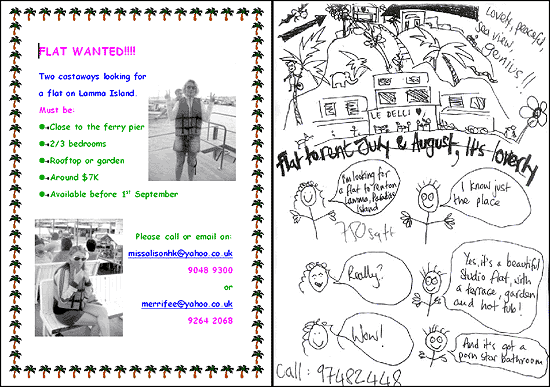 Summertime, many Lammaites are leaving for the summer break, lots of posters on the walls, looking for people to rent or flat-sit their places all summer. See these two nice examples above, a professionally formatted, colourful one and a funny, cartoony one. One is looking for a flat, the other one is offering, so let's simply connect them directly! And no half-month fee to pay to an estate agent!
But I'm still wondering, what's this 'porn star bathroom' the 'loverly flat' got?
If you're looking to let or rent a place, you're welcome to place a free ad into our 'Buy & Sell, Rent & Let' forum. For more details on renting a place on Lamma, check out my quite comprehensive advice in this blog on April 17.

June 23: Giving Birth on the Ferry (Almost)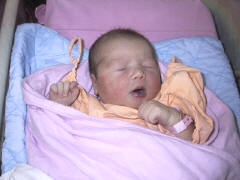 Living on an island with only an "office-hours" clinic and no hospital has many challenges, especially in case of accidents and emergencies, like most births! It's become almost common practice for mothers to be flown to hospital on HK Island when the baby's due to arrive very soon. My former neighbour actually gave birth on the helicopter itself!
Another option is simply to take the ferry. Mr & Mrs Pretty recently managed to get from Lamma to Queen Mary Hospital in a mere 50 minutes! That's 10 minutes faster than by Lamma ambulance and helicopter, according to my own helicopter flight with Lamma-Por 2 years ago!
Here's the story of pretty Isabel Pretty's birth on June 2, as told on my request by Mr Pretty himself - the happy father of 3 (so far) little, healthy Pretty ladies - in his very own new blog with family pictures:

June 22: 'In at the deep end'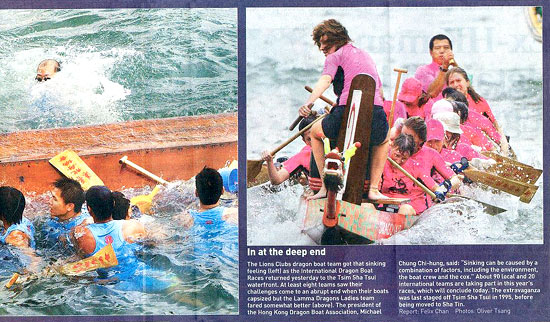 (C) Sunday Morning Post, June 19 2005
Our all-pink Lamma Dragons Ladies team at the International Dragonboat Races in Victoria Harbour last Sunday! Happy about their performances, they were very unhappy about the lousy organisation of the races again this year. They posted a forum message and wrote emails about it, as hardly any of all the many problems were reported in the press at all. Let's address these here and let them air all their grievances freely:
Moley - Lamma forums member, posted this message (click to read):
Claudia - Lamma Dragons PR:
Just read that link and everything they said is true.
One thing they didn't say that the seating area for the teams was over the walk over on the other side of the main road. They thought perhaps that the competitors didn't want to see the races?? We of course took our stuff and sat on the promenade... By the next day at least they tried to provide seats and tables for the many teams, so we could see the races.
Yes there were loads of problems, delays and general lack of vision, not surprising they don't attract many international teams. But I, and I'm sure most of the team enjoyed ourselves, as we love dragon boating.
Katie - Lamma Dragons Women's team captain:
Yes – the dragonboater's complaints are absolutely spot on.
It was great to be back in the harbour, but it is a crying shame that the organization of this event is still handled by our official body, the Hong Kong Dragon Boat Association. Larger dragon boat competitions are run efficiently and fairly all over the territory by groups far smaller than the HKDBA, but none of this knowledge and experience seems to be taken on board. The programme lists hosts of people on the organizing committee but you get the feeling they are only there to promote their careers. The most basic mistakes are made every year.
Hong Kong should be hosting the best event in Asia since people do associate dragon boats with China. However, the event is so poorly organised and run that and most of us would be embarrassed if any of the overseas teams we do meet internationally came to Hong Kong.
The Lamma team wouldn't have gone because the event sucks, as mentioned, but we were feeling pretty good about ourselves and wanted to take on the territories best – Chai Wan and IPC. The only time we were able to meet these teams was at the Internationals, so Peter Berry (Editor's Note: Co-owner of the Island Bar, the spiritual home of the Lamma Dragons) helped us with the team entry and off we went. Luckily, the Lamma North Fishermen were also racing so we had lots to cheer on during the long, long, long wait for our race. We always feel that we don't perform our best early in the morning, but try 7pm at night!
We beat Chai Wan and were ahead of IPC all the way, but they pulled off a little more steam at the end and took 2nd. The first place went to the 'international' team, a boat of 20-clones from NanHai, PRC. They are always awesome, but as we battled it out with IPC, we found ourselves closer to them than ever before.

The event sucks, but we had some great racing.
Attached is a picture from Stanley of the Mixed team - sponsored by Habitat Property - with our 3rd place cup out of a competition of 43 entrants!"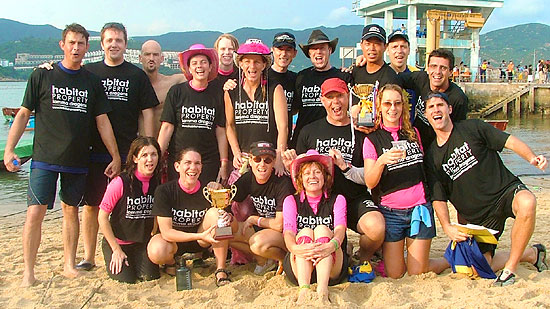 June 21: English Day at Northern Lamma School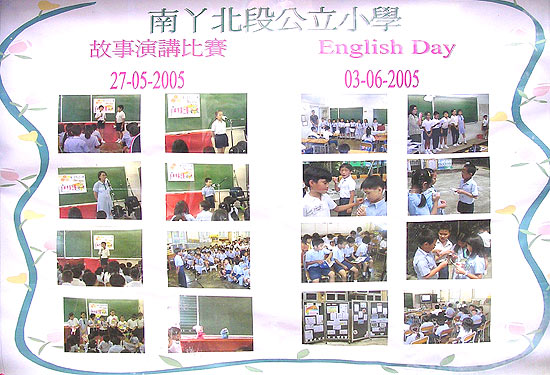 The school website's menu above has these options:
INTRODUCTION
NEWS
ACTIVITIES
Children's Corner (with a showcase of the student's essays and artwork)
e-Learning Centre
Library
Counseling
Alumni (Guess who's alongside Mr Fong Loi as a Honourary Alumni Chairperson? Our very own Hollywood superstar - Mr Chow Yun-fat!)
Parent-Teacher-Association
Contact us!

Between the Sampan Seafood restaurant and the City Hall on High Street, there's the public noticeboard of the Northern Lamma School, see above. It showcases the latest activities and events in our very active and lively local primary school, often many weeks ahead of their website.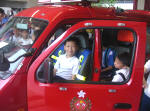 This very good school is attended by children of many nationalities, with a huge percentage of non-native Chinese speakers. The "Storytelling Competition" and "English Day" above looked really interesting, so I've had another closer look at their recently relaunched website. Our Official Court Translator Samson has been translating the home page. Thank you!
"The Northern Lamma School was founded on 12 December 1949, and it is the only primary school on Northern Lamma.
The NLS' historic roots can be traced back to 1922 as the "Chan's Education Centre" in Tai Wan New Village. Moreover, another school was founded in Tai Peng Village in 1913. The Tai Peng school was successfully registered with the Education Dept. and became a government-subsidized school in 25 March 1946, and school fees were reduced.
In a move to provide better education facilities and environment for all school-aged children on Lamma, the local villagers built a new school at its present location (Editor's Note: Yung Shue Ling) in 1949. On 12 December that year, the Northern Lamma School officially came into being, while the Tai Peng school was closed. Student numbers have increased since the Northern Lamma School's establishment in 1949, an extension building was opened in 1963 and the school adopted its current name in 1998."
For any school questions, call them at 2982 0242 or email them. I'd love to publish more articles about this great little school where the most famous Lammaite Chow Yun-fat is one of the alumni. Parents with children in this school would be most welcome to write a few words for this blog! Contact me!


June 20: What's Up in the Chinese Forums, Part II?

The Chinese Forum of this website have remained hyper-active in the last few weeks, far surpassing the number of posted messages in all English forums put together. On June 1, our Chinese forum moderator Samson did a little update of what people have been talking about in there. It's time for another look, as Samson has recently safely returned from a business trip over half of Europe:
Samson - Official Court Moderator of All Chinese Forums (that snowman avatar of his below must be made of very durable plastic, withstanding the summer heat melt-down):

Who do you recognize on the streets of Lamma? We discussed the well-recognized characters on our fair isle – and guess who's the most recognized of all? You guess it! Nick the Bookman! (No one have claimed to recognize Lammadonna... I wonder why...)

Rain... And I don't mean the Korean celebrity! The damp and gloomy weather condition has continued across Hong Kong for much of the past fortnight (thankfully, I missed most of it!) so we briefly discussed all things rain related. (Hey – this particular thread features the famed message #20,000!)

How much does it cost to rent a holiday house on Lamma for just one month? Our new member and soon-to-be-Lammaite, labelle will (literally) go for broke in August by paying HK$8,000 for a holiday flat – a "small" price to pay to test-live the Lamma life for one month only?

HKKF are the good guys? According to reports on the forum, HKKF sailors have stepped up their efforts in enforcing the no-smoking on board policy, as 2 passengers were stopped from boarding at the Central pier!

Speaking of our trusty ferry services, ever thought about giving birth on board? Apparently an expat lady almost did some time ago on the ferry to Central! She held on until she was transferred to hospital anyway. But we wondered whether HKKF would be kind enough to offer the baby life-long concession fares...

One of our Chinese-posting members has got time to spare and want to volunteer... but who and where are the volunteering organizations on Lamma? Please can someone shine some light on this?

This topic comes up every so often – but will VV drivers and cyclists please slow down!!!

Finally, our inquisitive members discuss how the My Lamma Forums came to be, how it is operated and financed. It is most interesting to note that our own maverick member, laukwaimei, was under the impression that the forum was run by the District Council to gather and gauge public views...
If you'd like to read for yourself, in English, here's a tip from our moderator Alan:
Click here to get an instant Altavista Babelfish translation of the entire Chinese forum, in the original format. You can move around normally inside the Chinese forum, jump from topic to topic and get not very good but instant & automatic translations!

June 19: Wow, Forum Message #20,000!
Message #20,000 has just been posted by Samson in our Chinese forum!
He describes the high-volume, undulating (up-and-down:

), "sweet melodies" of Lamma's nocturnal bullfrogs and toads choir, which is currently putting impressive nightly performances in the farmland at Yung Shue Long!
In his message, Samson suggested to go on an evening excursion to find these creatures! He writes: "A pun here, the Chinese characters literally mean to use a torch to find toads in the fields or farmland at night - but it can also mean catching passionate lovers in the act at night, in colloquial Cantonese..."
Samson is the recently-appointed moderator of the Chinese forum, I still wonder if this is all just a lucky coincidence or if he "timed" his message, watching the slowly rising message # counter closely to post just at the right time? He says that it's sheer coincidence... Hmmm...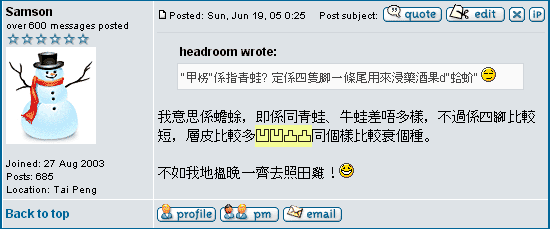 It's just been a little over a year since message #10,000 was posted by Foxy on Apr 27 last year. He won ONE beer back then for this achievement. Samson obviously has just won TWO beers!
It took two years to reach the first 10,000, only one year for the second 10,000, so it might only be half a year to the next milestone? Who'll get THREE beers (or any other drinks) in half a year or so? In recent months, we have been averaging over 30 messages/day, one of the most active forums in all of Hong Kong!
These forums are speeding up so much, especially thanks to all of our very active posters of Chinese messages! Next summary of what's happening in the Chinese forums is coming up this week in this blog. There are a lot more Chinese messages than English ones these days! After almost 3 years of English totally dominating our bilingual forums, Chinese is fighting back and leading, at least for now!
Like some more figures? 914 registered members opened 1,540 still active topics in currently 23 forums, writing over 20,000 messages (24 MB) with 737 attached pictures (35 MB). Contrary to

popular belief, ONLY 12% are my own messages...
The 3rd anniversary of our forums is coming up on July 23, just 5 weeks from now! Reason to celebrate?

June 18: Happy 2nd Anniversary to New Holiday Mood!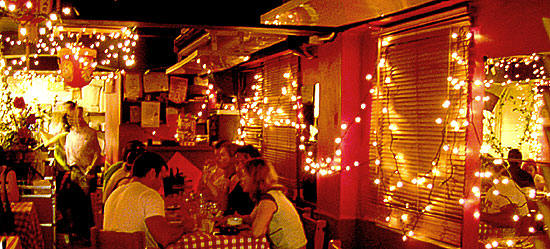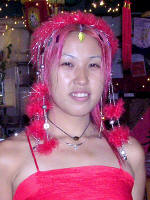 Would you believe it, New Holiday Mood on Main Street - managed by friendly,

ever-cheerful Ricky and his wife - has just turned two years young yesterday!
They celebrated with an All-You-Can-Eat-and-Drink Buffet at $88, plus one child/parent free! It was a sell-out, obviously, in part thanks to their very prominent ad poster on this home page (Want to get your own ad?).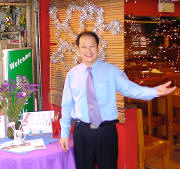 Manager Ricky Choi meeting & greeting potential customers.
After a few early service & food problems, they've managed to create a friendly, stable restaurant with good, dependable food at great prices. They offer Western, Chin. & Indian food, incl. catering, parties & takeaway. Really popular with tourists, for birthday parties & large groups coming in from town!
Best wishes for many more happy & successful years, New Holiday Mood, and I hope you'll remain a loyal Lamma-zine advertiser!


June 17: Bontempi Gigapix Fandango i-Bamboozler
Our discussion forums sometimes suffer spontaneous outbreaks of creativity, infecting numerous members within just a few hours. They all congregate in a single forum topic and join in a creative ritual called colloquially "making up loads of BS"! It can be a real joy to watch & behold, but it's even more fun to join in this Lamma ritual.
It's been happening spontaneously numerous times in the almost 3-year history of Lamma.com.hk. There was an outbreak observed today, started by senior member Beanburglar, who's always very quick with a clever quip or a merciless tease. He posted this message and picture:
"I managed to snap this rare moment with my Bontempi Megapix Fandango i-Watoozi. The Lamma ladies dragon bait team are never far from any party." (see right)
It initiated a small "bit torrent" of infectious messages within hours. Have a look in our still quite new, sleepy & innocent forum about "Pictures & Movies".
Yes, the "Bontempi Gigapix Fandango i-Bamboozler" above is a future digital camera, the successor of the prototype on the right. Many Lammaites are hobby shutterbugs and quite a few are famous professional photographers. Walking into a YSW bar, you can catch them sometimes comparing the latest models & specs; and "making up loads of BS", of course!

June 16: What's Cooking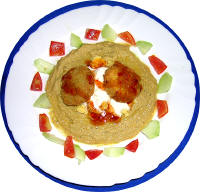 in Yung Shue Wan?
It's been a little while since our last restaurants update feature. Quite a few changes have happened, places closing & new ones opening, the eternal "Cycle of Life" of Lamma restaurants:
Closed: Lamma Bistro (future uncertain), Honey Bee (for sale).
Opened: Lily Garden (Tai Yuen), The Full Monty (fish & chips) Kiwi Cafe (our favourite new place). New menu in Deli Lamma (see right). Click on names above for more info & reviews.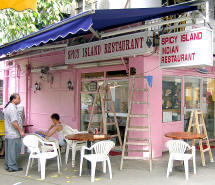 Spicy Island got a new paint job,
inside and outside. Proprietor
Amar (on the left) seems pleased.
May was Tourism Promotional Month of All Outlying Islands. Did you notice? Me, neither. None of the local restaurants seems to have been participating, putting on any promotions or special dishes. But some spent money for being included in a Delicious Food Promoting On Lamma tourist guide. It was only available locally in our "City Hall", besides the Policebox, amongst heaps of other "educational govt. literature". See below.
But what else is new in Lamma's restaurants? Let's show you via pictures I shot recently, totally non-representative, of course:

"Delicious Food Promoting On Lamma"

B&B: pork knuckle w/lots of veggies

Lily Garden, Tai Yuen Village: well-known for pancakes

Kiwi Cafe: fried chicken & fried rice

Kiwi Cafe: "original" sweet-sour pork

The Full Monty: "owner" & mascot, turning 4 years old next week

Deli Lamma: Fantastically Flavourful Falafel! New extensive menu

Blue Bird Japanese: set dinner, still great value

Water Front: pizza

Water Front: roasted pork w/plums

New Holiday Mood: seafood platter. Anniversary buffet on Fri, June 17.

Life Cafe, Soho: Beetroot Borscht, a most unusual dish

Life Cafe: daily changing set lunch: $100

Lamma Sweet House, Sok Kwu Wan: mango pancake.
DISCLAIMER: The following restaurants mentioned above are Lamma-zine advertisers:
Deli Lamma, Spicy Island, New Holiday Mood, Life Cafe.

June 15: Bluelotus - New Online Art Gallery

P.S. If you know other Lamma-based artists who'd like me to set up a free online art gallery, like the one above, tell them to contact me! Painters, sculptors, cartoonists, graffiti, computer & multimedia artists, photographers, designers, any visual art form!). Free photo shoots of the artworks, if necessary.
For earlier Artists of the Month, click on Galleries at the top of this page.

June 15: The Pleasure of Decimating the Opposition!

Another heat for the World Battle of the bands is on this Thursday night at the Edge in Central. Fast-rising Lamma band NUDE has entered and their exuberant, cheerful gaggle of local die-hard fans will surely cheer them on to triumph in this worldwide, friendly battle!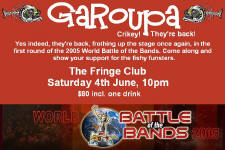 Lamma band "Pheromones of Musical Fertility" (also called Garoupa) has won their last WBOTB heat on June 4th in the Fringe Club. Last year, our ancient but still many people's favourite Lamma band The Bastards even made it all the way to the semi-finals!
NUDE at the EDGE: Thu, June 16, from 7:30pm: Edge, G/F The Centrium, 60 Wyndham Street, Central: Entrance $60.
NUDE info: 6187 2280 / 9309 0701
Links: Event info, Venue info, Map how to get there, Photos, BC Magazine article, Biography.
"Greetings Nudists,
Get NUDE this Thursday as they decimate the opposition in 'The World Battle of the Bands', whilst laying down some high voltage afro-beat disco-funk for your pleasure.
Featuring an augmented line-up of dangerously talented musicians. Wave your hands in the air, or just take off your rings and watch.
Unity in Nudity. Underneath, we're all NUDE."
No new poster yet, so this old one has to do for now...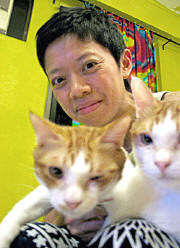 June 14: Gisela and the 'O Tsai Gang'
Our Lammaite of the Day is Gisela, probably the most comprehensive pet photographer on the island! Her numerous photo galleries of pet/stray cats & dogs, sorted by location (Po Wah Yuen, Sha Po Village, Ko Long, etc.). She writes:
"I am an aromatherapist / aromatherapy tutor...
love cats, herbs and a great fan of Herboland (You can find me there almost every Sunday morning).
Been living on Lamma for almost 3 yrs now! Have 2 cats of my own, Jack and Michael (you can view their album) adopted from the LAWC. I have been taking so many cats and other photos but not much of my own."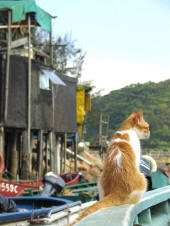 A charter member of the infamous O Tsai Gang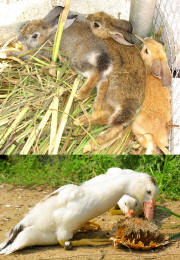 Have a look at the numerous photo galleries of Lamma's pets, with or without loving homes:
Photo Galleries Index,
Latest on Lamma Cats,
Lamma Cat Community,
O Tsai Gang (see left),
Lamma Dog Community.
Herboland Organic Farm (Hung Shing Yeh beach, it has pet chicken, ducks, even rabbits),
Lamma Wild Life.

June 14: Trap, Neuter, Release!
e - Lamma Animal Welfare Centre (LAWC):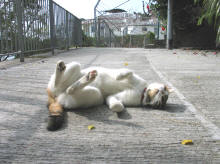 Tai Ping was the first cat colony on Lamma to have the benefit of "Trap, Neuter and Release".
Only a few years ago Tai Ping and most areas of Lamma were over-run by starving, diseased and quite dangerous cats. Now that they have been desexed, they have become healthy, friendly and a delight to have around. The cats are now considered by most residents to be a community asset.
In the old days their numbers were controlled by starvation, disease, toxic chemicals, dogs, snakes and VVs. Because of the TNR policy, overseen by the SPCA, and its acceptance by the community, starvation and the diseases
caused by overcrowding have ceased - but the other dangers still apply to all outside cats and the total numbers have gone down because they have not been replaced by breeding. The cat count for North Lamma 3 years ago was
over 700, now the number is only about 350.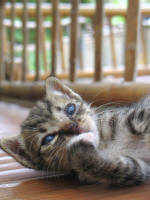 We at LAWC can assure everyone that the Tai Peng cats (and, indeed, all the Lamma feral cat colonies under our care) are fed every day and their welfare is constantly monitored by dedicated carers. In addition, Lamma residents are quick to let us know of any cats in poor health or vulnerable situations and we, in turn, respond immediately to trap, medicate, home where possible and, occasionally, relocate feral cats to a safer location. We are still trapping regularly - the white cat in the Main Street which Colette mentioned is one of the many we have desexed, but one of the few that does not have a designated feeder, since this skilled moocher is well able to take care of himself!
For readers' interest, there are still at least 8 mother cats in different parts of North Lamma that have become very clever at avoiding being trapped so we are still having to look after and home kittens during the kitten season - which is now.
We badly need more volunteers:
to help trap,
to foster kittens,
to adopt kittens and cats.

Please contact us at Lamma Animal Welfare Centre, 39A Sha Po Old Village, Tel: 2982 0800.
P.S. All photos courtesy of Gisela

June 13: Lamma Dragonboaters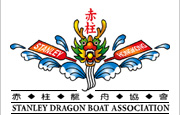 Victorious Again!
Dragonboat Festival races last Saturday, June 11, all over Hong Kong. How did the Lamma teams do?
Stanley: Lamma Dragons came 2nd in Women's cup final (like last year!), 3rd in mixed cup final! Incredible, as there were over 160 teams!
Aberdeen: The North Lamma Fishermen's team won two lower finals. One for the Fishermen's Group, the other an open race. The mixed team won the second (plate) final!
The team to watch at the international races next weekend (Tsim Sha Tsui) are Luk Chau (of Lamma) who won the large, 50-man boat championship at Aberdeen. North Lamma will be competing in the medium-size fisherman's race, maybe the open category.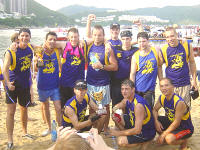 Amazing results! Congratulations to all

the paddlers, representing Lamma so well!
Sorry, no pictures yet, even though I've been trying hard to grab some from all of the teams. Can anybody attending the races help out?
P.S. A few pictures have finally arrived!
Above, from Gilman; right, from Eloelo; below, from Claudia! Thank you all very much!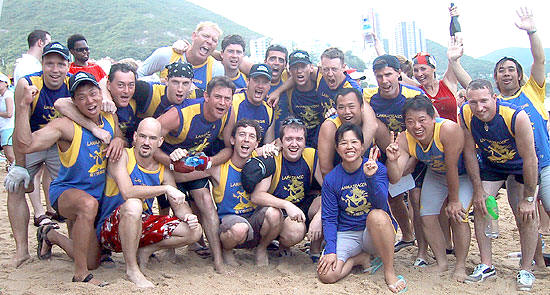 June 12: Sandra's Shadows after a Sunday Sunset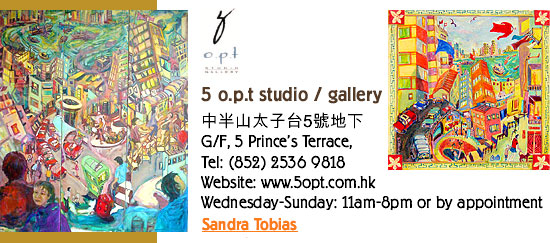 Former Lamma-zine Artist of the Month Sandra Tobias as another exhibition in the 5 o.p.t. art gallery, running till June 20, titled Shadows, part of the city-wide Australia - Art & About mega art show. She writes:
"These recent colourful oil paintings and egg temperas by Australian artist Sandra Tobias based in Hong Kong.
Sandra Tobias has been painting for twenty years. Her work is represented in several Australian and International Collections both private and public. She was recently awarded the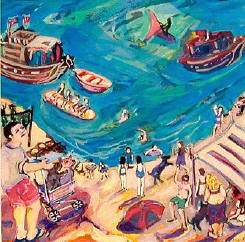 Artist In Residence by the Australia-China-Council in Taipei 2005.
These recent works reflect a sense of connection to the Urban space and to the traditional elements of Chinese life.
Shadows for me are;
Other views,
Other worlds,
A suggestion of the spiritual world and a connection to the earthly...
They hint at all that we're losing because of our choice to live as we do.
Shadows are sometimes the darkness that follows sunset.
I have been living in Hong Kong for a relatively short time (4 years). Hong Kong for me is a transient place, forever on the move. I live on Lamma Island with my husband (sculptor) and two children.
The things I love about Hong Kong are the ferry life, the burning offerings and the aspects of reality that you find when you seek beneath the veils."

June 11: Below the Ferry Pier, Part II
For a hopefully welcome change, let's highlight a serious topic today, instead of my all-too-frequent features about "frivolous" topics full of ironic remarks and all that "Silly Stuff":
Let's talk about ferry pier safety! Some of us stroll along the pier several times a day, sometimes even doing a 100-metre dash prompted by the ferry departure bell. Only rarely do we ever worry that the pier might just crumble under our feet, plunging us into our "fragrant" YSW harbour where only the most foolhardy would ever dare to go swimming.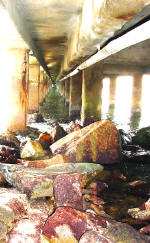 Fortunately, our benevolent corporate friends at the HK Kowloon Ferry Company are very concerned about our safety as well (and "potential negative publicity" in case of any accident). They have recently completed an extensive reinforcement of the underbelly of the entire pier's length. Some of you loyal, longtime readers out there might remember my photo gallery from Jan 8 2004, with this introduction:
"If you've seen a crackpot crawling & staggering around BELOW the ferry pier taking pictures in the last few weeks, that was Lamma-Gung on one of his photographic excursions, exploring some new, "unusual" views and angles of Lamma Island's "underworld".
See for yourself how it looked BEFORE all the construction began: Below the Ferry Pier. (Photos in this introduction have all been taken BEFORE! See Part II for new photos).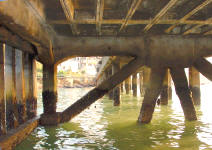 Being burdened with a sometimes unhealthy curiousity, I couldn't resist the temptation to check out what the construction workers have been doing down there for so long. Saving you the trouble to venture down there yourself into the murky, slippery, bug-infested underworld: just another example of the free, self-sacrificing community services of the Lamma-zine?
Below the Ferry Pier, Part II - photo gallery

June 11 - Dragonboat Festival - Tuen Ng:
Top 10 reasons to love dragonboat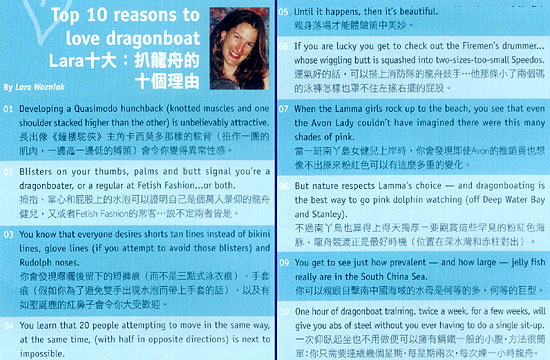 Reproduced with friendly permission from the June issue of Fit! HK magazine & website (major focus on Dragonboating). Pick up a free copy at bars & restaurants around Yung Shue Wan. Highly recommended!
Major Dragonboat races today: Go, Lamma Dragons teams in Stanley, Go!
Go, Lamma Fishermen teams in Sai Kung, Go!
Please send me photos of all Lamma teams & races, for publication in this blog!

June 10: More Graffiti from 'Media'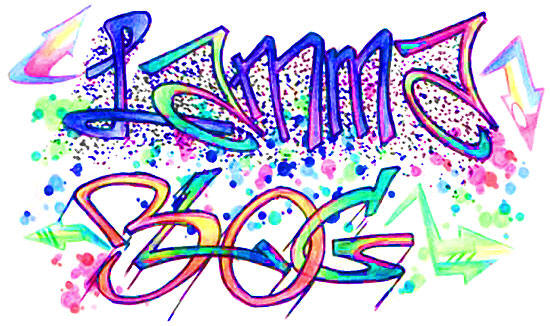 Media writes: "Here is a quick sketch I made. I don't really think it's any good, but since I did spend some time on it, I thought you may like to see it.
I will try again a few times and try make you something nice."
A really talented, but also truly nice & amazingly modest artist, isn't he?

June 10: Nick's Big Night Out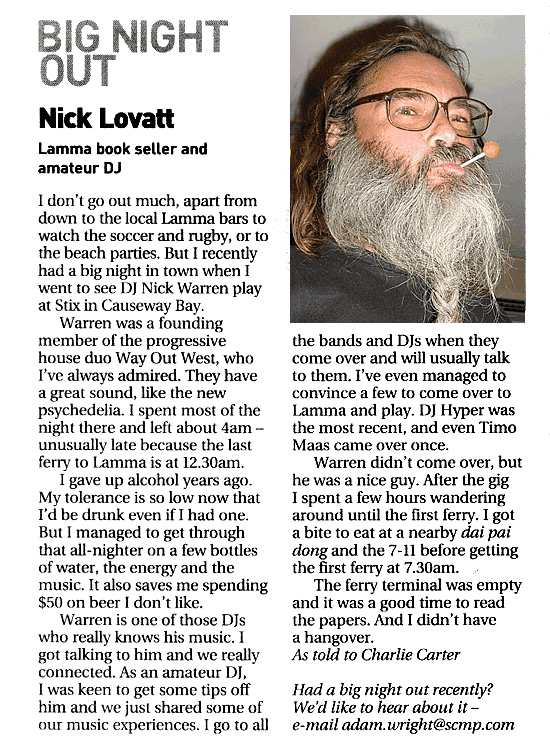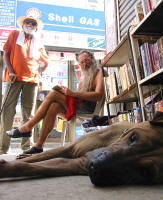 (C) SCMP, City section, June 8, 2005
Another press clipping from Nick the Bookman who seems to have an amazing knack to get his mugshot into print frequently. The photo (shot by Mr DickStock, Nick's "official" photographer) was taken from Nick's website I built for him. As the photo was printed in B/W only, I've replaced it with the original colour photo above. Since Nick stopped drinking, he seems to have developped a serious Lollipop habit?
Here are two more photos by the official photographer (one Laudable Lamma Luminary taking photos of a fellow Luminary), plus his website (part of Lamma.com.hk) and Nick's email address.
As a devoted Luddite, Nick's never even touched a computer. But as his private email postman, I'm printing & delivering his rare emails to his "office" above.
Email him and he might even reply to you - in long-hand!

June 10: Computer Crash Courses
When Nick proudly mentioned his SCMP appearance to me on Main Street, he also mentioned out the poster below on the Democracy Wall. I saw the poster, but didn't notice the amusing bit. Surprising that a non-computer user like Nick would spot it on a computer classes poster. Maybe he wants to join the modern world? Stranger things have happened...

Funny, I thought most of us are pretty good and experienced at computer crashes already, especially us long-suffering Windows PC users? So why take courses?
I'd like to learn how to AVOID those all-too-frequent crashes! A NON-crash course, now that would really be worth money to many people!
Maybe the courses are for Mac and Linux users, so they also can learn to enjoy the same adrenalin rushes, fury attacks, anger relief by cursing, hair loss from tearing our hair out, that we PC users are unfortunate enough to enjoy almost daily? It takes 3 hours to learn to crash a computer? I can do it in a few seconds!
If you really want to learn how to crash your computer, click on the poster!

June 9: Yoga Bunny Detox - Liquid Psychiatry - No Nasties!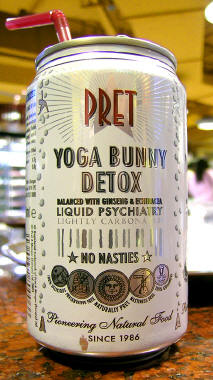 The Yung Shue Wan Shopping Mall (sometimes also called IFC Mall by non-Lammaites, located right at the Lamma ferry pier in Central, HK Island, opened there just for Lammaites' convenience, no doubt!), it's often a veritable wonderland of the weird and wonderful. New, amusing and/or cute shops popping up every few days, outrageously useless items being offered, fashionable but ridiculously expensive merchandise advertised; basically all the must-have items of a hyper-consumer, credit-card lifestyle that many of us Lammaites have long left behind for various reasons, for example:
longtime under-employment, liquids-only diet,
tuning-in-and-dropping-out, noble poverty,
tree-hugging & eco-aware lifestyle,
conversion to a barter-only, alternative lifestyle,
semi-retirement, reaching enlightenment...
But sometimes you come across something small, simple, looking so innocuous, revealing its surprising weirdness only after closer scrutiny:
For only $12 I found this object in the Pret A Manger restaurant (which means "Ready to Eat" in Francais). This place is even listed in the new! free! glossy, CD-sized "Guide of Culinary Inspirations - Designer Dining". Funny, I always thought it was just another fast-food joint. Well, anyway, this object above raises so many mind-boggling questions, perplexing to small but too-curious minds like myself:
What is a Yoga Bunny and how does it look like? And why are there no Yoga Bunnies in Pret A Manger, as far as I can tell?

Why do the Yoga Bunnies need to Detox? Isn't Yoga supposed to be very healthy for you? Detox from what, from the mysterious "Nasties", maybe?

What are these mysterious "Nasties" anyway? This object claims NOT to contain them, but their competition does?

Is this product calling for a stop to "Doing the Nasty"? No way!!

Liquid Psychiatry? Sounds like quite a few Lammaites seem to indulge in that all too frequently. But the list of ingredients reveals this object to be alcohol-free! That's cheating! Is there no truth in advertising anymore? Um, err, yes, there never was, of course...

Is this the favourite drink of all the Yoga Bunnies working out in all the fitness & health clubs atop the IFC Mall, um, sorry, the YSW Shopping Mall?

Do Lamma's several Yoga teachers know about this? What would Madhav - maybe the most flexible Lammaite, see right - have to say about this crass commercialisation of the formerly pure art of Yoga? "No need to exercise, just drink this!"

It says "Pioneering Natural Food Since 1986". I thought that "Natural Food" was what humans ate hundreds, thousands of years ago, before the Age of Processed Food, which gave us all kind of new, mysterious ailments?

Finally, why does this mysterious-sounding drink taste like just another grape soda? So disappointing, not up to my expectations, raised so high by the advertising!!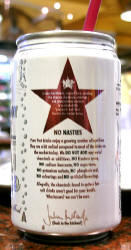 Well, am I just another stupid consumers tricked into a spontaneous point-of-sale purchase by all this aspirational lifestyle/attitude marketing? In the vastly over-crowded soft drinks marketplace, it's become almost impossible to establish the crucial USP (Unique Selling Point) to the increasingly sophisticated potential buyers. This on-product advertising is tapping into the current market preferences for natural/organic ("No Nasties"), health ("Detox"), fitness ("Yoga") and cuteness ("Bunny"). These are all cleverly chosen keywords printed onto a can of what is basically just another too-sweet soft drink amongst billions sold each year.
(Don't the phrases above sound oh-so-very-clever? Yes, I'm tapping myself on the shoulder right now...)
Or did Pret A Manger sign on as a Lamma-zine advertiser, paying me to advertise their "health drink"? Yeah, I wish...
Or did I buy the can because I immediately recognised its great potential for another "critical consumer" blog story, taking Nasties-free, digital pictures of it right there inside Pret A Manger, even leaving the empty can behind for recycling?
Or am I just full of BS and will write about ANYTHING I come across that amuses me and/or piques my esoteric interests?
YESSS, that's it! So we've finally found the ultimate answer to the way too many questions in this article! Congratulations! A round of "Yoga Bunny Detox" for all readers of this blog, right next time when we'll meet on Lamma's High Street!
P.S. Offer applies only on Fridays the 13th, from midnight to 1am, during all months ending in x.
And no, no! The ultimate answer is NOT '42', you geek!

June 8: Getting Ready for the Dragonboat Festival!

All the local dragonboat teams are getting ready for the Dragonboat Festival (Tuen Ng) races this coming Saturday. There'll be races in several different places around HK, but the biggest one will be on Stanley Beach in the South of HK Island.
There was a little blessing ceremony opposite the Yung Shue Wan post office, featuring this huge, custom-made lucky paper offering. The ceremony was officiated by Mr Fong Kam-hung, North Lamma District Councillor (ex officio member), a major Lamma landlord.
He's present at most of these official functions, but not as widely known yet as elected District Councillor Lammadonna. But she was also little-known to non-Chinese - and nickname-less - till I started featuring "Fun Tse" frequently...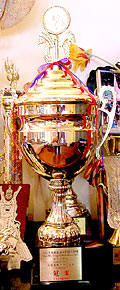 When I returned from town after watching a movie (Guess which one: "Stand by for commencement of life cycle!"), the display had been moved to the front of the Sampan Seafood restaurant. Many of the pieces had been removed and piled up on tables, especially the paper flowers, but also the central sail ship, leaving big gaps in the display. I wonder why? Souvenirs for the Dragonboat supporters?
At the same time a fishermen's Dragonboat team was feasting and living it up in Man Fung Seafood Restaurant... See you in Stanley to cheer on our Lamma Dragons & fishermen teams?
P.S. Here's the Lamma Dragons women's team most recent trophy, on proud display at the back of the Island Bar:
Gold Cup Champions of the Mui Wo races last weekend!

June 7: Lamma-zine Graffiti!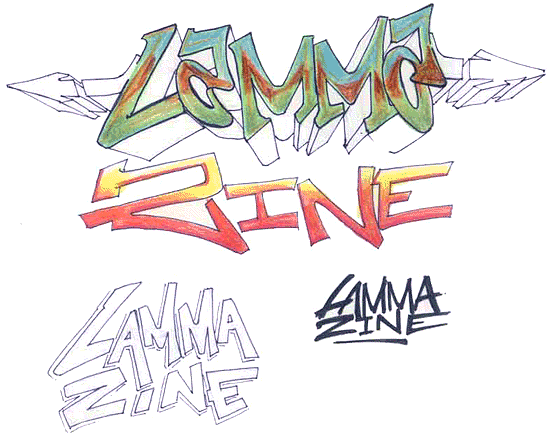 Draft sketches for a new Lamma-zine logo, by Media, the graffiti artist spraying & painting the Fountainhead Bar a number of times. His fantastic street-artworks will be featured as one of the next Lamma-zine Artists of the Month.

June 6: 'June 6th is Magic Monday of Love'
If today is the Monday of Love, then yesterday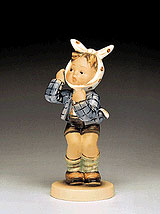 was my Sunday of Pain!
I've spent all Sunday separated from my lifeline, email, due to an incapacitating toothache and a desperately urgent search for a dentist's office open on a Sunday.
All painkillers were useless and I endured a long, sleepless night. I've been sipping cold water every few minutes to ease the pain - for more than 15 hours till I got bloated from all the water. Fortunately, we finally found a Sunday dentist in low-cost North Point by referral, to my huge relief!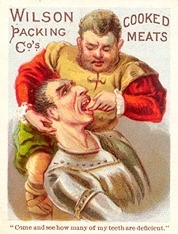 Artist's impression of how
I feel at any dentist
But when she quoted me the cost of the root canal treatment I'll need (unaffordable!), my constantly pounding, intense pain immediately vanished! Unbelievable, but true! She's got the magic touch!
I got an antibiotic and an ultra-strength painkiller - which I haven't had to use yet - and I got out of there without any treatment, starting to save up for a cheaper tooth extraction instead.
Below are the eight very best of my emails arriving all Sunday - while I was out of action - and this morning. A very mixed (email)bag, indeed.
Many thanks to all my prolific, loyal & indispensable contributors!
Dragonboat race results from Mui Wo this weekend:
Claudia, Lamma Dragons PR: "Lamma Dragons Women: women's champions! Lamma Dragons Men - 2nd runner up in Men's plate.
Photos with cups, flag and pig to follow!"

Garoupa win B of B heat!
Alex, lead singer: "Just to let you know that Garoupa won their Battle of the Bands heat last night. We'd like to say a big thanks to everyone from Lamma who came to see us - great to see so many familiar faces! Hats off to the B of B team for organizing everything.
See you at the Semi-Final! Will get photos of the night to you soon."

Charlotte, Official Court Correspondent of Chow Yun-fat:
"The newest item about CYF. There is an earlier link to a video of the prevue of the "STRANGLEHOLD" action video game from John Woo with CYF playing Tequila in Hard Boiled. It is on my Home page with a quote from him (The Buzz, bottom of my home page)."

Here's the QuickTime video with a game preview, looking like a clip from Hard Boiled's über-cool two-gun shoot-outs, but in 3D CGI animation. It's the very first video game from John Woo and CYF, but it won't become available till autumn of 2006.

June 5: 'Dear Ah Gung,... we miss the place so much!'
One of the best & most rewarding aspects of publishing this blog is the feedback I get from people all over the world. I'm answering almost every email I get, often in great detail. Often they come from people considering to move to Lamma, asking many questions, looking for temporary and long-time flats & guesthouses and advice on movers. As none of the local property agents and guest houses has an active website/email address and none of them advertises on the Internet yet (I've asked them all in person), the first one doing this would have a nice first-mover advantage, attracting a lot of new clients. But I won't hold my breath...
The main summer moving-out season is starting now, lots of our friends & neighbours will be leaving Lamma, for the summer or permanently. See my story from last summer: Leaving Lamma - A Moving Experience with several heart-felt farewell notes from Lammaites leaving our fair island behind...
Plus a longtime ad/link from the moving company who seems most serious and dedicated to attracting and servicing Lamma clients well, including testimonials from Lammaites using them last year. Click to learn more about their services:

But back to Pooh and her heart-felt email about leaving & missing Lamma, plus an email from Roberta who'll be returning to Lamma soon!
Pooh - "registered Lamma.com.hk member since Feb 2003":
Dear Ah Gung,
I am a former Lamma resident who has rented a flat in Tai Peng with my husband as our holiday home about two years ago. We left when the tenancy expired last March, as my husband found it a bit expensive to keep a place where we spent spent only 1-2 weekends each month.
Although I didn't spend a lot of time in Lamma, I love the place because the people we met were so nice. The air is fresh and the greens make you relax. We have had so many happy moments there - cycling from Tai Peng to Pak Kok and then back (what a hike!) and from Tai Wan to the Dragon's back (another hike!) and numerous walks from our place to Lo So Shing and back to Hung Shing Yeh. And then have a hearty dinner at Han Lok Yuen (Pigeon Rest.) , or walk further back to the Main Street at Lamcombe, Man Kee, Deli Lamma...
Now we have left and we miss the place so much. We still want to know what's going on in Lamma. By reading this home page, we feel like back in Lamma. The pier, the Main Street, our dear friends and even the cats which stroll along the path leading up to the heart-attack hill are back in front of our eyes. We are grateful that you guys have made such a good website that can bring back all the good memories and tell us the latest news of a place that we love.
Roberta - ex-Lammaite (soon to return), frequent reader and two-time contributor to the magazine:
I saw that someone suggested having more ads for flats to rent somewhere on Lamma.com.hk and I heartily agree. We are moving back in August and are having a really hard time finding (from the US) a holiday flat to rent until we can find a flat of our own. It would be great if there were some way to find out what flats are available for short-term lease, especially during the summer months. Perhaps some of the estate agents on Lamma would like to advertise more?
I did, of course, look at the classified ads but most of them were quite old and were mostly people looking for flats, not renting them out. It's hard to get any idea of what is available from so far away. I'm now trying to contact old friends to see if they can help (though the first two I tried were away on extended holidays).
Anyway, it's just a thought, and I'm sure you're already overworked (and grossly underpaid) as it is!
For answers to Roberta questions - if you have similar ones - check this story:
Apr 17: Lamma Property: a Good Investment?
If you've got info or a place for Roberta, just email me and I'll put you in touch!

June 4: Best of May - Honours List
Contributor

Story title

Date

Lammadonna's office

May 1

Lammadonna's office

May 2

various

May 3

Patsy Moy, SCMP

May 4

Anna Healy Fenton, SCMP

May 5

Lamma Accidents & Emergencies Committee

May 7

Nicole Kam & mo

May 9

Lamma Cricket Club

May 10

Nick the Bookman & STBWFAOTDLAN

May 14

Madhav, Yoga guru

May 15

bbChris, organiser

May 16

Charlotte, Official Court Correspondent on Chow Yun-fat

May 18

Mr DickStock & The Stick Insect Hunter

May 19

Milky, Lamma Cricket Club

May 20

Ricky & his wife

May 22

Claudia, Lamma Dragons PR

May 23

HK Electric

May 24

Steve Cray & Peter Michael

May 25

HK Conservancy Association & HEC

May 26

ninetysevengroup, life cafe PR

May 28

HK Electric

May 29

Lara Wozniak, ex-Lammaite

May 31

June 3: Photo Galleries Looking Even Prettier
All the Lamma-zine Photo/Art/Multimedia Galleries have been checked, re-organised, dated, re-sorted and two new categories added. We've got 117 galleries online in total now, from quite a number of different photographers, broken down by categories into:
15 Nature, 19 Festivals, 13 Events, 16 Concerts, 20 Restaurants, 17 Art Galleries and 14 Miscellaneous. Select from the drop-down menus below to have a look:
To add or link your own Lamma-related photo galleries, please contact me!
Plus a few new photo galleries, all shot by myself during May 2005:




June 3: 848,888 Website Hits in May!
Looking at the automatic traffic statistics of the Lamma-zine website last month, the total number of hits was this extremely lucky number, according to Cantonese numerology. 5 eights in 6 numbers, can I get a HK phone number like that, please!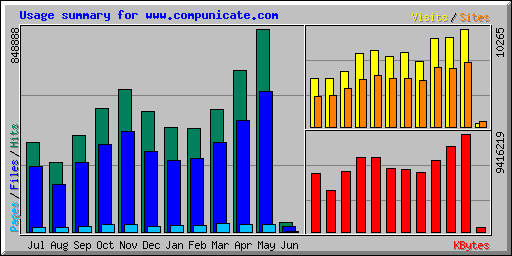 (Webalizer web traffic analysis)
Together with the additional number of hits in our Lamma.com.hk forums (445,637), this is a new all-time record of almost 1.3 million hits/month! The hits numbers have been almost doubling since February, growing steadily, as you can see in the Webalizer chart above. This is really quite impressive for a little local site with only purely local content on an island with only about 7,000+ inhabitants, making this definitely the most successful website on Lamma Island.
There seems to be a very sizable HK-wide and international audience (from 69 countries) for this website, even though it has always been targeted only at people living here now/before/soon, local/overseas tourists and people interested in Lamma for various reasons. Who are you people out there? What do you like/dislike about this site? I'd love to hear from you!

June 2: A Brush With Dave Parker's Brush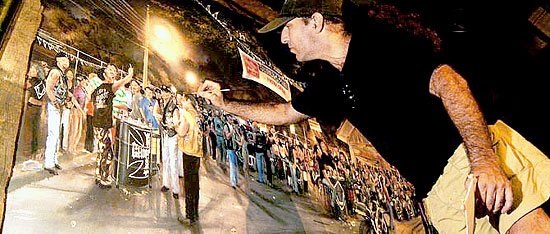 Submitted by the Official Court Artist, Andy Maluche: "Picture of Dave Parker at work at the Handle Bar Manila".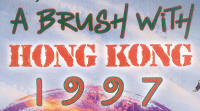 One of the still most famous ex-Lammaites, this picture brought back memories. Grabbing one of my favourite art books from my library, A Brush With HK 1997, I received it as a promotional copy in a meeting with Dave's Lamma friends in 1997. They were trying to get my company back then to sell it to tourists in our shops.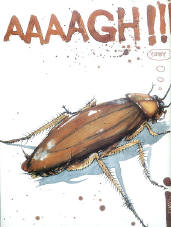 But then my Chinese lady boss noticed this page-size, close-up drawing of a cockroach in

Dave's book. That killed the sales idea very quickly!
After his glory days on Lamma as a well-known HK artist, Dave's living in exile in Manila. Is he painting walls in bars, maybe paid only in drinks & tips? Lammaites still talk about him occasionally in our Lamma Oldster forum (dedicated to ex-Lammaites). Take a bow, Dave Parker, ex-Lammaite of the Day!
Here's another excerpt from his fantastic book, copied from a double-page painting of Lamma Island, when there were only two Power Station chimneys: Dave's description of Lamma Island back then, pre-1997:
"Home to artists, musician, writers, poets, ancient mariners, journalists, lushes, English teachers, recluses, Triads, cats, dogs, farmers, fishermen..." and cockroaches, obviously... Has Lamma really changed much at all since then? Let's hear more from the Lamma Oldsters!



June 1: What's Going on in the Chinese Forums?

The Chinese Forum of this website have become hyper-active in the last few weeks, for the first time far surpassing the number of posted messages in all English forums put together. If you can't read Chinese like myself - despite my Chinese-looking "Avatar" picture spelling out Lamma-Gung - but are curious about what they're talking about in the Chinese forums, read on. They quite possibly could be talking about YOU!

I've asked our new Moderator of the Chinese Forum, Samson, for a little summary, see below. Samson's leaving soon for a business trip to Amsterdam, Athens & Istanbul, the lucky fellow. I've given him a few touristy tips from my own adventures in those three places, expecting some really good stories after his return! Lamma-Por will keep an eye on the Chinese forums during his absence, but the tone in there is usually very friendly & helpful.
Samson the Tai Peng-uin - Official Court Moderator of All Chinese Forums:

One of the hottest topics at the moment is "Dining Out": where to go if we were to dine out on Lamma? Man Kee will always get my vote!

Of course, the all new fish and chips shop, The Full Monty! I got a question on FM, by the way – if I was to order some fish & chips at the FM, could I enjoy my freshly cooked f&c with a nice cool drink at Deli Lamma?

Tree felling near the library! Mo noticed that one of the large trees behind the library was chopped last week – and we're now naming the tree species we want replanted. The Banyan is an obvious choice – but I just want a money tree! (Okay, I suppose a learning tree for the kiddies would be acceptable...)

What to do with your pets if you're going away for a couple of days? That's one of the main discussions too.

The 3 chimneys – needless to say, a local landmark! What do they remind you of? (For me, it's giant Santa sending me gigantic gifts!) Is it an eyesore? How can it be redecorated or repainted? (Bunnyrabbit suggested to build 2 golden arches to bridge the chimneys...)

The "Long Time No See" thread began last year when the Chinese forum was rather quiet – for some bizarre reason, there was a wave of reminiscences happening there! The games and toys we used to play are being discussed.

A series of "Lamma vs. creature" threads, where we're highlighted the most feared creatures on Lamma, including centipedes, geckos (but they're so adorably cute!), spiders and the latest creature - snakes!

With the big festival coming up, how does one get involved in dragon boating at this late stage? Where are the races this year? Thanks for looking things up for us, Gung. You're a champ! (Dammit! I'll be in Amsterdam on Dragonboat Festival day!)

Lammarina – the project didn't escape the Chinese forum's spotlight! But our discussion wasn't quite as informative as the one in the English forums...

A number of discussions about moving to Lamma, you know, flat hunting, moving stuff to the island, buying a house on Lamma, things like that. A bit ordinary, but it's quite interesting...
That's some of the main discussions in the past couple of weeks!
Let's do this summary thing more often, say, once a week and whenever a good topic comes up, when I get back. It'll be a good way to keep you in touch with what's going on, while helping me keep on top of it all too!
If you'd like to read for yourself, here's a great & really cool tip from our great & really cool senior moderator Alan:
Click here to get an instant Altavista Babelfish translation of the entire Chinese forum, in the original format. You can move around normally inside the Chinese forum, jump from topic to topic and get not very good but instant & automatic translations!
How appropriate that the "Hitchhiker's Guide to the Galaxy" movie is starting in HK tomorrow, from where the famous term Babelfish was taken. It's a creature that acts as a universal translator for most of the languages of the entire known galaxy!