<!table cellSpacing="6" cellPadding="0" width="100%" border="0" style="border-collapse: collapse" bordercolor="#111111" bgcolor="#EFEFEF"> <!tr> <!td style="font-family: Verdana, Arial, Helvetica, sans-serif" bgcolor="#EFEFEF">

Rainy Mother's Day (May 8, 2005)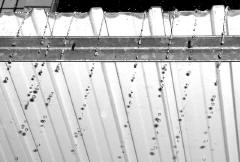 Getting tired of all the "pretty pictures" on this website, mostly taken in bright sunshine showing only the sunny side of Lamma Island? Here's something completely different: a photo gallery taken today during a tropical downpour in Yung Shue Wan, causing splashing waterfalls from the low buildings and ankle-deep rivers across the narrow footpaths. There was more than 70mm rainfall today and an amber rain storm warning had been hoisted. But isn't YSW picturesque even in the rain?
Click on the watery pictures above to view the photo gallery! Well, it might take a few days for my shoes & jeans to dry out..
(click to enlarge)
---
---
To send comments, get more info, get high-res files for printing, or to publish your own Lamma-related photos & galleries on Lamma.com.hk or in the Lamma-zine: email Lamma-Gung.

All pictures and text may be freely reproduced for non-commercial purposes only,
but only with explicit permission from the author, photographer or artist.

Commercial enquiries are most welcome! Last update: May 05, 2008 03:43 PM

© 2008 Lamma-Gung, Compunicate! Web Publishing, e-Marketing & Photography. All rights reserved.

<!/td><!/tr><!/table>