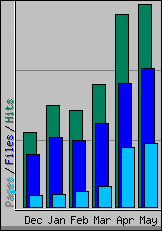 The traffic on this website surpassed 3 million hits again last month, 3,057,803 hits, to be exact! It hasn't been that long ago that we broke through the 2 million barrier. 58,000 visitors downloaded an all-time record of 55 GBytes in web pages, pictures and a few videos last month. These visitors came mostly from HK, but also from a total of 96 different countries:
Sorted by number of hits from outside HK: US, Australia, United Kingdom, Canada, United Arab Emirates, China, Japan, France, Singapore, Germany, New Zealand.
The number of website visitors has doubled within the last year. But the low advertising rates have remained stable, making this website one of the best bargains and best values for money for online advertisers wanting to reach a very wide and affluent audience all over HK.
It's also become the #1 in Google for all searches for "Lamma" and "Lamma Island". So we'll be increasing the advertising rates after the summer holidays, reflecting the huge, continued traffic growth of this site.
Advertising is the only thing keeping this website alive financially - everything else is free, even the Classifieds, Events Calendar and Yellow Pages. We hope that you can help to attract a few more advertisers. We still offer 33% commission for any new advertiser that you can introduce to us. Easy and quick money!
To sweeten the deal, we even offer complete, free web sites and advertorials for one-year advertisers and we'll do everything for them, even create and update the ad banners and the free website as often as they like. Get these ads and freebies for the old rate till end of July!
Check out our English and Chinese advertising ratecards for details. Call us!

Submitted by Senior Inspector Woooo-Woooo: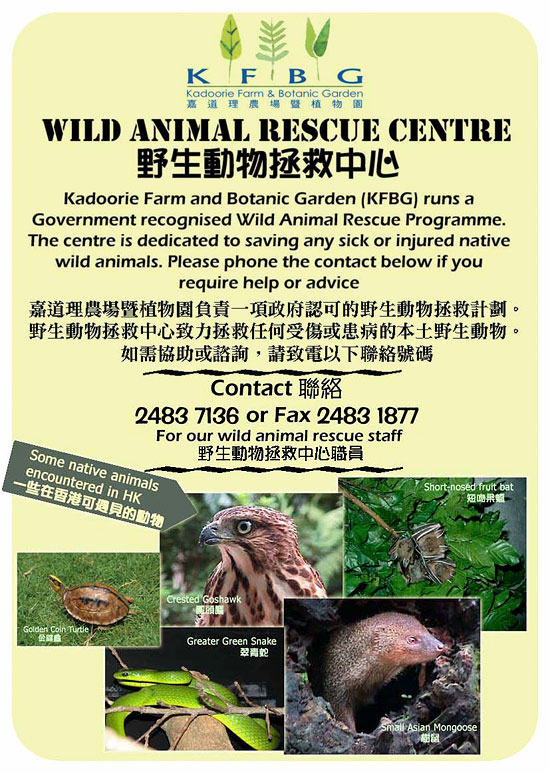 June 23, 2007 (all shot from L-G's rooftop):
June 24, 2007

Imagine having no mobile phone, no email account, no permanent address and no way of being contacted by anybody. Imagine being totally independent, no job, no responsibilities, no commitments, no appointments, but being able to travel the world wherever and whenever you like without a worry, stay for as long as you like, leave anytime and continue your travels, making new friends wherever you go, free like a bird. It sounds like a dream to someone like me who cannot afford to travel anymore.
There's one man-about-the-village who lives like this on a permanent, long-time basis, a frequent, long-term Lamma visitor, well-known in Lamma pubs and as the late Pinky Chan's longtime boyfriend. Let me call him Ian the Wanderer. He actually likes this new nickname.
Having known Ian as an acquaintance for a few years, Lamma-Por and I settled down with him a few weeks ago for a little interview and a fine Chinese dinner in Lamcombe Seafood Restaurant. It strikes you immediately how relaxed, low-key, friendly, unassuming and easy-going Ian is, always dressed in his trademark blue jeans, jeans jacket and baseball cap. We can't be sure if it's always the same ones or if he's got a suitcase full of identical outfits.
At age 48, 11 years ago, he retired and started his full-time wanderings around the world. He's still keeping his home base near Vancouver, a loyal housekeeper taking care of it and trusted hands who take care of his business interests and properties.
As a landlord, he's in a very similar situation to Pinky Chan, his long-term companion whom he loved dearly and is still in mourning for. Both independent landlords, they traveled the world together. He met Pinky in Spicy Island, of course. She came in, threw some shopping bags on the seat besides his at the bar and told him, "Watch these!", before leaving again. On her return, he chatted her up and they've been together much of the time till her untimely, tragic death 1 year ago. It was obviously a sometimes stormy relationship, where Ian acted as the gentle, understanding, always supportive partner, easing Pinky's emotional rollercoasters.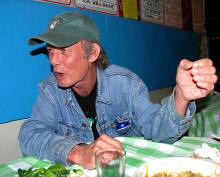 Canadian Ian started his travels seriously already before University, traversing Europe for one month with an antique Volkswagen car he bought in Frankfurt, Germany. Studying in Canada and the US, he got a Civil Engineering degree and worked in the field till his retirement at 48 years of age. With an engineer's income, he saved up parts of his salary and invested in the booming property market around Vancouver, finding it quite easy to turn tidy profits and grow his portfolio.
He has been married for a long time, but his wife left him, getting tired of his more and more frequent wanderings. He was already a restless spirit back then and just vanished for months at the time, often without telling his family. But they're still good friends and their two children are his pride and joy, both of them having attended university with excellent grades.
Having left Lamma once again a few weeks ago, Ian is wandering through Australia these days, visiting his daughter, staying for a few weeks or a few months. Then he'll be traveling on, maybe stopping over on Lamma again for an undetermined time, then maybe Brazil next or anywhere else his fancy might take take this free spirit. He usually travels solo, declaring himself race-blind and easily makes new friends of any nationality wherever he goes. He says that there are kind and fun people everywhere he goes and he's got a real knack of making new friends.
Good luck in your wanderings, Ian, and we hope to see you again soon on Lamma and hear about your new travels and adventures!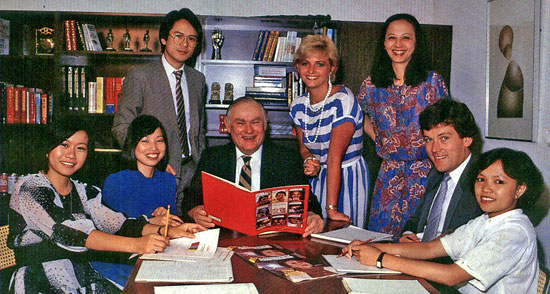 Guess which of these pretty ladies shows Pinky Chan in her heyday?
Yes, she's the one on the left, shot when she was Regional Advertising Sales Manager for Asiaweek magazine. (Photo courtesy of Edwin, click to enlarge)
It's been exactly 1 year since Pinky Chan's tragic death, burning to death in her bed during a visit in Mainland China. She was only in her fifties and a true Lamma Legend, known to almost every current or former Lammaite. Her death was announced in our forums and the Lamma-zine and many people posted their personal memories.
As it took a long time to confirm her death and getting her affairs sorted out, it took her huge number of friends also a long time to come to terms with their loss and collect their memories. Many of them wrote heart-felt tributes for their friend in the months afterwards, submitting them to the Lamma-zine for publication, on my request. I've collected all of them and now seems to be the best time to finally publish them, on the first anniversary of her death. Here they are, sadly mourning Pinky's death, but even more they're joyfully celebrating her extraordinary life that made a deep impression in so many ways on so many people. RIP, my friend.
in progress... check back here on July 22 evening...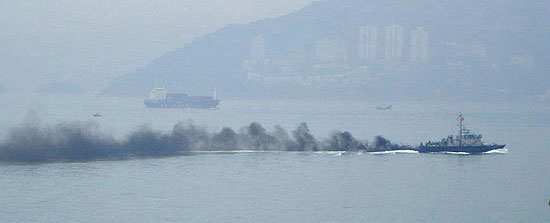 One more ship-related story in our trio of ship stories these last three days:

These photos of a Marine Police boat off Pak Kok Village was taken on June 15, 6:30am by early bird, alert Lamma-zine reader and regular contributor, Tracey the Pak-Kokian.

Why is this boat police smoking so heavily when people aren't even allowed anymore to smoke a cigarette on the outside deck of a ferry? Has the captain of this police launch been fined with the maximum smoking penalty allowed under Hong Kong's new anti-smoking legislation?

Or has the police launch been hijacked by an angry protest mob of Lamma's die-hard smokers? They seem to be all puffing away at the maximum of their remaining lung capacity, generating these clouds of tobacco smoke in the photos?

Or are they training for a high-speed police boat drag race down the Lamma East Channel, one of the hundreds of planned events to celebrate the 10th anniversary of our Happy-oh-so-happy Reunification with the Dearly Beloved Motherland?

Or is this simply the boat engine's after-burner during a high-speed pursuit of an outlaw speedboat smuggling "Made in China" cans of spam directly to Lamma?

Or is the boat, its engines overheating, on the run from an angry revenge mob of mainland gang members, friends of the infamous Pak Kok burglar arrested quite a while ago?

Or did the boat's crew lose a gun-blazing standoff with a tree-smuggler's well-armed boat?

Or, even worse, did they lose a Pirates of the Caribbean-style sea battle with cannons ablazing against modern-day Chinese pirates invading to pillage and plunder our peaceful island (No, I'm not talking about the weekend hordes of tourists, some of them wearing Pirates of the Caribbean tees!)

Tracey explained the smoke in much simpler terms:

"They clearly show a Marine Police boat spewing the most awful pollution I've seen in a long time - no wind this morning so wonderfully captured - but horrific whichever way you look at it."

This utterly fearless lady dared to contact the Marine Police directly to complain and find out what happened. This is the short and concise reply she received.

From: policedev@police.gov.hk:

Subject : Re : Marine Launch 630am 15th June 2007

Dear Madam,

Thank you for your e-mail message in relation to the captioned subject.

Please be informed that the police launch in question experienced mechanical problem on that day which caused the engine to emit excessive smoke.

The commander of the police launch immediately took actions to rectify the situation and engineers repaired the engine afterwards.

You can be assured that the police will take all necessary actions to avoid the emission of excessive smoke from police launches.

In case you need any further information, please contact me, Senior Inspector Anthony LAM Kwok-chu at 2555 4438.

P.S. But this polite explanation sounds way too rational, simple and logical, not strange and imaginative enough! Who can shout COVER-UP! the loudest? Will the true story of this mysterious incident ever be revealed and THE TRUTH be known?

Tracey's home, phone, email and whereabouts might be under intense scrutiny and 24-hour police surveillance from now on, maybe, perhaps, mayhaps...

A bit of hard-hitting, under-cover, investigative journalism might be called for. If it just wouldn't be way too hot and humid to leave my cozy'n'cooool home office...

Some of you might remember the famous movie "Trainspotting"?
"Awright, mate, so ye dinnae know the "Trainspotting" flick, aye? Take the loupin Wikipedia tae find oot, likesay. Nae git ootay here, ye plukey-faced wanker!"
Remember now?
Well, not many trains to spot in HK and especially not on Lamma Island with neither private nor public transport. We've got other little obsessions of our own, for example shipspotting on the ferry to and from HK Island. Well, I'm not exactly sure if anybody else shares my hobby, but there are so many ships, boats, yachts, cruiseliners, even sailboats to be seen and admired in Hong Kong's waters.
I'd like to show off a few photos from one recent single ferry trip from Yung Shue Wan to Central, May 16. Try to identify as many ships as possible! Most are easy, but some are pretty tough to identify...
Click below for my photo gallery full of HK ships:

I'm sure you can do a lot better! Send your photos over and I might (no promises) publish them. Nae git ootay here, ye plukey-faced wan...! Oooops, sorry...
---
P.S. Prof Red Star seems to be a big fan of shipspotting as well. He wrote:
"Ship spotting plus a few sky scrapers???? Mate, you must be able to do better than that. It's worse than a newspaper in a silly season on tranquiillisers!!!!
It's just so . . . like . . . nothing!!!"
Thank you for your honest feedback, Prof! ANY feedback is always most welcome and from the negative feedback I usually learn the most! We aim to please.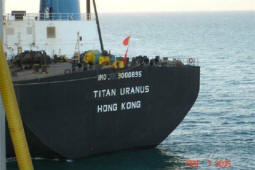 But next time I'll meet Prof Red Star on Main Street, I might have my very own "tranquiillisers" ready for him...
---
P.S. II: Donna sent in this ship photo showing a non-anally-retentive freighter. Read the name out aloud...
Titan Uranus = Tighten Your Anus...
Don't be such a tight-ass!

Freelancer - Rush-Hour Ferry Passenger:
A Kind of Magic
I'm fairly new to Lamma, but I've long been aware of its rep as a magical sort of place. What did surprise me though, were the hyper-levels of magical realism to be found on the 8:15 morning ferry - when some Lamma residents take their imaginary friends to work.
I'll set you the scene - always the same. Girl - alone - with or without coffee, boards morning ferry. Usually two or three seconds before it leaves. She surveys the scene - almost Forrest-Gumpian to a newcomer - and tries to gauge the faces. But that's the problem with imaginary friendships - hard to spot. You never know what you're gonna get.
For example last week it was a nice-looking older woman I asked to sit next to. She looked up, incredulous, then realising that this wasn't an elaborate case of the high-jinks, picked up all her things and moved to another row - where she muttered and laughed to herself. At least I thought it was to herself. Now I know differently.
A few days later it was a younger man near the front. When I asked the offending question he did an excellent impression of a gazelle in the path of a careening four-by-four before gesturing at an approaching woman with a faint 'she's coming'. But there are three seats, I pointed out. 'She's coming, she's coming.' he said, shaking his head. I took pity, moved on.
Yesterday it was a harassed-looking Chinese lady who hissed a low 'cheeeseeen' to her fantasy boat buddy as she moved her handbag (I envision him as a cross between Fabio and Andy Lau, with a little Bus Uncle Chan thrown in).
More adventures on the 8:15 are no doubt ahead, and I can only conclude that it's one of the more harmless side effects of living in such a magical place. Better this, than getting my head around the notion that these people have old school bus scores to settle from the 60s. Or that I smell.
P.S. To read more about this topic from other rush hour ferry passengers, see our Lamma Ferries forum.
Realistic Lamma-Por, who's often taking the same 8:15am ferry, advises Freelancer to arrive early when there are still enough free seats available, avoiding the seating problems above. But then her creative rant above might never have been written...

Lamma-created and -produced HK Copy News has made another great leap in quality, just getting better and better. For the first time this week, Daniel MomentEye is combining the deadpan, straight-faced, strait-laced delivery of his bubble-headed, helium-voiced pipsqueak newsreader with his own wild-eyed antics and physical comedy. Lamma's very own standup comedian!
This provides a wonderful, satirical contrast, kind of like the difference between official government spokespeople and the fear-mongering, sensationalistic HK tabloids. A contrast that works here to great effect and impact, making HK Copy News even better. Check it out for yourself, while I go back to laughing out loud while watching it again and again!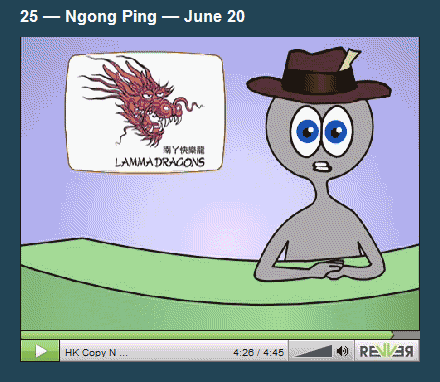 Official Court Glutton:

Ok... it is a little late for a food review of my Easter meal, but I did not get the pictures into a usable format until last night. What's a food review without pictures, correct?

Our group of 5 consisted of 3 Canadians, 1 Spaniard and a HK Chinese lady. I am the only Lamma resident so I had some influence in food selection.

Normal Canadian Easter meals would have lamb or ham as the main dish. But, being on Lamma, and somewhat adventurous, seafood extravaganza was the plan.

My suggestion of lobster sashimi as the main dish was met with initial silence as the idea sunk in. Then all agreed.

Obviously they never read, or forgot, the part in the travel books that said you should never eat raw shellfish.

As far as Yung Shue Wan is concerned, Man Fung restaurant (first one from the ferry with the nice fish tanks) has a license to prepare and serve lobster sashimi. It seems that it is a regulated dish due to sanitary requirements and training. Other restaurants are not allowed to prepare and serve lobster sashimi.

So we sat ourselves down at a table and asked for the lobster sashimi. Prices vary due to market pricing, around $500.

A suitable candidate was brought forth and looked to be a lively and healthy fellow, suitably dubbed "Louie the Lobster" by one of our table. I am not sure if there was a reference to an uncle named Louie that bore a resemblance.

After the photo op, Louie was taken off to the kitchen to get ready to join us.

Then a discussion took place about where his claws are... Canadian/American lobsters have claws. Louie is not defective, just a different passport.

Not that long later, a reconstructed Louie arrived at our table. Very nice presentation. Thin strips of lobster tail, laid down on ice covered with plastic cling film. A nice soy sauce for dipping was strategically placed around the table.

You ask, "And how was Louie?" Delicious!

Smooth texture, very gentle flavour enhanced by the chill of the ice, excellent mouth feel. No problems with being overly chewy like squid or jelly fish.

I had to exercise substantial self control not to gobble it up making me look like, well, a glutton.

Writer's note: Vegans should skip this paragraph.

My previous lobster sashimi was in Hangzhou quite a few years ago. Very memorable meal also.

The lobster was dark brown in colour, and quite large. Memory that sticks with me is that halfway though the meal, the front part (torso, head, legs) got up and started to walk in my direction.

The lobster (un-named), actually got onto my plate before one of the staff scooped him and placed him atop the ice boat.

Disconcerting? Definitely!

Fortunately, Louie had better table manners than the Hangzhou lobster, and kept his station.

When we finished the sashimi, what was left of Louie was taken to the kitchen to make a soup while we had other dishes of steamed veggies, fried rice, black bean sauce clams and fried tofu cubes with chili peppers.

When Louie returned, he was in bits and pieces, fully cooked and still very tasty in a rice soup. Yes, he gave us "his all", and we enjoyed every bit of it!

Certainly a very memorable Easter meal that will not be forgotten very soon. I definitely would recommend it for a special occasion, tasty and memorable!

Jay Scott Kanes - Official Court Pet Correspondent:

Lamma-Gung and others chatter about trying to establish a Guinness World Record to gain fame for Lamma Island as "the most cosmopolitan village in the world", a small place that's home to people of the most nationalities [Editor: 60 so far...].

Some of Lamma's best known dogs may yip and yap in amusement. Many of the pooches can match the people home-city-for-home-city, country-for-country. If Lamma dogs did much more flying, they might sprout wings.

Former Lamma Islander Amanda Veitch, an IT manager in the finance industry, discussed pet travel when visiting Lamma on June 17. Four months ago, she moved to London, together with a human partner, Julie Bell, three dogs, Laura, Sasha and Sammi, and two cats. She returned to Hong Kong on a business trip.

"Our dogs miss playing on Power Station Beach and seeing their Lamma friends like Eric, Gail and Mika," said Amanda, but they've adapted to British life and found new doggie friends named Ruby, Dora, Jerry and Robbie.

"Strangely enough, our dogs love the UK," Amanda said. "They prefer not being hot all day, all night. As an alternative to playing on the beach, they have fox-chasing. They're good at challenging foxes, but not at catching them. They like squirrels too, but those go up trees, and the dogs can't get near them. We have yet to come across rabbits. It's a big worry what happens then."

Dogs often travel between Lamma and overseas. For example, a popular beagle named Eric arrived from Berlin. He left behind a girlfriend and disliked the trip, but enjoys Lamma.

A small dog named Freddie jetted to the United Arab Emirates. Lamma dogs Rita and Sadie returned after stints together in England and Spain. Two others, Lucky and Hebe, moved to Slovenia. Shadow, an amiable black dog, arrived from Ottawa.

Mika, a long-time regular in the canine crowd at Power Station Beach, once tested life in Vancouver. Tolly, a familiar, four-legged stroller along Main Street, may move to Australia and reunite with Mojo, a poodle-pal who left earlier.

For Laura, Sasha and Sammi, daily life has changed. "They adjusted well to the cars and other traffic, although Laura did hide behind Julie the first time a big bus roared by," Amanda said.

She and Julie escort the dogs on long walks. "With three dogs in London, you need two people to manage them. We take them on picnics every Sunday."

Unlike on Lamma, the dogs stay on leashes when walking. They're unleashed at home and in a nearby park.

The Lamma trio encounters mostly pedigree animals, not mongrels like themselves. "The UK is full of pedigree animals," Amanda said. "People take an interest in our dogs because they're not recognizable breeds. It's a big conversation point. There are lots of greyhounds, chocolate labs, this, that and the other. We enjoy having very different dogs."

On Lamma, Laura was considered "the fastest creature on four legs". She could sprint along Power Station Beach within seconds. "Our neighborhood has a lot of retired greyhounds," Amanda said. "Laura sees them in the park, but they're a bit mellow and don't go in for big races anymore. Of course, our three dogs still have their own races."

Immigrating with pets can be a hassle. Amanda and Julie express gratitude to veterinarian Hans de Vries, Lamma residents Mayette, Mario and Richmond, Sai Kung-based Ferndale Kennels, London-resident James Cargo and others who helped.

Canine shipping documents and health papers, the latter reflecting checkups and injections including blood tests and rabies shots, must be in order. Normally, the dogs ride in crates or plastic boxes in an aircraft's pressurized cargo hold.

From planning and preparation to reality, moving to Britain with pets takes six to seven months, even with advice and co-ordination by a pet-transport company.

"We worried about the dogs being upset on the journey. They didn't like riding on the ferry to Central. They weren't used to it. Laura gets all shaky on ferries. She's a big dog who can go 'ruff, ruff' at anyone, but the moment you put her on a ferry, she's like jelly."

Laura, Sasha and Sammi traveled for about 24 hours. "We don't know how they did once in the hands of the shippers and British Airways," Amanda said.

Relocating the animals cost considerably more (about HK$10,000 per critter) than moving all of Amanda and Julie's personal possessions. "We had made-to-measure crates built after trying to measure the dogs. It's hard for them to stand still, but the crates saved us money because they occupied only the necessary space.

"By the time the dogs reunited with us, they were angry. Due to delays with our house, they had to stay in kennels. A few days passed before they saw us and knew they weren't abandoned. When they spotted us, they went mad, as they always do. They were very happy and relieved. Until then, I'm sure they wondered: Why are we in this cold country? Where's Mummy? Where's the beach?"

Despite the stress and expense, pet-owners should relocate with their animals. "You have to take them," Amanda said. "You can't keep pets for a few years and then get rid of them just because you're moving. That's unfair. You wouldn't do that to a child. Why would you do it to animals?"

So a better Lamma world-record bid might be for "the most cosmopolitan canines". Everyone in favor, say "Woof".

The very first action shots from the Stanley Dragon Boat races, fresh from Prof Red Star's camera, published here at 8pm today! His recent promotion to EEE (Excellent Education Editor) of the SCMP hasn't lulled him into complacency, it seems, and his photos are as great as ever.
See his action shots below and a close-up of one of the cutest Lamma Ladies on the right. Just look at that winning smile! Soooo pink! For an email from the captain to the winning team, scroll down.
Click on the photos to enlarge them.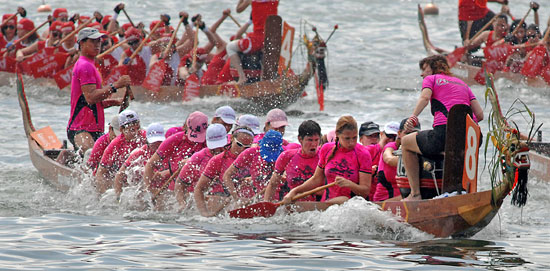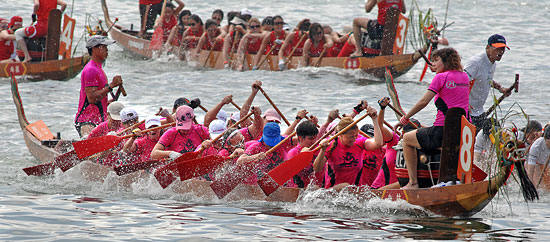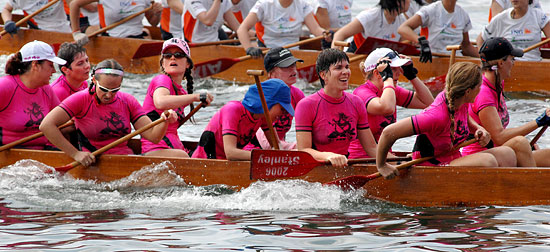 P.S. I got this reply from the Lamma Ladies the next morning, June 20:
Gina Meana - Lamma Ladies captain, addressing the team by email:
Congratulations, Ladies!
What a wonderful performance in the boats yesterday! And look at the results: TWO STANLEY GOLD CUPS in a row!!
Here is a short history (that we can remember) of the Lamma Ladies at Stanley: We've won the gold in 1997, 1999, 2001, (we were in Penang in 2002), 2003, (we took silver in 2004 and 2005), 2006 and now: 2007!!! The Hand-over year.
How brilliant is that?? 1997 and 2007! And - just to count (as Penny told me last night), we have won 6 gold cups from a total of 9 years entered. Those are damned good statistics by my reckoning.
And I am very, very relieved that I get to email this morning because my voice is shot from roaring in our first final and screaming through the street party. (Having set my own personal best record for losing my voice in the 20 seconds it took to scream my tonsils out during a race).
And what an excellent race it was; the Lamma Ladies were in 4th or 5th place after the long start, and we began to claw our way up the course during the 10 strong, took approximately 5 long strokes again and they advanced and blasted to first place (decisively!) at the finish! I would love to see a video of that someday.
Yesterday was, possibly, the toughest competition we've ever faced at Stanley across the board. The IPC, Stormy Ladies and Boracay were all there; the X-women have generally performed extremely well at Stanley, and Buzz is often a power team.
Special thanks to Ivan for steering us through the race again! Two years in a row he's helmed us to victory. Thank you, Ivan!!!
What more can be said? It has been a l-o-n-g, rough year, and it was not easy to for anyone to have a real sense of how we were doing based on the delays between races and the months in between, when we sat about gazing deep into our navels wondering about advanced physics, the hull shear of the boat, whether paddling backwards might be faster than forwards and other boat mysteries, but sheer energy, strong training and PINK POWER pulled us through!
Thank you everyone for being such a fantastic team, and thank you to all the ladies who came and supported the race! And finally: PHOTOS. We NEED photos!
(Except yours, Georgie. I will never forgive you if I see that disgusting photo of me again. No offense, but I hope your camera was eaten by sharks!)
Speaking of which: How come nobody told us there had been shark sightings at Stanley yesterday? Hung Hom is directly across the bay... good thing there were no real boat swampings.
As for the street party afterwards, I think the Lamma Ladies have proved again that we OUT PINK, OUT PADDLE and OUT PARTY still!
So, now that THAT is out of the way, bring on Singapore!
Well done and CONGRATULATIONS to everyone. It was a brilliant team victory and a wonderful way to end the season in Hong Kong.
P.S. Here's a nice Stanley Races video from www.HipHongKong.com. It has a little footage of the Lamma Ladies on the podium receiving their trophy.

We have (almost) daily Lamma Photos/Wildlife/Artworks.
We've had Lammaites of the Day, even daily birds, sunsets and events.
Why not have a Cloud of the Day for a change?
That's the kind of place Lamma still is, a refuge, a safe haven, a place where you can find time and peace of mind while watching birds, sunsets... and clouds!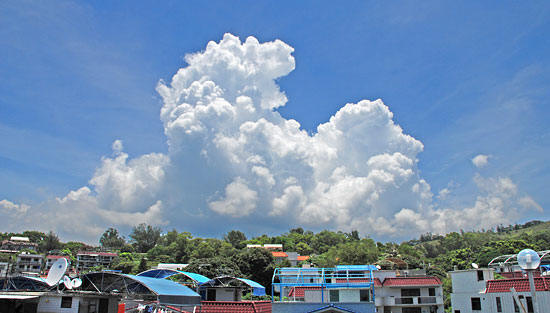 Elizabeth Briel - Lamma Artist of the Month - June 2007.

View more of her Cyanotypes, Paintings and Photos on Flickr.

Did You Ever Make Sun Prints?

They're a common craft activity for children in schools. It's a simple process: take a piece of pre-coated paper, place leaves, flowers or a favorite toy on it, then expose to the sun. Afterwards, blueish-white silhouettes appear on the paper, surrounded by a field of darker blue. As with any photo process, it's resistance to light that creates these images.

Sun Prints were once used by architects to duplicate their drawings; they called them Blueprints. Photographers and artists call them Cyanotypes. When I discovered cyanotypes, I began making art again.

During university I explored a dozen different drawing, painting and printing media, and received a grant to study the ancient art of encaustic. I worked nights to afford summers spent studying sculpture in Italy and public art services in the UK.

Shortly after graduation I joined the Di Stilo collective of artists and artisans. We created a gallery in our warehouse space, and shared work as scenic painters and sculptors. During the next few years I moved from state to state, from country to country, and made no space in apartments or workdays for making artwork. I'd painted myself into a corner.

In 2005 I moved to Cambodia with a bagful of cyanotype chemicals for myself and cameras for local kids. Soon afterwards I began teaching street kids with the Angkor Photo Festival, and printing cyanotypes on silk and paper during the hottest midday sun. I produced scarves, silk hangings, and a series of photos of Bokor Hill Station - an abandoned French resort from the early 20th century that had seen more than its share of Khmer Rouge violence.

In other work, I printed local flora and imagery on hand-woven Khmer silk. My work is primarily about place; it's a reflection of the region in which I make it, both in the imagery and materials used.

Since moving to Hong Kong I've been hunting export stores for clothing, and using the silk and linen for cyanotype photograms and photographs. The varied fabrics give infinite possibilities and surprises, like the city itself. The series I'm currently working on is a newcomer's impressions of Hong Kong.

One striking trait I've noticed is how many Hongkongers' formative years are spent abroad, and many others claim dual citizenship. How do they resolve being from many places? What is home when you have more than one? How do any of us define our allegiances in this shrinking world?

While artists and photographers occasionally experiment with this 19th-century photo process, I have concentrated on it for several years. During this time I have employed a wide variety of printmaking techniques and surfaces, combining this traditional medium with modern technology.

My work is in private collections in Kuwait, England, France, Korea, various parts of the US, and Norway.
Elizabeth's new Cyan Studio (2/F, 21C Back Street, vis-a-vis Thai Thai Rest., see her great map below) is open every 2nd Sunday afternoon of the month for visitors, displaying her own artworks, but also works by other Lamma artists. Next time: July 8. Contact her to attend and/or exhibit!


The detailed tables of the 2006 by-census have just become available on the govt. website. Very interesting statistics, but I had to sift through a 517-page online document to find them:
Lamma's population has further shrunk to 5,158 residents, from 5,550 in the 2001 main census. Lamma still has the smallest population of any of the Constituency Areas in the Island District. But, surprisingly, Lamma has the 3rd-highest monthly household income of $16,500 (down from $20,000 and No. 2 position in 2001) and the 3rd-highest education level, plus claiming the highest school attendance rate of 99.7%. The median age has increased from 34 to 39 - in only 5 years! - same as for all of Hong Kong. A quarter of men (down from almost 40% in 2001?) and a full third of women have never been married. Click below to have a closer look:

Gavin - Director of HeliAds the title sponsor of the HeliAds Lamma International Dragon Boat Festival 2007. (Photos below by Laurent Fievet)
Dear Mr. Gung et al,
A spectacular event was witnessed at Tai Wan To yesterday and everyone was a winner. Awesome grit, teamwork, determination, community spirit and camaraderie stretched the full length of the beach. Only when lightning posed a threat to safety did our contenders decide to continue the games in the pubs and restaurants of Yung Shue Wan.
A massive thank you to the organisers and their helpers, spectators and contenders, the Lads & Lasses who sweated to clean and rake the beach the day before, the fishermen that braved the five feet waves to return the dragon boats to safety, the caterers that fueled the paddlers, the first-aiders that patched us up, the police that kept us safe, the press that kept their equipment dry and the rain that prevented heat stroke.
The Lamma International Dragon Boat Festival is now on the map, 2007 was most certainly an unforgettable event and HeliAds look forward to supporting next year.
Things are looking up.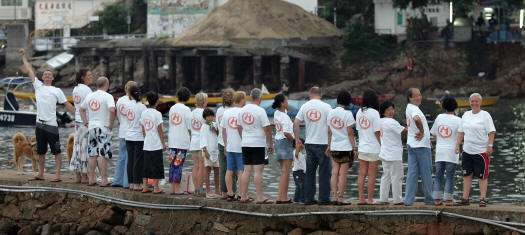 Mark Burns - Co-organiser and PR liaison:
Photos below by Donna, Desmond and Leggova.
Click on their names or their photos to view their photo galleries.
More photos by Grahame Collins and Siuyu, linked from the Official Festival Photo Gallery.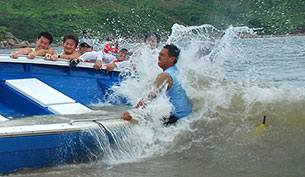 Dragon spirit, Tiger strength
in abundance at the
1st HeliAds Lamma International
Dragon Boat Festival 2007
Despite heroic efforts throughout the day from the teams, the organisers, the sponsors, and supporting bodies the race organisers finally and reluctantly had to pull the plug on the HeliAds Lamma International Dragon Boat Festival 2007 after the 10th race as a fresh downpour of torrential rain hid the starting line from view, lightning threatened and the sea became too choppy to allow racing to continue safely.
Earlier in the day, an Amber warning rainstorm had done nothing to dampen the abundant enthusiasm and good humour. And the appearance of the addled & bedraggled remnants of an all night beach party from Saturday night, looking vaguely like extras from 'Lost' before they drifted away, added to the amusement!
Sunday's race format provided a good deal of flexibility to catch up any time lost to bad weather, and the organiser's decision to press on with the event unless conditions became dangerous was taken early and proved correct, as the starting horn blew to get the first race underway at 10am, just an hour behind schedule.
For posterity's sake the race winners of the first Lamma Festival were (in order of the events):
IPC Mixed Team

AIA Southside Massive

IPC Ladies

Royal X Mixed Team

Hongkong Electric

BGC Stormy Ladies

Lamma Dragons

Dubai Flying Dragons (Mixed)

IPC Men

Hong Kong Freedom Dragons
Full race details can be found here.
Following months of planning, 55 dragon boat teams had made their way to Tai Wan To beach, Lamma Island, early on the morning of the 10th June to compete in the Festival in Men's, Women's and Mixed Divisions. Four Dubai Flying Dragons teams had flown into Hong Kong especially for this tournament and, coming from a desert kingdom, hadn't seen rainfall for over five months.
Nevertheless it was a wonderful and memorable sight to see the normally peaceful Tai Wan To beach packed with more than 1,100 enthusiastic and colourful dragon boat paddlers and supporters, and the sea sporting several junks and pleasure cruisers anchored along the length of the 500 metre course. Sponsor Heliads had made a brilliant contribution to the event, by handing out more than 500 personal umbrellas to competitors and boat handlers alike, which indicated their rain-or-shine, weather-savvy know-how.
Heroism was the word of the day as organisers and teams fought the elements. The Lamma Fishermen had battled the early morning storm and rough seas to deliver the race boats from Chai Wan and Aberdeen in time to begin the events. Later in the day, they performed greater feats by returning the boats safely in considerably worse conditions.
Members of the Lamma Dragons, Lamma Fishermen and boys from the Hong Kong Sea School worked wonders in choppy conditions keeping the race boats in order, and helping paddlers in and out of the vessels.
Race officials and support volunteers, despite the deluge, managed to keep a firm grip on the vital tasks of organising the races and getting the beach ready for action.
The Island Bar and Shamrocks got their stalls up and running in dreadful conditions, and cheerily kept everyone supplied with 'fuel' throughout the day.
And the teams were magnificent, as enthusiasm and good nature outpoured in far greater quantities than the rain, which was torrential for much of the day.
On the water, racing was fiercely contested. In Race 3, a Women's Division heat, IPC Ladies just edged Lamma Ladies by 0.4 of a second to win the race. The IPC, always powerful contenders on the water, also won Mixed and Men's heats.
Race 5 threw up another incredibly tight finish as winners, Hongkong Electric just pipped the North Lamma Fishermen by four tenths of a second.
The sleeper team favourite of the year, the Lamma Dragons (Men), have clawed their way back to fighting strength and proved their chops with a three-second lead over their competitors to take first place in Race 7.
The guest Dubai Flying Dragons – accustomed to glassy-smooth seas – proved their metal as they convincingly took first place in Race 8 in the Mixed Division.
Despite the excitement of these races, by noon the weather gods had the upper hand. The second round of heats were delayed to await more favourable conditions. Competitors for Race 11 started up the course and had made their way to the start line as an enormous curtain of rain hid the boats from view, thunder boomed and the sea grew choppier. With the fresh, wild conditions, and reports from the observatory of no foreseeable break, organisers decided to cancel the rest of the Festival for safety reasons.
It was a great shame to have to end the first HeliAds Lamma International Dragon Boat Festival 2007 prematurely, but the safety of participants was of greater importance.
Despite suffering some of the worst rain and wind of the year, the Festival was a great success and demonstrated that Lamma can successfully stage a major annual dragon boat race meeting.
The staging of the event also raised HK$10,000 for the Make A Wish children's charity, an incredible achievement under the circumstances and something that everyone who participated in the Festival can be proud of.
And everyone is now asking, given reasonable weather just how fantastic is the 2008 Lamma International Dragon Boat Festival going to be?!
Well, with the return of the caterers, beer tents, fresh-water showers, 16 remarkably clean toilets, soft sand, and brilliant competition in deep, fast water: come back next year to Tai Wan To beach, Lamma Island to find out....!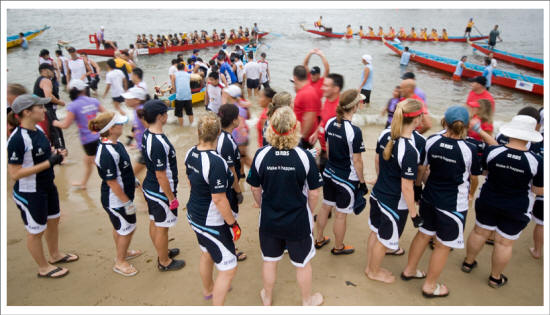 P.S. Here's a short Internet TV article about the event.
P.S. II Any company or individual who would like to find out more about sponsoring the 2008 Lamma International Dragon Boat Festival (yes, they're already looking at it!) can contact Brad Tarr or Mark Burns.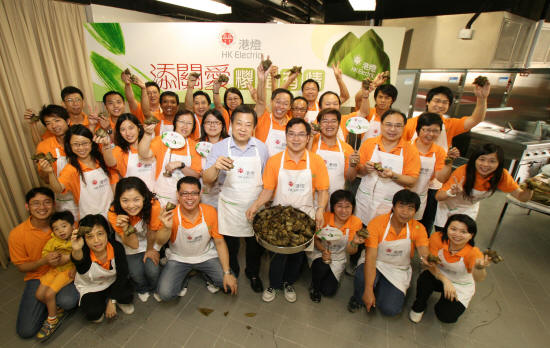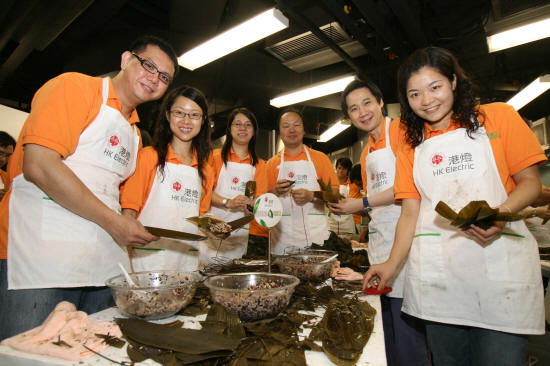 From a recent press release of the Lamma-zine's main sponsor, HK Electric:
"HK Electric continued to extend its caring spirit this year, bringing a touch of love to members of the Hong Kong Society for the Aged for an early celebration of the Dragon Boat Festival."
There's really nothing more that a sometimes cynical gwailo like myself should say about an event as sweet, caring and "touched by love" like this. Read the full press release.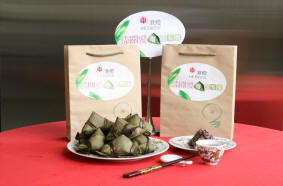 These HEC volunteers above are really special, caring, wonderful people. They are the same ones who give their off-duty time to plant trees on Lamma (Green Lamma Green campaign), help to prevent hillfires on Lamma during the two grave-sweeping festivals and perform many other volunteer and charity activities all over Hong Kong. Fantastic work, ladies & gentlemen! Many thanks to all and every one of you from the Lamma-zine and Lammaites in general!
BUT: Where are the rice dumplings for Lamma-Por and myself?
Someday - much too soon - the two of us might also become aged "elderlies". Can we please get free dumplings now as well - as kind of an "advance payment" for our future senior citizen status? We both like rice dumplings a lot, especially around Dragon Boat Festival time!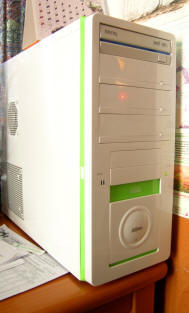 Finally, online again, after the thunderstorm on Sat night took out my Broadband Internet connection, the first-time ever in almost 6 years on Lamma. Always having been careful to switch off my PC and modems, I did it too late as I was backing up the entire 132MB website of Hélène (see below) to my own multi-backup system. Hosted in Europe, it took hours, well into the thunderstorm. When it was done, my Broadband died soon afterwards.
The lightning-induced power surge through the phone line took out the router and the LAN card, but strangely not the modem. This is actually a common occurrence on Lamma, especially if you live up on a hill. This thunderstorm on Sat/Sun night took out Broadband connections and computer power supplies, even a few TVs, fridges and Hifi systems.
There's a guy on Lamma who must be rubbing his hands in glee whenever a thunderstorm is breaking loose over Lamma: "Ahh, business, more business!"
Andy the "All-round IT consultant on Lamma". He's also the supplier and master technician of Lamma-zine HQ's main computer, the "Green Mean Machine" (see above, my name). It's a low-cost PC clone, custom-built and -configured by Andy to be the best, biggest and fastest (Intel Core 2 Duo, 3 GHz, 2 GB Ram, 2*200GB hard disks, DVD-writer, scanner, LCD screen) that my tiny budget could afford last year, when I finally upgraded from my 7-year old PC, a still-working, museum-worthy antique running Windows 98.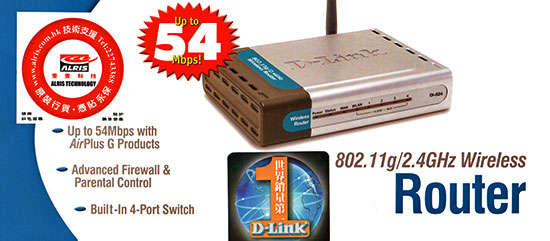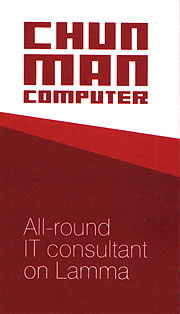 While Andy replaced my fried LAN card and router, we finally upgraded to a wireless router (see above), connecting my former ancient PC and Lamma-Por's Chinese PC (exclusively used for simple computer games) into a Local Area Network. Now, if I could just afford an old wireless laptop for our future rooftop garden, publishing from my rocking chair...
It's also a fine setup for a near-future, wireless webcam on my rooftop. It'll show YSW valley, a bit of the harbour, the ferry pier and the sunset live on this website. Some of our many "homesick" ex-Lammaite readers might really like that, no?
In general, surge protectors for the power lines and especially the phone/Broadband lines are highly recommended. Otherwise, in case of a lightning storm you'll best disconnect the phone line plug from the modem and switch off all sensitive electronic appliances, avoiding them from getting fried to a golden crisp with the ugly smell of a short circuit.
While being offline for an agonising three days, separated from my umbilical cord, my Broadband lifeline, I still wrote and edited all the daily stories below, not missing a single day, ready for upload as soon as I was reconnected! That's how committed to our readers we are here at Lamma-zine Worldwide Headquarters...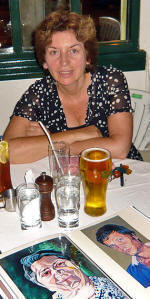 Some Lammaites lead very quiet, reclusive, almost invisible lives. It was by sheer coincidence that I met Hélène, the artist who did all the above extraordinary "soul portraits" while living in Yung Shue Wan the last number of years. Introduced to me by her neighbour Nancy the Frog Expert, Hélène was looking for a "Photoshop expert" to retouch some digital photos of her paintings (see above).
This small job for me quickly expanded to include some of the other digital services I offer to clients: photo shoot of more paintings, digital retouching, photo printing, website update in English and French and website maintenance, plus loads of free consulting over meals on Main Street and visits to my home office for approvals because Frenchwoman Hélène is one of those TV- and computer- less people - who are actually quite numerous on Lamma!
Hélène believes -like many artists - that the creator should vanish behind the artwork, that it's not important to know anything about the creator to appreciate the artwork which should speak for itself. She prefers not to tell our readers more about herself and her quiet, dedicated life as a full-time artist.
Oil-painting some of the disciples and family of her tai chi master (above top left) she also does occasional commissioned soul portraits and free-wheeling, colourful abstracts, for example her Lamma Island series. Multi-talented, she's also into photography (Kung Fu Family) and sculpture, even painting Cretan chairs recently.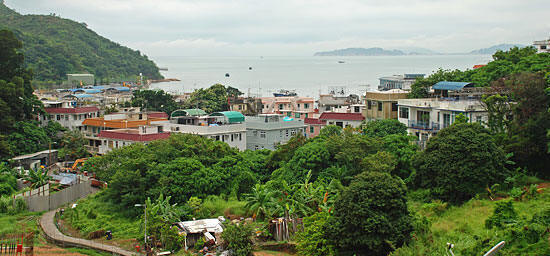 She's leaving Lamma today for a new life somewhere in Europe, not knowing yet where she'll settle next. She remains a creative and fertile free spirit who's documented the many countries she's lived in and the people she's met in her paintings. They are mostly available on her English/French website (now updated and maintained by Yours Truly) at www.HeleneAuge.com.
Bienvenue, farewell, chère Hélène, all the best wherever you're going!

Samson - Co-Moderator of the Chinese Forum:
(Photos below by nicole_kam, L-G, Ansye, nicole_kam and L-G)
Chinese Forum Summary Update - April 2007

Bobsy - Single-named Chairman of ABLE Charity (A Better Living Environment)
(Photos by Bobsy and SheiLAP, Click above for photo gallery)
(Click for former tree planting days: Tree Planting Day 2003, 2006)
THE LAMMA FOREST
A brief history
The first seedlings were planted, in the area now known as the Lamma Forest, on the barren Northern hills of the island in April 1997. The initiative was undertaken by a handful of volunteers working with ABLE Charity, a Lamma-based grassroots organization set up to make an ecological difference on this small island.
At first, the idea was to just plant trees to combat the extensive deforestation on the island, as well as be part of the greening of Hong Kong. Soon after the first seedlings were embedded in the dry soil of the hills the idea of planting a forest that covered the entire northern parts of the island was born.
It was a "Eureka!" moment, an idea whose time had come. Why not a forest? Why not work towards creating a mass of land that can one day become eligible for conservation status, Lamma had none anyways. Why not create a beautiful green and pleasant land for future generations to appreciate?
So with great enthusiasm the local community was motivated to partake in the next tree planting the following year, where 2,000 seedlings were planted over an entire weekend in the same area. The results of the first plantings had by now started to appear somewhat and that gave hope and further inspiration, as well as confirming that we were planting in the right area. Other members wanted to plant in different parts by now, but I reasoned that if we stick to one area we can start seeing results and make a noticeable difference.
Planting 2,000 trees in one weekend is no easy task. Looking back at the photos taken I can see the fatigue on the faces of the three main organizers, but I can also see the passion and the excitement.
The exercise was a success thanks to our enthusiastic local community that came out in big numbers to support. We had spent the previous weekend and the ensuing evenings leading up to the event camped out in Yung Shue Wan Main Street raising awareness and drumming up support.
A few weeks later - as if to support our efforts - the government-hired contractors came and planted thousands of trees up on the same hills over a period of a week or so and suddenly the beginnings of a forest was starting to appear as if by magic. That was a huge bonus that felt like a gift from the heavens. I no longer had any doubt that we were on to the right thing.
The following October during the Chung Yeung Festival disaster struck our island. There were over 20 fires that day, started by careless people who had come to clear and clean their ancestral graves.
The Lamma Forest did not escape, one particular grave site started a huge fire that swept across the dry hills all the way down to Pak Kok Village, burning most of the trees we and the government had planted earlier in April and May. Gone up in the blink of an eye. That was very painful indeed.
That day we were combating fire with our beating sticks and taking big risks getting in close to the burning bush and trees. We were up there helping the firemen and the odd police officer covered in black soot, dehydrated and over-heating as we watched the folly of humans unwittingly destroying the source of that which nourishes them.
Luckily, the wisdom of nature has her ways and since then many trees have regenerated back at a more evenly spaced distance, and today there is a remarkable difference between both sides of the same slope which is noticeable from the ferry as it goes round and past Pak Kok. In fact, one of the best places to see the extent of the Lamma Forest is from the ferry by looking up at the hills between Po Wah Yuen and Pak Kok Tsuen.
Able Charity has since planted trees most years with the help of corporations, schools (notably KG5) and the local community. Our efforts have been funded by the generous green fund from our local HK Electric company and in recent years the generous support of the KFBG who supply the expertise as well as the local indigenous seedlings to plant.
---
Fast forward to May 2007 and this year's tree planting weekend. The mission was 500 indigenous trees specifically selected for this stage of the forest. The seedlings included two endangered species listed under class 2 act of China & Hong Kong. (for example, the Panda Bear is class 1).
The way we normally work is on the Saturday all the 500 holes are dug, the trees are transported up to the site and from there taken up to the base camp which is then readied for the next day's planting. Out of both days perhaps Saturday is more physically challenging, but the Sunday is always more mentally challenging as it involves dealing with a lot more people, jobs and tasks.
Most tiring of all is the clean-up afterwards, when you have already done two days of intense work and everybody just wants to go home, but all the tools have to be put away, the rubbish cleared, the base camp dismantled and the task completed.
The weather this year seemed to be testing us. Saturday we had the hottest day of the year so far at a scorching 35 degrees Celsius and Sunday we had the wettest day so far with wild thunder and lightning storms and heavy monsoon rains.
We were not deterred, in fact we found it quite amusing and just enjoyed the ride. Once you are wet to the bone there is just no way to get any wetter, so you just plough on and get on with the job at hand. Although, I must admit I was a little apprehensive when those lightning bolts were exploding above and all around us.
All in all, approximately 60 people showed up to help plant trees and the vibes were good. People genuinely seemed to be excited and eager to make a difference. Every tree planting event there are always a handful of knights in shining armour who just seem to show up and make all the difference.
This is always a pleasant surprise to me as I never know who is going to turn up on the day. Often, the people you depend on the most never seem to make it for one reason or the other. These people know who they are and to them future generations will be thankful.
Now, after 10 years of tree-planting, the hills of North Lamma have transformed from slopes with trees sticking out of them into a vibrant ecosystem.
This transformation I only really noticed in the last few months. Suddenly, there is water running down, various edible berries - including an abundance of the medicinal Chinese gooseberry (amla) - colourful flowers that are attracting an increasing number of butterflies and bees, diverse bird species, over 20 different species of trees and just a vibrancy and a healthy energy that somehow wasn't there until recently.
This is truly a revelation to me, to see such a transformation in my lifetime, in just 10 years to witness life return to the land has filled me with hope that, yes, we can change the world!

Somebody just told me about an idea for a Guinness World Record attempt:
Lamma as the most cosmopolitan village in the world, with the most nationalities of any village.
He counted all his friends' and ac2u12ntances' nationalities and claimed to get up to 49! Pretty impressive, but he's a popular guy. Nancy the Frog Lady, just mentioned that in the Waterfront Restaurant, "one night there were 5 Filipinas, 1 Indonesian, 1 American, 1 Malaysian, 1 Singaporean, 3 Chinese, 2 English, 1 Australian, and 1 German."
We set a few ground rules like the person has to have a passport from that country and Lamma being their main residence. We started doing this as an informal count in our forum: How many nationalities on Lamma?
We've got up to 49 so far. As this might not be enough for a Guinness world record attempt, the forum members came up with additional fine ideas:
Alan: Most nationalities in a sauna.
Most nude nationalities dancing round a May Pole.
Lamma-Gung: Most nationalities in a bar, all drunk above the legal limit.
Most nationalities on a 700 sqft Village House rooftop.
Foxy: Most nationalities on a village vehicle.
How many people of different nationalities do YOU know living here? This might also make a great party and BBQ game. Add new nationalities to the informal list below by emailing me! No need for names and proof, I'll trust you.
Nationalities Living on Lamma (as of June 2007)

Afghani

American

Argentinean

Australian

Austrian

Bahaman

Bangladeshi

Belgian

Brazilian

Canadian

Chilean

Chinese

Croatian

Cuban

Danish

Dutch

Ecuadorian

Fijian

Filipinos

Finnish

French

German

Greek

Icelandic

Indian

Indonesian

Irish

Israeli

Italian

Jamaican

Japanese

Malaysian

Maldivian

Mauritian

Mexican

Moroccan

Nepali

New Zealander

Norwegian

Pakistani

Palestinian

Polish

Qatari

Russian

Serbian

Senegalese

Singaporean

South African

South Korean

Spanish

Sri-Lankan

Swedish

Swiss

Taiwanese

Thai

Turks

UK

Ukrainian

Vietnamese

Zambian
P.S. More nationalities keep coming in, almost within minutes of publishing this story: Greek, Serbian, Mauritian, Bangladeshi. More, more!
P.S. June 14: Emails have come in, adding Qatari, Jamaican, Zambian, Vietnamese, Taiwanese, Maldivian, Croatian.

The HeliAds Lamma International Dragon Boat Festival teams (men, women, fishermen) are a familiar sight in the Yung Shue Wan harbour these days, practicing hard and diligently for their numerous races all over HK and even internationally in Singapore.
The first-ever Lamma International Dragon Boat Festival is coming up this Sunday, so the event's title sponsor HeliAds sent the Lamma Dragons Ladies team flying high over HK and Lamma to launch the Festival. Let's hope that they come back down to Earth after this high-flying experience and actually win that Cup they're clutching so eagerly in the photos above! If you can hear their trademark Big Tamasha and Shouting-Shouting in the harbour, then you know they're getting hard and all ready for Sunday!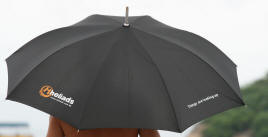 In a smart and perfectly-timed stroke of marketing genius Gavin had 400 HeliAds-themed umbrellas made- we might get a few showers on Sunday - promising to give them away for free on Sunday to spectators and participants, first come first served. Then he sent me an email about it today and got even more free publicity in the Lamma-zine! Clever!
But, honestly, I was expecting something a bit more of a fancy design, like helicopter blades printed on the brolly, a printed picture of Lamma and Power Station Beach from above, a dragon boat dragon atop the spike of the brolly, or at least a heli-propeller-shaped beanie!
Gavin, HeliAds' MD, replied: "I dare not steal the glory of the [Lamma Ladies'] pink "fancy designs" on Power Station Beach tomorrow."

Mark Burns - Co-organiser and Managing Director of promoter Thirsty Horse: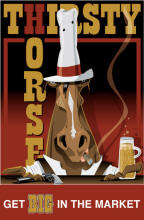 Fifty-five dragon boat teams from Hong Kong and overseas will compete in this first ever international dragon boat race to be held on Lamma Island, being staged on a full international 500-metre course at Tai Wan To (Power Station) Beach, Yung Shue Wan.
"We're looking forward to welcoming over 1,000 competitors to the Lamma Festival, making it one of the largest dragon boat races in Hong Kong in only its first year!" said Tournament Director, Brad Tarr of promoters, Thirsty Horse.
The Lamma Festival has attracted a number of sponsors including Hongkong Electric and title sponsors HeliAds.
"The HeliAds Lamma International Dragon Boat Festival has attracted racers from across the Hong Kong community, from students to managing directors, housewives to pilots. HeliAds is proud to support this wonderful new sports tournament which we're sure will grow in popularity into the future," said Mr Gavin Neale, Director of HeliAds.
Racing gets underway on Tai Wan To Beach, Yung Shue Wan, Lamma Island from 9am on Sunday 10th June. Additional ferries have been arranged from Central Ferry Pier 4 to cater for paddlers and spectators.
In addition to Hong Kong dragon boat teams, several teams from the Dubai Flying Dragons club are flying into Hong Kong especially for the Festival.
The community spirit of the Festival 2007 will benefit the fundraising of children's charity, the Make-A-Wish Foundation of Hong Kong, one of the key organisers of the Festival and the Official Charity.
Spectators are welcome to come and enjoy the day on the scenic beach on Lamma and entry is free.

Red tides have been spotted on on Power Station beach and in the Sok Kwu Wan harbour, where they endanger the many fish farms there by using up much of the water's oxygen, suffocating marine life. Maybe the worst red tide since 1998!
Lamma's swimmers are worried about the toxicity of this algae bloom and have been discussing its origins in our forum Red tide comes to Power Station Beach. These pictures, according to our resident experts, actually show some form of water pollution, not red tide. Pictures pending...

Wow, 24 issues already of Lamma's 2nd (more or less) weekly,
locally produced news media, besides the daily Lamma-zine!
Let's call for a BIG PARTY as soon as #25 will be out! Daniel, how about it?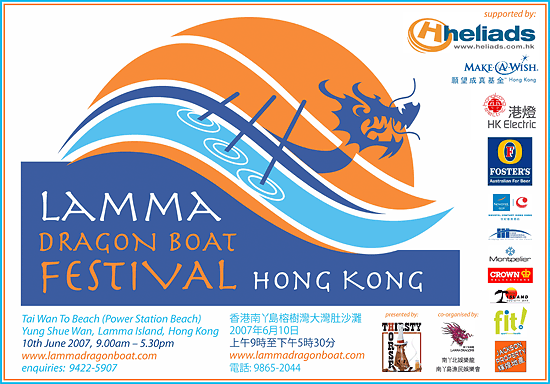 Kevin Bishop - Lamma Dragon Boat Festival co-organiser and promoter:
We're looking for some decent photographers who'd be interested in taking some shots at the Lamma Dragon Boat Festival on this Sunday, June 10. Of course, anyone's welcome to come along to take photos, but in particular, I'm looking for decent sports photographers.
We could give them special access to the officials/marshals' speed boats so they can get close to the action.
We have no budget to pay them, unfortunately, but I'm sure there would be photographers on the island who would be keen for an opportunity to take some good action shots for their own portfolio. They would be welcome to use all the photos for their own use, as long as we can have copies of the best for our website and publicity, credited accordingly, of course.
Are you able to put me in touch with any? Contact me directly at Kevin.

Yes, it's very hard to believe, with all the usual $50+ drinks in LKF!
The Deli Lamma, a loyal Lamma-zine advertiser, is introducing a new Happy Hour, starting today, every day except Sunday, in the Deli Lamma Lan Kwai Fong. Unlimited standard drinks, plus nice, savoury snacks and munchies, from 5-9pm, all for just $150!
This would be a great opportunity to have a close look at the new LKF sister restaurant of one of Yung Shue Wan's longtime favourite hangouts and fine-dining spots. The menu is very similar between the two places, so you'll find your familiar YSW favourites readily available in the Deli Lamma LKF, even the chef and several staff have moved over from YSW.
(Photos below by Lammaite André, click to enlarge)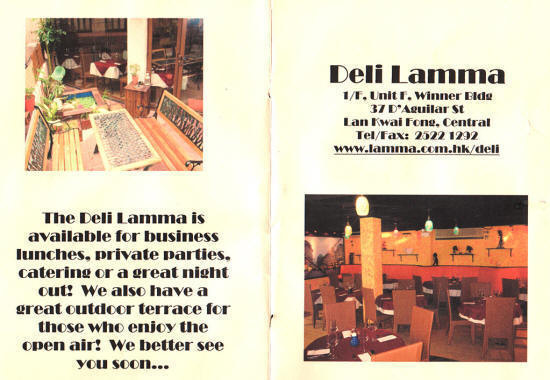 Full menu: page 1, page 2, page 3.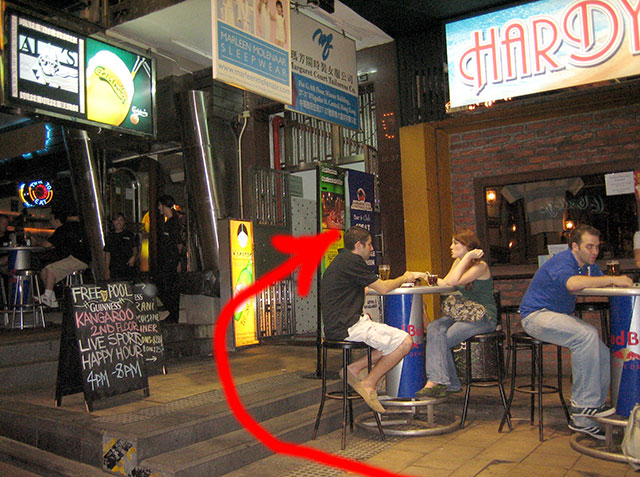 How to find the Deli Lamma LKF? There's no signage outside at this moment:
Go almost to the top of D'Aguilar Street, No 37, Winner Building - in-between Al's Diner and Hardy's Club, opposite La Bodega and Insomnia.
Go into the open Winner Building, take the stairs or the elevator to the 1/F.
Follow the big Deli Lamma sign. See map below:
---
37 D'Aguilar Street, Lan Kwai Fong
---
Still being an insider tip, it means you'll never have to wait for a table, even at lunchtime. Whenever I'm in Lan Kwai Fong at lunchtime, I visit the Deli Lamma as they offer such a fantastic deal of a lunch menu. Only $70 for a choice of daily changing five main courses, plus drink and soup or salad, and no service charge from Monday to Friday! Check it out and say hello to your friends from the Deli Lamma YSW. Take along your colleagues and friends, if you're working in Central.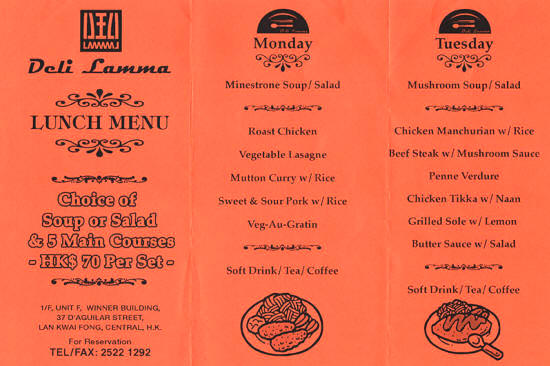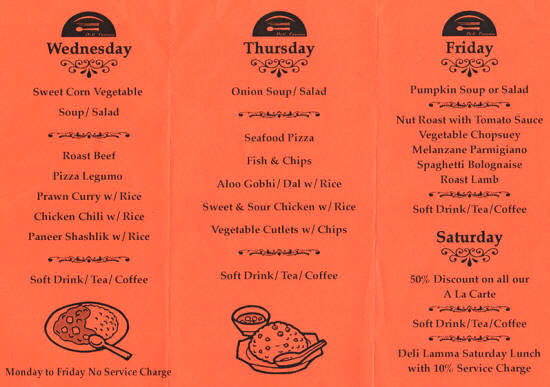 After several interviews for Chinese newspaper, Lamma's famous and beloved couple of pet pigs will be making a TV appearance. Following up on a recent major story in the best-selling Apple Daily, ATV Home filmed an "infotainment" story yesterday, to be broadcast between 10:30 and 11pm soon. They interviewed Keren, owner of Lamma's very own "celebrity couple" Sumo & Peggy, and Jenny from the Lamma Animal Welfare Centre who have adopted this issue with their usual passion, dedication and professionalism.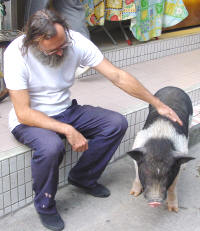 The govt. is insisting on seizing and killing Keren's pigs, considering them illegal livestock - not beloved pets! Keeping pigs has been declared illegal on Lamma not so long ago, closing down all the former numerous pig farms all over the island. Keren has been fighting to get an exhibition license or an exemption through all the relevant govt. channels for 1.5 years now, to no avail. The Environmental Protection Dept. decided to sue Keren instead of issuing a license.
Walking to the ATV interview, I noticed three govt. guys close to Keren's former Tai Peng home. They were probably here trying to take the pigs away and get them slaughtered, but couldn't find them anymore, after their move to a secret, temporary location. But it's probably just a matter of time till they'll locate them. The govt. seems to rally their full forces in persecuting Keren and her "family". Public pressure seems to be the last resort now to save the lives of this piggy couple. The ATV interviews will help, we hope.
The Lamma-zine has been writing about this issue before, most recently on May 13 and in the Hog Heaven photo gallery. "Sumo the Vegetarian Pig" (as we dubbed him years ago, being fed by vegetable kitchen scraps from local restaurants and his many friends) has been on TV before. Here's a photo I took several years back, Sumo and Nick the Bookman (on the left, not the right), close to "Nick's Corner".
Below, a few more of my photos from the ATV interview, photographing often over the shoulder of the videographer ("No flash, please!"). I'll keep you posted as soon as we'll know the interview's airing date and time!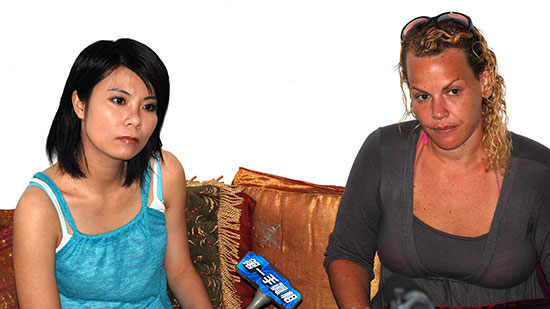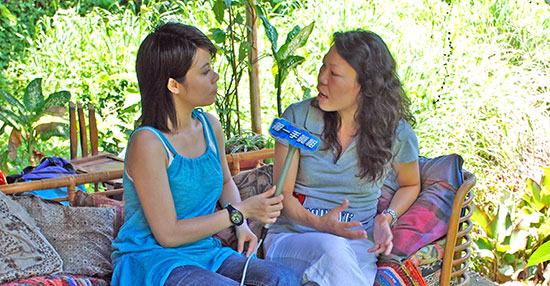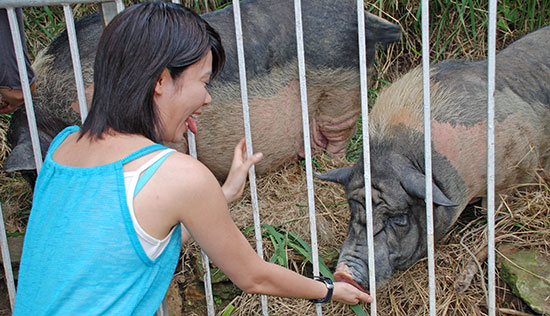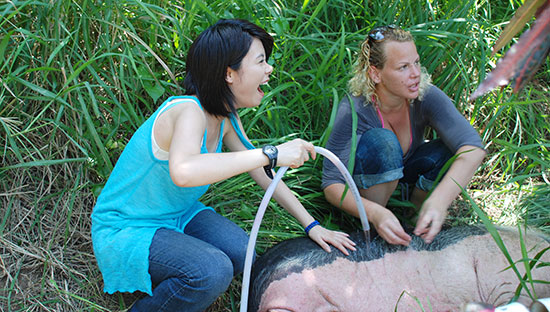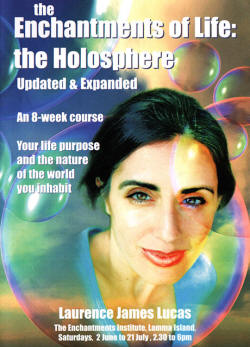 In the June issue of the very informative and excellent website/email newsletter Holistic Hong Kong by Lammaite Peter Lloyd, Laurence James Lucas writes:
"As I sit in my living room on Lamma Island in the early morning I am immersed in the earthly orchestra of birds and insects. It sounds to me like a celebration of life and the symphony of the day. Music is vibration; all of life is singing. All of your actions, thoughts and feelings are transmissions of vibratory energy that is music, sometimes discordant, sometimes cohesive and harmonious."
Laurence is running the new Enchantments Institute in Yung Shue Wan, together with his partner, artist Carey Vail, a former Lamma-zine Artist of the Month. Today, a new series of workshops is kicking off, an 8-week course about the Enchantments of Life: the Holosphere, about "Your life purpose and the nature of the world you inhabit," every Saturday to 21 July, 2:30 - 6pm. The very well-chosen, intriguing, New-Age-style, poetic titles of these weekly workshops are:
The Holosphere, Cosmic Mapping, Your Enchanting Life, The Dance of Passion and Grace, The Emperor's Striptease, Babylon Sings, The Realm of the Ring Lords, The Matrix of the Mystics.
For more info or to attend any or all of these workshops ($350/afternoon), email bluelotus@netvigator.com or call 2982-6123. For more info, click here.
---
By the way, this story is NOT an advertorial, just another friendly welcome to a new addition to Lamma's active and prospering spiritual/holistic scene. This scene has been a fertile and inspiring source for quite a few Lamma-zine stories over the last almost five years. But after debating some of these topics with Laurence and Carey over dinner in Lambcombe and even attending an earlier workshop - out of sheer intellectual curiosity - I can only say:
I am not worthy, Sifu! Being stuck in a materialistic, scientific, non-religious interpretation of reality (based on a relativistic-agnostic philosophy), much of what Laurence is teaching is just way above my thick head. Promises of teaching me about "your life purpose and the nature of the world you inhabit" trigger my rolling-eyes reflex instantly and get my BS-meter spinning. Promises like these have a most difficult time to penetrate my mental defenses developed over a lifetime of carefully fostering a critical, ironical attitude to life, people and the universe in general.
But maybe I'm all wrong and I merely haven't "seen the light" of enchantments yet? I know that I know (almost) nothing about life, people and the universe. Maybe I never will... but that's not a problem at all. It's definitely no obstacle to my happiness and keeps me tolerant of most belief systems and religions.
But I recommend to all of you spiritual seekers out there to check out these low-cost workshops of The Enchantments of Life: the Holosphere with an open mind and form your own opinions. What Laurence is teaching is a really fascinating world view and much of it makes a lot more good sense than most of those self-proclaimed, money-grabbing "masters" out there. His clear, non-dogmatic, open-for-discussion and entertaining teaching style is definitely most refreshing. It's a fine way of spending a Sat afternoon on Lamma in the company of like-minded spiritual seekers, frequently very intelligent and attractive females...

Eileen - ex-Pak Kok Village resident:
At last, 16-inch walls and peace and quiet!! Gone are the sleepless nights, nights of torment as we lay in bed listening to the howls and cackles of the local banshees.
We have now got a nice little cottage on the edge of the North Yorkshire Moors, one that is hundreds of years old and has 16-inch walls. So it's very quiet, a bit "cozy" in the degrees, but most of all peaceful.
I do have the odd twinge of longing to see the lovely sunsets and scenery of the beloved Isle of Lush, Bangs, Tweets and Loving that is known to most as Lamma.
Just to lay in bed and only hear the sound of the cat purring is such a heavenly thing after the 6 weeks of almost living hell we endured while having to stay in a harbour view room in Yung Shue Wan, very close to some restaurants and bars.
I remember one night in particular. It was shortly after some Big Bear Hunter had gotten married and was obviously still in party mood with his new wife, family and friends.
The party was very lengthy and very noisy.
As we try to put up with it by watching movies till around 1:30am, thinking things would slow down!! We were wrong! Until 2:30, we had to suffer the very loud bar music as well as the drunken rantings of a guest who was then leaving and screaming off at around 3:30 into the night.
This only made the other guests more determined to stay and have more of the demon drink.
He and his sidekick then went on a blinder until it all got too much for them. The sight of the table with no drink on it made them so angry that the table and the empty chairs were promptly thrown into the sea.
Music was still blasting out as they left, but not before turning on all the water taps and leaving them running.
All was still apart from Petula Clark belting out "Downtown". I could take no more and put on my dressing gown and went down to see what was going on.
I was all set to give the bar minder an earful, but when I got down the bar was all locked up, shuttered and no bar staff. Tables were upside down and the place was flooded. The music was still belting out, so I unplugged all the plugs I could find and turned off the taps.
I went back to the room where my husband - who had to be up for the 6am ferry - was trying to get some rest. It was now 5am.
A few hours later, there was a lot of police around and a very angry man showing them the table thrown into the sea. Lots of arm-waving and pointing going on.
I don't think the police believed it was a table until the angry man got into his boat and went to get it from the murky water.
I was called upon to give an account to the police of the goings-on of the night before.
It turned out that the bar minder had gone off duty around 2am and shut up the bar. These drinkers must have bought Jim Beam from somewhere and stayed on the premises unbeknownst to the bar minder.
It was not until later that day, when the sea receded, that the missing chairs came into sight.
We put up with one or two more nights of loud bar music. Finally, my husband went to have a talk with the bar owner. All credit to him, we were able to sleep soundly there afterwards, as all the music was kept down to a reasonable level and turned off after midnight.
This was great, as the rooms in this place are very nice with a lovely balcony and the best harbour views. We did enjoy the stay very much after this night of torture.
I would highly recommend the place to anyone. The bar staff are very attentive and friendly, the cleaner is very good and will attend to your cleaning upon request.
But most of all, it is on Lamma Island where - as we all know - anything goes and usually does.
Read and discuss more about this topic in our forum When the night has come.
Ed Banger commented in this forum on Eileen's dire plight:
"Ayaaaa, Eileen, Eileen!! You should never have forsaken the quiet backwaters of Pak Kok for the bright lights of Yung Shue Wan. You're not the first Pak Kokker to be lured by the neon, and doubtlessly not the last.
You should return to the house on the cliffs before these lost souls drag you deeper into the swamps and sewers of the Banyan Bay metro!"