Residents of YSW Lamma Island Ferry Services Concern Group sincerely invite you to express your opinion either on Apr 6 and Apr 7,
visit our booths in front of Spicy Island and LAWC,
or access Internet during the period Apr 5 - Apr 8.
Survey results will be made available for public, government & related organizations' viewing. Thanks for your support!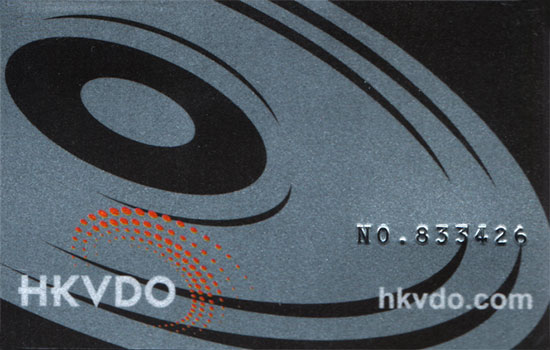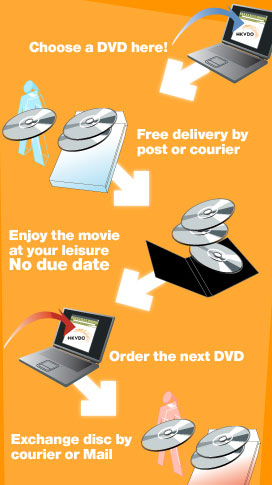 Our new advertiser HKVDO.com has just been promoting their movie rentals at the Yung Shue Wan ferry pier recently, on Sunday, March 16. If you're one of the many Lammaites staying away from the ferry pier on Sundays, avoiding the flood of weekend visitors, you might have missed it. Renting a wide variety of movies is a service almost completely absent from Lamma, sadly. But renting movies from town (and returning them on time, avoiding the huge late charges!) is often just too inconvenient and our pretty limited local TV options rarely offer any good new movies.
I've been using HKVDO.com's DVD rental services for a little while now and I'm very happy with it so far. The convenience can't be beaten, see on the right how it works. You can take as much time as you like to watch the DVDs, no late charges! Return them via pre-stamped envelope (see below) and get the next DVD in your online queue a few days later. It's charged monthly depending on how many DVDs you'd like to rent at the same time. $128 monthly for 1, $198 for 2 discs at-a-time. FAQ.
There's a free 14-day trial right now; try it before committing to a plan! They've even got Blu-ray discs!
Click above for L-G's photo gallery.
Caroline Bowles - HK Gardening Society member:
(Story is courtesy of HK Gardening Society who published a shortened version of this article in their March 2008 print newsletter. Photos by L-G.
Invitation for this excursion: Beaches, Bars & Bizarre Residents.)
Exploring Lamma
As we stood on the Lamma ferry pier, a biting North-easterly wind tweaked our hair and nipped at our noses. Despite the heavy skies and light drizzle, our party of about 20 intrepid gardeners listened intently as Bing Law and David Sanders, our guides for the day, recounted how Lamma's vibrant agricultural community was decimated in the early 1990s by the Government's decision to allow fresh vegetables into Hong Kong from Shenzhen. Local farmers could not compete, and the old terraces were abandoned and lay neglected for some 17 years. We were to witness how the hard work and enthusiasm of newer Lamma residents have transformed those sad terraces back into productive herb and vegetable plots, farmed organically using sustainable methods.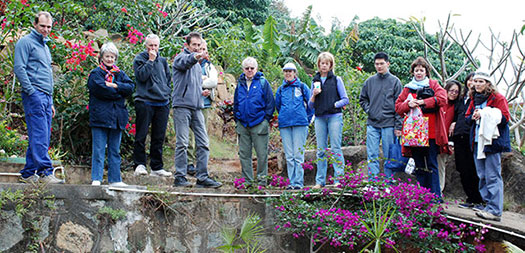 Energetic garden-visitors made their way on foot to our first port of call, Pak Kok, while the rest of us took the lazy route and boarded the gaido. Having meandered up the path from the pier, we were welcomed by Eric Collins, who, with the help of Bing Law, has cleared bindweed, tall grasses and other tenacious weeds from four terraces. Those next to his house have been restored and planted with lawn seed after extensive digging. Shrubs were removed to create a wonderful feeling of open space, terrace walls have been rebuilt and fairy-tale brick steps allow you to tiptoe from one level to another. The vegetable and herb gardens are now in their second year and are a delight to behold. The lower area, where the vegetable garden is located, has been trenched and composted. Only organic fertilizers such as soybean meal are used, and leaf mould is collected from under trees. Vegetables seen here included carrots, beets, lettuces, capsicums and tomatoes. Some were netted for protection.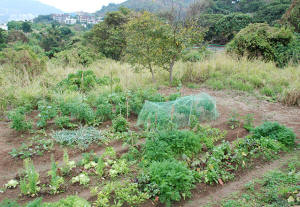 The herb garden is situated where formerly there were papaya trees, and the soil here was not as good as that of the vegetable patch. The artist in me rejoiced at the layout of this beautiful herb garden, whose cross design was inspired by a Tudor herb garden that Eric had seen in North Essex in England. Herbs grown included two varieties of basil - a great favourite of Eric's - and scarlet sage, while the massive grey-green leaves of broccoli, the yellow heads and feathery foliage of marigolds and tall garlic spikes provided visual contrast. The latter are companion plants, which Eric is growing in the hope of deterring voracious pests.
Close by, David and Bing Law have developed vegetable and herb plots in a former orchard, which again required vigorous clearing work. Existing fruit trees have been pruned and the sick old Persimmons are recovering. Other fruit trees include Lai Chee, Wong Pei, Longan, Banana and Pineapple trees. Ah Bat developed this area 50 years ago and Bing Law has honoured his wishes by nurturing certain medicinal herbs which are rare in Hong Kong. Examples include 'sum shu' - a bulbous root similar to a white sweet potato which is used for cleansing the body. It is harvested in the Spring and made into a detoxifying soup during the Spring and Summer. Its vines are carefully supported on canes. Still found here is 'leung meen tsum', which is excellent for healing snake bites, and 'gai see tung', a climbing plant whose leaves are juiced and then put into sweet black dumplings.
The vegetable patch on this level is one year old and is circular because Bing Law likes this layout. Veggies include huge tomato plants, beets, carrots, peas, spinach, broccoli, taro, choi sum and bak choi. My most compelling questions for these expert gardeners were 'how do you stop the bulbuls eating your tomatoes and red chilies?' and 'how do you stop caterpillars eating your beautiful leafy veggies?'. Eric's answer to the former question was to pick tomatoes before they turn red and let them ripen in a sunny kitchen, and the general consensus was that although netting may assist in the battle against voracious caterpillars, the only way to deter them is by dexterous manual removal - in my experience an extremely time consuming and thankless task!
David and Bing Law are also regenerating a lower terrace. The soil is a heavy sandy loam, which is deeper on lower levels of the island. The soil has been tested by the AFCD and it meets the standards required for organic gardening. The AFCD have also tested the nearby spring water, which is of good quality - an vital component for good quality produce. David and Bing Law are planning a novel means of conveying water up to the top terraces, using a water tank and pump in a bizarre reversal of normal irrigation practice. They are hoping to regenerate plant species, and to get more food going. Their aim is to encourage sustainable living. They are experimenting with different fertilizers and get organic compost from an organic dairy farm in China. They are negotiating with local authorities to have the use of a heavy duty machine to crush branches for surface mulch. These gardens are all being developed under less than favourable conditions as local land rights issues leave them vulnerable to the vagaries of local ownership regulations.
Much to the surprise of the super-fit Lamma denizens, the entire group opted to walk over the hills to our next destination, despite dire warnings about 'Heart Attack Hill'. There were cries of excitement at the sight of the spectacularly beautiful and abundant red clusters of the huge Clerodendron ???? and similar delight at the flowering Flame Tree. Several intrepid walkers negotiated the overgrown jungle in order to explore a spacious old derelict house, earmarked by some dreamers as a wonderful headquarters for HKGS.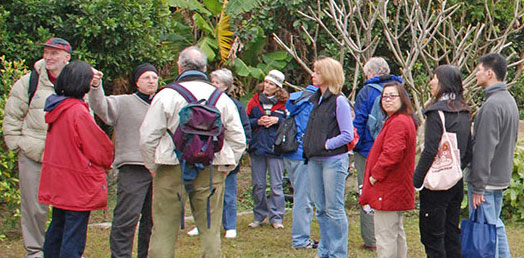 We then interrupted the lazy Sunday afternoon of another Lamma resident, Les McClure. Les obligingly recounted how he took 9 months to clear two overgrown terraces behind his house, and over a period of 6 years planted grass seed and transformed them into peaceful glades, using the old fields as the skeleton for the new garden. The terraces are skirted by magnificent shrubs and specimen plants, including a very tall Schefflera, which until recently sported its pink flowers for nearly 5 months.
Touches of whimsy were much evident in this garden, and Les had many tales to tell of the history of the property. Snakes enjoy visiting his house, and he is regularly disconcerted by the sight of a long reptilian body flopping down onto the floor from the internal rafters. Old folk take fruit from the mulberry tree in front of his house, boil it and drink the juice to help heal sore throats. En route to our next garden, we marveled at the variety of fruit trees. The sight of a heavily-laden jackfruit tree prompted us to marvel anew at the rich variety of fruit trees to be seen in private gardens. We spotted orange pomegranates, pale green starfruit - painstakingly wrapped to protect them from the cold - papayas, lemons, limes, custard apples...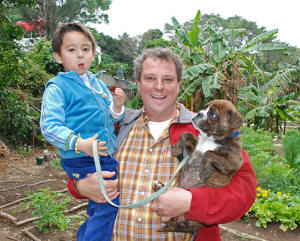 Our next stop was the Tai Peng Community Garden, aka 'The Eclectic Garden of Tai Peng'. This fabulous project was the brainchild of Tavis du Preez, who first met like-minded gardeners at meetings in March 2007. Hard clearance work last summer meant that the first plots were ready for planting during the autumn. Nowadays each Sunday sees the gardeners meet at the site for a pot-luck lunch and to tend their plots. Children are encouraged to plant and tend and dogs are welcome to join in the fun. Our group, by now rather chilled, was enthusiastically welcomed by our hosts, who had prepared a roaring fire and delicious informal lunch for us.
Individuals prepare their own plots. Knowledge is shared and experiments made with different seeds, fertilizers and so on. Peanut cake meal - 'fa sun fu' - has been added to the soil in powder form, or mixed into water and allowed to decompose for use as a liquid fertilizer. Goat poo, bone meal, peat moss and ash from fires have all been tried. Thriving plots are producing beets, dill, lettuces, tomatoes, turmeric, peanuts, basil, coriander, carrots, spinach, rocket, horseradish and those fabulous additions to salads: nasturtiums, pansies and sunflowers. Sage, borage (the 'silver bullet' of complementary planting), marigolds, garlic and bell peppers are all being tried as companion plants to ward off those pesky pests.
Gardeners irrigate their plots by means of watering cans and water from the original water tank. Soon a large 'matchstick man' is going to be constructed on the upper tank. Water will be pumped up through the matchstick man's legs and it will then pour down through his arms in a whimsical 'take' on a waterfall. This matchstick man will be seen as a tribute to the farmers of Lamma.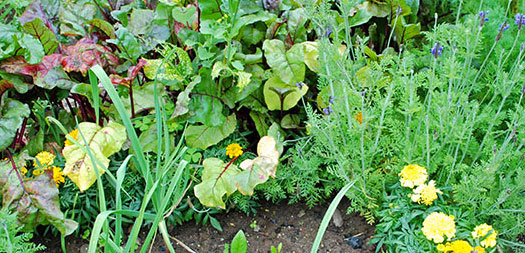 Touches like this are evident through this vibrant community garden. An old tree now sports thriving orchids, and one of the gardeners has constructed a gnarly fence from old branches. This project is in its infancy but growing rapidly, due to the hard work, warmth and enthusiasm of its participants. We should like to say a big thank you to all Tavis and all those wonderful people who made us so welcome.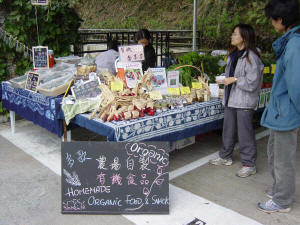 On we went to Herboland, a flourishing organic herb and vegetable farm. This was started in 2003 by Gary and Gavin, who were two young volunteers at an organic farm and who decided to start one of their own. Now they grow a multitude of herbs, from arid Mediterranean sun-loving specimens such as rosemary and oregano and savory, to Oriental types such as Thai basil and even curry leaves. They even have some coffee bushes. 20 - 30% of their produce is vegetables, and the rest is herbs. They sell potted plants and herbal teas and keep healthy rabbits. Two most beautiful and laid back marmalade cats lazily sucked up adoring attention from cat devotees. For more information on Herboland, please visit www.herboland.com.hk. Like with all the other gardeners we met today, their enthusiasm is infectious.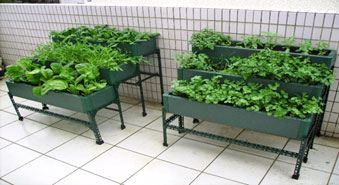 Our final treat was to visit the rooftop of David and Bing Law. There they showed us their thriving Microgardens, which they have developed with Hong Kong gardeners in mind. Suitable for even the tiniest balcony, Microgardens come with frame, planters, organic compost, seeds, instructions and even a little trowel and fork - everything needed to start a tiny but productive herb and vegetable garden.
We'd like to thank everyone involved for our wonderful day out, which was entertaining, fun and highly educational. Lamma Island was a personality in her own right, decked as she was in her Chinese New Year finery. Bougainvilleas and Firecracker Vines smothered the hillsides. Rooftops and private gardens were full of cheerful Lunar New Year flowers - Dahlias, Chrysanthemums and Peach Blossom.
Angela Manandhar (text and pictures):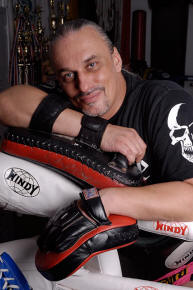 Legacy of a Legend...
It's taken me a while to put words to the mirage of emotions which have gone through me since Pierre's passing. He was a man so full of life, so strong, so powerful, (so loud!), I still can't believe he's not here to give orders! Pierre radiated a unique energy and whether you loved him or loathed him, once you'd met him, you would certainly remember him.
Shihan or Ajarn Pierre was a gifted martial artist and an inspirational teacher. He always pushed you further than you thought you could go: made you sweat, made you curse, made you cry; but in the end, his unique blend of sugar and whip always left you wanting more. His clients, many of whom became close personal friends were indeed a unique band of masochists!
He was determined to revive the fighting arts in Hong Kong and worked fervently for years to bring his dream alive, most recently as a highly successful Martial Arts Promoter and Event Organiser. Pierre lived passionately and threw himself into everything he did, with his vision, eye for detail and persistence, he forged bonds between the Western, Chinese and Thai martial arts communities around the region.
Pierre helped many people fight their demons: from alcohol to heroin to depression. He was strong for them when they needed strength and he was tender when they needed compassion. He was a sucker for a sob story and would always be "bailing people out", both financially and physically.
He was a real man's man, he loved to be with the boys, but he was also charming, chivalrous and highly intelligent. The hard exterior that some people never took the time to get past shielded an extremely creative, artistic and sensitive man. He was vulnerable, tender and fiercely protective of his family and friends.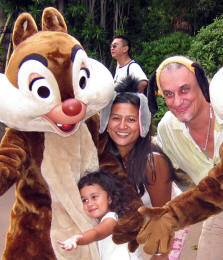 He loved his "shining star" Montana Anastasia more than anything, he was the proudest daddy on the block and anyone that knew Pierre would have also known all about Montana.
The world will certainly be a quieter place without you, Pierre, and you will be sorely missed by all those who loved you.
Take care, my love
Angela xxx
---
P.S. Ex-Lammaite Pierre's funeral will take place on Monday, 31 March, at the Hong Kong Funeral Home in North Point. You may come to bid farewell 4 - 5pm. The ceremony will commence at 5pm.
This will be followed by a wake in Dublin Jack from 8pm onwards.
P.S. Click here for a photo gallery with some photos of Pierre's Lamma days.
Silke - Kiel, Germany - Lamma visitor (text and pictures):

The difference between Hong Kong Island, where I first arrived, and Lamma Island could not have been more significant. However, I must admit that Lamma Island has a charm all of its own which is hard to resist. Though it is a rather small community, I was astonished being told that 60+ nations are living peacefully together on that island, tolerating and maybe even appreciating the differences so many people of so many nations might represent. You can be awfully proud of that!

Besides a beautiful countryside with gorgeous sea views, there are so many places and paths to explore, It's a great hiking place, you have a cozy little beach, excellent seafood which is offered throughout the island and everything you need to make a good living. I can fully understand that once you have been "stranded" for a certain time on Lamma Island, you might find it very hard to leave again.

Even more surprising to me was that so many people do take care of animals. We visited a huge shelter for dogs the other day and I did not expect to find that in Asia - sorry for my prejudices. I will also not forget the sight of that tiny little black dog with a "wheelchair" attached to his two back legs so that he would be able to walk and jump around with his canine friends.

One week on paradise island was definitely too short to explore everything that Lamma has to offer. I had the chance to meet some really nice and interesting Lammaites, had conversations which could have lasted forever, had an excellent aroma-therapy massage, soaked in everything with was new to me: smells, languages, food I have not seen and eaten before.

Thanks for the experiences! Thinking of Lamma, I envy my friends Simone and Holger (photo right, moved back to Berlin now) for having had the chance to explore Lamma life and for giving me the chance to share it at least for a week. It was all so new, exciting and I've enjoyed myself so much! I'll be checking up on Lamma frequently in the Lamma-zine.
Prof Red Star: Head Honcho of Red Star Rising, performing TONIGHT in The Wanch, together with local blues legend Tommy Chung. See poster below and click for details. Republished from his photo blog with friendly permission:
Walk on by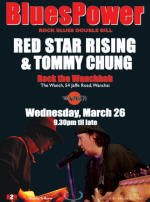 It's a dead loss trying to get attention in Lamma Island's Main Street, especially if you're a body lying in what looks like police tape to mark an incident of some kind.
This was the scene that greeted me as I was on my way home last night from a South China Morning Post photo job and, as I had my camera gear on me, I decided to snap away and see how many people stopped to see what was going on. Well, nobody did. But, then again, perhaps they already knew that the tape on the ground was no more than a street artist's prank and the body lying there was another prankster who decided to play dead just for the hell of it.
The body, who gave his name as Roger Federer (hmmmmm), said that although he hadn't placed the tape on the street, he wished he had. "That's just fantastic," was his comment.
Paul Lau from Lo So Shing Village (near Sok Kwu Wan), well-known Lammaite, photographer and publisher, was exhibiting pictures from his latest beautiful photo book "Butterflies and Moths of Hong Kong", in Back Street's The Cyan Studio on Sunday, March 16.
For more info, see recent story, Mar 13: The Butterfly Man @ The Cyan Studio.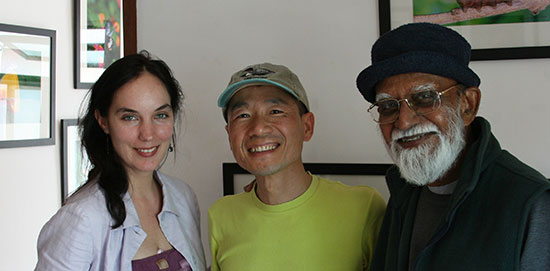 This fantastic photo - taken just a few months ago, last Sep - comes from Lammadonna's blog (in Chinese only) where it's used as wallpaper. Click for large version of this photo and check out more Lamma Blogs!
Feb 9, 2008: Bookworm Corner Stone Grand Opening party, photos by Simon Li. our Photographer of the Month - Feb 2008.
According to Ken the Bookworm (below left), this new bar-style "extension" will be open to all guests and available for special events as well. The driftwood counters were brought in from Power Station Beach and the stone slabs were also locally sourced.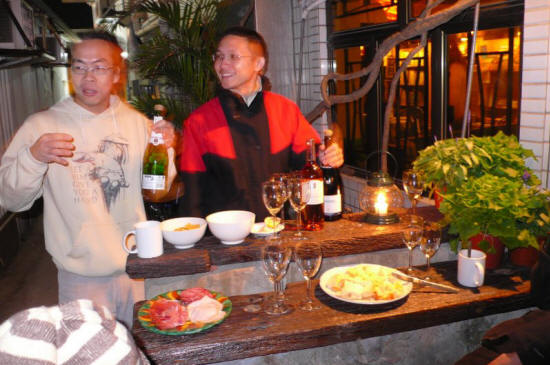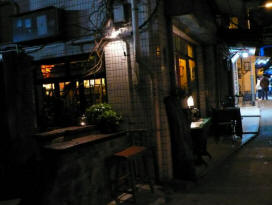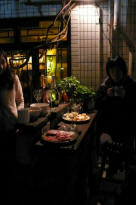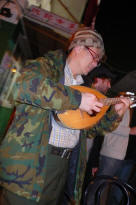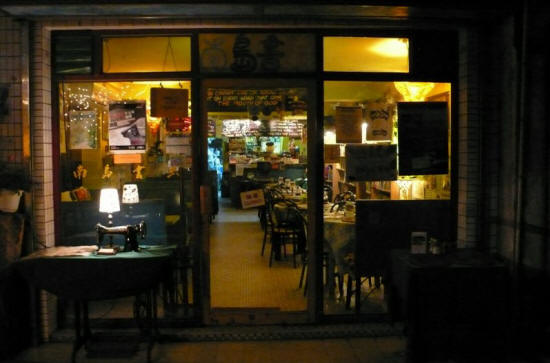 For more photos, see Simon Li's photo blog.
From the "Far-Flung Baska-Gang":
"We wish you a Happy Easter for 2008. We send a message of Hope and Love."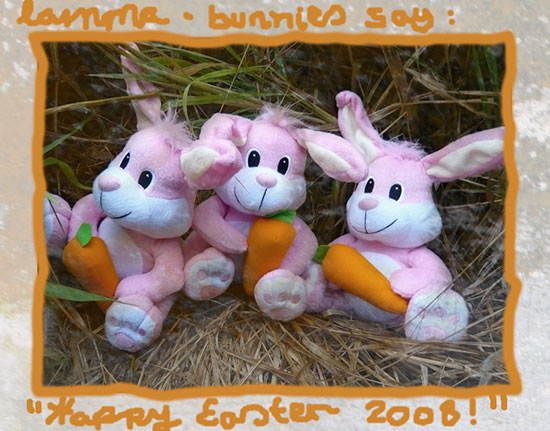 Another long holiday weekend, Easter, and Yung Shue Wan Main Street is foot-traffic-jammed with visitors. But there remain so many pockets of peace and quiet even on busy weekends like this. A few photos by Jay Scott Kanes, all taken today around Yung Shue Wan, offering revealing little glimpses into our village life.
It must be a holiday weekend! - Seeking seafood at a Lamma restaurant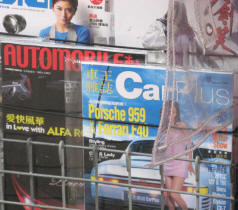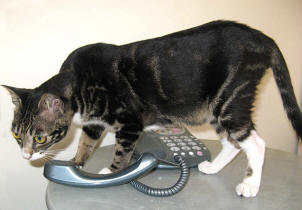 Car magazines for sale on a car-free island - Calling for cat food home delivery
Jay Scott Kanes - Author, Photojournalist, Blogger

(Text and pictures by Jay Scott Kanes)

WITH a joyful yelp, Puddles, a brown dog, twisted, spinning to face a toothy challenge from Yippy, her white-and-black playmate. The two dogs rose to their back legs, grappling and pushing like slimmed-down sumo wrestlers. Then they dropped to all-fours and raced along the beach.

"Four-leg drive works well on the sand," said Frank, squinting through thick spectacles and scratching at his stubbly chin. "They're fast."

Frank, who could afford dog food thanks to his job as an accountant, had escorted Puddles, his pet, for a Saturday romp at Power Station Beach near their home on Lamma Island in Hong Kong. Luckily for Puddles, they'd encountered Wanda, a schoolteacher, her tiny daughter Doreen and the dog Yippy.

"Our dog needs exercise," said Wanda. "She stays quiet for hours when Doreen naps."

"The dogs love it here," said Frank, who lifted a leg and tried to shake sand off one of his sandals.

Wanda, tall, slim and with curly red hair, avoided the water's edge. In her arms, she held 13-month-old Doreen, who curiously eyed the frolicking dogs.

"Gaaa daaa faaa" Doreen said in infant lingo. She raised her hands as if framing the dogs between mini-fingers. Gently, Wanda bounced the infant in her arms.

Frank stopped trying to expel sand from his footwear. Using a big-toe that poked from his right scandal, he drew a circle in the grainy terra firma.

"What did you hear about the boats to Central?" Wanda asked. "How many crossings will the ferry company chop?"

Frank winked at the baby. "I don't know and don't care."

Frowning, Wanda turned to face him. "Other people care," she said. "We need a little convenience to get into the city."

"Que sera, sera," Frank said. "What will be, will be."

"So you didn't attend protest meetings?"

"No." Frank shrugged. "I'd rather see fewer ferries. Then maybe they'd travel full."

He noticed the dogs reach a wall of rocks near the adjacent power station. With their tails whirling like windmills, they turned and galloped back.

Doreen twisted in Wanda's arms. "Waaay geee heee," she said, waving toward the sprinting canines.

"I wonder when we'll understand Doreen-talk," Frank mused.

"Not for a while," Wanda predicted.

They stared at the youngster, who shot back a gummy grin. "Deee daaa neegaa," she said, gesturing excitedly.

Then Frank noticed white and brown blurs surprisingly close. Before he could yell a warning, Puddles lunged at Yippy, who veered away and crashed into Wanda's legs with the maximum force of a speeding dog.

Bashed from behind, Wanda's knees folded, and she collapsed onto the sand. There, she sat blinking in surprise, still clutching the delicate Doreen.

"Weee waah gaaa," said the child, giggling. The hit-and-run Yippy bounded off after Puddles.

"Are you alright?" Bending, Frank took Doreen into his own arms until Wanda rose.

"No harm done." Once upright, Wanda brushed sand off her trousers.

"I'm deeply impressed." Frank returned the child. "You didn't try to save yourself or break the fall. You just hung onto Doreen and protected her. She didn't get bumped at all."

Wanda smiled. "That's what a mother does," she said. "I sacrifice myself for my daughter."

As the delighted dogs played on, a tiny girl, safe in her mother's arms, beamed and drooled a little.
Nick the Bookman - Official Court Music Reviewer:

(Pictures by Willem Van der Merwe, In-The-Can Video Productions,
Hong Kong/Taiwan, www.inthecanvideo.com.
More about Underground: www.undergroundhk.com)

Underground # 55 @
The Cavern - 15/3/2008

Well, this is an unexpected detour. I've returned to The Cavern for Underground #55, something I didn't think I'd be doing again. I used to write reviews for UG, starting with #12 and continuing until #34. Then, the old "creative differences" got in the way and I stopped going. It's an old story and not worth rehashing here. Suffice to say, it was a very good line-up that piqued my interest anew and so, "Here I Am Again" (just like Whitesnake). Paid my $100 to Clifton on the door (no free drink!) and went in. There's a sparse crowd inside as opening act Topao run through a few scales. They're a 9-piece jazz fusion band, which is a first for Underground. As I sit down, they're riffing on a melody that is naggingly familiar. It's from the pre-credit section of an episode of "Friends" when they're all in Central Perk and start going "bom-bom-bom". The same vocal trick was also performed in an episode of "Roseanne", I believe.

Topao are band leader Roger (lead guitar), Kwok on bass and Henry on rhythm guitar. Fai keeps it together on drums and there are 5 horny horns. There's Ken C and Ken Y on saxes, Lok and Little Bee on trumpets and Ted on trombone. It's the 2nd time that I've heard a trombone at an Underground gig. Adriel the Kid from young band Hot Cakes on 55th parped away on one briefly during their eclectic set at U/G #26. Anyway, I digress...

The band come over like a mix of the Blues Brothers and a Shanghai Jazz group from the 1930's. The guitars swing madly and there's more than a hint of 1950's loungecore in some of the solos. Spiffy call-n-response action between the saxes and guitars at one point. The 2nd track is called "Starlight" (I think). If any Lammaites can dredge their ravaged memories of the Peter Berry-organised Swingstock gig a few years ago, this group will bring back some familiar memories. A pleasant 40-minute set, greeted by warm applause from the slow growing crowd. More details available from http://topaohk.com.

The next group is Chochukmo - a name that Chris B mangles twice. They last played at U/G #19 and (I'm quoting from the promo flyer now) "the reviewer" (that was me) "said they're better than Franz Ferdinand". They hope the reviewer (still me) "will say they are as pretty as Britney Spears this time as they changed their uniform from Leather Jacket to Hot Pink Shirt". Unless they're as drug-addled as Britney, I would prefer to pass judgment to drum master Magnus who thinks they're "the HK Pixies and the best band I've seen in a while". I'm a bit more of a rocking dinosaur and they remind me a lot of The Who in places with some of the fine lysergic touches of vintage Pretty Things. The Swedish progsters Soundtrack Of Our Lives also spring to mind. Jan Chan is on lead vox and guitar. Yan (from Hard Candy and the now-extinct Guitars and Panties), plays splendid bass and contributes backing vocals. I don't know who the other guitarist and drummer are. Sorry. The tunes include "Blow Me Down" with some surfer-tinged Eastern licks and "Strawberry" with its blended chorus and nods to Patti Smith. The final song (title unknown) strays into psycho-Bauhaus territory. Jan concludes by saying "the next group is my favourite band, Thinking Out Loud" before hastily departing the stage before I can chat with him. More details on http://myspace.com/chochukmo

There's a lot of my history wrapped up in following Thinking Out Loud. Back to the flyer. They "formed in late 2001" following the demise of the Sisters of Sharon. "Fronted by Chris B." (the face and figure of Underground) and a self-confessed "international music diva, and ex-Sisters of Sharon vocalist". She's joined by Chris W on lead guitar and the Mysterious Mr. B. on sax. Egg, the bassist, on his 2nd tour of duty with TOL, also fronts The Train - another psychedelic power pop band who are well worth hearing. New drummer, Bren, has bashed skins with Speedy Gonzalez. As the set starts, it occurs to me that I've never reviewed TOL. In fact, the only review I've done on Chris B. was when The Adaptors played a charity gig for Vietnamese refugees in Chi Ma Wan, back in the summer of 1988. The Adaptors were truly legends by lunchtime and are still deeply missed. Since then, I've probably seen Chris B. in her various bands more than anyone else in the world. TOL have been MIA for a couple of years as various members got on with life and families, etc. I've got to admit that she cuts a fine figure in her skin-tight sparkle-black trews. Outdoes the egregious Posh Spice and not bad for someone who's aged (mumblety) years!

It's a bittersweet moment when they commence. A short set of very familiar tunes (to me, and Shaun B. at least). Opener "People" seems a little faster than I remember and Chris B. has a breathy voice that combines nicely with the sax. The crowd has more than doubled by now and time for a big hi to the Lamma contingent. Hi, Ivan and his coterie of babes (greedy bugger!) Kiwi Martin is here with Magnus. Photographer Willem is as solid as ever, snapping all the action. Have a friendly chat with his mate Tim and we promise to get together for the next Lamma Pier Pressure Party on the 21st, an American band called Horse, who do "Nintendocore" will headline. $150 and all you can drink. You got to say yes to a night of excess. Anyway, ad break over and back to the action.

The 2nd tune is "Stranger", written by Chris W. and interspersed with some vicious riffs in a fine 70's style. The 3rd song is an old Sisters of Sharon tune. You wouldn't know it though, because Chris B. seems reluctant to address/acknowledge her past. Did she just mention the Sisters in the flyer to grab the old fans? The song is "Moving On" and is more haunting than the SOS original. That was a chainsaw frenzy bringing out the latent bitterness of a relationship that's soured. This version seems more whimsical with some fine late-night boozy sax from Mr. B. (aka Tony). Song #4 is "Rock And Roll Machine" This one is a 20-year old classic, written by Chris B's ex-boyfriend, the late Ray Perigoe. It always galled me when she would NEVER give him the credit when SOS and TOL played it live. So. I'm redressing the balance. God bless, Ray. You're still missed mate! The mid-point is still a hoot when Tony dons the Ray-Bans and chants, grunts and intones "Rock and Roll Machine" as the band spiral into near-dementia. The oldest song is "Fire" (the old Jimi H single), given a slight Red Hot Chili Peppers makeover. Final tune is a newer number, entitled "Sex Junkie" which was written near the end of TOL's last period of existence. Chris B's vocals are gruff and guttural. A sore throat is beckoning.

There's a philosophical old saying, "You can't go home again". The past is another country, accessible only in the mind. This is occupying my thoughts as the set winds down. I haven't been able to go home again, but I have enjoyed myself very much looking over the garden wall. Next time, I'm camping in the garden and hopefully inching closer. Welcome back, TOL(/SOS/The Adaptors). It's been a long, strange trip and I'm mighty glad I've been there with you. Looking forward to the next one.

Things are going to get seriously freaky-warped as The Yours take the stage to conclude the show. Nic is on bass,guitar/vox and Jack is on guitar/vox. Jack is the one who has "GEEK" in gaffer-tape across his chest. There are also The Mysterious Girls in similar black garb and sneakers. Alok, a veteran of HK's darkcore/noisenik community and a fine producer, declines to give any details, smiling sneakily when I press him. The Yours played Rock-It in 2006 and have released one CD, called Abraham, before streamlining the band.

They remind me at times of the mighty Elf Fatima crossed with Suicide. Minimal plucking, mostly at the base of the guitar, thunder drones, electronic beats in place of drums and some ferocious tambourine action. Mystery Girl (with red nail varnish) bangs the tambourine while her Goth twin assaults the guitar. No idea what the songs are called. They do contain hints of Joy Division rhythm's, fused with Neil Young in "Arc/Weld" feedback mode. This is the sound of rust oxidising - a corrosive squall that doesn't stop. The guys alternate on vocals and the crowd seems stunned into submission. More please! Alok, keep me posted.

It's nearly 2300 hours and I'm focusing on where to watch the upcoming England-Ireland rugby match. If the English pack is half as abrasive as The Yours, they'll turn the Irish into paddy-pate. Underground #55 is over. Now, where's the nearest pub, showing the match?
Click to enlarge poster above.
There's a noticeboard of the Lamma Northern School in-between Sampan restaurant an the Policebox, announcing the latest primary school news. Click above to see the full, large, legible version. The noticeboard is often very entertaining and amusing, very creatively designed and it's being updated every number of weeks showing many school photos and recent events. The current (English) poster is showcasing the latest children's "1 2 3, Action!!!! Drama and Film Making". A few quotes:
P1 Drama: Policeman Goldilocks, Seven Bears & One:
"Yoyo and Kiki performed in front of the school! They were baby bears."
"Ken created his own role. He was the park ranger in the forest. Just priceless!"
"Hello! I'm Papa Bear and I drive a train, said Man. The P1 students wrote and performed their own play."
P2 Drama: The Halloween Party:
"I turn you into sweet smelling yuk."
"Did the spell work? Am I invisible?"
"Ooooh, how scary can I be! I just swallowed a fly."
"He! He! My pet snake is crawling out of my brain!"
"Don't look now but I accidentally turned Ms Lau into a toad."
"Oh no! How could you? Now she will be really mad, be careful, I can't change her back!"
P6 Film: Shark Bay:
"Our delightful P6 students were so excited about filming a play they wrote! What clever kids! The play took 3 hours to film and we had lots of fun moments filming around Lamma Island."
"On the way to Power Station beach we filmed Dr No's hideaway. This is where he was conducting experiments."
"The policeman is interviewing the rockstar. The policeman has found out that the drinking water is contaminated and there are many mutants everywhere."
"Lady Billionaire and Lady Penny have come to take over the island."
"All the mutants on the island are dancing. Little do they know that the chemicals are rotting their bodies and they die."
"Dr No sees one person alive. He and his assistant, the specimen, kill the last mutant."
Some of these quotes are just priceless! Who's Policeman Goldilocks? Where exactly are the mutants hiding out at Power Station Beach? Will Ms Lau be saved?
Could anybody get a copy of the P6 film? We'll put it online for all to see!
Where can you study a wide variety of free classes, such as workshops on traditional gourmet cooking, sign language, crystal accessories, personal blogs, magic and Chinese drumming techniques? Or do you want to learn about "Fun with Sudoku", "Getting Smart with Your Money", "Know Your Mobile Phone", "What's New Today" and "Guided Tour of Architectural Buildings", etc?
At U3A, the University of the 3rd Age, supported and sponsored by HK Electric, that's where! It's nice to know that a part of our electricity bills supports such a worthy cause, one amongst many. Just one tiny little drawback: you have to be at least 60 years old to qualify. So a very significant part of Lamma's population would qualify.
They've just held their official yearly Completion Ceremony, see HEC's press release: Richer Life for Retirees with Expanded U3A Network:
"To continue its support of U3A to encourage life-long learning and community service, HK Electric will sponsor six more elderly service agencies to enter the U3A network this year, making a total of 19 self-learning U3A centres throughout the territory.
"The U3A project is sponsored by the HK Electric Centenary Trust and coordinated by HKCSS. Elderly service agencies receive funding to set up self-learning centres providing courses conducted by the elderly and for the elderly. Over the past year, the network has organised nearly 200 classes, with more than 2,900 participants.
"...as the U3A entered its third year of operation, it would continue to grow through Asia's first U3A website, where more people would get to know the potential and talents of 3rd age citizens, and how they created a quality retired life while continued serving the community.
"For details of U3A, please visit HKCSS website."
Today, a little local mystery! Lammaites and visitors alike have been wondering for weeks what this "goldfish bowl" in the "VV Parking Lot" outside Ngau Kee Restaurant (on Main Street, opposite Deli Lamma) will be used for? Nobody I've asked (and I've asked quite a few people) seems to know anything but guesses. The restaurant staff doesn't tell, even to other locals and not even to police constables. Why all the secrecy? The guessing game has been going on in our What's that forum for a little while now:
HK' first urban green house (soundbydesign)
Transport Dept.'s new Lamma office (toddy)
New VV showroom (minibeast)
Restaurant VIP Room
Changing room for swimmers (greyhair)
YSW smoking room, airport style (Insomniac)
Add your own guesses to the What's that forum now, before it'll be all revealed, hopefully before the notorious curiosity of amateur photojournalist/Placeblogger Lamma-Gung will kill him...
Arriving on the Yung Shue Wan ferry pier, coming from Aberdeen on HK Island...
Elizabeth the Cyanotypist - The Cyan Studio +(852) 6252 6839,
2/F, 21C Back Street, Yung Shue Wan, Lamma Island,
blueprintaday.blogspot.com - www.thecyanstudio.com:
Dear artists & aficionados,
The Cyan Studio is pleased to welcome spring incarnate: we will feature Paul Lau's Butterfly photos this month. True to their temperament and as ephemeral as ever, this is a chance to see the kaleidoscopic butterflies up close for a single afternoon, before they flit away to Paul's tranquil village house in Lo So Shing.
Open Studio hours for March are exclusively this Sunday, March 16th, from 2-6pm. Signed copies of Paul Lau's latest book, Butterflies & Moths of Hong Kong, will also be available.
Warm regards, Elizabeth Briel
PS: If you're in Hong Kong over the Easter holidays, feel free to stop by my booth at 1a Space's DIY creative stalls: www.oneaspace.org.hk.
I'll be there on Sunday the 23rd and the following Sunday March 30th, from noon-6pm.
Accolades and sincere congratulations to two ex-Lammaites today, 1st prize co-winners in the recent Sony Cybershot contest, Ran Elfassy (www.350Rans.com) and Chris Bowers (bbchris, The Underground). They won a camera and their own Sony Cybershot commercial, showing on National Geographic channel all over Asia these weeks. Click below to view the 2 TV spots on YouTube:
Quoting from the SCMP: "Hongkong Electric Holdings managed last year to achieve its government-permitted return for the first time in five years - and possibly for the final time...
"...The existing scheme of control agreement that allows duopoly power providers Hongkong Electric and CLP Holdings to earn a return of up to 15 per cent on net fixed assets expires at the end of this year. Under a new deal signed in January, future return will be capped at 9.99% - with an 11 per cent ceiling for assets related to renewable energy...
"...Locally, the firm plans to rely more on gas and is retrofitting coal-burning units at its Lamma power station with sulphur scrubbers, or flue gas desulphurisation (FGD) units, to cut emissions. It expects gas and FGD-fitted units will account for 95 per cent of the electricity generated on Lamma by 2010."
For more details, click below (PDF files):
2007 Annual Results - 2007 Annual Results Highlights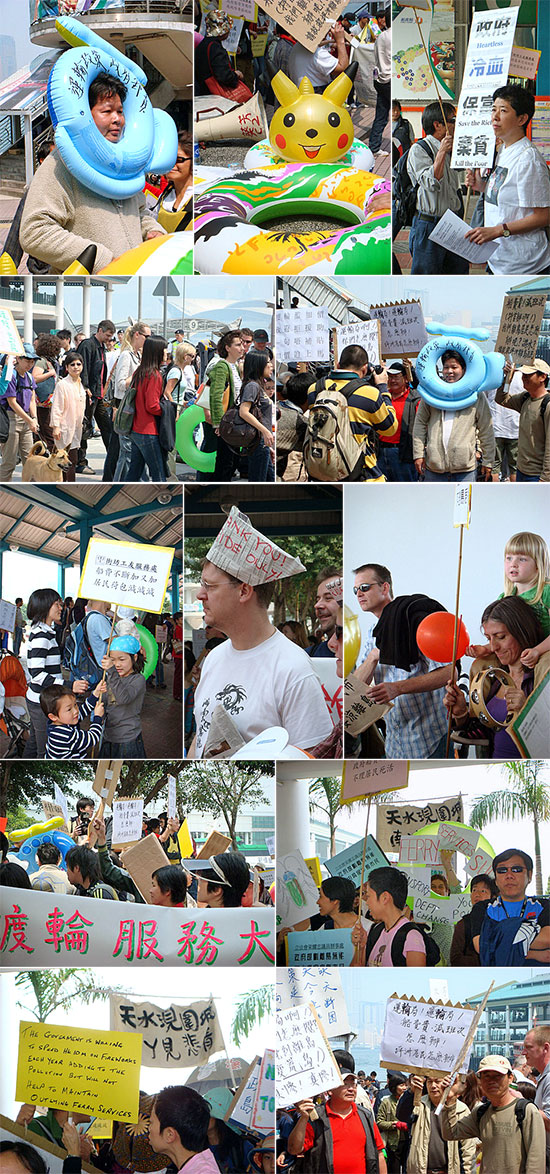 (All pictures courtesy of NicBud, photo montage by L-G)
LammaFerry@gmail.com - The original complete email that called to join this protest march of all Outlying Islands:
Lamma People,
You may be aware that the Government has extended by one week the consultation period. Well done! This is the direct result of all our campaigning.
Your support will be really valued at the Sunday march to the Transport Department offices. The purpose of the march will be to support the renewal of convenient and reasonably priced ferry services, which are essential to the outlying islands. The petition, which over 3,000 people signed on Lamma alone, will also be presented.
Here are the details:
Starting point: Peng Chau Ferry Pier
Starting time: 12.45 (11.15 or 11.45 ferry from Lamma)
Route: Central Ferry Pier to Legislative Council Building then Government Offices then Transport and Housing Bureau.
The organisers have also encouraged everyone to bring along a lifebouy - a good Saturday craft project maybe!
We are very aware of the fact that there have been so many events which our group has asked you to attend this week. However:
This is the biggest event of all.

People from all the islands will be marching and many groups are supporting this event so there will be a huge cross section of our society present.
Let's show all of Hong Kong that everyone from the islands will be affected by these changes and stand together against drastic cuts and the government's short term solutions. With one voice and one message to hear, the Govt. cannot say that it can't make everyone happy.
Please note that the Government has issued a police permit which allows for the demonstration to start at Peng Chau ferry pier. Lamma has not applied for a permit so please do not raise any banners or start your own demonstration anywhere else. At the current moment we are in the spotlight anyway for our earlier 'meeting' in Central, so it is very important that we do everything by the book.
We should all be proud of the way that we've conducted ourselves so far - well done. Lets keep up the good work and act with dignity!
See you all tomorrow for the grand finale.
Kind regards, Sarah
P.S. Please forward this message and SMS your friends.
Mrs Santa Claus - Seemingly on community duty all year round, from ferry protest co-coordination to reporting and taking photographs at this free dinner for Lamma's elderlies in New Holiday Mood Rest.:
Ricky provided a lovely meal, for the elderly folk. Never quite got to the bottom of why so many 'young' people attended, but it looked like it was a great evening. There was a lovely atmosphere when I took the photos. Would you put something on your site, please? Maybe Mrs L-G (Lamma-Por) can find out if I have missed out anything important. I took a couple of photos and had to run to another engagement.
Ricky, our jovial restaurateur at Holiday Mood, has once again found a way to give back to our wonderful island community. On February, Friday 22 Feb, he hosted a party for the elderly people of Lamma. Celebrating Chinese New Year and the welcome of Spring, Ricky had issued an open invitation for people to enjoy an evening of fun and jollity. The atmosphere was wonderful with delightful food and a terrific ambiance contributing to a very convivial evening for all concerned.
Following on the children's party earlier in the month, Ricky is doing a lot to bring the community together. Thanks again, Ricky!
I'm watching a flaming red, serene disk setting over the South China Seas from my window-side bed in the General Surgery Ward of Queen Mary Hospital on HK Island. Just having had a taste of my first non-fluid food in 14 days, I'm so happy and relieved that my new, 8-ounce, Titanium-stapled stomach can accept non-fluid food.
Regular white congee never tasted as wonderful and flavourful as it does to me right now, a culinary revelation, after 8 days of "rice water" 3 times daily, a horrendous, disgusting concoction of salt/spice-less, very thin, white congee that has been pureed or boiled for so many hours till no single grain of rice survives.
It took over a day of gentle persuasion, cajoling, pleading with the nurses and doctors and calls to off-duty senior doctors to finally switch me over to "soft food", meaning congee 3 times a day. It was promised by the doctors to happen yesterday, but due to several bureaucratic delays and hiccups it just didn't happen. I just couldn't bear the thought of "rice water" for another 3 days, till the doctors and dietitians will return on Monday. I triumphed in the end, hopefully without being viewed as just another troublesome Gwailo, the only one in this huge public ward, probably the youngest guy in here.
How do I feel otherwise after my major stomach-reduction surgery? Thanks for asking. "It only hurts when I laugh", will be my motto for the next few weeks. Anything straining my stomach muscles is out for now, like coughing, laughing, love-making,...
Getting back to the hospital gym daily, voluntarily starting on the 7th day post-op, has been a bright moment in the daily hospital routine. Expect me bounding through Lamma's hills soon, maybe even taking up swimming and cycling in due course. "Jump for your lives, Lamma-Gung's racing down Main Street and nothing can stop him!" And when's the Lamma Fitness Centre going to open again?? Almost 50 pounds off so far, another 100+ pounds to diet off over the next 2 years!
The doctors and staff have been wonderful and great in almost all regards and have done a fantastic job in this operation and nursing me back to health. Congratulations and many thanks (from the bottom of my heart and my stomach) to all staff of the Gastrointestinal Unit of Queen Mary Hospital!
But what happened to the stomach you cut out, guys? Keeping it as a grotesque, medical souvenir in a formaldehyde-filled jar in the cellar somewhere? Yuck!
I've been considering to look for a role in a HK triad movie, as the stereotypical evil Gwailo who gets machine-gunned, as I'm sporting 6 laparoscopic, bullet-size holes in my belly now.
I'll be back to Lamma middle of next week, I hope. When you see me, don't make me laugh too hard, please!
P.S. This Placeblog has been brought to you all this week via an outside, free, weak, unsecured Wifi hotspot, accessible only from my window-side bed. Wifi signals are blocked off inside the main blocks and wards of the hospital, so I got lucky to get a window-side bed!
The Cyan Studio - +(852) 6252 6839; blueprintaday.blogspot.com
2/F, 21C Back Street, Yung Shue Wan, Lamma Island
Dear art-lovers in Hong Kong and beyond,
The Cyan Studio is pleased to feature photos by Bob Davis this Sunday, Feb 24th, from 2-6pm.
Hong Kong has transformed itself dramatically in recent decades, and this gives a chance to check out the changes. Stop by if you can to meet the artist and get a taste of Hong Kong, both old and new.
For map and directions, click on the studio website.
Warm regards,
Elizabeth Briel
PS: Above is a photo from "old" Hong Kong, in the 70s: CONNAUGHT PLACE in Central with old Post Office and the building of Jardine House on the left.
Photos by Royal Roy from the gallery opening, see below: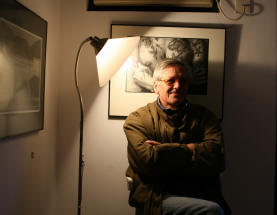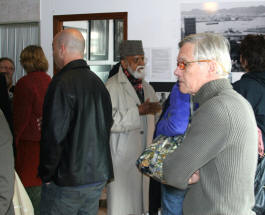 Bob and his famous work "Tattoos" - Talking some more...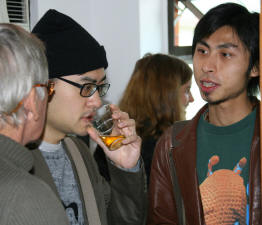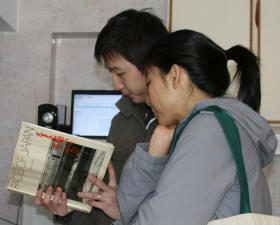 Bob, Damon and Sing - Couple Looking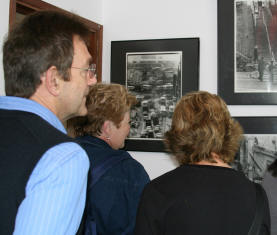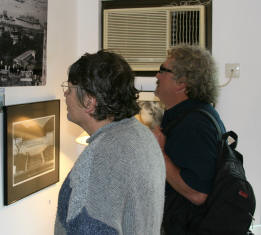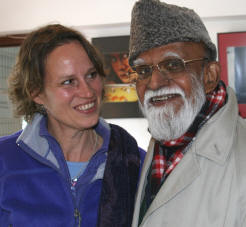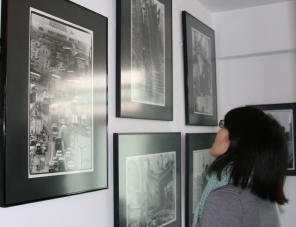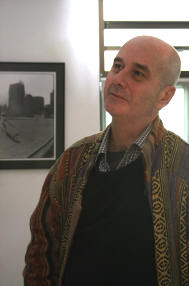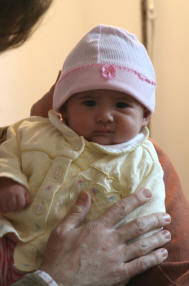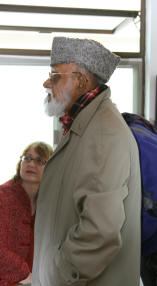 Clive - Zoe - Vernon
Click here for Bob's photos, being a former Lamma-zine Artist of the Month.
The Office of Yu Lai Fan, District Councillor:
Transport Dept. Meeting With Residents TONIGHT in YSW Playground, Re: the Re-tender of the Ferry Routes
The Transport Department announced that it had reviewed the bids for six outlying island ferry routes but four of which have to be re-tendered because the proposed fares in bids received were too high. The fare proposed in the bids for Central-Lamma services represented an increase of more than 35%.
Holding the view that most local residents would likely reject such fare, the Transport Department planned to re-tender the four outlying island ferry routes in the first week on March and results are expected to be ready by the end of April.
Date: 6 March 2008 (Thurday)
Time: 8:00pm
Venue: YUNG SHUE WAN PLAYGROUND
All residents are welcome. Your opinion is very much appreciated.
If you are not available for the above meeting, please do not hesitate to send us your opinion by fax (2982 1443) or by email (yulaifan@netvigator.com).
LammaFerry@gmail.com - Mass email from the central mailing list of Lamma residents opposing the reduction in ferry services. Email them to remain informed and up-to-date!!
Please find attached the English version of our submission to the Transport Department, entitled 'Maintaining Our Island Life Lines'. The working group have worked very hard to reflect everybody's views based on Monday's meeting [@ Deli Lamma]. The Chinese translating group is still working hard to complete the Chinese version of our submission so once this is completed, we will send it out.
For those wanting some more background information, here are links to the Government's latest proposal for re-tendering the ferries in English and Chinese. This proposal outlines the Government's suggested alternatives, including reducing routes and providing relief from ferry pier costs. It also provides some background history on the re-tendering negotiations up until its release (approx. mid-February).
Click for Chinese version - English version.
See you on the football pitch at 8 tonight and don't forget to check Lamma.com.hk for any breaking news from Lamma-Gung!
---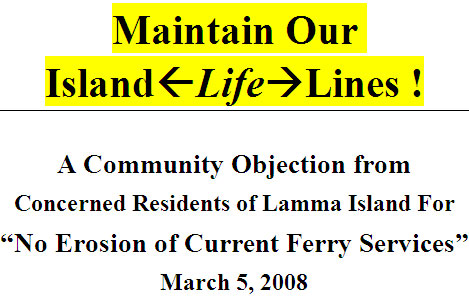 A Community Objection from Concerned Residents of Lamma Island For
"No Erosion of Current Ferry Services"
March 5, 2008
---
Presentation to HKSAR Transportation Department
---
1.0 Background
2.0 Community Concerns
3.0 Community Proposals for Tendering
4.0 Conclusion
5.0 Annex 1: Community Group Representations:
5.1 Parents Group
5.2 Rural Committee Submission
5.3 Teachers Group
5.4 Concerned Residents
5.5 Professionals
5.6 Homeowners and Property Owners
5.7 University Students
5.8 F&B Owners and Operators
5.9 Environment Group
---
Lamma-Gung:
Email them (or email me) to get the full text of this concise and very well-written presentation. Sorry, I can't upload documents from QM Hospital (where I'll be till next week) easily yet and the file is too long for the Lamma-zine.
Objectives of the Petition:
Say 'No' to all the set back terms in the HKKF Tender.
Ask for a comprehensive review of the Outlying Islands Transportation Policy.
Push HKSAR Govt. for taking up the responsibility to provide reasonable and affordable public ferry service.
Date for the Petition: Sunday, March 9, 2008
Gathering Time: 12:45pm at Central Lamma Ferry Pier No. 4
Petition Route: Central Ferry Pier - LegCo, Central Govt. Office - Transport and Housing Bureau
For Lamma residents, please gather at the Yung Shue Wan ferry pier after 11:15am. We will take the 11:45am slow ferry to Central all together.
Please spread the message to those concerned and bring along a lifebuoy as a prop. Click here for more details!
P.S. I just got informed that this petition has collected 2,527 signatures, an absolute record in Lamma's recent history!
Our most successful forum, Lamma's top 10 birds, started by Flora & Fauna forum moderator Zep in 2004, has just reached 60 pages in length (1,190 posts, almost 30,000 views!), an all-time record for the Lamma forums.
Zep writes: "This is a great forum to moderate - basically sit back and let everyone else come up with fine pictures. Seems like we all have fun in the process, though."
Chuckm comments: "To all the generous contributors of bird photographs ... thanks and keep up the good work! Have you noticed that this thread has turned 60? ...60 pages that is! Very few forum threads on any web site ever get this far."
Kudos and congratulations to everybody involved in this wonderful forum, from all of us many Lamma bird lovers! To celebrate, here's a little avian portrait by Lamma's leading bird photographer:
anonymous_guy - Bird-o-grapher Extraordinaire

:
Violet (Blue) Whistling Thrushes...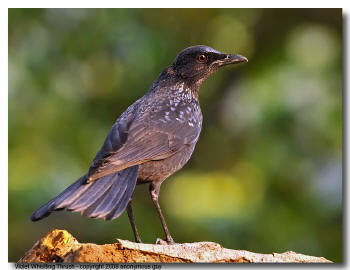 ...are very furtive birds, keeping close to dense undergrowth, and not usually seen perching out in the open or singing.
They do perch, but in trees with a lot of tangled or close woven foliage, where they look for prey, darting at high speed to the ground where they will quite often stay for a few minutes in that same vicinity turning the leaves for bugs.
When they dart, or announce their arrival, is with a shrill whistle, though slightly lower pitched than the more commonly heard Magpie Robin call.
Constantly fan their tails, as shown part "fanned" in the image above. Spend most of the day travelling a chosen circuit in search of food, and likes to bathe late afternoon.
In terms of pecking order, they will generally move on if a Greater Coucal is passing through, but will not think twice about entering the territory of the very aggressively territorial Magpie Robin in search of food.
Conversely they can become relatively tame and hang around garden areas if there is a good food supply or water source, and will approach to within 6 or so feet. This particular chap, is a daily visitor to my garden and on one occasion recently, ventured through the French windows into the house.
Can be a very frustrating bird to get a good photograph, seemingly very obliging, but being a very large sized thrush, and a very dark colour, is difficult to get enough shutter speed, depth of field and the right lighting to show off their blue colour without blowing out the highlights in their plumage, or getting a strong light reflection off their beak.
"PIER PRESSURE":
Call to Protest Re-tendering of
Outlying Islands Ferry Service
7 pm, Tuesday, 4th March 2008
Central Ferry Pier #4 (Lamma Ferry Pier)
In protest of the recent news of plans to re-tender the Outlying Islands ferry services, concerned island residents have called a demonstration at Pier 4, the Lamma Island Ferry Pier, at 7pm, Tuesday 4th March.
Anger amongst residents has erupted over plans to reduce service and increase prices. Locals are also frustrated with what they see as a lack of transparency in the government's decision-making process, and a lack of publicity over the Transportation Department's recent visit to an Outlying Island to canvass public opinion. Turn-out at the only official meeting was very low due to lack of advance publicity.
Now, on the eve of the deadline, residents fear losing access to the essential transportation services upon which their livelihoods depend. Residents argue that there are various revenue-generating activities that could be profitable for ferry operators but which have not been seriously considered in the decision-making process.
All members of the press are invited to attend and cover the protest, and to discuss the issues with local residents.
TONIGHT, 7 PM!!!
---
P.S. Alternatively, if non-violent public protests with loads of reporters and photographers are not your cuppa tea, you can go to:
Lammadonna & co.'s (District Councillor Yu Lai Fan) residents' meeting:
TONIGHT, 8 PM, YSW City Hall (in English AND Cantonese.)
They're the ones who accepted the Transport Dept.'s re-tendering of the Yung Shue Wan and Sok Kwu Wan ferry routes at no fare increase, accepting less sailings and no more fast ferries in the bargain. Give them an earful of your personal opinion!
Or you could become a real hotshot activist and attend BOTH of the above events, reporting back to the Lamma-zine, hopefully even with some pictures?
Urgent news from Nancy in our active FERRY FORUM:
There will be an important meeting to discuss the proposed changes to the Lamma Island ferry service and draft a proposal to the Dep. of Transportation that expresses our needs for service to Central, Pak Kok, and Aberdeen.
This affects everyone who uses the ferries!
While nothing has been finalized, suggestions have been made that fares may increase by up to 50%, service to Aberdeen will be severely cut or eliminated, service to Central will be reduced, and fast ferries will be eliminated.
Please attend this important meeting to decide what we want and how we can best take action.
Monday, March 3, 7:30 p.m. at the Deli Lamma
Please tell all your friends on Lamma. Thanks.
P.S. This is the very first Lamma-zine story ever published from my bedside in Queen Mary Hospital's General Ward. I got a window bed and found a slow but free Wifi connection. Back to Lamma later this week, after a few more days of liquid diet and daily gym exercise.