Mar 31: 'Sneaky-O/Bunnyrabbit Conundrum' Solved!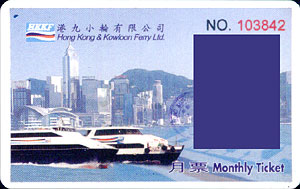 A heated debate has been raging for a year in the Lamma.com.hk forums, about 'That Time of the Month', when Lammaites need to renew their monthly ferry tickets. They're reminded punctually and reliably by our Official Court Monthly Ferry Ticket Reminderer (details of this month's renewals). Let me quote from the numerous messages of the most eloquent & wordiferous debater:
Sneaky-O - self-described "Loiterer", interested in "Gossip":
Dec 01, 03: Have you noticed that some people get irritable, irrational and moody at a certain time every month?
I'm referring of course to the beginning of the month when buyers of monthly tickets realise that it is the first and their ticket has expired. Hence they are not allowed on the ferry to go to Central to purchase a new one without first forking out the fare.
Entreaties, threats, bribes all fail to move the officials who simply say "must pay, must pay!"
Why does a conflict over such a small amount of money cause such frustration and anger? Was I right to take revenge for their inflexibility by urinating all over the washrooms and sticking chewing gum in the turnstile slots?
---
Feb 28, 04:
So, Sneaky-O and Bunnyrabbit go out to celebrate Leap Year in Wanchai on Sunday evening, 29th February. They turn up at the Central pier at 12.20 in time for the last ferry back to Yung Shue Wan.
Sneaky-O has a ticket valid until the end of Feb, but, as usual, has forgotten to renew it for March. The office for renewal is now closed.
Bunnyrabbit has a brand new ticket valid from the first of March.
It is now 12.20 a.m. 1st March and the ferry will be leaving in a few minutes.
Who is allowed on the ferry?
(Outline legal issues and quote relevant cases and precedents in your answer)
---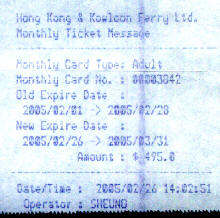 Mar 30, 05:

I think I may have solved the "Sneaky-O/Bunnyrabbit Conundrum", one of the last great unsolved riddles of the universe (see earlier this

topic

).

The charming lady at the Central monthly ticket renewal office patiently answered my questions, and after an initial eye-rolling "Oh no, not this one again" came up with the following:

If you have a valid ticket until the end of March, and you board the last ferry on the night of Thursday 31st, (i.e. 12.30 a.m. on Friday morning first of April), you are in theory past the deadline of midnight on the last day of the month. However, the turnstile staff have been instructed to let you through nonetheless by a manual manoeuvre known only to them.

If you only have a valid pass for April, you should be able to pass through, as it is already 30 minutes into April, but there is some uncertainty surrounding the issue of whether or not it would actually work in practice, so in case of dispute, it is better to have your receipt handy. So provided you have your receipts ready to flash, this sounds like good news - according to this explanation, everyone wins.

I'm not sure, though, if it is official company policy or just a "let's get this creep the hell out of my office" ad hoc routine, so empirical testing of these scenarios would be illuminating.

Mar 30: 'Lamma Love' Floating on a Sea of Hope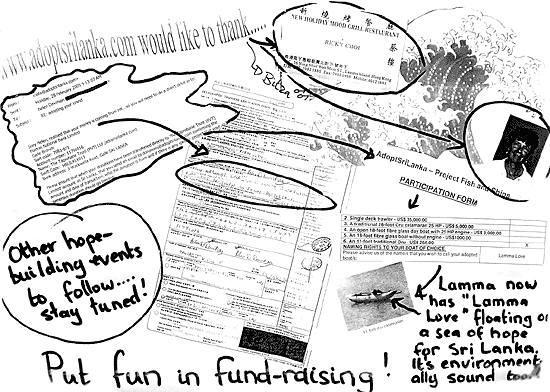 There have been so many Tsunami fundraising events been happening on Lamma, here's the result of Helen's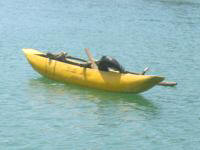 birthday party in New Holiday Mood on Feb 26: a donation to AdoptSriLanka.com to buy an 11-foot traditional Oru catamaran to enable fishermen to earn a living again & rebuild their homes. A great initiative and a fine dose of "Lamma Love"!
I like the fun & positive montage above: email, telegraphic transfer and other forms, photos, Ricky's namecard, list of boats, all photocopied together and stuck with brown tape to the Democracy Wall. It's so "Typically Lamma!"

Mar 29: 'Drumming... Makes You Happy'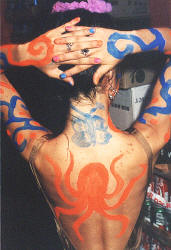 Lamma's Drum Queen has been demonstrating her amazing talent for PR & promotion, eh, drumming again recently, by getting feature stories into HK Magazine (Mar 11: "Rhythm and Blues") and SCMP (Mar 24: "Beat it and be happy"). Quotes from the SCMP story:
"Expressive, empowering and regarded as good for health, drumming is considered to tap the primal rhythms of life inside all of us. To embrace the spirit of percussion and its benefits, a monthly event is being held to help Hongkongers relieve the stress of everyday life.
The Drum Jam session, at the Fringe Club, is run by Kumi Masunaga, a professional percussionist and tutor. Masunaga has sought to teach and develop the benefits of communal drumming through a series of programmes,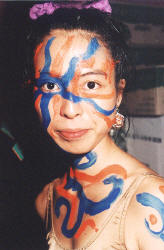 including the Rhythm of Life drum workshops and the Kidz Jam.
"The Drum Jam is a hands-on, interactive, family-friendly event," Masunaga says ahead of the next session on Tuesday. "It is also a positive, healthy introduction to world music and musical instruments for people who've never played music before."
During jams, Masunaga places her collection of drums and percussion instruments - more than 100 pieces including African djembes, Brazilian sambas, Cuban congas and even dragon-boat drums - in a large circle. People are free to choose an instrument to play. Drum Jam has been running in Hong Kong for 3 1/2 years and has attracted a wide range of people, including children, the elderly, corporate groups, yoga teachers, artists, police officers, school teachers and even professional musicians.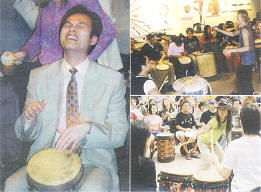 Kumi: "Endorphins are also released into the bloodstream, relieving stress and flooding the body with a feeling of well-being, similar to a runner's high. Drumming ... makes you happy."
Get happy yourself and catch her monthly free Drum Jam in the Fringe Club bar area from 8-10pm TONIGHT! More details; call 2982 1846, website, email. Click for poster.
(Block of pictures right from HK Magazine; plus two pictures of Kumi at a Corner Bar party, over 12 years ago, pre-baby - submitted by Jerry.

P.S. Kumi commented: "Wow! these photos... I haven't seen for years!
Ahhh... I miss those crazy days of Corner Bar.")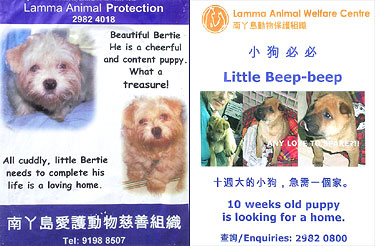 Mar 28, Easter:
Any Love to Spare?
New doggy adoption posters have gone up on the Democracy Wall at the ferry pier. The posters from our two pet charities LAP and LAWC hang close together and appeal to the same cuddly emotions and parental instincts with their cute, pitiful pictures & messages. Call now!
Disclaimer: All Lamma charities, non-profits & worthy causes get free Lamma-zine advertising.

Mar 27, Easter: Fit! HK Magazine Launch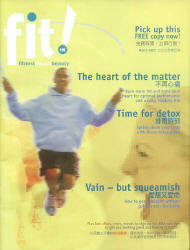 From: Claudia, Lamma Dragons "PR lady"
Subject: Lamma resident launches fitness, health and beauty magazine in Hong Kong
"Lamma resident, Katie Harling (our very own Lamma Dragons Captain) launched Fit! HK, a free magazine and website, on March 12. It's full of articles and hot offers... You can have a look at www.fithk.com or pick it up any at of the distribution outlets mentioned on the website."
Katie Harling writes:
"There are copies on Lamma at Green Cottage, Island Bar, Fountainhead, Deli Lamma, Lamma Gourmet and Bookworm Cafe unless they have all been picked up.
The aim of the magazine and web is to provide a central resource for information on fitness in Hong Kong. People often complain that there's nothing to do in Hong Kong but that is only because it is so difficult to find out about all the things there are out there. Since starting working on the project, we have discovered all sorts of things such as a Hong Kong-based club that does horse riding weekends in Shenzhen, a series of orienteering competitions, a drop-in tennis school...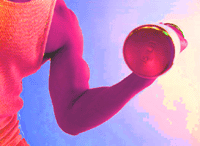 Of course, the growing interest in fitness and health and the related growth in fitness and health industry makes a project like this - a free bilingual magazine supported by advertising - viable.
We are pretty proud of our first issue and are delighted at the feedback. We aim to improve so hopefully will have a very happy following and a successful future."
Pick one up and have a look yourself. They've even got an e-zine already (subscribe)! All the best & HUGE success with your new magazine, Katie & co.!
I especially liked the following feature by "Lamma girl Lara". I copied a few points: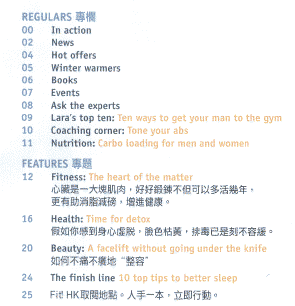 25 great reasons to get fit
Lara Wozniak
A light-hearted (cholesterol-free, of course) look at why you should keep fit.
1. You look good = you feel good = you have better sex.
6. Getting fit means never again having to listen to a stick-figure saleswoman smirk, "We might have something large enough to fit you."
7. Become more flexible so you can sit cross-legged at a yoga class. (Hint to men: These classes are full of chilled out, not psychotic, women!)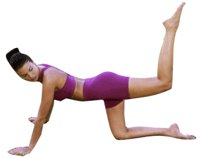 11. Fit people can catch the ferry or MTR train when they hear that fateful bell.
15. You'll feel better and have more energy to devote to spending your bonus in a wild shopping spree!
16. You'll look younger, which will annoy your colleagues.

Mar 26, Easter: Dish Award 2005 for Bookworm Cafe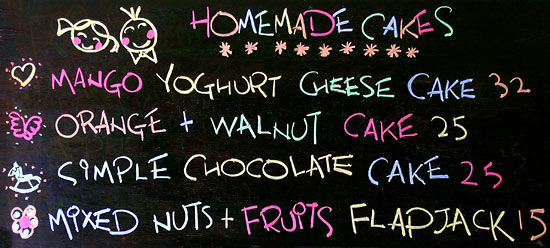 HK Magazine has recently published their 2005 Restaurant Guide. Which was the ONLY restaurant listed in YSW? Yes, the Bookworm Cafe, and they even gave it their Dish Award 2005, which is described as "favorites of HK Magazine editors and food critics, sure-fire hit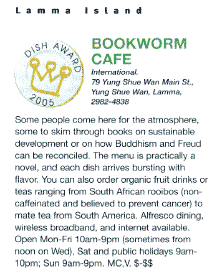 restaurants that we go back to again and again."
The full review is on the right, click to enlarge. The Bookworm Cafe's former manager and new proprietor Ken (since Bobsy's departure from Lamma last Dec) was very happy about it, of course. He mentioned the new website-in-progress and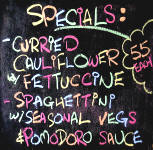 pointed out the new pastas (left). They've also got Veggie Pizzas now that are "Buddhist friendly, onion and garlic free" with "extra WoW and WaoH Toppings". We could all do with some extra WOW! and especially WAOH!! in our lives!

Mar 25, Easter: Deli-cious Donkeys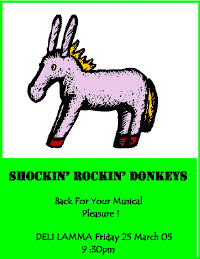 How are you going to spend Good Friday evening? The teeming hordes of tourists clogging Main Street all day have returned home and the village belongs to us residents again. One of the best of the many Lamma bands will be shockin' & rocking' tonight at 9:30 in the Deli Lamma!
The Donkeys write: "Back after a long time in the stable. Donkeys have had a change of personnel and after the departure of Wonkey Donkey, we are pleased to introduce Junior Donkey. Tell the teenage girls to line up... The new improved Shockin' Rockin' Donkeys!"
Below is the last Donkey photo montage I did:
sitting outside the Deli, the morning after their last Halloween gig in the Island Bar. Click here for the photo gallery, click for more Donkey info.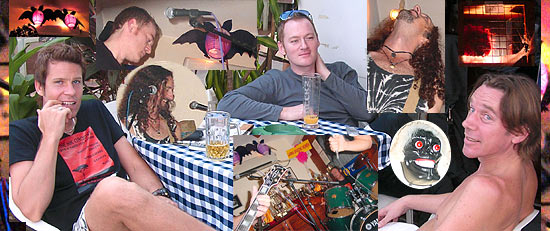 Mar 24: Break a Few Easter Eggs to Make an Omelet!

These were bought yesterday in a one of several new shops in Yung Shue Wan.
It even has its own website already, most unusual, progressive & praise-worthy!
Let's give it some free publicity by clicking on the picture above to find out what else is being sold in this cosy, clean, creative & colourful shop!
The eggs above are the most expensive ones I've found so far on Lamma ($45 for a six-pack). Below are the cheapest ($17 for 30 pieces). I just love the rustic packaging, done by one of the vegetable hawker Ah-Pors besides the Deli Lamma.
It's one of the many pleasures of village life to watch her slowly, meticulously & lovingly wrap up the carton in six careful loops, like a present. But after carrying it home, also carefully, I do really careless (but tasty) stuff with the eggs, like this Lunar New Year coconut pudding, traditionally fried after coating it with eggs: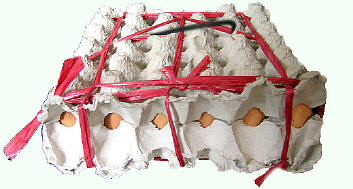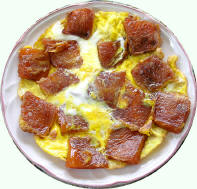 Mar 23: Lammaites in the Movies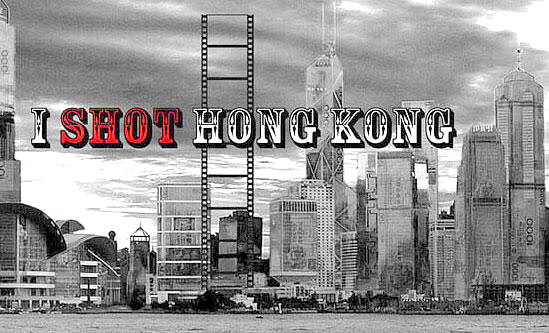 Want to see what some former and current Lammaites have been up to recently, like starring in a movie? Stop by on the Roof Terrace of the the Fringe Club tonight, 6:30-8:30pm, to watch three short films & two animations. Free entry!
The event is described as "showcase of three self-funded short films made by a group of emerging HK indie filmmakers. Featuring action, sex and comedy the films are created in a style of story telling that their producers and directors hope will help revolutionise the image of HK filmmaking."
Wow, they sound like most ambitious but also fun projects! See you there?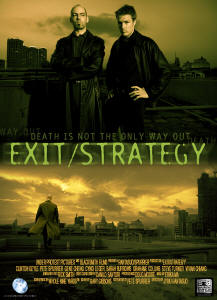 Ingmar writes: "The first film 'Exit/Strategy' was produced and written by Pete Spurrier, an ex-Lammaite, Malcolm from Lamma was on the crew, and myself and Bethany (another ex-Lammaite) were in the movie."
Pete Spurrier, Writer/Producer of 'Exit/ Strategy' writes: "Besides those Lammaites Ingmar mentioned, the short film also benefited from the talents of Lamma habitues Grahame Collins, Gene Cheng, Simon Durrant and Sue Friend. There is a poster & website available for use, if you like it: BlacksmithFilms.com"
Click on posters above and right for more details. One of the many events featured in the daily updated Lamma-zine Events Calendar...
"Exit/Strategy" - will also be shown outdoors on Pui O Beach on Fri, Mar 25, 7:30pm, and on DB Plaza on Apr 9, as part of the HK Outdoor Film Fest (Blog Mar 14).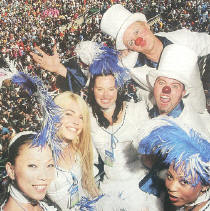 Mar 22: 'Clowning Around in the Boxes'
Crowds of Lammaites spent the weekend at the Rugby Sevens in HK Stadium. Most were there just for the great, raucous fun, but some were actually WORKING (see right)! Lammaites Buster Noname (Greg Ewins, top right) & Alfie Noname (Keiron Love, middle right) were "spicing things up in the corporate boxes on the west side" and even made it onto the cover of the World Cup Sevens supplement of the SCMP last Sun, Mar 20! Mr. Love was spreading the love and told the SCMP's CitySeen that this year was his seventh

appearance at the stadium. "It's great! It's Hong Kong's Mardi Gras," he said. © SCMP, Mar 20, 2005

On Lamma, Clown Buster Noname (below left) is better known as Greg, the ball wizard teaching local children ball sports skills during the summer season.

Below right, this is my favourite photo of Greg's classes. They're even using it as a banner on their brand-new, blog-based Creative Sports website.
Greg has very impressive & truly amazing skills in handling and controlling an entire unruly, hyperactive flock of children, all while they're actually having great fun AND learning new skills! It's a joy to watch his classes and I don't even mean this in an ironic way, for a change!
Classes start in mid-April (Lamma Football Club, Olympic Club, Fit Kids) on our Football Pitch and up at the Basketball Court. Here are enrolment forms for his highly recommended, low-cost classes. Enquiries: email or call Greg (6417 3303).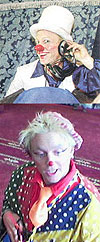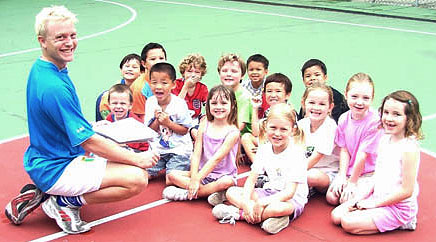 Disclaimer: This has been a kind of Public Service Announcement, a free promotion for a friend and former Lamma-zine advertiser.
If you're interested in similar free publicity in this blog, contact me!

Mar 22: 'Western Food Corrodes My Innards'
Something most special today for Lamma's many booklovers: A world-exclusive preview of "A Lamma Island Story" by Jay Scott Kanes!
The Lamma-zine has been promoting his last book, A High Degree of Atrocity. So I've been pleading with him for a sneak preview of his brand-new, much lighter & more humorous book. He introduced it via an email: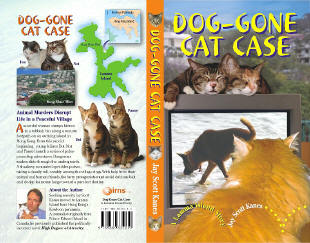 "Although requiring plenty of effort, this book (intended to appeal to anyone who likes pets, one of Lamma's major preoccupations) has been a fun project. In fact, the book has become very much a Lamma-driven project.
The imaginative and creative cover design is by Alex Ng, a talented guy living in Tai Ping. Although the production manager Li Suk Woon works in an office on HK Island, she lives across the footpath from me in Tai Shan.
Starting in early April, we hope to see Dog-Gone Cat Case appear in Lamma shops and in Hong Kong bookstores.
For fun, I've followed through on something you requested months ago by including a passage from the book (see below). This restaurant scene begins on page 145 of the 222-page novel."
from "Dog-Gone Cat Case" - by Jay Scott Kanes:

"REMIND me why we're eating here tonight," said Constable Woo, peering at Lu across a table in the Taste Tingle. "Western food corrodes my innards." Already he sensed internal-gas clouds building. Later thunderous tailpipe emissions might propel him up the hillsides.
"I craved variety," Lu said. "Tomorrow you can return to your usual table down the street at the Nam Wah Yuen Café where woks work best."
The uniformed Woo waved a knife and fork, poking at mushroom-sprinkled cutlets. Also in work garb, Lu gnawed on a New Zealand lamb steak saturated with herbal sauce.
Lu tilted an ear toward a speaker near the ceiling. "The taped music makes me cringe."
"It sounds like cowboy music, real noise pollution!"
"I prefer good Cantopop by Hacken Lee or Aaron Kwok."
"You make me feel ancient," said Woo, withdrawing the fork from his mouth. "Why not appreciate older tunes by Roman Tam or Jackie Cheung?"
Suddenly the proprietor appeared at their table. "Is everything to your liking, constables?" Michael Chow asked.
"Fine." Lu chose courtesy over candor.
"If you need anything, please ask." Chow departed to deliver the same message at another table.
Woo scowled. "You forfeited our best chance to complain."
Pensively, the constables peered outside at passing pedestrians homeward bound from the pier.
"I enjoy working on Lamma," Woo said. "The brass may consider this place a dead-end assignment, but at least our stress levels stay low." He prodded himself in the chest. "No heart attacks here."
Lu chomped on a dinner roll. His open-mouth eating style exposed semi-chewed food. "I'm not so sure. The Poisoner case gives me gut-busting stress. Heck, I suspect everyone."
"Bah!" Woo scoffed. "Too many dogs still wander loose."
"Careful." Lu glanced warily around the crowded eatery. "People may decide you don't take the investigation seriously."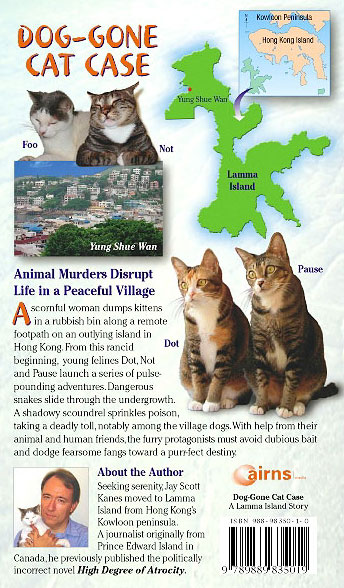 "No one could prove that."
As if on cue, Woo noticed a gangly dog, maybe a bizarre blend of borzoi, bloodhound and raggedy mutt, poke its head into the doorway. Past turf battles had scarred the animal's snout. Grime matted its fur.
Relying on the inevitable restaurant chaos, the long-legged creature crouched and shimmied toward an empty chair. A spiffy westerner who'd vacated that seat moments ago stood at the bar. His lady friend remained seated, capitalizing on the snowy-haired man's absence to check her layered makeup in a tiny mirror from her purse.
The preening woman, too frail to safely startle, missed seeing the dog until it rose before her, front legs resting on the empty chair. Its gastronomic targets, a hunk of beef, two slivers of fat and a mound of steamed rice, remained from the man's meal. Intent on nourishment,

the dog lowered its head, the tongue emerging, going first for the beef.
Shrieking, the woman bounded upright and away from the table. The mirror, gaudy lipstick and her purse plunged to the floor. Every diner looked up in astonishment.
At blazing speed, Michael Chow reached two-handed below the bar and brandished a blood-red water gun resembling an AK-47 assault rifle.
Only the gun's garish-toy color prevented the dining constables from grasping their own weapons to return fire.
With Wyatt Earp accuracy, Michael sprayed a water stream that bisected the room, miraculously missing customers to splash the dog's snout.
Although a savvy scavenger, the animal reacted to the head-wetting by howling in shocked surprise. Forgetting its digestive desires, the dog bolted through the doorway and away at a blistering pace adequate to rival Hong Kong's fleetest race horses.
The diners sat in droop-jawed amazement. Then the room erupted in cheers.
"A sniper strikes," yelled the customer whose leftovers the dog had craved.
"Super shot," bellowed a chubby youngster, who'd probably never fired a water-gun so effectively.
Laughing, Michael stashed the weapon. He emerged from behind the bar and took a mock bow. "Enough gunplay," he told the crowd.
After Lu and Woo demolished mango puddings, the senior constable approached the till and proffered a pair of hundred-dollar bills to cover the meal tab. "I probably couldn't shoot better myself," he told the marksman.
Michael smirked. "Constable, you should have chased that would-be thief, not allowed an escape." He slapped Woo's money into the cash register and returned change, counting four $20 bills into the customer's palm.
As the constables departed, Woo's unsettled stomach rumbled. "Cursed gweilo food defies human consumption," he growled back.
I've actually interviewed Jay for his last book in a Main Street restaurant. I hope he won't get into any kind of trouble with the local police force for this less than flattering portrait. I mentioned this to him and got this reply:
"As you well know, there's always the possibility of offending someone with anything that's published. Frankly, "Dog-Gone Cat Case" should be much more harmless in that regard than my last effort. (Editor: High Degree of Atrocity)
True, the constables in this story are far from the brightest bulbs in the literary universe. In the event of complaints, I may need to give assurances that these are "fictional" constables, nothing much to do with the flesh-and-blood ones."
Well, the portraits sound quite spot-on, don't they? As our Senior Inspector Wong is occasionally reading

this blog, it might be interesting to get his personal feedback. Just kidding! Much more & a review about this book closer to the launch date! Jay has promised more "happenings, shenanigans and associations" in the "fictional" restaurant above!

Mar 21: 'Think Lamma. Think Seafood. Think Nude.'


"Think Lamma. Think temples. Think seafood. Think alternative lifestyles. Think NUDE."
Click on concert montage above to read the full-page story in BC Magazine, published on March 3: laid bare: A fun interview with band leader & trumpeter Sam Bruce while he's changing the nappy of his 3-week-old daughter...

Mar 20: 'Let's Protect and Preserve'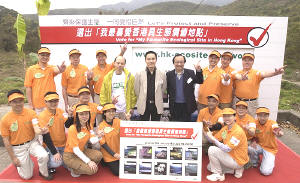 Young man or woman, are YOU ready to protect and serve, eh, preserve?
HK Electric made this call in a press release yesterday, trying hard to improve on their "green" credentials in the public's perception with frequent "green" PR initiatives.
Well, "Perception is Reality", as one of my former bosses loved to exclaim, just before "letting me go", because her negative perception of my reality differed dramatically from all my co-workers' positive perception of my reality. But I digress...
"Eco-leaders" have been recruited from HK Electric's volunteer team. They will undergo training before serving as docents (?) to lead the public and HK Electric customers to visit the top three favourite SSSIs (Sites of Special Scientific Interest). But what in Earth Mother Gaia's name is a "docent" and should we, as the public and HK Electric customers, be worried about being lead by them? Nah, they look like a friendly enough bunch of people (see above).
HK Electric press release - excerpts (for full release, click here)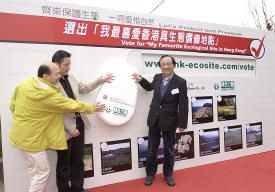 "Let's protect and preserve" is the call made by Hongkong Electric (HEC) and Green Power today at a ceremony held to launch the first website on some of the most valuable ecological sites in Hong Kong.
Developed by Green Power in collaboration with HEC, the website www.hk-ecosite.com introduces 25 of Hong Kong's Sites of Special Scientific Interest (SSSIs). Also kicked off today was a voting campaign inviting the public to browse the new website and cast their votes on their favourite SSSIs.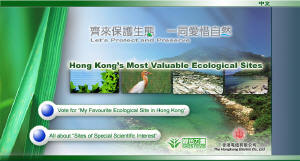 Official records published by the Planning Department reveal that there are a total of 64 SSSIs in Hong Kong, defined as land or marine sites that bear high ecological, geographical, geological or physiographic values worth protecting and preserving.
Officiating at the launching ceremony today, Mr. Roy Tang, Deputy Secretary (Environment) of Environmental, Transport and Works Bureau, welcomed the joint efforts by HEC and Green Power in encouraging local citizens to learn more and help protect the natural environment in Hong Kong...
"The new website will provide the public with a platform to learn more about SSSIs and how we can help protect and preserve these valuable natural resources for our future generations," said Dr. Man.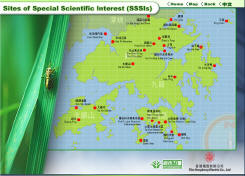 Visitors to the website are invited to join a voting campaign to choose, from a list of ten ecological sites, their most favourite one. The voting campaign will run until 20 May 2005 and voters will receive a special souvenir plus a chance to win a tour to their desired site.
These ecological tours will be guided by 15 Eco-leaders recruited from Hongkong Electric's volunteer team. They will undergo training before serving as docents to lead the public and HEC customers to visit the top three favourite SSSIs. In addition to conducting ecological tours, the HEC Eco-leaders will also support other promotional initiatives about SSSIs in future...
"One of our missions is to care for the community we serve. We are committed to protecting the environment and supporting sustainable development of society. By organising this project, we hope to enhance public awareness in protecting and preserving our natural environment and ecological resources in Hong Kong," he said...
The voting campaign is interesting, every entry gets a free "Hong Kong's Most Valuable Ecological Site" set of bookmarks or a mousepad (see left)! Hurry up to get one of these true collector's items! They'll certainly become most valuable some day, as soon as all the hard work of the Eco-leaders will show results and HK's air, soil & water will become clean again! I'm not expecting too much, do I?
I've already signed up as No. 10 and will get my FREE bookmarks soon, I hope! I'm all excited and waiting with bated breath to be considered "green" myself by owning these "green" bookmarks! Vote!

Mar 19: Lingerie Exporter Provided Some Eye-Candy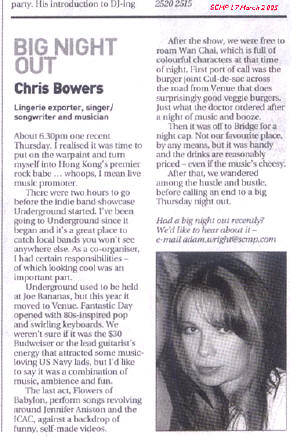 Getting off the ferry yesterday, I got this SCMP clipping from the fast-growing number of regular blog contributors. Today, I got it scanned by email from Mrs. Lingerie Exporter herself, with a subject line of "I was somebody famous last week!" (note the exclamation mark!)
What the article didn't mention was that she actually performed live at the event she attended for her "Big Night Out", for the Flowers of Babylon at last month's Underground concert in Venue, Wanchai (see pictures).
Their website described it as "Chris Bowers provided some scintillating guitar sounds and eye-candy."
At the same event, "Lamma's answer to A Flock of Seagulls, namely FANTASTIC DAY" were also performing. Last seen at the Lamma Fun Day 2004 and at Rockit (see their video).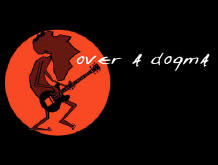 The next Underground concert, Mar 31, will be featuring another Lamma band, Over a Dogma (featuring ex-Garoupa Hamada). Check out the details in the Lamma-zine Events Calendar, plus the Rockit website and my Rockit photo gallery! Underground:
"Over A Dogma made their public debut at the Rock-It festival 2004, one of the eleven bands out of sixty that made it through the auditions. Their mix of African, Arabic and Western styles gives birth to powerful songs!"

Mar 19: 144,000 New Trees: 'Works of Minor Nature'
The big mystery has finally been officially revealed!
A full three weeks after my formal email enquiry I got a reply answering all my questions about The Big Tree Planting Mystery, reported on Feb 24 in this blog:
K K Ho, for Secretary for the Environment, Transport and Works:
Tree-planting at Hung Shing Yeh, Lamma Island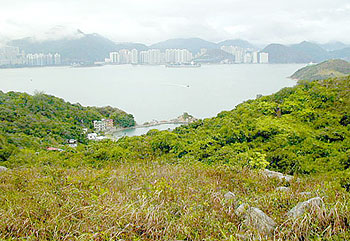 Thank you for your e-mail message on 25 February 2005 expressing your concern on tree planting activities near Hung Shing Yeh Beach on Lamma Island.
Please be informed that the concerned tree planting works were carried out by the Hong Kong Island and Islands Development Office, Civil Engineering Development Department (CEDD). The works covering an area of about 13 hectares commenced in mid-February 2005 have been completed on 8 March 2005. It is noted that these areas are either bare ground with no vegetation cover or grassland with no other vegetation but abutting the bare ground. As most of these areas are heavily eroded, there is an urgent need to control these areas from soil erosion. Furthermore, the concerned tree planting can help improve the landscape of the areas and establish a sustainable woodland thereat.
CEDD has not arranged any consultation with the local residents nor District Councillors because the concerned tree planting works are of minor nature. Also, the duration of works involved is relatively short and the planting works aim to enhance the local landscape environment. For your information, the total number of tree seedlings planted is 144,000 and the seedlings species included Acacia auriculiformis (耳果相思), Casuarina equisetifolia (木麻黃), Eucalyptus calophylla (美葉桉), Lophostemon confertus (紅膠木), and Schima wallichii (紅荷).
I trust the above clarify your concern. Should you require any other information, please do not hesitate to call me at 2848 2578 or contact me via the above e-mail address.
(photos by minibeast)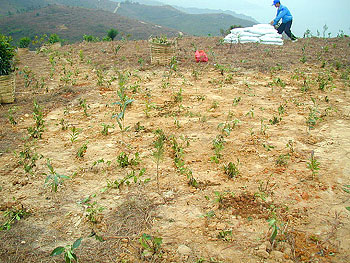 Planting 144,000 trees, more than anybody else ever in Lamma's history, even more than the total of 66,000 trees HK Electric has planted IN TOTAL, is "works of minor nature"? Wow, these guys are modest, aren't they?
144,000 sounds like an amazing number to me! Choppering in and planting ca. 8,000 (!) trees every day required quite a little army of workers. When we did the last ABLE-organised Tree Planting Day two years ago, we hardly managed 500 trees with about 30 active volunteers.
Felling a single tree on Main Street is gazetted on the public bulletin boards, open to complaints, but planting 144,000 doesn't even require a simple email announcement to ANYBODY living here, not even to the local District Councilor who still doesn't know the details of this project?
Most of the trees planted seem to be non-native, Australian species (details from Alan). None of them seem to be any of the ten native species we planted at the last ABLE Tree Planting Day two years ago, all recommended and donated as native, suitable tree species by the Kadoorie Farm. See photos of these tree species, in the middle of my Tree Planting Day photo gallery.

Well, anyway, a nice and environmentally very positive project professionally executed, I think. Credit where credit is due. Congratulations to the Civil Engineering & Development Dept.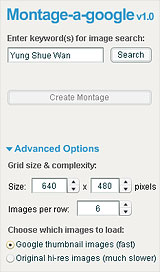 Mar 18: Montage-a-google: Yung Shue Wan
A new website has become very popular recently, making very creative & imaginative use of Google's image search feature: Montage-a-google:
It basically finds 20 images about any search term and puts them into a montage picture, linking each little picture to the website it comes from. Great for very decorative wallpaper. Google your friends and favourite words/terms!
Searching for "Yung Shue Wan" pictures resulted in this montage. Some of the people in the montage look familiar and wasn't this picture taken at our ferry pier?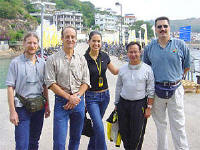 The "Confluence King of China" (as the SCMP dubbed him) & Mr DickStock, ready to set off on their CNN-sponsored boat trip to add another point on the worldmap to their impressive collection. It made for one of my more unusual Lamma-zine stories: Lamma's "Confluence King of China", including many photos & even a video! You'll have to read it to figure out what a Confluence Point is, hehehe...

Mar 17: 'A Significant Expatriate Community'
Wikipedia - "The Free Encyclopedia", created & edited by thousands of volunteers around the world - has several informative & fascinating entries about Lamma Island:
Wikipedia - Lamma Island: (photos © Grace320 and Richard Gallagher)
...Situated at the southwest of Hong Kong Island, it has a total area of 13.55 square kilometers and an estimated population of 6,000...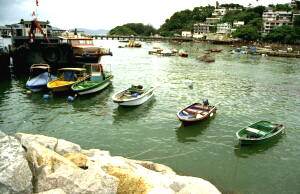 Lamma is, in contrast to Hong Kong Island and Kowloon, peaceful and tranquil, with relatively natural scenery. Buildings higher than three storeys are prohibited and there are no roads and hence, no automobiles, but diminutive fire trucks and ambulances, as well as village vehicles are around to serve the community's transport needs. Lamma provides an alternative to the hectic life in the city. Property values and rental costs are also very cheap compared with those of central Hong Kong. Partly in consequence, there is a significant expatriate community on Lamma Island. It is also popular with younger people and a haven for artists. The different communities live together quite peacefully and successfully.

Lamma was named after the shape of the island which looks like the limb of a tree, or the letter Y (corresponding to the Chinese character of "a"), and Namm (n is allophone of l) means "south". The northern village is called Yung Shue Wan (Banyan Tree Bay) and the eastern village Sok Kwu Wan. The southern part of Lamma Island has minimal population. Sham Wan, an important breeding site for sea turtles, is located there. This bay is also the site of an important Bronze Age settlement which was unearthed by archaeologists in the 1970s. It yielded evidence of
people living on Lamma during the "Middle Neolithic" phase (approximately 3800-3000 BC).
Chow Yun-Fat, a well-known actor, grew up on the island.
Yung Shue Wan is the most populated area on Lamma Island. Several decades ago, it was the center of the plastics industry. The factories have now been replaced by seafood restaurants, pubs, grocery stores and shops which sell oriental and Indian-style handicrafts, environmentally friendly products, homewear and art. The area has become popular among young people and expatriates owing to the low rent and peaceful setting..

Mar 16: Farewell to Deli Lamma's Lani!

Cristobal de Lamma - new Lamma-zine Blog contributor, including photos!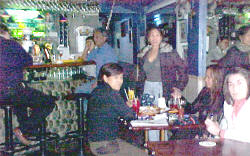 Alas, once again, another long-term of resident of Lamma is planning an exit!
Last night, March 15, at the Deli Lamma, Lani had her farewell party.
As usual, Prafull (owner & operator), maintained his custom of Happy Hour prices and free snacks until closing time when an employee leaves his employ.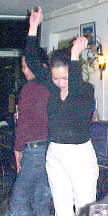 The combination of food and alcohol created a relaxed and comfortable atmosphere punctuated by excellent music, causing the Filipina contingent to turn the centre of the Deli Lamma into a dance floor allowing them to fluidly express themselves* to the beat of the music. No dancing on tables last night, though. When I departed at nearly 1am, the party was still going strong!
"Best Wishes" to Lani as she moves off to Hawaii to join her husband and children.
* Editor's note: meaning a "very smooth and continuous dancing motion", NOT "too much alcoholic fluid caused them to express themselves in ways they'd usually not dare to"!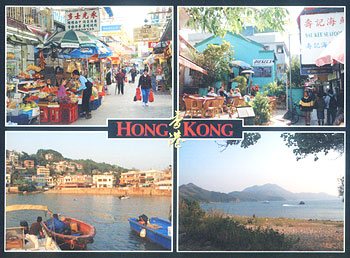 Mar 15: 'A Magnet for Day-Trippers'
Picking up a postcard with a rare all-Lamma theme, the description on the backside reaffirms

some of the usual Lamma cliches:
"Just south of Aberdeen and only accessible by boat, Lamma is a haven for peace-loving residents and a magnet for day-trippers on week-ends."
(Photography by Keith Macgregor, © 2004 Cameraman)

Mar 14: Lantau Arts Festival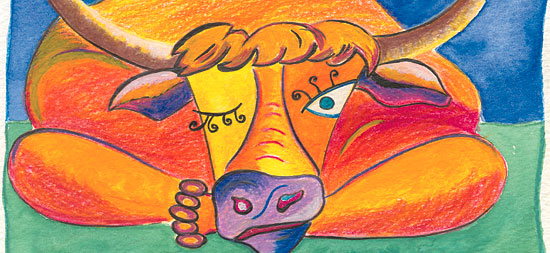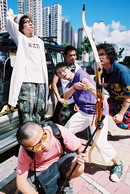 The monthly Lantau Post newspaper is organising the 2nd Arts Festival from March 25 - April 10, 2005. An amazingly wide variety of fascinating events has been announced:
Student & Resident Arts Exhibition (see drawing above), HK Outdoor Film Festival, World Class of Island Music concerts, Arts & Culture and Astronomy Camps for teenagers & children, Art Fun Day, Sand Sculpture Competition, etc.
For more info: email, website, Tel. 9120 6017.
Why can't we get something like this organised on Lamma? We've got definitely no shortage of talented, fine artists:

Mar 13: Breakfast Takeaways
There are at least six choices available in Yung Shue Wan for Western-style takeaway breakfast for the early morning ferry crowd to HK Island. A new choice has been added a few days ago (Aroy Thai) and the ferry pier place has recently been redecorated & renamed (Lamma Store) under new ownership (yes, again!):

I did two photo shoots at the ungodly hour of 7:30am & 8am - at least one place opens at 5:45am: Tropicana! Presenting a little overview, the places are sorted in walking order, from Back Street to the Ferry
Pier. Some prices are listed for comparison. Try out a new place for your morning pick-me-up!

Aroy Thai: nice presentation, $25 for sandwich & tea/coffee

Tropicana: large & varied selection, Ah-Can's smile for free.

Tropicana: $20 for sandwich & tea/coffee, best deal in the village!

Chinese bakery Gai-Gai: vis-a-vis Bistro, lowest prices!

Green Cottage: largest vegetarian selection, $25 for sandwich & tea/coffee

Village Bakery: $20 sandwiches, no tea/coffee yet, but soup takeaway!

Lamma Store: ferry pier, $23 for sandwich & tea/coffee

Lamma Store: Steaming hot Dim Sum at $5-6!
Disclaimer: None of these places is currently a Lamma-zine advertiser, unfortunately...

Mar 12: Looking for a Dragonboat Training Session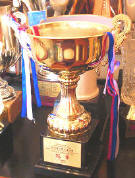 Two days ago, I received this email from Val:
"I paddle for a Liverpool club and for the GB senior ladies. Am in Hongkong until 15 Mar and hope to find a session to hook up with. Used to paddle for Lamma Ladies years ago."
"You're in luck as the Dragonboat training season has just started on Lamma and the Lamma Dragons train every Saturday & Sunday in Yung Shue Wan harbour (see blog, Mar 9: Lamma Dragons 2005 Season Schedule).
Not sure if they provide one-time training sessions, but as an ex-Lamma Lady they'll surely extend you any courtesy they can. I've forwarded your email to my women's team contact, Claudia. Here's her phone #, so you can work it out directly with them. Good luck!
If this works out, I'd like a few sentences from you about an ex-Lamma dragon boater's experience coming back for a training session, for my Lamma-zine Blog, please! That'd be grand and help me in my on-going effort to promote the Lamma Dragonboaters!"
Val happily obliged, just a few hours after her training session today!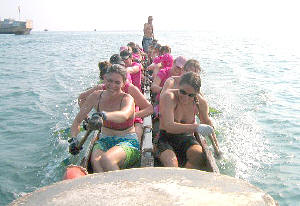 Val - Session at Stanley: "What a team! What a welcome! Just 400m from shore, the boat swamped and we all went for a friendly swim. Now, that's when you know you've got a team. Had a good, albeit short time, had to go home as I didn't have any clothes with me. Hope all the lassies enjoyed the coffee. It was great to see you, thank you for making me welcome.
What do you do to those you don't like?
Good luck for the future, perhaps we will all meet at the next Internationals? Anyone going to Berlin? Love and stuff"
---
And here's one more account of this session of "Can Dragons swim?" by new Lamma Dragon Lady Hapifiou: A very special Experience!
"Then... We heard our captain shouting: "Girls, we sank!!!!" Get out of the boat!!!!" What??? Freezing water, rain, wind, winter clothes on, shoes and bla bla bla..." Read more...
(2 last photos by Lamma Dragon Lady Dawn, submitted by Andrew last season)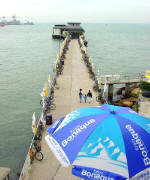 March 12: Seriously Silly Sign @ Ferry Pier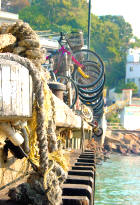 What would our ferry pier look like without all the bikes decorating it on both sides? Unimaginable, you say? We might be about to find out, if the local powers-that-be will enforce the latest triple-S (

Seriously Silly Sign) that has just been posted all along the pier (see below, click to enlarge).

It will have all the chance of a snowball in hell of being taken seriously by anybody driving a bike on our car-free island. Knowing this well, how are they planning to enforce this bike ban, for more than an entire month (Mar 9 - Apr 14)?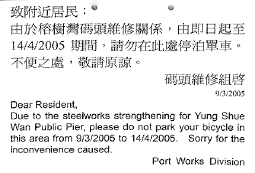 Daily confiscation of all bikes on the entire ferry pier? They could have started taking action against these technically illegally parked bikes already three days ago (Mar 9).
Moderator Alan wrote: "There's over 200 bikes parked on the pier most days, and since they cleared out the dead ones a couple months ago, most are in daily use. It is going to be chaos if they try to enforce this. A few dozen could go near the library, the rest, who knows."

Probably to our semi-official "Bike Cemetery", as there's ample room left? After the completion of the ferry pier repairs, we'll also need an update of my photo gallery Below the Ferry Pier.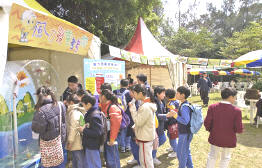 March 12: Lamma Fun Day '05?
Wasn't the last Fun Day just a few months ago, on Nov 21, 2004? There's a "Lamma Fun Day" announced for today, according to a press release I've just received! It even features the same wind turbine booth (see right) seen at the last Lamma Fun Day! The picture is captioned "Students are attracted to the game booth featuring wind power."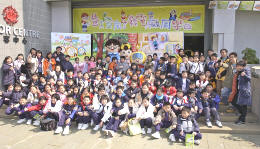 Yes, HK Electric was the generous main sponsor of the last Lamma Fun Day, but I wasn't aware they bought that "brand name" as well - well-established over the last 5 years - for their own in-house (in-power-station) events ???
But a Power Station visit is truly a fun, educational & eye-opening experience, as I can attest from my own "Familiarisation Visit" last year. If they'd just let in a few more Lammaites for visits, that would be great, easing our minds a bit about what happens to the 5-million-ton hill of coal they're burning in there every year...
HK Electric press release, March 11, 2005
Schoolchildren to Learn with Fun in HEC Energy Journey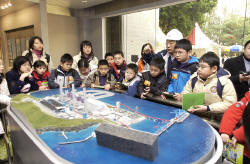 "To learn with fun" will be the motto of the day for more than 300 primary school students when they visit Hongkong Electric's power station during the Lamma Fun Day tomorrow (12 March).
Caption on left: Youngsters show strong interest in the power station model.
The schoolchildren, accompanied by teachers and parents, will experience an interesting and exciting energy journey to the "heart" of the power plant that provides electricity to more than 540,000 customers on Hong Kong and Lamma Islands.
Guided by engineers of Hongkong Electric Company (HEC), the youngsters will tour around major facilities, including central control room, gas turbine hall as well as coal storage yard.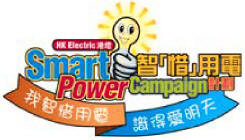 Participants will also be invited to sign on a charter of PowerSmart Kids, pledging to share with their families and friends energy saving tips they learnt from the visit.
Last weekend, the first group of 300 young visitors from 12 schools set foot on the 50-hectare power plant on Lamma Island in the first of the two-day event organized under the Smart Power Campaign to encourage schoolchildren to learn green messages in an interactive manner..."
Click here for entire press release and all the "Oh, so cute!" photos.

March 11: Roberta, ex-Lammaite of the Day
Receiving an email from Roberta this morning, I decided to start a new irregular series in this blog, "ex-Lammaites", who are some of the most loyal readers of this blog & the Lamma-zine and I love hearing from them. So many of them see to share the same wistful, nostalgic feelings, expressed in this heart-felt email:
"This is Roberta, ex-Lammaite who contributed once to your esteemed magazine. I saw your upcoming article and thought that I could offer a few items for your list (below). Feel free to use any or none. My hubby and I are coming back at last this summer, 'cause we've definitely lived off Lamma far too long!"
Signs You've Lived Off Lamma Too Long:
You start to miss the smell of shrimp paste.

You have regular and vivid dreams of being back on Lamma (this is true!).

You realize that you still have more friends back on Lamma than you do in your current location, even after six years of living there.

You can no longer remember any of the reasons you left Lamma in the first place.

You get nostalgic about bullfrogs.

You check out Lamma-zine and the Blog far too frequently and with accompanying wistful sighs.

March 10: Lamma Tourism Ambassador Appointed
New member of our forums, Petula, has been asking 4 tourism-related questions this week. Our long-time senior member and troll cheerleader Fortune Chan was the only one answering all of them comprehensively:

1. how many tourists (local, foreign country) visit Lamma island each year?? especially, 95-04
In '95 there were 41,035 tourists:
12,092 local; 3,237 USA; 1,328 France; 4,862 UK; 7 Germany; 2,954 Japan; 901,032 India.
Rest: Macau, Peru and Trinidad and Tobago.
In 2004 the figures were exactly the same.

2. the population size of Lamma island (95-04)?
124 people (including 74 Gweilo builders, 58 photographers and 28 drug dealers) 7,325 dogs, some snakes, and one ventriloquist.

3. how local residents think about the tourism development of the island?
We all really hope that the fantastic village self-serving committee puts down lots more concrete everywhere to help the tourists move around the island. Also, there is a theme park planned for 2008, but it is only for very fat people from Hubei Province. It will be called "the glorious park for the Fat Mainland Bastard" and it will be lovely.

4. Do the tourists bring negative impacts to the island?
Sometimes they bring some negative impacts, but sometimes they leave their negative impacts at the Ferry Pier in Central and pick them up when they go home.
Someone once brought two life-size models of Caribous to Yung Shue Wan and left them outside the Bakery, but the ventriloquist taught them how to speak.
If you need anymore details about tourism on this island, please call Y2K pub and ask for Charlie.

My reply:
Dear Mr. Chan, as an ex-tourism promotion professional myself, I have to congratulate you on your most excellent contribution to Lamma Tourism above!
Honouring you for this Lamma-zine Blog-worthy contribution, Lamma.com.hk hereby bestows the tremendous honour of (Official Court) Lamma Tourism Ambassador upon your mighty shoulders, adding to your other long-time honour of Official Court Poet, earned in your early "Sturm und Drang" years of powerfully decadent poetry here in these forums.
Following in the hallowed footsteps of other official HK Tourism Ambassadors, like Jackie Chan (another Chan like you!), you'll have numerous ceremonial duties to perform, most of them involving alcohol in some form.
Do you accept this greatest of honours, Mr. Chan?
If yes, we'd expect an actionable plan of priorities from you on how to improve (or de-improve) the regular flood of weekend tourists streaming through the village (without hardly spending a dime).
Eco-tourism, anyone? Adventure tours? Tai Peng Castle Explorers? Magical Spinney Thing Sightseeing Walk-a-thons?

He has already humbly accepted this high honour and started his honorary, non-salaried post by suggesting a series of guided tours into some of the kitchens of Main Street, where only the most daring adventurers dare to venture...

March 9: Reluctant Writer vs. LG!
I'm always on the lookout for new talent to contribute to this community blog.
Any topic vaguely Lamma-related, or about what current & former Lammaites are up to, is most welcome for publication. As a little appetiser & teaser, explaining what I'm looking for, here's a little email exchange I've had with a potential future contributor today. He agreed to have it published as his first-ever contribution!
L-G: Anything you'd like to contribute to the Lamma-zine Blog this month, besides all your already-submitted, great ideas for stories? How about doing one of them yourself and getting it published?
Reluctant Writer: I have never written anything for publication, either in print or electronic.
My English teacher said that I was illiterate and could not write. I was also severely criticised, in writing, by my former director/boss.
If I think of something... I will let you know!
L-G: So early discouragement has marred you for life, holding back your grand literary ambitions and prevented you from maturing into an acclaimed, Pulitzer-prize-winning author?? What a sad story! Sounds surely worthy of writing down in more emotional, heart-rending detail as a high-brow coming-of-age novel?
Hey, man, a blog ain't a literary journal! Who'll give a heck about proper grammar and "good writing" as long as it comes from your heart! The more unique and personal the better. I'm editing whatever contributions I get to fix basic typos and add a few commas, otherwise I leave it untouched not to damage the "spirit" of the contribution. I'm striving for a shared community blog, full of life, not a homogenised "proper" publication with a style guide full of rules!
Not being a native speaker myself and only starting to learn English at 15 years of age - as my 5th language - it's never stopped me from expressing myself willfully and with frivolous abandon in English, especially on the net... I've even wooed my wife online. These days I'm even calling myself a "Managing Editor"! How self-aggrandising & self-deluded can you get?!
What raises your blood pressure about Lamma to boiling point? What makes you exuberantly happy or wildly upset & deeply frustrated about the Lamma community or environment? Rants & raves are my favourite contributions, straight from the heart, swear words and all!
Reluctant Writer: Yes, my early discouragement in my last year of secondary school and subsequent employment situations certainly did mar me, however I have always felt that it was a conspiracy!
Yes, a conspiracy by others who realised that they did not have the humour and powers of observation that I possess, plus my uncanny ability to paint a picturesque image with words (both grey-scale and colour).
Yes, my literary ambitions were squashed like a ripe grape, but my creativity exiled itself into more practical areas.
Yes, there are many things on Lamma, in Hong Kong , in China, and other places that can get my gall, raise my blood pressure and generally wind me right up. Worthy of writing? Worthy of reading? I dunno.
Yes, I will contribute to your vision of a community blog. Though I have to encounter a topic to get my creative wordsmith juices flowing.
Any suggestions for topics for our Reluctant Writer? Email me!

March 9: Lamma Dragons 2005 Season Schedule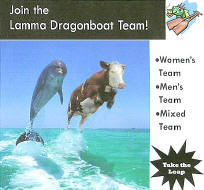 Training for the new season has begun in earnest and took place in YSW Harbour for the first time this year last Sunday, March 6! With some tough new members - like Hapifiou, our French blogger - the women's team is poised to win even more trophies this year! Watch their huge collection in the back of The Island Bar (their official HQ & hangout) grow even HUGER!
The official PR lady of the women's team & media liaison Claudia has just sent me the tentative schedule for the women's team (see below). No word yet from the men's team...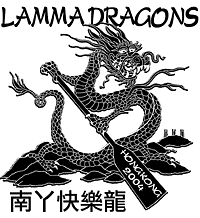 In the meantime, check out my provisional website & forum for the Lamma Dragons: www.Lamma.com.hk/dragons
"Welcome to the 2005 Season!
Dragon boating is addictive, but hard at first, because you are using muscles that you didn't know even existed. We start slowly with Saturday mornings (in Stanley) for the first two weeks. After that, training will be twice a week (Saturday and Sunday in Lamma). Why so much training? Well, it's nice out on the harbour and it's great meeting people but, when it comes to racing, we want to win!"
Raft for a Laugh (not dragon boat)

April

A charitable raft race. We will send a team.

Tin Hau - Festival Races

(held in Lamma Harbour)

1 May

Lamma's own dragon boat festival for Tin Hau, the goddess of the fishermen. A wonderful day of mock races, lion dances, Chinese opera and sun burn. Unfortunately it seems that this will clash with Deep Water Bay race, so we won't be going this year. But there'll be a team, either men or mixed.

Deep Water Bay (organized by Paddle Club) x 500m

1 May

A SERIOUS race with mean teams. Must do better this year.

Cheung Chau x 350m

Date unknown

Must regain our title which we held for 3 years.

Chai Wan

Date unknown

Meet the Chai Wan fisherwomen on their own turf.

Summer Vigor, Sai Kung

Date unknown

Almost took the big trophy last year…

Luk Chau

Date unknown

A lovely race day on the other side of Lamma.

Stanley Short Course

5 June

AS very short race (100m). First last year. May not go if clashes with bigger races such as Chai Wan, Summer Vigor or Cheung Chau.

Penang (Malaysia) x 500m

9 - 13 June

Start saving now! We race in a reservoir against teams from Australia, UK, etc. Brilliant racing, ceremonies and fun.

Stanley x 350m

11 June

The big expatriate day. Would love to do better than our 2nd position last year, but will be in Penang.

Boracay

5 - 7 May

Hot off the press!
Tentative! Possible trip to Philippines!

Footnotes from Claudia: We're still accepting paddlers! They can contact me directly. The women's captain is Katie Harling again and the men's captain is John Burchel.

March 8: Old Lamma Wedding Customs
A most interesting enquiry just received by info @ Lamma.com.hk: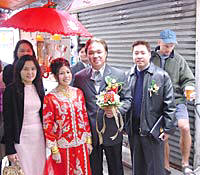 Nora Chau wrote:
My parents lived in Lamma and got married there. They moved to the US in 1974. I'm trying to find out what was the old custom wedding like in 1959. I'm trying to complete some paper work for my mom because she does not have legal document marriage paper.
The information I need is what was the custom back then. If anyone could please help, I would appreciate it. Thank you for your time.

Obviously a descendant of the powerful local Chau (Chow) clan?
Can anybody help? Email me! I'll try one of the senior Chows and the local authorities, incl. Lammadonna, myself...