Shockin' Rockin' Donkeys -
Halloween @ Island Bar (Oct 30, 2004)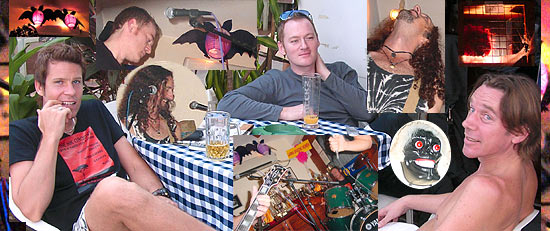 After their

last sell-out performance (OK, FREE performance) in the Island Bar just half a year ago, their many Lamma fans cried out for their return.
Suitably Shockin' for a Halloween party and Rocking' for more than 4 hours (incl. breaks), the Donkeys incited people to dance - some of them on top of the bar stools!
(photo above: 3 Donkeys relaxing outside the Deli Lamma on the Morning After)
(photos below: click to enlarge. Photos by Lamma-Gung, Barry Swerdlow & Lisa Harding)