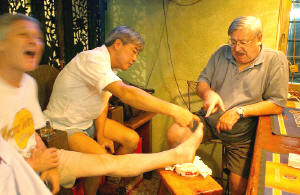 Mon, Jan 31: Foot Massage, Lamma-Style
Contribution of the Day from SCMP photographer Steve Cray:
"Thought you might like this snap (by me) for the zine of Bob getting a medicinal foot massage last week from fellow snapper Uncle John to treat a mysterious ailment. With expert advice from Ian Watto. Ouch!
P.S. Uncle John's full

name is John Fung Kin-chung".

Sun, Jan 30: Year of the Rooster Stamps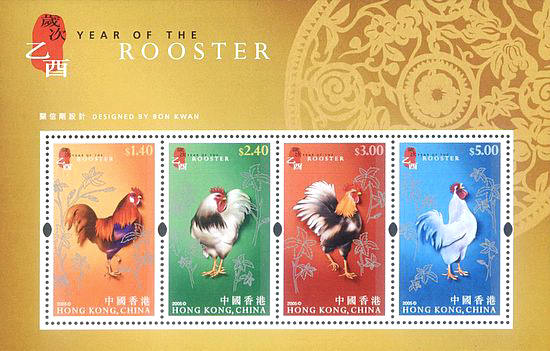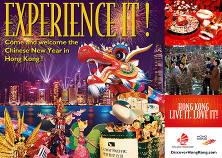 Walking by the Yung Shue Wan post office this Sunday morning, we were wondering why they were open. Checking it out, it was the first day of release of the Year of the Rooster stamps, people queuing up to get their First Day covers stamped. At 11am they were already sold out, not surprising in stamp-collecting-mad Hong Kong.
Not being a collector myself, I nevertheless couldn't resist getting a set of these colorful stamps to scan. Some days it's almost too easy to find a topic for this blog...
Much more about my favourite HK festival - Chinese New Year, Feb 9-11 - will follow very soon. Click on the e-card above to see how HK promotes this festival to tourists worldwide. See also: HK alphabet stamps.

Sat, Jan 29: Dao Lang Spreading All Over Lamma!
While shopping in the so-called "Supermarket" (only laser price scanner in Yung Shue Wan) beautiful music was wafting through the shop. The checkout guy was tapping and humming along to the melodious tunes. I asked him if the song was by Dao Lang, the latest musical star to rise all over China. He confirmed what I already knew, with a big grin, wondering how does this non-Chinese know Dao Lang? This Sichuanese musician is living in China's northwestern province of Xinjiang and is composing, playing & singing music inspired by the Muslim Uygur tribes (as seen in the landscapes & deserts of Crouching Tiger, Hidden Dragon).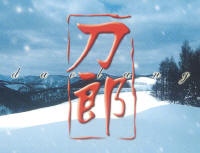 Then I traipsed home, unloaded my shopping bounty and pressed Play on my home office sound system - without having to change discs as it was already loaded - getting lost again in this hauntingly beautiful music with the eerily floating, mesmerising vocals by Dao Lang... Lamma-Por had turned me on to him recently, after being turned on by her god-daughter-to-be who she's job-sharing with. A real grassroots musical movement, spreading from a remote region of China to a remote region of Hong Kong, a well-connected part of the global village.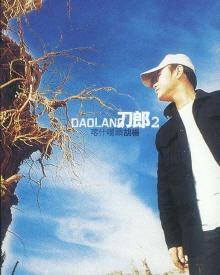 Lamma-Por returning from town last night heard the same CD being played in the Fountainhead Bar and in a private flat. And she presented me with his latest CD this morning, simply titled "Dao Lang 2". This guy's inescapable these days around here, it seems!
Read about him, listen to some of his songs and you'll know why I'm helping to spread this musical infection even further via this Blog. Well, his name has just reached the #1 of all search terms on Google China (according to Time magazine), so we're just two of his millions of fans...
Another reason for liking this music so much is that it evoked many happy memories of my visit to Xinjiang in 2000. As the GM of a large Internet travel agency, I was invited as a keynote speaker for a China-wide tourism conference in Urumqi, the capital (pronounced Wooloomootshee in Cantonese, a favourite word of mine):

● Powerpointing my way through my presentation about the past, present & future of selling travel online, with a live translator who knew nothing at all about the Internet, my assistant whispering frantically in his ear to assist him translating.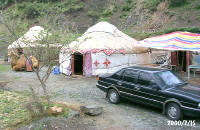 ● Driving through 99 hairpin curves up to the Heavenly Lake. It looked and felt like hiking in the Central-European Alps, including cable cars, except for the yurts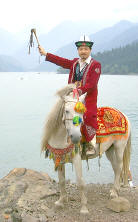 of the Uygur tribes. (left: yurts w/camel; right: my assistant dressing up at the Heavenly Lake.
● Tucking into huge, succulent chunks of lamb cut from an outdoors spit roast.
● Sitting through a VIPs-only marathon performance of ethnic song'n'dance shows, including original Uygur folk music.
● Flying Xinjiang Airlines from Urumqi to Shenzhen, diagonally over most of China, definitely the worst flight I've ever endured, so all-round horrible it was actually pretty funny!
"Your office has booked and paid for Business Class, Sir? Sorry, there's no Business Class on this flight!".
Enough of my rambling reminiscing, this "dotcom dropout in semi-retirement" is restarting "Dao Lang 2" now...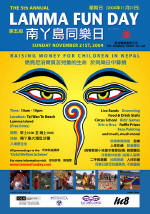 Fri, Jan 28: New Photo Galleries
A few more recently added photo galleries, with many photos contributed by a number of Lammaites (thank you very much!) about various Lamma-related topics. Enjoy!
for a comprehensive list of recent photo galleries:

Thu, Jan 27: Ferry Fare Increases from Feb 1st!
News just in from Samson, our Official Court Reminderer - Monthly Ferry Ticket:

"News on the HKKF fare increase: the Transport Department has given HKKF's application the green light.
Fares will go up from February 1st, 2005, and to briefly sum it up for YSW - Central route:
Slow ferries: $11 on Mon - Sat (+$1); $14 on Sun and Public Holidays (0 increase)
Fast ferries: $16 on Mon - Sat (+$1); $20 on Sun and Public Holidays (0 increase)
Monthly tickets will cost $495 (+$45!).
Check out the notices at the ferry piers for details."

Thu, Jan 27: Your Contributions, Please!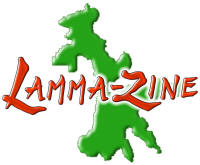 This Lamma-zine Blog is running pretty well these days and there's at least one new entry (mostly with at least one picture and many links) every day now, seven days per week. The best of this Blog will go into the Lamma-zine, sent to 1,700+ subscribers.
The entries come from many different contributors now, besides myself:
tourists, residents, local photographers, ex-Lammaites, press clippings, other websites & blogs, restaurants & shops, even from HK Electric, the police & local politicians!
The more diverse the contributors the better, as I don't consider this Blog as my personal diary or soapbox at all. It would be boring to write frequently about my own activities or voice my own insignificant opinions! The more contributors, the better this Blog will become!
Your contribution can be as small as a good link, a photo, an event announcement, an idea... or as big as a series of photos or a rave/rant about anything. As long as it's got vaguely something to do with Lamma or a (past, present or future) Lammaite, I'll welcome it for publication, even if it's commercial or if I disagree with the content of your contribution! Full credits will always be given, of course! Send me stuff!


Wed, Jan 26: 'Lamma Garden of Remembrance'
Today, a pretty, tranquil and very little-known place in a saddle between two hills, a 45 minutes hike from Yung Shue Wan:
This new, slightly unusual photo gallery is online now:

Tue, Jan 25: 'Wind Power Blows Closer to Reality'
Submitted by Hongkong Electric (HEC), from their quarterly print magazine:
Hongkong Electric's CONTACT #64, cover story: (all photos by HEC)
Wind Power Blows Closer to Reality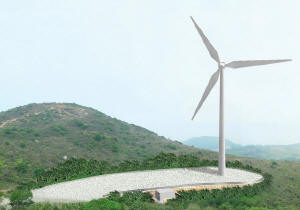 Hongkong Electric (HEC) has submitted to Government its environmental impact assessment (EIA) report on a wind turbine plant and thus moved another step forward in its "green power" project.
Anticipating Government approval, HEC applied for land at Tai Ling, on Lamma Island, as well as initiated procurement procedures for wind turbine facilities.
"Hong Kong can expect its first commercial-scale wind turbine to be operational in early 2006," said Chief Engineer (Projects), Mr. N.Y. Cheung.
HEC commissioned a consultant to carry out the site search and study the potential environmental impact associated with turbines, in areas including noise, ecology, landscape and visual impact, air and water quality. The Tai Ling site was recommended due to its distinct advantages in site access, electrical connection, as well as noise and visual impact.
The $10 million project would not adversely affect the local ecology or environment, said Mr. Cheung, adding that mitigation measures relating to design, construction and operation have been adopted.
Copies of the EIA report, which has been submitted to the Environmental Protection Department, were made available for public inspection in mid-August.
Tough Task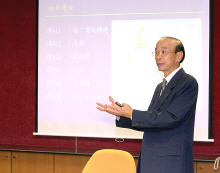 Mr. Cheung admitted that picking the site had not been an easy task. Apart from Tai Ling, other Lamma sites considered were Lamma Power Station Extension, Yung Shue Long, Tai Peng, Pak Kok Tsui and the Lamma Quarry.
A wind atlas was developed following a 12-month monitoring exercise to assess the wind potential of the island.
(Photo: Chief Engineer (Projects), Mr. N.Y. Cheung, introduces details of the wind power project to the press.)
"In determining the site, wind data, site access, height restrictions, electrical connection with existing power grid, and land use had to be considered," Mr. Cheung said. "One site may have strong winds, but may lack road access," he explained, adding that land with high ecological value or high population had to be avoided.
The 4,400-sq metre site will accommodate the wind turbine and a high-voltage distribution pillar. Designed for an automatic start-up, it will generate electricity when wind speeds are in the range of 2.5 to 25 metres per second, and the output will be connected to the existing power grid.
Important Step
Despite its relatively small scale and experimental in nature, the turbine with a capacity ranging from 600 to 850 kW is expected to produce electricity up to 700 MWh a year, which is equivalent to 3% of Lamma's annual consumption or four times of street lighting's power demand on the island.
"Based on current wind assessment, the turbine will be operating 90% of the time," Mr. Cheung said, adding that the operation would be monitored by the Lamma Power Station Central Control Room. The annual maintenance cost is expected to be about $100,000 to $200,000.
The project demonstrates HEC's efforts to explore the use of renewable energy in Hong Kong. "The Lamma turbine may be a small first step, but as a pilot project, it will provide HEC with important experience that may underpin sizeable projects in the long term."
Mr. Cheung stressed that HEC is mindful of the possible impact of the project and has limited the construction work on site to a minimum.
Prime Concern
One prime concern is the risk of bird collision. "The site is not considered to be either within important bird habitats or on the flight paths of migratory birds. With the use of slower rotor blades, we are confident that the impact on birds will be minimized," he said. "We will conduct a year-round bird watching exercise once the project has been commissioned," he said.
There is only one family living 260 metres from the turbine. Nevertheless, HEC will conduct regular noise monitoring exercises to ensure that noise restrictions are complied with. For better landscape and visual impact, a series of measures will be implemented, including reinstating disturbed areas, compensatory tree planting, soil conservation, as well as the choice of colour for the turbine to blend with the environment.
Wind energy is environmentally friendly as it requires no fuel and produces power without generating emissions. The presence of the first wind turbine in Hong Kong is expected to help boost Lamma as a tourist spot with educational and environmental value, he noted.
"We hope to turn the area into an education corner for power generation with the display of wind power information," Mr. Cheung said.
Meanwhile, HEC is continuously communicating with the islanders over the project.
---
Some Interesting facts about Tai Ling Wind Turbine
1. Will the wind turbine work better in stronger wind?
No. The turbine will operate when wind speed reaches 2.5 to 25 metres per second. The wind turbine will produce the rated output when wind speed reaches 15 metres per second.
2. Do we have to shut down the turbine during typhoon season?
No. The turbine is designed to withstand wind speed up to 70 metres per second, a standard similar to the requirement for buildings in Hong Kong. However, in order to better protect the turbine, the machine will shut down automatically and the rotor blades will be locked when wind speed reaches 25 metres per second.
3. Is anyone living in the vicinity of the turbine?
In determining the site, the proximity of the installation to population was a key factor. There is a cottage 260 metres from the site.
4. What is the service expectancy of the turbine?
About 20 years.

For a very lively, local discussion about the merits (or lack thereof) of this wind turbine, click on TALKBACK and join in with your views!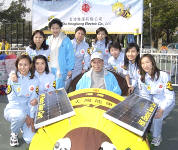 Something closely related and entertaining, their recent press release:
Jan 16: HK Electric sweeps three prizes in solar cart races.
After this success, can we expect to hear more about the feasibility of solar power in HK from HEC soon, maybe even a pilot project?
Disclaimer: HEC is an advertiser in the Lamma-zine magazine.

Mon, Jan 24: Shaving Beards, Heads & Chests
Following up on the blog article from Jan 14, the results are in:
$12,750 additional funds raised for tsunami relief by The Island Bar! A friend called it a "great event, and an unqualified success for the Lamma community as a whole!"

Island Bar press release: (all photos by Dan Peterson)
A Close Shave for Charity!
17 January 2005, Lamma Island – Last Saturday turned out to be a bit of a close shave for a few folk on Lamma Island. In support of the Operation Santa Claus / Tsunami Appeal, several enthusiasts shaved off their beards and moustaches. Frank Paul lead the procession, followed by Dan Peterson, Malcolm Morris and Kumar Binney.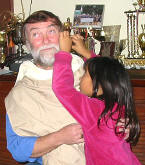 And, as often happens on Lamma, a few went even further. Rajen Gohel offered his chest for shaving, and Jackie Paul and Alastair Robins took the big brave step of shaving their heads to become the top individual fundraisers for the night.
Peter Berry actually managed to retain his moustache thanks to a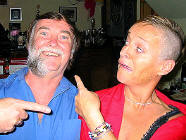 generous donation in a spirited bidding session via mobile phone from Terry in Shanghai, who obviously really wanted him to keep it.
The community of Lamma came through in fine form once again, raising some $12,750 on Saturday evening. This brings the total sum collected via The Island Bar for tsunami relief to $47,950, and for Operation Santa Claus overall to $63,375.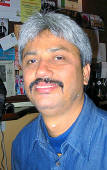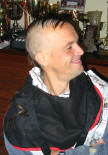 Kumar Binney, Manager of The Island Bar, said, "We are a bit overwhelmed and very pleased by the tremendous response once again from the people of Lamma. There are a few funny looking people around today but I believe everyone had a good time and there are no regrets for this good cause... (edited for length)
Jackie and Alastair can be seen sporting their colourful new winter headgear in the village these days. No matter though, it was certainly for a good cause, and it'll all grow back in time for summer.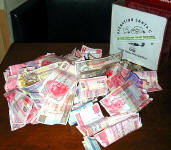 And what became of all that hair trimmed and shaved for charity?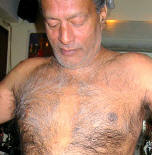 Top of the list of some useful and some not so practical suggestions, was to donate it to the local birds for them to use in lining their nests for these cold winter months. So, next time you find a hair in your bird's nest soup, please remember that perhaps it got there for a very good reason.
For more information, contact:
Kumar Binney (9717 2165) or Dan Peterson (9030 2888)

Sun, Jan 23: 'Boundless Love & Peace' Carnival


Isn't this just the PERFECT title for an event on "Hippie Island"? Can Lamma EVER get rid of this old cliché if events with such names ("Love & Peace! Groovy, man!") are still being organised here? It's happening today, on a sunny & warm (22 degrees Celsius)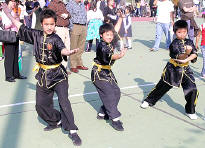 Sunday afternoon, January 2005, on the Yung Shue Wan football pitch!

But this was actually a very ch

eerful, multi-racial children's event staged by the local branch of the Hans Andersen Club (Tel. 2982 2173, email, website), sponsored by the Home Affairs Bureau. Ethnic performances, stall games, lucky draw and other fun activities for families.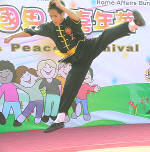 Got to rush off now to take a few pictures of this Boundless Carnival...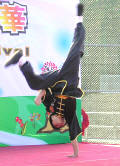 OK, I'm back now! Looking at my pictures it didn't seem all so peaceful! The slogan of the Hans Andersen Club:
"a registered Non-Profit Organisation with a mission to provide practical help and support for the well-being of the children and young people of Hong Kong regardless of race, nationality and religion."
Sounds great! According to parents sending their children to the HAC Lamma Centre, they live up to this wonderful slogan.
Click here for the Carnival's photo gallery.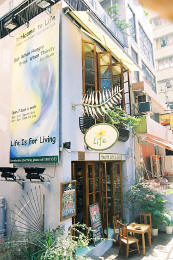 Sat, Jan 22: 'Life Is for Living'
<![if !vml]>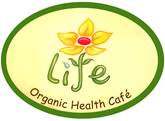 <![endif]>
One of the little benefits of publishing a magazine like the Lamma-zine is being invited occasionally to media events. For example, the launch of the new menu of life Restaurant in Soho, Central, the offspring of Lamma's own institution, the Bookworm Cafe.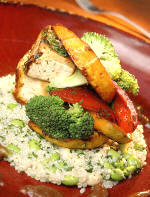 Life's marketing is done by the very experienced and well-established ninetysevengroup. Their media kit comes on a pretty CD-ROM, from where the photos in this article originate. The new menu's all-organic-vegetarian fare is impressive, inventive, really tasty and pretty to look at as well. Highly recommended, if you can afford the Soho prices. Asian Stir-Fry (left, $90), Quinoa Oat & Mushroom Bake (below right, $95), Roasted Garlic (below left, $35). Let me simply quote from their cheerful, upbeat & flowery "Media Release", as it speaks for itself. No need for any snappy remarks from this overly ironical carnivore & omnivore: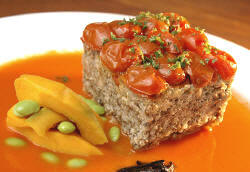 "Life - The Organic Health Café - Presents New Menu. Now 8 Months Old
Since opening its elegant verandah doors just over eight months ago, life has become an instant hit on the Soho scene. Diners have responded extremely positively to the delicious yet healthy dining option,...
Life serves all natural, fresh, organic, nutritious, healthy homemade vegetarian and vegan food. Unique to life is its emphasis on catering to the allergy market with awareness of wheat free, gluten free, garlic free, onion free and sugar free, etc...
The drinks at life range from delicious and healthy fruity power shakes, protein shakes, fresh fruit and vegetable juices to organic beers and wines...
Life is a unique one-stop shop for the emerging wellness customer in Hong Kong. It offers a funky scene with an eclectic mix of customers including artists, yoga/gym followers and suit and tie professionals...
The venue has developed a real community feel to it as evidenced by the community board which advertises local holistic events, workshops and talks on various topics such as raw food, sekhem healing, kinesiology and much more...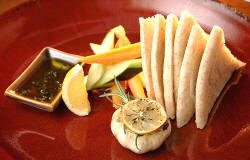 Both Founders Marian and Bobsy are delighted that their vision of many more people understanding the importance of choosing the right food for both their health and the health of the environment has started to come about. In an increasingly polluted city, Hong Kong patrons have responded well to the inspiring, warm and eco-friendly sanctuary that life has become."
Amen! Here's the complete sermon, eh, Media Release, plus my two former stories & photo galleries about life Restaurant: May 26, 2004 & June 19, 2004, including two cartoons of Bobsy-in-life, drawn by the SCMP's Harry Harrison.
And yes, the word life has to be always in lowercase (except at the beginning of a sentence) and in bold type only. Don't you ever forget that!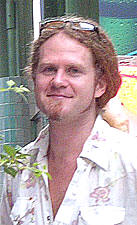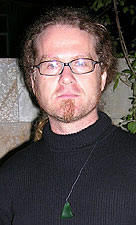 But the biggest surprise of the evening for me was Bobsy himself. Having known him for only about two years, I was truly amazed by his recent trans-formation! Has be been Queer-Eyed?
Compare my two pictures, from 2 days ago and from half a year ago. It's much more than just the glasses shouting "intellectual!", the artsy, all-black, fashionable threads, the serious, less fluffy hairstyle and the business-like, self-assured demeanour. His "aura has changed", as Bobsy himself expressed it. He's moved on and up in the world, he truly has. I wish him all the best.
"Allan Zeman No. 2!" was Lamma-Por's comment about my photo.
And, for my biggest surprise, I found out that Bobsy has left Lamma behind on Boxing Day, 3 weeks ago, moving permanently into a stylish Soho pad, up the Mid-levels escalator, too close to work for his new workaholic habits!
He'll keep his famous, subtropical hippie paradise hideaway w/tipi in Gaia Valley for relaxation, of course. He's also severed all his ties with the most venerable Lamma institution, the Bookworm Café he co-founded seven years ago. He's leaving it in Ken the manager's friendly, capable and experienced hands.
Yes, the ubiquitous cheerleader, the most visible figurehead, the self-styled guru of Lamma's Hippie/New Age/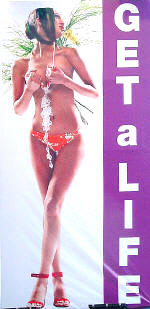 Holistic movements has left the building, eh, the island! Has Lamma finally completely lost its formerly well-deserved, hard-earned reputation as "Hippie Island"?
Well, there are still quite a few acolytes & practitioners left: yoga teachers, meditation gurus, Tai Chi instructors, New Age/Holistic publishers, psychic healers, even a pet psychic & horse whisperer. But almost all of them practice in town only, living on Lamma mostly for the lower rent, relaxed life-style and better quality of life; similar reasons as the vast numbers of suit-and-tie professionals which outnumber them 100:1 these days. But NEVER ever dare to call any of them a yuppie, otherwise s/he might NEVER speak to you again!
Yes, Bobsy leaving feels a bit like the end of an era in Lamma's history! But it's quite typical for the often successful transformation of many former hippies into respectable citizens, successful business people and responsible parents with mortgages. Good, bad or a little bit sad? YOU decide!
But it might be advisable to leave all this heavy-liftin', head-hurtin' philosophisin' for after a delicious, relaxing meal in life, enjoying the very best of their new menu, plus a few organic beers, of course!
P.S. Feedback from Bobsy, after reading this article:
"well done, that's a great article indeed! i like your style!
one small correction, we started the bookworm cafe in january 1998 making it seven years young and not six.
keep up the community spirit, lamma needs you."

Fri, Jan 21: Fantasy Island - Hippie Haven?
The editorial of this week's HK Magazine (my favourite local non-Internet magazine) suggests to set up some of Hong Kong's 236 islands as private islands for special groups of local people. Besides Tycoon Island, Amah Island, Tai-tai Island, etc, they also suggest this Fantasy Island:
HK Magazine wrote
:
Hippie Haven - Lamma Island gets the makeover it's always hallucinat-ing about. National dress is tie-dyed trousers and natty dreads. The Big Buddha is moved over from Lantau and has its bellybutton pierced.
On its February 6 national holiday (the birthday of Bob Marley), the power station's four iconic chimney-spliffs will burn with dope fumes instead of coal smoke.
Four chimneys? The last time I checked, there were just three! Do we need to change the Lamma.com.hk logo at the top of this page?
Lamma, a hippie haven? It's amazing how long these ancient clichés manage to survive, seemingly for decades after they've lost all their meaning. There might be just a dozen or so hippies left from the old days and their cheerleader has just moved off the island (see Life Is For Living article tomorrow).

Thu, Jan 20: Invasion of the French Bloggers?
I've had the wonderful pleasure of meeting fellow blogger and brand-new Lammaite Mademoiselle Hapifiou last night for the very first time. Also yesterday, I've heard from another French lady moving to Lamma these days, also together with her blog.

What's happening here? Just a coincidence? Should we be worried about this "advance party" for a possible "French blogger invasion" of Lamma Island? Do we need to get prepared, start building up our defenses and brush up on our rusty Francais from our ancient school days? Oui? Non?
Well, I'm personally delighted, as these "charmantes" French ladies will make wonder-ful additions to our community, a breath of much-needed fresh air & "joie de vivre"!
I'll also be getting some additional help with the Lamma-zine, as Mademoiselle Hapifiou has cordially agreed to contribute to the Lamma-zine, from the perspective of a newcomer to this island with its "unique & fascinating inhabitants". She found her first impression arriving on Lamma to be "intimidating"! I can't wait to read her good explanations for this puzzling impression! Lammaites, intimidating???
In the meantime, her blog article today (Jan 20) describes (in French, naturellement!) her beloved morning routine, going with the flow of the hurried crowds to the morning rush hour ferry to Hong Kong Island. A most unusual & truly exotic experience for a home office devotee like me, with commuting being just a distant, vague memory.
For more Lamma-related blogs and to add your own creative efforts & links, check out the "Personal Home Pages & Blogs" section of the Lamma-zine Links.

Wed, Jan 19: Chow Yun-Fat in 'Pirates Of The Caribbean 2'
What has Lamma Island's favourite son been up to since his last movie Bulletproof Monk and Crouching Tiger, Hidden Dragon? He's being spotted on Lamma regularly while visiting his mother, brother and other relatives still living here. He's just signed up for new movies, the sequels of Disney's hugely successful hit movie "Pirates of the Caribbean" with Johnny Depp!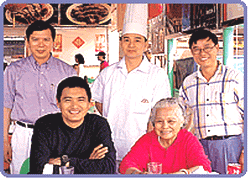 from KillerMovies.com:
"[Thursday, December 16th, 2004]
Yun-Fat Chow has been cast to play a pirate in Pirates of the Caribbean 2, according to Sci-Fi Wire. Chow will play the famous 15th-century Chinese pirate Cheung Po Tsai in the 2. and 3. installments. Chow's management company are said to have been contacted by the makers of the movie two months ago, with director Gore Verbinski flying out to Hong Kong last week to discuss the screenplay with Chow.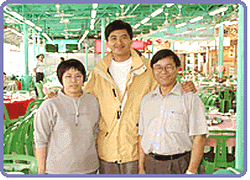 Chow joins a cast that includes Johnny Depp, Orlando Bloom, Geoffrey Rush and Keira Knightley and Keith Richards."
(Photos: courtesy of Rainbow Restaurant, Sok Kwu Wan, Lamma Island: "Mr. Chow Yun Fat, the Lamma-born international superstar, enjoys seafood at Rainbow Seafood Restaurant."
Checking out his biography... he'll turn 50 next May 18! Any huge local celebration for our most famous Lammaite?

Tue, Jan 18: Index of All Blog Articles, Sorted by Date
I've just added a new index of all articles published in this blog so far.
Click on 'Index: by date' in the upper right corner of any blog page.
The index reads like a little personalised history of Lamma over the last few months...
Sorting by category (News, Lammaites, Tourism, Flora & Fauna, etc.) will be next.

Mon, Jan 17: Bugs - Up Close and Personal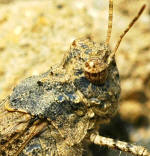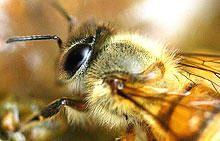 Keeping up with this blog's heavy focus on Lamma photos, I'd like to showcase some more high-resolution shots from Lamma's "bug man", a macro photographer extraordinaire! He seems to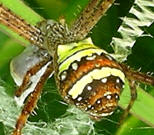 specialize in getting very c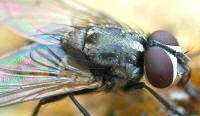 lose to all species of local creepy crawlies for extraordinarily "intimate" portraits. His incredible patience doesn't fail to confound us "normal", impatient human animals with our quickly shrinking attention spans...
Take a bow, Guy Miller, for flooding the Lamma.com.hk forums with his steady stream of digital photos these last few months,

since he took up photography as a hobby. The snapshots have become really professional recently, let's see a few of his latest creations in full resolution. Click on each photo for up to 5 million creepy pixels. Click on TALKBACK! to see even more bugs...

Sun, Jan 16: Lamma-zine Links
I've just updated the website links list, sorted by categories: Lamma-zine Links.
Does it include YOUR website, home page, blog, photo gallery, etc.? Please check, as I've already included most Lamma web pages I know about...
If you're not already included, or there's a mistake in the link or its description, please let me know. I'll include or update your web page in the list; for free, of course. But the web pages have to be somehow Lamma-related or belong to a Lammaite! This is just another little community-building service of Lamma.com.hk.

Sat, Jan 15: Helicopter Pictures!

After trying for quite a while, I've finally managed to find great, sharp, high-resolution, recent photos of Lamma shot from a helicopter. Many thanks to Psykofant!
Click on the photo above to see all 4 of them and download them in high-resolution.

Fri, Jan 14: A Close Shave for Charity @ Island Bar(ber Shop)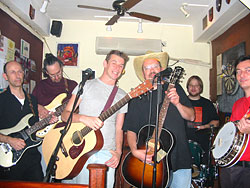 How come the Island Bar is so active & successful in fund-raising? Charity-minded management & very generous patrons seem to be key. Here's another press release for their fundraiser tomorrow, plus photos from Dan Peterson of the last fundraiser "to augment your coverage of events leading up to the 'Close Shave'.".
Photos: Yung Shue Wankers w/Harry Harrison & John Hutton; Kumar showing off the success of the last fundraiser. But will we see Kumar submitting personally to a Close Shave for Charity? Will we?
Island Bar press release:
A Close Shave for Charity!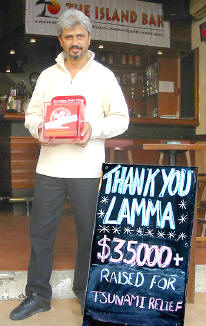 Had a close shave recently? Or do you know someone who either wants or deserves one? If so, bring them (or lure them) to The Island Bar on Saturday 15th January!
That's the day designated for a hirsute tidy-up before Chinese New Year, and in support of the OSC/ Tsunami Relief Fund. Come into the bar from 3:00pm onward and watch some of your favourite beards, goatees, moustaches and at least one pony tail get the chop for charity.
We already have a few (un)willing participants who are donating their personal hairlooms but more would be welcome. So come along and participate if you need a trim!
We also welcome participants for sponsorship. Goodness knows, we wouldn't want to fall a hair's breadth short of a complete success.
Don't worry if you are of the gender which cannot or will not sport a sprout, you can buy someone else's beard (goatee, etc) in its entirety, and it can be yours to redesign as you like (for the highest bidder).
Or, if you feel like being a bit more modest in your expenditure and just fancy a follicle or two, you can make a donation and still get a slice of the pie, errrm, hair and take it in turns to trim the furry beasts on display.
Whether by sponsorship of a few strands or by dedicated mortgage to a whole head, your dollars will make the

difference to this collection for the OSC/Tsunami Relief Fund.
Saturday 15th January – 3:00pm:
The Island Bar(ber Shop) will be open for customers

Thu, Jan 13: Charcoal-Burning Suicides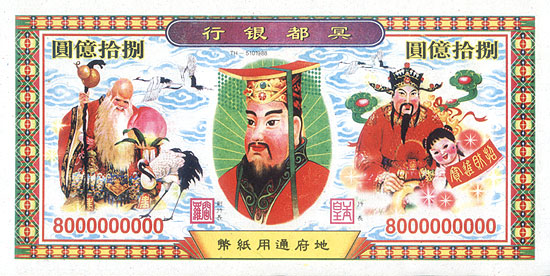 There have been two charcoal-burning suicides in YSW this month alone, making people worry about a trend. There was one apparent suicide by a local Chinese man, I've heard from local sources. He was found only several days later when his smell alerted the neighbours. No info on his reasons available. A local tourist also ended his life the same way a few days earlier in a guesthouse on Main Street...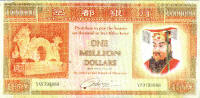 Above & left, banknotes issued by the "Hell Bank Corporation" ($8 billions above!). I just bought a bundle of each for a few $s on Main Street. These are supposed to be

burnt at funerals or later ceremonies, for reception by the Dearly Departed. Yes, there's huge inflation in the afterlife, so you better start saving up right now!

Wed, Jan 12: Hong Kong Weather Live
<!a href="http://www.wunderground.com/global/stations/45007.html">

Wed, Jan 12: Destructive Fishing & Unauthorized Photo Taking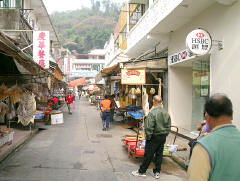 The photo on the right, doesn't it almost look like Main Street, Yung Shue Wan?
No, it's Main Street, Tai O, Lantau Island. Visiting a friend's stone cottage ($1K rent!) out there yesterday, it's amazing how much it looks like a mix of Lamma today and 20 years ago:
Stilt houses, similar population (ca. 8,000?), traditional markets, no supermarkets or fast food, not a single Western restaurant, almost no Westerner living there yet, Chinese all-red temples, welcome signs and pavilions almost identical to Lamma, typhoon shelter to be expanded... The many parallels are almost eerie. Opening up to tourism and tour groups these days, will they progress along the same lines as Lamma in the future? Let's hope they'll learn from our experiences!

A few more photos of Seriously Silly Signs that took my fancy:

Tue, Jan 11: 'Worst Blog Ever'
This Lamma-zine Blog has been honored as one of the two "Worst Blogs Ever" in another blog by a Lammaite, Mr HKMacs. He's linking to this blog in his link list, describing this blog: "Lamma Blog It's embarassing to live on the same Island as this writer! Ve haf vays of making you laff!
Our two blogs couldn't be more different and I'm quite proud of the difference. "The World's Most Authoritative Guide to Hong Kong Blogs" describes HKMacs' blog as "A Macintosh techie discusses FTP clients and other mysteries, plus 'occasional delusional rants about the insanity of the modern world'. 'Nuff said.
This Lamma-zine Blog tries to be a more positive-minded, optimistic blog that promotes the many good sides of Lamma and why most of us love living here. I'll continue to give anybody a free-speech platform to publish anything, as long as it's Lamma-related and I find it interesting; ESPECIALLY if I disagree with it, like this entry's title.
Have a read through HKMacs' blog, then you'll understand that I consider it actually quite a high honour to get this title awarded by this well-known old-timer Lammaite. As another Lammaite friend wrote to me recently, "You might run out of friends after living on Lamma for a long time, but you'll never run out of enemies!" It sounds like he might have been thinking of Mr HKMacs.
For more Worst and Best Blogs in HK and Asia, check out the Asia Blog Awards.

Mon, Jan 10: $30K!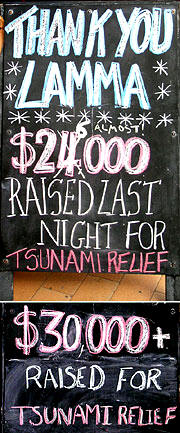 Island Bar press release:
Lamma Island musicians and residents help with tsunami relief
10 January 2005 (Monday), Lamma Island – Generous residents of Lamma Island gathered together in The Island Bar in Yung Shue Wan on Saturday to raise $30,000 for the SCMP Tsunami Appeal. SCMP cartoonist and budding musician Harry Harrison, together with local artists John Hutton, Dan James and others, provided the musical entertainment for free.
The Island Bar donated 50% of its day's takings, and contributions by partygoers brought the total to over $27,000.
Kumar Binney, Manager of The Island Bar, said, "Although we are well aware of the generosity of our regulars who always dig deep into their pockets for causes such as Operation Santa Claus, quite astonishingly, we also experienced complete strangers walking in off the street to make donations the following day. We feel this fund-raising event has been a success and extend our thanks to everyone who contributed to a very worthy cause."
The final amount was topped up to the $30,000 level on Sunday by still-generous Lamma residents, pub staff and passers-by.

For more information, contact:
Kumar Binney 9717 2165
Dan Peterson 9030 2888
P.S. Tue, Jan 11: $35,000+ and still increasing!

Sun, Jan 9: '30% of Lammaites will do this on a Saturday night:'
What did YOU get up to last night? If you're a former, current or future Lammaite, it might be one of these activities (courtesy of Steve James of RTHK who ran this question as a Radio 3 quiz this Friday. He emailed the answers to me afterwards):
Slurp the froth on their beer glass.

Howl at the moon.

Play with their Chunder (!)

Go skinny-dipping.

Go fishing. Have a Jam session while waiting for the fish to bite.

Attend the weekly meeting of the PFLL - Popular Front for the Liberation of Lamma (splitters!) a secretive organisation that uses synonyms to mask their real identities. The chairman goes by the moniker of Brain, while all the members are called Pinky.
Every week the Pinkies ask the same question: "What are we going to do this week Boss?"
"Why the same we do every week Pinky, get pissed and forget what we're here for!"

And the correct answer, of course, is:
"Fall off the path into the undergrowth on the way home".

Click on TALKBACK! to let us know YOUR answers!
As this was the SECOND day in a row that Steve made fun of us Lammaites (Thank you, Steve, you're most welcome!), he drew indignant reactions from the tiny minority of thin-skinned Lammaites:
"Outraged of Lamma!" wrote:
Dear Sir,
I wish to complain in the strongest terms about your methodical deprecation of the residents of Lamma! Not only do you seem to take delight in taking the mickey out of us, but you're actively encouraging your listeners to do likewise. This is despicable behavior and verges on racial discrimination: I will be speaking with my MP about this matter shortly.
Tonight I intend to bring your actions to the attention of the PFLL main committee and will insist that they send some Pinkies round to your place to re-arrange your horoscope!

Sat, Jan 8: '80% of Lammaites will not...'
RTHK Radio 3's Steve James did a really funny quiz two days ago, asking listeners to call in or email replies to this question:
80% of Lammaites will not _______ on a first date.
I asked Steve to collate the replies and email them to me and he really did! Here are the answers he got after "reaction was quick and fast on the phones and email!!"
Launch a military coup against the Tung government.

Bring their false teeth.

Suck a tennis ball through a hosepipe.

Go Hong Kong or Kowloon side!

Miss the last ferry.

Leave Lamma.

Wear shoes.

Remember their date's name.

Introduce their date to their friends/people down the pub.

80% of Lamma folk won't let the other person pay for dinner on the first date. This causes problems when they are both Lammaites: you do the math!
Steve: "And the winner (of a T-shirt) was ('cos it was

funnier than the original cheap pay off):
Take off their decade-old tie-dye T-shirt!!!"
I'm sure the readers of this blog can come up with more and even better answers? Click on TALKBACK! and let us know yours!

Fri, Jan 7: 'I watched as my wife was sucked into the mud'
An ex-Lammaite offers a chilling first-hand account of a lucky escape


As reported in this blog before, former Lammaites Ran & Delian almost became victims of the tsunami. I know them both personally and have featured Ran several times in the Lamma-zine while they lived in Hung Shing Yeh. Both their personal accounts of the events brought home to me the formerly almost unimaginable global reach and scale of this cruel disaster.

Here's Ran's story, published in the SCM Post today, HK section, page 2: SCMP website (subscribers-only), story scan, web page copy, Ran's blog (w/Delian's story, more photos).

Fri, Jan 7: Alphabet Stamps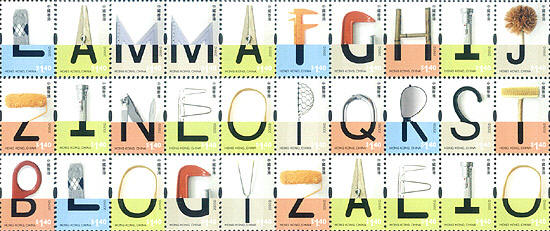 HK Post has just issued their first alphabet stamps this week. Lamma-Por got one set in the Yung Shue Wan P.O. right away. They were even so nice to issue a special set just for this LAMMA-ZINE BLOG. Have a closer look!

Fri, Jan 7: Delicious Dining in the Wintertime

Guess in which restaurants along Yung Shue Wan Main Street all these warming & delicious dishes were photographed before being savoured & enjoyed tremendously?
Yes, I admit to my very bad habit of mine of often taking a quick picture before I permit my dinner companion(s) to dig in. It drives them nuts sometimes! But it's all for YOUR benefit, so I can get you informed where to

find the best restaurants.
Guess which restaurants serve the dishes above and then click on each dish to enlarge and get the answer! Click on TALKBACK! for reviews & ratings of most Lamma restaurants.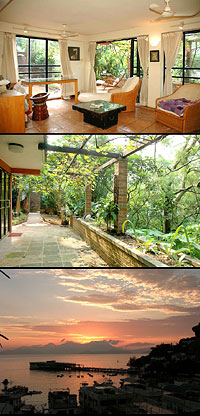 Thu, Jan 6: Quiet Private 700 sqft Studio Apartment
A good friend needs to find a tenant for his great G/F flat above Main Street. I'm usually not advertising flats inside my Blog, but this is an urgent favour for a really nice guy who'll be a great landlord to whoever rents this really exceptional studio apartment. Check him out!
Properties can always be advertised in the ad banner at the top of this page, of course! See ratecard! Here are BOB's two photos of his property, plus a sunset photo I shot recently just a few metres away from this very apartment.
(Click to enlarge most photos in this blog):
BOB (mobile 9460 1718) wrote:
For Rent
Quiet private 700 sqft studio apartment.
Ground floor, terrace and garden with spa.
Only two privately owned villas in the area.

Directly above Main Street, 5 mins from ferry, YSW. Suitable for single person or couple.

Wed, Jan 5: "Hop on the Lamma Bandwagon..."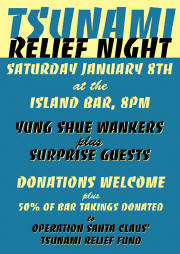 Island Bar press release:
Local musicians to help with tsunami relief efforts
OR
Hop on the Lamma Bandwagon to help with tsunami relief
OR
Tsunami Relief Night on Lamma Island
4 January 2005, Lamma Island – Residents from Northern Lamma are doing their thing for charity. Long known for their annual contribution to Operation Santa Claus and various other charity donations, they have now banded together – literally – to raise funds for the OSC/ Tsunami Children's Appeal.
On Saturday, The Island Bar in Yung Shue Wan will be the venue for a variety of talented local musicians including John Hutton and Dan James, seasoned performers around Hong Kong, and John's apprentice, SCMP cartoonist Harry Harrison, who will all be performing for free.
50% of all drink sales taken by The Island Bar will go directly into the appeal fund. Certain local restaurants will donate part of their profits for food ordered during the concert.
Lamma folk have a great affinity for the beach areas which have been so very badly hit by the tsunami. Dan James, owner of Aroy Thai restaurant in Yung Shue Wan, as well as a restaurant near Khao Lak in Thailand, says, "My wife Geng who was in Thailand at the time is thankfully okay. Other people have not been so lucky. We in Hong Kong are fortunate not to be victims ourselves and this is one way we can share our good fortune by helping those in great need in other parts of Asia."
Kumar Binney, Manager of The Island Bar, whose idea it was to launch this extra initiative, says, "We are thrilled that we will have the presence of these wonderful entertainers for this very worthy cause and we invite all members of The Island Bar to participate in this event. We hope we can raise a significant amount to help the appeal."

For more information, contact:
Kumar Binney 9717 2165
Harry Harrison 9272 5491

Tue, Jan 4: Tsunami Relief Actions

As expected, charitable & good-hearted Lamma people have very quickly come up with a number of inventive ways to collect donations for the tsunami victims. Here are the four most recent ones I've heard about. Click on pictures above to enlarge. More details in Events Calendar. To add your own actions, email me!

Mon, Jan 3: 15 Lamma Artists and Counting...
Lamma seems to provide a very suitable environment & lifestyle for artists of all kinds: writers, poets, photographers, painters, sculptors, cartoonists,... plus quite a large and thriving number of BS artists as well, but they don't really count, do they?
There are also a few weird, wannabe, so-called "hobby computer artists" (like myself, with a few solo & group art exhibitions in the past), but they can't really be taken seriously at all, can't they? Nah!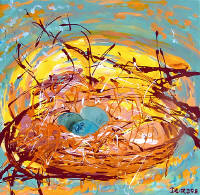 Featuring one local, professional artist per month in each Lamma-zine, I've got up to 15 so far. See the drop-down list below to view (and admire?) their "online art galleries" I've built for them and judge the surprisingly large and diverse collection of Lamma talents for yourself.
I've got a few more new artists lined up for future issues, but if you know any more artists I haven't met yet, please let me know! Next month, something completely different: the graffiti artist who's been spraying the Tinhead. In the meantime, I'll continue to celebrate local talents, promote their art, make them more widely known and even help them to increase their sales a little bit, hopefully.
"Eggs in a basket" by Deirdre Butler

Just in: ArtsAid by "Art for all", a "stitch-in event" for tsunami disaster relief, is asking children and artists to donate artworks for an exhibition and charity auction. They're still looking for a venue and artworks! Click on TALKBACK for details and contacts!

Sun, Jan 2: Your Ad at the Top of This Website?
This blog is depending on advertising for its survival, so please bear with me for another little house ad. Obviously, the top of this page is the very best advertising spot in this website, reaching a very wide, loyal audience on Lamma Island. We're getting over 1 million hits/ month now; a lot for a little community website on an island with less than 10,000 inhabitants.
If you are interested in displaying your ad here, even for just a few days to promote a commercial event, check out the rate card and the ad flyer and contact me anytime! For ad banners of at least 3 months, I'm adding the following:
a free month (3+1, 5+2, 8+4 free months!)

a free ad web page, linked from your ad banner, like a micro website

a free advertorial in this Blog. Plus my (almost) eternal gratitude...

Sat, Jan 1: Happy New Year!
What else is there to say? Enjoy your precious life, donate most generously & repeatedly to the tsunami disaster relief... and don't even bother with making or trying to follow any New Year's resolutions!