<!table cellSpacing="6" cellPadding="0" width="100%" border="0" style="border-collapse: collapse" bordercolor="#111111" bgcolor="#EFEFEF"> <!tr> <!td style="font-family: Verdana, Arial, Helvetica, sans-serif" bgcolor="#EFEFEF">

"Life" - Organic Vegetarian Restaurant (May 26, 2004)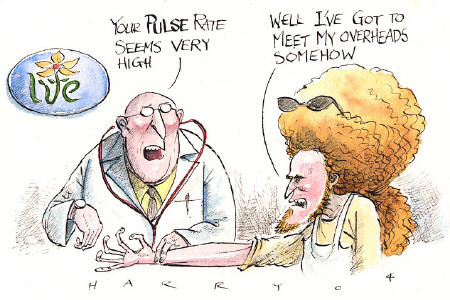 If you live in Hong Kong, you'll have heard of "Life" by now. It was hard to ignore all the buzz & publicity it has generated for 2 months now - TV, radio & dozens of newspaper & magazines.
Let's add not one, but 2 photo galleries, 2 food reviews & 2 cartoons to this flood of all-free publicity, supporting this Bookworm-offspring, a true Lamma export, full of life, wishing it great success!
First, Harry's words of wisdom:
"Everyone has a go at Bobsy because he's very visible and they can, without fear of intimidation or physical violence, so here are a couple of cartoons by way of my contribution to the baying pack."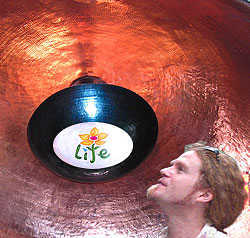 Media quotes: SCMP: "Life, an 'eco-friendly cafe', will serve nutritious vegetarian food at its 'comforting, nurturing and inviting' Shelley Street premises." "New treat for health nuts."
"Life Cafe promises a nice ambience and good vegan home-style food. In addition to good grub, it will have the sounds of world music and the smell of incense."
Holistic HK: "They are promising us "creative, imaginative, delicious, natural and home style dishes made with the finest vegetables, whole grains, nuts and pulses - mouth watering juices, healing soups, splendid salads, breads, and lots more.
The menu is divided into sections such as 'bowls from around the world' (ground nut curry, 'which has a West African influence', Mediterranean ragout) priced from $65 to $110, salads ($88 to $95), 'hearty dishes from home' (lasagna, shepherd's pie, fruit crumbles, $95 to $110), burgers (vegetarian, obviously) and a range of pizzas."
Click here for a captioned lively Life photo gallery, plus an additional photo gallery of the opening party.
Restaurant review by bbChris - singer/guitarist, Thinking Out Loud - attending a 10-people birthday party:

The ambience of the place is top-notch. The decoration is superb with all the wood and the colours are warm. Lighting is nice and dim. Music - good!

There are three floors to Life, the ground floor has two tables next to the Delicatessen which sells tasty snacks.

They also sell organic soya milk and some produce, including Rooibush tea.

First floor and roof garden are bigger dining areas. We sat on the roof garden which was very pleasant as we were celebrating a birthday party. Monday night, the restaurant was packed out.

The food received a variety of reviews: 'soup was original' - 'Life platter was tasty and would go back for more' - 'deeply average; dry Falafel burger, no dressing on salad' - 'more veggies & quinoa needed for Ground Nut Stew' - 'daal was fabulous'

The service was like 'a home away from home' reminiscent of the Bookworm. One person didn't get their food at all. (quoted as saying "Pity I couldn't say "shame about the food"). Apples weren't available, drinks were forgotten.

It was an added bonus that for some they had fine organic sparkling wine to distract them.

The biggest problem turned out to be the payment. We had requested separate bills at the beginning but at payment time we were told quite aggressively that the system was unable to separate our bills so as one person said "I liked the juicy beanburger & really liked the chips & I liked what my wife had to say about it. But I didn't like the maths at the end."

Overall, the menu is great, we love the fact that 10% of the bill goes towards charity, we love having the choice of organic juices or wine - Life just needs to improve its service and it would be an outstanding restaurant.

P.S.: The salads are different to Woodworm!

Bobsy wasn't there when we were there.

P.S. 2: I was the only vegan (80% of the time!) and 100% veggie. I think there was one other vegetarian (although I denote a vegetarian as someone who doesn't eat meat/fish/chicken, but has dairy). I would say 7 of the 10 (3 don't live on Lamma) are regular/occasional guests of the Bookworm.

(photo above by bbChris,
all other photos by Lamma-Gung)
Review by Lamma-Gung:

Great location, just besides the mid-levels escalator (ride it up to Soho, till you see the 2-floor-high banner on the left).

Their organic house wine, a fruity, crisp Chardonnay with a zingy, sharp aftertaste goes well with most of their dishes. Lamma-Por quite enjoyed her Chinese stir-fried veggies, even though it took a bit of convincing for this hard-core anti-vegetarian to join me! In general, the food is fine, but the often really slow & forgetful service needs some improvement and more in-house training.

Many dishes look very "organic", meaning different from the slicker presentation of other places, but they actually taste great. There was a delicious sauce on my beans dish, binding all the many ingredients together, very mildly spiced, but a bit too mild for my taste. Plain organic rice & boiled pak choi: nothing special.

But the Life house salad with hummus and really dark crusty bread, baked on the premises, was simply fantastic, the best salad I've had in a very long time. Take out some fantastic bread, cakes, salads & fair-trade coffees!

All-in-all a pleasant-but-mixed experience with considerable novelty value. We'll be back as soon as I want to afford another $200 for a late lunch for 2 (1 dish per person, no drinks) or an organic beer at $68...

Alternatively, I might take advantage of the much lower prices and the 20% discount offered in the Bookworm Café all summer!
Finally, why, oh why is this feature story headlined "Oh, Mr Bobsy, You Are Naughty"?
Click here for one more photo gallery of the opening party on June 19, containing one more Harry cartoon, and it'll all become clear like organic pea soup!
---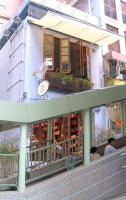 Directly at Mid-levels Escalator, Shelley St, Soho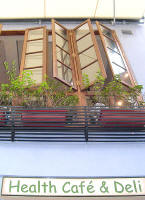 G/F, 1/F & rooftop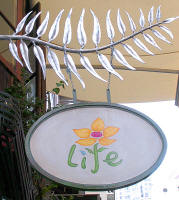 Signage
One of the proprietors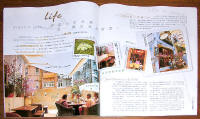 2-page story in Apple Daily's weekly food supplement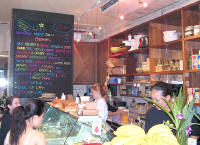 Deli on G/F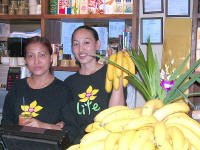 Two of the 30 friendly staff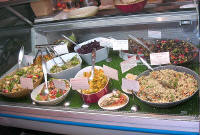 Take-out salads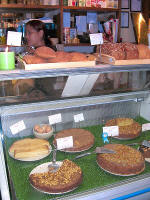 Cakes & bread baked in-house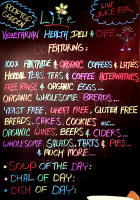 Bookworm-like announcement board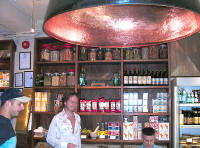 Lots of organic products & produce for sale
1/F, organic wines & co-proprietor Marian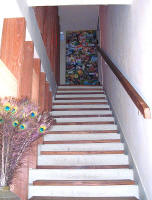 Stairs to 1/F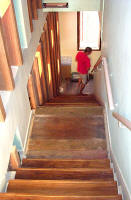 All wood imported from Bali

Public community board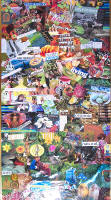 Holistic collages on walls & doors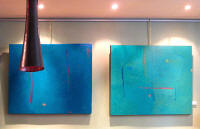 Organic art?
Chinese stir-fry & buckwheat noodles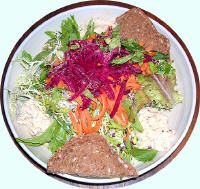 Life salad w/hummus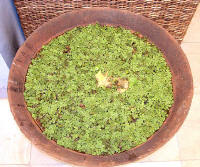 Fountain, not edible (I think)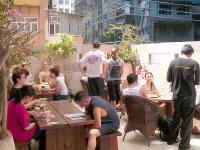 Rooftop garden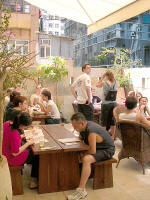 Surrounded by high-rises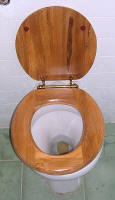 Wood, wood everywhere...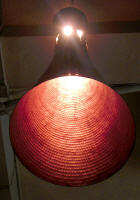 Brass lamps from Bali
---
To send comments, get more info, get high-res files for printing, or to publish your own Lamma-related photos & galleries on Lamma.com.hk or in the Lamma-zine: email Lamma-Gung.

All pictures and text may be freely reproduced for non-commercial purposes only,
but only with explicit permission from the author, photographer or artist.

Commercial enquiries are most welcome! Last update: September 29, 2019 11:12 AM

© 2018 Lamma-Gung, Compunicate! Web Publishing, e-Marketing & Photography.
All rights reserved.

<!/td> <!/tr> <!/table>