<!table cellSpacing="6" cellPadding="0" width="100%" border="0" style="border-collapse: collapse" bordercolor="#111111" bgcolor="#EFEFEF"> <!tr> <!td style="font-family: Verdana, Arial, Helvetica, sans-serif" bgcolor="#EFEFEF">

"Lamma Garden of Remembrance" (Dec 13, 2004)

Hiking from Hung Shing Yeh beach up to the "Youth Hostel" and on to Luk Chau, I came across the "Lamma Garden of Remembrance", a columbarium for storage of the ashes of departed Lammaites. It's a pretty & tranquil place on the saddle between two scenic hills, around 45 minutes hike from Yung Shue Wan (see map below).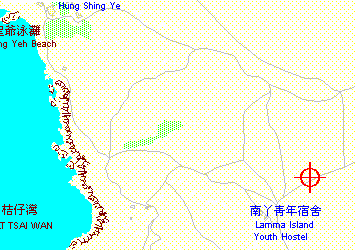 There's still ample room left in this big, all-concrete "Garden". 23 niches have been used so far in approx. 15 years, many hundreds more are still available...
Actually, I kind of like the area myself and would consider to have my own ashes deposited there someday. Like Mr Balke - German engineer with a heart attack at 51, the only Westerner so far - this is always a possibility, even for a clean- and healthy-living Lammaite like myself. I've still got quite a number of years left till I'll turn 51, so I'd better start soon with my preparations!
For example, what would be a good epitaph for my own niche in the "Lamma Garden of Remembrance"? Possible suggestions could come from what other Lammaites have called me here & on other websites:
Here lies Lamma-Gung,
"the Self-Styled Online Voice of Yung Shue Wan" (Fortune Chan)
"le reporter photographe chroniqueur de l'ile" (Hapifiou)
"it's embarassing to live on the same Island as this writer!" (HKMacs)
"if you can remember me, then you weren't there" (Beanburglar, quoting Alan - of Alan & Linda fame)
who "created a sort of virtual in-crowd on Lamma.com.hk" (Beanburglar)
"as Gung walks through the Valley of Death, he fears no evil (except the wrath of Victor)"
"he did a lot of work for charity, like many others, but no-one ever got to see the results" (both by "Victor Meldrew")

still "Loitering with Intent to Commit an Arrestable Offence" (Lamma Police. OK, I made this one up by quoting from their recent press release)
or, short and sweet: "stupid fat bastard!" (V J)
What would your suggestion be?
---
(click to enlarge)
---
To send comments, get more info, get high-res files for printing, or to publish your own Lamma-related photos & galleries on Lamma.com.hk or in the Lamma-zine: email Lamma-Gung.

All pictures and text may be freely reproduced for non-commercial purposes only,
but only with explicit permission from the author, photographer or artist.

Commercial enquiries are most welcome! Last update: September 29, 2019 11:12 AM

© 2018 Lamma-Gung, Compunicate! Web Publishing, e-Marketing & Photography.
All rights reserved.

<!/td><!/tr><!/table>