<!table cellSpacing="6" cellPadding="0" width="100%" border="0" style="border-collapse: collapse" bordercolor="#111111" bgcolor="#EFEFEF"> <!tr> <!td style="font-family: Verdana, Arial, Helvetica, sans-serif" bgcolor="#EFEFEF">

5th Lamma Fun Day (Nov 21, 2004)

The 5th Annual Lamma Fun Day has been held on a sunny Sunday in November on Power Station beach and along the Cable Route. It's been by far the most successful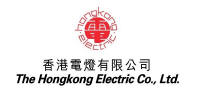 Fun Day so far (despite me joining the Organisation Committee for the first time this year).

Thanks to all the sponsors (Oldham, Li & Nie, Peninsula Travel, Kathmandu Restaurant, Motiv8), especially Hongkong Electric Co. Ltd., the title sponsor, who set up a wind turbine booth, provided electricity for the event and sent in their "house band" to perform on the beach!
It was truly the social event of the autumn season on Lamma, a day full of fun & sun & games for the entire family:
Live Bands (Odyssey, Jacknife Sugartruck, Fantastic Day, HK Electric Band, Papa Jack, YSWankers, etc.);
Drumming; Australian Bush Dance; Face Painting; Circus School (Juggling, Diablos, Spinning);
Kids' Games (Pillow Case Race, 3-Legged Race, Egg & Spoon Relay, Yucky Dip, Faust Drama Workshop, Parachutes, Rounders, etc.);
Raffle Prizes; Food & Drink Stalls; Beach Volleyball; Bric-a-Brac & other stalls, and much more!
Photos by: Lamma-Gung, Barry Swerdlow, Everytimeagoodtime.
Message from the Main Sponsor, HK Electric:

Hongkong Electric would like to congratulate Child Welfare Scheme for the huge success in this year's Lamma Fun Day and thank those who have shown their overwhelming support to this charitable event.

As a "Lamma resident", we are proud to be the main sponsor of the Fun Day, which was held at Tai Wan To Beach just outside the East Gate of our power plant. Though we had sponsored the Fun Day event for the past few years, our involvement this year is somewhat different from the past.

Not only did we donate money to support this charity, we also asked for a chance to get directly involved by offering a performance by our band of volunteers and setting up a game booth introducing our new wind power project at Tai Ling.

We hope to demonstrate in our actions Hongkong Electric's core value of caring – that we care for the local community and are ready to join hands with them for noble causes. We are glad that we have been able to contribute with our resources and look forward to doing even more.

Doggy - Fun Day Founder:

A brief note to add my congratulations to the Lamma Fun Day 2004 team - fantastic job done raising such a huge amount this year.

Can't quite believe it. Great that you managed to get sponsors involved in such a big way - I can only imagine that the HKE band were the highlight of the day...

On the Fun Day, I was thinking about you all a lot, and everything that must have been going on. Luckily, I was able to get hold of Douglas on the phone and taste a bit of the atmosphere. He certainly seemed to be well pleased with how it was going and I'm sure that everyone at CWS will be ten-tonne super chuffed at the 120 grand from Fun Day and Funkraiser.

Sounds like it was even busier and more active than before. It must have been great to get lights up along the road for the night time - a very good move. And blessed again by a beautiful sunny day - now whose idea was it to move it to November? Definitely a wise one.

Thanks for keeping it going so well and again congratulations to all of the committee and all of the volunteers who helped out on the day. I hope I can make it back for another fun day in the not too distant future (and reprise the Town Crier role perhaps).

Love from DoggyXOXO
Lamma Fun Day organising committee:

Dear All,

As most of you know, Lamma Fun Day 2004 was a grand success due to so many taking part, and as a result we were able to raise a record HK$95,000.

What followed was the celebration "Funkraiser" party held at 1/5th two weeks ago which raised over $30,000 therefore, as the organiser of this year's 5th Annual Lamma Fun Day and Funkraiser I am proud to announce that as the final numbers come in, Lamma Island as a community, has raised almost $120,000 as our total contribution to the Child Welfare Scheme!

This is a tremendous achievement, as the amount raised is not far from what the previous four years raised when combined: $160,000! Without the help of all of you - organising, supporting or attending the Fun Day - this could not have been done!

The amount raised will go a very long way for the sustainable alleviation of poverty amongst the poorest children in one of the poorest countries in the world. This money will be used to:

put 100 destitute youths through JYOTI and guarantee jobs in order for them to support their families.

give 240 street children protection, non-formal education, health services and on-the-job training to secure better lives with long term solutions.

train-up our implementing Nepalese partner to capacity and build with a view that, Child Welfare Scheme Nepal can become autonomous and independent.

build up a reserve for CWS HK to eventually set eyes on projects in remote China.

Thank you once again for all of your support! Have a great holiday season and look forward to seeing you in the New Year!

Sincerely, Sonya

---

Li from the Organising Committee is holding on to these two items found after the Funday Cleanup. If you know who they might belong to, get in touch with me. Click to zoom.
(click to enlarge)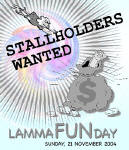 Stallholders Wanted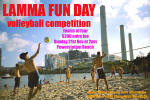 Beach Volleyball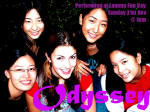 Odyssey performing live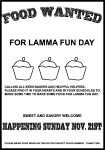 Food for Sale Wanted

A sunny day on Power Station beach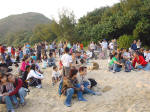 A fun day for all the family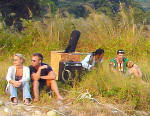 Parksie & Nick in the grass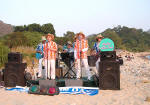 HK Electric's house band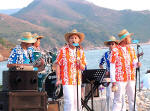 Yes, we have a dress-up budget!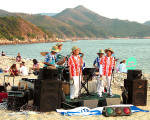 Idyllic, isn't it?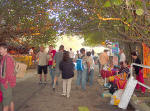 Market on the Cable Route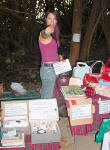 bbChris is hard-selling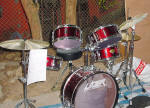 bbChris' band selling their drums?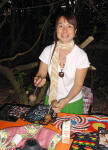 Kumi's garage sale...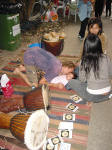 ...while hubby's playing with the baby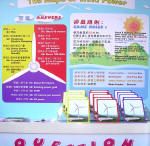 HK Electric's wind turbine booth w/prizes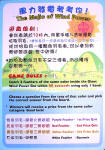 Wind power guessing game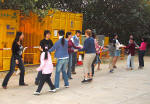 "Australian Bush Dance"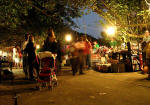 The main sponsor supplying free electricity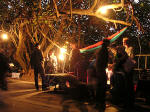 Fun Day has turned into Fun Night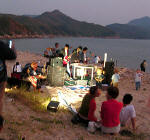 Bands playing well into the night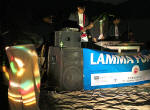 Groovy light show?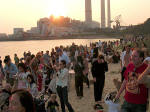 Sun setting over the Power Station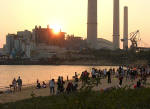 Setting...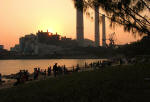 Setting...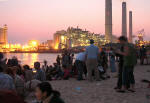 Set!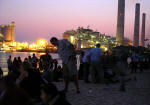 but the fun continues...
---
---
(email):
---
To send comments, get more info, get high-res files for printing, or to publish your own Lamma-related photos & galleries on Lamma.com.hk or in the Lamma-zine: email Lamma-Gung.

All pictures and text may be freely reproduced for non-commercial purposes only,
but only with explicit permission from the author, photographer or artist.

Commercial enquiries are most welcome! Last update: September 29, 2019 11:12 AM

© 2018 Lamma-Gung, Compunicate! Web Publishing, e-Marketing & Photography.
All rights reserved.

<!/td><!/tr><!/table>