Mon, Feb 28: 'All's Well that Ends Well...'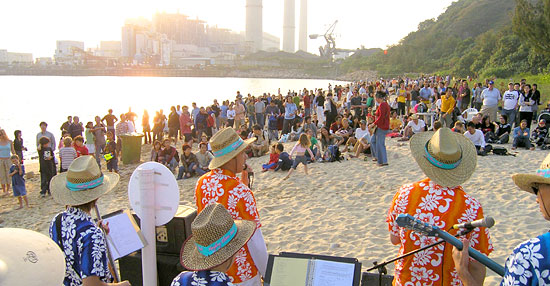 Have you heard about the concert on Power Station beach, where the HK Electric band raised HK$100,000? Browsing through their quarterly house magazine, CONTACT, Feb 2005, one can learn that this event was called "Lamma Fun Day", drawing a big audience for this band of "Sunday players".
In this nice story & interview with the budding musicians - all HK Electric staffers - there's no mention of any other activities going on at the Fun Day, except the bush fire and HEC's wind power booth. The glossy magazine's stories feature carefully selected activities & issues deemed important for HK Electric's large work force. It reads as an impressive morale-booster (awards & prizes won, recent successes) and gives fascinating insight into their corporate "one big happy family" culture. Recommended reading for Lammaites...

As the main sponsor/donor of the Fun Day, HK Electric really deserves a great deal of the credit for the huge success of the event. For the few other activities, events & concerts going on at the Fun Day, please click on TALKBACK! for an extensive photo gallery.
Public Affairs Dept., HK Electric - CONTACT magazine, issue #65, Feb 2005
.
All photos & captions supplied by HK Electric:
All's Well that Ends Well at Fund-raising Concert
| | |
| --- | --- |
| | |
| | The band makes its first public performance. |
There were anxious moments at the fund-raising concert marking the Fifth Lamma Fun Day on 21 November at Tai Wan To Beach. The concert, featuring the Hongkong Electric Band, was to raise funds for children in Nepal. Fortunately, all went well in the end and the event raised HK$100,000.
The band, formed by Projects Division colleagues, was making its first public performance. There were the usual "first night" jitters which were further heightened by a hill fire which started just before they were ready to perform. The fire caused the stage to be moved from the Cable Route to the beach.
| | |
| --- | --- |
| | |
| Visitors are attracted by our booth on wind power and renewable energy | |
"Fortunately, the fire was promptly put out," said one of the band members, pianist Ms. Florence Kan. "The good thing that came out of it was that the event turned out to be a beach concert," she said.
"It was our first public performance and we were somewhat anxious," said guitarist Mr. Johnson Hon. "Furthermore, we had to perform outdoors which heightened our anxiety," he said. "The scenery was beautiful with the sun setting on the beach. Also, with colleagues supporting us made us perform all the better."
One of the lead singers, Mr. M.K. Wong, was not feeling too well before the performance and only attended a few rehearsals. However, on the day he managed to live up to the task and the concert went off smoothly. "It was very exciting to see friends singing and dancing to our music," he said.

Sun, Feb 27: Once upon a Time...
People move to Lamma for a wide range of diverse reasons. Some are economic migrants, like myself, some are looking for low rents, the better living environment and/or a great place to raise a family. I'm always interested in these reasons and managed to get a friend to interview a recent new arrival on our fair isle:
Marie-Margault's story - as written by her good friend
(edited by LG):
Il était une fois... (Once upon a Time)
During the month of May 2004, a French Lady named Marie-Margault lived in a very old house in the middle of nowhere in the South-West of France. She was working by herself at home, creating exciting adventure vacations in many countries.
But, because of the general European economic situation, her business was not doing too well. The most reasonable solution would have been to get a regular job, but Marie-Margault hates to be reasonable! She thought that having a regular job would be so difficult after more than four years of independent life!!!
One day, while she was in an especially bad mood, she started thinking that her forties will be arriving soon, that she has no kids, that her job is not doing so well, that…, that…, that... STOPPPPPPPP!!!!!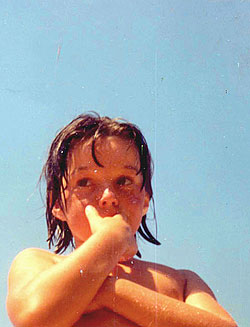 She had to find a way to get out of this self-destructive way of thinking. So she simply switched her mind to positive mode and started to tell herself: OK! Almost 40 (in 18 months) - it seems to be a woman's age of maturity... Hmmmm… no kids and no husband anymore - free like a butterfly! 15 years of professional experience - JUST LEAVE this country behind and find a new place to start a new life!!!! Great! It became suddenly all so very clear in her mind…
But where????? A couple of weeks later, she sent an email to a friend who was supposed to be in Paris at that time. He replied, saying that he's now sharing his time half-half between Paris and Shanghai, loving the experience…
Marie-Margault knew this friend very well and she thought that if HE could live in China & enjoy it, SHE could enjoy it, too!
So she sent out 800 résumés, many of them to addresses found on the Internet. Then, one day, she received a reply from a French lady who'd be in Paris 2 weeks later and could meet her. Marie-Margault met the lady and 3 days later she decided to move to Hong Kong!
After finding this job via the Internet, she found a flat share online as well in Sheung Wan. She arrived with her suitcase just last October! It's impossible to describe what she was feeling during the first weeks, somewhere in-between excitement, happiness and anxiety… She tried to be positive about everything, especially this place she chose for her new life without ever visiting before moving here!!!
It wasn't easy at first… living in Sheung Wan in an 80-sqft room - sharing daily life with two other people, after two years alone in an old, huge house in the middle of nowhere… But it's OK, she thought… When you decide to restart from scratch, you'll REALLY have to restart from scratch!
But the started to become really stressed out by the sheer noise of Hong Kong. Working in Central, living in Sheung Wan, no quiet space anywhere…
She tried to create a kind of herbal garden on her window sill with menthol, basil and cherry tomatoes, but after a couple of weeks neither herself nor her plants were feeling too well… So, one Sunday, she decided to visit Lamma Island, like so many other "Sunday tourists"…
When she arrived on Lamma, walking on the ferry pier, feeling the wind, coming to the "village", watching people chatting, having a drink… No cars, but kids, dogs… she thought immediately, "This is the place for me!"
She returned to Hong Kong and started talking to her friends about her plans. There were many different opinions… People who know her well said, "Yes, do it, the way you describe it, it seems the place for you and we'll visit you on weekends for barbecue parties! Others were saying "You're crazy, taking the ferry everyday, and it's not a good place to live when you're single, and bla bla bla…
But Marie-Margault is really "chee seen", so she moved to Lamma as soon as she could. As she had just arrived in Hong Kong just a couple of weeks earlier with her suitcase, she didn't have many things to move, but she also didn't have any furniture yet!
She could see on the walls in Lamma's streets that there are many moving sales, but she was feeling too shy in the beginning. So she asked the agency to find her a bed and a fridge. It's enough to start a new life, no?
After several weeks, some friends gave her more furniture and, like so many people, she asked Nick the Bookman to help her moving them into her new place.
And now, what's happening to her? I think she has caught the "Lamma Fever", because she prefers to stay on the Island during the weekends, meeting her new friends there rather than going out to Hong Kong!
She loves her life on our island and thinks that leaving France for Hong Kong and living on Lamma are the best choices she's made in her life in a long time...
Why? Arghhhhhhh, she doesn't want to tell us, flashing a big smile and her special kind of secretive look! Now, she's sure that life's fabled "Great Happiness" - which we're all seeking - is made up of many small happinesses…
But, hush… Maybe that's the real secret of true happiness. ;-)
If you're already living on Lamma, why did YOU move here? Want to tell us about your personal reasons & experiences in a little story? I'll help, if necessary, and it can be anonymous. Email me!

Sat, Feb 26: The Autograph Hunter

"Dear Nick,....Karen Mok" on the latest Lamma-zine flyer above!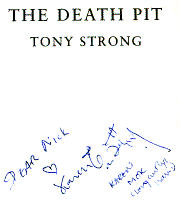 Following up on the blog article about Karen Mok filming a tourism commercial for the Mainland in the Deli Lamma on Feb 21: Nick the Bookman (and autograph hunter extraordinaire) waited for the end of the filming and got himself an autograph on one of my promotional Lamma-zine flyers. He's helping me with distributing them all over Lamma. Pick one up!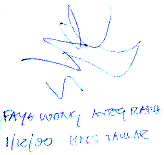 Nick's been collecting auto-graphs for a long time and has gotten Karen Mok's autograph before, 5 years ago after her performance at the Tamar Site in Central. No

comment on why he used this paperback - "The Death Pit" - for the autograph. Sounds like quite a potboiler, maybe referring to a concert's mosh pit?
Nick even got Faye Wong's autograph in his collection...


Fri, Feb 25: Missing the Ferry
Venturing out to town today to cash a check from a regular Lamma-zine advertiser and shop for the few regular items not available on the island. While coming back, walking through the IFC II shopping mall, I check my ferry timetable and...
"Aieeyah! Less than one minute left to the next ferry! Too late to run and catch it! Oh well, no hurry to get back home, I've got enough time. But what to do till the next ferry in 45 minutes? Hey, there's a piano player tickling the ivories, close to City!Super. I'll get closer and listen in for a little while...
Damn, this guy is good! Actually, VERY GOOD!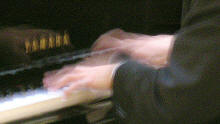 This young Chinese guy's really quite a virtuoso, amazing to watch his hands fly over the keyboard of the Yamaha grand piano. Dressed immaculately in a black tux, he looks hardly 30 years old. The next Lang Lang?
A piano player of this caliber is quite an unusual treat. I'm more used to listening to Lamma's several fine bands live, but none of them is using a grand piano...
How to clap with a Large Cappuccino in one hand? Splash! Spill! Shit!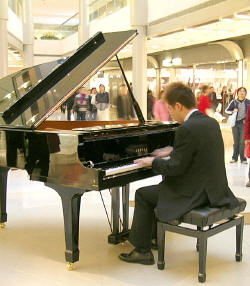 The performance sounds fault-less, as far as I can tell. The melodies are floating & wafting through the noise of the lunchtime mall, transforming it into a warm & friendly place. Such an unusually wide range of really difficult & challenging pieces, from Beethoven to "modern classics". Oh, this piece sounds very experimental & percussive, probably early 20th century? No notes, how can anybody memorise all these thousands of notes? A true miracle for somebody who is tone-deaf but enjoys all kinds of music...
Hey, it's really a pure joy to listen, why not take a picture of this special moment right now, my camera with me wherever I go? That'll be my blog article for today, something totally unexpected, spontaneous & unplanned!"
I listen for 20 minutes, till the end of the performance. Then I stroll leisurely to the Lamma ferry, in a good mood, spiritually & emotionally refreshed after this unexpected & free pleasure. So many of the best things in life are free, like this piano concert in a shopping mall, and under-appreciated by most of the passers-by in a hurry.
Arriving at the ferry pier, they're just in the middle of hosing down the departure area. The floor's flooded & very slippery, all the seats are wet. It's cold & muggy & very windy outside. Welcome back to the real world...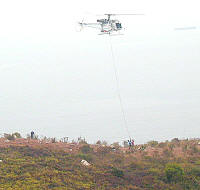 Thu, Feb 24: The Big Tree Planting Mystery
Once upon a time, out of the blue sky (more like gray these days), noisy iron birds have been swooping down on Lamma Island's scenic hills, disgorging hundreds (some blessed eyewitnesses claim thousands!) of tree seedlings. Small armies of workers have been pickaxing holes into the hills & slopes between Hung Shing Yeh beach & Lo Tik Wan for days on end, planting all these most welcome trees firmly into Lammas hallowed soil.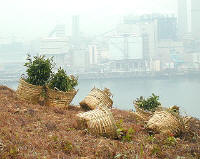 The natives - many of them reputed to be real tree huggers & nature worshippers - cheered and were overjoyed about this surprising & unexpected green gift from the supreme powers high above.
But after the initial giddy happiness, they were wondering which of the various rival, often feuding groups of supreme beings that ruled their lives should they be thankful to, offering their sacrifices of gratitude? Nobody seemed to know who where the powers behind this almost random act of kindness. Their wisemen/women,

their village leaderess Lammadonna and even the high'n'mighty royals ruling the mysterious "Power Station" castle didn't know the true origin of these magical trees.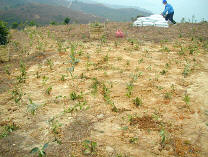 So this mystery deepens, the villagers huddle together, trying in vain to guess where this Manna from heaven is coming from. Why, oh why have they been found worthy of such a precious gift bestowed upon them? Some of the more cynical, world-weary locals wonder secretly if there

'll be a high price to pay later, in the shape of a flood of concrete washing over their island or more wasteful construction projects sprouting all over the hills like trees... (to be continued)
(all pictures submitted by minibeast)

Thu, Feb 24: Pinky's 2nd-Biggest Fan
Lamma is full of unique & fascinating characters, some of them eliciting strong reactions, good or bad. Pinky Chan is definitely one of them. A Lamma landlady, Lamma-zine contributor & friend of mine, I've been chronicling her entertaining exploits for a while, dubbing her Godmother of Pinkyism, Lamma's only "Truly Evil Cult"!
I've just heard from Canada, where Pinky has been spending the winter, Pinkyism has been spreading fast like a benign virus up there and seems to be thriving, attracting some smart & tough, but also amazingly devout & adoring disciples! Take a bow, Maureen, "Pinky's 2nd-Biggest Fan", as I've dubbed her. You'll quickly see why when I'm quoting (with her permission, of course) from her recent three emails to me, merging them into Maureen's sincere homage to her good friend.
You're welcome to ignore all the "silly flatteries" about the Lamma-zine (which might have - only slightly, a tiny little bit - contributed to make me publish her homage...):
Maureen - Pinky's 2nd-Biggest Fan (picture on the right):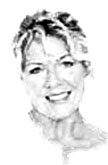 Pinky's Fan Club
Please add me to your subscription list. My friend, Pinky Chan, has introduced me to your magazine. I LOVE IT !!
Lamma-zine is both outrageous and delectable !! Features, articles and interviews are captivating, informative and humorous. For those of us on the other side of this planet who may have never had the privilege of experiencing Lamma Island and its people, your magazine is nothing less than alluring.
Pinky is a gem, to say the least and I treasure her while she is here in Canada. It will be sad when she returns to Lamma Island. If I were able to truly describe my episodes with Pinky, with added photos of proof, you would have to start a whole new magazine!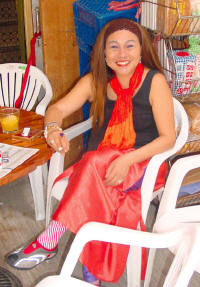 Our friendship was immediate upon meeting during her previous visit to Canada. When she returned to us last October, we celebrated !! Pinky and I were introduced by the man who has stolen her heart (sorry, guys). This probably answers your question as to why she would brave the cold winter of Canada when Lamma is so warm. She is a trooper - totally adaptable adding her unique, unsubtle flair !!
Her sweetheart is my good buddy from Calgary, Alberta who has invited me repeatedly to come see Lamma for myself. I live on the other side of the Canadian Rocky Mountains... I have mentioned before that Pinky and her beau have plans to return to Lamma in just a few weeks...
I work as a Rehab Therapist, teach the basics of Gung Fu to young children, am a student of Gung Fu, Tai Chi Chuan and Karate, and raise 3 children on my own...
Indeed, Lamma knows its treasures !! Myself and many other Canadians are grateful to all of you for sharing the immeasurable sparkle of Pinky Chan. She radiates the warmest light even in the frigid snow of Canada !!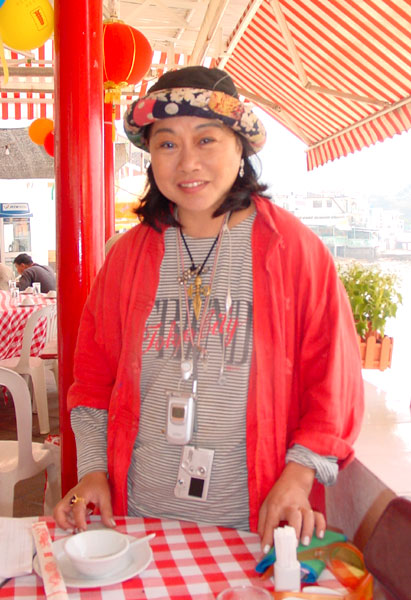 Her generosity, huge heart, open mind and colourful, candid, straight from the gut opinions have kept us all entertained and enlightened as she describes the beautiful Lamma Island plus adventures in many other places where she has travelled. Now she can add her experiences from Canada too. The entire world benefits from Pinky's charming way of bringing us all closer together by pointing out our similarities while equally celebrating what makes us unique.
I am NOT her biggest fan in Canada, that would be my friend (her lover) in Calgary. I DO enjoy her uninhibited passion, vulgar honesty and sense of style. Canadians are so laid back in general. So when someone like Pinky presents herself here, she illuminates and intrigues many of us.
I don't always agree with what she says or does, but her conviction is admirable. She is so willing to learn another's point of view - our diplomats should take notes from her on how this is done.
Now, it could be that her motivation comes from her love interests. Her man is quite relaxed in comparison and I think it may have calmed her down over the last few months. She definitely adds spice to his life !! You could say it is a balanced partnership.
You will have to decide for yourself when you see the new Pinky Chan!!

I swear that I did NOT make up or change any of these sentences! There's simply no need to make up any stories for this blog, real life is astounding & surprising enough already, providing a daily stream of suitable & sometimes outrageous input for this Lamma-zine Blog.
Submit YOUR stuff in any language, even hand-written notes, pictures, posters & press clippings for scanning are most welcome!

Wed, Feb 23: 'Bilan de la Première Semaine à Lamma'
Remember my recent article about the Invasion of French Bloggers? Let's hear from one of them, about her first week living on Lamma! She's still a bit shy and doesn't want to show her face or her blog to everybody, so let me make up a pseudonym for now. For your convenience, I've translated this article from her blog in French:
Mademoiselle Alexandra - new arrival on Lamma - Feb 4, 2005:
Review of my first week on Lamma
It'll be one week tomorrow since I've started living on Lamma. Before moving, I admit that I was a little bit worried about the ferry schedules you have to respect. In fact, I realized during all of this week that it is simply a routine to follow and that living on Lamma has many advantages... (about the inconveniences I'll speak out some day, but I prefer trying to remain very positive).
To get up every day at the same hour, never staying in bed. I'll have to tell you that I've never been late so far and that I am in good shape because I rise so much earlier than before (today 7am, before 8:15am).

Walking to the ferry is a true pleasure, because every day I see and hear the small birds singing, I walk past banana trees and when I cross the village, there are all these merchants already opening. People chat, laugh, buy, sell... Real village life. Duration of the walk: 8 minutes.

Every morning I pass the same retirees who take their breakfasts at the same restaurant. They are sitting in the same place every day, eating dim sum outside on the terrace and talking gossip almost constantly.

In the ferry, every day the same heads, and what makes me especially laugh is that people ALWAYS sit themselves down in the same seat, like it belonged to them. So what, I also do the same thing now. People read the newspaper, drink their coffee, listen to their music...

During the 25-min trip to Central, I am absorbed in my reading. I read more these days, which is very very good. I do not feel the time passing and often find that the ferry ride goes by too quickly.

In the evening, after my job, I want only one thing: TO RETURN. I don't have a desire to spend time in the bars, but I also think that this is because of the weather we've had all week. Cold, humid, sky all gray. I take the ferry at 7:30pm and when I return I make my small trips to the grocers, I wander around a little in the village, I relax at the edge of water or I will lose myself in the small side alleys.

What I really like very much is that I'm completely UNCONNECTED. And it is exactly this "well-being" which I sought before moving here. Not to think of work anymore, not to live in the noise anymore and not to see the concrete everywhere, and to leave one's mobile at home when I go out for a walk.
Review of this week: In spite of the really bad weather, I think that I made the right choice. Anyway, I never never never regret anything.
Hapifiou, another French blogger on Lamma, added a comment to this review, asking if Mademoiselle Alexandra is also participating in the "wet hair" ritual on the morning ferry. Hapifiou has been living on Lamma for two months already. She shares the feelings of relaxation & well-being above and agrees with most of the comments. I've asked her to write about her own reasons for moving to Lamma... see later this week!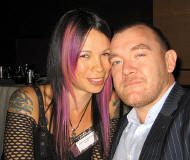 Wed, Feb 23: RocK GoDDess w/Bodyguard
I've been lucky to catch up with bbChris on Nick's corner in her faux fur and several new hair colours.
Her Jason Statham look-alike – "Snatch", "The Transporter", "The One" (Jet Li), "Cellular" – bodyguard, eh, hubby looks really cool & tough! He's a boxing student of former Muay Thai heavyweight world champ Alain. I captured the pair sparring outside Alain's home in Sha Po Village, but from a remote & cowardly distance not to disturb or upset them!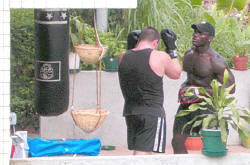 Most Lamma bands have been hibernating this winter, so I've been giving Madame Moderator of the Music forum of Lamma.com.hk a little homework. I asked her for a little short update on what's new & happening with Lamma bands, in her own personal, inimitable style.
At first, she complained "Hahahaha HOMEWORK!?!?!? You're mad!!", but then she quickly relented & sent the following great update within just a few hours! Enjoy!
bbChris - RocK GoDDess & Miss Lamma.com.hk:
News from Lamma Bands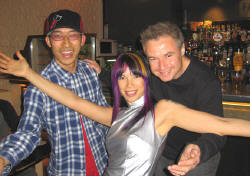 Well, it's the Year of the Cock, musically what is that bringing us Lamma folks?
Word is out that the Shockin' Rockin' Donkeys are braying for a new lead guitarist - may they continue to make asses of themselves.
Half of the band NUDE are seeing the side-effects of nudism and are either pregnant or celebrating new mini-Nudes!
The Yung Shue Wankers seem to be wanking in public every other week - can one wank too much?
Over a Dogma was seen partying over the CNY holidays in houses all over Lamma.
Thinking Out Loud have scored a tall new kick-ass drummer - catch them later on this year.
Flowers of Babylon - playing a special gig this Thursday - Lamma meets Samui.
Will there be another drum jam on Lamma in the future? Beats me!
Check out updates on my music forum on Lamma.com.hk!
Thanking bbChris for this fun contribution, I've promised to help promoting her next UNDERGROUND gig with her "other" band, "Flowers of Babylon", on Thu, Feb 24, in Venue, 15-19 Luard Rd, Wanchai, from 8:30pm. Free entry! Click here for more info.

Tue, Feb 22: Amar Singh - Lammaite of the Day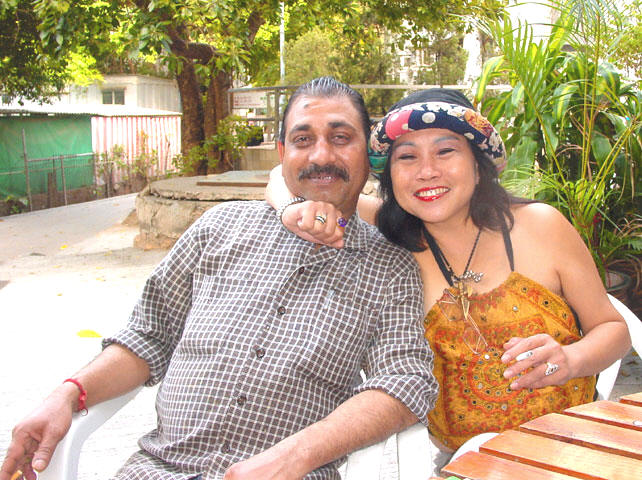 From the SCM Post Magazine yesterday (Sun, Feb 20):
Spicy Island Proprietor Amar Singh's 15 minutes of fame in the most widely read local English newspaper. A great little story about this cheerful & widely popular member of the local Indian community and long-time Lamma-zine advertiser. Click on the ad banner for more about his fine restaurant & bar!
Amar has also graced the cover of the Lamma-zine & the Spicy Island has been featured frequently here in photos, food reviews & stories, even having its own forum. Here's a photo outside the Spicy Island, Amar being grabbed by another celebrity, the founder & godmother of Pinkyism. More about her in Thursday's blog...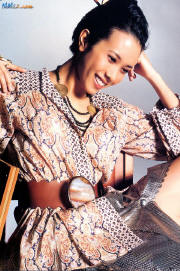 Mon, Feb 21: Karen Mok Filming in Deli Lamma!
Breaking News!

Right now, 5pm on Monday, Feb 21, a big crew is filming a Putonghua-language commercial for the HK Tourism Board in the garden of the Deli Lamma. At least 20 people, including security guards preventing people like me from taking pictures. Unsuccessfully, of course...
Major HK movie star & Cantopop singer Karen Mok Man-wai and another lesser star are filming a scene right now. They're sitting down on the middle bench and are getting served coffee & cake by Prafull. Then they're excitedly enthusing about the view in Putonghua, obviously trying to attract more Mainland & Taiwan visitors to HK and Lamma.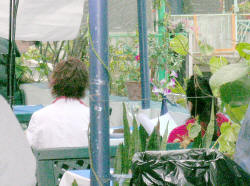 Karen Mok is a really big star in these three places. She's been filling the HK Coliseum concert hall many times and is also filling HK TV with her shampoo commercials.
This is a major publicity success for the Deli Lamma! Congratulations! Even Nick the Bookman got very excited when I told him that Karen Mok is filming as he had gotten her autograph a few years ago. She's been in so many movies, locally & internationally, here's a good link to a Time Magazine interview & her biography/filmography.

My snoop picture above: Karen Mok on the right in the Deli Lamma Garden. She's definitely got movie star charisma & her smile in person is really pretty dazzling...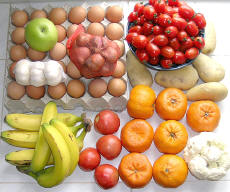 Sun, Feb 20: Life's Cheap on Lamma
Testing some of Grandma Hilda's great & specific "Lamma Diet" advice, Lamma-Por and I went shopping today (see right).
I'm still amazed about much value you can get for precious little money on YSW Main Street. This is our haul today from the green grocer hawker besides the Deli Lamma: 9 different types of vegetables & fruits, plus 30 eggs. How much did we pay? Want to take a guess?
Click here or on the picture to find out!

Sun, Feb 20: Power Station Fire-Drill


This handsome photo comes from an article in the quarterly house magazine of HK Electric, CONTACT #65, Feb 2005. I've got friendly permission from their Public Affairs Dept. to republish it here. There's no internet version of the magazine and most of you are probably not yet on their subscriber list.
The article below provides an interesting glimpse and a bit of insight into this huge, mysterious, gleaming & smoking city, the Lamma Power Station, just over a little hill from Yung Shue Wan.
Ms Esme Lau, Public Affairs Manager (Media & Community), HK Electric:
Fire-Drill Keeps Lamma Staff on Their Toes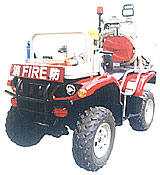 It was all quiet at the western end of the Lamma Power Station on 12 November. The only sound heard on this warm and fine day was the hum of a machine nearby.
However, the silence was broken at 11 a.m. by an explosion which occurred during a light oil transfer operation at the Fuel Oil Pumping Centre. The explosion started a huge fire and staff immediately reported the incident to the Central Control Room.
Fire personnel from the station rushed to the scene to investigate. They reported the nature of the explosion and the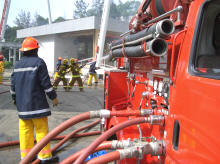 damage to the Control Room. Though there was no casualty, they requested assistance from the Government Fire Services Department.
In the meantime, station personnel sealed off the area, isolated fuel tanks and called for an emergency supply of foam liquid and foam equipment.
Minutes later, fire-fighters from the Lamma Fire Station and Central Fireboat Station joined in the rescue work putting out the fire in 45 minutes.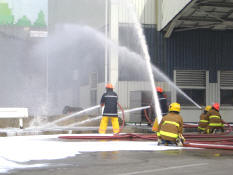 This live drama was staged during the annual fire-drill conducted in mid-November to enhance the alertness and preparedness of HEC staff in dealing with emergencies at the Lamma Power Station.
HEC Fire Officer, Mr. Chan Kin-fat, was satisfied with the swift response of the staff and their ability to react to changing circumstances.
"This year's scenario emphasizes the importance of logistical arrangements, including the emergency supply of foam liquid to combat the fire and the isolation of fuel tanks," Mr. Chan said.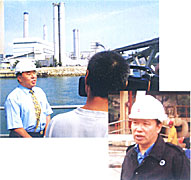 "We are pleased the officers involved followed emergency operation guidelines properly. I believe the exercise has provided a good opportunity for them to test their alertness and cooperation with outside parties," he added.
It was the first time the drill was shown to the public. RTHK filmed the drill for an eight-part series on the history and development of the power industry in Hong Kong.
Apart from filming the drill, the RTHK documentary also carried interviews with senior HEC officers on various aspects of the Company's operation.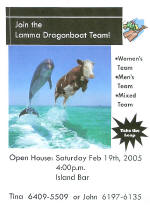 Sat, Feb 19: Become a Lamma Dragon!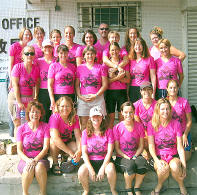 Today afternoon, from 4pm in the Island Bar will be your chance to become a member of the ultimate in-clique on Lamma, the highly prestigious & very successful "Lamma Dragons" dragonboat teams!
On the left, the frequently victorious female team, staffed by many of the

famous "Lovely Lamma Ladies".
Check out the many Lamma dragonboating pictures of the last five years on my provisional LAMMA DRAGONS WEBSITE.

Sat, Feb 19: Lovely Lamma Ladies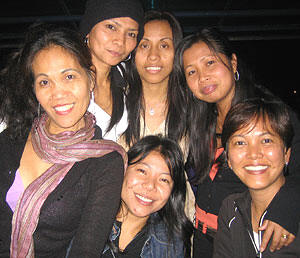 Lamma is so lucky to have ladies from many countries living here. Our intrepid ENG Cameraman (Electronic News Gathering) Mr DickStock's passion seems to be to capture them all on his camera's BIG memory card.
These photos come from Josie's (bottom middle) farewell party on Feb 15 in the Deli Lamma, where she was working & also making the very best full breakfasts.
Emigrating to New Zealand with her hubby, the "Italian Stallion", and dog Rollo, the "Nutless Wonder", she's eager to start a family down under.
I've dubbed Josie the "

Sunshine Girl" a long time ago,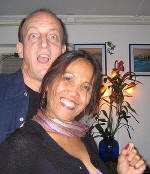 for the obvious reasons of her beaming smile & her always sunny & cheerful disposition, making Deli Lamma customers feel welcome & relaxed. She'll be sorely missed by so many friends.
The other Lovely Lamma Ladies above are (from left to right): Renée, Rose, Santi, another Josie and Lani, who'll also leave the Deli and Lamma in a few weeks time.

Let's hope that this exodus won't catch on, as Lamma would be a much less happy place without all our Lovely Ladies!
For more party photos, click above on Mr DickStock's Happyface.

Fri, Feb 18: New Street Signs?
Pretty new street signs have been going up all over Lamma recently. Here's the one at the Yung Shue Wan ferry pier.
They inspired our very creative Lammaite Samson the Mighty/Naughty Tai Peng-uin to suggest the following:
"I propose that we rage against the new signs, and get another brand new set of signs of our own with local references, like Nick's Corner, Hookworm, Granny Chan's etc. And the new signs must be coloured pink as it is Lammadonna's favourite colour - and the symbol of our one true evil cult!"
He was referring to the Lamma-zine story Pinkyism - a New Evil Cult?
Here's a list of the most popular

Nicknames for Local Places and more Signs on Lamma.
I simply couldn't resist trying to visualise Samson's excellent ideas, even changing the sign's colour. Mouse over the photo.

Thu, Feb 17: Wind Turbine Construction Starts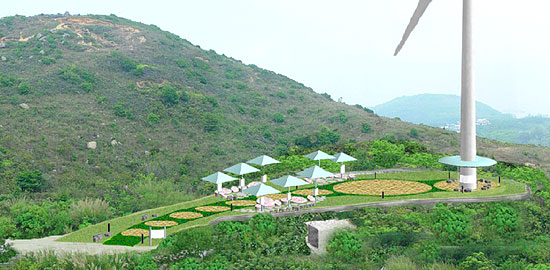 The work on Lamma's "Magical Spinney Thing" (local nickname, inspired by a windmill in Teletubbies) has finally started. Site formation and civil works have just started. The actual wind turbine will be erected in Aug, testing & commissioning is planned for end-Nov this year. It should start generating power for about 250 households by early next year. This amounts to about 3% of Lamma's total power needs, 1 Gigawatt hours of electricity or around 0.01% of HK Electric's total power output.
The figures mean that we'd need more than 10,000 of these turbines to replace the Lamma Power Station and its 5 million tons of coal burnt every year. I don't think Lamma's big enough... While one wind turbine will be generally welcome - or at least tolerated - by most residents on Lamma, a wind farm would face stiff opposition. China's already installed a wind farm in Rudong 300 times the capacity of Lamma's little Magical Spinney Thing, planning even much bigger wind farms. This local single wind turbine pilot/test project is a small, but important step in the right direction as the energy source is free, non-polluting & totally renewable. A lot of the local tourists will also just love Lamma's new attraction, I think.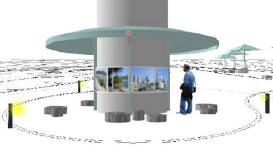 Here's an informative press release by HK Electric:
Construction begins for HK's first wind turbine...
A new addition to the initial plans is a "education corner for renewable energy" at the base of the turbine, plus a green, tourist-friendly rest area. The displays will "include info of renewable energy in general as well as specific information of the Lamma wind turbine."
Proving the great importance of this high-profile "green" project to HK Electric's management, I've counted six different references in six different stories in the last issue of HK Electric's cheerful house magazine, CONTACT.

Let's keep a watchful eye on the progress of the "Magical Spinney Thing" and other local activities by HK Electric, like the other projects under construction right now:
the huge, multi-billion-$ Lamma Extension, the 3rd Cable Route via Pak Kok Tsui, the gas pipeline from Lamma to Shenzhen, etc.

Wed, Feb 16: Fireworking the Policebox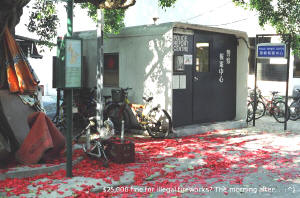 One more great Lunar New Year photo with a local flavour:
Photo of the Main Street Policebox submitted by Pit, the morning after Yung Shue Wan turned into a war zone on Lunar New Year' Eve, at the stroke of midnight.
Pit wrote: "Hi Gungan, Did you get this shot the morning after the local sons welcomed in the "Year of the Rouge'ster"?
I wish I had gotten another one of the iconic "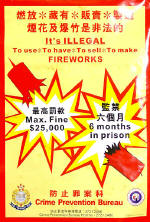 $25,000 fine" poster to complete my very own "get out of jail free" card... ;-)"
Well, I might be able to help out with my extensive Lamma poster collection of the last three years...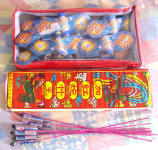 A picture of samples of the offending items, still wrapped & unexploded. I secured these for research purposes only, of course. I would never even dream of actually lighting these most dangerous & highly illegal products. But I'll happily snap pictures if other people, good friends and neighbours, decide to indulge in these activities:
Wed, Feb 9: Midnight Fireworks!


Wed, Feb 16: Best Year of the Rooster Cards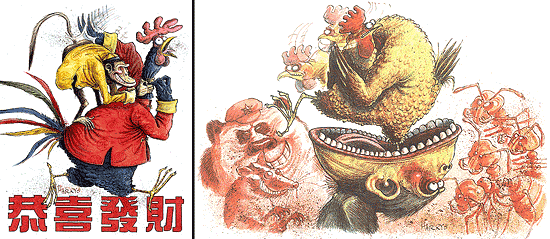 © 2005 SCMP
These are the two best Lunar New Year illustrations I've seen this year. From Lamma's inimitable Harry the Cartoonist, of course. The first one with the "monkey on the back" was his private NY card (I think).
The jittery, always afraid rooster (like

HK people these days - SARS, fire ants, bird flu,...) emerging from the Year of the Monkey was from a story about his topic in the SCM Post recently. For more about roosters and other bird brains on Lamma, click on TALKBACK! I'm really looking forward to Harry's next illustration created exclusively for the Lamma-zine!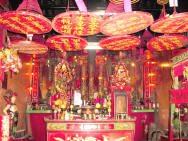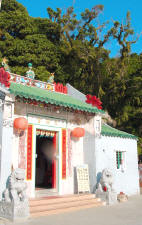 Tue, Feb 15: Tin Hau Temple Rebuilding
One lunar new year ago, exactly on the first day of the Lunar New Year of the Monkey 2004, the over 150-year old Tin Hau temple in Sok Kwu Wan burned down completely.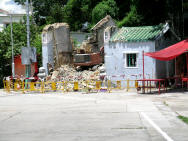 A few weeks earlier I shot a lot of photos of this really beautiful Tin Hau temple for this photo gallery:
Sok Kwu Wan dinner.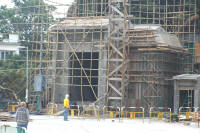 After the burn-out a collection started right away to fund the reconstruction, including many benefactors, even the Lo So Shing primary school chipped in. Today, one year later, the building word is in full progress. No more wooden roof and interiors this time... (last two pics by Guy Miller)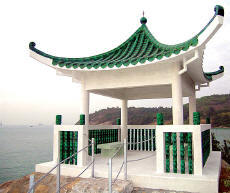 Mon, Feb 14: Passion Point or Lover's Leap?
Today, on "Sweets & Flowers Promotion Day", eh, Valentine's Day, let's avoid the usual soppy, syrupy, sentimental declarations of eternal love & devotion and talk about the new pavilion in Yung Shue Wan harbour, finally open to the public. This new tourist attraction has obviously great romantic potential and I've been wondering what to call it ever since it opened. Lammaites love to nickname well-know spots around the island, so I've started a search for the best nickname.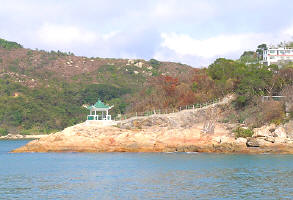 Uncle Guy the Bugman swamped us with so many suggestions, incl. some pretty good ones. I had to narrow down his TWO exhaustive lists covering almost any possible angle of

naming this spanking-new pavilion in the typical, cynical Lamma style.
Here's the slightly edited & sorted list. To pick your own favourite nickname & vote for it, just click on TALKBACK above!
Air Quality Control Centre

Nearest pavilion to the Power Station... and they've sponsored the construction costs

Alan's Watchtower

He's heard they're building a new path/drainage ditch somewhere near there

Bay Watch

Location for the next Lamma TV series

Bookworm's Kitchen

Because of the time it takes to get your food there

Britain's Last Bastion

Last one left in Hong Kong?

Chinese Garden

Not a blade of grass or flower in sight - nicely concreted

Drum Jam Practice Room

A place to play their drums on a rainy day

Exclamation Point

A wordplay on "reclamation", but also a place to let off steam

Ferry Watcher's Hangout

Quite a few of those on Lamma, so it might get crowded

Fire Ant Lookout

First one to spot a fire ant on Lamma wins an ant farm!

GAIA Alley

It's pretty close to GAIA Valley

GAIA Teepee II

Typhoon-proof alternative & upgrade to the original

Granola Eater's Forum

He isn't talking anywhere else online anymore. Also, a place to enjoy eating granola al fresco

Green Cottage II

We already have a Green Cottage

Gung's Last Stand

His next stop if he doesn't get more sponsorship

Gung's Limit

That's the furthest he's ever walked from the Bakery

Harry's Bookshop

There's a shelf with room for one book

HEC Gallery

A good viewing spot of the 3 smokestacks

Hippy Recruitment Centre

So few are left these days, we need new blood to maintain our ancient "Hippy Island" cliché

HKKF No Smoking Area

Since the ferries are enforcing the smoking ban on the ferries these days

I.I. Sanctuary

Close to rich pickings in Po Wah Yuen, easy to reach for Mainland boats

Illegal Structure

Who gave permission for it to be built anyway? Nobody asked the residents

Island Bar WC

Another one besides the brand-new $1.5-million Public Toilet

Karaoke Lounge

Greeting (or shooing away) the tourists on the arriving ferries

Lamma Check-in Terminal

For the airport - Central & TST have one already!

Lamma Community Centre

We have a great community, but it has no centre, no focus point

Lamma Landmark

A shopping plaza for high-class Lamma gift items

Lamma Palais

A palatial & exclusive place directly by the sea

Lamma Passport Control

For the Independent Republic of Lamma

Lamma Tourist Office

The first landmark that incoming tourists notice. Get maps!

Lammadonna's Perch

The driving force and promoter of the pavilion

Lamma-Por's Refuge

Where she goes to get away from Gung's incessant talking

Lamma's only 7/11

It's open 24 hours a day

Lamma-zine Lookout

Always on the lookout for a good story

Landlord Lock-out

A place to sleep after you've been locked out for not paying the rent

Lover's Leap

It's not too far down & Lammaites only do it for show, not for real

Miller's Pulpit

Nobody pays attention to my sermons anyway

MST II Pavilion

Getting ready for the next Magical Spinney Thing

Nick's Loading Bay

If you it get there - he'll get it to the ferry

Nick's Unloading Bay

If you get it there from the ferry - he deliver it to your new home

Pinky's Nest

She's going to fill it with beds & start charging

Smoker's Retreat

Soon you'll be allowed nowhere else to light up!

Statue Square

A good spot for a statue for that unknown Lamma Hero

Sunset Pavilion

Most romantic and least-cynical nickname in this list

Sunset Strip

For nude sunbathing & named after the street in LA

Tourist TRAP Pavilion

Turn Right At Pavilion (for tourists asking how to get to Sok Kwu Wan)

The Amah's Room

Close enough to Po Wah Yuen, but not too close to interfere with family life

The Clock Tower

All we need is a clock - just like the clocks in the shops that are all 10 mins fast

The Fish & Chip Shop

If it opens first, before the Main Street's "Chip Chop Shop"

The Library Annex

Close to the Library, more room for books for our well-educated population

The Mouldy Cottage

We already have a Green Cottage

The NUDE Room

If the band NUDE plays there - I'll go & listen

The Observatory

A great low-light area for stargazing

The Playstation

For the kids to play their computer games undisturbed by parents

The Recording Studio

A good place for Lamma bands to do their recording if Mt Stenhouse is booked

The Refugee Hostel

Conveniently located (2 mins from ferry), rent-free, a roof over your head

The Rock Venue

A good place to listen to Lamma bands if they are playing on Mt Stenhouse

The WatchWhatTower

Nice view, but of what?

Tsunami Lookout

But it's on the wrong side of the island

Weeping Gallery

Unbottle your emotions, for free! Weep, cry, shout, complain, nobody will hear you!

Worldwide House

Filipina Shopping Plaza & a place to chat

Y2K Terrace

It's their seaview terrace

Yung Shu Wankers Auditorium

If they play there – who'll go there & listen?

plus a few sexy nicknames:

10ft High Club

Lamma alternative to the Seven Mile High Club

G.A.G. Pavilion

Grab-A-Grot - a good place to take that partner you've just met but don't want your friends to meet

Mooning Mansion

So you can moon at the ferry & the tourists as it passes

Passion Point

Self-explanatory

Safe Sex Area

Lamma's alternative to al fresco sex on a rainy day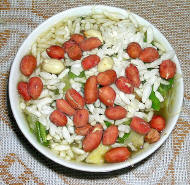 Sun, Feb 13: Visiting a Lamma Landlord
Lamma-Por and I were chatting with a neighbour in front of a grocery shop in Main Street, after Kung Hei Fat Choi-ing him.
Knowing that we're still looking for a rooftop flat, he spontaneously & unexpectedly invited us for a viewing of a new flat he just bought atop his own.
After viewing his 700sqft rooftop flat (ideal but unaffordable for us at $6.5K),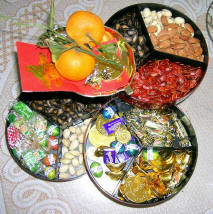 his wife invited us for traditional Lunar New Year lunch, featuring a delicacy from their home county north of Guangzhou: "Vegetable Tea" (see above). Their NY goodies trays were even nicer than ours!
This landlord, a "Village House" builder himself, owns 4 flats himself and has 4 children who were also visiting with their partners & spouses. Ideal family home planning it would seem, if the children wouldn't have left Lamma already for the lure of the big, "more exciting" city. This is quite similar to myself growing up in the countryside, but moving to the biggest city in my country as soon as I hit sweet 15. But now I've returned to a place quite similar to where I grew up in...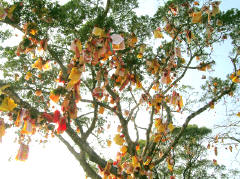 Sat, Feb 12: Unlucky Wishing Tree
It's quite a rare occasion to witness an event that makes TV headlines and the cover pages of the local Chinese & English papers, but it happened to us today! See SCMP story!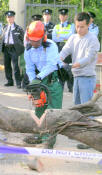 A family visit with Lamma-Por's children and their families to the famous Wishing Tree in Tai Po Lam Chuen resulted in my big photo gallery of this major Lunar New Year event. While dodging falling oranges with tails of lucky paper and hand-written wishes attached, we witnessed the media frenzy after a 25-foot branch of the Wishing Tree had just dropped off due to the sheer weight of the oranges, slightly injuring an old man & a boy.
Have a look at my Wishing Tree photo gallery.

Fri, Feb 11: Dear Residents
The most unusual Lunar New Year's card this year arrived from Lammadonna's office. It contained the following flyer, addressed to all residents, printed all in pink (her trademark colour).
Lammadonna has recently become a part of this website (see menu on the left side of this page, Adding menu), together with 3 other Lamma Celebrities: Chow Yun-fat, Pinky and Nick the Bookman.
As Ms. Yu is still the Most Powerful Woman on Lamma I didn't even dream of resisting to publish the flyer verbatim, no editing or censorship at all. But this is the editorial policy of the Lamma-zine & Blog anyway, a freedom-of-speech platform for anybody who's got something interesting to say. The words below speak for themselves:
Ms. Yu Lai Fan - District Councilor, Village Representative, School Director, etc.
Dear Residents
To commence a new start for the Year of the Rooster and to welcome the coming back of spring, the Golden Rooster is sending us a good message for the coming year. All the members of our office and I would like to express our heartfelt wishes to wish you Happy New Year, all your wishes will come true and things turn out to be better than you wish. All industries are getting more and more prosperous and people can live a life of ease and peace.
My office has been set up at the ground floor of No.72 Yung Shue Wan Main Street in Lamma Island in January 2004. We have continually collected the request, complaints and opinion from residents and more than hundred of cases have been dealt. During the time, Mr. Tam Yiu Chung, Legislative Councilor, and I have expressed our opinion and suggestions to relevant government departments at our greatest effort to look for some remedial methods. By now, most of the cases have been completed while some are still in process.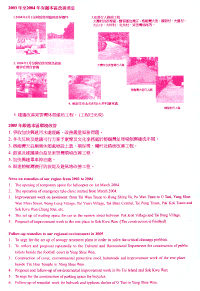 In the past year, we have collected precious opinion from our fellow residents. Many residents have expressed the need for strengthening of police patrol, the improvement of transportation services during nighttime, the urgency for establishment of apron for helicopter and parking space for bicycle, combination of medical facilities, recreational facilities, drainage problem, improvement of emergency passage of road, put into practice of reclamation work planning, and the like. I will do my best to deal with all of the above-mentioned issues. Moreover, we have successfully notched for the establishment of medical combination facilities with the co-operation from Councilor Tam Yiu Chung, Chairman of the Lamma Island Rural Committee, Village Representatives and Regional participants. Last year we have successfully notched for the establishment of a temporary helicopter apron that start operation in March 2004. Meanwhile, tele-clinic is available in the Island where vaccination and weight measuring services for infants are provided as we did before. Nevertheless, the full and thorough provision of combination of facilities to improve the environment of our community is in fact an issue of urgency. In the meantime, all the members of our office and I will do our best and continue to serve our fellow residents in the coming year.
Last but not least, I hope all the residents can hold our hands and have a unique heart to create a happy and peaceful living environment together.

For the full bilingual flyer & a feedback form, click here.
For more illustrated details:
"News on remedies of our region from 2003 to 2004" and
"Follow-up remedies to our regional environment in 2005".