<!table cellSpacing="6" cellPadding="0" width="100%" border="0" style="border-collapse: collapse" bordercolor="#111111" bgcolor="#EFEFEF"> <!tr> <!td style="font-family: Verdana, Arial, Helvetica, sans-serif" bgcolor="#EFEFEF">

Sok Kwu Wan Dinner (Dec 5, 2003)

Unobstructed view of North Lamma, all the way to YSW and the Powerstation, seen from

Ling Kok Shan behind Sok Kwu Wan (photo by Richard). Click on the name cards below to enlarge them.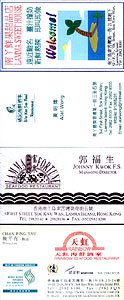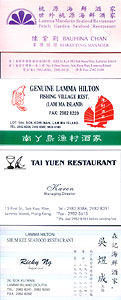 After living in Yung Shue Wan for over two years, I've finally made it over to Sok Kwu Wan. Following the tourist path through the "other" famous village on Lamma Island, Lamma-Por and I explored the well-known tourist spots and enjoyed a seafood dinner, of course. We took the Chuen Kee ferry from Aberdeen one sunny afternoon. Here's the photo story of our little SKW Dining Adventure, incl. many photos of the 150-year old Tin Hau Temple which burned out just weeks later.
According to the Lamma Island Visitor's Guide, Sok Kwu Wan is "a famous seafood paradise with lots of restaurants along the shore area, and a wide variety of seafood for your selection. Tourists also favour local specialty food such as baked egg rolls, local spices, shrimp cakes and salted fish. The sweet tofu custard and ginger-flavoured milk custard are some of the most beloved desserts."
Another quote from an old friend of mine, Knippy, who emigrated from HK to work for the Washington Post. Ex-HK Tourism Board, he knows all too well how to write for tourists: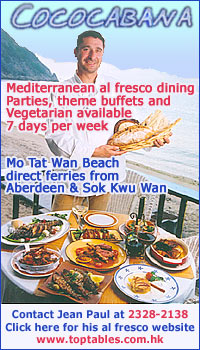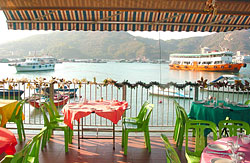 "But one of my favorite places to dine is in the wee village of Sok Kwu Wan on Lamma Island, where a dozen small seafood restaurants sit along the waterfront. A number of large glass tanks line the street, each one alive with all manner of sea creatures - lobsters, crabs, prawns, clams, oysters, scallops and beasts that bear no English name.
With a waiter's advice, you simply create your own menu. It will then be steamed or stir-fried with a dash of ginger, garlic, sea salt, fresh pepper and soy - freshness being the key culinary secret of the Cantonese.
The opening round of icy San Miguel beer is served just as your first course arrives. Does life get any better?"
For an interview and restaurant review with Jean Paul, manager/chef of Cococabana (see right) in Mo Tat Wan (ferry ride or 20 minute walk from SKW), see the April issue of this magazine...
---
---
---
<!/td> <!/tr> <!/table>