Jan 31: Shockin' Start to the Year of the Do...nkeys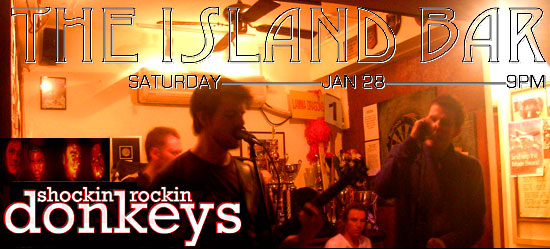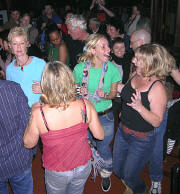 Lamma band Shockin' Rockin' Donkeys bade farewell to the retired Year of the Rooster and greeted the new Year of the Donkey, err, DOG, in the typical hee-hawing, galloping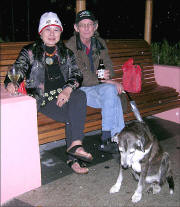 Donkeys style. Successfully avoiding to make jackasses of themselves, they brought the house down and the Island Bar patrons to their dancing feet, grinding away (well, some of them, the younger ones).
Many enjoyed the shockin' rockin' sounds outside the bar in the newly redecorated, now pinky Beer Garden, like this cozy, contented trio of Donkey fans. Click on any picture for the Donkeys photo gallery!
P.S. Somebody from Lamma's DVD Magazine MomentEYE shot some video of the Donkeys and the local fireworks. Thanks! Enjoy by clicking below:
www.MomentEYE.com. If you have problems - it'll take quite a while to download the video from their website - you may first need QuickTime 7.

Jan 30: 'Wish You a Pleasant Journey'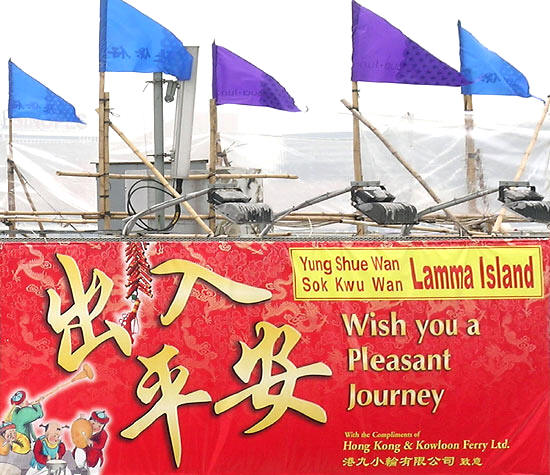 Seen at the top of the Lamma ferry pier in Central, we'd like to share in this simple greeting. We wish you not just a pleasant journey between Central and Lamma, but also a pleasant journey through your life in the Year of the Dog. Lamma is a pleasant enough place to live, which helps making your journeys more pleasant. For those Lammaites who have to make a hard-working, non-pleasant living off-island, it's an even more pleasant journey to return home after work.
Today, just a few New Year-themed photos I've taken in the last few days.
Click on the banner below for my subtitled Lunar New Year '06 photo gallery: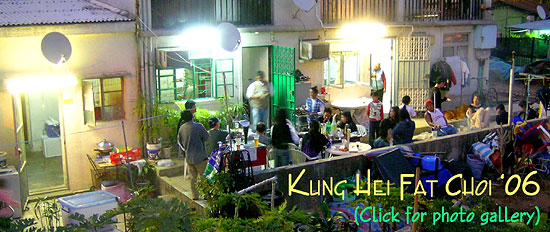 Jan 29: Kung Hei Fat Choi & Fireworks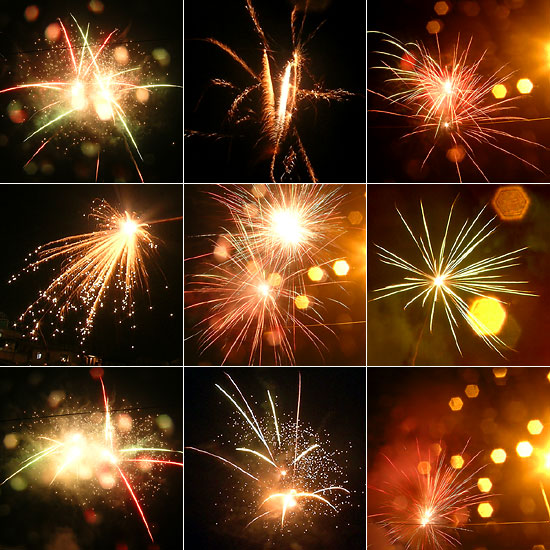 Kung Hei Fat Choi to all readers of the Lamma-zine Blog!
Are you planning to watch the official fireworks over Victoria Harbour tomorrow night? Forget about it! The main fireworks of the Lunar New Year have happened already, at the very beginning of the Year of the Dog, this morning after midnight over Yung Shue Wan harbour. I've got the photos to prove it, see above!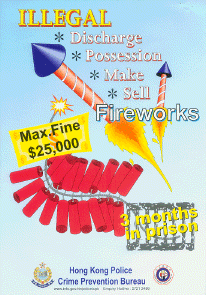 The ear-shattering sound and ultra-bright flashes from the chains of firecrackers going off like machine guns all over the village. Rockets rising from many rooftops, illuminating the clear night sky. Occasional, rare rockets exploding on the ground or just taking off a few meters before exploding, making the eager audience scramble for cover. Roman candles shooting up series of exploding, fiery balls. Dense, brownish, powder-smell clouds wafting through the streets...
Ahhh, the smells, sights and sounds of Lunar New Year, many Lamma teenagers and adults alike turning into mad pyromaniacs, I love it! Nobody got hurt and everybody had a great time, I think.
Let's hope that they'll legalise fireworks soon in Hong Kong, following the example of Beijing and other Mainland cities this year. But a main local supplier of fireworks was raided and arrested recently in Yung Shue Wan - about ten days ago according to several reliable local sources - after a tip-off by a resident worried about children's safety. For the record, I did not discharge any fireworks this year (I couldn't get any in time) and only took photos, which is not a fineable offense yet, I hope!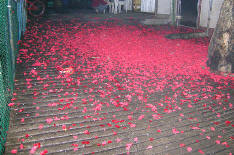 My pictures above were all taken with 4 seconds exposure time with my trusty Nikon digicam; mounted on a tripod. It was drizzling with light rain, that's where the "spots" in most pictures come from: the fireworks illuminating rain droplets on my lens. I like them! For more fireworks shots in 2005, see my Blog: Midnight Fireworks!
On the left, the firecrackers' aftermath. Red is the Chinese lucky colour, so YSW will surely be VERY lucky in the Year of the Dog!

Jan 28: Over 300 Complaints, Suggestions and Opinions Received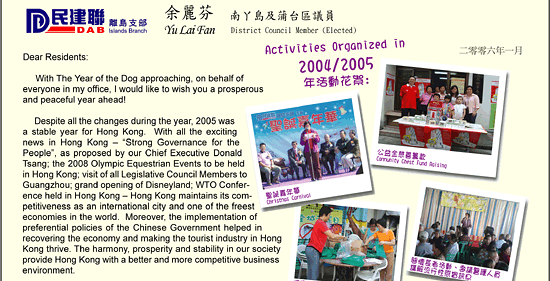 Click above to read & view the entire bilingual Lunar New Year's message from Lammadonna, our District Councilor. The original message was printed in her favourite pink colour only (including the photos) and inserted into the card pictured below the form. I managed to get the full-colour version of the photos showing some major "local political activities" of 2005.
A discussion of this letter to all residents has just started in our forums. Join in!
Or, even better, send some feedback to Lammadonna directly. A call or personal visit would be best (Chinese interpreter strongly recommended), and a letter or fax are more likely to get a reply than an email:
We Value Your Opinion - We Handle Your Complaint
* * * * * * *
Please use this form to communicate with us or call our office directly. We will follow up with your concerns or arrange an appointment to meet with you as necessary.
Our address:

Telephone:

Fax:

E-Mail:

G/F, 72 Main Street, Yung Shue Wan, Lamma Island

2982-0976

2982-1443
---

Name: _____________________ Contact Phone No: ___________________
Address: _______________________________________________________
___________________________________________________________
Comments: _____________________________________________________
___________________________________________________________
___________________________________________________________
___________________________________________________________
___________________________________________________________
___________________________________________________________

2nd page of Lammadonna's Lunar New Year message: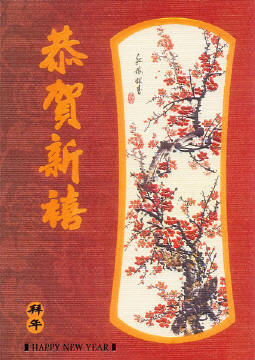 Activities Organized in 2004 / 2005:
Community Chest Fund Raising
Christmas Carnival
"Caring for the Elders" Activity; Talk by Paramedic to explain about Influenza
Promotion of the "Islands Cleaning Day"
Promotion of the "Prevention of Mountain Fire" by Islands District Fire Prevention Committee
Dragon Boat Festival Rice Dumplings for the Elders
Writing "Lucky Verse" in celebration of Chinese New Year
---
Site-Visits & Follow-up with Govt. Departments on Projects Status:
Dam & Wind Shelter in YSW O Tsai
Improvement of Road Condition in Tai Yuen Village & Wang Lung
Tai Wan Tsuen Ditch Problems
Pak Kok Tsuen Ditch Improvement
Hung Shing Yeh Ditch & Road Condition Improvement
Meeting with Sha Po Village Residents for their Recommendation on Ditch Issues
---
Projects Report - 2005 to 2006
Construction of Emergency Heliport in Kam Lo Hom, Yung Shue Wan. (Project starting April 2006, to be completed July 2007)

Replacement of Ferries' Seats & Improvement of Noise Pollution. (November 2005)

We communicate closely with the Transportation Department for any traffic issues, through Mr. Tam Yiu Chung, Legislative Council Member.

Improvement & Lighting Installation Projects in the Barbeque Field in Hung Shing Yeh Bay. (Completed November 2005)

Building Shelter & More Seats in the Resting Area near the Tin Hau Temple in Yung Shue Wan Main Street. (Completed June 2005)

Reconstruction of the Changing Rooms in Yung Shue Wan Soccer Field to Washrooms. (Construction work to be started in 2006)

Water Pipes Renovation in all Villages.

Trial Night Ferry Service.

Improvement Projects on Road Condition, Drinking Water, Washrooms & Railings in Po Toi.

Follow-up on the Bicycle Parking Area Construction Project (located between the Library and the Pavement in the Pier).

Maintenance Project of the Yung Shue Wan Ferry Pier. (To be carried out between February to April in 2006.)

Footpath improvement project, Lo So Shing to Hung Shing Yen, Southern Lamma. (From January to June 2006)

Maintenance of temporary helicopter landing strip, Yung Shue Wan, Northern Lamma (Will use the airfield of Hong Kong Electric Holdings Ltd. from 16th January 2006 to 18th February 2006.)

Jan 27: Typically Hong Kong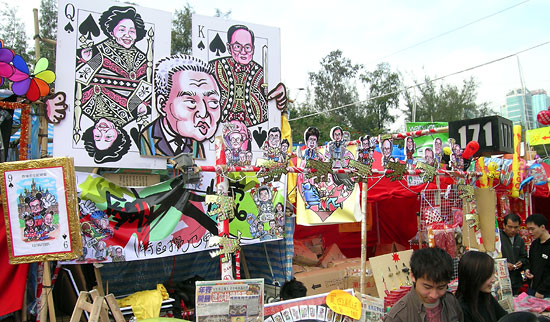 Lamma-Por an I were visiting the Victoria Park Lunar New Year market today to get a few traditional items not available on Lamma. A deck of playing cards with cartoons of HK celebrities and major HK events in 2005 took my fancy. I bought one deck at $40. While I was paying, they offered me 2 decks at $70. I declined, but right then the Chinese lady behind me jumped in and asked me to buy 2 decks, 1 of them for her, and we'd split the savings of $10! Of course, I agreed and everybody was happy. Click on the cards to enlarge:

We had a good laugh at the brazen and quick-witted bargaining of this local lady. A real "Only in Hong Kong" moment! The local economy seems to be returning to better days, shoppers are buying but haggling, as usual. The flower market was heaving and grinding with activity. Don't dare to visit on Lunar New Year's Eve, tomorrow, Saturday, as you might be crushed by the sheer number of Mainland tourists, local extended families and flocks of last-minute bargain hunters.

By the way, there has been some talk in the Islands District Council meetings of a regular, official marketplace to be set up outside the Water Front Restaurant. This could become a legal space for the hawkers on Main Street who are now frequently being harassed by groups of Hawker Patrol officers. Hawking is technically illegal in public areas, even on Lamma where strict rules are often more relaxed than in the rest of the SAR. This local marketplace is just talk for now, but let's hope it becomes reality someday.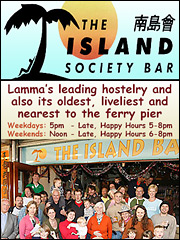 Jan 26: Advertising Deadline!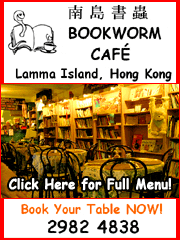 Many thanks to our old and new advertisers on this home page who help to finance and improve this entire website. The following fine, very successful companies have signed up or expanded their advertising in the last few weeks:
Island Bar, Village Bakery, Bookworm Cafe, Concorde Travel, Fok Ming Estate Agency and HK Electric (who remains the largest sponsor).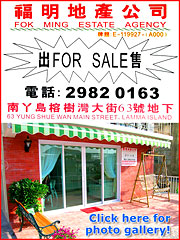 We offer free photo shoots, ad design & production, changes & updates and even free web pages for advertisers. Click the new ads in this story to see what I mean: a full restaurant menu, a mini-website, a property photo gallery - all done for free for advertisers.
The ads on this home page have often been very successful and generated a lot of exposure and feedback for the advertisers. The traffic and the readership of this website have more than tripled since the still-low ad rates were originally set 2 years ago (2 million hits/month now). So the ad rates at the top of this home page will be going up by 35% from Feb 1! Sign up right now at the old rates! Reach a large part of the Lamma population with your products & services! See ratecard for details.

Jan 25: Mystery of the Day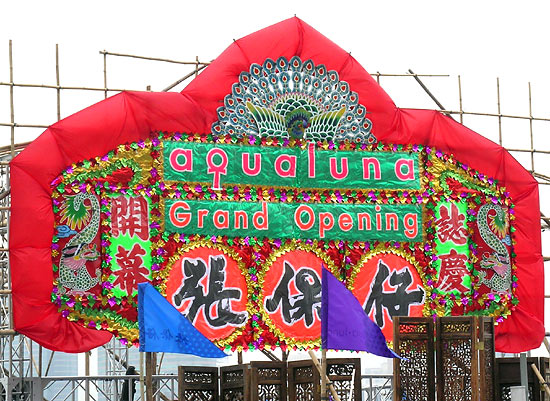 What are they building on top of the Lamma ferry pier in Central?
Even some of the people I've asked who are working in that building have no idea. It might be something temporary, like a fashion show they did up there recently?
A Lamma fashion show? Well, we've got the catwalk already, we even named it "Yung Shue Wan High Street" for all the "High Fashion" that gets paraded on it.
Anybody got an idea what aqualuna (water moon in Italian and Latin) is building up there on the roof of the ferry pier?
Guesses so far in our forum range from wedding reception to pirate bar opening!

Jan 24: Best of Blog of 2005, Part III
Best of the Blog - Sep-Dec 2005

Date

Story title

Contributor

Sep 1

Katrina - Remembering New Orleans

Now that levee has broken in New Orleans we are very worried in H.K. It sucks that such an awesome place was destroyed.

Colette

Sep 2

Best Blogs in Asia and Hong Kong

...who's currently the top dog, eh, top blog, #1 in HK? This Lamma-zine Blog! Wow! Rated highest at 8.86 out of 10!.

L-G

Sep 6

Going out on a normal Tuesday afternoon in Yung Shue Wan, it's really surprising what you can come across in just an hour or two in our active community life:

L-G

Sep 15

'Last Ferry to Lamma' Music Video!

Red Star Rising just had their debut gig in the Island Bar on Sep 3 and they've already got their first music video out. It takes other bands YEARS to get to that stage in their careers!

Steve Cray, John Palmer, Santi Sunarmah

Sep 28

'Benign Space Aliens, Murmuring in the Wind'

Lamma's wind turbine is currently THE hot topic popping up in so many local chats around the village. It has really touched a nerve with Lamma's tree-huggers, eco-warriors & holistic gurus, but also with our many world-weary cynics and Mochaccino-slurping, wannabe-sophisticates.

Oliver, Pit, Russell Johnson, Zep & others

Sep 30

'Our World Champion - Alain the Panther - Did It Again'

He won by KO in the first minute! It was a 3-fight elimination tournament and he won all 3 to qualify to represent Hong Kong next December in Bercy in France.

Impakt Gym

Oct 5

We are using a set of village pathway maps for our policing matters. This would be very useful when dealing with not Lamma-based persons who are less familiar with the island.

Joe Wu, Police Senior Inspector

Oct 8

Pizza. One word...so many memories and flavours. I do not think that it is possible to be a glutton and not be a pizza hound.

Official Court Glutton

Oct 10

Add your own suggestion and vote in our nickname poll.

Many

Oct 12

Recently, I've been getting so many news, gig posters & photos from Lamma bands! The autumn musical season has truly begun, loads of gigs coming up in the next few days & weeks!

Katherine, Steve Cray, Nick Lovatt, Gary Hill, etc.

Oct 19

Our 5C forum member (Crazy, Creative, Carnivorous, Convoluted & Cuarrelsome), Fortune Chan, is trying hard to revive an old Lamma tradition, the Christmas pantomime, also called Xmas Panto. A most commendable community initiative!

Fortune Chan, Beanburglar, Soulkitchen, Roz Keep

Oct 26

Scene: Inside a helicopter, flying high over Victoria Harbour en route to Lamma Island on a late Sunday afternoon, Oct 9:

Donna, Christopher, Lamma-Por

Oct 29

Lamma-Por's and my own favourite place for breakfast, Kiwi Cafe, has closed down permanently last week,...

L-G

Nov 3

Lammaites Anonymous, Mischievously Misbehaving Abroad

...several current & former Lammaites, all charter members of the infamous LAMMA club (Lammaites Anonymous, Mischievously Misbehaving Abroad)..

Andy Maluche

Nov 11

Just a Normal Friday Afternoon in YSW

The sheer diversity and small surprises of everyday village life never cease to amaze me!

L-G

Nov 13

Lamma's Good Old Times, 27 Years Ago?

Read Yves' honest, uncensored opinions about the ancient days when there were "less than 10 foreigners" on the island & why "Lamma is much better off now":

Yves

Nov 17

Loy Kra Tong - Thai Lantern Festival

Would you believe that most of these stunningly beautiful Thai ladies above, decked out in their traditional festival costumes & jewelry, are long-time Lammaites?

L-G

Nov 24

Cristobal de Lamma Gives Thanks...

At first, I tried to write the list myself, but it turned out too sentimental, quite blissful & new-agey, so I canned it as unworthy for publication.

Cristobal de Lamma

Nov 25

Lammarina - Development #1 of 7

It's a future luxury residential development - with swimming pool, clubhouse, gym and security - on the beach just below the "DickStock Residence".

CAPITAL magazine

Nov 29

'Happy, Relaxed and Laid Back About Everything'

We both found Lamma Island to be a quiet and relaxing place to be after the hustle and bustle of Hong Kong and Kowloon.

Pete & Jen Neale

Dec 6

'Downtown Vancouver's Favourite Blood Sport'

TWO of our readers in Vancouver sent us weather updates from their hometown. Like Lammaites, Vancouverites aren't really used to "cold" weather and start behaving in strange & funny ways.

Chuckm, Tricia

Dec 10

Another new Lamma band is making its debut tonite in the Island Bar, together with Lamma oldies but goodies Garoupa: Trans?noodle!

Garoupa, Gary Hill

Dec 17

Many people still remember Louie the Violinist prodigy...

Rie Wada

Dec 19

Merry Christmas, You Tool Borrowers!

But here on Lamma, Christmas is so much more of a community event, full of fun & charitable events, family-oriented & children-focused, arts & crafts-inspired, retaining a cheerful & often irreverent Christmas spirit.

Alastair, L-G

Dec 21

Operation Santa Claus Quiz Night

This was the official kick-off activity for the pub's annual effort on behalf of Operation Santa Claus.

Streetman, Dan Peterson

Dec 28

The Self-Sufficient and Enterprising Village

...a little background is in order. We had of course seen photos and had paid several visits to the website prior to our actual trip.

Vyrn & Betty Peterson

Jan 23: Very Bouncy Castles
Lunar New Year Carnival: Sun, Jan 22, 2-5pm, Football Pitch, YSW:
2 bouncy castles and various sports-themed contests for children, organised by Leisure & Cultural Services Dept. of HK Govt.
All pics below by Lamma-Gung (like all the unaccredited pictures in this Blog).




Jan 22: The Weather Today...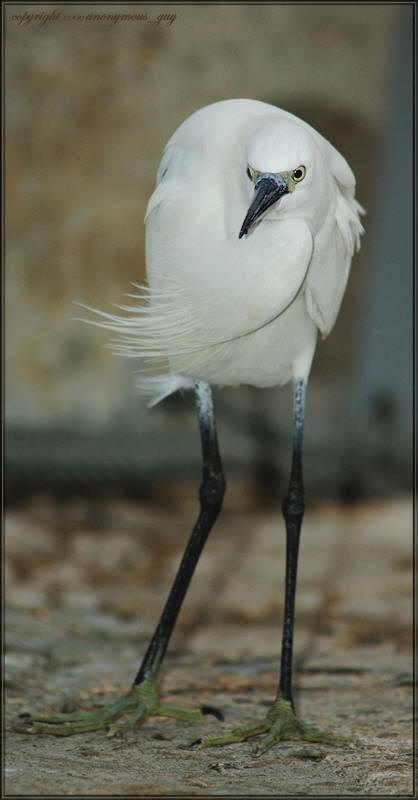 Guy Miller - Lamma's Bird-o-grapher Extraordinaire:
A cold wintery day today on Lamma as the Northeast monsoon is bringing cold weather to Guangdong.
Cold and mainly cloudy. One or two rain patches in the morning. The minimum temperature will be about 11 degrees in the urban areas, and two to three degrees lower in the New Territories (that's us).
The maximum temperature will be around 14 degrees during the day. Moderate to fresh northerly winds.
Outlook: Cold tomorrow. Still rather cool in the morning midweek this week.
So definitely a need to wrap up........

Jan 21: Bilingual Yellow Pages
The most frequently requested addition to this website has always been Yellow Pages. Well, we finally got around to taking a crack at this big and labour-intensive task. Our Chinese Forum moderator Samson, Gilman and friends expanded on our long-running Bar/Restaurants Index and added shops, services, accommodation and other contacts and made it bilingual.
Have a look at the draft version so far by clicking below or in the left-side navigation menu on this page, under Quick Links:

These bilingual Yellow Pages will be widely promoted to locals and tourists alike, so get your favourite places' details listed here!
I've also got a good source to design a fun map of all the places. Then this long and constantly updated forum message above will be converted into a proper web page and linked from all the non-forum pages of this website.
I'll also publish all the name cards (front/back, Chinese/English) of all places I can get the cards from. I'm still missing quite a few. Send me scans of the name cards of your favourite places! Which places are still missing or have basic bilingual info (address, opening hours, telephone, email, website) missing? Tell me!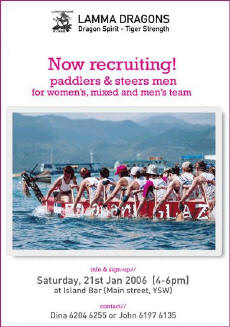 Jan 20: Loads of Grunts & Laughter!
"Dragon Boat Racing - You either love it or haven't tried it yet!
Expect a load of fun, water, sweat, muscles, team spirit, trophies, drums, medals, pain, roast pigs, sunshine, push ups, squads, seaweed jokes, success in 7 local and 1-2 international races, socialising, grunts & laughter, champagne, beers and MORE trophies!!!
Lamma Dragons Men and Women are now recruiting new paddlers and steers men.
We welcome you to drop by The Island Bar this Saturday - have a chat and get your name on the list for season 2006!
Venue: Island Bar (Main Street, YSW)
Date: Sat, Jan 21st, 4-6pm
Contact Dina (6204 6255), John (6197 6135)."

Jan 19: A Virtual Democracy Wall?
Do you want to reach a large number of Lammaites to sell your goods, products and services, sell or let flats, garage sales, etc.?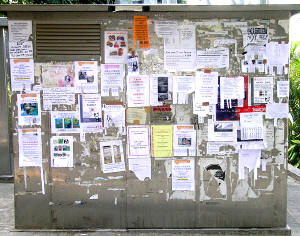 The "unofficial notice boards" all over Yung Shue Wan (see right) are a good and free bet to spread your message, as long as you don't mind replacing your posters very frequently and get a bit lost amidst the sheer volume of posters. Feedback ranges from none to OK, depending on what you have to offer and how eye-catching and attractive your poster is.
The most prominent and successful spot seems to be the so-called "Democracy Wall" at the ferry pier, just besides the Post Office. It's got a short reprieve from the formerly almost daily poster cleanings over the holidays. But the cleanings will resume shortly, as our powers-that-be still don't like the posters and consider them messy, illegal and unattractive to tourists. I strongly disagree!
This website was originally set up as a kind of virtual "Democracy Wall", announcing news, concerts, events, services. Even the background of all web pages was a photo of The Wall, before they repainted it white. On this website, nobody will take off your posters and messages after you've put them up yourself, at least for a full month! Emailed to me, I've even been posting them for free in our Noticeboard forums these last 3.5 years and will continue to do so.
But to reach a great lot more people than in the free, non-commercial forums, nothing beats the top of this home page for wide and prominent exposure to Lammaites. The paid ads at the top and the left side of these pages have become very popular with advertisers. This "Lamma-zine Blog" has grown into a kind of daily free e-newspaper for many local residents. The readership has also more than tripled since the current advertising rates were set 1.5 years ago.
So, from Feb 1, right after the Lunar New Year, ads at the top of this home page will cost 35% more! But ads confirmed before end of this month will still enjoy the old low prices and discounts of up to 50% for year-long placements. Free photo shoots, ad design and web pages, as before. Check out the rate card for details and contact me for any questions!
These ads finance this entire website - including the non-commercial, free-speech forums - and help it to survive and thrive. Nobody's getting rich here, but it helps to cover the site's bills and all the expenses in maintaining and growing it. Thank you for your support and for reading on!

Jan 18: Which Restaurant in Yung Shue Wan Never...?
Which restaurant in Yung Shue Wan never advertises?
Which restaurant in Yung Shue Wan never changes its menu?
Which restaurant in Yung Shue Wan never tries to attract tourists?
Which restaurant in Yung Shue Wan never promotes itself in any way?
Which restaurant in Yung Shue Wan never offers any new dishes or specials?
Which restaurant in Yung Shue Wan never fails to be reliable & dependable?
Which restaurant in Yung Shue Wan never changes its waiters or owners?
Which restaurant in Yung Shue Wan never fails to be full at lunchtime?
Which restaurant in Yung Shue Wan never disappoints its customers?
Which restaurant in Yung Shue Wan never stopped being one of Lamma-Por's and my own firm favourites for breakfast and lunch, where we can be seen almost daily on weekdays sharing one of their big, tasty lunch sets for below $30?
Yes, Man Kee Restaurant on Main Street has no need to polish up its fine and reliable reputation. But always cheerful and friendly Ah-Yin is seen here polishing their shiny chrome sign in preparation for their yearly complete clean-up before Lunar New Year!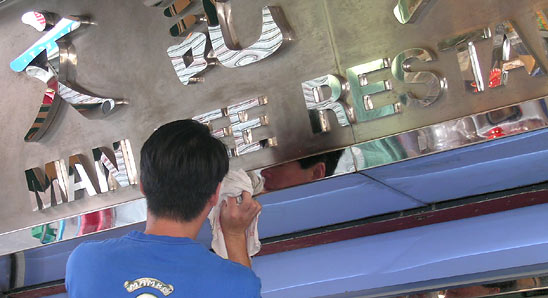 Jan 17: Breakfast (and Lunch) with Lammadonna
What's new in Yung Shue Wan, from the unique perspective of the elected District Councilor of Yung Shue Wan, Ms Yu Lai Fan? I've recently managed to get another breakfast date with her - extended into lunch on the same day. She must have gotten tired of me stopping by in her office frequently and asking too many politically sensitive questions.
Lamma-Por did her best to interpret the rapid-delivery, almost non-stop, stream-of-consciousness communication from Ms Yu, interrupted only by her frequent infectious laughter, mischievous smiles and an occasional Aieeyaah! She's very passionate about a wide range of topics, especially when they concern the "best interests" of local residents. Fun Tse (Sister Fun), as she's known locally, discussed the following topics over breakfast in Nam Wah Yuen and lunch in B&B, two of her favourite local restaurants:
Helipad: Construction will begin in April this year and last till July 2007. 20 pillars will have to be pile-driven into the seabed for the bridge leading up to the round helipad. It'll cost $15 million, a big portion of it for all the consultants involved over the last 10+ years since the project has been proposed. Here's an artist's impression (courtesy BMT and District Council office) of how the helipad will look like after completion, as seen from the ferry pier opposite: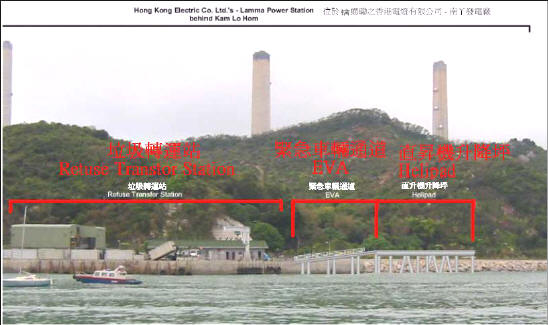 (That should read "Refuse Transfer Station" above. EVA means "Emergency Vehicular Access", basically the bridge connecting the road from the Clinic to the Helipad.)
Ferry matters: Late ferries: This issue is dead for now, unfortunately. There was a signature campaign by a private local group some weeks ago and a meeting with the ferry co, arranged. The discussions went nowhere and even an idea of raising the fares all day long by $3-5 to pay for the late ferries was raised, obviously totally unacceptable to everybody. Ms Yu ended the talks. Instead, she's preparing a letter to the Transport Dept. to tender late ferries to another operator than HKKF, the only alternative left for now, it seems.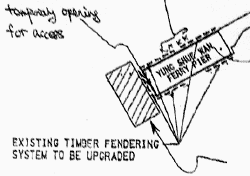 The timber fenders around the YSW ferry pier need to be replaced. The repair work is scheduled from Feb-April this year. A temporary pontoon will be docked at the end of the ferry pier and the ferries will be docking there. Passengers will have to go to the end of the ferry pier, through a temporary door onto the pontoon, then onto the ferry (click for map).
By the way, the ferry pier is obviously owned and maintained by the Govt. and rented to the ferry co. HKKF is a subsidiary of Sun Hung Kai, the property conglomerate. They also built the Park Island property development and own/run its classy 24-hour ferry service. It's heavily subsidized by Sun Hung Kai to attract more people to move to Park Island. Food for thought...
The current construction on the bridge to the Library: They're putting up a "Pai Lau", a temporary construction, a big display for Lunar New Year, from next Mon, Jan 23 for one month only.
In exactly the same area, we might see a bike park someday. I've just seen 3D computer renderings, but they'll probably kill me if I'd publish them, as it seems to be still a BIG secret! Anyway, it's a simple, square "widening" of the Library bridge, on piles, with enough room for over 150 bikes. Just another not yet approved / financed proposal for now...
Chow Yun-fat: Fun Tse's brother was a classmate of Lamma's favourite son and Hollywood movie star Chow Yun-fat when he went to Lamma Primary School. He's been very busy filming several movies recently. He'll be playing the famous South China Prince of Pirates Cheung Po Tsai in Disney's Pirates of the Caribbean II, to be released later this year.
The Lamma connection here is that there was a Cheung Po Tsai cave on Lamma, close to the Power Station helipad, at Por Lor Tsui, destroyed when the Power Station was built. Fun Tse played in there as a girl, she told us. It was a pretty steep and deep cave and she only dared to go in half-way. It was much bigger and longer than the only remaining, famous Cheung Po Tsai cave on Cheung Chau Island, which is heavily promoted to tourists these days. Chow has also been mentioning this former Lamma cave during his 50th birthday lunch in Sok Kwu Wan's Rainbow Restaurant last May.
For the local release of this movie, maybe we can get a little interview with him, introduced by Ms Yu? She's got photos of herself together with Chow, but doesn't want to publish them here.
Fat Gor (Brother Fat, his Chinese nickname) has been promoting Lamma in the major Mainland China newspaper Sheng Pao recently: "Through the Eyes of Fat Gor - Bright and Sunny Lamma":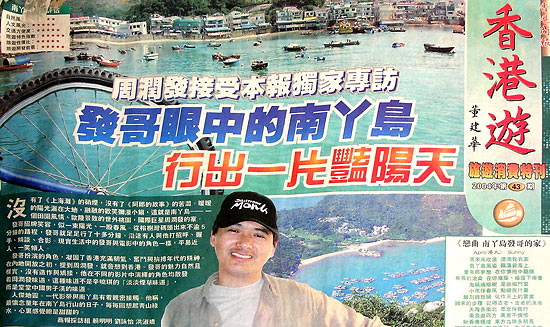 P.S. Jan 22: Just got an email from our "Official Court Correspondent on Chow Yun-Fat Matters", Charlotte. I should have fact-checked with her before publishing my article above which was based on facts just a few weeks old. Things change quickly in the movie biz. Charlotte writes:
"I enjoyed the recent article on CYF. From all reports he is not in Pirates of the Caribbean 2. The name of his character is in POTC 3: Uncharted Waters and has been changed to Capt. Sao Feng.
I'm not sure why they changed it, but perhaps it is because of the rather good reputation (for a pirate) that Cheung Po Tsai had which would not match the actions of the pirate in the movie. Who knows?"

Jan 16: Another Pizza Review?
Finally, another one of our popular food reviews by our Official Court Glutton. As a pizza lover he couldn't resist to review more pizzas. Pizza Milano has been consistently voted as one of the two best non-Chinese restaurant in Yung Shue Wan (92% Gooood or Excellent! votes), leading our on-going restaurants poll together with Blue Bird Japanese Rest.!
Check it out in our comprehensive Index of Bars & Restaurants.
(Click in left-side navigation menu on this page, under Quick Links.)
Official Court Glutton - Restaurant Review #4: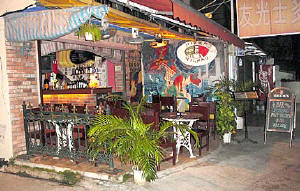 After extensive prodding by Lamma-Gung, the Official Court Glutton pulled himself out of hibernation to do another food review.
As Lamma-Gung prodded me into action, it is only fair that I drag him (and his camera) for another pizza review, especially as he never had a Pizza Milano pizza before.
Pizza Milano has been here on Lamma since I can remember, which would be about 9 years. I have had a few Pizza Milano pizzas over the years and normally months go by between each visit. I must admit to being a pizza hound, as I do like a satisfying pizza.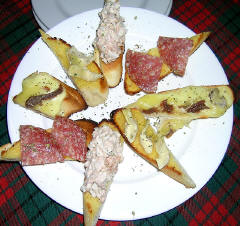 So, Lamma-Gung gets there before me and hits the shandy and pre-orders a starter of Assorted Crostini for $55 HKD.
I arrive somewhat hungry, but not over-hungry, as hunger does affect my taste buds. I order a glass of house red, $28 HKD.
Crostini arrive, L-G wants to dive in... but I remind him to take pictures. Mixed toppings (tuna fish, mozzarella cheese + anchovy, salami + tomato) on sliced French bread and baked. Kind of a mini-pizza. Pictures taken and I have to outrace L-G, who is obviously more hungry than me.
Menu is reviewed and some thought given to the pasta dishes, but pizza was on the mind and pizza is ordered.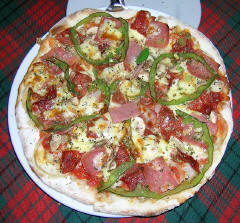 Milano Special, 10-inch house specialty pizza, $100 HKD arrives. Toppings are tomato sauce, mozzarella cheese, onion, mushrooms, pepperoni, cooked ham, green pepper, bacon and garlic.
This time L-G remembers to take a picture before his attack on the pizza. Plus his packing up the camera afterwards gives me a head start.
First thing is that the crust is very hard to cut with the knife, though if eating by hand the crust would be OK. Tomato sauce is bland, though the variety of toppings makes for some flavour combinations.
L-G complained that the green pepper pieces were too big and would be more convenient if smaller sized. Pizza was finished completely. Finished my red wine.
Overall impression ends ups as an "OK". The Crostini were definitely good and somewhat memorable. The pizza was OK but average to me.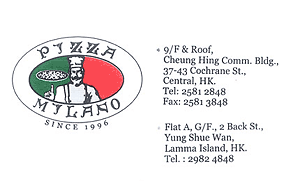 Wine was OK and held its own against the pizza so I can not complain.
Somehow in my way of thinking, a pizza place that specialises in pizza should simply have the best pizza! It should be "great, outstanding, wonderful, satisfying". Any and all competition should be in second place. I can not say that this is the best pizza in Yung Shue Wan. Kind of a disappointment.
P.S. Pizza Milano is not a Lamma-zine/Blog advertiser.
Halt! Stop the (virtual) presses! This email just in!
Referring to the very first restaurant review of the Official Court Glutton on Aug 16 last year: "Best Wonton Noodles?", Taipengshan wrote:
Taipengshan - Frequent Lamma-zine Blog Contributor
Re: Lo Yau Gei
Following your review of this friendly tuck shop in Yung Shue Wan's backstreet opposite the "Shelly Cake Express" outlet, I am pleased to report this friendly, no-frills eatery was as good as you described it in a review last August.

I took two friends out there recently on a weekday afternoon for an exploratory outing: we ordered one won ton mien, two steamed duck noodles with greens and one large Sing Tao beer. The portions were generous and the spice tray with fiery homemade chili sauce, soya and vinegar complemented a filling lunch.

The bill: $17 each for the three dishes and $20 for the beer, making a total of $71 with no service charge whatever. What a treat! Thanks for recommending this place in Lamma-zine Blog.

Jan 15: Petition for Reinstalling Outdoor Seats on Slow Ferries
As regular ferry commuters know, the outdoor ferry seats at the back of the slow ferries were are removed by HKKF a few months back, following a single noise complaint that was published in the Oriental Daily newspaper. It seems to have made HKKF lose some face in public, so they removed the seats, without asking their customers' opinions first, as usual.
I've just received the following petition from Lamma Island District Councilor Ms Yu Lai Fan to the ferry company. Lammadonna is asking for our opinions and votes on this issue: Who's missing the outdoor seats on the slow ferries?
This petition & poll is running in our English and Chinese forums. Both polls will run till end of this month. Thanks to Samson for the English translation. Voting is in full progress already! Cast your vote!
Lammadonna - (translated by Samson, Official Court Translator. Click here for original Chinese version)
Re: Reinstalling Seats on the Non-Air-conditioned Areas on the Slow Ferries
Local residents have demanded that seats be installed in the non-air-conditioned area of the lower decks of the slow ferries over five years ago.
This request is aimed at providing seats for passengers:
who are waiting for the restrooms;

who do not wish to be seated inside the air-conditioned cabin;

who would like to watch their luggage;

who have taken their pets on board.
However, the seats at the back of the ferries were removed after the two slow ferries were renovated last year, as the engine noise in the area was deemed excessive. This arrangement has brought much inconvenience to the passengers and dissatisfaction to the local residents.
Therefore, local residents hereby strongly demand that HKKF reinstall the seats to the non-air-conditioned area of the slow ferries as soon as possible.
P.S. Up to Jan 18, we've received 11 votes in each of the English and Chinese forums. 21 were positive - supporting the reinstalling of the outdoor seats - only one was negative. A clear 21:1 vote which might help to make the case for the regular ferry commuters, who have voiced out their wishes very clearly. Thanks to all voters!

Jan 14: Banner Ads
I'm not referring to the pretty banner ads of our highly esteemed and wonderful advertisers at the top of this website, but about the huge, printed banner ads adorning the fence along the ferry pier, inside the departure hall, on the fence of the "VV Parking Lot" (opposite Deli Lamma), and other highly visible locations. Here are a few announcing events this and next weekend, from our daily updated Events Calendar. See you at any of these local events? Photos coming soon...
Lamma Fair's Lunar New Year Celebration: Sun, Jan 15, 2-5pm, Tai Wan New Village Tennis Court: organised by Hans Andersen Club, free, get tickets from HAC besides Tennis Court. "Stall Games, Family Activities, Lucky Draw, Free Gifts".

Trip to Lantau: Sun, Jan 15, 9am, ferry pier: only for Lammaites, $70, visit to the Big Buddha, lunch in Po Lin Monastery included. Register in City Hall on Main Street.

Gymnastics event: Sun, Jan 22, 2-5pm, Football Pitch: including trampoline demonstrations, organised by Leisure & Cultural Services Dept. of HK Govt.


Jan 13: A Forest at the Central Ferry Pier?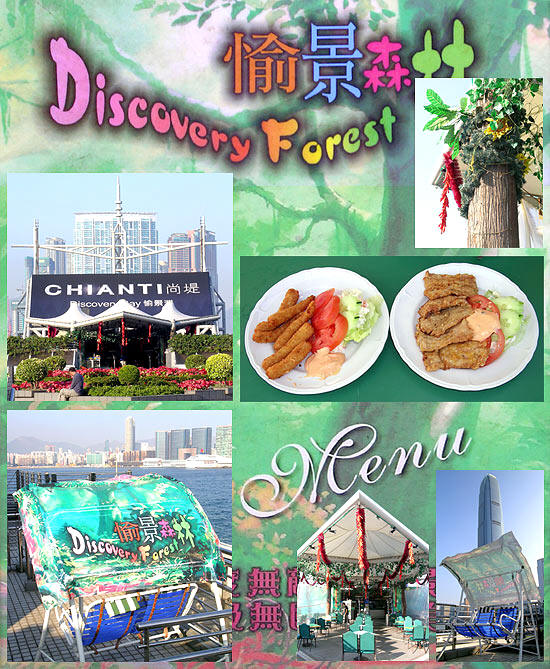 P.S. This is NOT an advertorial and Discovery Forest is not an advertiser of this website. These are just a few spontaneous photos from our very first visit to this interesting open-air restaurant on top of the Discovery Bay ferry pier. Stunning views, low-cost tea sets, evening BBQ, nice.

Jan 12: March Against Animal Cruelty Laws
Dr. John Wedderburn - Lamma Animal Welfare Centre: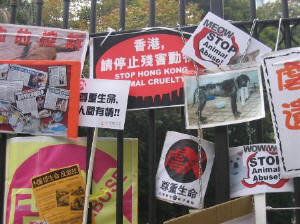 There was a good turnout from Lamma last Sunday. About 20 humans and the same number of dogs went over on the 12.45 ferry and joined the march from Chater Garden to the Government Offices. And many people later told me that they would have gone had they known about it - next time we should have better pre-march publicity. Estimates of course vary but I think the figure of 5,000 human marchers is about correct which is a fantastic turnout for this kind of issue.
What was the issue? Hong Kong's outdated animal cruelty laws. It is very difficult to prosecute anyone successfully and when convicted the penalties are pathetic.
Some of us having been campaigning on this issue for 15 years. The Agriculture, Fisheries and Conservation Department drafted a new law five years ago but the higher echelons of power have not given it sufficient priority to get it through the system. Recent shocking cases of cruelty have caught the public's imagination and we hope that, after this clear demonstration of public opinion, the Government will now expedite the passage of this law. The march shows that the people of Hong Kong really do care about animal cruelty.
If Hong Kong can get a good law, then maybe cities over the border can copy it - so far there are no animal cruelty laws in Mainland China, a national disgrace!
Sorry, no pix of anyone from Lamma! These are some others: click here.
The picture above (courtesy of wingchan411) shows Kate's dog Poppy hung up on the railings by Louise. But that is the closest the pictures get to Lamma!

Jan 11: English Forums - Dec Highlights
Samson - "Official Court Summariser of All English Forums":

Although the jolly seasons are finally over, let's review all the fun and excitement that took place, the important milestones that were reached and the usual ditties!
#1 Topic: The award goes to Lamma's Top 10 Birds! With almost daily new additions of photos of birds spotted around our fair isles, this is the most popular topic on any forums and still leading by miles! Well done, Uncle Guy, who's been the main contributor of this topic! Read more...
Forums get Fishy… with photos of the local fishes! Read more...
Let us pray: On other photos in the Pets section of the forums, the Human Slave of Mr. 3, e, apparently makes her cats pray before dinner! Read more...
Lost and Found: Gisela was finally united with her beloved Michael, one of her pet cats that went missing for 10 days! Read more...
Our local banking services offered by HSBC drew some criticism. Read more...
Lammaites celebrated Christmas with a fun-filled Christmas Carnival at the football pitch… with military arts? Read more...
The Deli aka Deli Lamma - one of the established social institutions on Lamma - turned 13! A Korean BBQ was held as celebration of this important occasion, with some deadly kim-chi served too! Read more...
Stargate SG-1 Fan Club – Lamma Chapter! Founding members Lamma-Gung, Chuckm and Samson shared their passion for the sci-fi series, which isn't shown in Hong Kong. Read more...
...and one more Best of Dec item, just in today, the very last day of the yearly Operation Santa Claus charity fund-raising drive:
Dan Peterson - Island Bar:
Once again, the caring community on Lamma Island has come through in a big way, with a very respectable HK$17,000.00 contributed to Operation Santa Claus 2005. The OSC organiser has been informed and has thanked everyone who contributed so generously on Lamma.
On behalf of The Island Bar, and of OSC and its many deserving recipients, a huge Thank You to all for caring enough to participate and for your wonderful generosity.
Hope you've all had the Verrie Merrie Christmas that you deserved, and best wishes to all for a Happy New Year 2006!

Jan 10: 'A Blog of Passion'
A while ago, I got an email from Cher at "The Young Reporter". She had found this blog online via the "Best Blogs in Asia" competition where this Lamma-zine Blog was voted #1 in HK. We did a little email and phone interview and the result has just been published in the printed/online magazine of the Journalism Dept. of the HK Baptist University. Here's a "reprint" of the article as the online version might go offline in a few months. It's a fun & friendly story but it's got a few factual mistakes which I've corrected below:
'A blog of passion' - by Cher Wang Xue - The Young Reporter - Dept of Journalism, School of Communication, HK Baptist University

Blogs, an abbreviation for web logs, are thought by many as online journals of the authors' personal triumphs and failures. But, Lamma-Gung, owner of HK's top blog disagreed. "I am blogging not for myself, but for a community."
"Lamma-Gung" means "Grandpa on Lamma Island" in Cantonese. Moving from Switzerland to Hong Kong 18 years ago, Lamma-Gung, a nickname which suggested his love for the peaceful island with its charming natural scenery, said, "I love this island and like people to call me Lamma-Gung."
Lamma-Gung is well-known for his English blog, an online community channel for Lamma Island.
Different from other diary-like blogs, Lamma-Gung is a quasi reporter and writes columns for his neighborhood. Information on the site ranged from ferry timetables to newly-opened bars on the island. Lamma-Gung is keen on every move on the island. "Newspapers don't write about these trivial things. My blog is the only medium for you to get to know Lamma well."
Blogging became his part-time job, occupying him almost half of each day for photo-taking, interviewing villagers, writing and editing.
As a former IT manager, Lamma-Gung used to work for big companies like IBM. He now makes a few thousand dollars monthly from advertisements on his blog. Though the income from the blog did not make him a living, it was the satisfaction which kept him going. "I did try to go back to work for big companies and earn a lot of money. But the satisfaction I get from blogging is even more important than money. It's a hobby. I get paid for doing things I love.
"A guy from Hawaii immigrated to Lamma after reading my blog," Lamma-Gung cracked a smile. "It's fun."
Lamma-Gung said the readership kept growing and there were 1.76 million hits in October. The site was ranked No.1 in an online survey of Hong Kong blogs.
Despite the successes he made out of his blog, some still remained skeptical to his choice at the beginning and that included his wife. But it was also the internet which tied the knot. Lamma-Gung met his wife, a local Hongkonger, some twenty years ago on the internet. "I was working in IBM Switzerland and she was working in IBM HK. We met via something like predecessors of Instant Messenger or ICQ."
Lamma-Por opposed his half-time hobby at first but now she even participated in a few articles. "But she'd still prefer me to get a regular, boring nine-to-nine [9 am. to 9 pm.] office job again and make lots of money instead of doing what I love." Lamma-Gung continued, "She's a real HK girl, believing that it takes lots of money to make people happy."
Lamma-Gung is among millions of bloggers who wanted to escape from the bustle of life and looked for something different. Blogging provides those hobbyists a free place to voice out their own passions and exchange different ideas on a daily basis.
There are more than 12 million blogs worldwide. Some gained friendships, some achieved their childhood dreams. For bloggers like Lamma-Gung and Liwei, it was all about passion of life.
"There must be something to inspire anyone in his or her life. Life needs to be lived to the fullest, and it's all about sharing with others. This is what blogging means," a blogger who preferred anonymity said.
Edited by Clara Mak Ka-wai, HKBU
Edited by Lamma-Gung for mistakes

Jan 9: Best of the Chinese Forum in 2005
Samson - Official Court Moderator of All Chinese Forums

As 2005 came to a close, I started a topic, asking for the members to list a few of 2005's highlight events.
After reviewing some of these submissions and adding a few others, here are the biggest events and most popular topics on the Chinese Forum:
Those are the biggest events in the Chinese forum in 2005. I'd also like to say a big thank-you to everyone involved for their support and participation, and making the Chinese forum such a very active forum in 2005. Looking forward to even more lively discussions in 2006!

Jan 8: Best of Blog of 2005, Part II
Best of the Blog - May-Aug 2005

Date

Story title

Contributor

May 1

May Day, Tin Hau festival, Dragon Boat/Sampan races, Chinese opera & May Pole dance are all taking place TODAY!

L-G

May 3

I caught one of these "creative vandals" in the act, in flagranti! It was not a youngster, but the father of a Lammaite, visiting from Ecuador,...

L-G

May 9

Two of our contests in our forums have concluded, the "Name the Bikini Shop" contest and the creative writing assignment about the Chinese opera in our Chinese forum:

Nicole Kam, mo

May 18

Happy 50. Birthday, Chow Yun-Fat!

Chow Yun-fat: "Lamma island has many scenic spots, such as the Cheung Po-tsai cave, the reopened Tin Hau temple, the seafood is delicious."

Charlotte

May 19

Mr DickStock & the Poly Creativist on Flickr

Mr DickStock has even founded a public group called "Lamma", describing it as: "About Lamma Lamma Island People, Pictures, Community, Fun, Music, Art...all that Good Stuff!"

Mr DickStock, Andy Maluche

May 29

This was an extremely well-organised PR event, including media reception desk, caps, stickers, signs, tree name tags, photographers, videographers and celebrities...

L-G

Jun 6

'June 6th is Magic Monday of Love'

I've spent all Sunday separated from my lifeline, email, due to an incapacitating toothache and a desperately urgent search for a dentist's office open on a Sunday.

L-G, several others

Jun 9

Yoga Bunny Detox - Liquid Psychiatry - No Nasties!

But sometimes you come across something small, simple, looking so innocuous, revealing its surprising weirdness only after closer scrutiny:

L-G

Jun 14

In the old days their numbers were controlled by starvation, disease, toxic chemicals, dogs, snakes and VVs.

e

Jun 16

What's Cooking in Yung Shue Wan?

But what else is new in Lamma's restaurants? Let's show you via pictures I shot recently, totally non-representative, of course:

L-G

Jun 17

Bontempi Gigapix Fandango i-Bamboozler

They all congregate in a single forum topic and join in a creative ritual called colloquially "making up loads of BS"!

Beanburglar

Jun 22

Happy about their performances, they were very unhappy about the lousy organisation of the races again this year.

Moley, Claudia, Katie

Jun 23

Giving Birth on the Ferry (Almost)

It's become almost common practice for mothers to be flown to hospital on HK Island when the baby's due to arrive very soon.

Mr Tough

Jul 6

Yes, the Internet is the greatest source of time-wasting misinformation, obfuscation and distraction the world has ever known! Ain't it insanely great?

L-G

Jul 11

If you are easily offended by vulgar speech, references to sexual exploits (especially those practiced in solitude), outright childish stupidity or if you are a potential client, partner, sponsor or investor please read no further.

Andy Maluche

Jul 16

Just enjoying a nice congee working breakfast at Kiwi Cafe with Ms Yu Lai Fun (our District Councilor) and Lamma-Por.

L-G

Jul 20

Quite a number of local and overseas tourists are contacting this website for info about where to rent a holiday resort or short-term flat on Lamma.

L-G

Jul 23

Happy 3rd Anniversary, Lamma.com.hk!

In these 3 years, 1,020 registered members have started 2,234 topics, posting 20,930 messages, generating a 24.51MB database of messages.

L-G, chuckm

Jul 25

Sunset Photo Contest: Open for Voting!

Right now is one of the best times of the year for Lamma Island's many devoted sunset watchers.

Ingmar, Gisela, etc.

Jul 29

'I swear those people got me to match the couch and wall'

I started to yowl. I had to tell them I was being kidnapped and was being pulled slowly up the bumpy road to Tai Peng village.

Molokko, Colette's kitty

Aug 3

A new crime trend emerged on Lamma in late May, in that there were a total of seven cases in a space of four weeks.

Charles Mitchell

Aug 10

Rachel Ip - Chinese Artist of the Month

Do you remember the joy of sketching with pencil and paper when you were a child?

Rachel Ip

Aug 11

Bishop Zen & the Poor Clare Nuns of Lamma

Lamma's Portiuncula Monastery, just above the Lady of Lourdes Kindergarten, home of Lamma's Poor Clares Sisters, was hosting Bishop Zen last Sunday.

L-G

Aug 12

It's fascinating but heart-rending to read his chronicles, so far removed from morbidity and depression, still full of self-deprecating, great humour.

Andy Maluche

Aug 16

Official Court Glutton: Best Wonton Noodles?

I've been looking for a resident food critic for this blog for a while now and I finally got lucky! Welcome to our new "Official Court Glutton".

Official Court Glutton

Aug 19

...for 6 months now I've enjoyed a real quality of life. Today, I wouldn't be able to live anywhere else anymore.

Mademoiselle Alexandra

Aug 29

'Ministers of Sausage/Ant Husbandry'

The sausage flew into the air and brought down a Government service helicopter that was collecting ants for Donald Tsang's goldfish.

Fortune Chan, Beanburglar, Chuckm

Aug 31

The Smoke-Free, Health-Conscious, Spooky, Romantic, Feline-Dominated, Ferry-Riding and Artistic Chinese Forum!

That's the latest from the Chinese Forum!

Samson

Jan 7: 8 Degrees Celsius!?!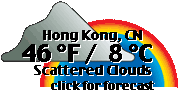 Checking the live weather display in the upper left corner of this website, I couldn't believe my own eyes this morning! 8 degrees Celsius! Below 10 degrees is extremely rare in HK. Almost nobody here has any heating in their home, as it gets only cool for a few days every year, usually around Christmas or Chinese New Year (Jan 28-31 this year).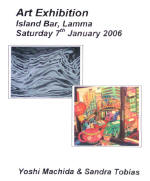 How do YOU keep warm? Popular methods for heat generation on Lamma Island are:
Rooftop or garden BBQs; enlightenment; internal heat generation via alcohol; resulting heated arguments in bars; hugging afterwards (Peace, Love, Lamma!); and the old-time, long-time favourite: shared bodily warmth!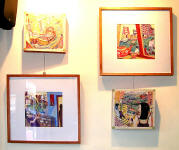 For something to warm your heart, stop by the Island Bar for an "Art Exhibition" and sale today (see below). Sandra & Yoshi - former Lamma-zine Artists of the Month - are leaving Lamma and moving back to Australia, from where Sandra hails from originally.
Art Exhibition by Sandra & Yoshi: Saturday, Jan 7 2006, Island Bar, all day.
While watching the artworks, get a Glühwein ("glowing wine" in German, "mulled wine" in English) at the bar. Specially brewed to Kumar's famous secret recipe with at least a dozen ingredients, it'll literally make your cheeks glow and a cozy, comfortable heat wave will spread from your throat and stomach throughout your entire body! Hmmmmmm...
One more culinary tip, actually more of a culinary warning:
If you buy roasted chestnuts - another yummy winter favourite - from the hawker besides the Island Bar and take them home:
Do NOT reheat chestnuts in your microwave oven!!
If you must, use somebody else's food-nuking-device, as the chestnuts go pop like popcorn (popnuts?), blowing the lid off your container, making an impressive mess. I'm still trying to clean up mine...

Jan 6: Site Search for Lamma.com.hk
Something that has been missing for too long on this website is a reliable and comprehensive search function. I've just signed up for Google's AdSense program for Web publishers. It includes a free & customizable search function.
The forums have always had their own separate search function (top right of every screen). It'll be retained as it works well, quickly and reliably.

Try Google's Site Search and let me know about any problems or suggest any improvements. A search function will soon be added as a permanent feature.
Here's an alternative from YAHOO! which seems to be providing much better results when searching these particular websites and especially this blog. Test it!

Jan 5: Sudoku for Couples?
| | | | | | | | | |
| --- | --- | --- | --- | --- | --- | --- | --- | --- |
| I | A | S | M | M | T | E | L | A |
| M | A | T | E | L | I | S | A | M |
| L | E | M | A | A | S | I | M | T |
| S | I | E | M | T | M | L | A | A |
| T | L | M | A | E | A | M | S | I |
| A | M | A | S | I | L | M | T | E |
| M | T | A | L | M | E | A | I | S |
| E | S | L | I | A | A | T | M | M |
| A | M | I | T | S | M | A | E | L |
By the way, here's the solution of the LAMMAITES Sudoku puzzle I made up 3 days ago. Who figured it out by him/herself? Any more?
This craze is getting out of hand here on Lamma! Now it's affecting other moderators and even Lamma-Por! She doesn't complete the entire puzzle first, but has me checking a handful of her digits every few minutes from the solution, while I'm doing my own puzzle, competing on time with her! Yes, Sudoku can be played by couples and it's even more fun!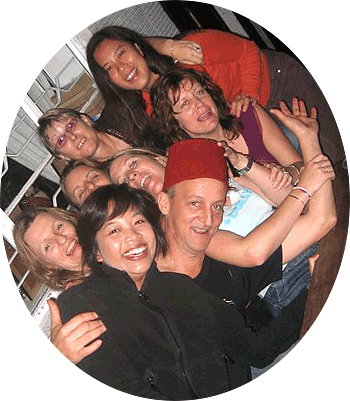 Jan 4: Red & Black?
Some people in Yung Shue Wan really know how to party and are having more fun than the legal limit!
Some local hunks in fancy dress even like to hog all the beauties for themselves, leaving the rest of us normal menfolk only to stare on in greenest envy. See this (in)famous local rascal, who's just come off the "Red & Black" New Year's Eve party in the Island Bar, taking most of the Lovely Lamma Ladies with him to another fancy party up on Millionaire's Hill!
Afterwards, he even sends me this photo to gloat about his amazing successes with the ladies! And I'm stupid enough to admire him and publish this photo here!
Well, here are a few more of his photos from this raucous night in the Island Bar:

Jan 3: Puppy Saved from Drowning
Sheila - Lamma Animal Protection (Tel: 2982 4018, www.lap.org.hk):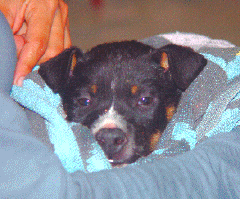 On the last day of 2005, tourist Gary Quinn witnessed a life threatening situation. Gary spotted a small puppy struggling to stay afloat in the sea near the gaido pier, YSW.
The puppy had clearly been fighting for his life as he was totally exhausted. To Gary's horror he was hit by a boat which left him almost lifeless floating on his side. Gary was about to dive into the rescue when he managed to persuade some men in a boat to pick up the puppy.
The poor puppy was in a bad way. The fight was too much for his little body. He was inert, in shock, severely dehydrated and desperately cold. He was immediately dried and warmed, cuddled, and tempted with food. With rehydration and warmth he was able to take a little food but his breathing was still erratic and shallow.
He had a high risk of getting pneumonia from sucking water into his lungs. After two days of steady improvement there has been no sign of serious effects so we hope he is going to be safe.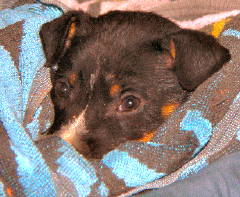 How did he get in the water? In all likelihood he was thrown in from the end of the pier or from a boat.
Now named Quinn, after his rescuer, he is in a foster home for two weeks but, if he hasn't found a home by then, he will need another temporary home. He's only about 6 weeks old and needs a loving, safe family to spend the rest of his life with.
If the puppy knew how much effort went into saving him he would thank Gary, Kelly, Lyn, Lexi, Pauline, Cath, the boat men and Lamma Animal Protection.
Fostering Harmony and Respect for Life - Lamma Animal Protection

Jan 2: Sudoku for LAMMAITES
Judging by the number of Lammaites on the ferry working to solve this day's Sudoku puzzle, I'm not the the only victim of this latest puzzle craze. A ferry ride should be more than enough to complete a typical daily puzzle in our English newspapers. I'm still working to build up my courage to attempt the Super Sudoku.
I'm a recovered ex-Rubik's Cube addict myself who got down to 1' 30" to finish a cube, even attempting the 4*4*4 cube back then, so I'm an easy and willing victim for new puzzle crazes. But what else would you expect from an "Artsy Cybergeek" as it says on my company name card...
Are there any people left in HK who don't know what Sudoku is? Check out the official website, www.Sudoku.com!
It got me thinking, instead of the digits 1-9, you could use any symbols, even letters, so any 9-letter word will do. If it's got repeating letters, then it's even easier than a standard Sudoku and might have several correct solutions! Let's try to create one, using the 9 letters in LAMMAITES instead of the digits 1-9. All the letters in the word LAMMAITES have to appear in each 3*3 box and in each row and column!
Print just the first page of this web page on your printer and then you can solve it the traditional way with a pencil and eraser. For the more computer-minded, copy and paste the table below into your spreadsheet program and fill it in there!
| | | | | | | | | |
| --- | --- | --- | --- | --- | --- | --- | --- | --- |
| L | A | M | M | A | I | T | E | S |
| I | | | M | | | E | | |
| | A | | | L | | | A | |
| | | M | | | S | | | T |
| S | | | M | | | L | | |
| | L | | | E | | | S | |
| | | A | | | L | | | E |
| M | | | L | | | A | | |
| | S | | | A | | | M | |
| | | I | | | M | | | L |
After completing this puzzle, find other Lamma-related 9-letter words to make your own Lamma Sudokus! Solution for the one above: check back here in 3 days.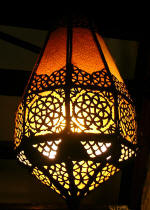 Jan 1: Free 'Lamma Lamps 2006' Calendar!
Happy New Year to all daily, weekly, monthly, yearly and once-in-a-lifetime readers of this daily community Blog about Lamma Island and its fascinating inhabitants! Thanking your for making this blog such a fine success last year, I'm giving away free 2006 wall calendars with the 12 graphics below to anybody asking me for one. Don't be shy, but you'll have to send me an email with at least one sentence about why you'd like one and what you'll do with it. Click here for 2006 calendar preview.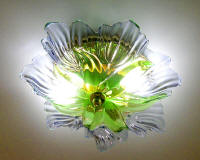 All the graphics below originate from digital photos of various lamps shot in private flats around Lamma. Photoshopped for several hours each - based on the 4 seasons - and presented here for your viewing pleasure (I hope).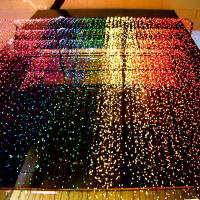 It's something a bit different from the usual landscape photo calendars and hopefully an inspiration for you to try to create some computer graphics yourself? If you try, I might publish them here in the future. Guess which lamp photo was used for which computer graphic below!
For more L-G calendars of earlier years, going back to ancient, pre-digital 1980 - some of them offset-printed as desktop calendars - check out the Calendars section of my personal Digital Graphics Library-in-progress.