Oct 31: Fanny (Heli)Pad
The nickname poll for the future permanent helipad (see below, bottom left in light blue) has just ended and a clear winner has emerged:
Fanny Pad, invented by Fortune Chan. He cleverly enlisted his private fan club to vote for him, collecting 12 of the 29 votes, over 40% share. Congratulations to him, as it seems he STILL has a few friends left. Sometimes we wonder why, especially after he was dissing the poll at first with a message of "How about we simply call it nothing at all?" But all too quickly he changed his mind - as he's known to do - and came up with the winning suggestion.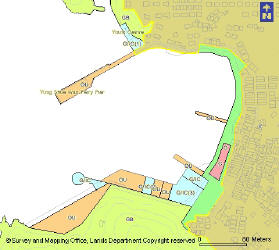 "Drop-a-chopper" by Sneaky-O ranked #2 with 8 votes; but none of the other suggestions got more than 2 votes each, not even my own favourite of "Official UFO Landing site" (my own suggestion, of course). Here are all the proposed nicknames, demonstrating the diverse range of creative local talent: often pretty bad, but also with a few good ones:
Spinney's Landing (ChuckM), Magical Spinney Thing Landing Site (ChuckM), Hippie Haven Heliport (ChuckM), Avalon (Soundbydesign), The Bug Bite (Miss Piggy), The Lamma Squat Spot (Miss Piggy), Heli Pier (Casanova), The Horizontal Wind Turbine (Casanova), Hunter's Heliport (Casanova), Chopper Board (Lam Ma Ma), YSWHLS (YSW Helicopter Landing Site - Down the Deli), Blackhawk Down (Down the Deli), Lamma Grazier Union Memorial Helipad (Alan), Yu Lai Heli-Fan (Alan), The Dropsy Zone (Guy Miller), Preeminent Premanent Heliport (Lamma-Gung), Yu Lai Fan Helipad (Big Bad Bill).

In typical irreverent (and backbiting) Lamma style, our Fight Club moderator, Granola Eater, put up a poll asking if, "In your opinion, having a poll to nickname a helicopter landing pad is: 'Stupid' or 'Fucking Stupid'". This poll has also just ended and, as expected, the vast majority (5-2) voted for "Fucking Stupid". And then they proceeded to run another poll if they should have another poll or not... Really stupid...
---
P.S. The above up-to-date map with the helipad comes from the Planning Dept website, sent in by new arrival and Alert Reader Lamman. Looks like the 2nd phase of the harbour reclamation is still active & planned. Click to enlarge.
Sorry, no easy legend available yet to explain all the letters, like the two red buildings on a huge slab of further reclaimed land (green) all along the YSW waterfront. It explains it as a "Commercial Area" designated "for a future small-scale commercial development to provide purpose-designed premises for commercial uses and to add vibrancy to the locality. It will also serve as a focal point for the Yung Shue Wan area...plot ratio of 1.5, 2 storeys (7.6m)."
No timetable is available either, but read this for a lot more detailed info about planned future govt. constructions all over Lamma. Big surprises coming up...

Oct 30: Charity Origami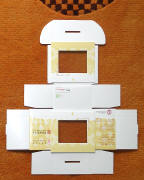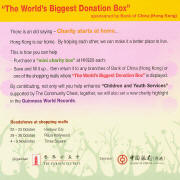 Yesterday, Saturday, walking past our City Hall (Rural Committee HQ), there was a charity collection in full swing. by Lammadonna & friends (see above). For a minimum donation of $20 you'll get a little cardboard origami-style set, to fold by yourself into a collection box. Then you have to get it filled with donations to put into "The World's Biggest Donation Box" in a shopping mall in town to receive more origami sets of little donation boxes. Yes, it's like a pyramid scheme of donations, the perpetual giving never stops!
Following the instructions to the letter (see below), I ended up with this non-functional contraption which looked more like modern architecture than a donation box. Trying again, I finally got the standard shape, a neat little box! Now I just need to find some people to donate cash into my box... Any volunteers?

Oct 29: Eulogy for Kiwi Cafe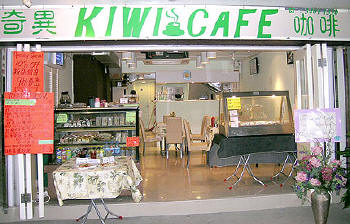 Lamma-Por's and my own favourite place for breakfast, Kiwi Cafe, has closed down permanently last week, after a few days of "vacation" (English sign) or "renovations" (Chinese sign). Today, Saturday, I caught them cleaning out the place while I was walking by, giving me a chance for a good farewell talk with Henry. 7 months ago, I was their very first customer and we've become fast friends in the meantime. Best value breakfast, best Chinese cafe-style breakfasts, cheapest ($25 at teatime) but very good & huge fish & chips, friendly & cheerful service by our Kiwi-Chinese friends Henry & Mo Yee and a local Chinese couple living just above the premises...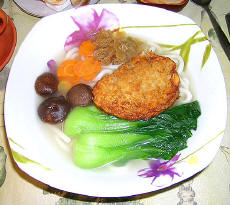 Kiwi Cafe closed because the below-30-years-old local Chinese lady got a stroke a few weeks back, leaving her half-paralysed and she's still not recovered... Business was going OK, it seems, but it had to feed 6 mouths. The slowly recovering lady and her husband lost interest in the business and the Kiwi couple is going back into retirement back home.
I've written about Kiwi Cafe several times, even though they never advertised, just because I liked the place and the people. It's really sad news for Lamma-Por and me and their regular customers. Lamma-Por will miss her Tuesday morning congee. It is...was a special order, not on the menu, like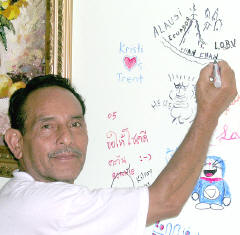 quite a few dishes we got tailor-made...and we tipped generously for them.
Walking by Nam Wah Yuen Cafe on Main Street today, we noticed that they had bought all the soft chairs from Kiwi Cafe. We received a few plates as souvenirs from Henry ourselves. We're both feeling more wistful than after any other of the quite frequent & cyclical restaurant closures in the last 4 years we've been living here.
In memoriam, Kiwi Cafe, successor of My Cafe, successor of Offtime Cafe, all in this same location. Three times unlucky, maybe the next proprietor should NOT use a restaurant name with the word "Cafe" in it...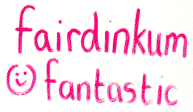 P.S. In the meantime, Kiwi neighbour Yo Lau Gei (Old Friends, best Wonton noodles in the village) might also be closing down in a few weeks' time. The rattan shop opposite Kiwi Cafe has just closed and the CD/DVD shop "Music Gallery" on Back Street also shut down end of Oct. What's going on here, a really bad trend in a supposedly recovering economy?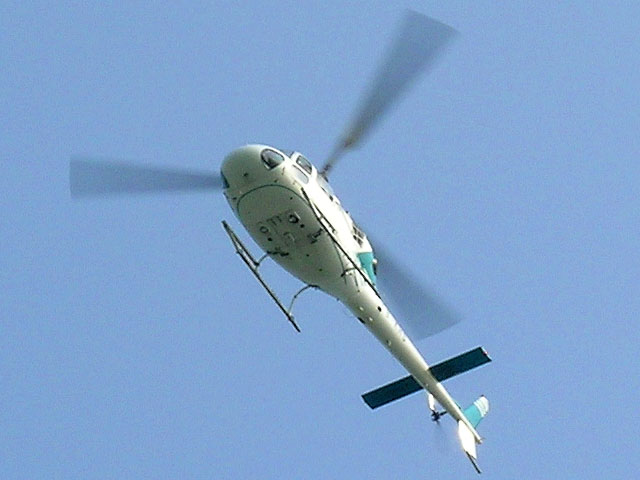 Oct 28: Ever Been Photographed From a Helicopter?
HeliAdventures was running another one of their 15-minute flights over Lamma, giving me exact advance notice where they'll be by when, so I could shoot a few close-up heli pictures of them in action (see right). That was that. But a few days later, I got a CD-ROM, all photos shot from that particular flight by well-known AFP photographer Froggy.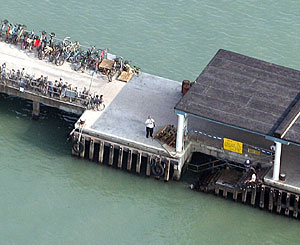 One of the photos showed the ferry pier from above and you can seven pot me waving! Not a very flattering perspective, almost from straight above, but a really rare shot! The helicopter has to stay 500 ft above the surface, avoiding too much noise pollution on the ground, so Froggy didn't get much detail. But I like it!
More of his fantastic pictures from the flight will be published in a few days, when I'll have some time to select the very best shots. Stay tuned!

Oct 27: Half-Time of Late Ferries Trial
Exactly one month ago, Sep 27, the 2-month trial period of "night sailing service between Central and Yung Shue Wan" started. Reviewing the trial half way through, I've asked Lammadonna and the ferry company for some feedback. It doesn't look good at all so far...
The new three night sailings (2:30am Central-YSW; 12:30am and 5am YSW-Central) have been almost empty. The average numbers are 20-30 persons for all 3 new sailings combined per night, according to official HKKF figures. Surprisingly, even the weekend passenger numbers fail to live up to expectations.
The record so far was around 100 passengers on the 2:30am ferry on Oct 1st, a holiday. But there have only ever been over 100 passengers on all 3 new sailings combined about twice so far. Detailed numbers have been promised after the end of the trial, in one month's time.

A number of complaints about noisy late-ferry revelers have been received, walking home singing and shouting through Main Street after 3am...
According to another local survey, 30% of people supported the late ferries, 30% against it and 40% were not supporting it IF it means a general ferry price hike. Something a bit strange about these numbers, but that's what I got from Lammadonna, who was the initial main local driving force behind the 2-month trial.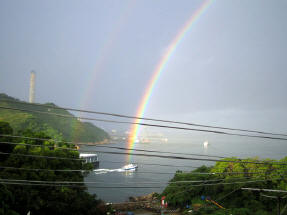 The ferry staff is not happy about their extended shifts and additional sailings. It seems that the ferry co. hasn't made any staff schedule adjustments for the 2-month trial...
More promotion is necessary, for example the garish, lime-green, new big banners (see above) all over the village. But if the numbers don't improve significantly, HKKF will have sufficient reason NOT to continue the trial. They'll be happy, but most of us won't be.

There's still a rainbow of hope (unique picture courtesy of Down the Deli), one month to go. But if we can't get these passenger numbers to improve dramatically, the trial sailings won't ever become permanent. If you personally want to keep at least the late sailings, tell all your friends to party more off-island, coming home late! That shouldn't be too difficult, especially as the partying would be for a good cause!

Oct 26: High-Flying Heli-Hippies?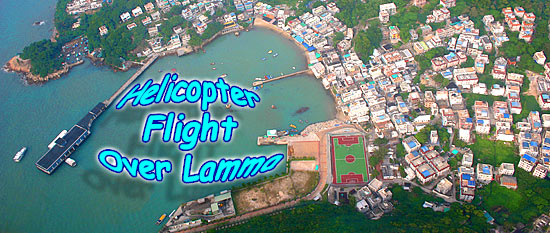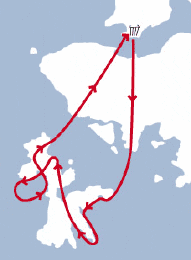 Scene: Inside a helicopter, flying high over Victoria Harbour en route to Lamma Island on a late Sunday afternoon, Oct 9:
The pilot is asking his passengers the routine tourist question:
"So, where are you all from?"
"We're all from Hong Kong; in fact, we're all from Lamma!"
"So you're all hippies?"
"Yeeeeaaah!"
Our all-Lammaite party of 5 set off from atop the Peninsula Hotel's helipad on the flight path I made up myself (see map on right).
First, we're flying over Greenpeace's Rainbow Warrior in Victoria harbour! They're on an Asia tour, promoting wind energy in HK - while we're en route to Lamma's very own windmill!
See the photo gallery with detailed captions about our flight, with my own and Gavin's photos: click on any photo or here: Helicopter Flight Over Lamma.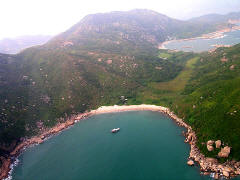 After traversing The Peak (great view of Matilda Hospital where many Lamma babies are born every year) and Aberdeen we explore South Lamma from 500 ft - avoiding Sham Wan turtle beach - scouting the area of future planned luxury housing developments (the flat area top right, south of SKW).
Even though it's the Sunday closest to Chung Yeung, we notice no smoldering hill fires on Lamma. We've been lucky this year, despite 50+ hill fires all over the SAR. Circling Lamma's new landmark, the wind turbine, our own horizontal wind turbine feels safe and steady, whirling above our heads.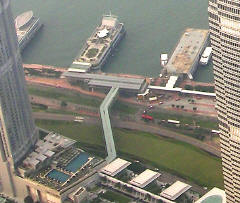 Unfortunately, no private heli landings are permitted on the temporary helipad in YSW harbour, so we have to be content in hovering above YSW, spotting our own homes from 500 ft above, snapping photos like mad on a reasonably clear, but cloudy day. Returning over The Peak, back to Tsim Sha Tsui, we could even spot the Lamma ferry pier from above (top right, below ifc)!
Do you want to see YOUR house from above? Here are a few high-resolution shots I (first 3) and Gavin (other 5) took. Click and cut your neighbourhood from the huge 4-6 MPixel photos. Great wallpaper!
A truly amazing adventure and an unforgettable experience! I've asked the other passengers to come up with a few words about their own personal impressions:
Donna - part-time employee of HeliAds:
My first flight was a last minute decision. As a person scared of heights, I never thought that I'd ever go up in a helicopter! The opportunity suddenly arose, so I decided to give it a go. I was very nervous, but once we were airborne, I forgot my fear.
To see Hong Kong from the air is an absolutely amazing adventure, a real HeliAdventure! Hovering over Lamma is a very exciting experience in itself and I wasn't scared at all anymore. I took my son with me, but kept it as a surprise until the very last minute. When I finally told him he was very excited and couldn't wait to go! He enjoyed it very much and is still talking about it now.
Christopher - Donna's son:
I was told that I was going in to translate for Gavin's clients, Cantonese-English. Then we got to the lobby and my mum said we where going up in a helicopter!
I was very excited taking off the Peninsula, just amazing! I liked that part and flying over the windmill the most! Afterwards, when we started walking through Central, I felt as light as a feather...
Lamma-Por - Lamma-Gung's Ah-Por:
I've been flying on helicopters 2 times before (from Macau back to HK - very smoggy - and in a medical emergency from Lamma - lying on my back with a hyper-racing heart). This time, finally, I could really enjoy the flight! The windows were so big, even offering spectacular views straight down and all-around.
I've suffered from high anxiety all my life, so it was quite a scary idea when my hubby asked me to come along. I tried to contain myself and it wasn't frightening for me this time. HK is so beautiful from the air and I enjoyed it very very much, feeling "on top of the world"!
When landing afterwards back atop the Peninsula - an absolutely amazing 360-degree view all by itself - my first question was, "Was this really 15 minutes?". Time flies when you're having fun!
What did I like best?
Trying to find our house in YSW, flying around the windmill, seeing the new 4th Power Station chimney from high above, crossing Victoria Harbour...Wow!
Afterwards, hubby & I decided spontaneously on High Tea. Seeing the long line in the Peninsula lobby, we strolled over to the Kowloon Hotel for their sumptuous High Tea buffet. So many choices, a rare treat for us, so we were really pigging out, combining a late lunch and early dinner. It was even more delicious because we had fasted from breakfast till the late afternoon flight, to make sure not having to use the in-flight sick bags...
What did I like the least?
Getting a form handed to fill in before the flight, while waiting in the China Clipper private club atop the Peninsula. They didn't tell us what it was, so I suspected something really bad, life-and-death-related, like a liability waiver, life insurance form, a power of attorney in case of an accident, or even a will in their favour! But, even worse, it was asking us to provide our weight for the flight preparation. Asking a lady about her weight, how dare they! It's even worse than asking about her age!!!
For more info on this new tourist option to see any part of Hong Kong, have a closer look at www.HeliAdventures.com. There are fun videos and musical slide shows of recent flights, most over HK Island & Lamma. For just $2,700/trip, up to 5 people can enjoy a 15 minute-ride. Make up your own flight route!
P.S. HeliAdventures has just become a Lamma-zine Blog advertiser in the meantime, but this flight took pace well before. This story is NOT an advertorial, representing our honest opinions & impressions, no promotional strings attached. Many thanks to Gavin & HeliAdventures!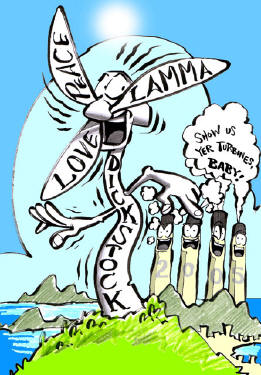 Oct 25: 'Show Us Yer Turbines, Baby!'
The musical event of the Lamma year is less than a week away, DickStock 2005 on Sat, Nov 5! The logo has been confirmed, see right, and you'll be able to get a B/W version on a T-shirt at the event, as well as food and drink. This great logo - by ex-Lammaite Gavin Coates - is really up-to-date, incorporating our already spinning windturbine and the just completed 4th half-height gas chimney - HK Electric must be mighty pleased! Can we get them to paint the 11-year-old slogan Peace, Love, Lamma onto the blades?
Trying to get any details from the organiser, Mr. DickStock, is like pulling teeth from an unwilling subject. He writes that the organisation and the band lineup so far are all a bit "Hippy-Dippy" and that there's "no need to be too organized too far ahead of time."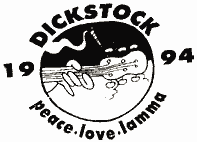 Asking about confirmed bands (only Red Star Rising and Yung Shue Wankers so far) gets a typical response of "Confirmations? We don't need no stinkin' Confirmations! Suffice to say that a LOT of the USUAL SUSPECTS will be there."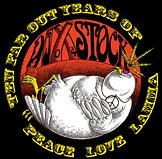 Sounds like a really typical Lamma event! Great people, great music and great fun, but it'll start when it starts and whatever musicians will turn up on the night will be playing & jamming. Just show up and you'll have fun, for sure! "Just do your thing," as Mr DickStock so eloquently expressed it. There might be a little handbill and poster about the event early next week, maybe or maybe not...
In the meantime, waiting with bated breath for Nov 5, you could have a look at my DIXSTOCK 2004 photo gallery and Andy's DickStock 2002 Photo Comix.

Oct 24: Earthquake Relief Charity Event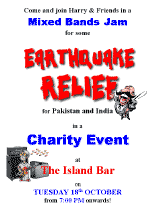 Over $12,000, that's what was raised at the charity event in the Island Bar on Tuesday, Oct 18, 2005, for Earthquake Relief in Pakistan.
Mr DickStock: "Band played, Rajen got scalped like an Indian, and Kelly & Sara kissed for 30 long, slightly uncomfortable seconds."
Here's a little photo montage I've created from photos submitted by Mr DickStock. Click on the individual photo tiles to enlarge, so you can spot your friends behaving badly, having fun while doing so and even raising a lot of money for charity at the same time.
Well done, Island Bar, the only local fundraiser for this horrendous earthquake in Pakistan & India...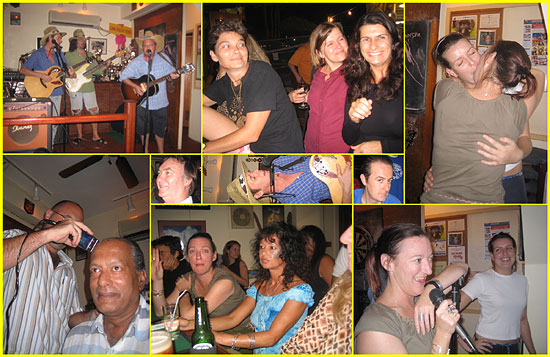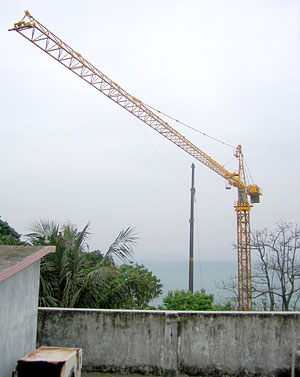 Oct 23: Lammarina Close-Up
Passing by on the ferry, you might have noticed the huge tower crane on Nga Kau Wan beach, just behind Po Wah Yuen on the way to Pak Kok. Here's a crane shot from the rooftop of Mr. DickStock's residence, submitted by The Man himself.
For very detailed info on what's actually being built, see my little Q&A with the site engineers a few months ago. The proposed beachside road from the ferry pier to the Lammarina and their proposed private ferry to Cyberport have been put on ice for now. I'm trying to get an interview with the developer himself...
The latest news was a Chinese newspaper story, where the developer hoped to sell those Village House-size units (2-3 floors only) at up to $7,000/sqft. A truly unheard-of price on Lamma where the very best flats go for much below $3,000/sqft. Property Jackson was visibly salivating when telling me about the $7,000/sqft mentioned in the article... Bad news for people renting flats here?

Here are a few brand-new close-up Lammarina photos, shot from above and from the beach below. The beach will remain publicly accessible even after the "Lammarina" (no official name announced yet) will be ready to move in end of 2006.

Oct 22: Wear Helmet, Spectacles & Safety Belt in Beer Garden!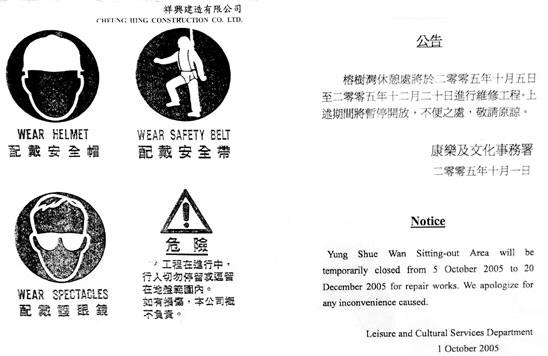 According to this new notice posted outside the Beer Garden opposite the Island Bar, you have to take all of these safety precautions right now before entering the "Yung Shue Wan Sitting-out Area"! As this Area is most heavily used late at night by patrons of the Island Bar, I can understand the safety belt instruction, drunken patrons might be falling off the benches otherwise. But helmets and spectacles seem a bit of an overkill? Preventing accidents from flying beer glasses & bottles and from drunken fight injuries, maybe?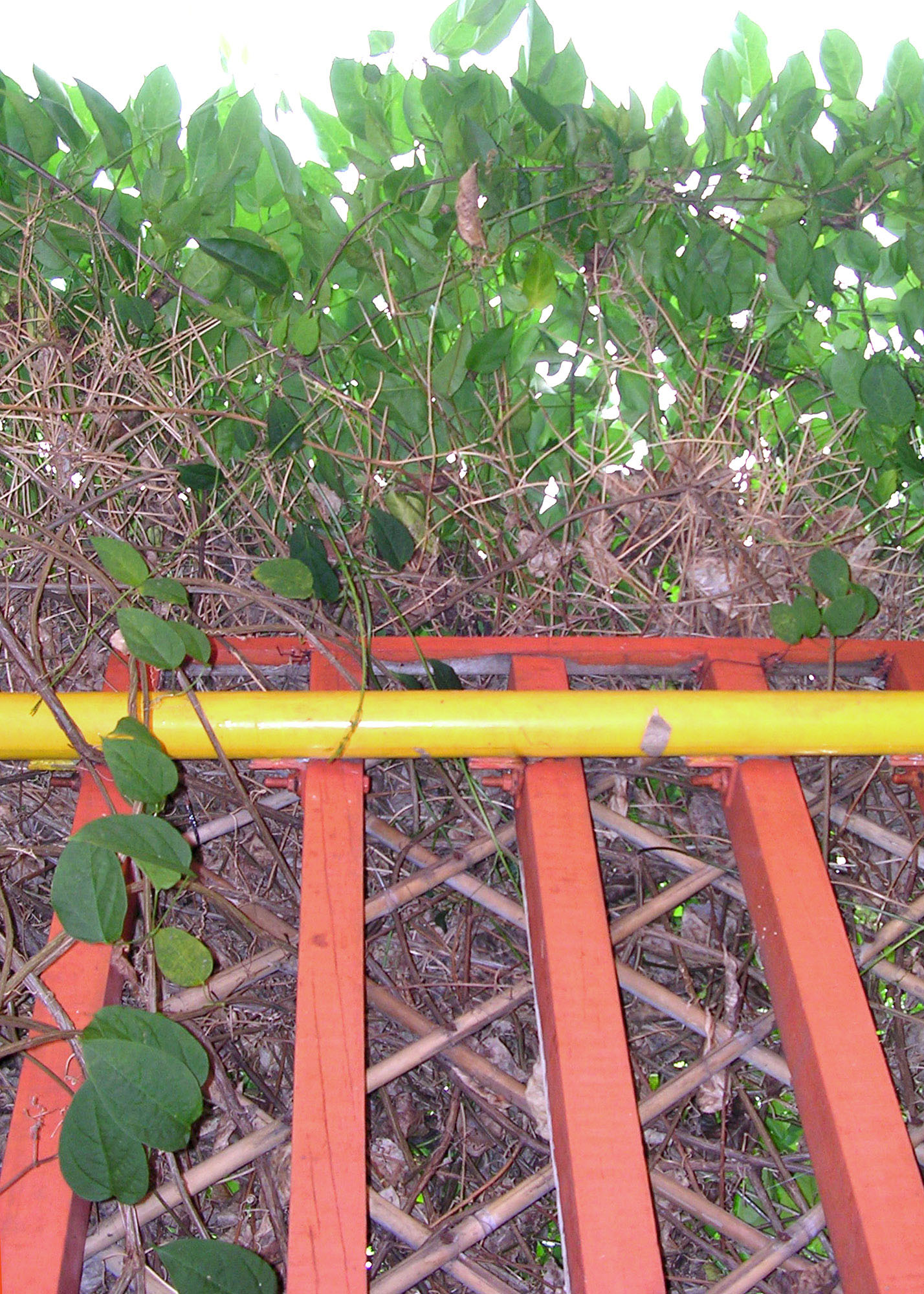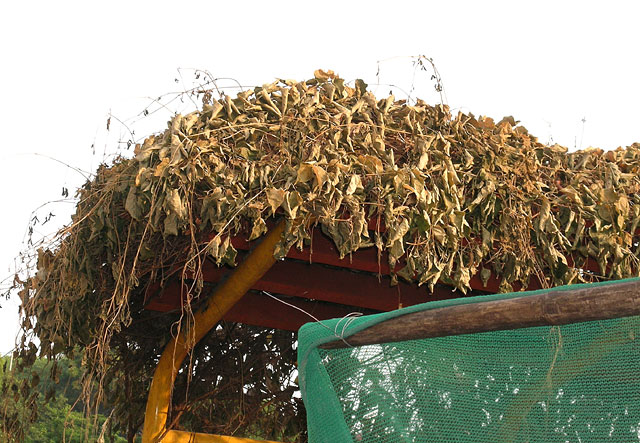 Looking at the fine print, it all becomes clearer: "repair works". I couldn't find anything broken or defect in this beautiful area with the multi-coloured seats and bright-orange creepers on the seat canopies.
Well, they killed off all the creepers (see photos before and after) and ripped out all the seats and flooring so far. They'll continue with these "repair works" till end of the year, all through the prime "sitting-out" time of the year. Looks like another jobs-for-the-boys project to me, but let's hope they do a good job and don't mess up this formerly beautiful and cozy area too much. The canopies will also be replaced soon and some new plants & creepers planted, we hope. But we cannot be sure, as no information of any kind has been available so far on this project, no gazetting, no announcement, no works plans...
At Christmas, you should be able to enter the Beer Garden again without helmet, spectacles and safety belts. But watch out for those flying beer glasses...

Oct 21: Painterly Cancer Survivor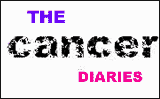 Great & wonderful news from our Official Court Artist, Andy Maluche! His chemotherapy for testicular cancer has just ended and seems to have been successful! Read his fascinating & gripping 87-days account by clicking on the left.
But even having lost almost all his hair from all the poisonous drugs hasn't stopped his good spirits (see poster below). He's even found a new use for his bare scalp - as a painting canvas and advertising billboard!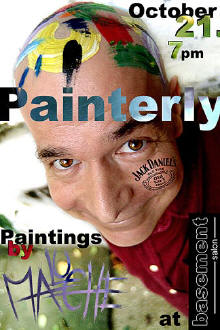 Quoting from the invitation to the opening of his paintings exhibition tonight in Manila:
"After 5 successive photography exhibitions it's time again to show another side of me.
Naawww, don't worry I am not going to expose any indecent body parts of mine again.
But I would like to cordially invite you to my newest show:
Painterly
"Paintings by Andy Maluche
Friday October 21. at the Basement Salon, Powerplant Rockwell.
Cocktails sponsored by Jack Daniel's at 7 pm"
A paintings exhibition in a Powerplant? With so many great artists living on Lamma, now there's an idea worth following up on...
He'll be visiting Lamma again for DickStock on Nov 5 (of course!), hopefully taking loads of amazing shots of the performers and the audience alike, as the Official Court Photographer! See his last time out: DickStock 2002 Photo Comix.

Oct 20: Lamma - As Seen From Afar
ChuckM - Lammaite Wannabe & Occasional Rabble-Rouser
(His motto: "Lead me not into temptation; I can find it myself, thank you."
Emphasis below added by Editor; all Canada photos by ChuckM.)

Responding to a gentle nudge (Oooomph!) from Lamma-Gung, I've been thinking about writing down my thoughts of Lamma Island, the good folks who live there, and this web site.
Here's my golden opportunity to irk & tease just about everyone and get myself run out of town even before I arrive.

Before I dive in, I should mention that my interest in Lamma was sparked by a current resident, whom I've met here in HongCouver quite by accident. Although my interest in Asia and things Asian had been greatly heightened by a job transfer from Canada's east coast to the west coast, I had never given any thought to actually living in the region. Now I dream of the day when I can perhaps afford to spend part of each year on Lamma... just as soon as I win the lottery.
OK, so I started out imagining Lamma as some sort of expat paradise on the outskirts of Hong Kong, where my severe lack of language skills might not be such a hindrance. It has picturesque hillside villages, lots of fresh air, no streets or vehicle pollution, a relatively small population of friendly folks, is close enough to Central as need be, has scads of gourmet eateries and fun pubs, is blessed with clean paths, almost zero crime, meandering countryside paths, and is as carefree as a paradise can be. Oh, and it has its own 'Magical Spinney Quixotine Thing'.
Well, I got some of it right, did I?

My daily routine now starts with a read through the Lamma-zine Blog and the forums. So, how does Lamma appear to these foreign eyes despite all the weird things I have read about in this website? I herewith offer a few observations as seen through my morning caffeine haze...
It appears that a feeling of community and family can be found in the Lamma expat gang. Even though I am not part of your community, I get the impression that the denizens of this web site can be a close-knit bunch at times, despite the arguments. Perhaps it's a result of the normal human tendency to circle the wagons when living as a minority in a foreign land. On the other hand, perhaps misery loves company.

Not having been exposed to the Fight Club yet, it's possible I'm being really naive. Still, it seems a great place to raise children in a multicultural setting. I guess I'm too late to have picked up the impression of it being a 'hippie haven'.
Too bad I can't read the Chinese discussions, because I'd probably benefit from a very different perspective of the community.
I get a distinct feeling that there is a much higher than average proportion of artistic talent on Lamma than in most places. Correct me if I'm wrong, but Lamma seems to be the starting point for an above-average number of stage bands. As for me, I couldn't draw a straight line with a ruler and I can't hold a tune in a bucket, so I guess my talent for building computers and web sites will have to do. (Hey, Lamma-Gung, care to sponsor me for a job in HK? LOL!) I'm mightily impressed with the photographic talent displayed in the forums. Guy Miller, and lately Harry Li, have me waiting each day for what's coming next and wishing I knew how to find the shutter button on a camera.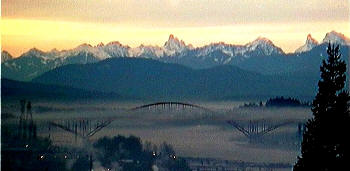 Part of the fun of reading forum entries is the occasional extreme topic drift. More than once I have been left with a very large grin as the original topic is run roughshod in all directions. And let's be honest, where else could discussions of gourmet food be derailed by talk of fresh dog's eggs and complaints about peeing out the back of the opera tent?
And speaking of gourmet food... all these reviews of the restaurants and pubs frequented by the Gweilo population has me a bit concerned at times. Reputations seem to go up and down like toilet seats. Does this mean I might have to learn to cook for myself? Ugh!
Aaahh... politics! It would appear that Lamma is almost as well blessed with political shenanigans as we are here on the 'left coast' of Canada. I have the feeling that Lammadonna elicits almost as many different opinions as there are people living there. And it's quite wonderful to see that my part of the world is not the only place occasionally blessed with political inertia that would make a tree sloth anxious. By the way, would getting into the concrete mixing business be a good career move on Lamma?
Characters I just gotta meet, in no particular order ... Nick the Bookman, Lamma-Gung, of course, Granola Eater, Beanburglar, Fortune Chan, Lammadonna, Zep, Alan, Daffyd, Guy Miller, and too many others to list.
I could ramble on about a few more things, but you would be bored to tears. I must say that Lamma.com.hk appears to be very unique and nicely focused on its community. Once in a while an outsider like me will chime in with something inane, but you kind folks have shown lots of tolerance. I certainly haven't lost my enthusiasm for visiting some day

despite the giant killer wasps, huge creepy-crawley things, hordes of weekend tourists, lack of 4am ferries and no 'premanent' helipad yet.
Oh, and is it Pinky Chan I should contact about renting an upscale stone cottage?
P.S. One thing I just gotta say... This site has become an addiction for which no cure is desired. Happy to contribute more... it's the least I can do in repayment for a great web site!

Oct 19: Xmas Panto 2005?
Our 5C forum member (Crazy, Creative, Carnivorous, Convoluted & Cuarrelsome), Fortune Chan, is trying hard to revive an old Lamma tradition, the Christmas pantomime, also called Xmas Panto. A most commendable community initiative! Is he trying to redeem his somewhat tattered public reputation? He writes:
Fortune Chan - Official Court Poet & Tourism Ambassador

A Lamma.com.hk Xmas Panto is planned where the site's different virtual characters will be brought to real life for the very first time. It will be a play of two acts and will be staged at the Island Bar on Christmas Eve and the plot will be centred around an Xmas Fight Club popularity poll. The sub-plot will involve an invisible stalker, a missing Wilkinson sword and some dog doo doo on a path near Wang Long.
I would like to play Lamma-Gung or Beanburglar and feel Granola should play Alan. Gung should play Legless, Alan should play Fortune and Guy Miller may wish to play himself. Many other roles are up for grabs. Costumes will be provided by the Man Kee.
A creative script writing contest ensued, with various members adding their own ideas to the story, even including me in their role playing. An anonymous designer even made up a small animation, see below! Looking at it, you can truly feel that Halloween is in the air, when Lamma gets even crazier & zanier than usual... Our very creative forum member Beanburglar writes: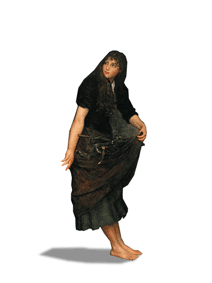 If I play Buttons, I want the pantomime to start like this: "Hello children, has anyone seen my chair?" The children then shout: "There it is, imbedded in Cinderella's head." To which I reply "Oh no, it isn't!" This goes back and forth, until I finally admit that it is perhaps imbedded in Cinderella's head.
Then the children shout "Behind you!" As I swing round, an as yet unannounced character skips out of my sight and back behind me. I declare scornfully "There's no one behind me", to which the children shout "Yes, there is and he's trying to brown-nose you!" After more to-ing and fro-ing I declare "Why, it's Lamma-Gung and he's not trying to brown-nose me, he wants to design me a poster informing people that I am really Prince Charming!" Hoorah!
Soulkitchen put it all in historical context:

Lamma has already had 3 pantos - Aladdin, Jack and the Beanstalk and Cinderella (with Clive Keep and Chunny as the fab ugly sisters) and Nick was always Widow Twankie. A scary hunchback of Notre Dame character also popped up when any bells rang or if the audience got a bit exuberant gambling for chocolate money, to scare the little buggers back into their seats.
Panto is not crap, it's a farce which involves the whole family, there are probably several young men and women on Lamma who remember sneaking off to Hunter's to watch the regular Xmas show in the early 90s, not to mention "Alice in Hunterland" a very special performance of Lewis Carroll's famous story complete with a massive Jabberwocky, completely constructed of recycled bits and pieces from Hunter's collection.
Hope to see more about the reinvented Lamma panto - good luck!
Finally, an active participant of several past pantos joined in and described her fond memories of a recent but very different time on Lamma.
Roz Keep in Chiang Mai, Thailand wrote:
As Aladdin, Cinderella and Alice in Earthy`s Best Friend by Gavin Coates, I totally recommend putting on a panto for the community.
There are lots of talented individuals there who could do a great job. You'll need music and costuming and set building. It takes a load of commitment and sweat so don't do it if you think you are too busy to begin with. Don't let that put you off though.
I loved doing Earthy's Best Friend, Gavin Coates beautiful story and performed it on the roof of Phil and Trish Milton's (1999?). Gavin was our guest of honor. It took about 6 weeks to rehearse that one. The Aladdin and Cinders were a little relaxed by comparison... three or four days and lots of funny cigarettes.
As someone who played in three of the pantos and helped make and operate the Jabberwocky for Alice In Hunterland, all I can say is GO FOR IT!!! The kids love it, you'll love putting it together!
Good luck. Look forward to seeing the photos.
Please, anyone got any photos of Earthy's Best Friend?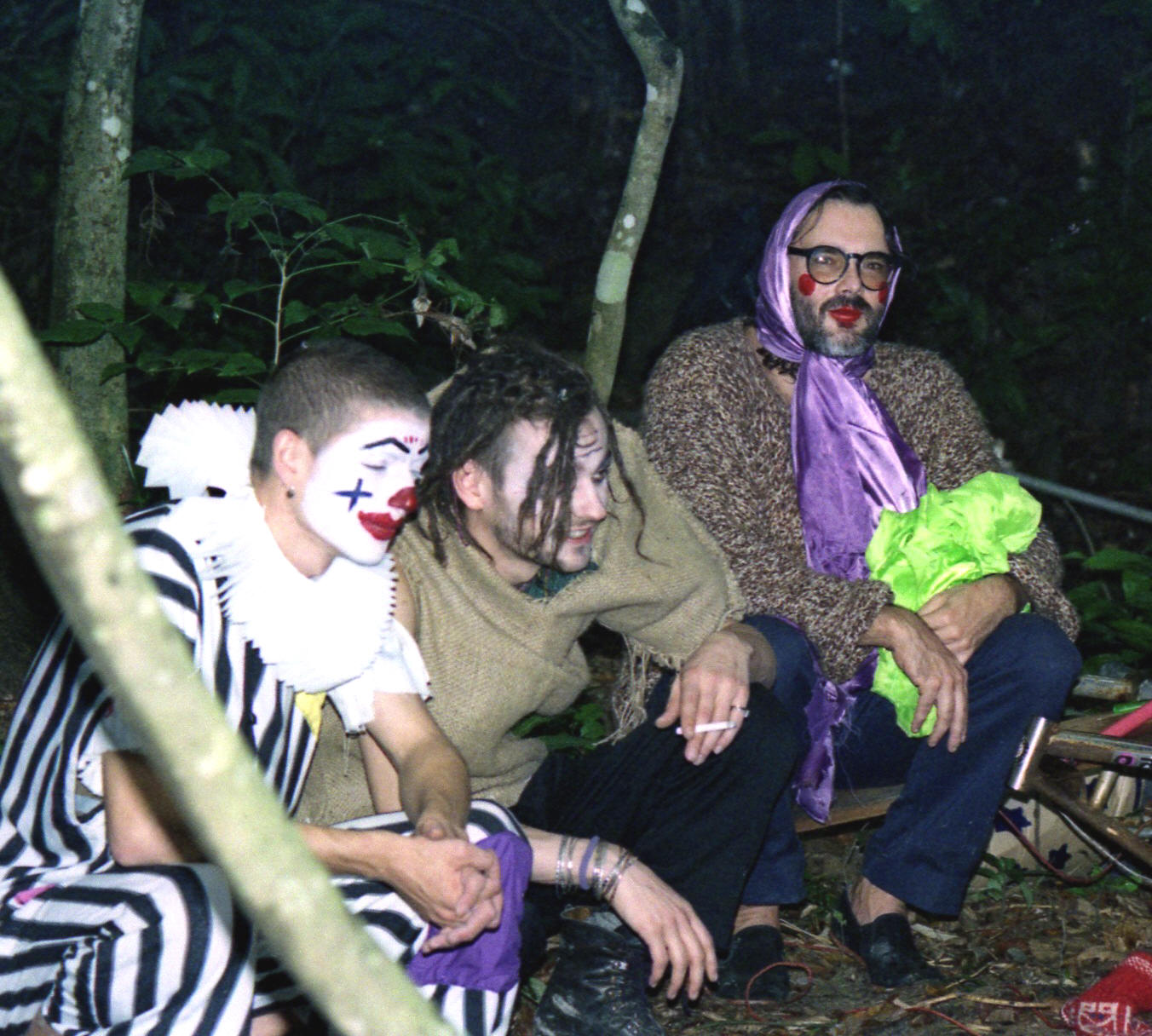 Let's see if all these fine ideas can make the giant leap from a funny little farce in our forums to the reality of an actual performance? It's doubtful, but "May the farce be with you!"
P.S. Despite asking a number of people involved in the pantos back then, none of them could come up with a single photo. Do YOU have some for publication, please?
P.S. II: YES! Jon sent over a link to the two past pantos! Guess who was Widow Twankie in this pix, still living here?
Click for Lamma Pantos - Cinderella,
Alice in Hunterland.

Oct 18: 'Itchy Eyes...Itchy Nose...Hoarse Throat...'
Our forums have reached topic #2,500. 2,500 discussions/threads/talking points in the 3 years since this website was launched! 1,058 active registered members have posted over 23,200 messages so far. We've averaged about 16 new messages every day on average over the past 3 years. But a LOT more messages are posted every single day nowadays, with the majority in Chinese. Check out our forums!
I've just streamlined the groups of forums a bit, merged several little-active forums and moved the currently inactive ones into a new Miscellaneous group. So it should be easier now to find the forum you'd like to post in:
You're always welcome to moderate or co-moderate an existing forum. You could even open your own forum for your own special interest! Contact me!
Fortunately, the poster of message #2,500, Jimmi James, doesn't live on Lamma (yet), so he wasn't talking about our fair isle when complaining about the severe and worsening air pollution in much of Hong Kong in general:
"Feelin' a little tired........Itchy eyes......Itchy nose.......Hoarse throat...... Irregular heartbeat........GASPING FOR F***ING OXYGEN..........?????
Some serious pollution we got goin' here......."
We're quite lucky, even with one of the worst air polluters in HK located on our island - the Power Station burning up to 5 million tons of coal per year. Lamma still remains a haven for fresh air, with low pollution on most days. Just one more reason that some of us Lammaites dread the ferry ride into town, the "Big Smoke" as we call it, every morning...

Well, another warm, stunning, blue-sky fall day on Lamma and you can see for miles from our scenic hilltops; 360-degree panoramic views over many of HK's 235+ islands and the South China Sea. Hiking & biking weather, finally! Photos coming soon!

Oct 17: Lamma Off-Road Biking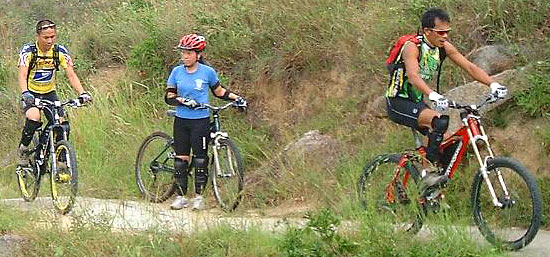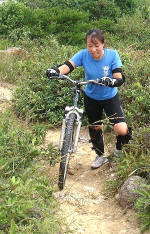 Yes, Lamma Island is a great place for mountain bikers and bike riders in general. Clean, fresh air (on most days), cooler weather, sunshine, scenic views and, best of all, NO CARS, the #1 enemy of all bikers! But you'll have to avoid angry pedestrians, some of them not exactly fond of sometimes careless, impatient, bell-ringing bikers...
If you avoid the main hiking route from Yung Shue Wan to Sok Kwu Wan on weekends, then you'll have all the concreted and natural paths of the island almost for yourself. Some paths might be a bit steep, but that only adds to the health & fitness challenge (see right).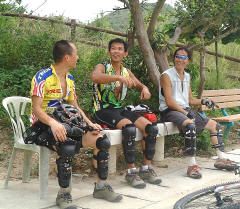 It takes a LOT of gear to be a fashionable
hip & well-protected mountain biker!
Click to zoom in, as usual.
(all photos by Sarah&Skippy)
You can rent bikes locally in the bike rent/repair shop in Sha Po Village on Back Street, on the way to the Hung Shing Yeh public beach, about 250 metres from

Main Street, close to the LAWC animal welfare shop.
After a hard day off-roading on the gentle hills of Lamma - don't forget your camera! - take a rest on the benches provided in many spots. The benches pictured on the left - just opposite our brand-new "Magical Spinney Thing" - have already become major pit stops for curious bikers & hikers alike.
Go off-road on Lamma! (photo gallery)

Oct 16: The Red Star Keeps Rising...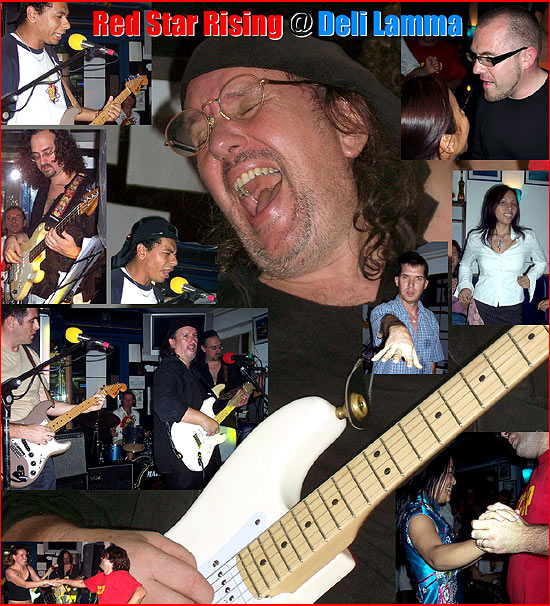 (465KB)
Katherine - RSR Fan, reviewer & photographer.
(She took all the photos above; photo montage by Lamma-Gung):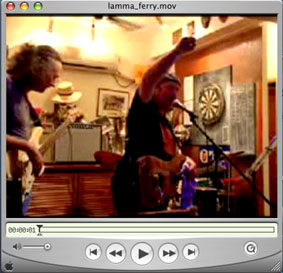 The Red Star kept rising yesterday, Saturday night, this time in the Deli Lamma. However, there was a moment of worry when the Deli was still virtually empty at 9.30pm. Where was the big Saturday night party crowd?
But soon after the man without black nail varnish and his band took to the stage the place was really rocking, and by midnight rolling in great party mood too. Good to see Steve belting it out again with guest comrade Hamada from Overadogma for Bambara and other numbers.
There were encores for what have quickly become old favourites – Man from Ma On Shan, Last Ferry to Lamma (click to play music video above, 8MB, downloaded 361 times so far) and Shopping Malls, but new stuff too. Shampoo the Dogs is one for those real men occasionally seen sheepishly leading five preened toy dogs down the Lamma High Street – what they do for love. Steve and Hugh have given us a great Lamma shaggy dog tale in this one!
Steve Cray - RSR co-founder & lead singer/guitarist
It was a stormin' night at the Deli on Saturday night . . . and great to be playing on home turf after The Venue, Amnesia and The Edge across the pond.
A great big thank you to the huge number of Lammaites who turned out to hear Red Star Rising do its thing. There were so many people who couldn't get in that Parksy relayed sound through the Deli's outside juke box speakers.
Pretty cool considering there was a big soccer match on, a festival in Lan Kwai Fong and Garoupa on a Rockit audition in town.
It was great to try out new numbers - Dollar Arcade and Shampoo The Dogs - and judging by the Deli reaction, they're now firmly in the RSR set.
After so many gigs in a short space of time we're now looking forward to a couple of quiet weeks . . . and a chance to finish some new songs.
Our next gig will probably be DickStock . . . can't wait!
P.S. to LG: Fantastic job on the montage, mate - really good work. It captures the atmosphere of the night perfectly. Thanks for that!!

Oct 15: Man Plans, God Laughs!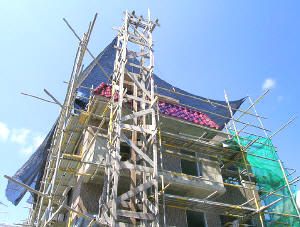 The most frequent enquiry I receive is about how to rent flats on Lamma, from one night holiday resorts to long-term rentals. As none of the property agents has a "for rent/sale" website, I forward these enquiries to our "Rent & Let" forum or to my two blog stories, giving detailed advice and contacts:
July 20: Looking for a Holiday Resort?
Apr 17: Lamma Property:
a Good Investment?
One of the people asking for my advice was Barbara. After successfully finding a flat via our "Rent & Let" forum in record time, I sweet-talked and cajoled her into sharing her flat-hunting experiences. Her observations definitely sound very familiar to most of us with recent local flat-hunting experiences:
Barbara - Lamma Resident-to-be (Dec 2005):
Raising the energies of flat-hunting
In Tobago last July, I reflected on my Hong Kong accommodation and lifestyle. A Trinidadian expression came to mind … 'Man plans, God laughs'. Living Hong Kong-side had fast turned out to be different from what I had expected. In a high rise flat looking into a college where accountancy students studied every night had dulled my senses, as well as restricted sitting on my sofa in my underwear. The concrete was lifeless and I was tired.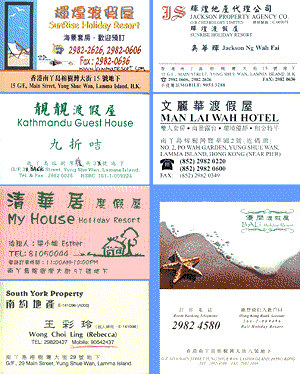 Time to move on. I wrote down my criteria for flat hunting. One: 'Must see the sea or be facing the sea'. Two: 'Rent must be around HK$6,000'. A tall order for Hong Kong. Armed with these intentions I headed for Stanley, Disco Bay and Lamma. Stanley offered me wonderful sea views at wonderfully high prices, whilst Delivery Bay offered me pushchair land. Then Lamma greeted me with buckets and buckets of rain…
Off the ferry … I was a person with a mission and an umbrella. First stop Man Fung. 'Sorry nothing with sea view. All flats now gone! Many people come in July. Will phone you' … Mmmm! Two weeks later nothing - he had not wanted to get his feet wet either. On to the next agent. Different story – lots of lovely sea view flats – look at them now? Up Tai Peng hill, puffing… "this one good!" But no sea view. Onto the next three properties… still raining… hey, where's the view? No this isn't a sea view! No, I don't want to put a deposit down now! Finally, sodden, I retreated to the Green Cottage and wondered where I was going wrong. A different approach was definitely needed. Maybe I just hadn't tuned into Lamma's energies?
Later, I re-write my requirements: "Special space wanted where I can drink a glass of wine and draw in the evening" and posted it on Lamma.com.hk's forum. Forget the middle man! Three hours later I get a phone call, "I think you should see this flat, it's a bit different". Later, I walk from the ferry ever hopeful. A beautiful view of the sea awaits me, sun is shining, breeze is blowing. I find a great flat. Thanks Lamma for enabling me to 'tune in'.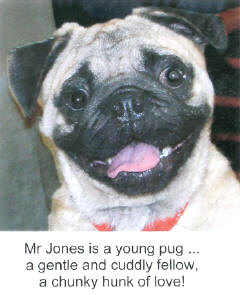 Oct 14: Mr Jones, the Chunky Hunk of Love
We haven't featured a "Lammaite of the Day" for quite some time. Your suggestions would be most welcome, but no need to restrict this honourary title to human animals only, let's include "companion animals"! Walking past Lamma's "Democracy Wall" at the ferry pier, Mr Jones was grinning at passersby from posters, part of another "Mass Wallpapering Operation" by LAP.
But who could resist such a pretty face, the face of "a gentle and cuddly fellow, a chunky hunk of love!". Such a great description, I wouldn't mind to be described like that by Lamma-Por! For more posters of "a little ball of energy" and other "gorgeous, little dogs", click on the posters below: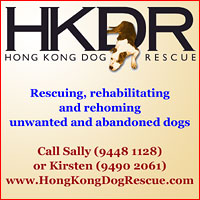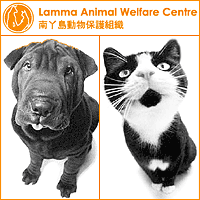 For fair balance, here are the contacts of the other 2 local pet adoption charities on Lamma. They all do great work and get free advertising in the Lamma-zine. These are their ads linking to their websites with all contact details.

Oct 13: Corruption Rots - Report It Now

Coming home from another afternoon of photo-taking and interviewing Lamma-zine Blog correspondents in the village, I found this big envelope pictured above in my letter box. So official-looking, hand-addressed, even a "Corruption Rots - Report It Now" warning printed on it! Closer inspection revealed it to be from the police force ("Serving the Community" printed on the envelope). Getting more and more worried, I tried to guess to which of my recent misdeeds, transgressions & general scofflawing this letter might refer to. Of course, I couldn't remember any! (The local police is actually reading this blog occasionally, so I better be careful not to admit to anything even slightly unlawful in writing...)
Well, anyway, opening the letter with jittery hands and sweaty palms, I didn't find any court summons, severe reprimand note or an invitation to jury duty, but just the photocopies below: another "Bicycle Clearance Operation at the Covered Area of Yung Shue Wan Pier", supposedly for publication in this blog and in our forums.
Be warned, all ye good citizens of Yung Shue Wan, remove your unicycles, bicycles, tricycles and quadcycles from this area by Tuesday night, Oct 18, or you might lose them! This very narrow covered area is getting so congested by vehicles these days, the crowds coming off the ferry can hardly get through anymore. They should be cleared out every weekly, IMHO. A parking area is planned around the bridge to the Library, but it might take a very long while to happen, if ever. Meanwhile, both sides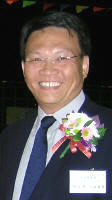 of the ferry pier should be made legal parking areas, except the covered area.
But I really feel kind of honoured and privileged that the local police force hand-delivers letters to my home! Probably some junior constable being dispatched to walk to my humble abode in the valley, to solicit some publicity for a police operation. Great! Even much better, last time they invited me & Lamma-Por onto a police launch for the Islands Anti-Burglary Roadshow opening in Cheung Chau, including a great visit & lunch in their Cheung Chau HQ, together with local dignitaries & politicians.
Keep the info flowing, Senior Inspector Wu (pictured right as one of the officials at last Sat's Mid-Autumn Carnival in the football pitch). This law-abiding, good-citizen community blog will continue gladly to publicise your local police matters.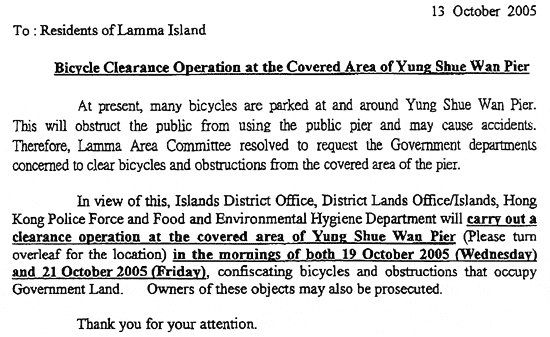 P.S. OK, after all these "law-abiding" assertions of mine above, I can now return to plan more misdeeds, transgressions & general scofflawing, hehehe...

Oct 12: Lamma Bands Update
Recently, I've been getting so many news, gig posters & photos from Lamma bands! The autumn musical season has truly begun, loads of gigs coming up in the next few days & weeks!
I define Lamma bands as amateur bands with at least one member living on Lamma. After always inserting all their gigs on- and off-island into our Lamma Events Calendar, I've put together a little table here.
It looks like most Lamma bands are auditioning for Rockit this year! Click on the band names for details. More reviews, photos & advance promos below the table.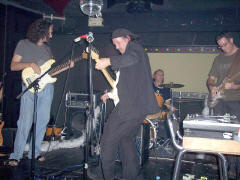 Oct 7: RSR @ Amnesia: Katherine:
"We mustn't forget Friday, when Lamma's guy with the black nail varnish and the rest of Red Star Rising made their bid for a slot in the Rockit Festival with a great mini-set at Amnesia.
We heard them out, but unfortunately some of us had to rush for the "second last ferry to Lamma" to see the other acts. Sorry, this correspondent is too old to stay the course... We wish Steve and co luck!"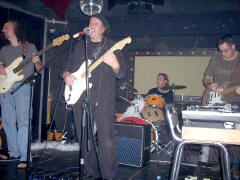 Steve Cray:
"This a big up and thanks to the Lammaites who turned out in force to back Red Star Rising on Friday night at Amnesia club in Hollywood Road. It was a Rockit audition - and we all enjoyed playing. The night had more of a party atmosphere than an audition one and for at least three members of the band it ended at 5am in the Deli Lamma. Yours truly included! We were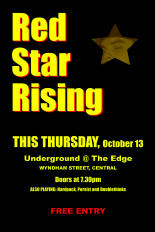 rehearsing the following day at 11.30am - ouch!
It was so great to see so many familiar faces in the audience, most of whom were up and dancing by the time we got to Walking With Devil, the end of our short five-number set.
There was a lot of energy, everyone had a great time, but we won't know whether we're picked to play Rockit until all the auditions are over in a few weeks' time. If we are, great. If we're not, well, it was a great night anyway.
For those who want to hear a longer set... we're playing the Underground at The Edge this Thursday, October 13. Doors at 7.30pm. Free Entry."
---
Oct 8: Yung Shue Wankers @ Island Bar: Katherine:
"Pix from a great evening with the Wankers in the Island Bar last night. The star of the show, though, was little Louie, age 8, with her Irish ballads on the violin. Congratulations Louie!" (All pix by Katherine, click to enlarge):
---
Oct 13: RSR @ The Edge: Review by Nick (The Bookman) Lovatt:
"Fresh from a near sell-out performance on the last ferry home to Yung Shue Wan, RSR arrive at Underground 13. Comprising Steve on fancy finger-plucking duties, Hugh W (from Shockin' Rockin' Donkeys) on drums. Sound is fleshed out by upstanding Nude members Kevin and Mark on bass and more guitars.
They started their set by announcing to the audience that it is John Peel Day! Playing post-mutant blues songs to songs with a Beefheartian edge of funk blues complete with grimaces from Steve, with interesting song titles such as "Disneyland meets Wanchai". At times, their music is moving into Quiksilver Messenger Service territory (remember Who Do you love?). John Peel would have approved."
Band bio from Underground website:
"RED STAR RISING started in the pub, as all good bands do, and was an amalgamation of musicians from other bands. Steve Cray (Overadogma) and Kevin Voigt (Nude) were having a pint or two and decided they would like to play live more often. Not only that, but both shared a passion for blues, a style that underlies even RSR's most melodic of tunes. Enter drummer Hugh from the Shockin' Rockin' Donkeys and guitarist Mark from Nude and you have the current line-up.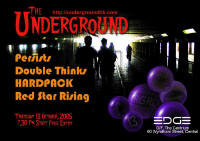 "Steve has since decided to concentrate on RSR, although he and Overadogma's Hamada remain good friends, with Hamada often joining RSR to play guitar on the song Lizard In A Jar and perform one of his own numbers with the band.
"RSR first started rehearsing in July this year but have come a long way since then. With a few months of Lamma Island gigs behind them now, the band have a pretty full gig diary throughout October and November and are set to record a single, "Last Ferry To Lamma".
"All of RSR's songs are original. You can view a live music video of "Last Ferry To Lamma.
(Editor: downloaded over 350 times from this website so far!)"
---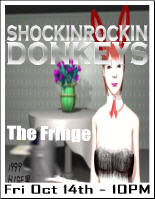 Oct 14: Shockin' Rockin' Donkeys @ The Fringe:
"Shockin' Rockin' Donkeys playing coming FRIDAY 14 OCT 10:30pm at The Fringe Club, Central (HK$80 includes drink). Bigger is better so get ready for huge, stomping sounds (not suitable for children)."
---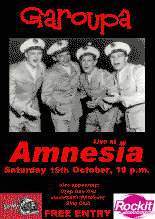 Oct 15: Garoupa @ Amnesia: Gary Hill:
"Greetings, lovely people,
"'Tis time once again to strap on your Alsatian and get ready to bust a move to the smooth, velvety tones of the lads from Garoupa. Join the boys this Saturday (the 15th, 10 p.m.), at Amnesia* as they gurn and spazz about in a valiant attempt to be allowed to grace the stage at Hong Kong's very own Rockit Festival (Victoria Park, 12th & 13th November).
"There's no cover charge, and therefore no excuses. Tell your family, alert your neighbours, bring your friends (especially if they're saucy) cos nobody, that's right, nobody, wants to miss this show.
"Let's be 'aving ya."
---
Oct 15: RSR @ Deli Lamma: Steve Cray: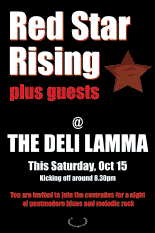 "It's great to be playing Lamma again, our first gig here since our debut at The Island Bar on Sep 3. Since then we seem to have been all over the place, playing Hong Kong side - The Venue, Amnesia and The Edge etc.
"The poster says: You are invited to join the comrades for a night of postmodern blues and melodic rock... but it should perhaps add, and a good old-fashioned Deli party afterwards. Probably not a good idea to have anything important to do on Sunday morning! After the Amnesia gig some of us got to bed way past 6am.
"Guests so far include Harry and John from the Yung Shue Wankers and Hamada from Overadogma, although there is talk of Barney from Nude sitting in on percussion if he's around . . . but who knows who else might join in. Red Star Rising is playing at home, which means there's a signal 8 party warning in force!"
---
Send me info, posters, photos and promos for Lamma bands!

Oct 11, Chung Yeung Festival: Domesticated Dragonfly
The main problem with shooting Lamma's wildlife is that most of them like to live outdoors, preventing heat / dirt / humidity-averse, patience-challenged individuals like myself to get close to them during the spring/summer/autumn months.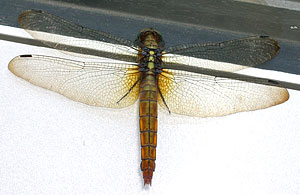 I've finally found a solution to this problem: shoot photos indoors!
It takes a bit of luck, though. Till yesterday, my hunt for interesting indoors wildlife, like dragonflies, has been extremely hampered by lack of available & willing animal models. But then I was strolling through the Yung Shue Wan Shopping Mall (also known as ifc mall to non-Lammaites), stopping briefly to admire the sea view from outside Starbucks Coffee.
I noticed a dragonfly sitting on top of a crossbeam of the floor-to-ceiling windows, barely moving. It was resting between repeated frenzied attempts to fly through the glass to freedom, which it repeated every several minutes. Opportunist that I am, I got my camera out (always with me wherever I go, on or off-island) and started shooting macro photos. The dragonfly seemed too exhausted to escape from my camera lens just a few inches away.
Dragonfly inside ifc mall, resting between attempts
to fly through the window to freedom. Click to
enlarge (most photos in this Blog can be enlarged.)
Suitable to my posh surroundings, I was even dressed in a black suit at the time - returning from my occasional court interpreting part-time job - dressed totally un-Lamma-like, unlike Guy in his "Lone Hunter" camouflage outfit shooting all his amazing & beautiful dragonflies in our Flora & Fauna forum.
Some people gave me funny looks while I was crouching at the window, taking quite a series of photos to come up with these two photos. This is the first INDOOR, domesticated dragonfly I've ever shot and my only acceptable dragonfly photos this year so far. It might be a while till I'll be so lucky again. I was actually considering to release the dragonfly into the wilds of Central, but how to catch a dragonfly without a net or damaging such a fragile creature close to the end of its very short natural life cycle (Oct 10)?
But the weather is getting so much cooler and drier now - simply beautiful. Maybe it's safe now to dare venturing

outside my air-conditioned home office into the wild blue yonder of Lamma's rolling hills and burbling brooks to find some non-domesticated dragonflies and other shy members of the amazingly diverse local Flora & Fauna for some close-up portraits. Stay tuned and post your own best shots in our forum!

Oct 10: Official UFO Landing Site?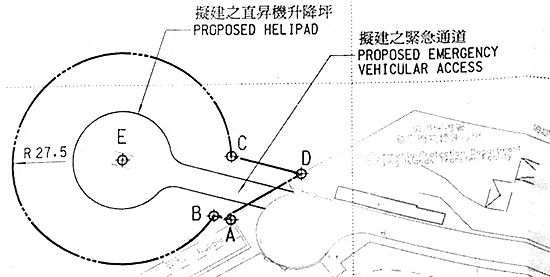 Forum member or Blog nickname
Suggested helipad nickname
Lammadonna
Premanent Helicopter Site
Chuckm
Preeminent Premanent Helipad
Magical Spinney Thing Landing Site (now there's an
ominous thought)
Spinney's Landing (sounds like a waterfront pub/
restaurant)

Hippie Haven Heliport

Lamma-Gung
Official UFO Landing Site
Soundbydesign
Avalon
Miss Piggy
The Bug Bite
The Lamma Squat Spot (where flying birds come to
drop their load...)
Casanova
Heli Pier (to go with the Felly Pier)

The Horizontal Wind Turbine

Sikorsky Park
Hunter's Heliport (location of former Hunter's Beach)
Lam Ma Ma
Chopper Board
Down the Deli
YSWHLS (Yung Shue Wan Helicopter Landing Site,
there's a tongue twister!)
Blackhawk Down (or is that just tempting fate or
whatever)
Sneaky-O
Drop-a-chopper
Alan
Lamma Grazier Union Memorial Helipad

Yu Lai Heli-Fan

Fortune Chan
Fanny Pad
Guy Miller
The Dropsy Zone
Twat Pad
Big Bad Bill

Yu Lai Fan Helipad (I think something simple and
dignified, and giving credit to the hard work behind the
scenes would be appropriate.)
Add your own suggestion and vote in our nickname poll: click here!

Oct 9: Mid-Autumn Carnival
Delayed twice, three weeks late, the yearly big local Mid-Autumn Carnival in the YSW football pitch has finally been taking place yesterday, Sat night, Oct 8. Here are some photos of this almost Gwailo-free event with hundreds of locals and their children. Many children were performing song & dance & Kung Fu and winning prizes and raising money for charity with their pretty, most;y hand-made Mid-Autumn lanterns.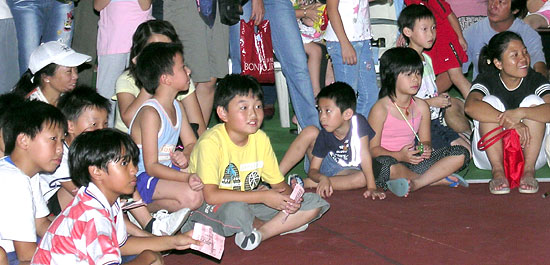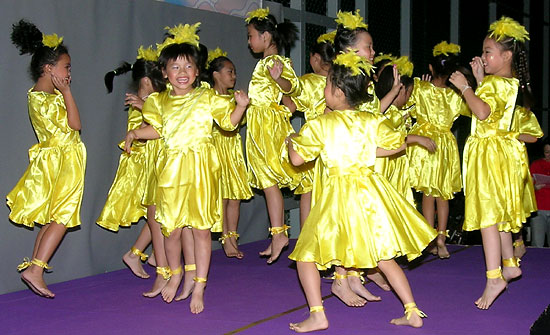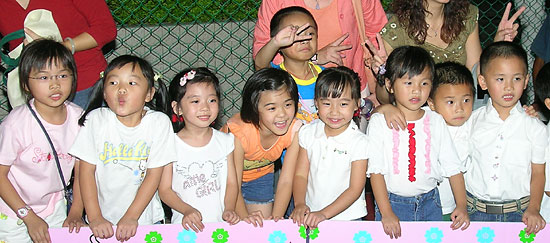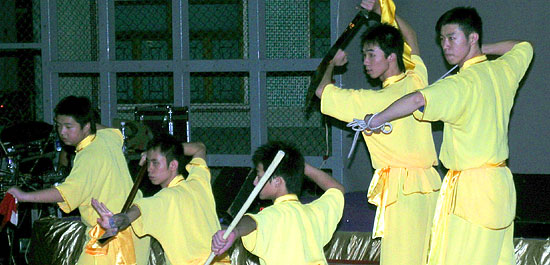 For more photos and a lot more lanterns, click here or on any photo above.

Oct 8: Veggie Pizza, Anyone?
Official Court Glutton - Restaurant Review #3:
Pizza.
One word...so many memories and flavours.
I do not think that it is possible to be a glutton and not be a pizza hound.
I simply cannot say "No!" to a pizza.
Though, since living out here, I have almost learnt.
Thousand Island salad dressing and corn on a pizza? Ugh......
Processed cheese slices baked until plast-icky (Mainland China). Emphatic "No!"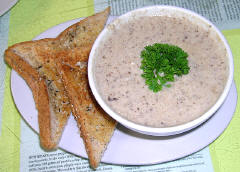 Mushroom & cashew nut
soup
So yesterday Lamma-Gung and I decided to share the veggie pizza at The Bookworm in the village.
I arrived late, so Lamma-Gung ordered a mushroom soup and mango Lassi before I got there.
I observed his total focus and silence as he consumed his.
I decided this was a good thing and ordered one for myself.
Good choice, actually, mushrooms and finely ground cashew nuts made for a smooth, tasty starter.( HK$25).

Veggie pizza w/mushrooms,
olives & bell peppers.
(L-G: See the Glutton's greedy fingers at
the top - he could hardly restrain himself
from tucking in right away!)
Main event...veggie pizza...no ham, no bacon, no salami, no meat.
Novel concept for me.
BUT, major consolation....cheese!
Lots of gooey, creamy, appetite-suppressing, smile-inducing cheese.
2 kinds even!
Unlike some other places which have a miser approach to applying the cheese, this had something I could "really sink my teeth into!"
The crust was not hard, not soggy. Seemed to be made not with the usual refined flour, but something with body. Nice.
Tomato sauce not strong or tangy, not drenching the pizza either. Could use a bit more spice, though...
Olives and mushrooms were just right.
Red and green peppers were a bit bland, being freshly cut. If pickled sweet peppers were used it could be outstanding, especially with some pineapple to give a sweet/spicy balance......
I was very pleased with the pizza, Lamma-Gung happily finished his half of the pizza. He did not have to restrain himself from licking the plate as during the cheesecake and tiramisu test...maybe.
HK$45 for the pizza + $15 for 3 options = a $60 pizza.
As I wrote this report 8 hours later, still no interest in a snack.
Obviously a solid and satisfying pizza that deserves a "thumbs up" and future re-orders.
P.S. The Bookworm is not a Lamma-zine/Blog advertiser anymore (new management).

Oct 7: Grazier Union? On Lamma?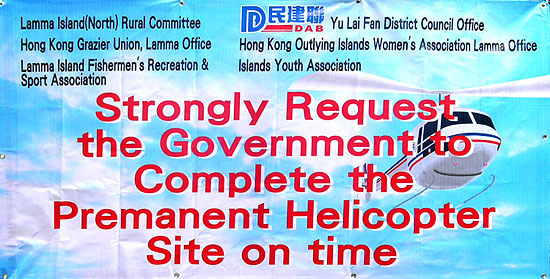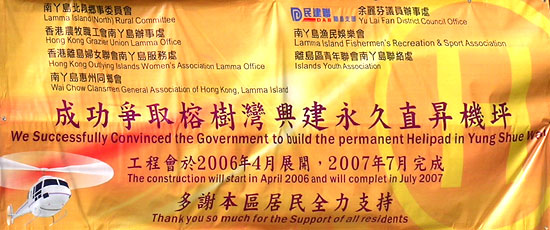 You might have seen these two big banners put up by Lammadonna's office. The first one from a few months ago, as part of a concerted effort to push the Govt. to build a premanent, eh, sorry, permanent helipad in YSW.
The second banner is up right now at the bridge from the ferry pier to the Library, claiming credit for successfully convincing the Govt. to finally start building the helipad next April. The construction will complet, eh, complete in July 2007. A fine success - if it really goes ahead, finally - well worth taking credit for, as it's high-profile, high-face-value and widely popular.
Everyone loves a winner, so it looks like everybody is joining in to claim credit on the banner besides Lammadonna, even the "Wai Chow Clansmen General Association" who wasn't even mentioned on the first banner. Clansmen?
But the most intriguing and mysterious on the list of credit-claimants must be the "Hong Kong Grazier Union Lamma Office". Grazier Union? On Lamma?
For the ones who, like me, did have to look up the exotic word "grazier", Googling "define:grazier" results in "a large-scale farmer who grazes cattle or sheep for market". Wow, do we've got any of those on Lamma? There seem to be even enough of them here to form a union? Wonders Never Cease on our Fantasy Island, part of the City of Life...
Our Flora & Fauna moderator, Zep - under whose jurisdiction this big local mystery seems to fall as it concerns sheep and cattle - writes:
"Lamma Grazier Union?? Jeez. Let's not get left behind in claiming credit. Let's hear it for the:
Lamma Opal Miners Association
Lamma Aerospace Engineers
Lamma Ostrich Farm employees
Lamma High Court
Lamma Sumo Wrestlers Association
Lamma Hula Dancers


Lamma Big Game Safaris Inc
Lamma Dog Sled Rescue Team
Anybody I've missed out?"
---
By the way, we're still looking for a good Lamma-style nickname for the future permanent helipad. My own suggestion is "Lamma's Official UFO Landing Site", but I'm sure you can come up with a better nickname! Email me! Sorry, no free heli flight over Lamma for the best name. But the winner could apply to put up a big banner claiming credit for his winning helipad nickname...
DISCLAIMER: This article is not intended to be critical of the Grazier Union in any way and no disrespect or offense is intended.
I know absolutely nothing about the Grazier Union, but I'm sure it is a fine & important organisation, a pillar of the local community doing many good things for their members.
If they - or any other local organisation of similar importance - would like to be featured for free on this website, please contact me via Ms Yu Lai Fan's District Council office. Thank you!

Oct 6: Lamma Fun Day - Stalls & Bric-a-Brac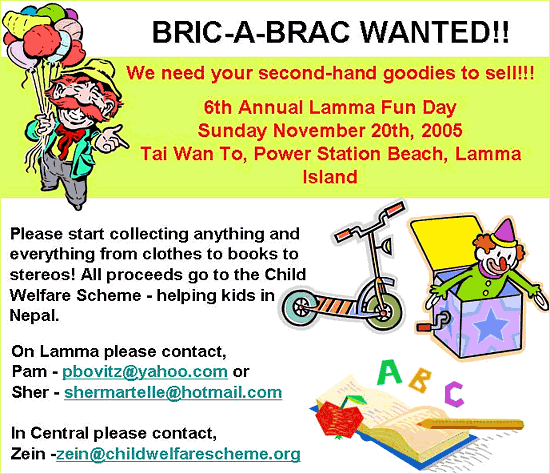 Click on the email addresses above to contact these ladies directly! You can also view & print the entire bric-a-brac poster by clicking here.
---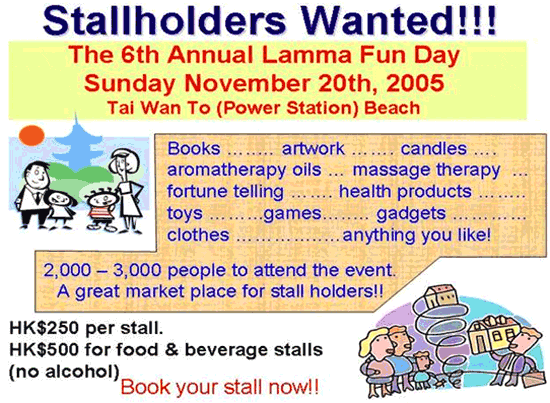 Make a nice profit by selling your stuff or services at the Lamma Fun Day!
For more info, please email Li, or call her at 9539 5602.
Pick up an application form at the Green Cottage, Deli Lamma or The Bookworm. Or view & print the form right now (Word).
P.S. I, Lamma-Gung, am doing the official Internet marketing & promotion for the Lamma Fun Day, so you'll soon hear A GREAT LOT more about it. Beware!

Oct 5: Police Maps for North Lamma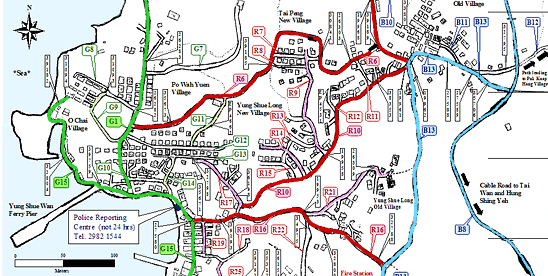 Joe WU On-yin - Senior Inspector & Post Commander,
Lamma & Peng Chau Police Post, Hung Shing Yeh
We are using a set of village pathway maps for our policing matters.
This would be very useful when dealing with not Lamma-based persons who are less familiar with the island.
The assumption that everyone knows where he should go has been proven to be inaccurate. So many times in the past that we need to create some greater awareness of what we have already designed and wish to have implemented.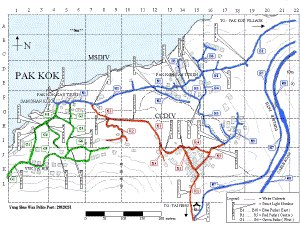 Residents are encouraged, of course, to use the map so that they can tell police exactly how to get to their house and where they can be found, e.g. "My house is at the junction of path R6 and path R7, at square 12R, in Tai Peng New Village, YSW."
Residents will have to be reminded that the paths are not physically numbered as per the map, but that they can check if they are on the correct path by looking at the lamp-post numbers which are shown on the maps (in a vertical column), and by simple orientation.
Please find attached both English and Chinese pathway maps for publishing.
YSW English: map I, map II; Chinese: map I, map II
Pak Kok English: map I, map II (click to view & print)
The first thing to make a report to police is the street name and house number if there is one.
Residents can always make a note of their nearby lamp post number at a convenient time and mark it somewhere near to the phone. So that they can always refer that sort of information to police in addition to the house number.
I have attended a scene at night-time a few months ago.
The informant dialed 999 and made his address not clear, but when I phoned up he said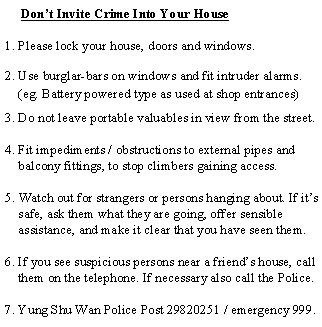 it's near to the tennis court in Tai Yuen. You see, some landmark can always help. It was a giving-birth case. The baby came out before police arrival, but the baby was born healthy and the mother was safe.
Alternatively, get the map printed out and stick a copy up on your wall and mark your house on the map.
There are so many ways to make reference to the maps!
When seeing a suspect on one of these pathways near to your house, you can use the vertical and horizontal reference number/alphabets to form up a group of reference number. We will make use of this information to deploy our men well and early in case of any incident.

Oct 4: The Best of September - From Our Contributors
It's my great honour & pleasure to present the very best Lamma-zine Blog stories of last month, thanks to a large number of current and former Lammaites who again submitted quotes, stories & photos. Many thanks to all of them, you're the best! Without your on-going, wonderful help, this Blog couldn't survive and hope to strive constantly to become better, more informative & more entertaining!
If you've missed some of these best stories, just click on the story titles below!
Contributors' Honours List - Sep 2005

Contributor

Story title

Date

Colette

Sep 1

Big Sausage, Steve Cray, Katherine Forestier, Bob Davis

Sep 4

Official Court Glutton

Sep 5

NUDE, bbChris

Sep 7

Mr DickStock

Sep 9

Steve Cray

Sep 11

minibeast

Sep 12

Michael Grimes

Sep 14

John Palmer, Steve Cray, Santi Sunarmah

Sep 15

Cristobal de Lamma

Sep 16

Hongkong Electric

Sep 17

soundbydesign

Sep 18

Guy Miller

Sep 19

Sonya

Sep 21

Hongkong Electric

Sep 22

HKKF

Sep 23

Michael Grimes

Sep 25

Oliver, Pit, Russell Johnson, zep, Yogesh

Sep 28

Filthy Mike, Roz Keep

Sep 29

IMPAKT

Sep 30

Oct 3: Chinese Forum Breaks the 3,000 Mark
Samson - "Official Court Moderator of All Chinese Forums":

Yeah, ye all Lammaites, it's been another busy month in the Chinese forum! Obvious hot topics of discussion were the Mid-Autumn Festival and the overnight ferry trial, but there were many more!
M3K: The Chinese forum now has over 3,000 messages, with big thanks to the increasing number of Chinese contributors! Read the announcement here. As for M3K (Message #3,000), the Official Court Moderator of All Chinese Forums wrote, "I finally saw the Disney fireworks on my way back to Lamma on the 8:45pm ferry! It's pretty darn exciting!" Read more...

The CLAW-SSIFIEDS: The feline-loving e has started a series of classifieds on the Chinese forum to promote the specials deals available at the Lamma Animal Welfare Centre (LAWC, or CLAW) Thrift Shop. Check out this thread and take advantage of the great LAWC bargains!
Read more...

Overnighters Are a Go: Despite the many twist and turns, the overnight ferries trial has finally been launched! Again, the news broke in the Chinese forum. We even have a 2:30am ferry review! Read more...

It's Up and Spinning: Of course, referring to Hong Kong's first-ever wind power generator! Some of the Chinese members are also hoping that the spinning windmill will bring good luck! Check out the photos of the windmill and related news clippings. (Photo by Ray). Read more...

There's a Red House (or Two) Over Yonder: The discussion began in early-August, as two new red houses were built in Sha Po. The first one is a single-level house – we are certain it's a holiday house and not a church, as rumoured, and interested parties can rent it at Jackson's – and the other has black tile roofing. After two months, we still don't know what this house is for! Perhaps the well-informed Blog-readers can help out? Read more...

Moon-Gazing in Mid-Autumn: While the members have shared with each other their plans for Mid-Autumn, many activities were held at bay due to the bad weather – one Mid-Autumn Festival Celebratory Function will take place this coming Saturday night at the soccer pitch, as it has been postponed twice! Read more...


Celebs-on-Lamma-rama: After almost taking over the TV airwaves in August, Lamma was again the gala point of a few local celebrities earlier in September! Sighted celebs include Tang Shui Man, Lam Fung, Ng Mei Hang, Cheng Ka Wing and Hon Ma Lei. Read more...

We are the Chinese Fighters – We Come in Peace: The Chinese forum was briefed about the secretive Fight Club, and the FC Moderator, Granola Eater, was introduced. This is the response from one of the Chinese members after she viewed Granola Eater's charming avatar, "Waaah! Help!! I'm going to have a nightmare!" (No offense, Granola!)
Read more...
That's another update from the Chinese forum! Before wrapping it up, big thanks to Lamma-Gung and Lamma-Por for their help during the first week of September as the Official Court Moderator of All Chinese Forums was traveling. Cheers!

Oct 2: First Prize for Anonymous_Guy!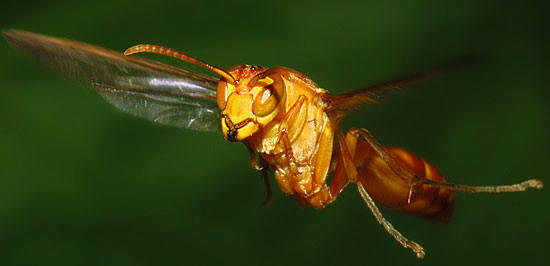 Lamma's Wildlife Photographer Extraordinaire has won first prize in a photography exhibition in the worldwide Bird Forum with the photo above, titled "Hornet Incoming"!
There were 118 votes cast in this competition in July 2005 and he attracted 25 of those, while the runner-up attracted just 10 votes. Some feedback from Bird Forum members: "a real eye-catching shot", "staggering picture", "a stunning image, a worthy winner".
Our modest Anonymous_Guy replied in the Bird Forum:
"Thanks all.... have been on tenterhooks all week, last time I won anything was a pub raffle (3 pork pies and a roast chicken) 30 years ago, & to win this has been especially gratifying as I got my first camera less than a year ago.
I'd like to thank not only those that voted for me, but everybody involved in every aspect of the competition...., it's been fun. A special mention should go to all the other entrants, not only those that made the cut, but all of them. In my eyes they are all winners."
Here's his explanation on how to shoot a prize-winning photo like this:
"Sit for a hundred hours with a rotting banana, with 50 hornets buzzing round yr head & tangling in yr hair, set the 60mm lens at minimum focal distance (about 4" from the end of the lens [I think]), set the speed at 500 & the f-stop at 28-40 (depending on ambient light) with fill-in flash & wait for one to fill the frame.
For other pics (including what I think is the Asian Killer Hornet responsible for 40+ deaths in Japan last year) - can be seen here.

So as you see - blind luck.
BTW - there is a disclaimer for injury liability through the use of this method."
For more hornets in flight and other stunning shots, check out our own forums!

Oct 1, National Day: Record Website Traffic!
Summary by Month - Webalizer 2.01 Usage Statistics
Month:
Sep 2005
Daily Average
Monthly Totals

Hits

Pages

Visits

KBytes

Visits

Pages

Hits

Forums
17,075
2,937
696
6,921,509
20,905
88,133
512,257
Lamma-
zine
27,290
1,789
419
11,411,355
12,571
53,699
818,711
Total
44,365
4,726
1,115
18,332,864
33,476
141,832
1,330,968
September was a record month in every respect! We've had the highest-ever figures in the 3-year history of this website for all key web traffic statistics:
Monthly hits (1.33 million!), pages viewed (142K), number of visitors (33K) and amount of data transferred to browsers (an amazing 18.3GB)!
239 of these downloads were the "Last Ferry to Lamma" music video by Red Star Rising, taking up 1.33GB of transferred data all by itself...
P.S. My apologies for this little geeky article, but Cybergeeks/Webmasters like myself get excited by these figures, especially constantly-rising record figures. Good for our fragile egos...