Last day of the year, time for reviews and reflection on the past year, reminiscing on all my minor mistakes and major gaffes. But, as I'm always trying to be optimistic and have a positive attitude, here's my personal selection of best blog stories of 2005. This year, the readership of this blog has more than doubled, the advertising revenue increased a lot and this daily publication has become self-supporting. Many thanks to all of you readers, supporters and contributors!
There were quite a few good blog stories this year, I hope, so I had to split the list into three parts. Have a look below and click on the titles to read them. Please let me know if you disagree with my choices and if your own favourites have been left out. I might add them into this list as well!
My own wishes for 2006? Better blog stories, more contributors, more advertisers!
You might have heard the announcement today that the HK Govt. is planning to change the guaranteed rate of return for the power companies from 13.5% to below 10% on average in 2008 (end of current "Scheme of Control"). This could potentially reduce the cost of power to us consumers by over 10%.
Dan Peterson's brother Vyrn and sister-in-law Betty from Canada visited Lamma on their first-ever trip to Asia in November and December this year. Here's an excerpt from their follow-up email:
Christmas Day => Turkey Feast => Overstuffing Oneself => Stressed-Out Stomach => Nightmares => Artworks.
The creative inspiration behind my annual series of Christmas computer graphics has finally been revealed!
From this single photo, all the images below and above emerged after a few hours of digital experimentation the very next day. Together with the Dec 4 lamp graphics, I might soon have enough for my 2006 "Seasons of Light" calendar, to be published here on Jan 1st!
And I still have enough turkey left over for more inspiration...
For an idea of what to expect this afternoon, see the photo gallery of the last similar event - Mid-Autumn Carnival - including Lamma's famous "military arts".
A few people have been complaining about HSBC recently, mostly about the long queues because of their alternate-days-only opening hours. One local celebrity has even been seen storming out of HSBC recently, shouting "You're all corrupt & incompetent!", because they wanted to charge him - not being an account-holder - $100 for changing money, 11% of the total amount. That was a bit harsh of him and not in the true Christmas spirit. Tsstsss...
Personally, I've rarely had anything but very good experiences with the staff in our HSBC branch. I consider them having one of the best & friendliest services of any bank branch I know in HK. But some of The Bank's policies definitely suck, for example:
Maybe I better stop now before I also start ranting & complaining about HSBC, like quite a few other people these days...
Well, my ranting above was actually just a "short" introduction for this story. The title is a word play on
Don't laugh, it's really that daft, not even a charity angle involved! Of course, Lamma-Por and I were daft enough to actually do this. We fully expect all our wishes to come true! I'm expecting a long, happy & healthy life for Lamma-Por and another doubling of the Lamma-zine readership next year, like this year! Not so sure about the feasibility of Lamma-Por's wish for World Peace...
If these wishes won't come true, I'll be lodging a formal complaint against HSBC, maybe even sue them for non-fulfillment of both our wishes! As a multiple offender myself of dressing up as company Santa Claus, I should know...
Click on the animated Christmas e-card from HK Electric above to view the entire Flash animation. It was submitted by an Alert Reader who commented, "Amazing how the wind turbine has changed their image!"
This is by far the most elaborate and sophisticated Lamma e-card I've ever seen, including a Lamma flyover! There's even a bird (and lightning bugs?) flying towards the Magical Spinney Thing!? View it - be patient! - be duly impressed and then have a smiling & hearty belly laugh, like Santa Claus. Ho, ho, ho!
So when will the actual pole of the wind turbine be decked out in holly and mistletoe, like above? That would be a great photo opportunity!
Walking through Yung Shue Wan, it's finally starting to look a little like Christmas.
Moving from Europe to Hong Kong just before Christmas 18 years ago, Christmas HK-style was a big disappointment to me on many levels. Basically an empty & meaningless consumer frenzy. It's gotten worse over the years and we stopped celebrating Christmas altogether. Bah, humbug!
But here on Lamma, Christmas is so much more of a community event, full of fun & charitable events, family-oriented & children-focused, arts & crafts-inspired, retaining a cheerful & often irreverent Christmas spirit. See the posters (click to enlarge) and Lamma Events Calendar below to demonstrate what I mean so much better than my own feeble words:
| | | | | | | | |
| --- | --- | --- | --- | --- | --- | --- | --- |
| | Sun | Mon | Tue | Wed | Thu | Fri | Sat |
| Dec | 18 | 19 | 20 | 21 | 22 | 23 | 24 |

Dec 18: The Great Green Christmas Treasure Hunt Buffet Lunch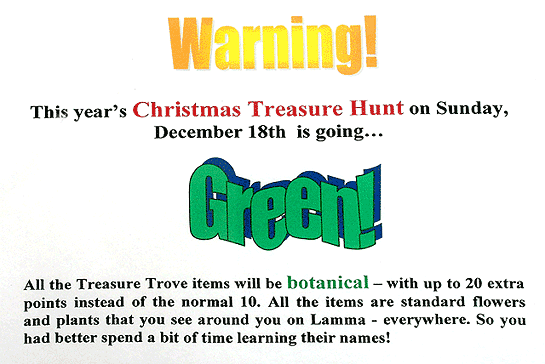 For a photo gallery of last year's Treasure Hunt, click on the photo below:


Dec 17: 'Lamma X'mas Kids 2005'
Rie Wada - Mother of violin child prodigy Louie: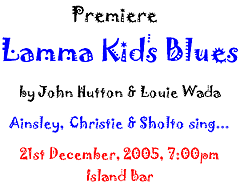 Many people still remember Louie the Violinist prodigy, a student of the Academy of Performing Arts playing Christmas music with her mum and Big Uncle "Fiddler Dave" for Operation Santa Claus last Christmas.
(Many thanks to the many people who helped us to sing together last year!)
This year, first we'll sing 2 songs (Lamma Kid's Blues - see right - and Silent Night) at the Island Bar, then start walking & singing thru the village (for Operation Santa Claus).
The choir will then return to the Island Bar for a full choir concert, where the kids will sing 10-11 Christmas Carols, most of the classics, accompanied by all the musicians below. Songbook available from Rie or Lamma-Gung.
Conductor - Sue Neilson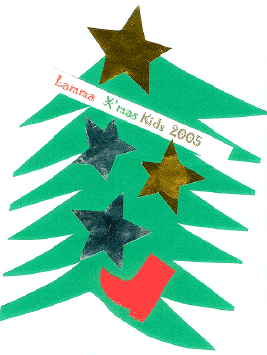 Choir coordinator - Elizabeth Gould
Alastair - Rudolf the Red-nosed Reindeer
Mike Chegwin - PA
Small musicians:
Louie Wada - 3/4 violin, 8 years old
Gwenllian Spink - 3/4 Cello, 9 years old
Grown-up musicians:
(Thanks for playing for kids!)
John Hutton - Guitar
David May - Fiddle
Sergio Monteforte - Guitar
Mr. B - Saxophone
Louie's mum - piano and flute
Matt Steel - Keyboard, percussion
The Date: Dec 21st, 2005, 7pm
The Venue: Island Bar

Dec 16: 'The Chef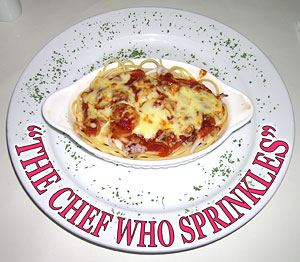 Who Sprinkles'
Walking through Yung Shue Wan's High Street with open & curious eyes, you always see something new, interesting & often hilarious.
Choosing a different place for lunch on many days, Lamma-Por and I especially take note of the daily specials and food displays outside the wide range of restaurants along High Street.
The daily set menus outside "Beer & Babble" have dried herbs sprinkled all over them. "The Chef Who Sprinkles" is back - as Lamma-Por dubbed him spontaneously: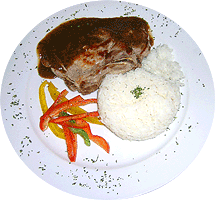 He has returned a while ago, replacing the formerly excellent cuisine of master chef Ramond. Remember, I was heaping outrageous praise upon Ramond a few months ago? The food is back down to "OK" nowadays under this new chef. I created a little logo for him above, like a nice big button.
But don't try to cool down your hot food by blowing at it - like my tasty baked seafood spaghettis above. This would create a dust storm of dried herb sprinkles - as Lamma-Por found out, unfortunately - and this could start a messy food fight, theoretically speaking...

Dec 15: Talking to Elephants?
Lammaites are a well-travelled lot, but instead of being package touroids they get into all kinds of exciting adventures. But few could be considered more unusual and exotic than Lammaite Su's experiences in Thailand. She's been a pretty famous "Pet Psychic" and even a "Horse Whisperer" for the Jockey Club before, but she's stopped doing this now and focuses her energies on exploring new areas...
She went to Thailand to talk to elephants, making one of her childhood dreams come true, according to the fascinating HolisticHongKong website & e-zine, created & run by Lammaites Peter & Sleiman. It's also featuring some of the beautiful and multi-faceted artworks of Lammaite Annie Knibb, our next "Lamma-zine Artist of the Month."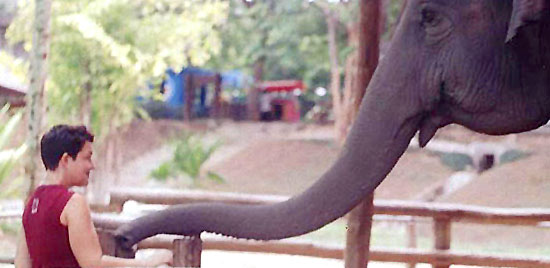 Click on the photo above (courtesy of HolisticHongKong) for the full verbatim transcript of the talk. Did you know that "Elephants sound as if they are laughing and singing at the same time"? They also profess to love us humans and want to "thank us for sharing the joys of the planet with us." Wow!
I love elephants as well, but when I was riding one in Phuket a few years back, I couldn't hear it laugh or sing or say a word... and I almost fell off a few times...

Dec 14: Annoyingly Happy Santa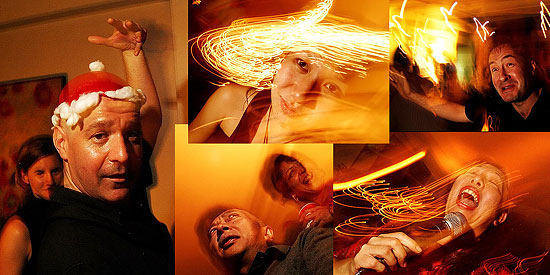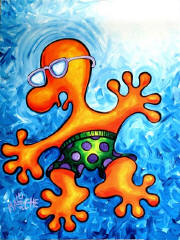 Looking at his new photos above, our Official Court Artist Andy is back in fine form, having fully recovered from his cancer and all the zillions of treatments, including the successful chemo therapy. Wonderful news!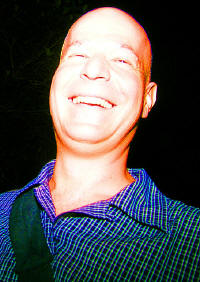 Read the happy ending of his "The Cancer Diaries". Celebrating Christmas early, he's also started painting again, calling his latest work "Annoyingly Happy Floating Oeme", see right. This self-portrait (?) seems to describes his mental state these days, with a perma-grin affixed to his face, see left.
I took this "Laughing Buddha" photo on the left during DickStock 2005. "I've survived cancer, so nothing can annoy me anymore!", the happy guy seems to be thinking. He's damn right!

Dec 13: Lammaites & Visitors Enjoying a Fun Day
The "official" Lamma Fun Day photos have all just gone online in the photo galleries of www.LammaFunDay.com. 5 pages filled with hundreds of photos from Allan, Lucy & Sonya. Find yourself and your friends pictured! Click on any photo below to go straight to the photo gallery page featuring it:
The record fundraising figures have just been published here.

Dec 12: Korean BBQ @ Deli Lamma @ Sunset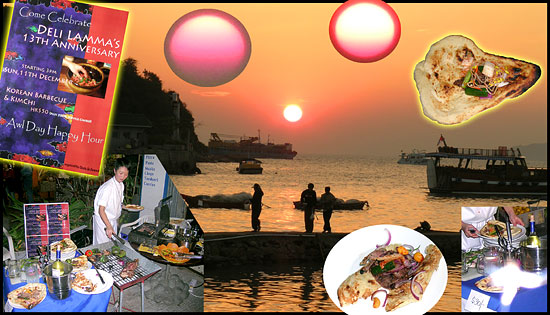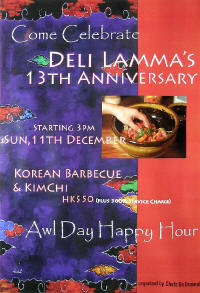 Dec 11: 500% Service Charge!
Most restaurants do not have any service charge in Yung Shue Wan - at least not for regular customers during the week - so I was quite amazed to come across this absolute record 500% service charge recently! And it was even in print! Click on the poster on the right, if you don't believe me!
Well, double-checking my facts as usual, by asking Prafull ("Praf the Fool") revealed it to be a little joke, as expected, for the Deli Lamma's 13th anniversary! Wow, 13 already! The Deli's turning into a teenager! I thought that teenage behaviour has always been permitted in there, even encouraged, especially after midnight?
Wasn't it just yesterday that we celebrated the 10th anniversary in this place which serves the best non-Chinese food in all of Yung Shue Wan, in my humble opinion! A Korean BBQ - a first for Lamma, I think - at just $50 (and NO service charge!)! What are you waiting for! See you there on Sunday afternoon, after 3pm! And if I see you there, your mugshot might grace this home page tomorrow! But don't worry, I will NOT be there after midnight to document any wild teenage behaviours...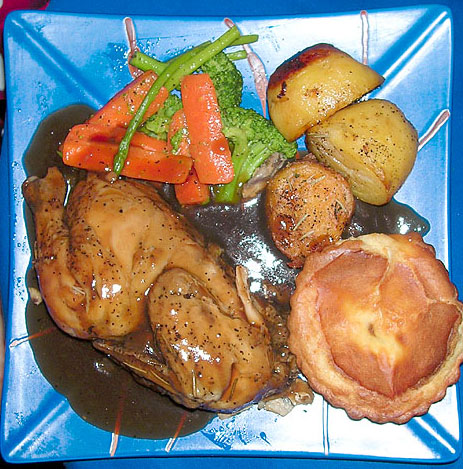 If you're still hungry after the Korean BBQ, try one of the quite new "Debbie's Sunday Roasts" in the Deli Lamma!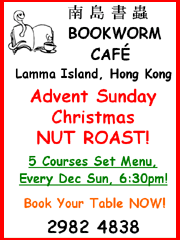 Or try the longstanding weekly Sunday Roasts in Diesel's ==>
Or the latest addition to Sunday roasts in Yung Shue Wan: Vegetarian Nut Roast in the Bookworm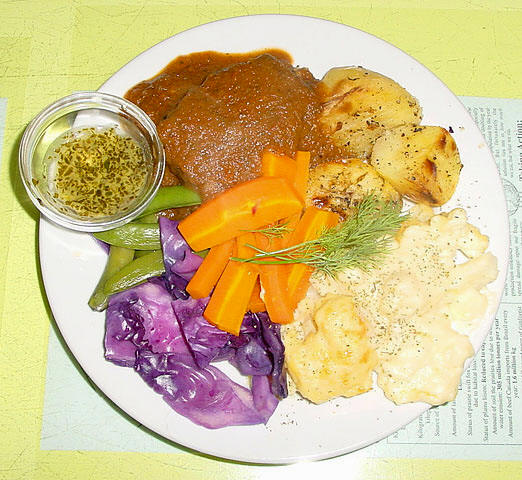 Cafe, only available on the 4 pre-X'mas Sundays (Advent) every year, kind of a popular Lamma tradition. Click the ad on the left for details. Great value for a 5-course set meal! Main course ==>
P.S. The 3 restaurants mentioned above are Lamma-zine advertisers and their roasts are definitely worth trying! I personally did and luv'em all!

Dec 10: Superb Promotional Tomfoolery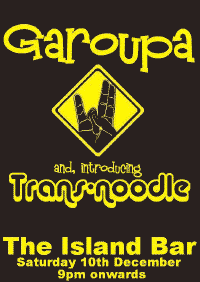 Another new Lamma band is making its debut tonite in the Island Bar, together with Lamma oldies but goodies Garoupa: Trans•noodle!
Sat, Dec 10, 9pm, Island Bar: "Greetings, one and all! Consider yourselves invited down to ye olde Island Bar, this Saturday, for an evening of musical entertainment courtesy of Garoupa and Transnoodle, the freshest, tastiest new addition to Lamma's musical smorgasbord.
Things kick off at around 9, so get there early, and remember -- the more you drink, the better we'll sound. See you there."
Band member Gary Hill about Trans•noodle:
"Transnoodle is a new project featuring Lamma boys John Saeki (guitar, lead vocals), Magnus (drums) and myself (bass), along with our non-Lamma guitarist, Andrew. I believe we'll be joined for a few numbers by the lovely and talented Mr Samuel Bruce on trumpet.
We're playing all original music, penned by the good Mr Saeki, and I guess it can best be described as Lamma-inspired Ska with Latin roots. This will be our debut gig, and there are no pics as yet, but hopefully we'll get some good action shots on the night.
Transnoodle will be playing first, knocking out about half a dozen tunes, followed by Garoupa.
Pretty scant info, I know, but the best I can do at the moment. Come along and check it out. Thanks for your superb promotional tomfoolery."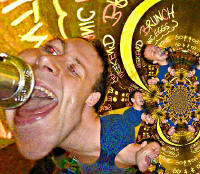 Thank YOU, Gary, for a great title for this article today! Tomfoolery, moi? Never! Well, um, err, maybe occasionally, but only very very rarely...
Could he be referring to all the things I've done to their photos in the name of my misguided creativity (see and click on the right)?
Could he be referring to my little "Make a Face Like a Garoupa!" contest last August, inspired by Alex's legendary facial contortions?
Could he be referring to this little series of computer graphics I created from a photo of him performing?
See "Going Nuts with Photoshop!"

Could he be referring to me renaming Garoupa repeatedly into "Pheromones of Musical Creativity" in jest?
Could he be referring to etcetera, etcetera...?
Well, OK, admittedly there's been a bit of tomfoolery involved in promoting Garoupa since their founding almost three years ago. Well, I'll do free promotions for any Lamma band and many local events, but I like to have fun while doing so! Let me know about your event!
Garoupa is such a great, fun-loving, cuddly, soft target with a big heart & a great sense of humour, it's great fun to "tomfool" them. And they play really great music, too! Their new official band slogan sums it all up nicely: "The more you drink, the better we'll sound!" Here's the last photo of them, performing at Power Station Beach during the last Lamma Fun Day on Nov 20: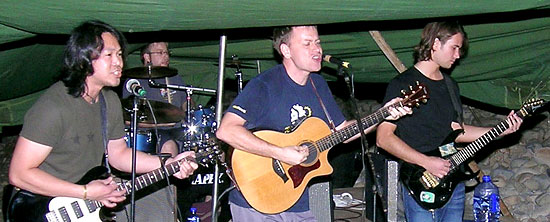 But all the "Superb Promotional Tomfoolery" doesn't seem to have done the lads any harm so far, having become one of the Top 20 Lamma bands by now (yes, there are *almost* that many!). But there were a few people who asked them why they've adopted such a strange new name ("Pheromones..."), hehehe...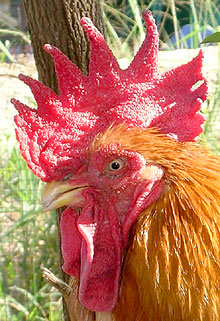 Dec 9: Birdwatchers vs. Barflies
Something unprecedented in Lamma's long history (over 3,000 years) has just happened, something so incredible and atypical of Lammaites that it's truly hard to believe!
But here are the astonishing facts:
The main birdwatching topic ("Lamma's top 10 birds") in our forums has just beaten the "Index of Bars & Restaurants" (with reviews & ratings): 8,194 views vs. 8,002 views. It has now become the Most Popular Topic of ALL forums on this site!
The sizable local contingent of devoted barflies almost fell off their little round bar stools when hearing about this. "Trumped by birds, not the human kind, but wild birds! Bird watching more popular than hanging out in bars? What's Lamma coming to! The gold old days are truly over!", they're muttering...
But there's such a wealth of fantastic photos of Lamma's wild birds and other fauna & flora displayed in our forums by now. They're covering a major portion of Lamma's extremely rich & diverse natural life and are just a joy to look at. Check it out!
Not being blessed with the amazing patience, ruggedness and 300mm+ lenses of our devoted local flock of almost-professional bird-o-graphers, any bird I ever manage to take a decent picture of is of the domesticated variety. Like this rooster sitting almost still on a fence, soaking up some warm winter rays, letting me get as close as 1 metre for a nice portrait shot. He even refrained from killing me by coughing at me! Nice birdie! But for the really good photos you'll have to visit the #1 topic in our discussion & photo forums: "Lamma's top 10 birds".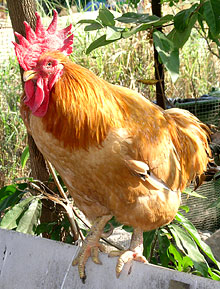 A dedicated feature introducing Lamma's talented birdwatchers in person will follow soon. Guy Miller seems to have uncovered a small flock of like-minded individuals.
Till recently, they were too shy to showcase their photos, but Guy's shooed them out from hiding in the bushes and now everybody can see them soaring through the gentle Lamma skies, showing off their brightest plumage of beautiful bird & wildlife photos on this website!
We're proud & glad to host them here, hopefully providing a friendly environment for all nature lovers, be they hikers, bikers or shrike photographers...
Even some of the barflies have recently come to admire the photos, in-between drinks...
Click on any topic below to view it:

Dec 8: $145,156.10!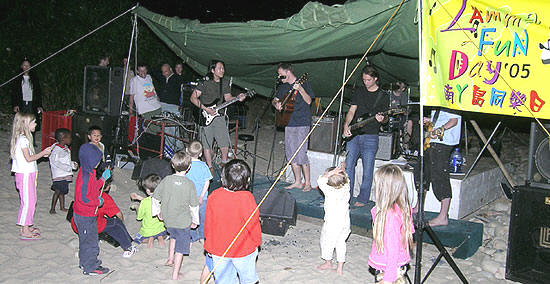 The final fundraising results from the Lamma Fun Day on Nov 20 are in, see below! An amazing figure, even better than last year's! Many many thanks to everybody who gave and/or helped as a volunteer, from me & the other Fun Day organisers!
More of my own photos have also just been posted today in the photo gallery (click here to view), plus a lot more from the "official photographers" will be posted later this week on the official Fun Day website.
Sonya - Fun Day Chief Organiser (text colours & formatting by Sonya):
Dear All,
After a couple of weeks of number crunching and re-checking figures we are proud to announce that this year's Lamma Fun Day raised a gross total of
$145,156.10
with a net profit of
$117,868.20

This amount exceeds last year's Lamma Fun Day and Funkraiser combined!!

A huge THANK YOU!! to all those who attended as well as to the numerous volunteers who helped to make this day a HUGE success!
Please pass this around to share our THANKS!

We look forward to seeing you again at the annual Funkraiser,
to be held early 2006.

Stay tuned!!
Regards, Sonya

For photos of this year's event and further information on this great day, please visit www.LammaFunDay.com.

For further information on the Child Welfare Scheme please visit www.ChildWelfareScheme.org.


Dec 7: The Mighty Summariser Strikes Again!
We've enjoyed the monthly updates from Samson - our Mighty Tai Peng-uin - summarising what's going on in the Chinese forums for several months now.
I liked his hip, quirky & promotional writing style so much that I asked him to do a similar summary for the English forums. Being the cool & cheerful guy that he is, he obliged with almost no arm-twisting necessary!
Samson - "Official Court Moderator of All Chinese Forums" &
"Official Court Summariser of All English Forums":

Dec 6: 'Downtown Vancouver's Favourite Blood Sport'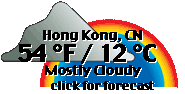 12 degrees Celsius? On Lamma? The coldest weather this year has hit us sun-spoilt, heat-loving islanders. People here are adding a second woolen shawl and gloves to the faux-fur-lined, heavy coats they've started wearing when the thermometer dropped below 20 degrees a few days ago. Coming from a snowy country myself, today is still T-shirt weather!
Just in time, TWO of our readers in Vancouver sent us weather updates from their hometown. Like Lammaites, Vancouverites aren't really used to "cold" weather and start behaving in strange & funny ways. These stories might also be of interest to the many Lammaites with family connections in Vancouver. Chuckm writes:
"Here is my significantly less-than-great verbiage on recent nasty winter weather here in Vancouver. You may choose to toss it in the trash, depending on your level of courage :-)"
Is that a challenge? I love challenges! To be published uncensored, as usual:
Chuckm - Future Lammaite, still residing in Vancouver:
Dear Lamma Readers:
Further to the press coverage that our recent spate of early winter weather has managed to achieve, I feel it necessary to reveal more information so that anyone planning a winter visit to lovely Vancouver will be forewarned ...
Not reported were the dozens of expensive Lexus, BMW, Hummer, Mercedes, Volvo and other assorted up-scale vehicles left abandoned on the streets due to the unusually heavy snowfall of almost one-half centimetre.
White-knuckled drivers, unaccustomed to this sort of meteorological abuse, simply gave up trying to move their vehicles through the huge piles of slippery stuff. When asked why he had abandoned his Hummer H-1 in the middle of a downtown street, one clearly frustrated yuppie driver was heard to say "...and why should I take a chance on getting my shiny SUV dirty?"
And where were the snow plows when we needed them? Well, Vancouver has a magnificent fleet of three (count'em - three!) snow plows. One was busy clearing off the runways at the airport, one was on rental to a city east of here which *really* needed it, and the third was seen parked in front of a Starbucks waiting for driving conditions to improve. Have these drivers no courage at all?
Several hapless home owners were seen trying to clear off the sidewalks in front of their homes, not realizing that lawn mowers are designed to throw grass clippings, not snowflakes.
There has been a run on reinforced umbrellas at local department stores. Apparently many of the more adventurous among us have found that standard umbrellas cannot withstand the added snow load.
Downtown Vancouver's favourite blood sport, running down bicycle couriers in heavy traffic, had to be cancelled. Most car owners found themselves sliding into coffee shop windows rather than knocking over cyclists, greatly annoying the patrons sipping their expensive lattes. There was a marked increase in the number of people riding bicycles to get around the traffic gridlock. Bike riders clearly have more courage than local car owners. Come to think of it, they need courage even under ideal conditions.
As for me, I am staying home, working via the Internet, sitting in front of my cozy gas fireplace, dreaming of a life on Lamma. So far the added snow load on the cable into my home has not impaired network traffic, but I'm praying that normal continuous winter rain will soon return :-)
Vancouver (Reuters):
"Day 2 - Vancouver Blizzard 2005 - Revenge of the Commuters"
This is the spoof email (forwarded by Tricia in Vancouver) that inspired Chuckm's story above. Sounds almost like Hong Kong at below 20 degrees:
Chilled Vancouver commuters faced their second day of winter hell today, as an additional ¼ centimeter of the peculiar white stuff fell, bringing the lower mainland to its knees and causing millions of dollars worth of damage to the marijuana crops. Scientists suspect that the substance is some form of frozen water particles and experts from Saskatchewan are being flown in. With temperatures dipping to the almost but not quite near zero mark, Vancouverites were warned to double insulate their lattes before venturing out.
Vancouver police recommended that people stay inside except for emergencies, such as running out of espresso or biscotti to see them through Vancouver's most terrible storm to date. The local Canadian Tire reported that they had completely sold out of fur-lined sandals.
Drivers were cautioned to put their convertible tops up, and several have been shocked to learn that their SUV's actually have four wheel drive, although most have no idea how to use it.
Weary commuters faced soggy sushi, and the threat of frozen breast implants. Although Dr. John Blatherwick, of the Coastal Health Authority reassured everyone that most breast implants were perfectly safe to 25 below, down-filled bras are flying off the shelves at Mountain Equipment Co-op.
"The government has to do something," snarled an angry Trevor Warburton. "I didn't pay $540,000 for my one bedroom condo so I could sit around and be treated like someone from Toronto!"
Tricia - Nostalgic ex-Lammaites living in Vancouver these days, remembering old friends and "their colourful behaviour":
Hi from Vancouver.
Not often when I see something and say to myself I should just send this through to you guys to do with what you can, but I thought this recent Vancouver weather statement was rather fun seeing I am a bike courier and still wearing shorts and riding 8 hours in the day.
I have watched your site with interest over the past years and as I resided on Lamma for a few years before the takeover and 20+ years on Hong Kong Island so it is fun to search for familiar faces and to see the changes that are happening.
I do hope Jenkyn Hyle is still doing OK as I do not see his picture anymore at any of the functions.
Keith Hassett and I are in contact on a regular basis and I catch a little update from him as I know he is always on the site.
Hope Linda and Alan have resolved their problems as well. [Editor's Note: 6 months jail time for Allan, fine for Linda. Click for SCMP story.]
I catch a little news on the site but not a lot of follow-ups. When I resided on Lamma: Alan and Linda ...Nick Lovatt, Elizabeth (African),
Linda selling her homemade Pizza and Cakes on the sidewalk,
Jenkyn always like clockwork, as everybody would always know where he would be at a set time,
Jonathan Gray who was a dear and loving friend where for over two years we sat for at least two hours a day in his home or on his roof top having the most wonderful conversations,
Pinky and her interesting behaviour,
Keith Hassett, well, Keith, as you know, is Keith...
and so many more where I have forgotten their names all with their colourful behaviour. Not a day went pass without some excitement happening in the village with these guys.
I miss the Island and always will. I am sure many people whom I miss still reside there, so keep up the good work as it is an excellent site and credit goes to all that make it happen!
[Editor's Note: Many thanks in the name of all Moderators & Court Officials, advertisers & sponsors, writers & photographers, contributors & collaborators, proofreaders & cheerleaders!]

Dec 5: 'Enjoying Life Through Digital Imaging'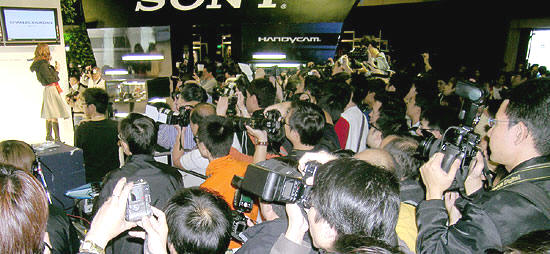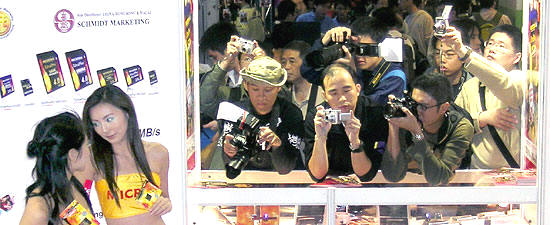 Photo Imaging Asia show in the Convention & Exhibition Centre the weekend before last. "Enjoying Life Through Digital Imaging", their slogan, sounds a lot like what I'm doing every day, carrying my camera with me wherever I venture.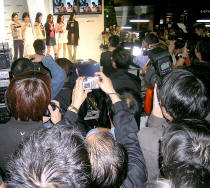 I was trying to catch up with what's new in the world of digital photography & gear, pretty important for an amateur like me who's doing an increasing number of photographer's jobs. Admiring all the great but unaffordable hardware, I was struck with a serious case of camera envy, gazing with glazed eyes at all the professional cameras, huge lenses, and tall, fancy flashlights that most of the show's visitors were showing off, often more impressive than what was shown by the vendors. But do I really need to spend HK$10K+ for a serious zoom lens to be taken seriously by serious photographers?
But what flabbergasted & amused me most were the hordes of visitors crowding around any booth with skimpily clad (female) models showing off the latest (camera) models. The sheer bulk of photo/videographic firepower and raging geek hormones in a frenzied jostling for best viewing position, zooming in their long, massive, erect lenses on the perma-smiles of the skinny models holding up their sponsor's products awkwardly. It was really a crazily memorable sight to behold.
That's the kind of exotic sights and weird experiences you might not find on Lamma, but they're only a short ferry ride away...

Dec 4: 'We Are Clean, Quiet and Nice!'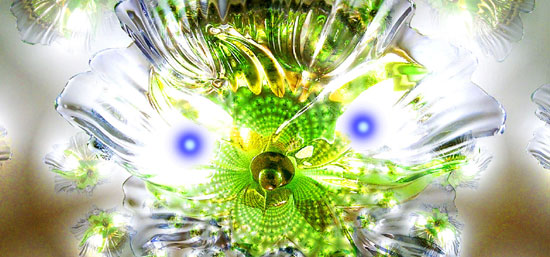 What is this weird picture, you might ask. I think that it's somehow mysterious & mesmerising but also mischievous at the same time. (Click to see full picture).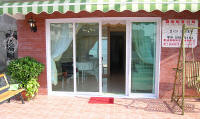 Well, my latest computer graphics above was actually inspired by the state of the Lamma Island residential property market, believe it or not!
I've tried for 2 years to get the local property agents to advertise on this website, utterly unsuccessfully so far. None of them has a website of available property or even an email address for off-islanders to contact them. Enquiries about renting, letting and buying flats on Lamma is one of the most frequent enquiries I receive and our free classifieds section is pretty busy with Rent & Let ads. The title of this story is a quote from a couple looking for a flat in our classifieds,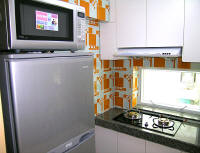 describing themselves as the ideal tenants!
There are lots of flats available right now and very few people are buying property on Lamma these days, same as all over HK. So the property agents are getting less reluctant to try new ways of promoting their big stock of flats, even considering the formerly unthinkable: pay for advertising!
Out of the blue, I got contacted by a property agent recently who wanted me to do a photo shoot of one of his flats for sale RIGHT AWAY! The ad and photo gallery I designed went online the very next day, see left.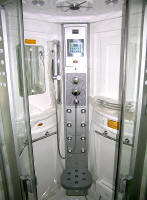 The flat had just been fully renovated; plastic covers on the high-tech, computer-controlled shower hadn't even been removed yet. A beautiful G/F flat I'd buy myself if I could afford it. Still available, for sale only.
But what really struck my fancy were the lamps. I included some of them in my comprehensive photo shoot. The next day, I started thinking about my yearly hobby project of creating artworks for my monthly calendar for the coming year.
I returned to one of the lamp shots from the flat. Some of you might remember my "Christmas Tree Huggers" series/calendar from last year?
Playing around with this single lamp photo resulted in the very preliminary draft images below for my 2006 monthly calendar. The first image in this story is my favourite image so far. Lots of fun & creative work still lies ahead to shape & extend these images into a worthy 12-month collection...
(Click to enlarge):

Dec 3: The Perfect 10 from the Chinese Forum
Samson - "Official Court Moderator of All Chinese Forums":

November had certainly been another active month for the Chinese Forum, with some serious discussions, and, of course, some silly ones. Here are the top 10 topics:
There you have it, folks – the Chinese forum update for Nov 2005. Until next time... Oh, and an early Merry Christmas!

Dec 2: 'Accommodation Shortage or Convenient Commuting?'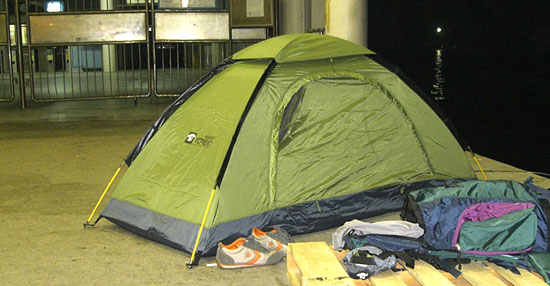 Petri writes: "What do you reckon?
"Will there soon be a whole tent village mushrooming in the pier, pitched up by Hong Kong's nouveau cheapskates willing to rough it in the wild to save a few bucks? These guys even tried catching their own seafood!
"If they don't drink beer they won't need the sweet services of Lamma's hospitality industry for anything so... is this the beginning of the end?"
I just wonder, how did Petri find out about this tent, as it must have been there for just a few hours, between the last and next morning's first ferry? One can only speculate if these tent people were in fact Petri's own poor relatives whom he didn't want to stay in his own home?
Maybe they're anti-globalization protesters, streaming into HK these days from all over the world, getting ready for the WTO conference in mid-Dec? Our police chief mentioned that 200 South-Korean farmers had arrived in Cheung Chau recently, preparing for some probably violent protests? None on Lamma so far...
Also, coming Sat morning, Dec 3, the govt. will be clearing up the entire length of the ferry pier once again, removing all bikes, trolleys & anything wheely, early in the morning. If the tent is still there by then, will they'd include it in their rapid cleanup operation, maybe even including the illegal squatters?

Dec 1: Name the Windmill & Win Cash!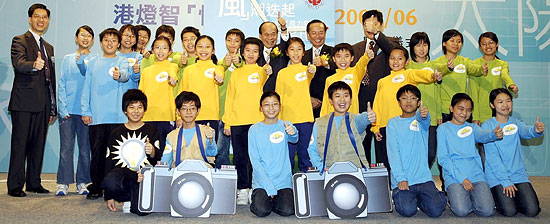 Launch of the The TURNING Point • Lamma Wind Power Station Naming Competition
(Mr. Tso and Mr. Poon celebrate the launch of Smart Power Campaign 2005/06 with more than 20 students from three local schools.)
HK Electric's well-oiled public relations machine is gearing up relentlessly and starting to spin at typhoon windspeed for the official launch of the Lamma windmill. They've just launched a naming competition, with cash prizes from $1,000 to $10,000 for first prize! See the abbreviated media release below (full version is here). Here are the details of the competition and the online entry form. We expect some of these prizes to be won by Lammaites!
But don't they like any of the nicknames our very creative forum members came up with so far. We've tried hard:
MST (Magical Spinney Thing), Quixotine (Don Quixote Guillotine), Le Moulin Blanc, and many more...
HK Electric - Competition introduction::
The TURNING Point
Lamma Wind Power Station Naming Competition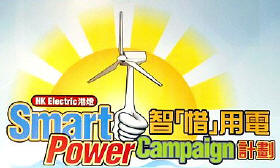 Hong Kong will soon enter a new era. In early 2006, our city's first commercial-scale wind turbine, constructed by Hongkong Electric on Lamma Island, will formally come into operation.
To mark this occasion, Hongkong Electric is proud to announce "The TURNING Point • Lamma Wind Power Station Naming Competition." Through this competition, Hong Kong people will have the chance to name the Lamma wind turbine and exhibition centre, which is expected to attract thousands of visitors every year. Suggestions should be concise and easy to remember, and they should reflect the uniqueness of the wind power station.
The wind turbine will have a rated power capacity of 800 kilowatts to generate about 1 million units of "green electricity" a year. We believe this pilot project will contribute to the development of renewable energy in Hong Kong.
Act now — enter the competition and be a part of this important chapter in the history of power generation in Hong Kong!