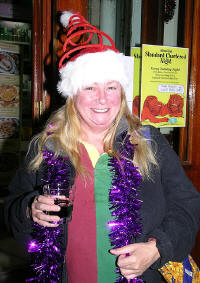 Operation Santa Claus:
Lamma Xmas Kids 2005 - Island Bar
21 December 2005 (Wednesday)
Wednesday 21st December saw a group of wandering minstrels, accompanied by a choir of children wending their way through the village of Yung Shue Wan, in and out of various hostelries.
This talented group proved to be talented in more than just musical ways as they collected an impressive $5,300 towards the Operation Santa Claus appeal.
Although starting at the Island Bar, this event was organized by Rie Wada, who not only gave singing lessons to the children, but was responsible for gaining the support of the various musicians, including some of our favourite regular players. Rie also provided snacks afterwards. Rie's daughter Louie led the way with her violin and throughout the village the group was a real hit, collecting generous donations from different restaurants. The group even spent a few minutes outside the police box, brightening up the evening for Lamma's finest. A very good effort, and a big Thank you to Rie, the musicians and the children's choir.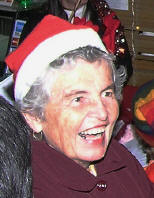 Christmas Eve at the Island Bar heralded the usual hosting of the Christmas Carols for Adults. Led very ably by Dan James the group got off to a slow start as the numbers initially were not quite up to expectation. (Quite a few regular attendees were probably the worse for wear after Penny and Oliver's At Home and were quite unable to make it.)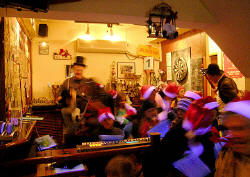 Once underway, however, with Dan's mellifluous voice leading the singing a good time was had by all. Not sure at this point how much was collected on the evening since it went into several boxes. But people were generous as usual. Special thanks to Dan who has led the singing on Christmas Eve for quite a number of years now and who always does a fantastic job.
Next for OSC is the auction of one of Harry Harrison's masterpieces and of a truly beautiful photograph donated by Streetman. We thought a short break was in order, however, just to allow people to get their breaths during this very busy season.
Hope you all had a Verrie Merrie Christmas. Wasn't the weather great?
Watch this space (and the doors of The Island Bar) for auction details.