<!table cellSpacing="6" cellPadding="0" width="100%" border="0" style="border-collapse: collapse" bordercolor="#111111" bgcolor="#EFEFEF"> <!tr> <!td style="font-family: Verdana, Arial, Helvetica, sans-serif" bgcolor="#EFEFEF">

Treasure Hunt for Operation Santa Claus
& Harry's Book Signing @ Island Bar (Dec 19, 2004)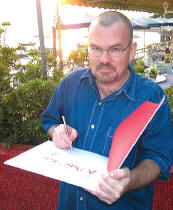 The Annual Treasure Hunt/Scavenge Challenge has been taking place again in the Island Bar this year. It's been raising a very considerable amount of cash donations for the ten charities supported by Operation Santa Claus.
17 teams took part in the race all over YSW and Hung Shing Yeh. Everybody was a winner and - judging by the photos - a great deal of fun was had!
For a HUGE, printable version of the vivacious group shot above, click on it;
for a wallpaper-size version (1024*768 pixels), click here;
and here for another similar printable shot.
Many thanks to the organisers for the huge amount of work it takes to organise such an event: Clive Brook-Fox, Alastair and the Island Bar (Kumar, Dan & co.)!
Harry's been signing his recent books/calendar The Dirty Story & Harry's View.
The Treasure Hunt Questions & Answers will be published and linked from here as soon as I'll receive them from the organisers! Hurry up, guys!
(Photos by Lamma-Gung (Treasure Hunt) & Dan Peterson (Harry's Birthday), click to enlarge)
---
Wait, there's more! Harry's been celebrating his birthday (no age provided) on Sat, Dec 4, in the Island Bar - his favourite hang-out, allegedly. Photos by Dan Peterson:
---
To send comments, get more info, get high-res files for printing, or to publish your own Lamma-related photos & galleries on Lamma.com.hk or in the Lamma-zine: email Lamma-Gung.

All pictures and text may be freely reproduced for non-commercial purposes only,
but only with explicit permission from the author, photographer or artist.

Commercial enquiries are most welcome! Last update: September 29, 2019 11:12 AM

© 2018 Lamma-Gung, Compunicate! Web Publishing, e-Marketing & Photography.
All rights reserved.

<!/td><!/tr><!/table>