Apr 30: A Pair of Chinese Opera Birds
A field report from L-G, newly self-appointed Ornithological Correspondent for the Lamma Birdlovers Society (Lamma-BS):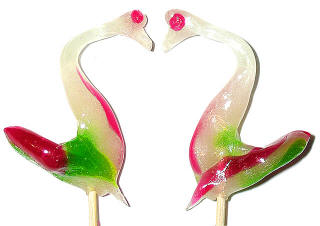 "This world-exclusive photo of a most unusual pair of birds (see photo Illustration #1, right) - imaged on Lamma yesterday, Apr 29, 2005 - has been submitted anonymously to our esteemed society today, Apr 30, 2005. It shows a bird species rarely ever observed or photographed in its natural habitat. Their diminutive size of typically less than 2.5 inches in height might be a main reason for the serious scarcity of observational data.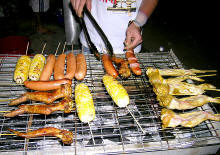 This exotic-looking bird seems to be beloved by local children and bird fanciers alike, even though their song has never been heard or recorded. They're rumoured to be song-less, or they could be restricting their singing solely for their secretive, still undocumented mating ritual. But this is at best pure, unscientific speculation at this early stage of research and we can't indulge in this here at all. Let's now look at their behavioural characteristics: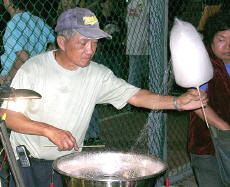 Surprisingly not shy at all, these birds seem to like the often disharmonic and high-pitched sounds of a typical Chinese opera orchestra, congregating in little flocks close to the football pitch in YSW right now. They seem attracted by the availability of many local foods in the little carnival outside the bamboo arena (see photo illustrations #2, #3). They can only be observed at dusk and at night, but only during the amazing 5-day Tin Hau festival opera performances here every year: April 29 - May 3, 2005, 8pm.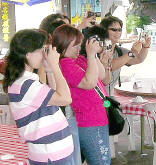 Afterwards, they migrate to other parts of the Hong Kong area. It's been speculated that they follow the opera troupe around, but this hasn't been empirically confirmed yet. But there seem to be quite a few superficial similarities to the enthusiastic, starry-eyed, giggly flock of Chinese opera groupies - all young local Chinese girls - who follow their idols from performance to performance (photo illustration #4). But these possible correlations can't be proven yet, so please ignore these somewhat flippant & unscientific remarks.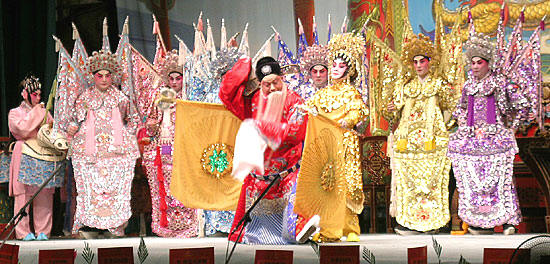 Hearing the Chinese opera singers (photo illustration #5, #6), especially the serenely lovely voices of the female roles, seems to calm & cheer these lucky birds. Lulled by all the beautiful singing, they get so tame that they allow themselves to be touched by locals, off-islanders & even tourists! Very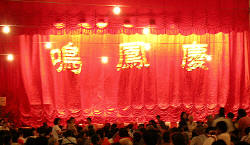 surprisingly & strangely, these birds feel very sticky & soft to the touch. They've also been known to be highly averse to water, even staying out of the rain wherever possible. It's even believed that splashing in a bird bath might do them serious harm, even though this hasn't been experimentally tested yet, for fear of harming these precious & rare creatures.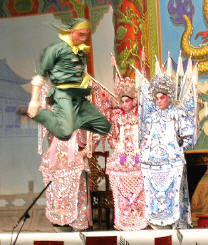 They like to perch on little wooden branches in a most unusual manner, the branch almost seeming to penetrate their back orifice, but this might be an optical illusion and should be disregarded.
The birds also appear to be flightless, as nobody has ever observed them airborne. Each bird seems to possess uniquely different colouring, even though red, green & yellow are the dominant plumage colours (photo illustration #7: opera acrobat trying to imitate these birds).
Because of their frequent geographical proximity to Chinese opera performances, this species has been colloquially dubbed "Chinese Opera Bird", The proper Latin name, subgenus & nomenclature hasn't been officially attributed yet."

Any additional information and observations from the readers are highly encouraged, even non-academic ones! Help to describe this ornithological treasure better, one more precious & most welcome addition to the amazing wealth of bio-diversity on our fair isle!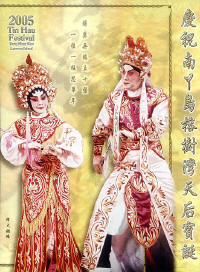 Apr 29: 'The Legend of the White Hare'
From a HK travel guide (title unknown):
"Lamma Island hosts annual five-day operas in celebration of the goddess Tin Hau. Elaborate bamboo arenas are constructed, and illuminate by impressive lighting effects, with the villagers attending nightly amid an atmosphere of carnival and fun."
The first opera by the Hing Fung Ming Opera Troupe is opening at 7:45pm tonight in the YSW football pitch: the ever-popular "The Legend of the White Hare". It's a regular festival opener, an epic family drama over three generations, kind of a very emotional soap opera, featuring a precious sword, a heavenly book and a poor "boy whose navel cord was bitten off". Click on the cover on the right to see the entire colourful brochure.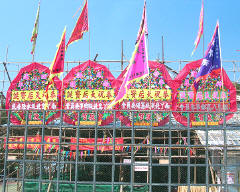 Giving you a good idea of the shows, here's my photo gallery of last year's Chinese operas, including a behind-the scenes look:
Tin Hau Festival 2004 - Chinese Opera
Coming Soon: Interview & photo shoot with the famous hero & heroine of all the shows: Lam Kam Tong (Tong-Gor) & Mui Suet See (Ah-Dair), two of the most popular and enduring stars of the Chinese opera scene in HK. They've even got a devoted fan club of young local girls following their performances around HK!
Their own most impressive websites (click on their names above) are highly recommended viewing as well, even containing forums similar to the ones here on Lamma.com.hk. Check out the operas! Watching from the sidelines is free!

Apr 28: Dancing Around the May Pole
Bluelotus - May Day celebrations - Sun, May 1, 3:45pm-late, Power Station Beach. More info: Tel 2982 6123, email.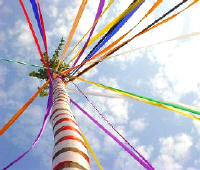 It is a very informal affair, and times are approximate, but this has always been a wonderful, fun and spontaneous day out on the beach weaving the ribbons of the May Pole, with lots of kids, adults, sun, sea, sky, soft sands and soothing breezes.
Please come, bring friends and family, join in the fun, relax on the beach, eat in the village (only 10-15 minutes walk from the beach), enjoy a different kind of day out!
Where: Power Station Beach, Yung Shue Wan, Lamma Island. Keep walking out of the village, following signs to Hung Shing Yeh (the main beach, further on from Power Station Beach) and Sok Kwu Wan (a 40-minute walk to the other side of the island). After the tennis courts, you will cross a large path, keep going straight, then a small bridge, then take the right-hand fork at the Dou Fu stand along the nullah. This brings you to Power Station Beach.
When: The plan is for the May Pole to be brought through the village at about 3.45 pm from where it will have been dressed and bedecked earlier. To arrive at the beach about 4.15ish. Then we need to dig a hole and erect the pole. Dancing around the pole will start at approximately 5pm.
What we need: Open-hearted people to come along and enjoy the spirit of Beltane and Spring energies!
Anyone willing to help dig, please join in!

Please bring drums, instruments, anything to add to the music we need to help sustain and encourage those who chose to dance the May Pole! We are trying to round up the Lamma drummers but many are away, others will certainly be there; the more instruments and people willing to shake, rattle and roll the better!

Bring your own water, hats, sunscreen, sarongs, swimming costumes, drinks, snacks, anything you will need to enjoy a day out on the beach (the last shop is on the path just before the tennis courts, otherwise there is sometimes a water/soft drink seller at the beach).

Laughter and a spontaneous dancing spirit.

Apr 27: 'The Only Day Out'
Mr C Ashman - frequent Lamma visitor, doing his tourism-promo thing:
The Strong Contender for the only day out
you need to take, whilst visiting Hong Kong.
It's just a straight ride from the Central Outlying Islands ferry piers, over the clear blue waters, onto Lamma's landing pier.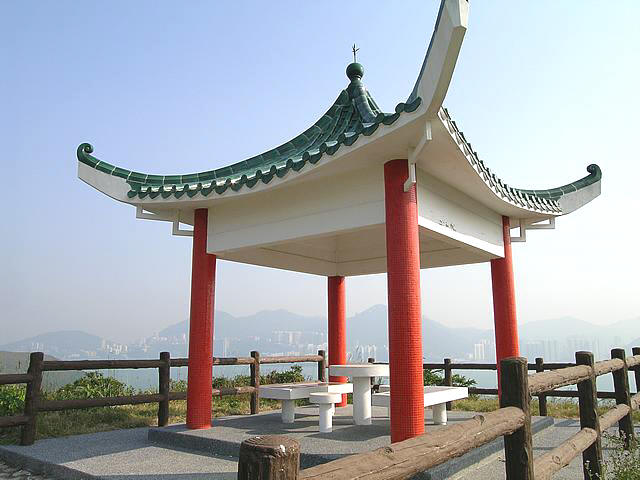 Immediately, you are met with a row of interesting restaurants and shops. Go past them, if you like, and head into the countryside, up onto the all-surveying hills of Lamma-Doh. The vistas from the little pavilion amaze you, all across the bay.
After that, it's up to you. I always walk right across the top and end up at the other ferry pier in Sok Kwu Wan, where it's just as easy to catch a boat back to Hong Kong Island. The Tin Hau temple there is great - currently being rebuilt - and you can walk around the bay finding many places of interest.
If you can wait for the sun to go down and take a leisurely boat back, this can be the only day out you need to take - especially good if you're on one of your flying visits to Hong Kong.
© Copyright Mr C Ashman, London
First Lamma Serial Rights, approximately 175 words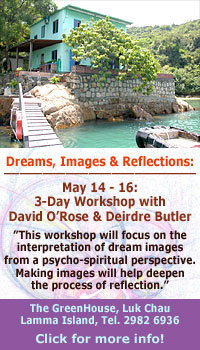 Apr 26: 'Dreams, Images & Reflections'
Dreams, Images & Reflections: May 14-16, GreenHouse, Luk Chau, Lamma:
A 3-Day Workshop with David O' Rose and Deirdre Butler: Cost & Registration $3,700/person, includes light lunch, coffee/teas, transport to/from Aberdeen each day: Tel 2982 6936, email.
"Please join David and Deirdre for a long weekend at Lamma Island, a place of retreat and renewal. Dreams provide access into the unconscious areas of life. They give specific and appropriately timed messages which can assist us with problem-solving, psychological development and spiritual deepening. Image making, artwork, is also a way of knowing the life of the soul.
The art process carries us free of conscious thinking and judging. This workshop will focus on the interpretation of dream images from a psycho-spiritual perspective. Making images will help deepen the process of reflection."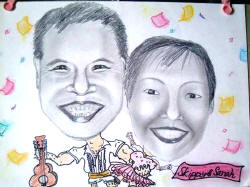 Apr 25: BBQ with Sarah & Skippy - Lamma Newbies
A local couple has been showing up on the Lamma.com.hk forums, just a few weeks before getting married and moving to Lamma end of last December. Sarah was such a cute and giggly presence in her messages that many cynical long-time forum members believed her to be an impostor, maybe a guy pretending to be a young Chinese girl writing in Chinglish. And then there was this famous drawing (see right)...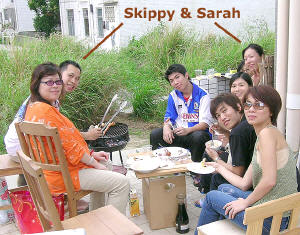 I defended them, believing them to be genuine. Finally, months later, we finally all got together at their new home in the valley and they invited their school friends from town as well. They joined us on one of those popular "BBQ on Lamma" Sunday trips, when the fashionable city dwellers like to visit us "drop-outs" out here on "Hippie Island", part of HK's countryside full of "green stuff" and mozzies. All of this is often perceived as kind of an exotic zoo by many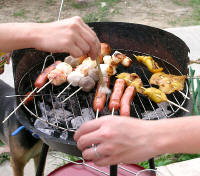 visitors... "Woaah, look at all the long-haired, unkempt foreigners!" you can see them whispering to their friends when strolling through the village on Sundays, marveling about "hippie laundry day" at Diesel's...

Well, it was a fun & tasty BBQ in great company, probably my only party ever where I was the most senior Lammaite - after only 3+ years living here - answering loads of touristy Lamma questions, and promoting this blog to the tourists, of course... Thanks, Sarah & Skippy & friends!

Apr 24: Karaoke with Lammadonna & Friends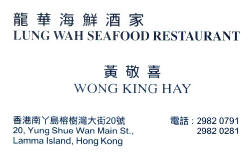 Did you know that the local Chinese movers & shakers and their spouses are getting together regularly for dinner & Karaoke in an each time different local restaurant? For some friendly reason Lammadonna invited me & Lamma-Por last Tuesday to a party in Ah-Hay's Lung Wah restaurant. About 30 of her "closest friends" joined in, mostly local business people, shop owners,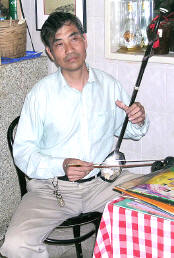 property agents, politicians and local "celebrities" from the Chow, Chan and other influential clans. After a surprisingly fabulous 8-course banquet and a few beers, people let their hair down, indulging in Karaoke and even dancing, having a fun and sometimes raucous good time! Beware of Jackson in party mood!
As the only Gwailo at the event (the only one in a long time, I think), they made me say a few words and wanted their pictures taken for this Lamma-zine Blog, especially the not-publicity-shy ones, like Jackson, Lammadonna and Lamma's very own next Cantopop star... See my photos, but I can't show some of the too candid, non-flattering shots. I wouldn't want to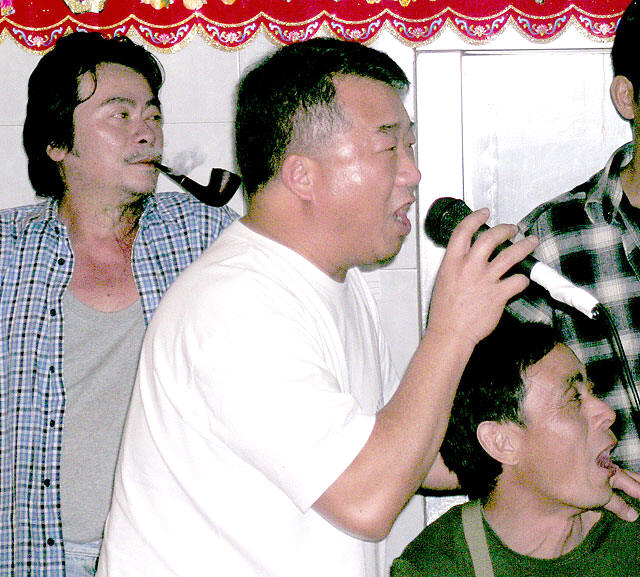 upset any of these powerful, local movers & shakers, hehehe.
It was a fascinating and really interesting insider experience, showing me a very different, friendly, cheerful, helping-each-other side of local village life that Gwailos rarely ever have the opportunity to experience.
Thank you, Ms Yu! I'm eagerly looking forward to the next party, not even afraid of their dire threat

that they'll make me sing next time...

Apr 23: 'Chinese Forum Moderator Spiel'

The "Discussions in Chinese" forum of Lamma.com.hk has become very popular in recent weeks, often generating more messages than all the English forums together. This is great and definitely most welcome! As the sole remaining site administrator & webmaster, I felt it necessary to appoint a forum moderator.
A longtime, very active forum member (529 messages posted!), Samson has agreed to take on this honourary role, active today!
Welcome, mighty & sometimes naughty Samson the Tai-Penguin! I've asked him to write his own bilingual announcement in his own typical, inimitable style. The "Avatars" below belong to members who are active in Samson's forum, they all know how to read and even type in Chinese, a most difficult skill.

Chinese Forum Moderator Spiel

Hear ye, all Lammaites! Your favourite online community, "My Lamma Forums" is to get another new moderator! After careful consideration, I have decided to join the ranks of the cool, calm and collected by taking up moderatorship of the "Discussions in Chinese" forum.


This brand new position, termed by Lamma-Gung as "Official Court Moderator of All Chinese Forums", will be my third title on the "My Lamma Forums", following "Official Court Translator" and "Official Court Monthly Ferry Ticket Reminderer" (by the way, folks, only a week away from renewal for May).

For taking on this new role, Lamma-Gung has offered me - on top of a series of exciting moderator-exclusive magic buttons which he said will let me "do almost anything" in my forum - an attractive remuneration package that I have been sworn to complete secrecy about. In fact, it's so secretive that the Gung himself has decided to keep the secrets of my hard earnings from me!


Still, I will have my newly-found, amazing superpowers (edit/ delete/move/lock/split any message and entire topics!), which I shall use wisely to safeguard the Chinese forum from all evils, like flying chairs, blood-stained screwdrivers, NUDE-ity at Y2Kea, concrete excesses, huge cranes, smuggled chicken feet, Brazilian bikinis, white speedos and even battered fish'n'chips (the Aroy Thai, Diesel's and Kiwi Café varieties are OK, though).

Please note that due to the very nature of the Chinese forum, Chinese operas, out-of-tune karaoke singing and mahjong are most welcome.


Finally and seriously, I hope that the forum of "binary squares" (as Uncle Guy once put it) will become even more active, while maintaining its friendly, warm and welcoming atmosphere. Dor-jair!
P.S. Okay Gung, I've written my spiel now. Give me those magic buttons NOW! Arrrgh!
We still need more moderators! Looking for virtual superpowers to abuse, a place to shape in your own image where you can be the undisputed head honcho? Well, then being a moderator isn't really for you! Do you have a friendly, helpful personality, a thick skin, like answering questions - especially from Lamma newbies - and don't mind a bit of online community service for your fellow islanders? Then becoming a moderator in our free, free-speech, non-commercial, open-to-all forums might appeal to you! Contact me right away!
It's usually a very small commitment and you can put in as little or as much work as you like. As a minimum, you'd check in occasionally, read the messages in your forum, and occasionally step in and answer an enquiry or even start a new discussion topic yourself. There are several currently unmoderated forums still available, or you can always become a co-moderator of any forum to try on the role first. Have a look at the forums and if you can't find a suitable one, suggest a new one and I can set it up for you! No qualifications needed, besides a passion for Lamma and a bit of knowledge and experience in your chosen forum topic.
Benefits - besides a warm, fuzzy feeling, my eternal gratitude and occasional troll bites - include occasional free dinners with your fellow moderators, paid for by myself. Currently, there are ten of us, all current or former Lammaites, all unpaid volunteers: Alan, Samson, Granola Eater, zep, Guy Miller, k@, La Miglione, e, bbchris and myself. Most of us are pretty active in our forums and try to make them friendly and interesting for members interested in the forum topics.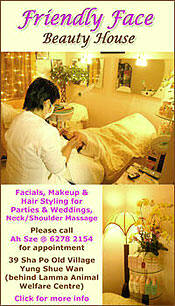 Apr 22: Free Web Pages & Web Addresses!
Attention, house ad! To skip this ad, click here!
Special offer for new Lamma-zine advertisers!
In addition to getting free design and a photo shoot for their banner ad, they'll also receive a free web page, set up and linked from their banner ad, including a web address, for example something like www.Lamma.com.hk/emilys; for at least a 3-month commitment (plus 1 month free). Up to 50% discount for long-term commitments (1 year)!
You'll earn a full third of the total ad income (in cash!) for simply introducing any new advertiser to me. I'll do all the rest. Want to make some quick money? Have got a friend or acquaintance on or off Lamma who *might* be interested in promoting their products or services in the ONLY "media" on Lamma Island, the largest local website with more than 1 million hits/month, 2,000+ weekly blog readers and 2,000+ Lamma-zine subscribers?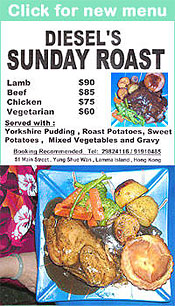 Almost anything (except tobacco and a few other controversial products) is welcome to be advertised: sales, flats, food, facials, massage, classes, services, bars, brands, shops, even weddings & birthdays. Barter is acceptable in some cases. Charities and "worthy causes" can get free ads, of course. Sponsorships range from $50/line classifieds, $100/month for personal good-will sponsors (YOU?), up to $1,000/month ads banners at the top of this home page and $2,000 to brand an entire Lamma-zine issue as a title sponsor. Help this site to survive, as, frankly, it desperately depends on the still very small ad income and my own support.
Here's the Lamma-zine ad flyer, being printed & distributed along Main & Back Street, the ferry pier and local bars &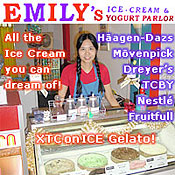 restaurants occasionally, to locals & tourists alike. Plus the detailed ad rate card, of course. A complete "media kit" for potential new advertisers is available. Try it, there's nothing to lose, just a quick buck to be made! The best and highest-impact ads are at the top of this home page, of course! Email me for details.
Here are a few ad examples & free web pages, mostly designed by myself, including the photos. Click on the ad banners for the free linked web pages I set up.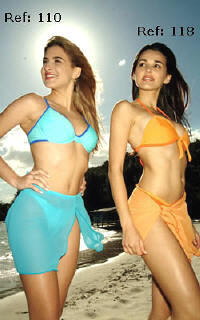 Apr 21: 'Name the Bikini Shop' Contest
Jackster will be opening a "bikinis & other stuff" shop beginning of May in YSW. She needs a suitable and fun name for it! So she asked to run a little contest together with this blog, with some nice prizes for the best shop names! You can win:

1st prize: Brazilian bikini; 2nd: Brazilian flipflops; 3rd: suede handbag from Peru;
10 consolation prizes of finger-woven, hand-knitted finger puppets from Peru.
The shop will sell bikinis from Brazil, meaning really quality & nice & sexy ones (see photos). Plus swim shorts & Hawaiian shirts for guys, sandals, Havainas flipflops, leather stuff from Peru & South America, photo exhibition, crystals, jewelry, etc.

Contest deadline: April 30.
The "opening piss-up" and nomination of the winners will be announced end of this month in this blog.
10 entries/person only, no very offensive names, please.
Jackster will be the sole judge of the contest, her decision will be final and it's optional for her to actually use one of the winning names for her new shop. Got it?
Submit your names via this forum:
Lamma waits for its first Bikini Shop!
---
Names submitted so far in the forum, listed alphabetically by participant: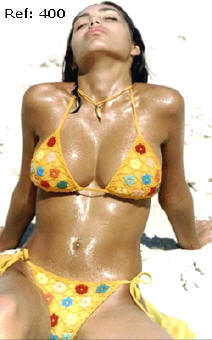 Alan: Brazil Bikini, Brazil Beachwear.
Birdface: Soutien-Gorgeous, We've got you covered (just).
chuckm: Cover Your Butt, Ye Olde Over-The-Shoulder Boulder Holder Shoppe, Splash'n'Fashion.
daffyd: Lamborkini, LammBikini.
Ed Banger: The Brazilian Landing Strip, Trimmed Minges, Cameltoes'r'us.
Goat Maison: Jax Beach Shack, Calmer Lamma Banana, Kiss My Bum... Nun, TITS R US, Jack Flash, Jumping Jack Flash, Lamma Rama, LarmaRarma.
Granola Eater: You Wish, Dream On, Get Real (inspired by the photo on the right).
Hapifiou: Jax Corner.
headroom: aloha republic, ball of confusion, extra !! please !, tricky pony, touch me u fool, bra bra ma ma i love u, sell bra for food.
Ingmar: Ipanema's Dreamers, Tanlines, Fanny Hammocks, Lambikini.
Lamma-Por: 36-24-36.
Lam Ma Ma's friends: Lamma Jack, Llamma Jack, Lamma Jax, Jackflash, Jax, Llamma, Drop by, The Island Bra.
pommeyanyan: Ooh La Lamma!.
Sickboy_Luigi: Kecks on the Beach.
soundbydesign2: Bumps on Babes, BootyFull, UnderCover.
volley: Bra'z & Bottoms.
zep: Stuffing not included.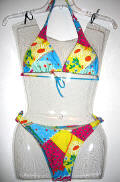 plus our most prolific-by-far, fertile-imagination, hyper-ultra-over-the-top name generator:
Guy Miller: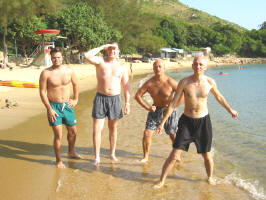 Sun Sea Sand & Sex, Dare to Wear, Who Dares Swims, The Lamma Triangle, Bare Wear, Itsy Bitsy Teeny Weeny, The Bikini Line, Tease to Please, Flash n' Splash, Lamma Splashion Studio.
For your inspiration, above are photos of the bikinis & other products that will be available in the shop, all submitted by Jackster. Plus a "Studs of Lamma" photo (by bbChris).

Apr 20: Looking for Computer Classes?
To attract more content contributions to this blog, I frequently offer small return favours. Sleiman contributed the enthusiastic life cafe anniversary review below and took me up on my offer! He writes:
"I am teaching evening computer classes since a few months back. It started with the Island School Evening Institute, but now I run them on my own since the Evening Institute has closed after 24 years of service. You may have seen my ads on the wall. Can you put up an ad about my courses on the Lamma e-magazine?"
Yes, can do! Here it is, a favour for a friend who's a very experienced teacher:

Apr 19: 'I'm a Total Life Addict & Dedicated Groupie'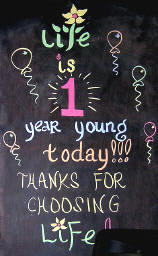 Life Organic Health Cafe has just celebrated its first anniversary yesterday, opening its doors on April 19, 2004. My little contest on April 9 didn't receive any entries, despite the prizes of a free dinner and $200 food vouchers.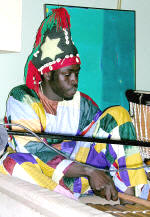 So I invited "FairyWitch of Shadows" to come along - her first time in life - and she wrote a fantastic review today (see below).
There were so many current and former Lammaites at this happy celebration party, I've asked some of them for feedback and got several great & entertaining comments. So, no need for me this time to add any of my own lame comments, besides "Happy Birthday, life cafe!" Let life's customers speak for themselves, freely & honestly:

Comments on life cafe's 1st anniversary party:
Sleiman - www.LighthouseResources.net:
From attending Life's first anniversary I can tell you that Life is joyful, playful and… sexy! Healthy food seems to be in fashion and to go hand in hand with gorgeousness.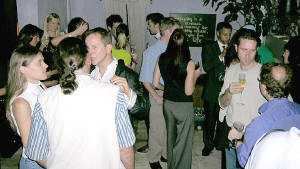 All you handsome single people! If your heart is looking for a playful sexy mate, Life is the place. Run by gorgeous people and attractive to gorgeous people. I sure hope to be included there every anniversary.
Here's a toast to Life, for the good energy pouring in the place from Bobsy, Marian and the rest of the team.
---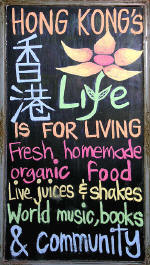 FairyWitch of Shadows:
My first time to Life. An invitation from Lamma-Gung (thank you!) to accompany him for the evening enticed me away from my reclusive lifestyle and quiet haven on Lamma Island.
I wasn't sure what to expect, something perhaps like its prototype, the Bookworm Cafe, funky and friendly and (sometimes rather too) laid-back. It was that indeed, but it was much, much more - a living, breathing evolution into a totally new universe.
The first thing I noticed, as I had expected, was all the 'beautiful people' there to celebrate the first anniversary of Hong Kong's one-and-only (?) Western organic cafe. However, I hadn't expected quite so many people, and I was very pleasantly surprised to see so many people I already knew. The energy was beautiful: joyous, festive, relaxed and unselfconscious. Happy people celebrating a happy event.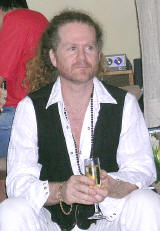 The second thing I noticed, which is what really impressed me, was the artistic sensibility of the place. This is a classy, well-thought-out venue: beautiful wood cladding the stairways and the walls; tastefully chosen lighting, lamps and candles; impressive artwork in glorious colours to soothe and uplift; touches of magic in the smooth rounded pebbles carefully placed on top of each other, pilgrim style, balanced harmoniously on wooden blocks lining the stairway to the heavens; serenity oozing from stone walls on the enchanting rooftop; the scent of something refreshing and delicious lingering in the air. Tasteful! One-hundred-and-eight steps beyond the cosy familiarity and slightly chipped tile floor of the prototype restaurant, while retaining the instantly recognizable and attractive handwritten signs in colourful chalk, the funky feeling and the easy ambience. And great live music as the organic cherry on the carrot cake.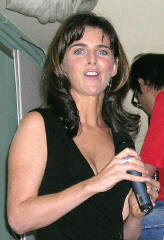 And the food! Delicious morsels to tempt, handed out by smiling people who obviously enjoy their work and like their customers. Clearly a more advanced fare, with more exotic dishes on offer and more exciting combinations of flavours. And all of it 'healthy', in the best tradition of food for your soul. The red organic wine (of which I consumed several glasses!) too was a surprise, remarkably well-chosen, tasty and of high quality.
All in all a great evening, certainly worth leaving home for, and now that I have been deflowered and made the transition from Lamma to Life, I will be back again, and I look forward to it. Thanks again to Lamma-Gung for the opportunity, and to Bobsy, Marian and all the Life Team for the evening.
---
kinzie - heartbeat, natural life directory, magical mondays @ life: www.kinzie.com: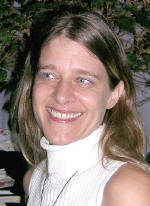 attending life's birthday party last night was really a family event for me - a great excuse to extract myself from the computer world and get out to see some real people. it was the kind of party i could attend to without making any plans - i knew i'd see some friendly faces. what a beautiful surprise to see so many happy smiling faces i hadn't seen in a long while. every time i turned around there was another huge hug and a warm hello.
with places like life and new magazines like urban soul, fit and positive news joining peter's holistic hong kong and my heartbeat, it's becoming easier to navigate hong kong's alleys and high-rises in search the many natural options. finding them is the tricky part and now that we're meeting each other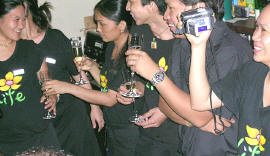 and sharing our experiences, the business world is recognizing the market and new companies are opening every week bringing amazing new choices for a balanced lifestyle.
marian and bobsy and their team have created a truly nourishing space in the heart of the hong kong crazies. we're all off to a great start this month ... 2 magic mondays in a row ... life's like that.
---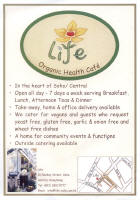 Peter Lloyd - Positive News HK and HolisticHongKong.com:
Life café celebrated its first anniversary on April 18 with a touch of soul, a dash of heart felt compassion, a spread of physical delights and a gift of grace.
The soul came from a trio of African musicians, the compassion from the Life fund gift of $22,000 to the International Social Service charity which helps migrant workers. The physical delights were the tasty food bites and drinks of course and the grace was the pleasure of meeting and talking to some funky folks.
---
Madame Shutterfly - photo blogger: www.madameshutterfly.com: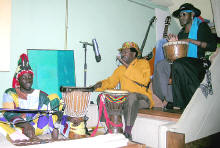 I'm a total Life addict and dedicated groupie.
I'm thrilled to see the place so successful after only one year. I wish Marian and Bobsy many, many more happy anniversaries!
Life... where the hip and healthy meet and eat... AMEN!
Disclaimer: Life cafe is a Lamma-zine & Blog advertiser.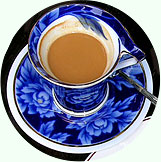 Apr 18: Breakfast Takeaways & Best Coffee?
Remember the story on breakfast takeaways in this blog on Mar 13? No? Oh well, it was all about the six places in YSW that offer tea/coffee/juices & baked goods to the huge early morning crowd rushing to the ferry for work in town. It's another Monday morning and this topic could do with an update, especially as HALF of the places have changed their offerings since Mar 13!
Aroy Thai has stopped their recently introduced takeaway service completely due to lack of demand. Early-morning customers seem to be VERY loyal and stick to the places they know.

New offerings at the new Kiwi Cafe (up from Thai Thai, opposite Honey Bee). Similar presentation & same price, but less choices than Tropicana ($20 for tea/coffee & sandwich) a few houses down the road.
Ah-Can isn't worried about the new competition. His clients are loyal to the Happiest Man on Lamma (as a customer called him and many would agree); a smiling face and cheerful, friendly greeting are just priceless so early in the morning. His 5-star hotel training serves him well...

The Village Bakery has started offering takeaway tea & coffee together with their tasty but pricey sandwiches/submarines, from 6-10am only.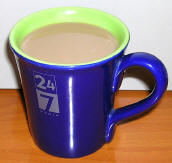 The vibrant local coffee culture is developing fast and is getting increasingly sophisticated all the time. It's not just us weird gwailos anymore who can tell the difference between Green Cottage's Organic Soya-ccino and French Press, Tropicana's Mochaccino (my personal favourite) and Lily Garden's "waking up the dead" house brew.
Click on the coffee photos above to find out where they are being served!
And let us know YOUR favourites in the forums: Best Coffee on Lamma?

Apr 18: Jesus Loves You, Mr Mojo!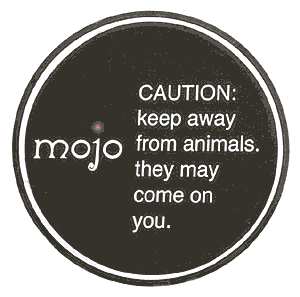 The Democracy Wall seems to develop into an open, free-speech forum for occasional dialogues via stickers and graffiti, commenting on existing posters. Check it out!
For example, the sexy & ubiquitous mojo posters (mojo. Light up. Get laid.) have attracted another ubiquitous sticker - from somebody offended by the poster? - promoting a Jesuslovesyou.ch website (.ch is Swiss), containing nothing but an animated, slowly beating, ominous, almost catatonic heart...
Then this Jesus sticker attracted some rather rude graffiti. You'll have to click on the poster to read it...
Typically Lamma!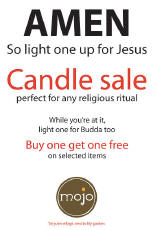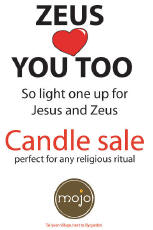 Follow-up on April 22:
I just go these two posters from mojo, responding to the Jesus sticker above. Danny, the owner, came up with two responses, sticking them on the Wall, just below his own sticker-defaced posters.
An on-going dialogue on the Democracy Wall? Well, that's a first, I think. Let's keep watching, if this will continue!
Only on Lamma!

Apr 17: Lamma Property: a Good Investment?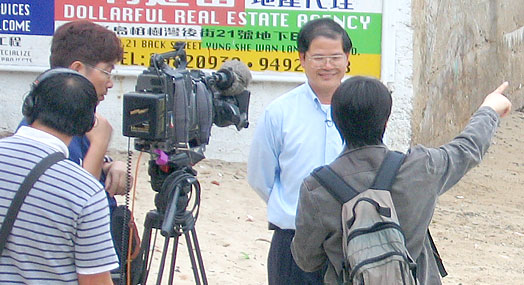 Tonight,11:15pm, Financial Review on TVB Jade:
Interview with the manager of Jackson's property agency about Lamma property and investment opportunities!
TVB filmed this a few weeks ago while alert reader and longtime (2.5 years!) contributor bbChris walked by, took a quick snapshot and emailed the photo to me right away, not knowing who the guy was! I love the background of the sign of a competing leading property agent! Thanks, Roving Reporter & Music Correspondent of the Lamma-zine!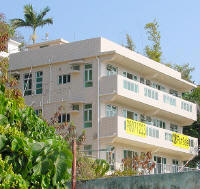 After the rents have been dropping for several years in a row - my own rent dropped by 25% in the last three years since moving here - it's holding stable now. There's still a big oversupply of new and almost-new flats, making it a buyer's market where rents can usually be negotiated down considerably and agency commissions for renting a flat have almost vanished. A bit of advice if you're new to Lamma and are considering to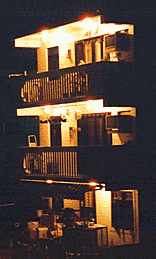 hunt for a flat:
Looking for a flat on Lamma is still a show-up-in-person affair, as none of the local property agents has a website listing properties and not even active email addresses. None of the off-Lamma property agents know the place, so cannot be recommended to find a flat.
You simply walk along Yung Shue Wan's Main Street and compare the window notices of the many property agencies describing the many flats for rent or sale. You can then go in and look at the flats usually right away, seven days a week. Expect a friendly, bilingual, but often not very professional standard of service. Be very specific in what you're looking for and don't let them waste your time in showing you too expensive or unsuitable flats, as the agents are quite likely to do.
If you find one, grab it as soon as possible, you pay one single month deposit plus one month rent in advance. You can usually move in right away or at the end of the month. None or up to $1,000 agency commission, free moving-in grace period till the end of the month. Contracts duration 1 year, but it can be terminated earlier, especially if you're nice to the landlord and maybe even help to find a successor.
If you're asked to pay more than $4,500 - $6,000 for the usual size of 700sqft in a standard 3-storey "village house" - even the most popular 2/F flats (inclusive of rooftop) - then you might be taken for a ride by the agent and/or landlord. 1/F flats are cheapest at around $4,500; about $3,500 for half the size of 350sqft (great for singles); about $1+ million to purchase a 700sqft flat. Larger places or entire houses are a rare find.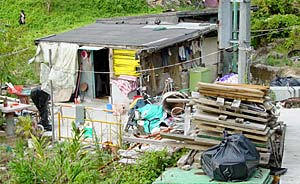 It would have to be exceptional - open harbour view or Jacuzzi or fully furnished or less than 5 minutes from the ferry - to warrant any higher rent or sales price. These infos are just an indication, for your

reference only and may vary - especially the prices may increase a bit later this year.
For my own tale of flat hunting woes, click here.

Apr 16: Sign! Sell! Raft! Roast! Chill Out! Tell a Story!
All of the above Lamma-related activities are available this weekend, as the social calendar is heating up again, filled with more and more exciting activities, all listed and daily updated in the Lamma-zine Events Calendar:

Apr 16: Kiwis in My Coffee?

There have been strong rumours for more than a year now of a fish'n'chips takeaway place opening on Main Street.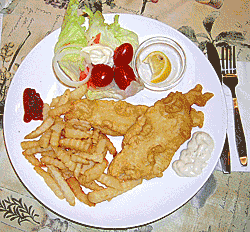 Well, in the meantime, another fish'n'chips place has openend last Saturday, but on Back Street (up from Thai Thai). This Western-style cafe is run by two Chinese couples, one of them recently returned from New Zealand (thus: Kiwi Cafe). It serves the very best crispy-on-the-outside, moist-on-the-inside fish'n'chips in the village right now, IMHO!
This place - formerly known as the luckless Offtime Cafe and then My Cafe - seems to be finally getting it right under the new, eager-to-please management of Henry & Mee Wah Wong and their friends, some of them with decades of experience in running fast-food places. Henry is definitely the most affable, friendly & chatty KBC (Kiwi-Born Chinese) I've met in a long time ("I'm built for comfort, not for speed, ya knowww!"). Checking the place out twice already, we've enjoyed the very fast & friendly service, comfy, soft chairs, free tea/coffee refills and all the free smiles & banter. We'll be back very soon!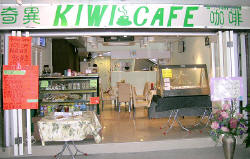 Sandwiches, toasties, burgers, snacks, pancakes, muffins, juices... everything seems to range in price between $10 and $34 - $25 for each of the dishes above left - very reasonably priced and very tasty. But the new, hand-written, quite extensive menu still needs a bit of revision in the English section: "Hash Browns" are actually waffle chips and "Hot Dogs" come fried in batter, to our amusement.
After an enjoyable meal, give them some improvement suggestions (the coffee will change soon, I hope) and leave your own graffiti on the freshly painted walls!

Apr 15: Tin Hau Festival: Dragonboats, Sampans & Canto Opera!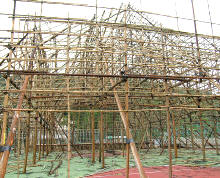 The bamboo tent is being erected once again in the football pitch. An artwork of intricate, traditional craftsmanship in itself, it'll house the "Hongkong-renowned Hing Fung Ming Cantonese Opera Troupe", Apr 29 - May 3.
This is such a major local event that there'll even be additional late ferries on these days at 12:30am transporting the opera-loving crowds back to Central and Aberdeen. I'd strongly recommend you to stop by one of these nights. Watching it is free from the sidelines; modestly-priced tickets are available at the show.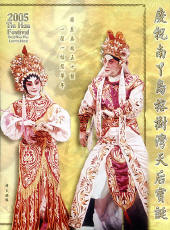 Here are a few of my photo galleries to give you an idea of the Cantonese Opera performances, including the construction of the bamboo tent, the performances themselves and a fascinating look behind the scenes:
Tin Hau Festival 2003, 2004.
Have a look at the opera brochure, also available in our "City Hall", G/F, besides the "Policebox".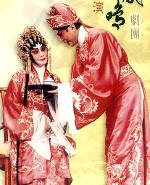 This is probably the most colourful, exciting and fun festival of the calendar year on Lamma Island, IMHO (In My Humble Opinion).
Reserve Sun, May 1st for the dragonboat races (10am & 2pm, including the fishermen's team, the male & a mixed Lamma Dragons teams), the Sampan races & the fiery Tin Hau temple celebrations. Afterwards, dancing around the May pole and the Beltane fire on Power Station Beach, plus at least one fire dancer, we hope.

Apr 15: The Man with the Golden Hammer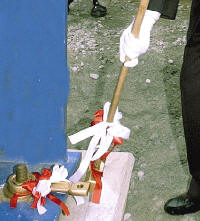 Who is this mysterious Man-In-Black with the smart white gloves swinging a heavy, powerful golden hammer in public on Lamma? Guess who got a photo taken of himself swinging this mighty golden hammer, like the mighty Thor, the Nordic god of thunder... and then sent the photo out to all the media? Who'd be rich & powerful enough? And why are there all these colourful ribbons???
Yes, none other than Mr Francis Lee, a GM of HK Electric. Their latest intriguing press release informs us mere mortals & voracious consumers of electric power of a major milestone in the mighty multi-billion-$ construction project that is the Power Station Extension: the "Column Lifting Ceremony". To learn how they manage to lift a huge column with a golden hammer, read on! They even managed to mention Lamma's very own little wind turbine-under-construction once again.

HK Electric press release: 15 April 2005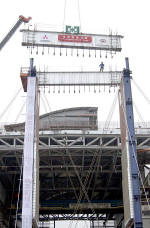 "Column Lifting" a Milestone in Lamma Power Station Extension Project
Plant installation work of Hongkong Electric's first 300-megawatt class combined cycle gas-fired unit at the Lamma Power Station Extension project was officially kicked off today with a "Column Lifting Ceremony" to set in place one of the hot beams for a major facility.
This important ceremony – a milestone in the project - was officiated on site by the Director and General Manager (Engineering) of Hongkong Electric Holdings Limited, Mr. Francis Lee...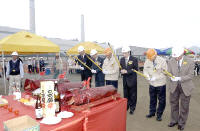 The steady supply of natural gas to fuel the new unit is ensured through a 25-year contract signed between HEC and Guangdong Dapeng LNG Company Limited in April last year. Liquefied natural gas (LNG) will be extracted from gas fields in Australia, liquefied and shipped to the Guangdong LNG Terminal at Cheng Tou Jiao in Shenzhen.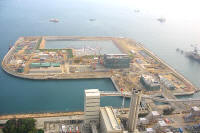 The LNG will then be gasified and supplied to the Lamma Power Station through a 93-km long submarine pipeline of which installation work started in March this year...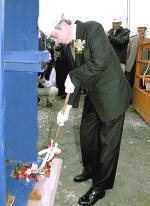 "Today marks another important step for Hongkong Electric in providing clean electricity to our customers," Mr. Lee said, referring to the Company's parallel plan to build Hong Kong's first commercial-scale wind power station at Tai Ling on Lamma Island.
Following the machinery installation, construction work of the 275kV transmission network will begin in the next few months. Trial run of the new facility is scheduled for early next year while commercial operation is expected in mid-2006.
CAPTION: Mr Francis Lee, tightens a bolt into a column with a golden hammer at the ceremony that signifies the commencement of plant installation work of Unit 9 at Lamma Power Station Extension.


Apr 14: 'Enjoy a day out on Lamma'
We've appointed a Lamma Tourism Ambassador on March 10, but he hasn't been very active in his new honourary role yet, probably waiting for hotter weather? In the meantime, I've received this nice, touristy invitation from a brand-new Lamma-zine contributor, a reclusive, longtime Lammaite and future "Lamma-zine Artist of the Month". Many thanks to Li for introducing us!
Bluelotus - Artist & Collector: Enjoy a day out on Lamma Island!
Visit my home, immerse yourself in objects of beauty; walk the hills or beaches; eat out in one of our delicious restaurants; visit our fabulous amber shop, organic vegetable and herb farm, and specialist Chinese teashop; admire the Tin Hau temple; or simply soak up the atmosphere of a relaxed, multicultural community not-so-far from the madding crowds of HK!
Ferries from Central take only 20-25 minutes, Pier 4, to Yung Shue Wan.
You are cordially invited to a private showing of a selection of superb 19th-to-early-20th century Chinese embroideries. Pieces on show include: purses, earmuffs, hats, children's festival collars, panels, costume and shoes, as well as ethnic weavings, baby carriers and much more:
When: Saturday 16 April, noon to 5 pm
Where: G/F 41 Tai Wan San Tsuen, Yung Shue Wan, Lamma Island (up the stairs after the Hans Andersen Club). Other times, days or venue by appointment only. Available for sale (or just to enjoy looking at!) are:
Handmade and hand-painted greetings cards

Small original artworks

Gorgeous handcrafted candle globes & chandeliers using natural crystal & semiprecious stones (original creations & concept from designer Jill Eason, another future "Lamma-zine Artist of the Month")

Exquisite pendulums of natural crystal and semiprecious stones

Tibetan and Ningxia rugs, and an 18th-century sutra table from Tibet
Why such an eclectic mix of products? Because all these beautiful things are embroidered, woven, painted, made or crafted by hand, with love and personal creativity.<![if !supportEmptyParas]> <![endif]>Please call 2982-6123 or email me for more info & directions.
Disclaimer: Bluelotus is not a Lamma-zine advertiser, but this sales promotion is a freebie for her touristy blog contribution above. I've seen her embroideries and her own paintings myself and can warmly recommend them as "objects of beauty".

Apr 13: An Entire Island of Eccentrics?
The "Soon to Become World-Famous Author of THE Definitive Lamma Animal Novel" has bravely ventured out to Discovery Bay, eh, Disco Bay, eh, DB, eh, DbAY (identity crisis, anyone?). He returned home safely with a fun little anecdote:
Jay Scott Kanes - Author of "Dog-Gone Cat Case":
I was talking to a merchant in the Discovery Bay Plaza. We engaged in a little of the old Lamma versus DB thrust and parry. Here's my best stab at recreating the relevant bit of conversation:
I mentioned Inside DB magazine.
He replied, "On Lamma, you have something called Lamma-zine."
"Right, an online magazine," I said.
"Reading it gives me the impression of an entire island of eccentrics."
"Judging by appearances, maybe Discovery Bay's a saner place."
"Debatable."
Heads nodded on both sides of the sales desk.
That was about all. Then we moved on to other topics.
Right now, my head is also nodding vigorously up and down, like these annoying nodding doggy figurines atop many a taxi's dashboard...
Wow! That was quite a nice compliment from this "DB Plaza merchant", I think! Besides being surprised that somebody in DbAY is actually reading the Lamma-zine, I'm quite flattered by his "impression". Any more DbAY readers out there?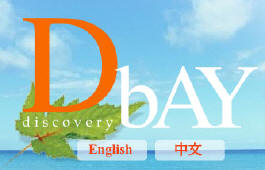 For sheer amusement, I love reading the DB City Rules ("The City Rules shall be observed and performed by all residents in order to provide a harmonious living environment.") These 20 (!!!) pages - including 3 pages of golf cart rules & fines - sum up the polar opposites of Lamma vs. DbAY very nicely. But I couldn't find any rule banning eccentrics in there yet. Probably soon?
We accept, tolerate or at least ignore most of our own eccentrics here on Lamma, letting them live in peace. One of the many reasons this eccentric "Self-Styled Online Voice of Yung Shue Wan" (quoting Fortune Chan) enjoys living here so much...
Admittedly, eccentrics are more interesting to write about than the vast majority of nice, normal, sane, friendly, helpful people living on Lamma these days, many of them stable pillars of society, upstanding, law-abiding, tax-paying, good citizens!
Thanking Jay for this nice little story, he's getting another free plug for his book signing event this Saturday! Meet the Lamma author of a most entertaining book about

Lamma itself!
Send me your little story and I'll give your product, service, scam or money-making scheme a free little plug as well. You could even get a BIG plug (free ad, anyone?) for a longer story & pictures!


Apr 12: Lamma-zine Fan Base in Hawaii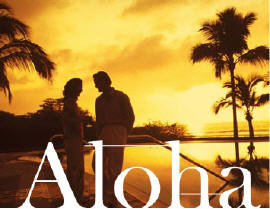 This blog quite frequently receives email from people wanting to move to Lamma, looking for places to rent or info about TV and Broadband options, etc. Several very friendly emails arrived recently from Bud in Hawaii, titled "Thank you, Mr. Lamma.com.hk!"
He revealed that "Here in Honolulu, your website is followed by a whole bunch of people." I was very surprised, always assuming that I publish to an almost exclusively Lamma-based or at least HK-based readership. Well, I was wrong (again)! See below.
But this international exchange of people works both ways: the well-known Jerry the Acupuncturist & Herbalist emigrated to Hawaii with his family just a little while ago. Now we'll have Hawaii-Bud (Bud-Ha-waiiser?) & co. moving to Lamma soon, so the balance has been restored! I'll be meeting up with Bud end of this month, so we'll hopefully hear more from this future Lammaite! Welcome!
Bud - Honolulu, Hawaii - Lammaite-to-be of the Day:
Aloha, thank you for keeping me informed, and sometimes entertained, about Lamma, through your Lamma.com.hk website.
The "Save Lamma" organization (found on your website) made me realize, that there are some pretty good people out on Lamma.
End of this month I will be "flat hunting" on Lamma. Thanks again! Your website is impressive! Mahalo
---
Follow up... Here in Honolulu, your website is followed by a whole bunch of people. I start telling them about Lamma, and give your URL.
Now, when I tell people that I plan to move to Hong Kong, they understand!
---
Each time I tell people about Lamma, I tell them about your website. A friend of mine who did live in Japan for a while, thinks that some small Japanese islands are in a way similar to Lamma.
I sent your URL to friends in Holland. Mainly to show them that Hong Kong is not all towering buildings, traffic, noise, etc. Surprise is often the answer.
Hawaii, and special Honolulu, is highly urbanized (the car rules!). But at heart it is still an island community. So when people and friends see your site, read your stories, they understand quickly what an unusual community Lamma is.
Again, I think you do a great job on Lamma.com.hk!


Apr 11: 'The Artist Dressed by His Mom',
Hunting Tattooed Headhunters!
Has anybody been wondering what The Artist Dressed by His Mom, eh, the Official Court Artist (right) has been up to recently? No? Me neither! Who cares!!!
But I got this amazing series of photos recently from his MM-BB ("Main Man" & Best Buddy) Mr DickStock and thought they might be good enough for at least half a laugh. Together, they've been haunting the hills of Northern Luzon, (head)hunting the reclusive Kalinga tribe, taking pictures instead of heads (for now).
The head of Andee "Nice Hair!" Maluche would make a great & unique trophy, to become the major pride & centre in a headhunter's collection, don't you agree? A beautiful photo gallery of this most memorable trip is on Mr DickStock's Flickr pages.
Also, check out Andee's artsy-fartsy website & occasionally updated art blog. Email him at:
you-can-look-b@dont-touch-my.com (Yes, that's the correct email. He's "Oh, so cute!" creative in many ways!)
Mr DickStock (ENG Cameraman - Electronic News Gathering) reports: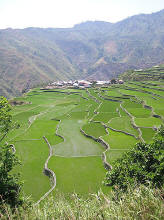 "I just got back from a monumental expedition into the Kalinga mountains, in the upper reaches of the Chico River in northern Luzon. My "Main Man" The Shy Stick Insect Hunter is in the early stages of work on a book on the ever-transforming Kalinga culture. He's going to try to do the whole book without once mentioning the word "Head-hunter". The old practice, which passed from use in the 1970's was for a man to prove bravery by killing an adversary, and then receive elaborate tattoos on his upper torso. Likewise, women would purchase their own tattoos for great sums. They are things of deep beauty and meaning in Kalinga eyes.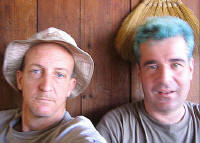 Andy is trying to help them tell their many stories, in words and pictures and craftworks of all sorts. This entails hiking thru these rippingly beautiful rice terraces, perched on the sides of mountains. Squatting in local houses, eating and drinking and chatting....well SOMEONE'S gotta do it! I help where I can!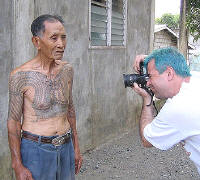 On our recent excursion, Andy showed some "mock-up" page layouts with pictures of many elders from one clan. When the old guys and gals saw the beauty in the shots, they started rippin' their tops off, eager to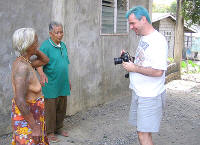 show off their "body art" to Andy's camera.
Maluche is presently looking for sponsorship of all sorts, in order to finance the many months of work the project will require. Any ideas or contacts are welcome!"

Apr 10: Confess Your 'Manifold Sins and Wickedness'!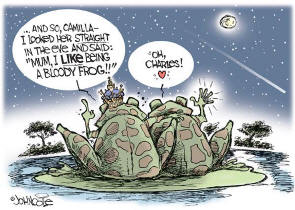 So Prince Charles and Camilla Parker Bowles have FINALLY gotten married. Well, better 30 years late than never, or is it? Who cares! But let's wish them all the best anyway. The only aspect of the wedding that piqued my curiosity was that the blessing included the couple confessing "manifold sins and wickedness'' – words from the Book of Common Prayer - before they later pledged to be faithful in their marriage.
Shouldn't we all follow this great example? There are so many unique & fascinating characters living on Lamma - some with a very colourful, dubious and secretive past. Let's all confess our "manifold sins and wickedness" - before we later pledge to be faithful to our friends and then go into a huge group hug. Yuck!
Then we can all start afresh - sins forgiven - and commit many more new "manifold sins" and indulge in many more wickednesses!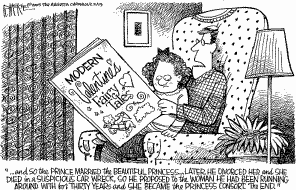 If I could just remember what those were... I must have led a pretty boring life devoid of fascinating & entertaining wickednesses... I'm sure many Lammaites could give me good & practical advice?
In the meantime, here's a link to a collection of the best Charles & Camilla wedding cartoons. It's been a real worldwide boom for cartoonists' creativity & their imaginations running wild!

Apr 9: Life Cafe's 1st Anniversary Coming Up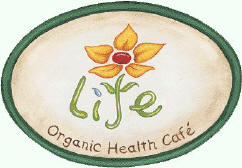 Hard to believe that it's already almost one full year since life opened its doors on April 19, 2004, just besides the Mid-Levels Escalator in Soho, Central. This place could be called "Bookworm Cafe - The Sequel", bigger, better, fancier, more expensive...
Here's the latest eNews - April 2005 I've received today. Ex-Lammaite Bobsy reminiscing about the 1st year, announcing not less than 8 different events & activities in life in just the next few weeks. It's really developed into a very positive & active centre for the fast-growing natural/organic/holistic/fitness community in HK. According to Bobsy: "...we see what a difference our cafe is making to people's lifestyle choices." He's also introducing a new Chops & Cheers initiative and a Friends for Life discount card for his Fellow Lifers. Yes, he still sounds so cheerful, positive & "uplifting" after all the years in the tough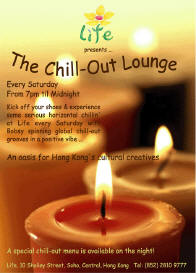 restaurant biz...
I've been invited to the big anniversary party, plus one guest, but Lamma-Por can't make it. Who wants to come along (male or female)? Send me a good, amusing and/or creative reason why I should invite you (a few lines, a quote, a restaurant review, a photo, a drawing, anything!). For inspiration, check out my ad web page for life, including loads of info & Lamma-zine photo galleries.
The best submission will be invited to the free party! If I'll get several good submissions, I'll even throw in some of my own $200 food/drink life vouchers. How's that, the first restaurant contest in this blog! More to come soon!?
Disclaimer: Life Cafe is a Lamma-zine & Blog advertiser.

Apr 8: Honouring Lamma-zine Contributors
During March, the Lamma-zine Blog has been fortunate & lucky to get a lot of content contributions from the local community: ideas, photos, quotes and even entire articles from a very wide & diverse range of great people!
Let's honour & link all these fantastic contributions in March in an official honours list, like last month! Many thanks to all these wonderful people from the readers of this blog & myself! This is YOUR blog, YOUR soapbox, YOUR media!
Can we add YOUR CONTRIBUTION to the April Honours' List?
Anything with a Lamma flavour is most welcome! You can submit it anonymously. I'll proofread and correct your English, if you like. I'll even get it translated, if you prefer to write in Chinese, French, German, Italian, Tagalog, Japanese, Thai or any other of the commonly used languages in our multilingual island community. Also, let us know what current and former Lammaites are up to all over the world!
Phil Keep

Mar 3

Nick the Bookman

Mar 5

Jean-Francois

Mar 7

Nora Chau

Mar 8

Claudia

Mar 9

Reluctant Writer

Mar 9

Petula/Fortune Chan

Mar 10

Roberta

Mar 11

HK Electric

Mar 12

Alan

Mar 12

Val/Dawn/Hapifiou

Mar 12

Lantau Post

Mar 14

Cristobal de Lamma

Mar 16

Wikipedia

Mar 17

K K Ho/Alan/ minibeast

Mar 19

HK Electric

Mar 20

Jay Scott Kanes

Mar 22

Buster Noname/Greg

Mar 22

Ingmar/Pete Spurrier

Mar 23

Shockin' Rockin' Donkeys

Mar 25

Claudia/Katie Harling/Lara W.

Mar 27

LAP/LAWC

Mar 28

Kumi/Jerry

Mar 29

Sneaky-O

Mar 31

Apr 8: Paul the Butterfly Man
Paul Lau in Sok Kwu Wan owns and tends a butterfly farm and has written the definitive book on Hong Kong's collected butterflies: our Lammaite of the Day!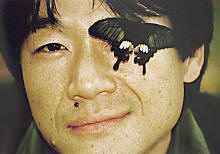 Uncle Guy - formerly avid Lamma butterfly photographer: "The book is truly wonderful, especially the quick reference pictorial indices inside the front & back covers.
The amount of work gone into compiling the book is incredible & shows the true dedication of the author to his subject. Paul Lau, if you read these forums. Congratulations on a really good piece of work."
Zep - Moderator of the Flora & Fauna forum of Lamma.com.hk, interviewing
Paul Lau - Butterfly farm owner and author of "Butterflies of Hong Kong":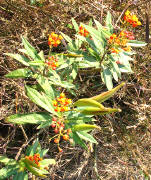 Paul the Butterfly Man of Sok Kwu Wan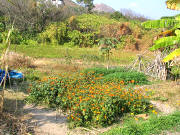 Paul Lau's "butterfly farm" at Lo So Shing near Sok Kwu Wan has no fences or enclosures. His strategy to attract a variety of butterfly species is to plant the kind of plants that they like. These could be flowers of a kind that the adult insects feed on or other plants which attract egg-laying as they are suitable for the larvae (caterpillars) to feed on.
Here we can see a patch of ground adjacent to a large swampy area where a number of beds are in bloom, including Mexican sunflowers that attract a lot of the large birdwings.
The vegetable patches have various types of cabbage to appeal to the white butterflies as a suitable egg-laying spot.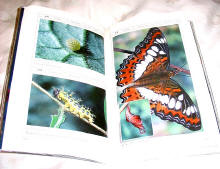 Over the years Paul has built up an unrivalled knowledge of the local species, and collected many photographs not only of the adults, but also other stages of the life cycle. These form the basis of his book "Butterflies of Hong Kong" which has a bilingual text in both Chinese and English to appeal to the widest spectrum of readers.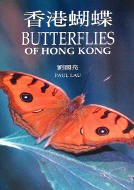 Butterflies have four stages in their life cycle: egg, larva (caterpillar), pupa (chrysalis) and imago (adult). While some other books only describe the features of the adult, Paul's book also has details of the other life cycle stages, including guides to recognising different species by eggs or pupae.
Paul's publishing interests are more widely spread. His current interest is in minority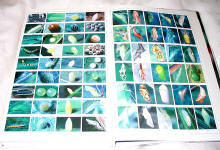 cultures of China, and when time permits, he makes trips to remote parts of China to research and photograph material for further publications.
The few remaining

copies of Butterflies of Hong Kong, in full colour, are available at Herboland, near the beach at Yung Shing Yeh, for just $98.

Apr 7: 'Pheromones of Musical Fertility' - New Lamma Band!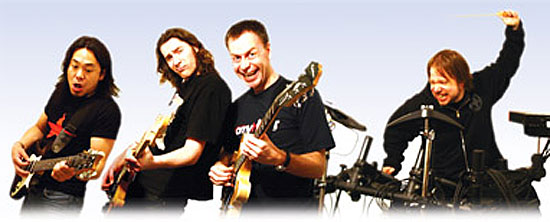 (Nell, Gary, Alex & Magnus in top musically fertile form!)
Lamma's superstars-to-be Pheromones of Musical Fertility (formerly called Garoupa) have made it into the new BC Magazine, giving one of their more and more frequent interviews, this time in the Deli Lamma's garden. Quoting from the highly entertaining and laid-back interview:
Garoupa Sessions
It must be something in the Lamma air. The whiff of abundant seafood, the scent of patchouli incense, or the output of the three giant power station chimneys; whatever it is, it apparently releases the pheromones of musical fertility. Last issue, we spoke with the eclectic band NUDE, and this week we returned on the ferry and, sitting at an outside table behind Deli Lamma, Alethea Dean was served a hearty portion of fresh Garoupa.
Everyone knows Lamma is the place to go to for seafood and the Garoupa before me is a local delicacy, a HK fusion dish made up of equal parts of Brit vocals and slide guitar, Kiwi bass, Swedish drumming and Filipino guitars. Formed about two and a half years ago, the group "fell into their first gig by accident," as bassist Gary Hill recounts. When another band pulled out of Wanchai Live, they filled their slot at very short notice and to great acclaim.

They went on to compete in the Tom Lee Acoustic Band Competition where Brit-born Alex Sommerville got the prize for Best Individual Performance. Since that heady time however - and after the recording of an EP - they've lost their original guitarist, Hamada El Mansour. "It's pretty careless," deadpans Hill. While searching for a replacement (now confirmed as Nathaniel 'Nell' Inciong, who also moonlights with a cover band), they played last summer with visiting friends,...
The previous collected recording was planned as part of an EMI compilation that has yet to materialise, and this time round the band are taking matters into their own hands and aim to put the album on the internet to spread the word to a wider audience, perhaps to book some gigs and festivals abroad...
"And if we had enough energy and ambition we might be more inclined to go places," acknowledges Hill. "But speaking for myself at least, I'm quite happy just to have a good time with it, playing for friends and playing a few gigs here and there."
"You can't take yourself too seriously," concurs Sommerville. "No one will listen to you. We play a gig down at the bar people will still stand there and stare and cheer us on, but they'll also heckle. So it's quite good preparation for going over to the Big Smoke." Non-Lamma dwellers, read HK Island.
(Photos above courtesy of Nathaniel 'Nell' Inciong and BC Magazine)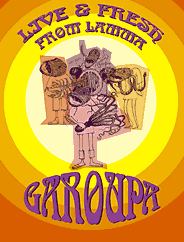 Alex (see left, my favourite, "slightly-processed" photo of him performing) emailed me today that "Garoupa will be back performing soon with new tunes once broken fingers are mended."
I fondly remember doing a photo shoot in the Bookworm Cafe just a few months after they got together, 2 years ago (poster on the right by Harry.) In the meantime, here are a few of their Lamma-zine photo galleries of their performances on/off Lamma:
Catching a Garoupa with a Bookworm,
Rockit 2003, Rockit 2004.

Apr 7: Lamma Lads Organising Phuket Sixes
Claudia Tarr - Lamma Dragons PR lady: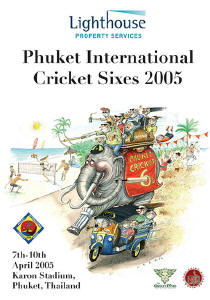 Two Lamma Cricket Lads, Mark Burns and Brad Tarr (you may notice the connection) are organising a International Cricket Sixes Tournament in Phuket at the beginning of April. It was already planned before the Tsunami hit and then there was doubt about running it. But it was decided that it was the best thing that could be done to help bring back tourism. They will also be raising money to build an orphanage. The Lamma Cricket Club will be going.
Please look at the website www.phuketsixes.com for details. Brad and Mark own the organising company Asian Cricket Sixes Tour: www.cricketsixes.com.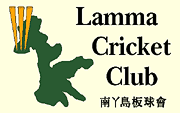 Aha, so that's what the lads have been up to! The Lamma-zine has heard much too little from our local heroes and the Lamma Cricket Club since they've got their own fancy new website. All the best success in Phuket, lads, this fun tournament starts TODAY! And we want to see LOTS OF PICTURES, especially the embarrassing ones from the late night victory celebrations, of course!

Apr 6: A Very Productive Holiday
Ching Ming holiday yesterday: While the hordes of tourists are streaming through Yung Shue Wan on the way to the beach and to Sok Kwu Wan's seafood restaurants, I ventured out and got busy for this blog, meeting people & contributors, collecting input, news, ideas, material and photos for this blog:
Lunching in Tropicana (baked potato, fruit salad & Mochaccino, plus a healthy dessert of the latest village gossip.

An unannounced wine tasting was taking place in the Lamma Gourmet, 2-4pm! Over a delicious, smooth white wine ($78/bottle) I chatted with Dan the Bastard: no more takeaway breakfasts from Aroy Thai, (announced in this blog on March 13).

Nick the Bookman is asking for more Lamma-zine flyers to distribute. He's selling the Dog-Gone Cat Case book (A Lamma Island Story, introduced on Mar 22), promising to write a blog review, as soon as his arm has healed (bitten by accident by one of his own dogs!).

Checking out some of the many other locations that sell this book (listed on Apr 4), finding that my flyer distributor is "moonlighting" in Emily's!

Dropping off the web page printout at the new Lamma-zine advertiser Friendly Face Beauty House (behind the LAWC shop).

Discussing a website relaunch with somebody who just had an unlucky escape from his very own "celebrity stalker".

A new CD shop has just opened in Nadia's former second-hand shop. Very nice!

Several people mention that "My Cafe" will be reopening soon.

Meeting Daniel of the just opened Lily Garden Cafe in Tai Yuen: see photos and a discussion if they should open all week?

A forum moderator's teenage daughter (and former blog star) stops by for a chat, asking to put her school questionnaire "Spa on Lamma?" into this blog. Of course!

The next Lamma-zine Artist of the Month - creating amazing glass sculptures - stops by, confirming her participation.

Checking out the latest wall posters: a Yoga class will start up in the old Island Gym on Saturday mornings soon.

Returning home hours later, writing it all up for this blog article, another exercise in totally shameless name dropping and hyper-excessive cross-linking. Enjoy!
I still love living here, being a (however small & insignificant) part of our fun, friendly, networked, multicultural island community!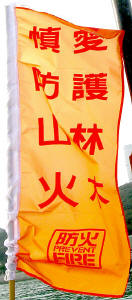 Apr 5, Ching Ming: More Hill Fires?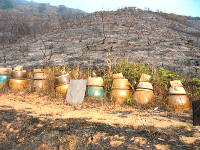 Another Ching Ming grave-sweeping festival means more hill fires, like most years. They're caused by careless worshippers visiting the graves of their ancestors in the countryside and burning offerings. The sparks cause massive hill fires, destroying bush land and forests every year. Nobody is ever prosecuted or even charged for starting these extremely destructive fires which occasionally even endanger houses in the countryside. (2 photos on left by Zep)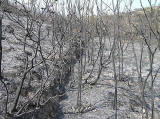 Despite frequent pushing, also by myself, the local authorities haven't come up with any prevention measures so far, only flying "Prevent Fire" flags at the five public ferry piers around Lamma Island (YSW, Pak Kok, Luk Chau, Sok Kwu Wan, Mo Tat Wan).

Local fire watches by volunteers were organised in earlier years by the ABLE charity and active individuals, but have petered out. For more info and an on-going discussion, click on TALKBACK and here!

Apr 5: Long Live the Democracy Wall!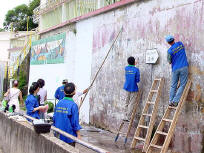 The so-called "Democracy Wall" at the Yung Shue Wan ferry pier is the local public bulletin board, open to everybody. It's a great and daily added-on to source of the latest sales, promotions, news and, very often, sheer amusement.
The Wall has survived several attempts by the local authorities to "clean it up" and it has always bounced back, despite dire threats like repainting it (see right), followed by daily "cleanups" instead of the welcome weekly cleanups to keep the Wall interesting and current. Theoretically, there's also a threat of a $1,500 littering fee for "unauthorised" posters on public property in all of HK. But nobody has EVER been prosecuted for it on Lamma; fingers crossed!

Some of the posters are intriguing, funny, creative or sometimes baffling, like the trio above. Sex aids for pets? Animals coming on you? Smoke while having sex? Actually, it's a "sex can sell anything!" ad by an ad agency professional for a... wait for it... candle shop! Well, it got onto this home page for free, so it works!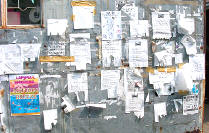 The posters - from hand-written to professionally designed by the many artists & designers living on Lamma - provide frequent input into this blog after I photograph them from the Wall itself.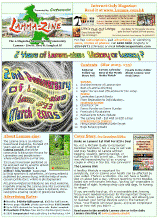 Email your posters to me if you'd like them to appear on this website! There are other "public" poster walls on Lamma - like the one above at Nick's Corner - but none rivals the Democracy Wall in popularity and results in getting feedback. Sometimes, you can even see a poster like the one on the right on all the Walls... Actually, the page background of the Lamma-zine website has been created from my photo of the Wall, abused for years before it was painted white last year. Here's a little personal selection out of the dozens of different posters on the wall right now. Click to enlarge!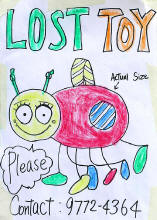 Definitely the cutest & most eye-catching poster!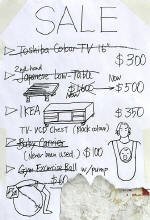 Yes, sales work well on the Wall, almost nothing's left!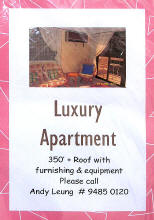 A 350sqft-only "Luxury Apartment"? Loads of flats for rent/sale/share on the Wall.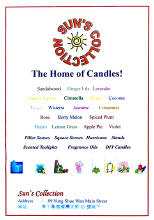 New candle shop, one of the few shops who know marketing.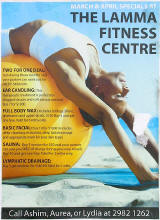 Almost too slick-looking, like an ad poster in town, people might ignore it.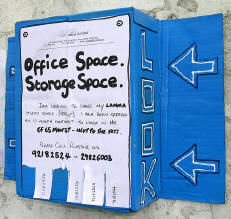 The only 3D-poster, eye-catching from the side (LOOK) & the front, by local artist Alastair.

Apr 4: 'Card-Shark Man', the Sales Leader!
The new book "Dog-Gone Cat Case" - "A Lamma Island Story" - has been published now. It's available in the Lamma shops listed below. I've got my signed and dedicated copy already! News from the author:
Jay Scott Kanes - "Soon to Become World-Famous Author of THE Definitive Lamma Animal Novel", as dubbed by this blog:
Since we last spoke, Lamma merchants have rather warmly accepted the new novel Dog-Gone Cat Case. Sincere thanks to them for that. The book has gone (or soon will go) on sale (at HK$78) in the following locations:
(Editor's remark: All known websites/email addresses of these shops have been linked, just click on them.)
Nadja's Consignment Shop

AE Collection

Unnamed shop, 87 Main St

Yan Yan Store
This accounts for almost everyone to whom I've been able to speak. Should anyone else wish to carry the book, I'll be glad to stock them. Normally, I can be reached by phone at 2361-1143 or by email.
Incidentally, an early sales leader emerged on the first day..... You guessed it! Nick the Bookman, enthusiastic and charismatic, promptly became the first merchant to need restocking. I'll keep you posted on plans for a launch party.
No wonder that Nick emerged as the sales leader, as he's highly motivated by this book, mentioned more than once in the book as "Card-Shark Man, local sage"!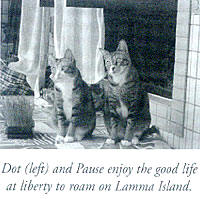 More about this highly recommended book, see this blog on Mar 22, including a preview excerpt. A book review by the Card-Shark Man will follow as soon as he gets tired of me bugging him daily about it. An interview is planned with the artful author himself in his low-key Lamma lair where he's craftily creating his mystifying masterworks in solemn solace and the requisite reclusivity.

Ugh, my own extremely modest attempts at writing prose seem to deteriorate rapidly in the bright shining light of the true master above. I'd better stop for now...

(Disclaimer: Jay Scott Kanes is a future Lamma-zine advertiser)

Apr 3: Do You Like Photos of Deli-cious Donkeys?

The Shockin' Rockin Donkeys returned from their winter stables to rock the Deli Lamma on Good Friday, Mar 25. Here are some photos taken by "my ex-gf and me pa, so most of them were of my mug", according to lead singer Chris Collins.
He also writes that "We used a drum machine that night...no Hugh.". So easy to replace a Donkey? Soon they might become all virtual and be replaced by their machines? Cyborg-Donkeys, anyone? More pictures from their earlier perform
ances, see blog article, Mar 25. Click below to admire all the Funny Faces:

Apr 2: 'Noticed a Bunch of Lamma People Hanging...'
Following up from the monthly Underground concert on March 31, one of our many fine local musicians (co-host & co-organizer of the event, guess who?)

pointed out the review & photo gallery below to me. This concert - like all performances by Lamma bands on and off Lamma I get informed about - was announced in the Lamma-zine Events Calendar, of course. Click on pictures for the photo gallery:
Mark Emerson - concert review on the Underground website: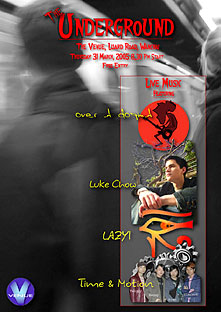 Noticed a bunch of Lamma folks hanging outside Venue, clearly a Lamma band was about to debut at Underground. It was none other than Over A Dogma smoothly blending Moroccan musical influences with Western grooves.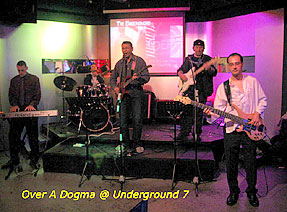 Clearly their demand for Fender amps paid off handsomely, founder/vocalist Hamada had the audience singing away in African, shouting & laughing; certainly a first for Underground.
I'd like to see more bands like this in Hong Kong, where you can hang up your troubles allowing the music to take you elsewhere for a little while.

Apr 1: Dirty Story at Half Price!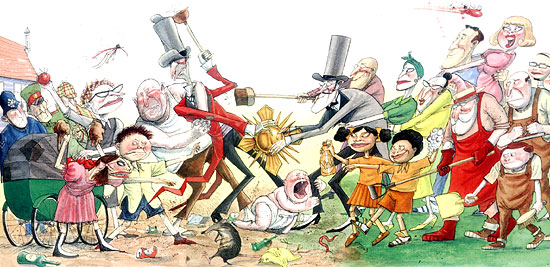 Doesn't this look like an everyday scene from Main Street, YSW? Click to enlarge and guess who is who!
Take the opportunity to decorate your walls with 12+1 dirty pictures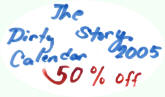 and read a really dirty story, all at a bargain price of 50% off! Illustrated by Lamma's Harry Harrison, this children's book & calendar is called "The Dirty Story". The beautiful calendar is now on sale in Bookazine and other bookshops. A great present for little kids and adults who like to behave like little kids - a frighteningly large portion of the local population...