Tin Hau Festival (11 May 2004)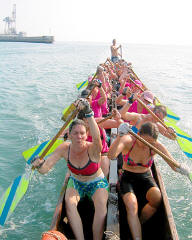 Tin Hau, the most colourful, photogenic festival of the year on Lamma!
Lion dances staged, paper offerings burnt, exciting Dragonboats raced, sampan rowing contested, Chinese opera performed...
Lots of photographers were out in force, taking some great shots. You'll find a few of my own photos below, plus a lot more from 3 other photographers.
(photo by Andrew Shields)
---
Tin Hau Festival - 2004 (photos by Lamma-Gung):
(click to enlarge)
---
To send comments, get more info, get high-res files for printing, or to publish your own Lamma-related photos & galleries on Lamma.com.hk or in the Lamma-zine: email Lamma-Gung.

All pictures and text may be freely reproduced for non-commercial purposes only,
but only with explicit permission from the author, photographer or artist.

Commercial enquiries are most welcome! Last update: September 29, 2019 11:12 AM

© 2018 Lamma-Gung, Compunicate! Web Publishing, e-Marketing & Photography.
All rights reserved.

<!/td><!/tr><!/table>