Story Poll: New section

Which Lamma-zine feature story above did you like best?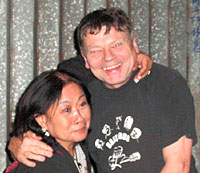 Simply click here to vote for your favourite story in the online poll on Lamma.com.hk!
But you need to be a registered Lamma.com.hk member. Only a username and active email address is needed: click to register. It would be great if you could add a few comments about which stories you liked or not, and why, by posting a message. Thank you so much for helping to improve the Lamma-zine!
Results from the last issue: The clear winner was Pinkyism with 40% of all votes! Pinky will be tickled pink when she finds out about it, at least I hope so! Otherwise I might get pinked (see right). Runners-up with 20% each were the Lammadonna interview and the Reclamation Photo History.
Which Lamma-zine story did you like best?
| | | | |
| --- | --- | --- | --- |
| 1) Up Close and Personal with Lammadonna | | 20% | [ 2 ] |
| 2) Restaurant & Bar News – March 2004 | | 10% | [ 1 ] |
| 3) Tasting Deli–cious Wines | | 0% | [ 0 ] |
| 4) Dining Adventure in Sok Kwu Wan | | 0% | [ 0 ] |
| 5) Farewell to the Sweary, Shouty Quizmaster | | 10% | [ 1 ] |
| 6) Lamma Accident & Emergency Committee | | 0% | [ 0 ] |
| 7) More Than Just "The Cat Artist" – Diane Huntoon | | 0% | [ 0 ] |
| 8) Pinkyism – a New Evil Cult? | | 40% | [ 4 ] |
| 9) Who's "The Sweetest Motherfucker" on Lamma? | | 0% | [ 0 ] |
| 10) So You Think You Can Pull? – Dragon Boating | | 0% | [ 0 ] |
| 11) Lamma Cricket Club Falls at Last Fence | | 0% | [ 0 ] |
| 12) From Hunter's Beach to Helipad – Reclamation Photo History | | 20% | [ 2 ] |
Total Votes : 10
---
Submit all Lamma-related events for listing to Lamma-Gung.
For past events, check out the Events Calendar Archives: 2003, 2004.
| | | | | | | | |
| --- | --- | --- | --- | --- | --- | --- | --- |
| | Sun | Mon | Tue | Wed | Thu | Fri | Sat |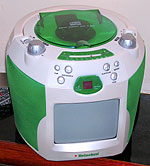 Thu, Apr 29, 8:30pm, Island Bar: Quiz Night w/Lucky Draw (portable TV, CD player)
Thu, Apr 29 - May 2, YSW & Central ferry piers: Monthly ferry ticket renewal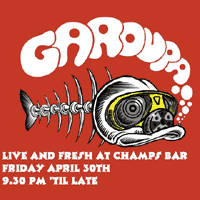 Fri, Apr 30, 9:30pm 'til late, Champs Bar: Garoupa: click for poster
Sat, May 1, 4-7pm, Power Station Beach: Mayday May Pole celebration:
Kumi: "Calling all Drummers!!! Pls. join us in the Mayday celebration this Sat! Mayday, or Beltane as it is also known, is a pagan festival in celebration of the uniting of male and female energies in fertility and healing. It is celebrated with a Maypole dance of ribbons that are wrapped around the pole by children and adults in a dance. For that we need music and drumming.
Bring a family picnic or come earlier to make a garland and stay later to jump the Beltane fire."
Every Sat, May 1, 4.30pm: Dragon Boat practice - men's team: Meet in front of library. To join, call Oliver at 9139 7305, click for poster
Every Sun, May 2, 3pm: Dragon Boat practice - women's team: Meet in front of library (near ferry pier). To join and for more details, call Katie at 9051 2545, click for poster
Every Sun, May 2, 4.30pm: Dragon Boat practice - men's team: Meet in front of library (near ferry pier). To join and for more details, call Oliver at 9139 7305, click for poster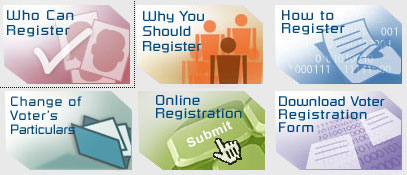 Sun, May 2, 10am-1pm, Main Street: Voter Registration Drive for LegCo elections: Website
Every Sun, May 2, from noon, Diesel's: Sunday Roast: click for poster
Every Tue, May 4, 7.30pm: Dragon Boat practice - women's team: Meet in front of library. To join and for more details, call Katie at 9051 2545, click for poster
Fri, May 7, Central ferry pier: SPCA Spaybus: If you need to spay/neuter your dog/cat, please call Lamma Animal Welfare Centre at 2982-0800 or email for bookings. Appointments essential.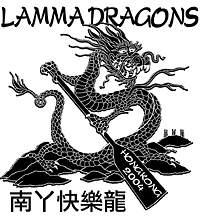 Tue, May 11, public ferry pier: Tin Hau Festival - Dragon Boat races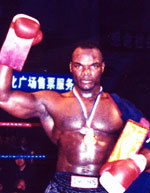 Fri, May 14, 8pm, Queen Elizabeth Stadium, HK Island: The First Strike 2004: Martial arts tournament, Lammaite Alain (new Muay Thai heavyweight world champ!) in the headline fight.
Sat, May 15, 9.30pm-12.30am, The Wanch, Wanchai, HK Island: Garoupa
Sun, May 16, 8.30pm 'til late, Carnegie's: Garoupa
Fri, June 11, 8.30 'til late, The Fringe: Garoupa
---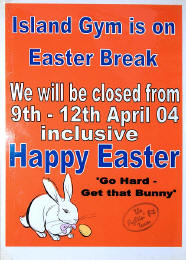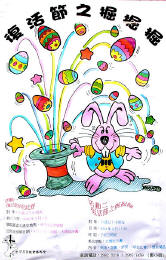 • Pictures: Easter Eggheads

FINALLY, you're discovering what the

cover title of this Lamma-zine refers to! This is the ONLY Easter-related story in this issue, besides these two Easter posters, left & right (Get that Bunny!)

Have you noticed that more and more Lammaites go topless recently, meaning with a shaven head? Males only so far, though. Many of these bald'n'proud guys seem to be astonishingly popular with the ladies! A reader suggested that I should publish an "Easter Eggheads" photo gallery in the Easter Lamma-zine.

A baldy search on Lamma.com.hk didn't turn up ANY volunteers! So I had to go out in the village, approaching bald strangers on the street and in bars, probably making my "eccentric" reputation even worse. But all approached baldies agreed to be portrayed, showing their pride and self-confidence about their clean-shaven appearance. The second row of photos below came from Mr DickStock who obviously had the same idea, even before I asked him! But no full-frontal shots from him, unfortunately. Ladies, this photo gallery is for you! Mouse over the first four pictures, but only AFTER trying to guess who these mugs belong to!
| | | | |
| --- | --- | --- | --- |
| | | | |
| Music lovers in Lamma's bar & restaurants should know this guy, in charge of music in all jukeboxes (Gary Dyer) | An holistic businessman & expensive computer whiz, friend of a guy with too much ginger hair (Sleiman Matar) | Another computer whiz & nice guy who likes to hang out in... see background (Patrick the Finn) | This guy was recommended to me as a baldy, but when I met him he'd started to grow his hair back! (Wing Yee Loo) |
| | | | |
| Mr DickStock | Liam Ferguson | Pedro | Rajan Gohel |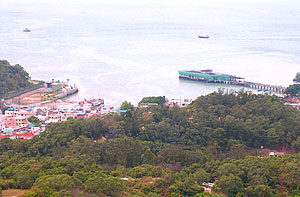 • Rumour:
YSW ferry route to be run by First Ferry
Ferry pier as seen from Mt Panorama,
the future wind turbine location
This serious rumour has been making the rounds in YSW's bars recently and many people took it seriously and started worrying about it, Most Lammaites seem to be pretty happy with the current punctual, reliable, reasonably-priced service provided by HK Kowloon Ferry Co. Several people helped to check out the rumour. My own calls to HKKF's info and PR hotline resulted in no confirmation or denial, simply a "We don't know!" with a promise to return my call later. They never did, as I expected from past experiences. Click to see our online discussion.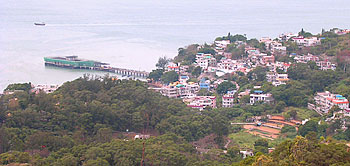 Marilyn found and talked to a "Senior Transport Officer for Planning/Ferry in the Transport Dept.'s Management and Paratransit Branch of the Ferry and Paratransit Division". What a mouthful! They're handing out the ferry route licenses and according to them this rumour is just a rumour and absolutely not true!
The official even said on the phone that the current ferry company is operating well. Many thanks to "Marilyn" for her research! One more wrong Lamma rumour squashed. Who's making up the next one? We all know that this is a popular local hobby for some...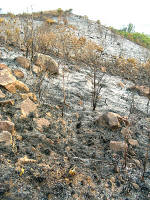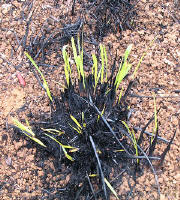 • Good News: A sorry sight...is recovering!
While looking at the two photos taken from Tai Ling above, that hill (Mt Panorama) was also the location of a recent massive hillfire, devastating & charring the hillside and burning most vegetation & bushes up there, possibly originating from a grave site. A helicopter did waterbomb it back then, but with little success, as this photo from Zep on the left shows: A sorry sight.
Several weeks later, after some tropical showers which did wash away a lot of topsoil, nature is fighting back and the hillside is covered with green shoots. Slowly recovering, but it'll take years...

• Website:
www.CheungChauIsland.com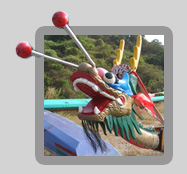 Check it out! Launched a few months ago, it looks pretty good w/great photos! It's also using the same forum software as Lamma.com.hk and has a similar mission, building a local online community for Cheung Chau. But after a fine start, it has hit a speed bump and is now stagnating, not adding any new users and no new messages. Most small forums go through this phase and need an extra push to grow further. Jump in, post some friendly messages and help our friends in Cheung Chau to continue their growth! Outlying Islands, unite!
I've already registered and posted, planning to visit them for the Bun Festival on May 26. Check it out yourself by clicking on their logo above!
---
Publicity: New section!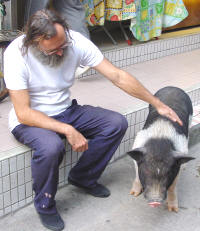 • Publicity #1:
"Sumo the Vegetarian Pig" on TVB Pearl
Did you watch the weekly Pearl Report on Sunday, March 28, 7pm, about recycling? They had a big Lamma segment, starring our one and only Sumo, devouring, sorry, "recycling" the veggie left-overs from the Bookworm Café! He's grown a lot since I saw him last at Nick's corner, 1 year ago (see right). I worry about his future, quite a few people might like some "vegetarian" ham!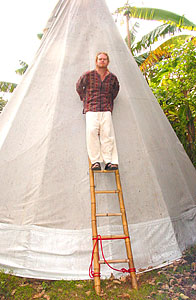 Oh, by the way, the TV segment also featured shots of Green Cottage, Bookworm Café and even the future Life Restaurant in SOHO (more in the next issue), plus composting in the Gaia Valley community (see left). Our eco-businessman Bobsy's connections to get frequent, free media promotions are truly astounding... A free, 5-minute-long, very positive documentary "commercial" like this cannot be bought for any money.
Gargoyle was commenting in the Lamma.com.hk forum Lamma Representative:
"The Green Cottage was featured as was our friend Bobsy, the self-proclaimed pioneer of recycling in HK, who showed the camera crew the Gaia Valley community's compost heap as a shining, albeit smelly, example of eco-friendliness.
Washed up 2nd world war bombs, gold theft, eco-warriors – it's all happening on Lamma."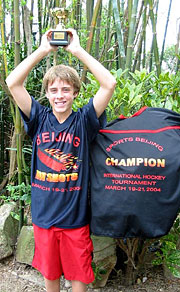 • Publicity #2:
Andrew Peterson in the news, TWICE!
a) Youth teams do HK proud on Beijing ice, Young Post, Mar 24:
Andrew Peterson was voted top Bantam goalie of the tournament, where his team HK SUNDAY were crowned champion of the Beijing International Ice Hockey Tournament! There were four age groups - Mini Squirt (age 7-8); Squirt (9-10); Peewee (11-12); and Bantam (13-14).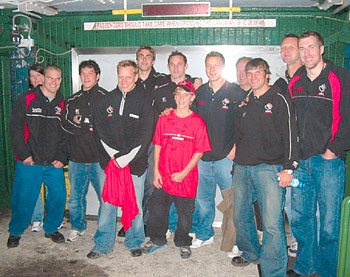 b) And the Sevens Groupie Awards go to..., CitySeen column, SCM Post, Mar 30:
Runner-up in the Sevens Groupie Awards:
Dan Peterson, the proud dad, wrote to the SCMP when entering this photo into the competition:
"Here's a fun shot of our son Andrew, 14 yrs, taken with not just one Rugby 7s player but together as a team shot with the visiting Canadian team. The photo includes the entire starting lineup along with the Coach, GM and Trainer (that's Isabel, on the left), and was taken at the end of a harbour cruise with the team on Thu night, organised by the Canadian Club of HK."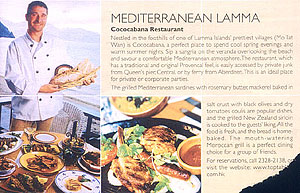 • Publicity #3:
Cococabana in SCM Post Magazine
Jean-Paul is obviously not just a great cook and manager, but also a PR whiz. Getting this very complimentary little story into the Post Magazine is quite impressive, way more important than the little Lamma-zine interview in this issue!
---
This new Publicity section depends on YOUR input!
Whenever you see a Lammaite mentioned in any media (printed, online, TV, etc), any language, but preferably Chinese or English, please let me know!